Ever wondered where you can find a mix of colonial architecture, Chinese temples, and world-class casinos? Macau is the answer to your question!
It boasts a UNESCO World Heritage-listed city centre with gorgeous Portuguese style churches & Chinese Street Bar-BQ's at very turn. On the flip side, you've got world-class casinos that rival any in Las Vegas! By 2020, Macau is expected to be the richest place in the world, so travelling here can set you back quite a bit.
In that case, maybe it's best to overlook resorts like the Venetian and set your sights a bit more realistic. A great way to save money and still experience a degree of comfort (and dare I say luxury) is by checking out Airbnbs in Macau.
Whether you want a Portuguese style apartment, a modern apartment with a sea view, or a homestay with a friendly local, there are rentals in Macau for you.
In this post, I'll take a look at the 15 best Airbnbs in Macau. I've taken into account a range of different budgets, travel styles. So, there should be something there for you! Ready? Let's take a closer look at some of the coolest Macau Airbnbs!
Quick Answer: These are the Top 5 Airbnbs in Macau
OVERALL BEST VALUE AIRBNB IN MACAU
OVERALL BEST VALUE AIRBNB IN MACAU
Cool Portuguese Style Studio
> $$
> 2 Guests
> Central location
> Laptop friendly workspace
BEST HOMESTAY IN MACAU
BEST HOMESTAY IN MACAU
Small Room near Tourist Spots
> $
> 2 Guests
> 24 Hour security
> Kind and hospitable hosts
BEST AIRBNB FOR COUPLES IN MACAU
BEST AIRBNB FOR COUPLES IN MACAU
Central Senado Square Apartment
> $$
> 4 Guests
> Fully equipped kitchen
> Marina Bay location
BEST AIRBNB FOR FAMILIES IN MACAU
BEST AIRBNB FOR FAMILIES IN MACAU
Colourful Apartment near St Paul's
> $$
> 7 Guests
> Free Parking
> Child-friendly
BEST LUXURY AIRBNB IN MACAU
BEST LUXURY AIRBNB IN MACAU
Bright 4BR Home w/ Garden
> $$$
> 10 Guests
> Breakfast provided
> Gorgeous garden
What to Expect from Airbnbs in Macau
Macau is an incredibly exciting destination – something that can be felt in the many different Airbnbs around the city. No matter what kind of traveler you are, there will certainly be a suitable place for you to stay.
One thing to note about Macau accommodation is that properties are generally not very spacious. You will mostly find apartments – often studios or lofts. These places generally provide only the basics, and often lack things like kitchens and multiple bedrooms. However, if you are staying around the bustling streets of Macau Island, it's best to live like a local and eat out at the many amazing restaurants, markets, and street food stands!
Generally, Macau accommodation offers total convenience and comfort. There never seems to be a metro station too far away and it's not too big, so it's easy to get around. If you are looking to stay in the busier central areas of Macau, then Airbnbs offer some of the best value in terms of their locations.
Here are a couple of the accommodation types that you could find on Airbnb around Macau.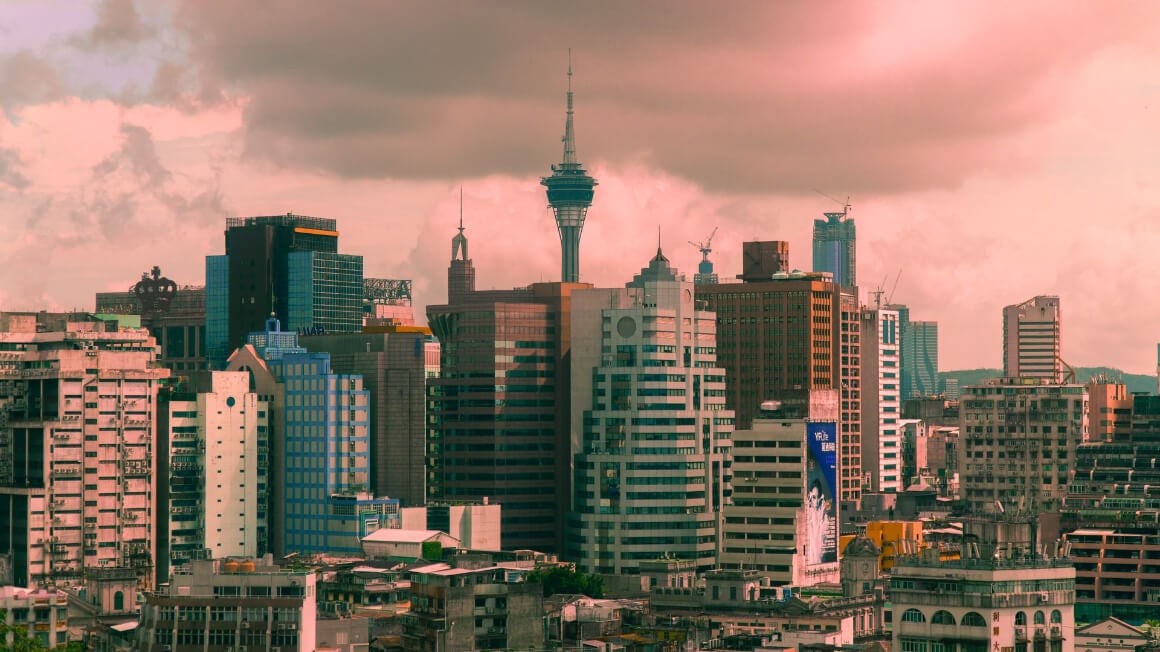 Private Apartment
Macau mostly consists of tall apartment buildings. If you are planning on staying in the central areas of the city, around Macau Island, then this would be the most common type of holiday rentals in Macau. Booking a private apartment on Airbnb offers fantastic value, as the average price is much lower than houses or some luxe hotels – especially when considering the central location.
Apartments here are usually pretty small, but the spaces are used smartly. You can find many loft and studio apartments. These places offer complete privacy and are very suitable for solo travelers, couples, and small groups. If you would like an entire rental unit to enjoy at the end of a long day, then having your own apartment is the answer.
One of the best things about booking places like this is that they allow you to experience city life more like a local. Instead of just staying in a stale hotel room, you get to immerse yourself in a neighborhood and building where people actually live. These apartments are also surrounded by great restaurants, markets, street food stalls, and more, all within walking distance.
Private Room
Another popular option in Macau is to rent out a private room within a shared home. This could be found in a guesthouse, house, or city apartment. If you love mingling with other people and want to absorb a truly local experience, then this is a brilliant option and is often where you'll find the best deals in terms of cost.
This type of Airbnb won't appeal to those that want their own completely private space. It is also not a great choice for groups or families. However, if you are a solo traveler or a couple looking to experience all that Macau has to offer, then this would be a great choice.
Not only are these kinds of holiday rentals in Macau usually the most affordable, but it also allows for a unique experience. You will be able to talk to your host about local recommendations on where to go and what to see.
Entire House
Large independent houses are not very easy to find around Macau Island. However, if you venture a little bit outside of the busy inner-city, you will be able to find some more spacious houses to rent. These are found in quieter residential neighborhoods and are a good option for families and groups.
While most apartments are loft or studio spaces, Macau houses are entire rental units, which offer more privacy and space. You can get independent bedrooms, private bathrooms, and more roomy living spaces. Houses like this also have full kitchens – something that is missing in many city apartments.
Renting out an entire house will cost a little bit more – as you get so much more space and amenities, plus they will usually be kitted out with small amenities such as bath towels, soaps, and basic tea and coffee making facilities. However, if you split this cost up between your group, it can actually turn out to be really affordable!
Why Stay in an Airbnb?
Local Experience: Having a local as a host means you can find out all the best places to visit and things to do that are off the beaten tourist track. That doesn't just go for Macau, but for all travel destinations in the China.
Unique Properties: As well as standard apartments and private rooms, this list alone includes boats, an Italian style palazzo, and even a windmill!
Privacy: Another great filter – choose an entire place to ensure you won't be disturbed during your trip.
Affordability: Airbnbs are considerably cheaper than an equivalent hotel – and you won't have any hidden charges from the minibar either! Airbnbs are possibly the best option for backpackers in China that need to keep the costs low.
Airbnb Experiences: Choosing Airbnb isn't just about where to stay – it's about enjoying the area like a local with curated tours, too!
What is the One Item Every Traveller NEEDS???
There is one item every traveller NEEDS. Some travellers don't even know they need it, but those travellers need it more than anyone.
What is this forgotten essential of the backpacker-life? SPOILERS! Guess you'll just have to click the button to find out. 😉
Find Out What It Is!
The Top 15 Airbnbs in Macau
Now that you know what to expect from holiday rentals in Macau, it's time to introduce you to my list of the top 15 Airbnbs in Macau. These have been chosen for their great location, budget, and facilities.
Enjoy!
$$
Laptop friendly workspace
Let's kick off with one of the best all-around Macau Airbnbs. It's in a central location close to the main attractions in Macau. So, you can be at Senado Square, the St Paul Church and Ruins, and the Macau – Hong Kong ferry terminal all within ten minutes. But rather than talk about what's outside the apartment, let's look at what's in it!
You've got a fully equipped kitchen which even comes with pool access. There's plenty of space to spread out – so it's a great option if you're travelling as a couple.
It can be tricky to find somewhere to stay in Macau on a budget. Tricky, but not impossible. Let us present you with this awesome cosy and quiet room in the centre of town.
It's nothing flashy, but it's comfortable, clean, and you're guaranteed a good night's sleep here. If you've been travelling for a long time and need to clean your clothes, you'll be pleased to know that you'll be able to use a washing machine here.
There's no kitchen, but with the money you've saved, you can try eating out at a number of places nearby. After all, the apartment boasts a superb location!
$$
Quiet and safe neighbourhood
2 Guests
Wifi and clubhouse facilities
Travelling to Macau with your laptop? Think about the most important things that you need to work. Wifi and a laptop-friendly workspace are key. This place has that as it's located in an apartment in a modern building with clubhouse facilities – enjoy the pool, sauna and gym in your free time.
Also important is a safe area, so that you can pop out to cafes if you're feeling a change of scenery. This has that too. One thing you don't need, but is a very nice thing to have, is a sea view from a huge window!
Work in front of this and it might just inspire you to write something amazing… or send a particularly complimentary email!
Is This the Best Travel Pack EVER???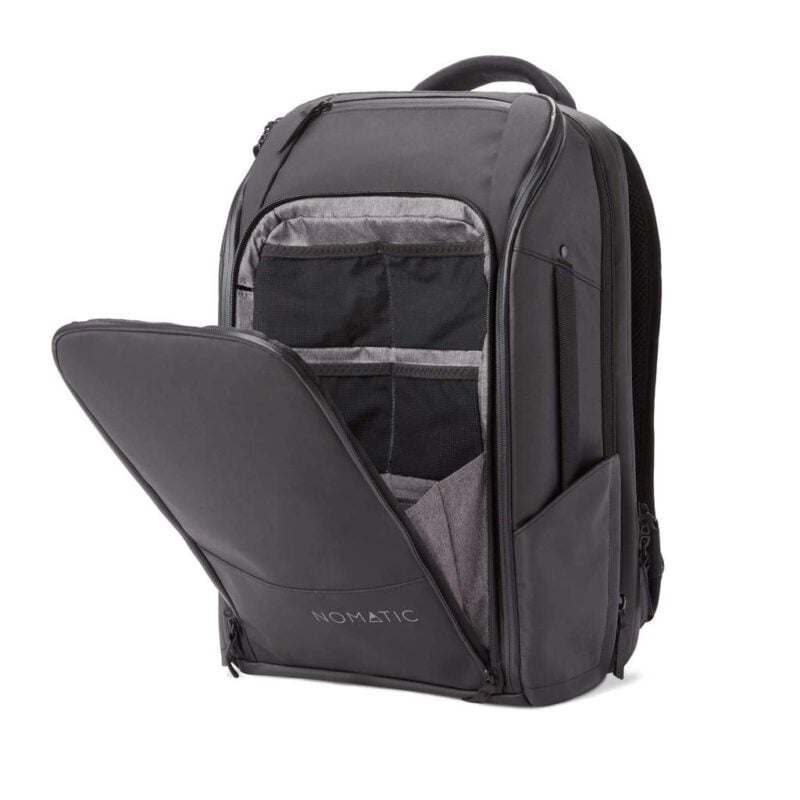 The default when travelling solo is to go to a hostel to keep costs down and meet new people.
However, we understand that hostels aren't for everyone. Happily, we've found an awesome alternative with this Macau apartment.
The studio is in a great apartment if you do want to meet people – there's a bar just 3 minutes away! But if you decide to stay in, you're assured a comfy stay. Toiletries, slippers, and Wi-Fi are all included. And there's that awesome view of the sea which we could stare at for hours!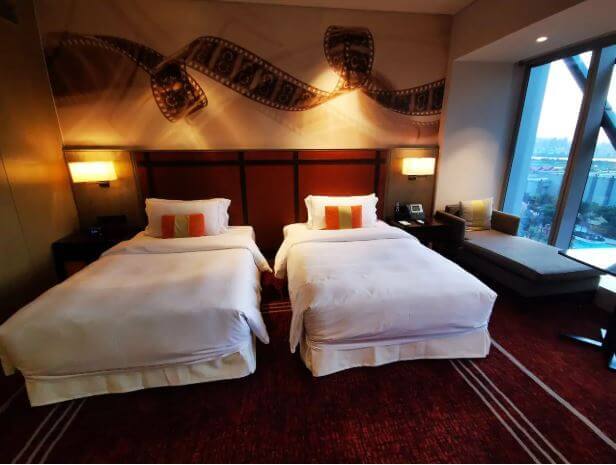 Cotai is where you'll find some of the hottest nightlife in Macau. So, let's check out one of the best Macau Airbnbs in that neighbourhood. This room in studio city offers a film theme, and you truly will feel like a Hollywood star, both in the apartment and at the nearby casinos!
There's plenty here to keep you entertained, or to console yourself if you don't get the result you wanted at the casino. Enjoy a soak in the hot tub, or pump some iron in the gym. Afterwards, kick back in your room and enjoy a series on the flat-screen TV!
4 Guests
Fully equipped kitchen
This cute apartment combines an awesome location, with two double bedrooms, and it's easily affordable if you're travelling with your other half.
Want to head out in the evening? No problem. This awesome Macau apartment is within walking distance of all the coolest landmarks – including St Paul's Church, the Macau Museum, and the Old Fortress.
It's right by Marina Bay – a lovely spot for a romantic meal or a cocktail!
$
Kind and hospitable hosts
A Macau homestay is a great way to save some cash and get to know the area through the eyes of a local. So, let's have a closer look at this room in the centre.
Although homestays are safe, this property comes with 24 hour security, giving you peace of mind. This cheap, clean, and cosy place is perfect if you're on a budget – and you're able to use the kitchen too. Don't forget your camera – the surrounding area is stunning. Especially at night!
There are some great homestays in Macau, so I didn't just want to leave you with one choice. Close to the dynasty area of Macau, this private room is in a great location for sightseeing all the attractions on your Macau itinerary.
Your friendly husband and wife hosts are happy to assist you with recommendations for the best things to see and do nearby! There is a friendly dog in the house, but it doesn't come into your room. With one double bed, this is a great room to stay in if you're traveling alone or as a couple.
6 Guests
Cinema-style projector
Just look at those sea views from this Macau Airbnb and tell me you don't want to stay here? The luxury interiors and fittings are present throughout the whole place. Need a place to unwind after a long day of exploring? No problem. Check out the awesome projector-style TV.
Another of the best things about this apartment? That price is one of the best deals you can find in Macau. Remember, split between six people, this cost is well below the average price of a hotel.
Looking for a Macau Airbnb with the Wow Factor? I might have just found that for you! You've got a huge garden with outdoor seating area, which is the ideal place for some group bonding time! Looking for a party? The ideal place is the sky garden on the sixth floor of the house.
There is a whole load of facilities to make your stay comfortable and memorable. Including breakfast provided by the host and a fully equipped kitchen. If you don't want to cook, there's lots of authentic local food and a place where you can get a massage nearby.
This colourful apartment is equipped for families of all ages. However, the Hawaiian themed decor will especially appeal to younger travellers!
That's not all that's great about this place though. The location is fabulous – no long walks to get to where you're going. This Macau apartment is surrounded by attractions. There's free parking, which is great if you have your own transport. There's also Wi-Fi, so everyone can connect to their devices!
Six oversized bedrooms with space for up to 12 people? That sounds like a perfect apartment in Macau to share with your best mates! There is a full kitchen, but that's not where you'll want to be – the large living space offers a real party vibe, the perfect place to hang with your mates.
From this apartment, you can enjoy a few beers and your favourite foods with your best mates looking out over the city skyline. Sounds alright, huh?! If all that doesn't persuade you, because you can split this awesome apartment 12 ways, it's one of the best deals you can get in Macau.
5 Guests
Fully equipped kitchen
Most of the Airbnbs on my list are in Macau Island. And that's because it's the coolest part of the town – especially if you want to enjoy the historical UNESCO city centre! I've got just a couple more to show you before I leave you to book your trip.
This cool, modern apartment has space for up to 5 guests and you can enjoy your own meals in the fully equipped kitchen, or head out to numerous nearby restaurants and bars!
Apartment in Macau Island for Small Groups | Simple Snail House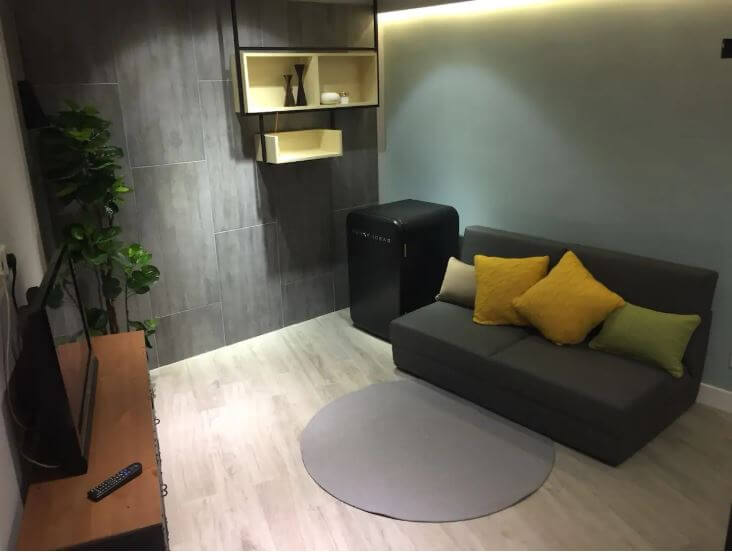 $$
Complimentary Toiletries
My last apartment in Macau Island, the Simple Snail House is the sort of place that you choose Airbnb over a hotel or a hostel for. It's unique, it's got plenty of character but there's substance behind that style too!
Fast Wi-Fi means it's good for business travellers, digital nomads, or those who simply just want to download a film or a podcast! The complimentary toiletries will have you feeling fresh in no time after a day tramping around and seeing all the sites too!
$
Access to whole apartment
Last but not least, let's check out this cool Old Macau Airbnb. An inspiring artistic flat, it's another unique and unusual place to stay in Macau! It's close to one of the prettiest squares in town – Tap Seac Square.
You'll be able to find a number of places to eat, drink, and be merry nearby! Because it's an artist's studio, the host will be here during the day. However, you've got the place all to yourself at night!
FAQ about Airbnbs in Macau
Here's what people usually ask us when they look for vacation homes in Macau.
Don't Forget Your Macau Travel Insurance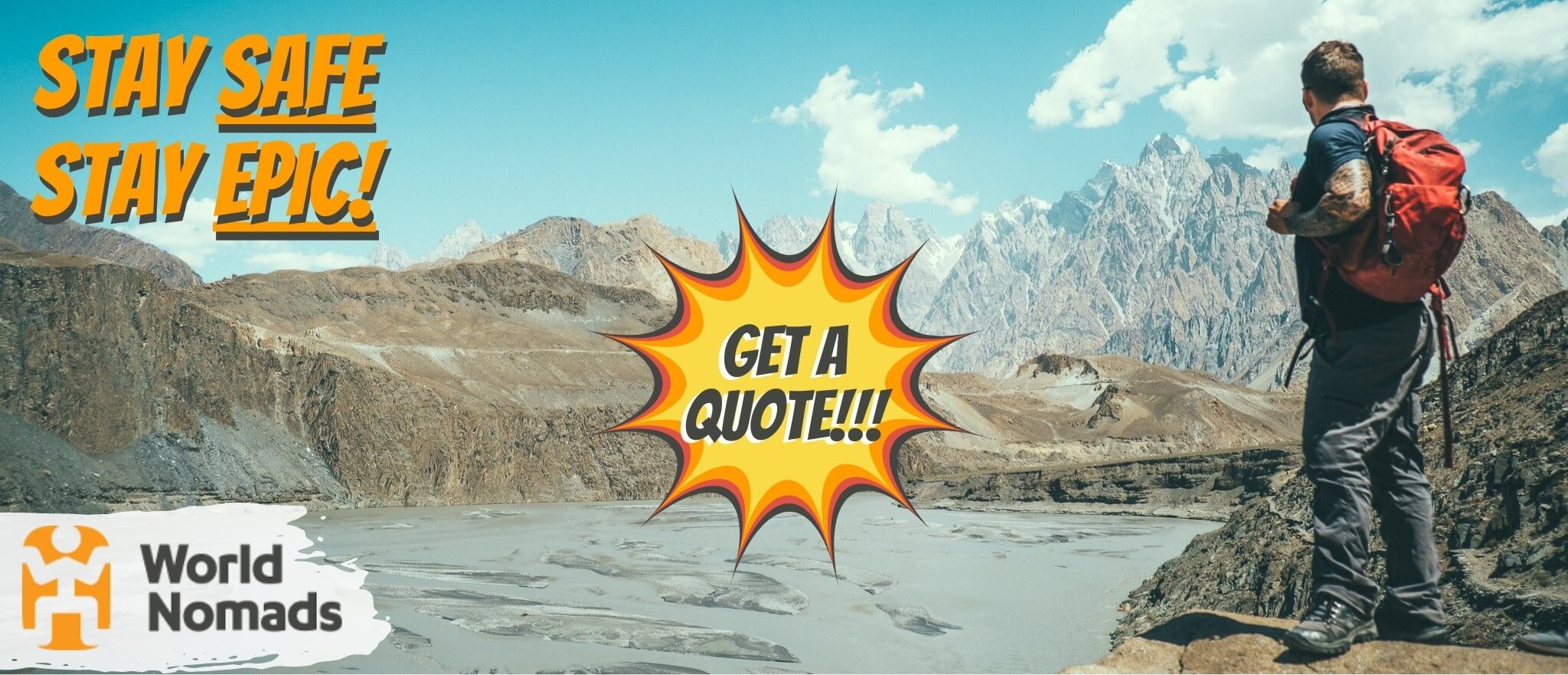 It's good to get lost sometimes, but it's also good not to get too lost. There are people that want you home in one piece.
There's one travel insurance provider The Broke Backpacker trusts for all his wildest shenanigans… World Nomads!
Click the button below to get a quote on your insurance or read our in-depth review of World Nomads' coverage. And then… let the shenanigans begin. 😉
Final Thoughts on Macau Airbnbs
So, that concludes my list of the best Airbnbs in Macau. I hope you've found something that matches your style, budget, and personality. Not to mention the size of your group too!
As you can see, there's an awful lot of choice. But rest assured that the best and coolest short-term rentals in Macau made my final cut. Whether you want a Macau homestay with a friendly local, a sweet apartment close to all the tourist attractions, or a spot to party the night away in Cotai, it's all on my list.
I don't blame you if you're still not sure where to stay. If that's the case, go for the top all-rounder. My favourite Macau Airbnb is the Cool Portuguese Style Studio, as it combines style, comfort, location, and value into one neat package!
Now, all that's left is for us to wish you an incredible vacation in Macau. I hope you have a great time!
---
Thanks for reading – that was fun! 😀
We bring you epic FREE content!
Find out how YOU can help support us.
We're a big site with a big team and this job isn't always easy. But we do it because we love it – we love providing epic and free content. We love the knowledge that our content keeps you adventuring. We don't ask for money, but if you'd like to find out how you can help the site in more organic ways, click the button below.
Thank you for your support 🙂
---
Bye for now, but not forever!
If you want MORE top-tier Broke Backpacker content like this, then sign up for our weekly newsletter below to get the latest and greatest!
And for transparency's sake, please know that some of the links in our content are affiliate links. That means that if you book your accommodation, buy your gear, or sort your insurance through our link, we earn a small commission (at no extra cost to you). That said, we only link to the gear we trust and never recommend services we don't believe are up to scratch. Again, thank you!