Tampa is a city on the up! Many people will be coming to visit the incredible Busch Gardens theme park, but you definitely shouldn't miss out one of the coolest cities in Florida. The historic Ybor District is where it's at – this colonial-style neighbourhood is one of the hottest spots for nightlife in the entire state. It also boasts some awesome places to eat out! Downtown's River Walk along the Hillsborough has plenty of spaces where you can relax and chill out in this cool city.
But where to stay in Tampa? Well, how about swapping hotels and hostels for something with a little more personality and charm? It's a good idea to check out AirBnBs in Tampa. Whether you want to be in a tiny house, a treehouse nook in the historic district or a luxury apartment by the water, there are rentals in Tampa suited to every taste. Including yours!
Rather than letting you spend hours trawling through the website, we've decided to help you out. That's right, we've put together this list of the 15 best AirBnBs in Tampa, taking into account budget, travel style, and personality. We're pretty confident that we've only picked the best places for our extensive list. So, let's dive right in and check them out!
Quick Answer: These are the Top 5 Airbnbs in Tampa
OVERALL BEST VALUE AIRBNB IN TAMPA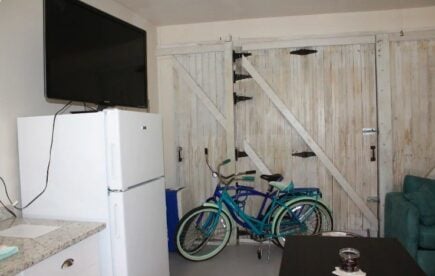 OVERALL BEST VALUE AIRBNB IN TAMPA
Enjoy Tampa's hippest neighbourhood
> $$
> 2 Guests
> En suite kitchenette
> Courtesy bikes to explore
BEST HOMESTAY IN TAMPA
BEST HOMESTAY IN TAMPA
Private Room in Tampa Heights
> $
> 2 Guests
> Private Entry
> Queen bed
BEST AIRBNB FOR COUPLES IN TAMPA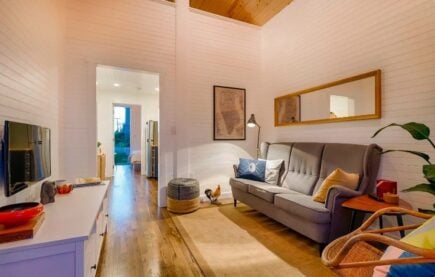 BEST AIRBNB FOR COUPLES IN TAMPA
Tiny House in Historic Ybor City
> $$
> 2 Guests
> Awesome location
> Enjoy the book collection!
BEST AIRBNB FOR FAMILIES IN TAMPA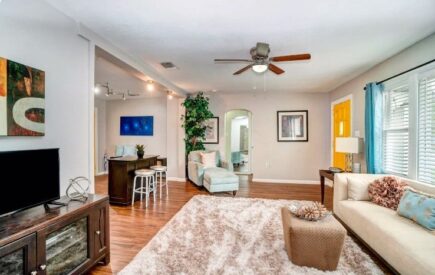 BEST AIRBNB FOR FAMILIES IN TAMPA
Relaxing house with pool by centre
> $$$
> 6 Guests
> Swimming Pool
> Children's books and toys
BEST LUXURY AIRBNB IN TAMPA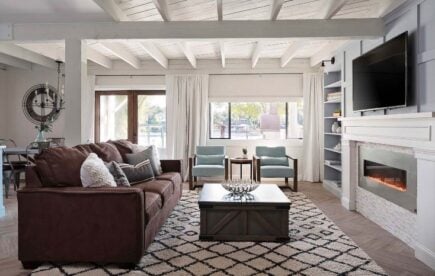 BEST LUXURY AIRBNB IN TAMPA
Riverfront Oasis Waterfront Home
> $$$$$$$
> 7 Guests
> Outdoor Chill spot!
> Minutes from Busch Gardens
Why stay in an Airbnb?
Local Experience: While many Tampa Airbnbs are managed by companies, they're still locally based. Get the best recommendations for your Tampa itinerary that you won't find in the guidebooks to make your trip truly special!
Unique properties: Airbnb has every kind of property you could think of. There's even a 'unique stays' search function, where you can find your dream property on the site.
Privacy: Whether you're travelling with the whole family or your other half, it's nice to have your very own space where you won't be disturbed.
Affordability: You can spend less than $100 a night on an Airbnb and get all the facilities you'd expect in a five-star hotel and more. Airbnb makes it easier to spend your holiday money wisely!
Airbnb Experiences: It's not all about where to stay; looking for things to do in Tampa? There's no better way to do that than with Airbnb Experiences. We'll show you some of our favourites.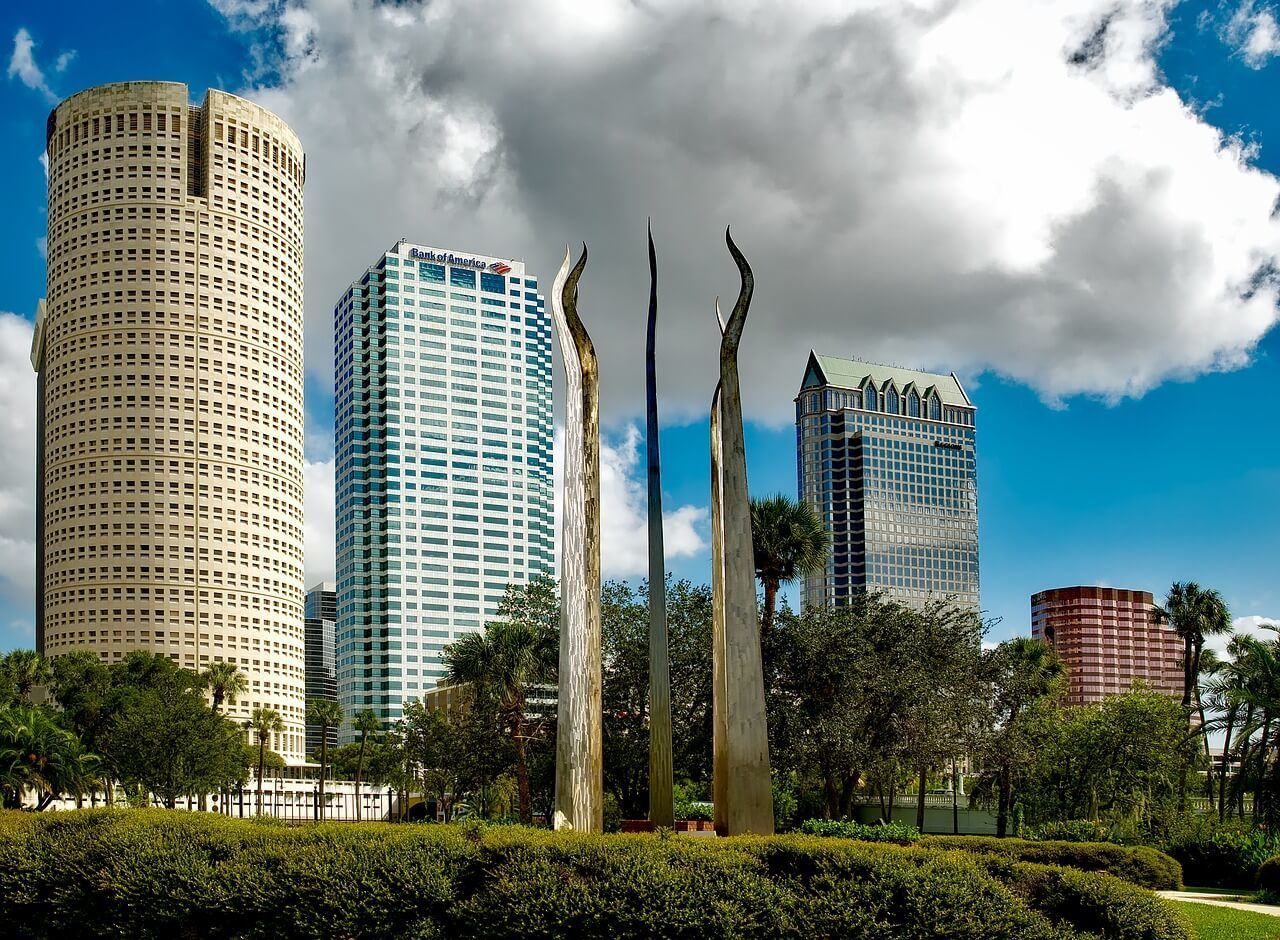 Want to keep your money safe?
You should always have emergency cash hidden on you – pick up this awesome security belt with its hidden pocket before you travel, it's perfect for hiding money, a passport photocopy.
The Top 15 Airbnbs in Tampa
2 Guests
Courtesy bikes to explore
Let's kick off with the best value AirBnB in Tampa. Seminole Heights is one of the coolest neighbourhoods in town, and this positions you perfectly to explore it! And you don't just have to do it on foot – there are courtesy bikes provided so that you can explore as much of Tampa as you wish!
After a busy day sightseeing and working those leg muscles, you'll come back to a comfy king bed. From there, you can choose whether to prepare dinner in the handy kitchenette, or to pop out to one of the many excellent restaurants nearby!
Looking for the perfect AirBnB in Tampa but you don't want to shell out a lot? That's no problem – and this city centre option is easily affordable. Even more so if you can find someone to split it with! Although it's one of the cheapest apartments in Tampa, you're certainly not compromising on location. Your friendly hosts are happy for you to use their communal living area, kitchen, laundry, front porch, and backyard. So, there are plenty of places to chill out and save money rather than hitting the town!
2 Guests
Bikes for guest use
Now for somewhere a bit different, and dare we say it – inspirational! The Urban Crash Basecamp looks a little bit like a hostel, but in fact, it's a unique creative shared living space. And it just happens to have one of the best AirBnBs in Tampa inside it! This cool room comes with a king bed, although you might be more likely to spend your time outside. That's because there's an awesome fire pit where you can get to know new people after a day of working.
It goes without saying that there's a laptop-friendly workspace and high-speed Wi-Fi for that!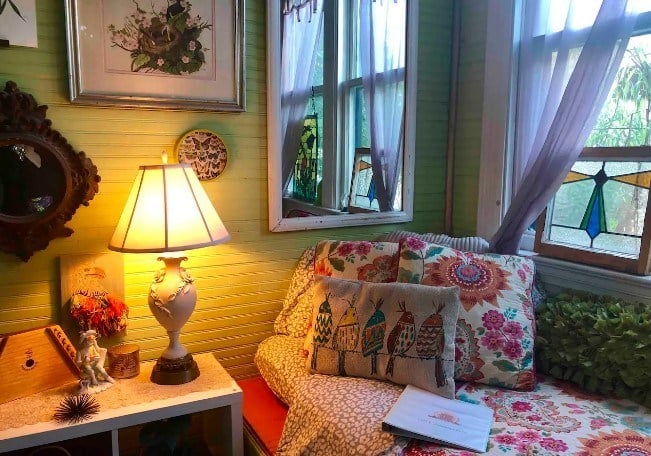 1 Guests
Discounts on longer stays
Wow. This is the kind of place that AirBnB was made for! The treehouse unique may only have space for one guest, but if you're travelling solo that's exactly what you need! This private room in a 1925 bungalow is a hop, skip, and a jump from the coolest bars, restaurants, and nightlife in town. So, you don't need to go far if you want to make new friends. This place has other rooms on offer, so it's likely you'll bump into guests. Perhaps you'll go out with them?
One thing's for sure – there are very few Tampa AirBnBs that are this cool and unique!
The Best Travel Backpack?!
Pssssst! Not picked the perfect travel backpack yet? The Broke Backpacker team has tried out over thirty backpacks this year! Our favourite carry on backpack is the Nomatic Travel Bag.
Read our full review!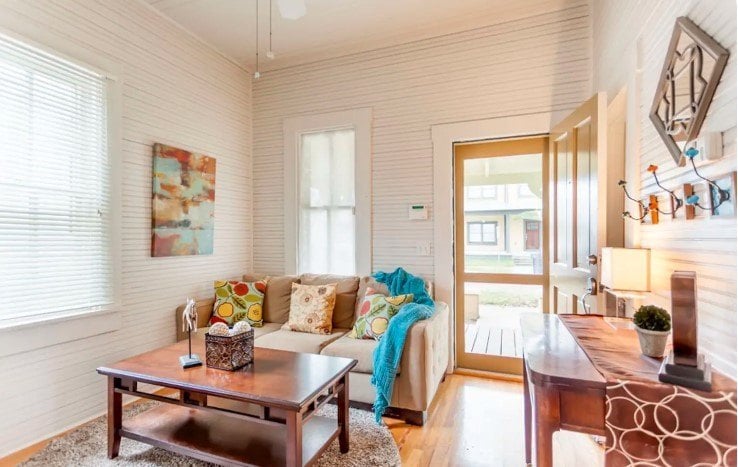 $$$
Backyard shared with main house
4 Guests
Cruiser bikes with helmets
Ybor has some of the best nightlife in town, so it would be foolish not to stay at least near there! This entire bungalow is just a hop, skip, and a jump away. It's calm and light interior is the perfect place to recover from a hangover if you have one too many cocktails the night before! Not only that, there's a full kitchen so you can whip up a delicious breakfast, lunch, or dinner to enjoy with your travel companions. This is a really homely little spot, and we're sure that you'll love it!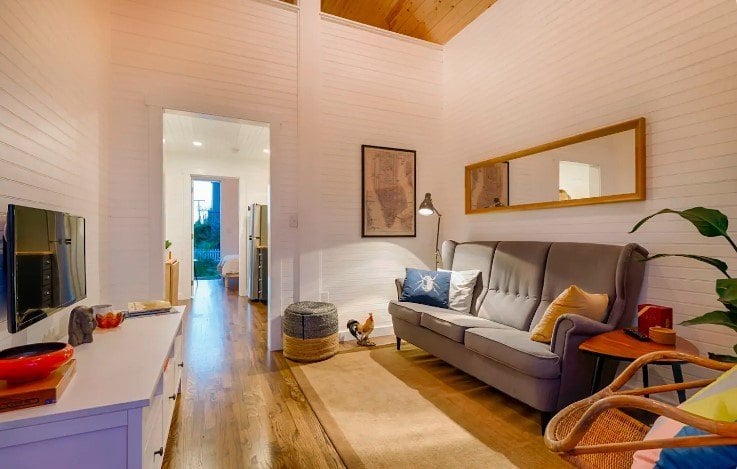 2 Guests
Enjoy the book collection!
Travelling with your other half? In that case, you'll want to stay somewhere that you'll really be able to make memories. How about this tiny house, another unique Tampa AirBnB! This casita has a fully equipped kitchenette if you want to prepare a meal together. However, if you don't fancy that there are several great restaurants nearby! The friendly hosts have kindly put together a cheat sheet of the best places in Ybor, so you can pick a place off there.
If you'd prefer to stay in, there's a collection of books that you can enjoy during your stay too!
Want to have an authentic experience and save cash at the same time? Perhaps a Tampa homestay will be right up your street. This one is a real home away from home – where you can enjoy a queen bed, Netflix and Amazon Video, and a mini-fridge and coffee pot! You'll be sharing your bathroom with your host, but your room is solely yours. You're welcome to chill on the porch too, which a friendly neighbourhood cat sometimes comes to visit!
$
Access to washer and dryer
3 Guests
Welcome skeleton on the porch!
Another place that really showcases the creativity and imagination of AirBnB hosts. One of the most intriguing short term rentals in Tampa is this eclectic bedroom, complete with taxidermy and a welcome skeleton! Crazy, huh?! This cosy room has a double and single bed – so it's perfect either for a couple or two friends. Or a couple and two friends! It's also an awesome spot if you're a dog lover. The property has two dogs who'll greet you but they won't go in your room.
Travelling long term? You can use the washer and dryer here.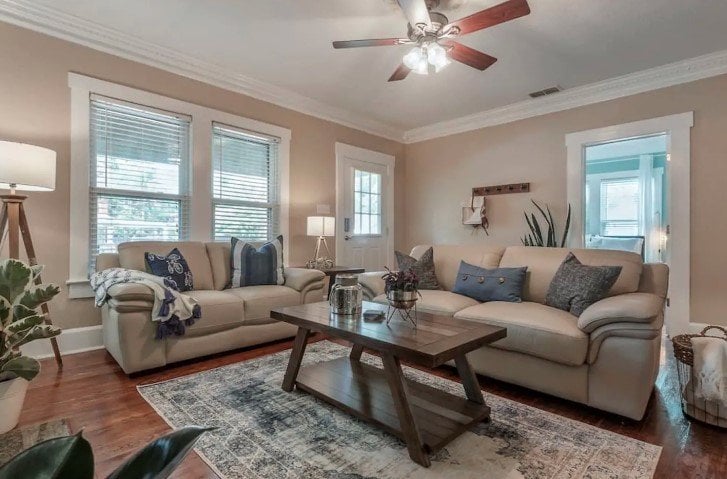 6 Guests
Private front and back porches
This quaint and quiet bungalow in Seminole Heights will give you a relaxing and luxurious break you want and deserve. Each room has a Roku TV, however, you'll probably not end up using that if the weather's good. The front and back porches are the ideal places to relax and enjoy a coffee or a drink or two. When it comes to the night time, you'll have no trouble getting to sleep. Even if you're on the sofa bed, it's full size and memory foam!
$$$$$$$
Outdoor Chill spot!
7 Guests
Minutes from Busch Gardens
If money's no object when you travel to Florida, check out this incredible Tampa AirBnB! The Riverfront Oasis is perfect for a large group travelling together – there'll be space for everyone in that awesome outdoor chill spot. There's a hammock, swing chair, and even a little pier down to the lake! It's not all about that though – the location is pretty sweet too. It's just a hop, skip, and a jump away from one of the top attractions in town – Busch Gardens!
6 Guests
Children's books and toys
Set up for all ages, this awesome house near the centre is a great Tampa Airbnb for those travelling with the family. For teens and parents, there's a pool while if you're travelling with little ones, children's books and games are on hand too! The open plan kitchen and living area offers plenty of space to make everyone's favourite delicious meal and share it together. If mum and dad want to relax after a long day, they can take a dip in the tub in their own private bathroom!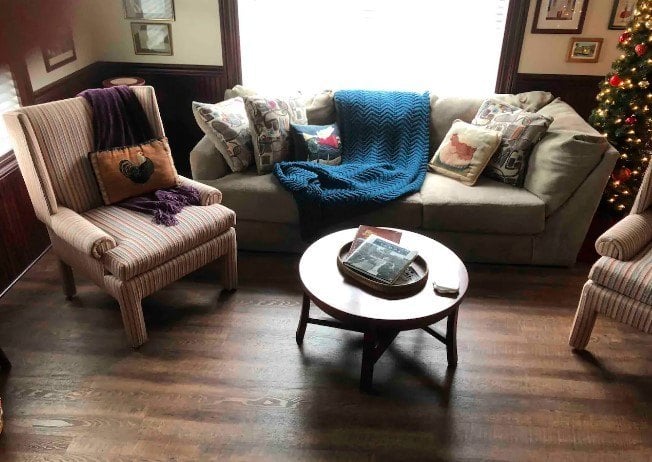 $$$
Front porch with rocking chairs
If you can stay in somewhere that was once the home of the Ybor Chicken Funeral Parade, you're not going to turn that down. Not only is there unusual local traditions on offer here, but this is also a comfy and well-equipped place that you and 4 of your best mates can really enjoy. If you've got your own transport, you'll be happy to know that there are two complimentary parking spots on offer here.
Once you get inside, you've got the option of a king bed and a queen bed, all a stone's throw from the best nightlife and eating out in town!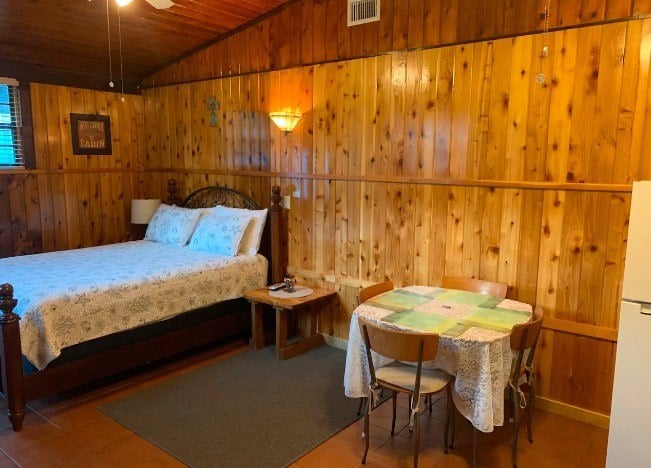 4 Guests
Relaxing and comfortable
Let's head a little bit out of Tampa to find some of the coolest AirBnBs. The nearby Brandon District is a great place to stay if you want to enjoy the charms of the suburbs, while still being in easy reach of the city by public transport. And this private studio cabin is the best AirBnB in Brandon! It's quirky, cool, and an ideal place for a couple or small group of friends!
If you're part of a larger group looking for the best Airbnb in Brandon, check out this incredible English Tudor House. The ideal place for a family get together, it's perfect for all weathers. When it's cold and rainy, enjoy your favourite film or series on the 55 inch TV. But, if it's sunny, sit out in the half-acre backyard where there's a gazebo and a grill which you're welcome to make the most of!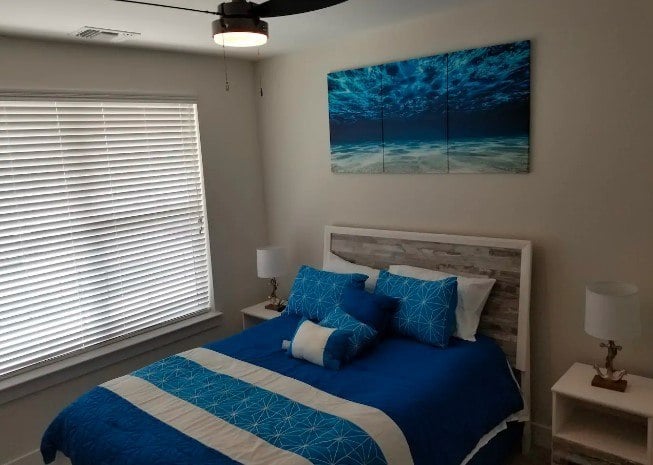 $$
Communal Pool and Fitness Studio
Last but not least, check out this awesome Tampa Airbnb – right in the heart of downtown. This riverside oasis is close to the best restaurants, bars, and nightlife in town. It also offers community amenities including a pool, cabanas, fitness studio, and a social lounge where you can meet other guests. If you've rented a car, you'll be pleased to know that there's a covered parking space available too!
What to Pack for your Tampa Airbnb
These essentials will make your Airbnb stay easier and maybe loads nicer.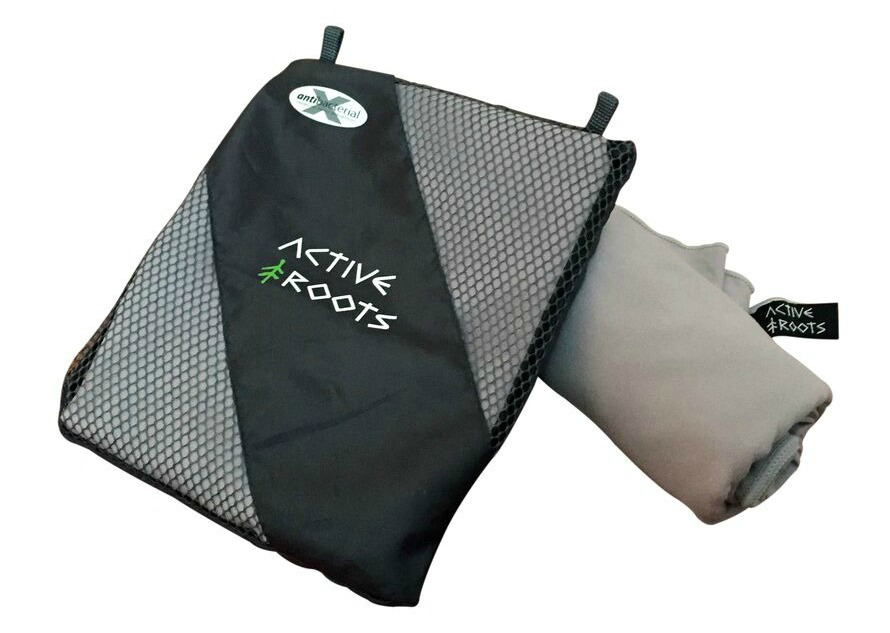 1. Active Roots Microfiber Towel: Most Airbnb's provide towels, but I always keep my own handy on my travels in case I can't get the linens cleaned during a long stay. The Active Roots Microfiber Towel doesn't just sound fancy, it kinda is fancy. The super comfy material is absorbent and quick-drying – perfect for after a shower or a quick jump into the water. Use it as a beach towel, picnic blanket or yoga towel too. Lightweight and compact, it'll hardly take up any space in your suitcase.
2. Travel Blow Dryer: Most accommodations only offer the basics when it comes to bathroom necessities, and a blow dryer is usually not on the list. Bringing your own on your travels can not only save you a lot of time, but in some cases, it can even save your hair. This Mini Blow Dryers is foldable, compact and travel-friendly, meaning that it'll fit in every bag without taking up too much space. It comes with different heat settings, so you'll be able to find the perfect one for you.
3. Active Roots Toiletry Bag: Many Airbnb hosts will provide basic toiletries, but not everyone is happy to find a simple bar of harsh soap so you'll want to come with some of your own supplies in case. This Active Roots Toiletry Bag keeps all of your bathroom essentials organized, accessible and safe from leaking into your suitcase. The bag stands on its own or hangs off a towel rack. Made from water-resistant and durable material, you can be sure that this bag will survive lots of great holidays.
4. Packing Cubes: Packing Cubes make putting everything into your suitcase a breeze. They keep your essentials organized – no more rolling t-shirts or wrinkling as you excitedly pack for your next holiday. Packing cubes are also great for longer stays, especially when you want to unpack completely. You put the cubes in your Airbnb closet to get that moved-in feeling without really unpacking everything.
5. Travel Journal: This travel journal is a good option to write down what you've experienced and remember each day of your travels. It also comes in handy when organizing and planning activities. A travel journal is perfect to put down the little things you see and capture in writing all those inspiring thoughts you'll have while roaming the planet!
6. Bluetooth Speaker: Music always brightens up the mood, which is why a Bluetooth speaker has to be one of the essentials in your suitcase or backpack. Whether you're at the beach, alone at your Airbnb or with friends, having something playing in the background makes the whole experience more comfortable. This waterproof speaker is perfect for any kind of holiday, with a battery that can last up to 15 hours and a sound quality that is more than amazing.
Final Thoughts on Tampa Airbnb
So, that's all from our list of the best AirBnBs in Tampa. We hope you'll agree that we've included lots of different properties, suitable for a range of budgets, personalities, and tastes.
The scope of Tampa AirBnBs really is quite something. We've seen exquisite mock Tudor houses, city centre houses with a pool hidden outback, and some quirky and awesome private rooms that will help you keep your costs down. At the same time, you'll stay in somewhere to remember and possibly even make friends for life!
If we've overwhelmed you with several great choices, then take it easy. Pick our favourite Tampa AirBnB – Enjoy Tampa's Hippest Neighbourhood. It's the perfect combination of style, value, and a great location. We just hope it's big enough for your group!
Our work here is done, so all that's left is for us to wish you an incredible Florida vacation. Bon voyage!
And don't forget to take out Travel Insurance for your trip! I have been using World Nomads for some time now and made a few claims over the years. They're easy to use, professional and relatively affordable. They may also let you buy or extend a policy once you've started your trip and are already abroad which is super handy.
If there's one insurance company I trust, it's World Nomads. To find out why I use World Nomads, check out my World Nomads Insurance review.
Getting an estimate from World Nomads is simple – just click the button or image below, fill out the necessary info, and you're on your way!

Yay for transparency! Some of the links in this post are affiliate links. This means that if you book your accommodation, buy a book or sort your insurance, I'll earn a small commission at no extra cost to you. I only link to stuff I've actually used and never endorse crap. Your support helps me keep the site going.