Kauai is known as the Garden Island of Hawaii – and for good reason. Its exquisite scenery includes lush tropical jungles, expansive hillsides, and sedgy mountains, as well as idyllic palm-fringed beaches.
This magnificent natural beauty is more than a nature-lovers paradise. It hosts a variety of activities and adventures that suit all kinds of travelers. Hiking through verdant forests, zip-lining, golfing, and watersports are all on offer to satisfy everyone from adrenalin-junkies to sun worshippers.
But it's not just the activities that are unique to Kauai. The island boasts a vast range of diverse accommodations to choose from, whether that's sprawling resorts, luxury hotels, glamorous villas, cheap hostels, or even a bed and breakfast.
To help you make your decision, we've gathered this list of the best bed and breakfasts in Kauai. These bed and breakfasts are hand-picked to meet any type of traveller, whether you're a family, group of friends, or looking for a romantic retreat for two, there's sure to be a bed and breakfast to meet your needs.
Best Budget Bed and Breakfast in Kauai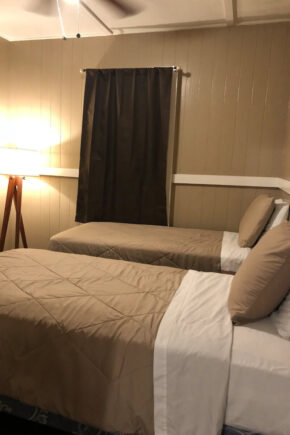 Best Budget Bed and Breakfast in Kauai
Ohana Cottage
> $
> 2 Guests
> Top restaurants steps away
> In the heart of Lihue
Best Bed and Breakfast for Couples
Best Bed and Breakfast for Couples
Corner Condo
> $
> 2 Guests
> Spacious lanai
> Private athletic club access
Amazing Luxury Bed and Breakfast in Kauai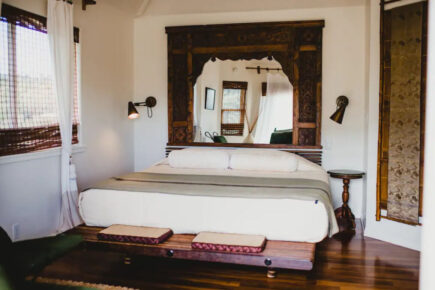 Amazing Luxury Bed and Breakfast in Kauai
The Palmwood Upper Suite
> $
> 2 Guests
> Private balcony
> 180-degree views

Unlock Our GREATEST Travel Secrets!
Sign up for our newsletter and get the best travel tips delivered right to your inbox.
Staying in a Bed and Breakfast in Kauai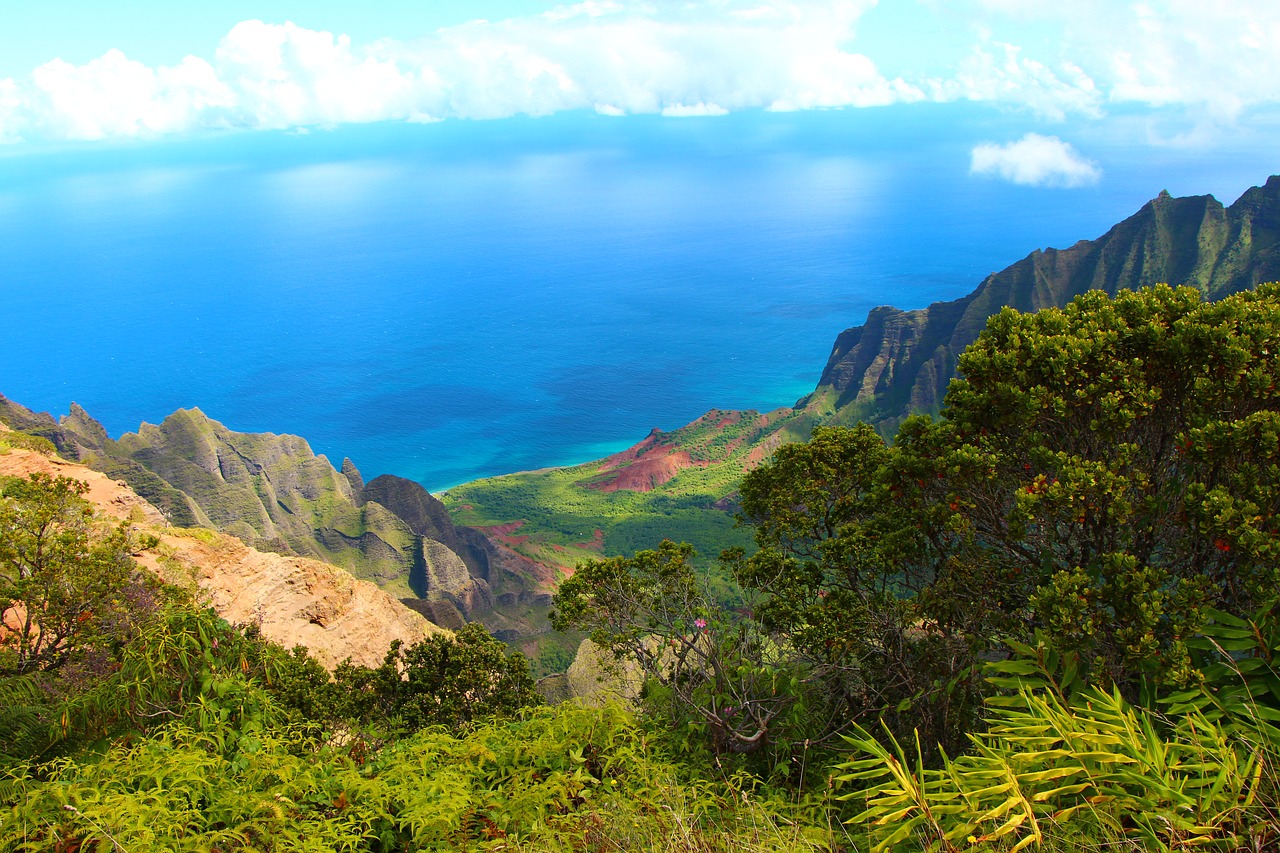 Choosing to stay in a bed and breakfast in Kauai is ideal for travelers who plan to spend their days out and about exploring all the island has to offer. If all you need is a solid breakfast before heading out for a full day, then a bed and breakfast is ideal for you.
After a day's adventuring, you can return to your comfortable and well-equipped room or suite for a restful night in stylish accommodation with a peaceful setting.
Not only does a bed and breakfast stay in Kauai offer convenience, but it is also an affordable way to explore the island while enjoying a personalized and uncrowded stay in a homely setting.
What to Look for in a Bed and Breakfast
Choosing a unique accommodation in Kauai will depend largely on your specific needs, but there are certain things to consider that can make a huge difference to your experience. A quick search on Airbnb will make it clear that not all bed and breakfasts are created equal.
Consider the location carefully – would you prefer being close to the beach and in a busier area or further out in a tranquil, elevated location with exceptional views, but maybe harder to get to? Another consideration is whether there is a private entrance – if independence to come and go as you please is important to you, then consider making a private entrance a priority.
Things like ceiling fans and air conditioning can go a long way to improving your level of comfort – not all bed and breakfasts in Kauai have air conditioning, but maybe that's not a deal-breaker for you.
Do you need access to a pool or barbeque area? What about a balcony or lanai where you can relax? Do you prefer to have a basic kitchenette or a full kitchen? These things are not all standard features, so it's best to check the listing carefully to see what is available to you.
The Top 15 Bed and Breakfasts in Kauai
As choosing accommodations is no easy task, we've gathered a varied list of the best bed and breakfasts in Kauai to help you make your decision on where to stay. We've tried to include something for everyone, whether you're travelling with your family, in groups, solo or as a couple.
Overall Best Value Bed and Breakfast in Kauai – Kauai Beach Resort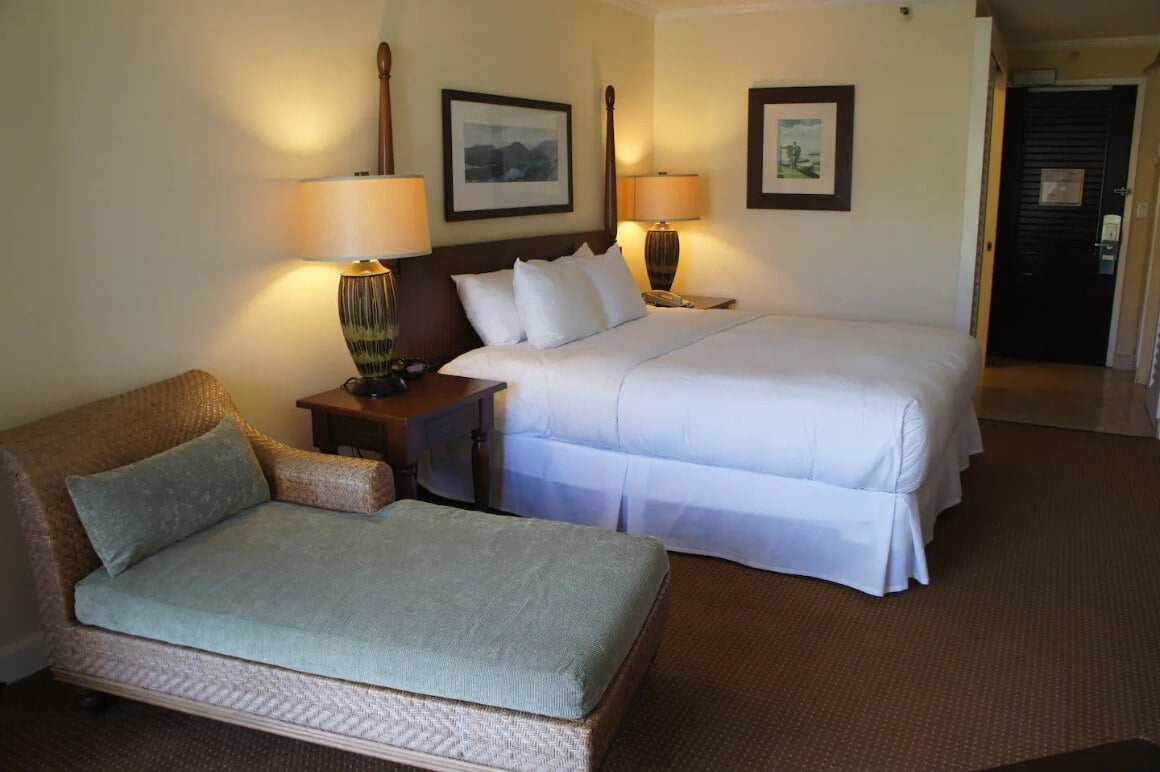 Direct beach access
Lush landscape and majestic views
Kauai Beach Resort is centrally-located on the east of Kauai, a short drive from Lihue Airport. Set in lush gardens and with direct access to the beach, the resort is perfect for a beach break in Kauai.
Located within the main building of the resort, the unit has easy access to the communal pool area as well as resort restaurants. The neat and well-equipped room is a perfect retreat after a day of island adventures in the sun.
The resort also boasts water slides, four pools, whirlpool spas, and a fitness center. From the resort, you can head out for a day on the three miles of sandy beach in front of the resort, or head further out to Lydgate Beach that's only a short drive away.
Best Budget Bed and Breakfast in Kauai – Ohana Cottage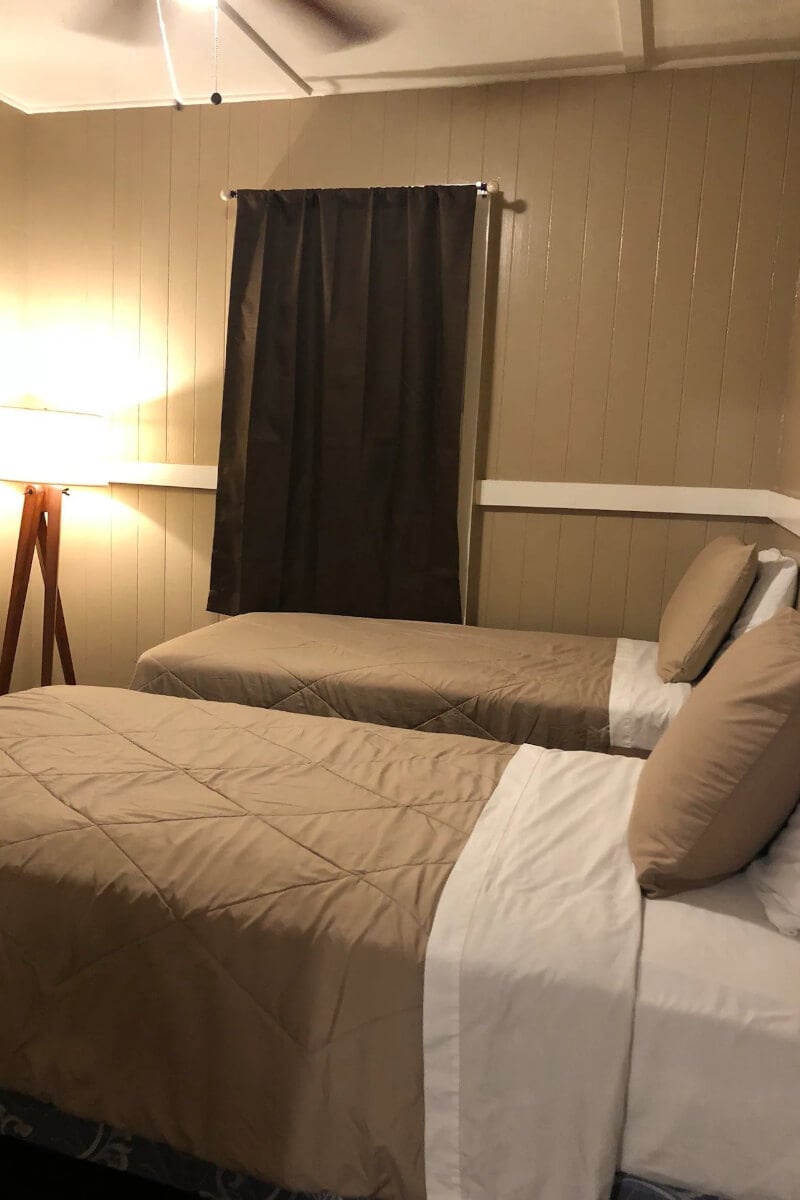 Top restaurants steps away
In the heart of Lihue
Adjacent to the Kauai Palms Hotel, Ohana Cottage is perfectly located in the heart of Lihue. Close to a wide range of restaurants, attractions, and beaches, the cottage is equipped with all the comforts of home.
The cottage has a private entrance and a small, well-equipped kitchen to provide guests with total independence on their stay. There is a homely décor and casual atmosphere that creates a welcoming and comfortable space to relax.
A stay here ensures no shortage of things to do, from the Kauai Museum to the Lihue Bowling Alley, there's something for everyone. Top beaches and areas of exceptional natural beauty are just a short drive away.
Best Bed and Breakfast for Couples – Corner Condo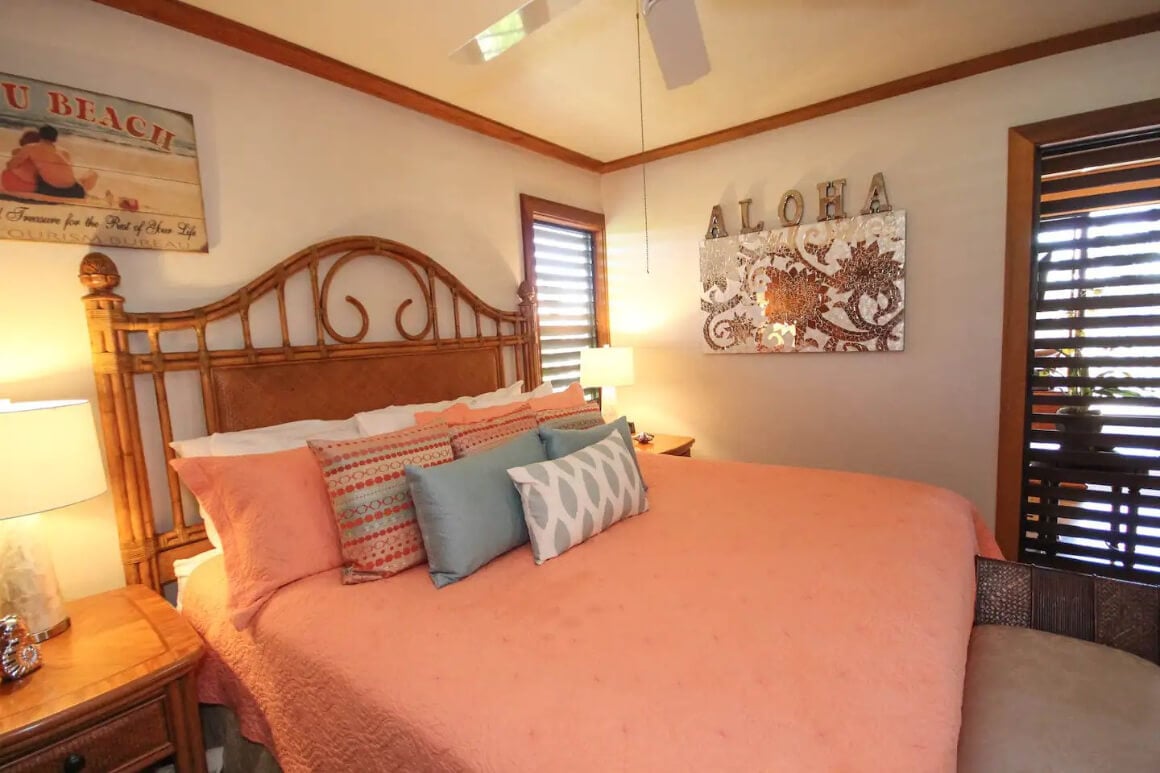 Spacious lanai
Private athletic club access
Explore the south of Kauai from the Corner Condo, located on the second floor of Kiahuna Plantation. This historic property offers guests exceptional views of the lush tropical gardens from the large lanai.
The one-bedroom condo has been comfortably furnished to provide a peaceful retreat for two. At this bed and breakfast in Kauai, you can stroll through the exotic gardens, dine at excellent nearby restaurants, and take in a live Hula show across the street before snuggling up in the king-size bed.
A stay here includes vacation membership to the Poipu Beach Athletic Club. There's also a Beach Activity Center for water-based activities.
Best Bed and Breakfast for a Group of Friends – Clifftop Home
Several lanais with views
Prime vacation location
Perched on a lava-rock cliff overlooking the ocean, Clifftop Home is a spacious island retreat just outside of Poipu. Swimming, surfing and snorkeling are just a walk away at Poipu Beach Park, which has one of the best beaches in Hawaii.
This unique accommodation in Kauai is a roomy retreat for a family or group of friends traveling together. Several lanais offer plenty of places to relax and enjoy the ocean breeze, while the first floor is the ideal place to gather and be social in the living areas.
The home is equipped with everything needed for a luxurious and comfortable stay, including air conditioning and a well-equipped kitchen.
Is This the Best Backpack EVER???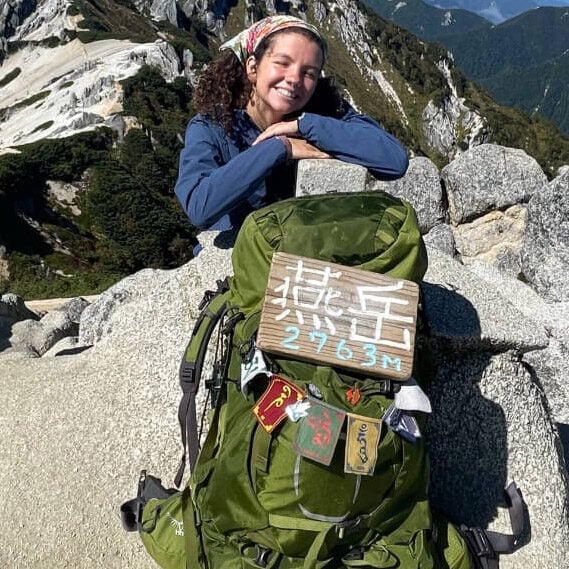 Best Bed and Breakfast for Families Visiting Kauai – Hanalei Getaway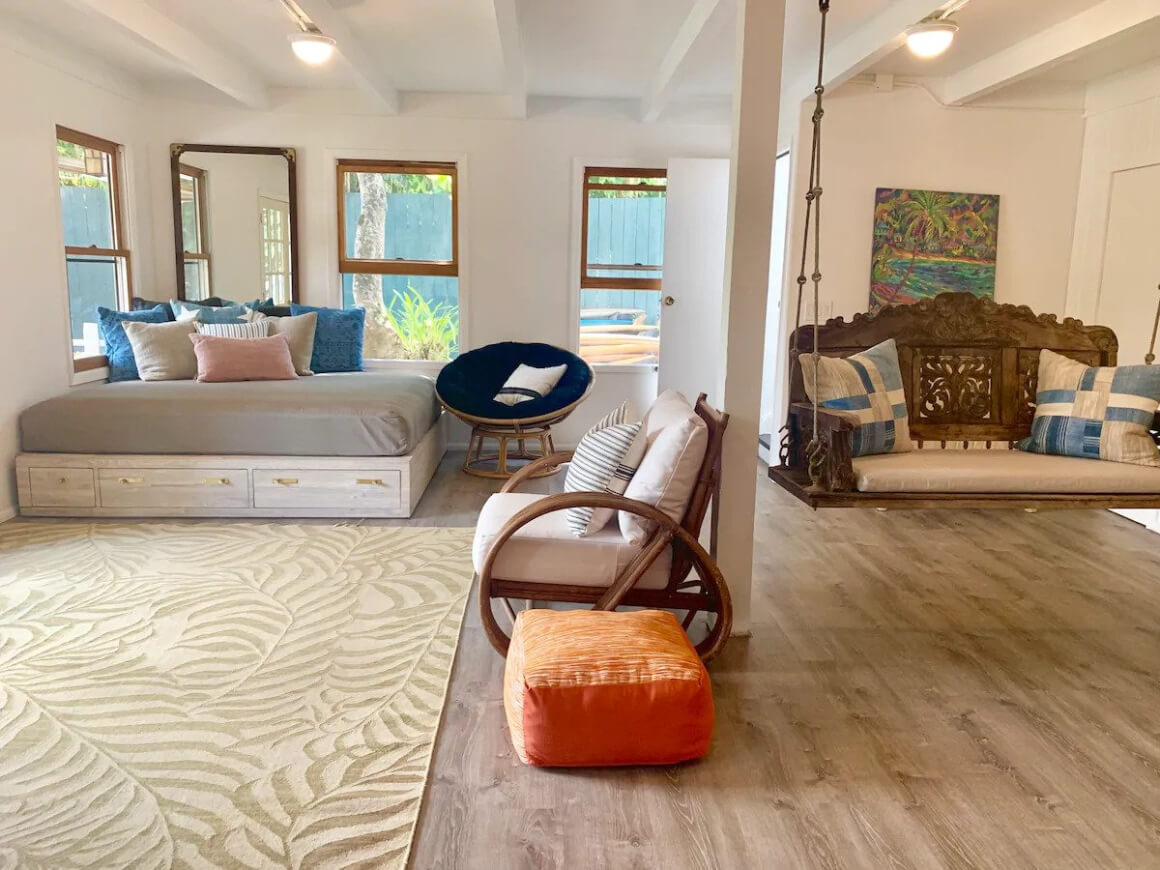 Bamboo outdoor shower
Newly remodelled home
Stay in the heart of Hanalei Bay at the Hanalei Getaway. This bed and breakfast is close to restaurants, stores, and coffee shops. The beach is two blocks away where guests can enjoy sunbathing, swimming, snorkeling, sailing, and various other island activities.
Three well-furnished bedrooms make this the perfect retreat for families. There are books and toys to entertain the little ones. The outdoor living space is ideal for relaxed family time. The little ones can play in the lush garden and pick papayas and avocados.
Loads of beach gear are included free of charge for your convenience, including five bicycles to zoot around on.
The Cheapest Bed and Breakfast in Kauai – Kauai Palms Hotel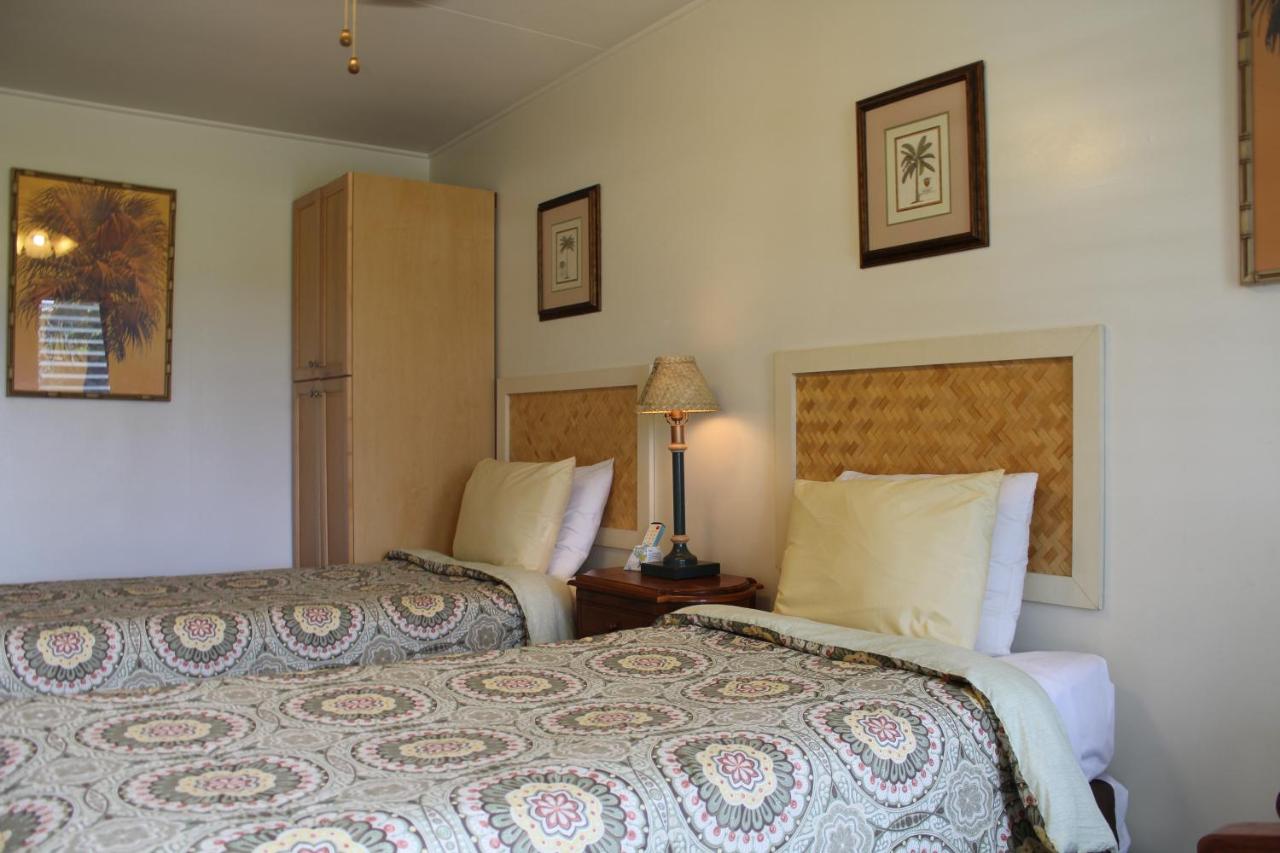 Convenient central location
Affordable Kauai vacation
A short drive from Lihue Airport, the Kauai Palms Hotel provides an affordable stay in traditional Hawaiian style bed and breakfast. It is one of the cheapest bed and breakfasts in Kauai for budget-conscious travelers. The central location of the hotel is perfect as a launchpad to explore the rest of the island.
Each room is basic and comfortable, with a mini-fridge in the kitchenette, a TV, as well as ceiling fans to keep you cool.
Top beaches are a short drive away, and central Lihue offers plenty of great restaurants and attractions nearby. Visit the Kauai Museum, go bowling, or do some shopping.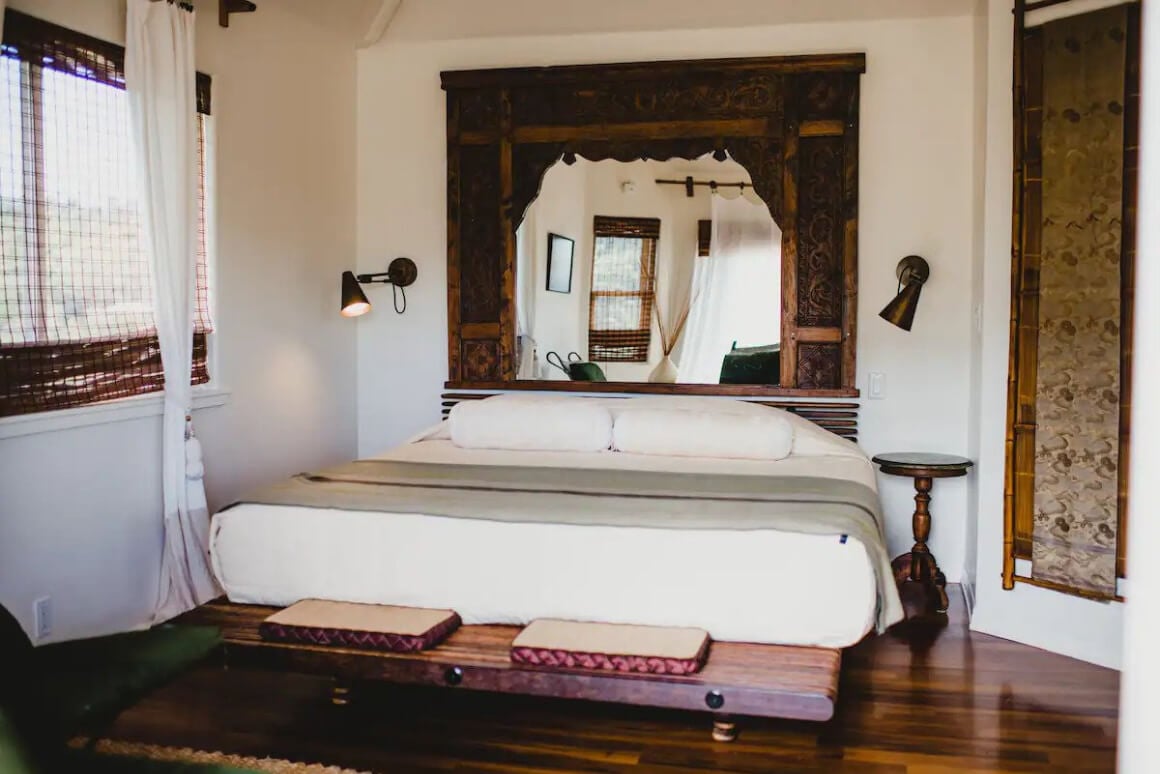 Private balcony
180-degree views
The Palmwood is a stylish bed and breakfast surrounded by lush hillsides and magnificent views of the Anahola Mountains. The Upper Suite occupies the entire third floor and has a private balcony that offers 180-degree views of this magical scenery.
With vaulted ceilings and large windows, the Upper Suite is light and airy – the ideal retreat after a busy day. The large ensuite bathroom houses a Jacuzzi tub where you can soak sore muscles after an active day of adventuring.
From this bed and breakfast, you can explore the scenic farming area or head to the unspoiled Moloa'a Beach and Larsen's Beach, which are both nearby.
Best Bed and Breakfast for Solo Travellers – Koa Suite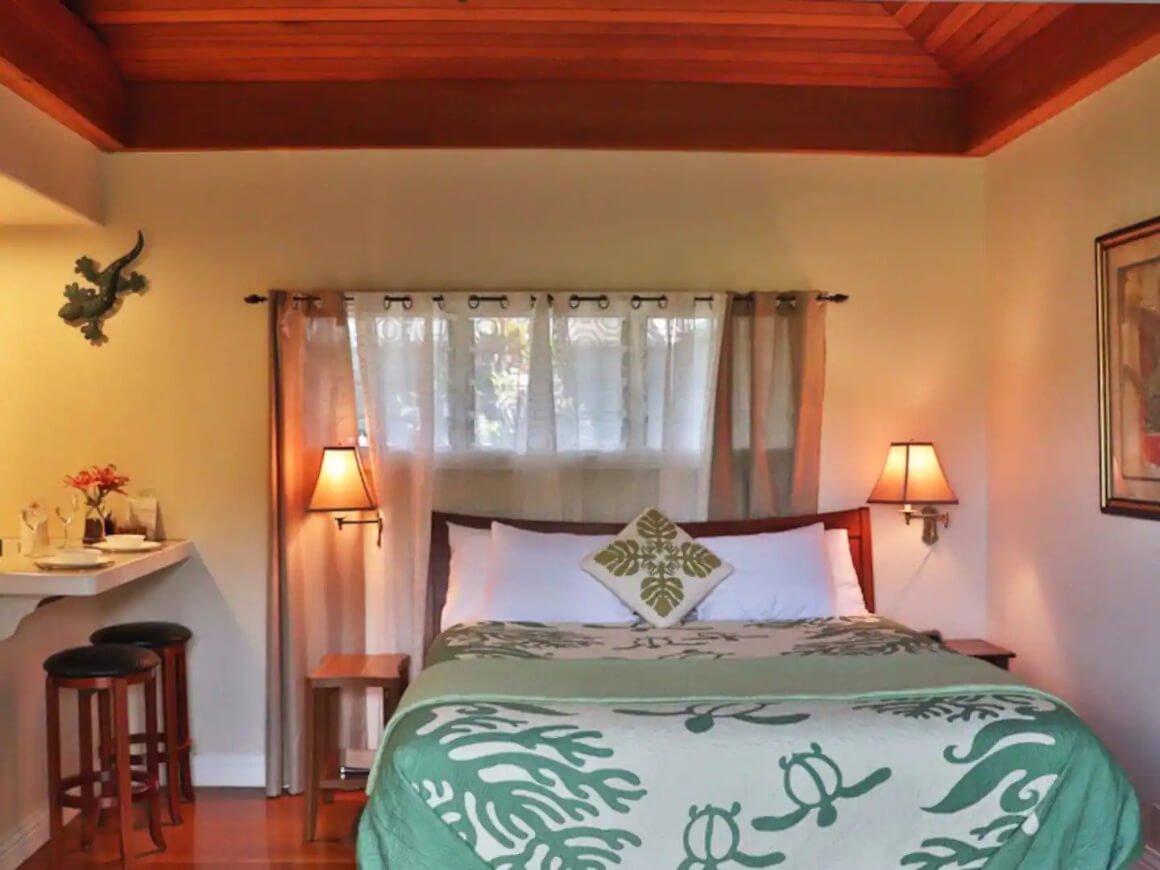 Small furnished lanai
Hillside location with views
From its hillside location, The Kauai Banyan Inn enjoys panoramic views from its elevated position. The Koa Suite has a small lanai with seating where guests can make the most of the cooling breeze and rural tranquillity.
The room is a well-equipped retreat from which to explore the island. A small kitchenette, lounge seating, and a comfortable bedroom with a king-size bed offer everything you need for a comfortable stay.
Poipu's shops, restaurants, and entertainment are within easy reach. The south shore of the island is perfect for swimming, sunbathing, surfing, and snorkeling.
Top Bed and Breakfast for Weekends in Kauai – Adventure Basecamp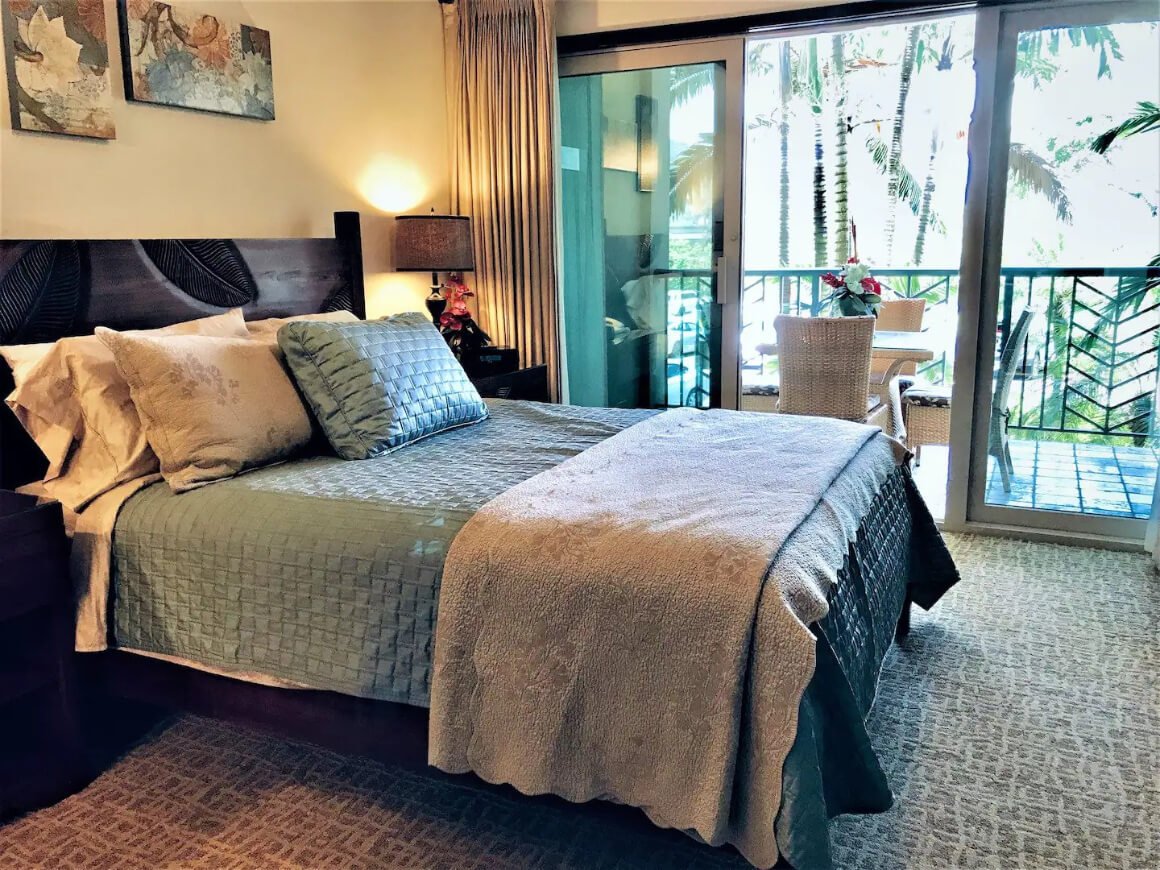 Steps from the ocean
Luxury stay in paradise
From its central location, Kauai Adventure Basecamp is perfectly positioned for a full exploration of the entire island. Just steps from the glittering ocean, the home is perfect for a family or group vacation.
There's plenty of room to relax and be social, or enjoy a quiet moment of solitude. A comfy lounge, full kitchen, and small balcony ensure you've got everything needed for a comfortable stay.
The resort offers swimming pools, hot tubs, a fitness center, and restaurants, so you won't need to go far to enjoy these amenities. The north and south of the island are equidistant from the resort, so you have lots of options for places to add to your Hawaii itinerary.
Another Great Bed and Breakfast for a Weekend in Kauai – Kaha Lani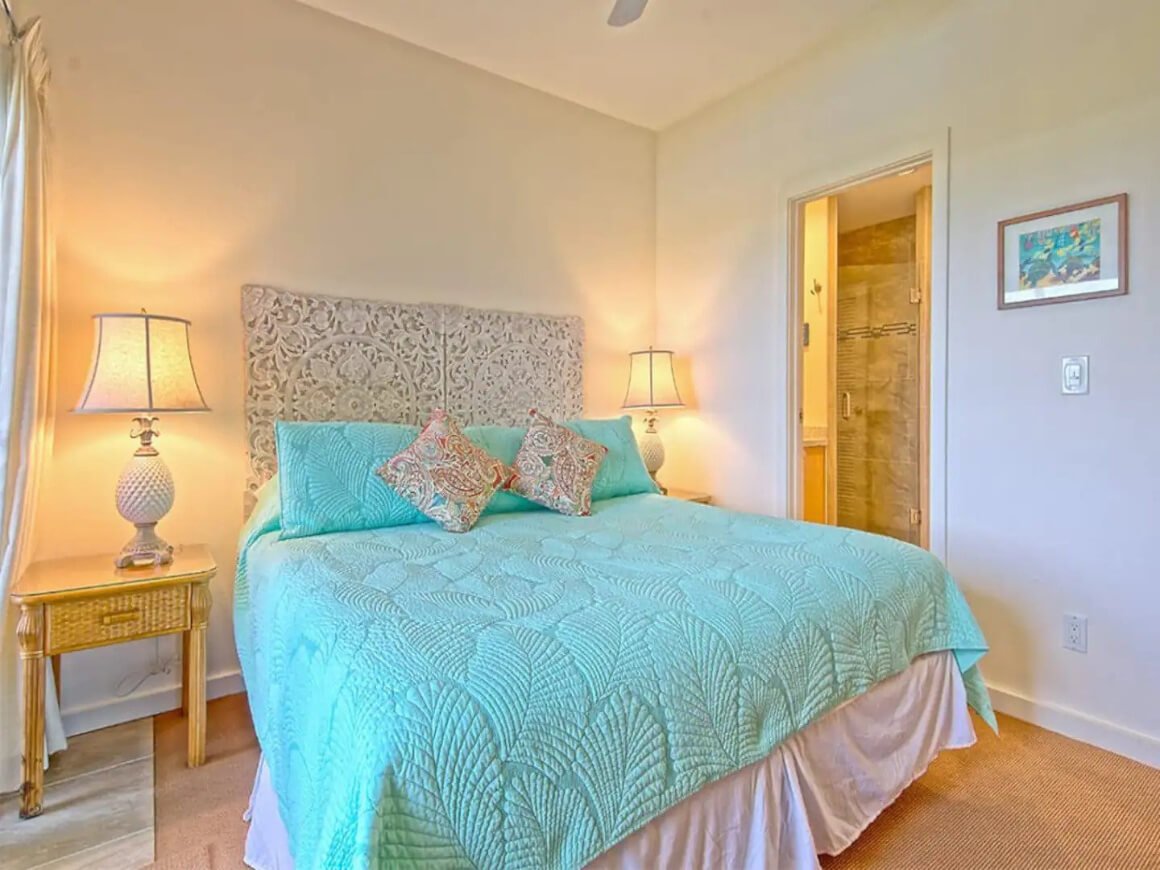 Steps from the ocean
Oceanfront bliss
A short distance outside central Lihue, Kaha Lani enjoys a tranquil location while still being close enough to all the attractions in town. Beautiful, palm-fringed Lydgate Beach is a stone's throw away.
This spacious condo is a homey retreat with a full kitchen and two bedrooms, well equipped with Wi-Fi and ceiling fans. The living area opens onto the lanai where you can enjoy views across the lawns to the ocean.
Sunbathing, swimming, and snorkeling just a short walk away, while the resort's heated swimming pool, tennis court, and barbeque area are available to guests as well.
Bed and Breakfast with an Epic Location – Sweet Beach Suite
Lanai over the ocean
Bright and chic decor
Sweet Beach Suite lies on Kauai's east coast in the seaside town of Kapaa. From this central location, you're perfectly positioned to explore the natural beauty of the area, a wide range of activities, and culture of the island.
The newly renovated suite is brightly decorated and comfortably furnished with all the comforts of home. From the modern kitchen to the open living area, you'll feel completely at ease the minute you arrive.
At this bed and breakfast, you can spend your days relaxing on the lanai that juts out over the ocean or head out to explore the island. Resort amenities include a swimming pool, bicycle rental, and fitness classes like yoga on the beach.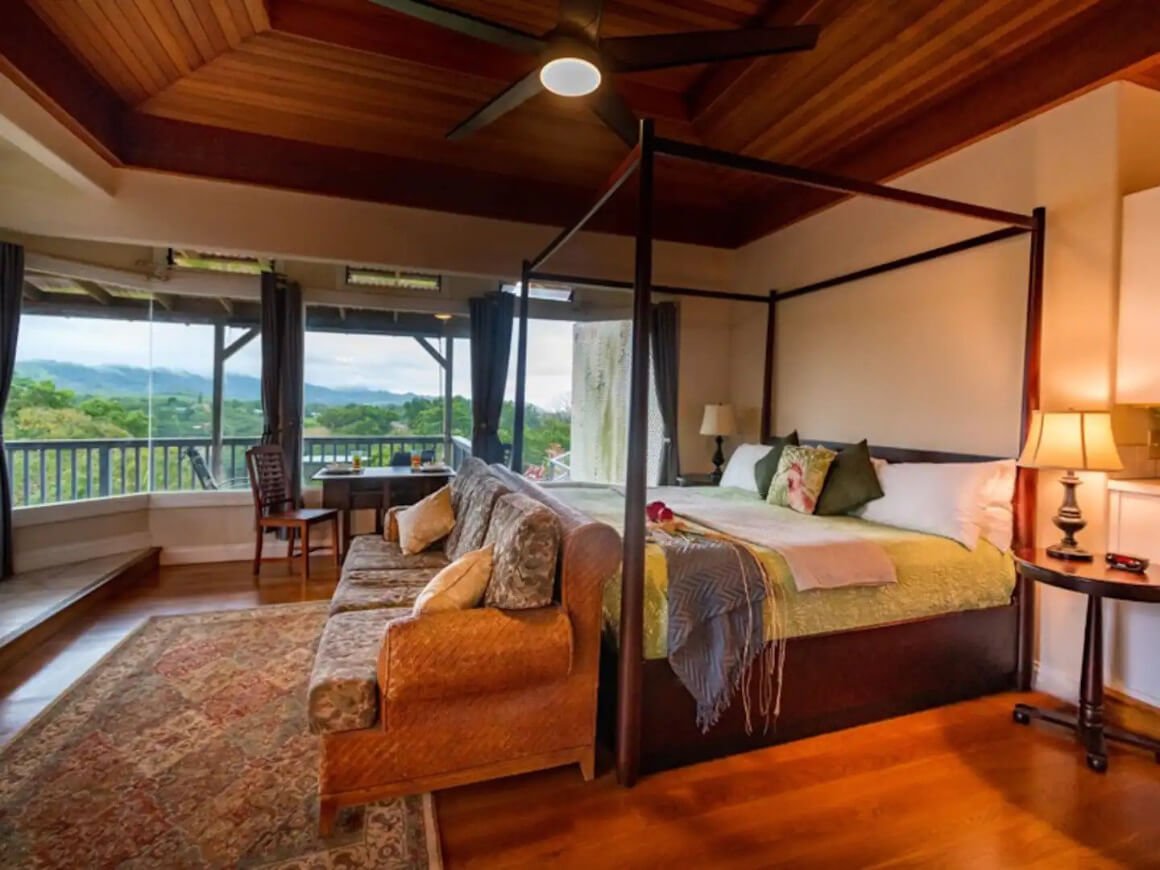 Furnished patio
Elevated hillside location
Kauai Banyan Inn is perched on a tranquil hillside above Poipu. This elevated position offers great views over the surrounding rolling hillsides, a pastoral setting with the Haupu Mountain Range in the distance.
Large windows invite this magical view inside where comfortable furnishings and vaulted ceilings create a comfortable place to relax in after a day of exploring. A comfy four-poster king-size bed waits you in this treehouse-style suite.
Explore the lush jungles, sandy beaches, and rolling hillsides of the area. Poipu offers a great spot for sunbathing and swimming and snorkeling.
Four-poster bed and soaker tub
Airy elegance
Ali'i Honeymoon Suite offers a regal and comfortable stay for two (Ali'i means Hawaiian Royalty). Perched above Poipu in a lush setting of undulating hills and rural tranquillity, this is an idyllic setting for romance.
Large windows offer great views of the verdant landscape and distant mountains from the king-size four-poster bed. A double shower and soaker tub add to the romantic feel of the place.
Poipu and its excellent beaches for swimming, sunbathing, and snorkeling are a short distance away. A variety of top restaurants are within easy reach for lunch and dinner. Jungles and botanical gardens in the area make for a great place to go hiking.
Most Traditional Bed and Breakfast in Kauai – The Palmwood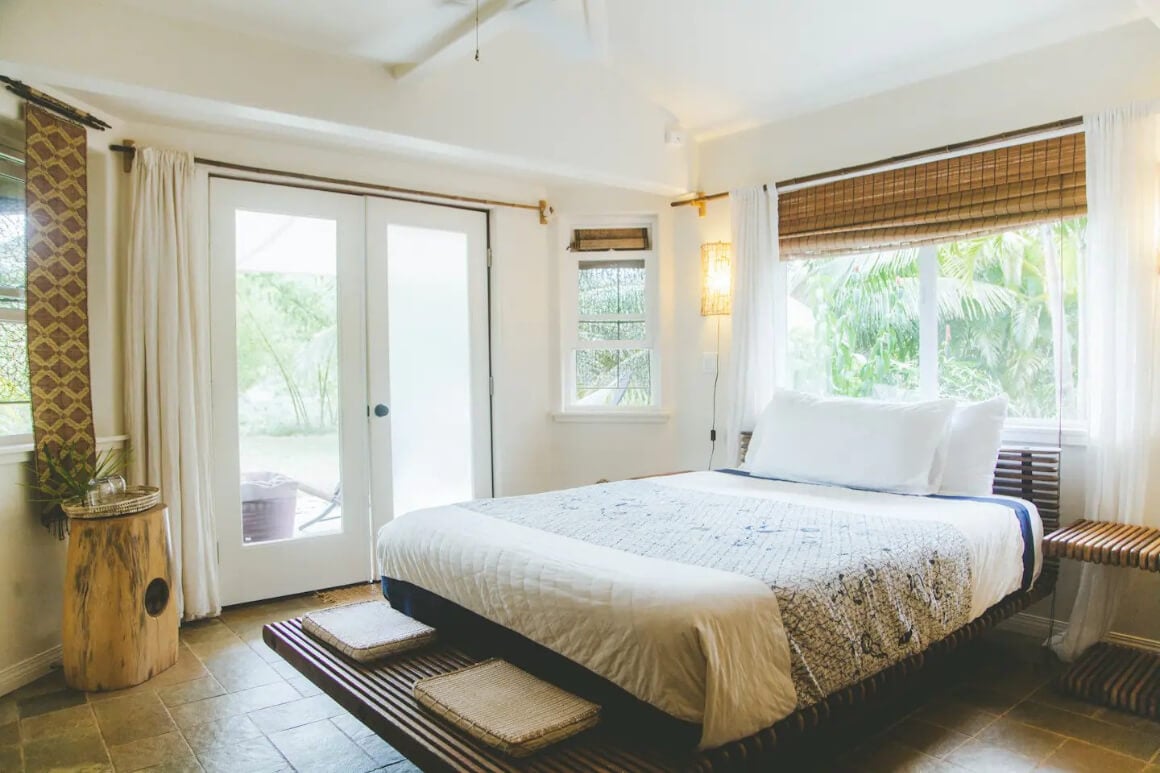 Private outdoor shower
Views of the garden and beyond
The Palmwood is located in a quiet, secluded area on Kauai's north shore, surrounded by beautiful countryside. Kilauea Town and Hanalei Town are easily accessed within a few minutes drive.
Complete with a private garden and hammock, The West Room in The Palmwood is a quaint and lustriously-designed retreat. From the luxurious linens to the private outdoor shower, this unique bed and breakfast in Kauai is a delight.
From this property, you can head out to explore these rolling hillsides and lovely rural vistas. Moloa'a Beach and Laren's Beach are the closest beaches for a day of sun and swimming in an unspoiled setting.
Most Beautiful Bed and Breakfast in Kauai – Ocean View Room
Ocean and sunrise views
Plentiful resort amenities
The Ocean View Room at Kauai Beach Resort on the east coast of Kauai is perfectly positioned to enjoy the beautiful sunrise over the ocean and resorts pools. All the island's sights are within easy access from this central location.
The Ocean View Room is a comfortable and well-furnished retreat, with a king-size bed and an additional day bed for a small child if needed.
All the resort amenities are available to guests, including pools, palm-studded gardens, restaurants, and entertainment. Heading out for some sightseeing is easy from this central location on the east coast.
Don't Forget Your Kauai Travel Insurance
ALWAYS sort out your backpacker insurance before your trip. There's plenty to choose from in that department, but a good place to start is Safety Wing.
They offer month-to-month payments, no lock-in contracts, and require absolutely no itineraries: that's the exact kind of insurance long-term travellers and digital nomads need.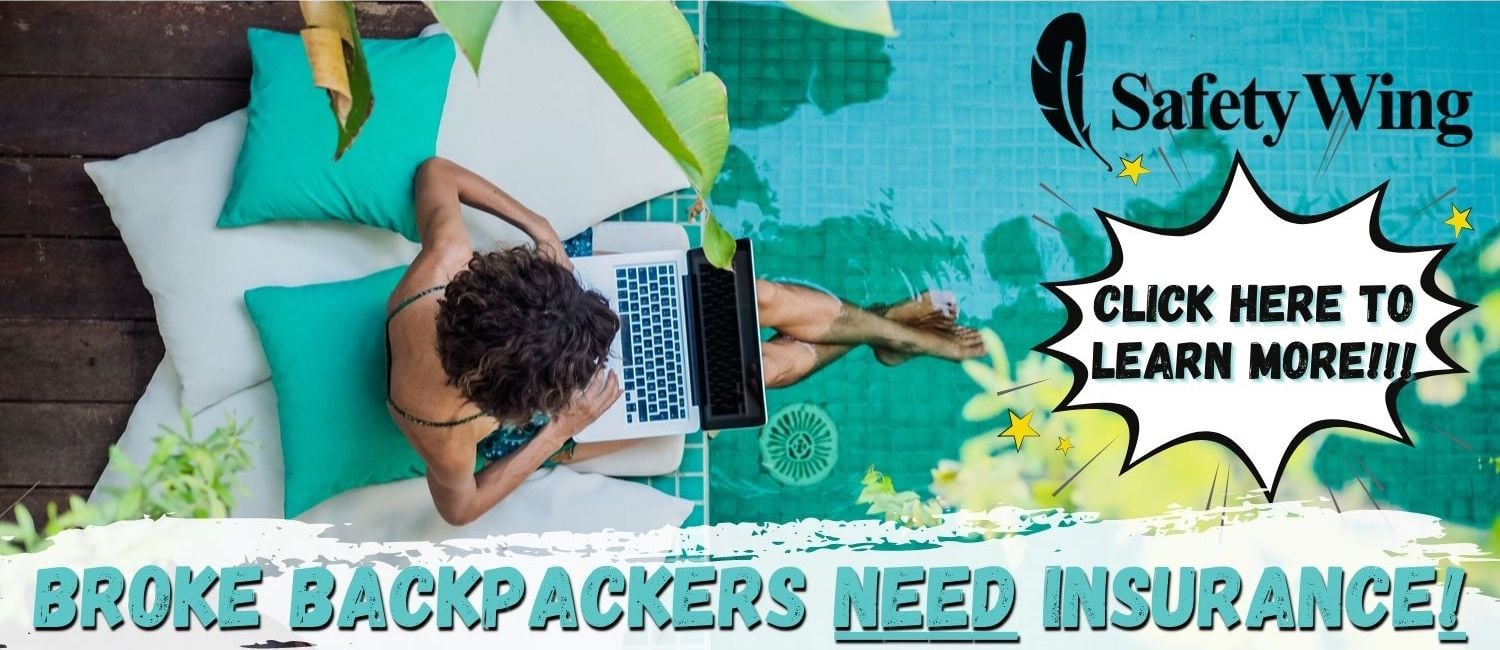 SafetyWing is cheap, easy, and admin-free: just sign up lickety-split so you can get back to it!
Click the button below to learn more about SafetyWing's setup or read our insider review for the full tasty scoop.
Final Thoughts on Kauai Bed and Breakfasts
Kauai has a well-deserved reputation as the Garden Island. Its lush jungles and pristine beaches offer plenty to experience, from jungle trekking to watersports and everything in between.
Choosing where to stay in Kauai is almost as tough a decision to make as deciding which activity to dive into first. Each of these best bed and breakfasts in Kauai will offer you a comfortable stay and affordability while still providing luxury and style.
---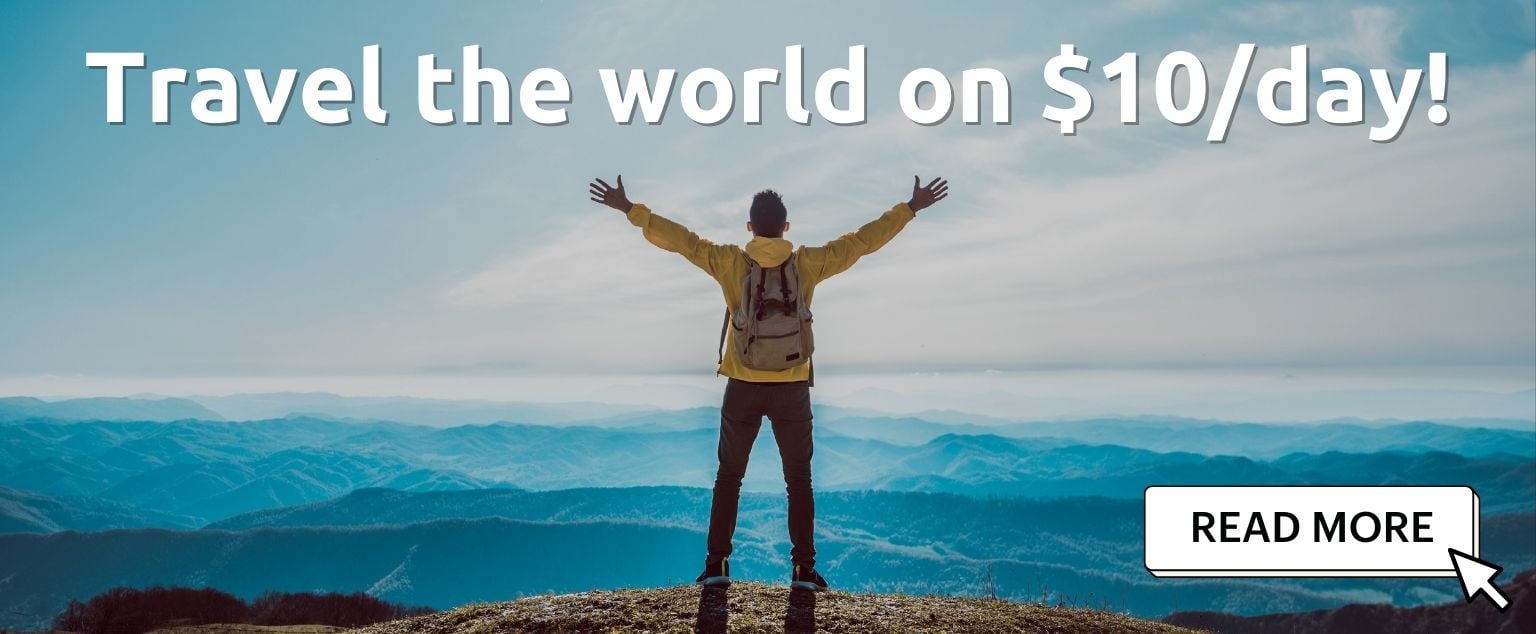 And for transparency's sake, please know that some of the links in our content are affiliate links. That means that if you book your accommodation, buy your gear, or sort your insurance through our link, we earn a small commission (at no extra cost to you). That said, we only link to the gear we trust and never recommend services we don't believe are up to scratch. Again, thank you!