Kentucky is practically synonymous with rolling green hills and horse races. Whatever your initial reason for visiting Kentucky, you'll fall in love with the bluegrass music, bourbon distilleries, and landscape. In fact, you'll probably never want to leave.
To enjoy your trip to the fullest, it's a good idea to look for unique accommodation in Kentucky where you can dive into the local scene. Stuffy hotels don't really do the laid-back vibes and natural beauty of the state justice. However, a cabin in Kentucky will certainly do the trick!
We've already done the research for you, bringing you this article on Kentucky's best cabins. Whether you're planning to stay a whole month or just passing through for the weekend, these cabins are where you can relax and enjoy everything Kentucky has to offer.
In a Hurry? Here's Where to Stay in Kentucky for One Night
First time in Kentucky
Hemlocks Over Muir
Located right next to the Muir Valley Nature Preserve with access to plenty of rock climbing opportunities and hiking trails, this is undoubtedly one of the best cabins in Kentucky for outdoor adventures. Plus with homey comforts, and even a huge outdoor hot tub, you can stay nice cozy at the cabin.
NEARBY ATTRACTIONS:
The Gorge Underground
Broke Leg Falls
Levi Jackson Wilderness Road Park
Is this amazing Cabin in Kentucky booked for your dates? We've got your back with our other favorite properties below!

Unlock Our GREATEST Travel Secrets!
Sign up for our newsletter and get the best travel tips delivered right to your inbox.
Staying in a Cabin in Kentucky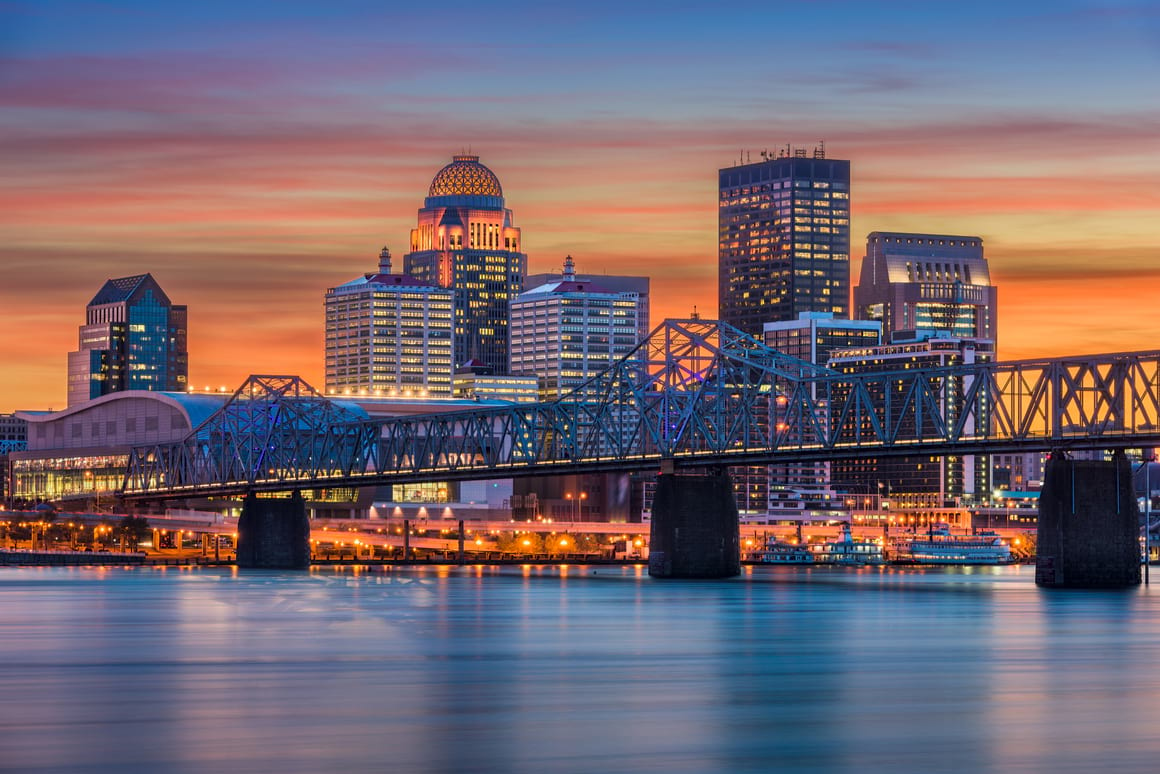 Kentucky is one of the best places to visit in the USA, and staying in a cabin is the coolest way to make the most of it! You can count on a peaceful, natural setting, often close to hiking trails or lakes. Often there are "camping" style amenities, like campfire pits for evening marshmallow roasts.
When traveling around Kentucky, it's a good idea to have your own vehicle, especially since a lot of cabins have a more off-the-beaten-path location. Typically, town amenities and restaurants are still just a short drive away, so it's easy to pick up supplies or check out city attractions too.
Having peace and privacy is guaranteed at all the best cabins in Kentucky. Often, the entire property will be yours to enjoy. Other times, a cabin may be located on a family's farmland, and you'll have the hosts nearby.
Solo travelers, couples, families, or groups can all find cabins big (or small) enough for their needs. And since most cost roughly the same price as a hotel room, you're definitely coming off at the better end of the deal in terms of comfort and privacy!
What to Look for in a Cabin
Location will probably be the first factor you'll want to take into consideration when picking out one of Kentucky's best cabins.
If there's a particular city or park you're hoping to visit, check what cabins are available in the nearby area. Or, if you just want to find somewhere for a quiet escape, there are plenty of options all around the state!
Many cabins are large enough to accommodate families, but you'll want to double-check whether a property is child-friendly before booking. Sometimes there may be safety concerns for young travelers, like stairs without railings or nearby creeks or rivers.
Most cabins are equipped with modern comforts. However, WiFi may not be available in some more remote locations and cell phone reception can be unreliable. You might like the opportunity to unplug, but digital nomads will want to stay connected on the road.
You can also keep an eye out for other luxury amenities. You'll find some cabins in Kentucky with hot tubs, decks or patios with a view, and BBQ grills – all for reasonable prices.
If you want to compare unique accommodation in Kentucky, search platforms like Airbnb have filters that allow you to select amenities and features most important to you. Plus, you'll be able to read reviews to get a better feel for what a cabin is like. You can also check out all our favorite Airbnbs in Kentucky!
OVERALL BEST CABIN IN KENTUCKY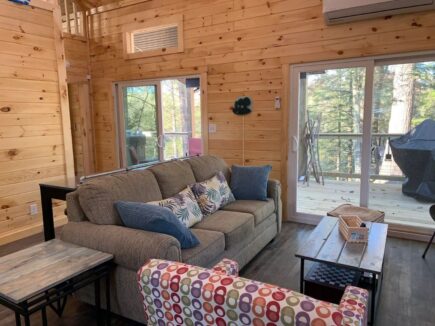 OVERALL BEST CABIN IN KENTUCKY
Hemlocks Over Muir
> $$
> 4 guests
> Hot tub
> Porch with views
BEST BUDGET CABIN IN KENTUCKY
BEST BUDGET CABIN IN KENTUCKY
Woodsy Heaven Handcrafted Cabin
> $
> 2 guests
> Breakfast ingredients provided
> Vintage decorations
BEST CABIN FOR COUPLES
BEST CABIN FOR COUPLES
Fireside Cabin in the Red River Gorge
> $$
> 2 guests
> Hot tub
> Handcrafted cabin
BEST CABIN FOR A GROUP OF FRIENDS
BEST CABIN FOR A GROUP OF FRIENDS
Cozy River Cabin
> $
> 6 guests
> Porch swing and rockers
> Great location
OVER-THE-TOP LUXURY CABIN
OVER-THE-TOP LUXURY CABIN
Bluff Overlook Cabin
> $$$$
> 12 guests
> Deck with hot tub and swings
> Fire pit and 2 grills
BEST CABIN FOR FAMILIES VISITING KENTUCKY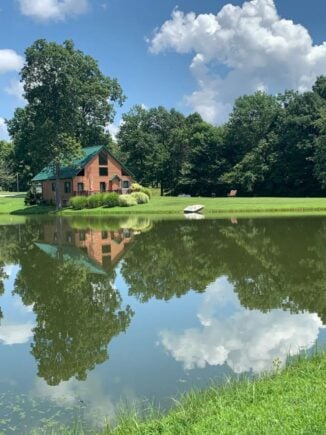 BEST CABIN FOR FAMILIES VISITING KENTUCKY
Crouse's North Ninety Lakehouse
> $$
> 6 guests
> Huge pond
> Hot tub
BEST CABIN FOR BACKPACKERS
BEST CABIN FOR BACKPACKERS
Sandy Acres Hobbit Cabin
> $
> 2 guests
> Porch with outdoor seating
> Indoor fireplace
The Top 15 Cabins in Kentucky
Whether you're here for the races or in need of a nature retreat, these are the overall best cabins in Kentucky. Budget backpackers, solo travelers, or family vacationers, we've got you.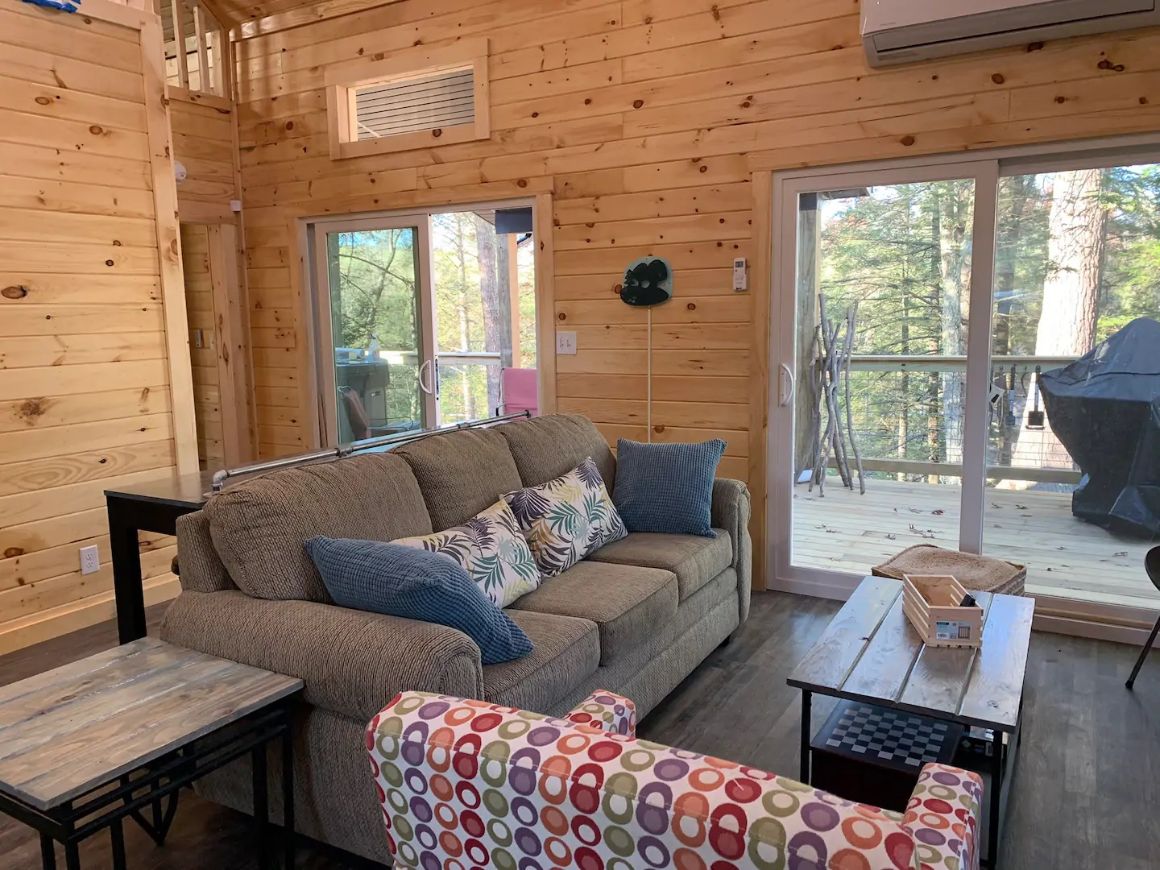 $$
4 guests
Hot tub
Porch with views
Overlooking the Muir Valley, this beautiful woodland cabin is everything you could hope for in unique accommodation in Kentucky. It has a quiet and secluded location with the Muir Valley Nature Preserve in its backyard and is just a short drive from towns, shops, and restaurants.
Muir Valley is world-famous for its rock climbing opportunities. If climbing isn't your thing, there's also hiking, ziplines, and biking. The cabin is a great place to relax thanks to the homestyle amenities, hot tub, spacious porch, and views.
$
2 guests
Breakfast ingredients provided
Vintage decorations
Tucked away in the rolling hills and peaceful woodlands, this stunning handcrafted cabin is perfect for budget backpackers. It comes equipped with modern comforts like Wi-Fi, AC, and a TV, but still maintains a rustic charm.
There's plenty to see and do in the area, including hiking, horseback riding, and swimming. If you're in need of a break, the cozy cabin offers a great escape from the rush of daily life. You'll get a chance to reconnect with nature or curl up with a good book by the indoor fireplace.
While it's not a bed and breakfast in Kentucky, it does have free breakfast ingredients provided so you can make your own.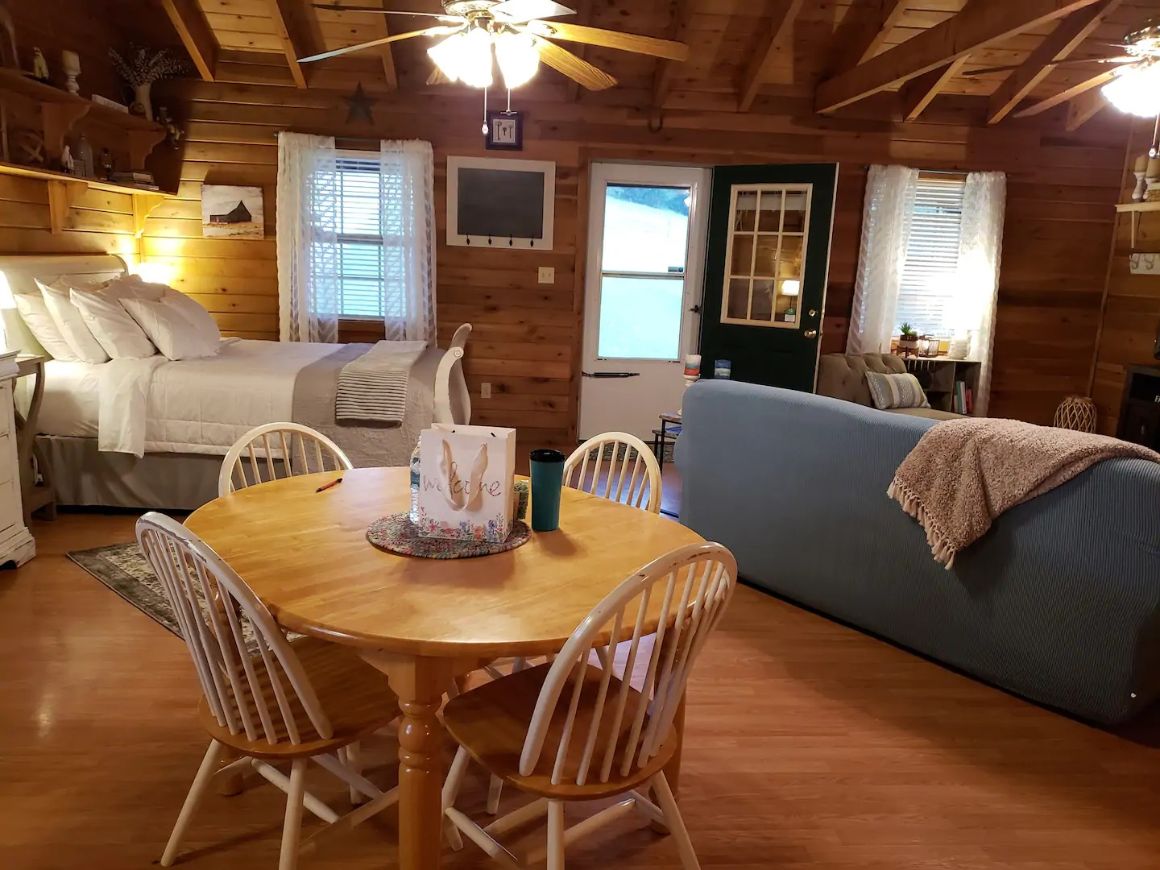 $
2 guests
Fire pit with wood provided
Grill and hammock
If you need to watch your spending, then this budget-friendly Kentucky cabin is an ideal option. You'll have heaps of privacy, and can enjoy the fresh air and open spaces of the countryside! The 30 private acres provide a picture-perfect Kentucky backdrop, and you'll get some amazing sunrise views from the porch.
When you're in the mood to explore, there are some nearby towns with shops and restaurants. Or, you might just want to relax in the hammock and kick back at the cabin.
$$
2 guests
Hot tub
Handcrafted cabin
Located right in the scenic Red River Gorge, this handcrafted home is the perfect romantic cabin in Kentucky. In addition to the peaceful woodland scenery, you can also count on contemporary comforts like heated floors and a fully-equipped kitchen.
The entire property will be yours to enjoy during your stay. There's a spacious private deck with excellent views, a hot tub, and a charcoal grill for evening cookouts. If you want to explore, you'll find restaurants, shops, and some of the USA's best hiking trails just a short drive away.
An Eco-Friendly Traveller NEEDS an Eco-Friendly Backpack!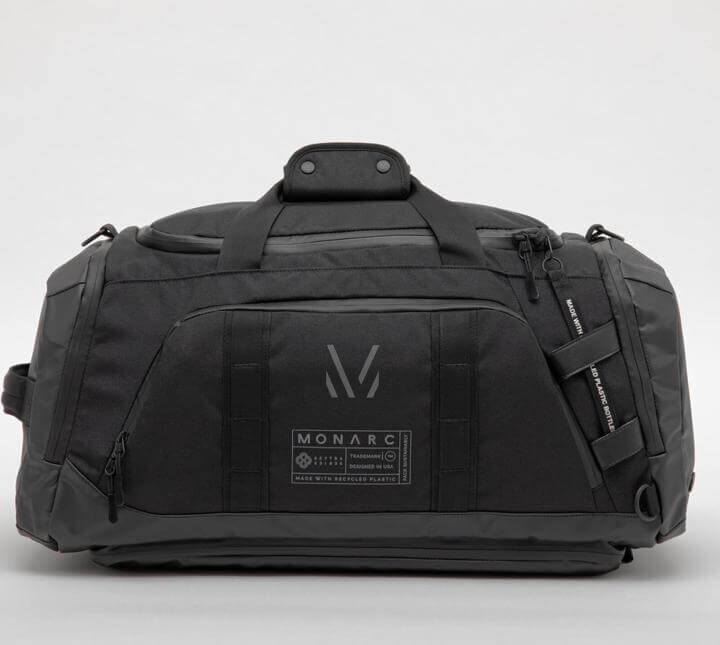 50 recycled plastic bottles – that's what goes into every Monarc Settra: the world's MOST SUSTAINABLE backpack.
Whether you're rocking duffel mode or backpack mode, if you're a traveller that gives a flying hoot about their environmental impact, then there's only one backpack you should consider – the plastic-negative Monarc Settra.
Learn More Now!
5. Best Cabin for a Group of Friends – Cozy River Cabin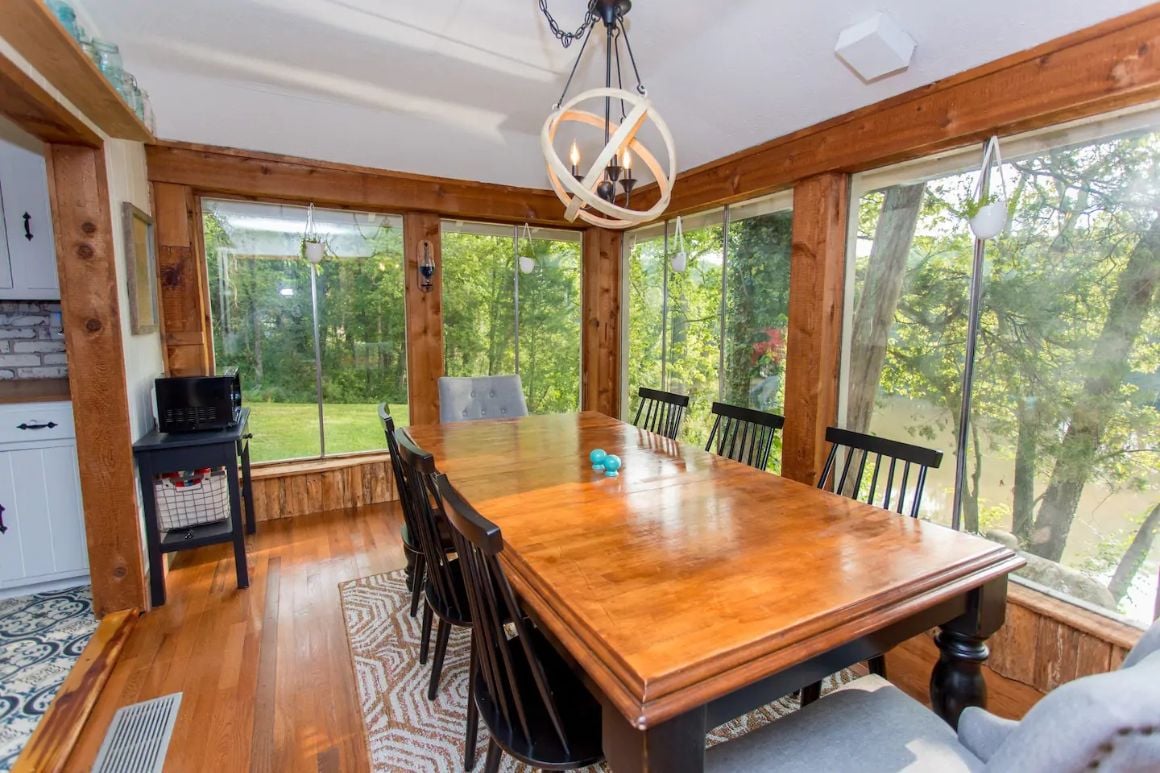 $$$$
8 guests
Porch swing and rockers
Great location
Your friends can enjoy a private riverside cabin in Kentucky, perfectly situated to enjoy both the natural scenery and cultural attractions. A 10-minute drive takes you to Bowling Green and Western KY University, and in 30 minutes you can reach the popular Mammoth Cave Park.
Situated right on the banks of the Barren River, you can appreciate the view from the spacious deck and comfy outdoor furniture. Thanks to the secluded feeling and contemporary amenities, like great Wi-Fi and full kitchen, the cabin is also suitable for working remotely.
6. Another Great Cabin for a Group of Friends – Cozy Mountain Air Cabin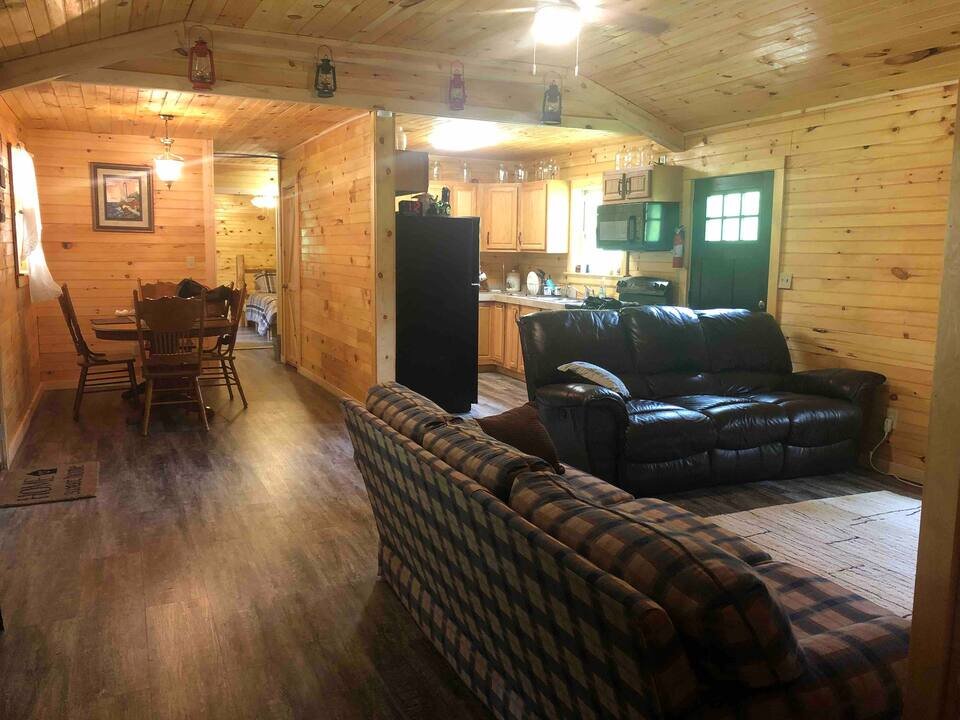 $$
6 guests
Hot tub
Indoor fireplace
Nestled in the mountainside close to Red River Gorge, this cabin is perfect if you love exploring nature. Natural Bridge State Resort Park is a short drive away, and other adventure activities like biking, rock climbing, and hiking.
Back at the cabin, there's a huge seven-person hot tub to relax in during the evenings. There's also a cozy indoor fireplace, and a full kitchen to cook your favorite meals
On days you'd rather hang out at the cabin, there's a TV to watch your favorite movies and a huge backyard to enjoy.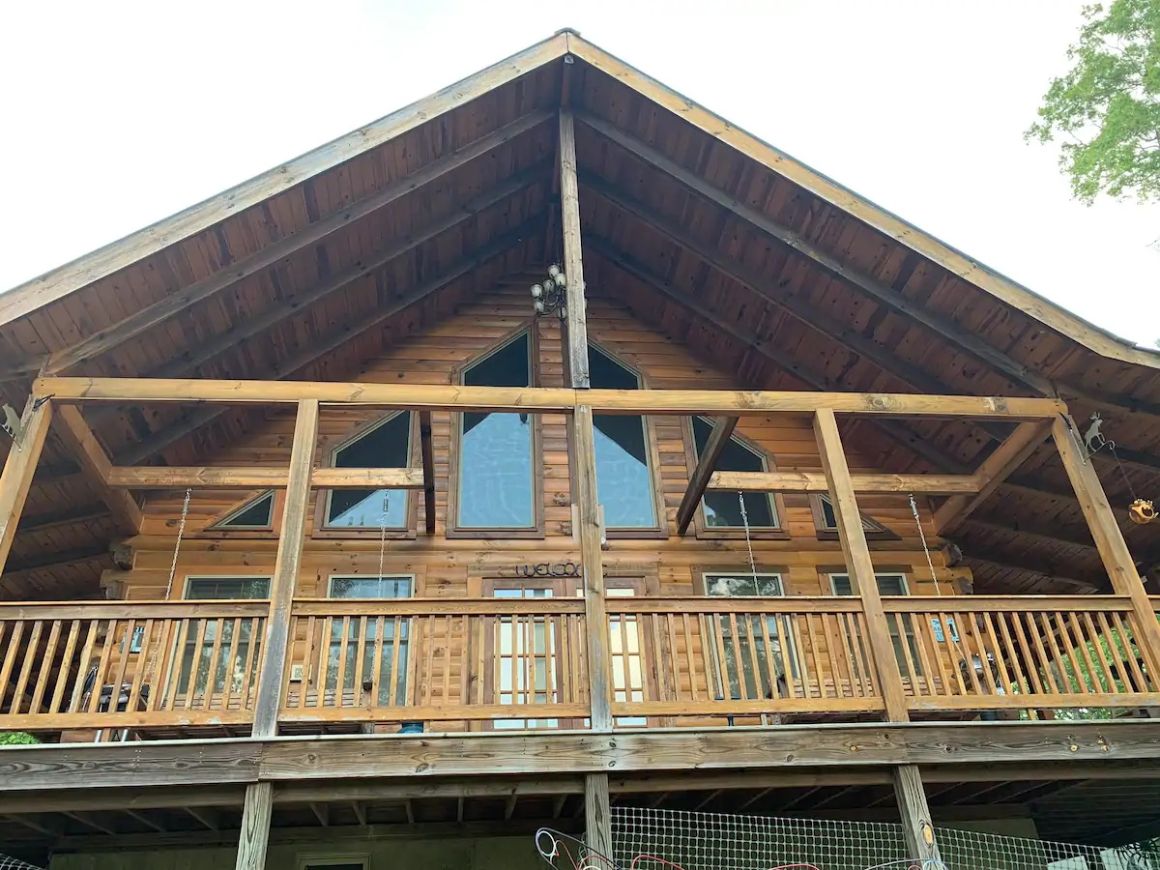 $$$$
12 guests
Deck with hot tub and swings
Fire pit and 2 grills
With an awesome location, resort-style comforts, and an incredible view, this awesome Kentucky cabin has a lot to offer. The three-sided porch enjoys views over the bluff, which can be admired from the swing chairs or large hot tub.
There are plenty of outdoor activities nearby like hiking and rock climbing in Red River Gorge. If bad weather interrupts your plans, there's a recreation room with a ping pong and pool table. Plus, there's a popcorn maker for movie nights.
$$$
6 guests
Huge pond
Hot tub
Kids will certainly have enough space to play at this picturesque countryside cabin in Kentucky. On the 90 private acres, you'll find walking trails, two small lakes (paddle boats provided!), and a backyard fire pit.
There are some convenience stores nearby, or you can drive up to Madisonville or Henderson if you need supplies. The cabin comes equipped with a full kitchen, plus a huge 70 inch TV for family movie nights.
9. Another Great Cabin for Families Visiting Kentucky – Creekside Cabin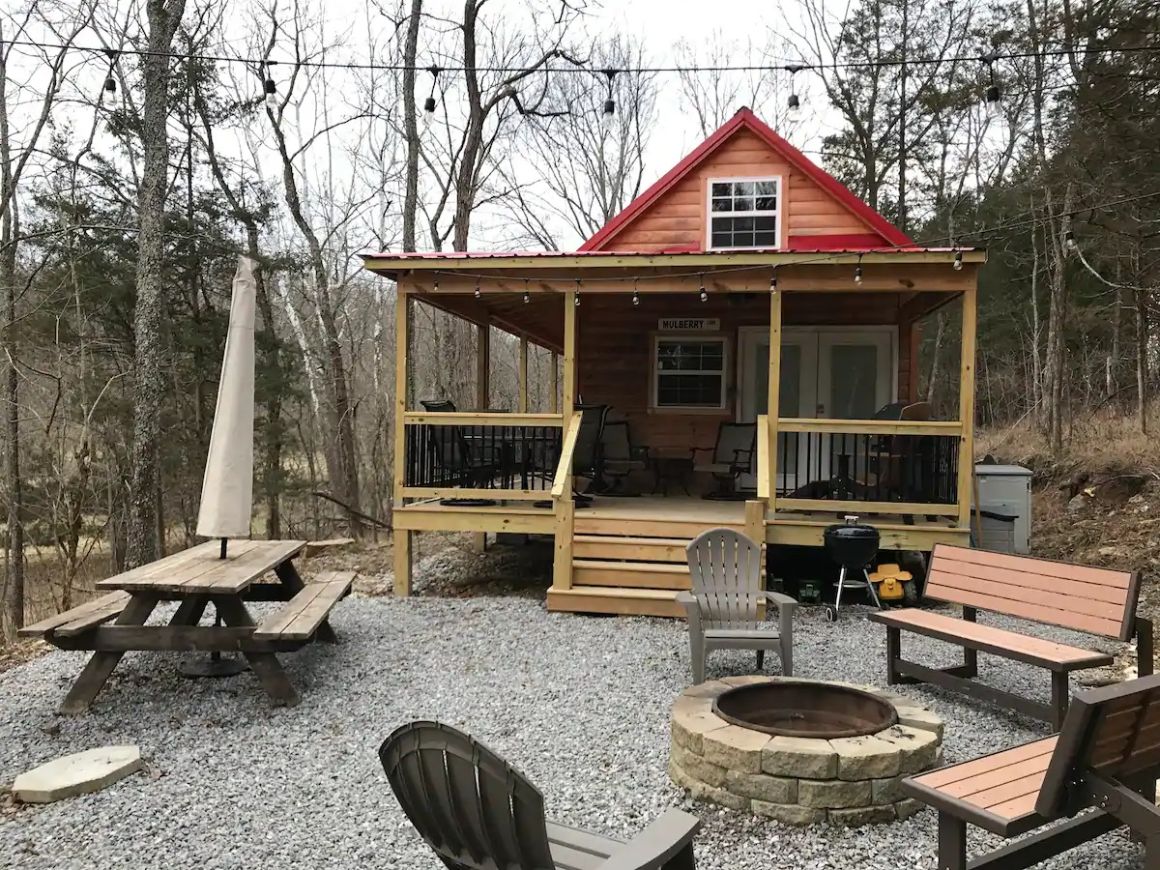 $$
6 guests
Outdoor picnic area
Board games and DVDs
Turn a regular family road trip to an unforgettable adventure by picking unique accommodation in Kentucky—like this charming creekside cabin. Fun attractions like the Ark Encounter and Kentucky Horse Park are less than 20 min away, and back at the cabin there's plenty of space for kids to play and have fun.
Cook family-style meals in the kitchen, or dine al fresco while roasting hot dogs and marshmallows around the campfire. For rainy days, the cabin comes stocked with board games and a selection of DVDs for entertainment.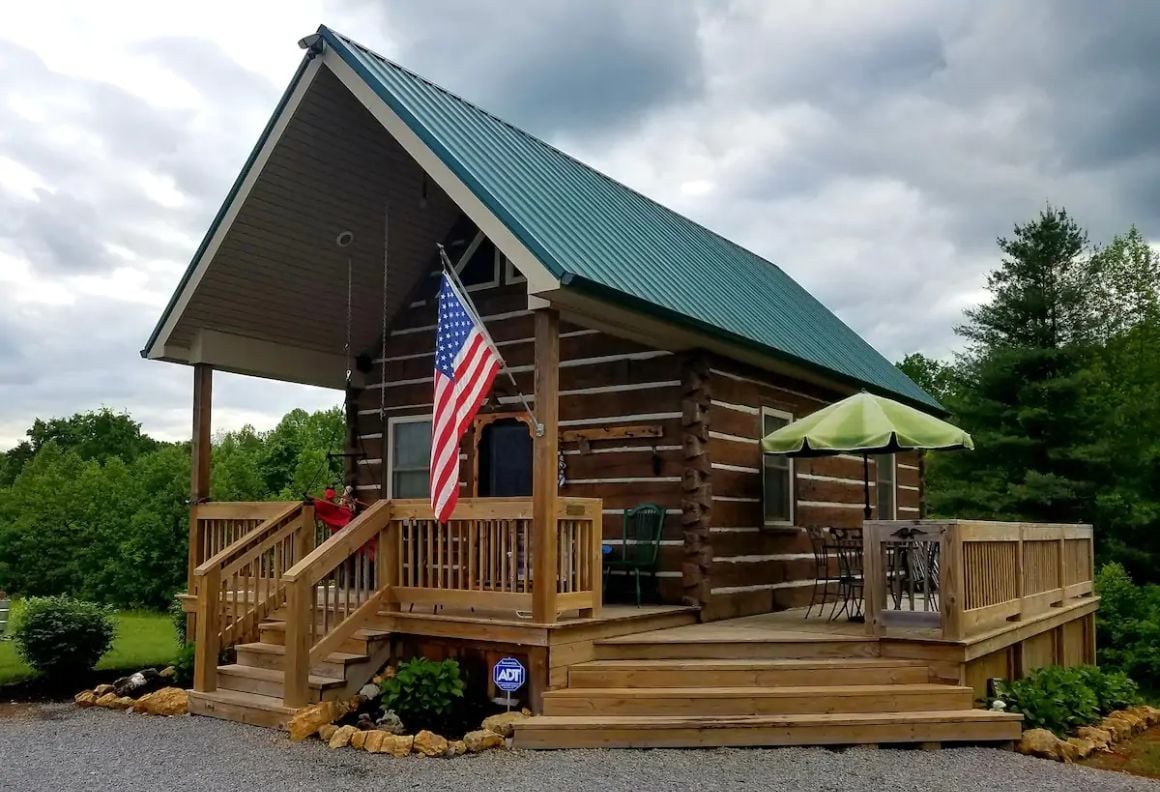 $
2 guests
Porch with outdoor seating
Indoor fireplace
A cozy little log cabin is the perfect retreat for backpackers exploring the rolling hillside of Kentucky. The cabin is secluded and natural, but the high-speed Wi-Fi and workspace mean you can easily stay connected (if you wanted to).
The town of Liberty is nearby if you need to pick up supplies. You'll be surrounded by hikes and lakes for outdoor activities. In the evenings, there's an outdoor fire pit and indoor fireplace for keeping nice and warm.
11. Best Cabin for a Weekend in Kentucky – Tanzanite Cabin
$$
4 guests
Indoor fireplace
Huge windows with woodland views
With peaceful woodland scenery, you'd never know this cabin sits just five minutes from downtown Stanton and 3 minutes from Thrillville adventure park. Thanks to the great location and homey amenities, it's a great weekend getaway in Kentucky for couples or small families.
At the cabin, you'll have a stunning view from every window, a charcoal grill for BBQ cookouts, and a campfire for marshmallow roasts. If you'd rather stay out, there's a great variety of local restaurants in the area for a bite to eat after a day of hiking and exploring.
12. Another Great Cabin for a Weekend in Kentucky – LakePointe Resort Cabin
$$
6 guests
Huge hot tub
Close to Lake Cumberland
Looking for a fun-filled weekend of fishing, swimming, boating, and watersports? If so, this is one of the best cabins in Kentucky for you. It's suitable for couples, families, or small groups, located a mile from Lake Cumberland and hosting plenty of space for boat and trailer parking.
Back at the cabin, there's a huge hot tub to relax in, as well as AC and heating to accommodate for all types of weather. You can fire up the charcoal BBQ grill for a camping-style meal, and relax around the campfire.
$$$
7 guests
Hot tub
Huge windows with forest views
This beautiful cabin is located just a short drive from the attractions of Stanton, including trailheads and the Nada tunnel. However, it still has a secluded feel providing a break from the rush of daily life.
The cabin combines elegant woodwork and stone design to create a natural feel throughout. You can still count on modern luxury amenities though, as well as a hot tub and cozy indoor fireplace. Plus, the floor-to-ceiling windows let in plenty of natural light and offer a stunning view of the surrounding forest.
14. Cabin with an Epic Location – Riverside Cabin
$$
4 guests
Bonfire pit
Indoor and outdoor dining
Right on the banks of the Barren River, the scenery surrounding the Riverside Cabin is hard to beat. Huge windows provide plenty of natural light and fantastic view of the river. Plus, there's both indoor and outdoor water-view dining areas.
Outdoor enthusiasts will find no shortage of fun activities nearby, like swimming, hiking, fishing, and exploring the famous Mammoth Cave. Evenings can be spent relaxing around the bonfire pit and watching the stars while listening to the waters of the creek rolling by.
15. Most Traditional Cabin in Kentucky – Little Bear Cabin
$$
6 guests
Hot tub
Huge deck with gas grill
This cabin sits close to Dale Hollow Lake Resort Park and is surrounded by a peaceful forest. The natural timber design gives it a "back to basics" feel, while still providing modern comforts like a hot tub and Wi-Fi.
It can accommodate anyone from solo travelers to families or small groups looking for a peaceful getaway in Kentucky. Make sure to bring your favorite hiking boots with you, as there are plenty of hikes and trails nearby.
Don't Forget Your Kentucky Travel Insurance
ALWAYS sort out your backpacker insurance before your trip. There's plenty to choose from in that department, but a good place to start is Safety Wing.
They offer month-to-month payments, no lock-in contracts, and require absolutely no itineraries: that's the exact kind of insurance long-term travellers and digital nomads need.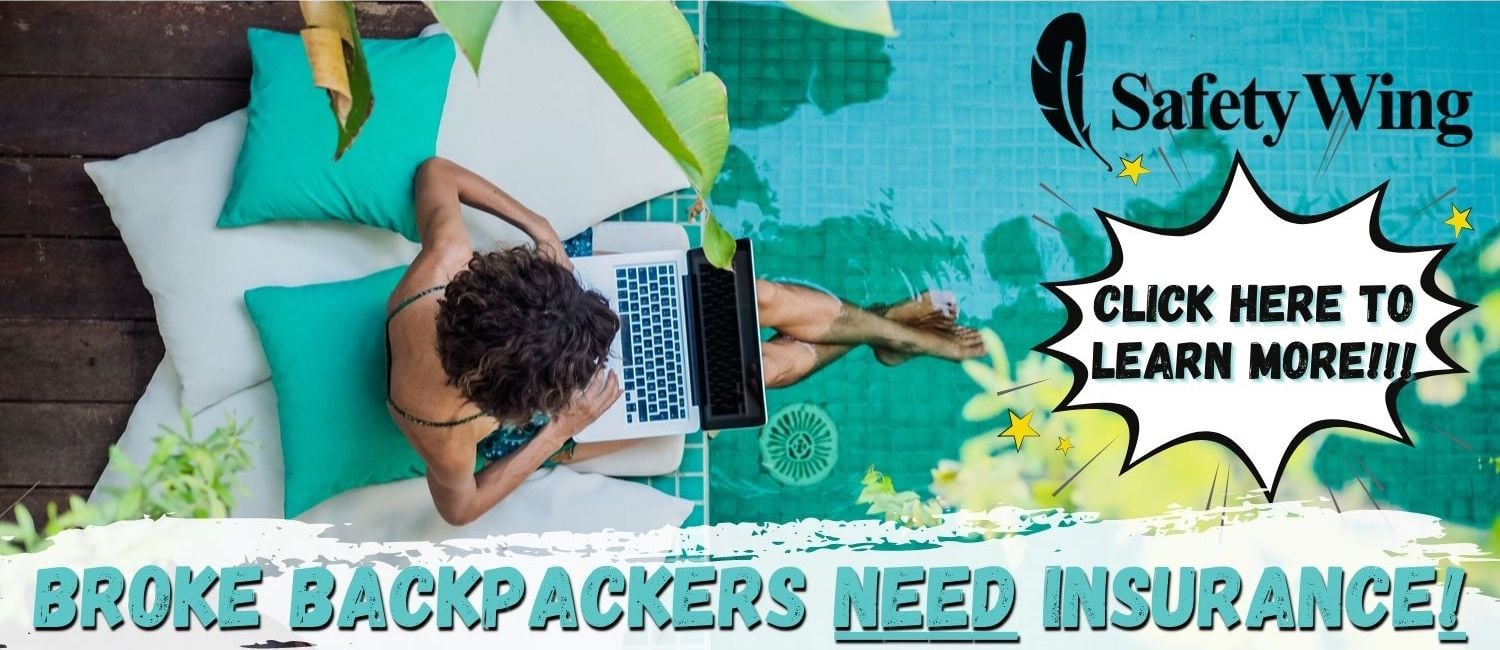 SafetyWing is cheap, easy, and admin-free: just sign up lickety-split so you can get back to it!
Click the button below to learn more about SafetyWing's setup or read our insider review for the full tasty scoop.
Final Thoughts on the Best Cabins in Kentucky
Cabins are a great way to spice up your USA adventures! Instead of staying in a hotel room, you can breathe the fresh country air and enjoy the comforts of home in your own private lodge.
Although cabins in Kentucky are great any time of year, keep in mind that places fill up quickly in the warmer months. If you're planning a summer vacation, we recommend making a reservation in advance. That way, you won't miss the chance to stay at your favorite cabin!
---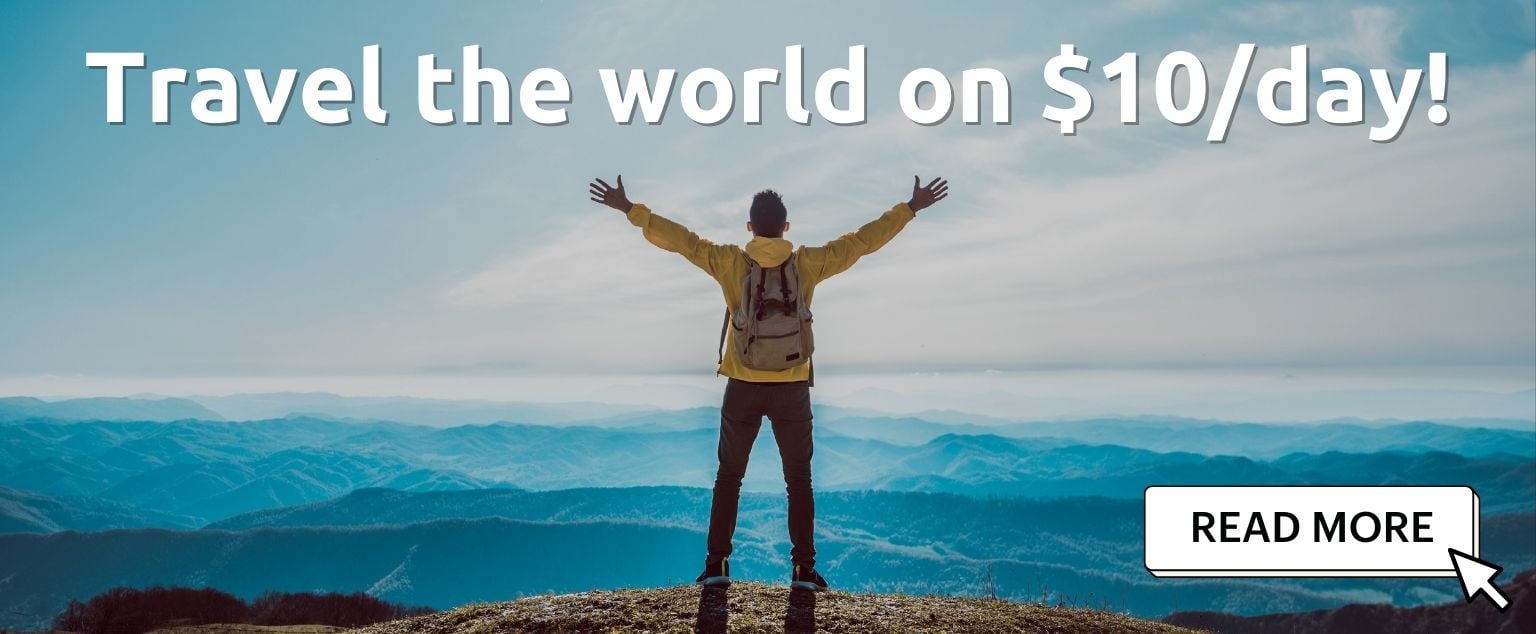 And for transparency's sake, please know that some of the links in our content are affiliate links. That means that if you book your accommodation, buy your gear, or sort your insurance through our link, we earn a small commission (at no extra cost to you). That said, we only link to the gear we trust and never recommend services we don't believe are up to scratch. Again, thank you!