You've lived the same day over and over for the past few years – wake up, work, home, Netflix, sleep, repeat. It is time to switch it up, try something new, get out of your comfort zone. How about moving to Denmark?!
This European country is home to picturesque scenery, a magnificent work/life balance, incredible benefits, and is overall an excellent place to live. What's stopping you?
We have gathered everything you need to know about moving to, and the cost of living in Denmark. Browse through and try and find 1 reason not to pack up and go!

Do You Want to Travel FOREVER??
Pop your email in below to get a FREE copy of 'How to Travel the World on $10 a Day!'.
Why Move to Denmark?
Denmark has been ranked as one of the happiest places to live in the world! The country has world class healthcare, incredible public transport, and an amazing sense of family importance.
It is one of the most economically stable countries in the world, and has become one of the most desirable places for digital nomads, business experts, and freelancers. One of the many reasons Denmark continues to be high on the list of places to move to, is that it still harnesses all of the charm and picturesque buildings of a small village while having a metropolitan ambience.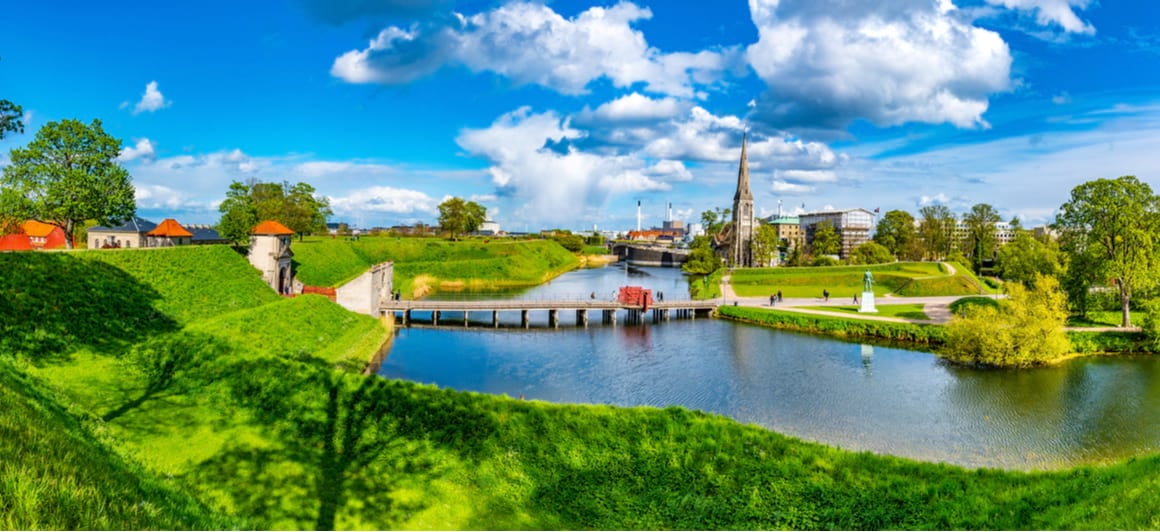 Denmark is more expensive than most countries in the world, but has done an incredible job of setting their residents up for success . In this guide we will go over the cost of living, best ways to allocate your budget, and why Denmark should be high on your list of countries to move to!
Cost of Living in Denmark Summary
Now, I won't sugar coat it. The cost of living in Denmark is EXPENSIVE, and not always the most feasible option if you are already living pay check to pay check. However, with the proper budget in place, and a little research, it is definitely attainable.
It is important to understand what you can afford, and where you might have to say no. For instance, living a luxurious lifestyle in Copenhagen can clean out your bank account, but if you choose to live in the suburbs and take the metro into town you can cut your costs by half!
Enough talk… let's get to how expensive Denmark is exactly.
This table will help you develop an initial budget, and summarize the cost of living in Denmark. These numbers will help you get familiar with your expenses and create a realistic goal. They have been sourced from a variety of user data.
Cost of Living in Denmark

| Expense | $ Cost |
| --- | --- |
| Rent | $750-$1,800 |
| Electricity | $110 |
| Water | $40 |
| Mobile Phone | $25 |
| Gas | $35 |
| Internet | $35 |
| Eating out | $600-$750 |
| Groceries | $350-450 |
| Housekeeper(1x per week) | $400 |
| Transportation | $75 |
| Gym | $45 |
| Total | $2,500+ |
What Does it Cost to Live in Denmark – The Nitty Gritty
Now a bit of an idea and know what to expect, let's dive in further to give you the full scope of what it will cost to live in Denmark.
Rent in Denmark
You can expect to dedicate a large chunk of your budget to accommodation in Denmark. A huge way to save on living expenses is expertly choosing where to live.
For example, if you choose to stay in Copenhagen's city center, your rent will be 30% more than a flat just a train ride away. However, I understand living in the center can be one of the highest priorities when moving to a new city. If this is the case, consider living in a shared accommodation where you can split your rent with others and meet new people at the same time.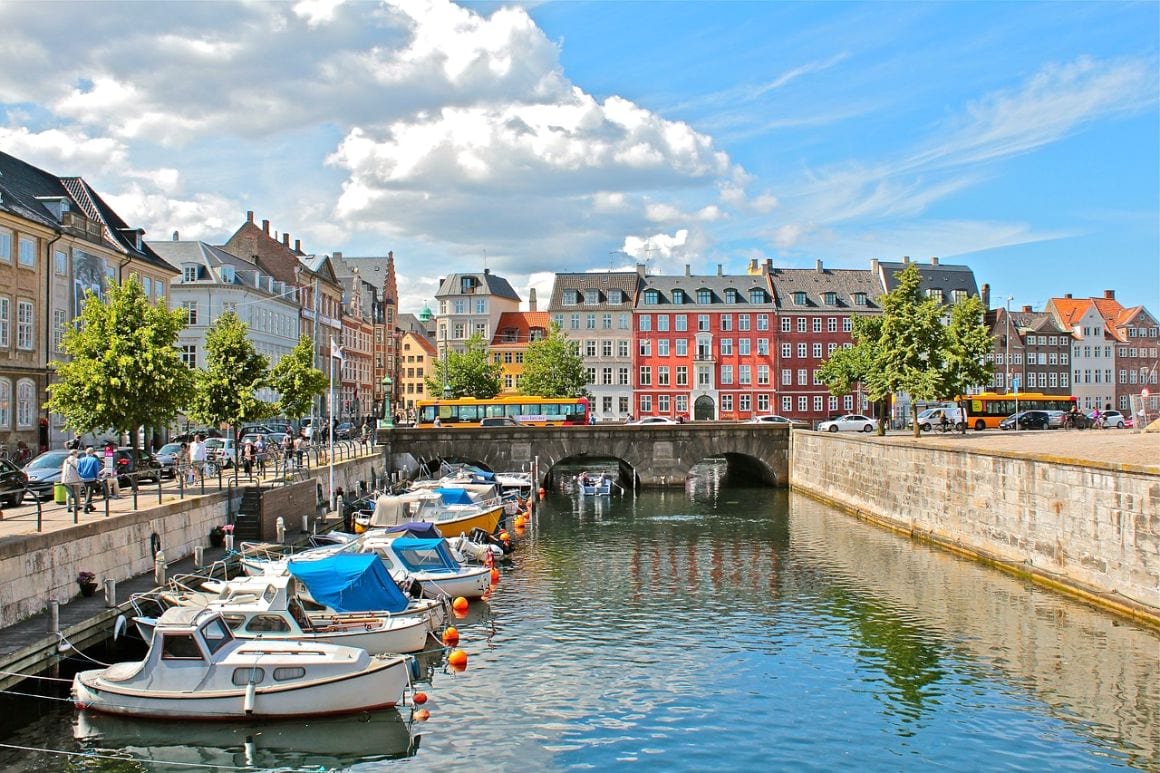 Another thing to take into consideration is that many homes in Denmark require 3 months rent as an upfront deposit. This isn't always ideal, but make sure to include it in your initial budget.
If you aren't quite sure how much you are willing to budget for accommodation, consider a few other questions. Firstly, do you want to live alone? Are you moving with a partner or children? Are you willing to live with people you don't know? This will give you a realistic look into what you are able to afford.
I recommend trying out a few different cities before deciding on a place to call home. Find a cheap hostel or Airbnb to get a feel for the place, and what it has to offer.
Private Room in Copenhagen – $750
Private Apartment in Espjerg – $1,000
Private House in Copenhagen – $2,500
Need a Crash Pad in Denmark?
Need a Crash Pad in Denmark?
Home Short Term Rental in Denmark
This chic and bright apartment is the perfect base for exploring Copenhagen. It is close by to the top attractions, and will quickly feel like your own home. You may never want to leave!
Transport in Denmark
Denmark has one of the world's most efficient public transportation systems. Most major cities are connected by trains, ferries, and buses, and inner cities are connected by Denmark's automated underground system.
The metro runs 24/7, making for easy travel through the cities at any time, day or night. If you purchase the Copenhagen card, you can save money on each trip! A regular single ticket will cost you $3.70, but a single with a Copenhagen card will cost you $1.50 – we love a good deal.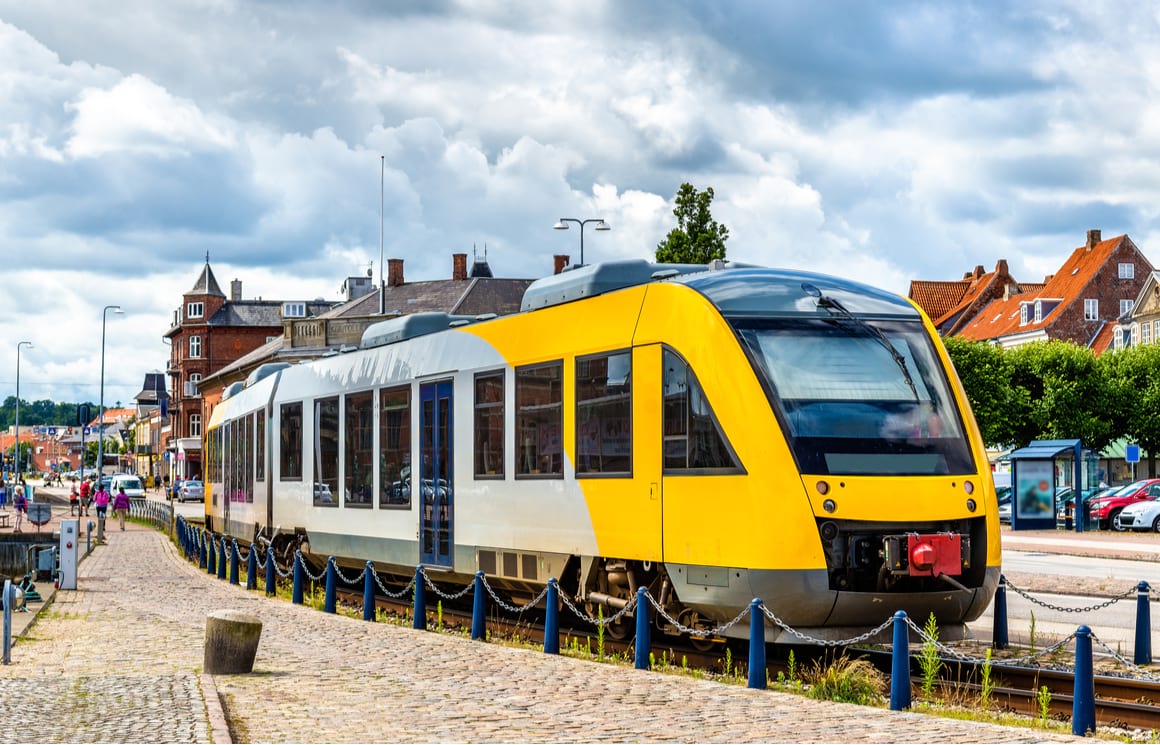 Many Danish people skip the metro and opt for bicycles as their mode of transport. Everything in the cities are easy to reach by foot or bike, and the road infrastructure makes cycling a safe and easy experience for everyone. This is a great way to cut down on transportation costs, as well as stay active.
There is always the option of taking a taxi, but if you are living on a tight budget I wouldn't recommend it. One short taxi ride can set you back a whopping 30 dollars, and comes with the potential of sitting in traffic for ages! I don't know about you, but I would GLADLY choose the $1.50 metro line.
Public Transportation (one way ticket in Copenhagen) – $3.70
Taxi Ride (Denmark Airport to City Center) – $45
3 hour train ride – $30
Food in Denmark
Danish culture, like many, is highly centered around their meals. Nearly every meal is centered around a meat, typically pork, and is rather heavy. If you are eating traditional meals, and you should, you will be having a lot of potatoes and steamed vegetables. The Danish believe in letting the food be the star vs. a lot of seasoning, many chefs just use salt and pepper.
Being surrounded by the sea, you can imagine how tasty the seafood served in Denmark is. Fish is a huge part of the cuisine, and is typically eaten everyday. The quality of fish is absolutely primo! Always very fresh and easily purchased at the harbour if you are wanting to cook for yourself.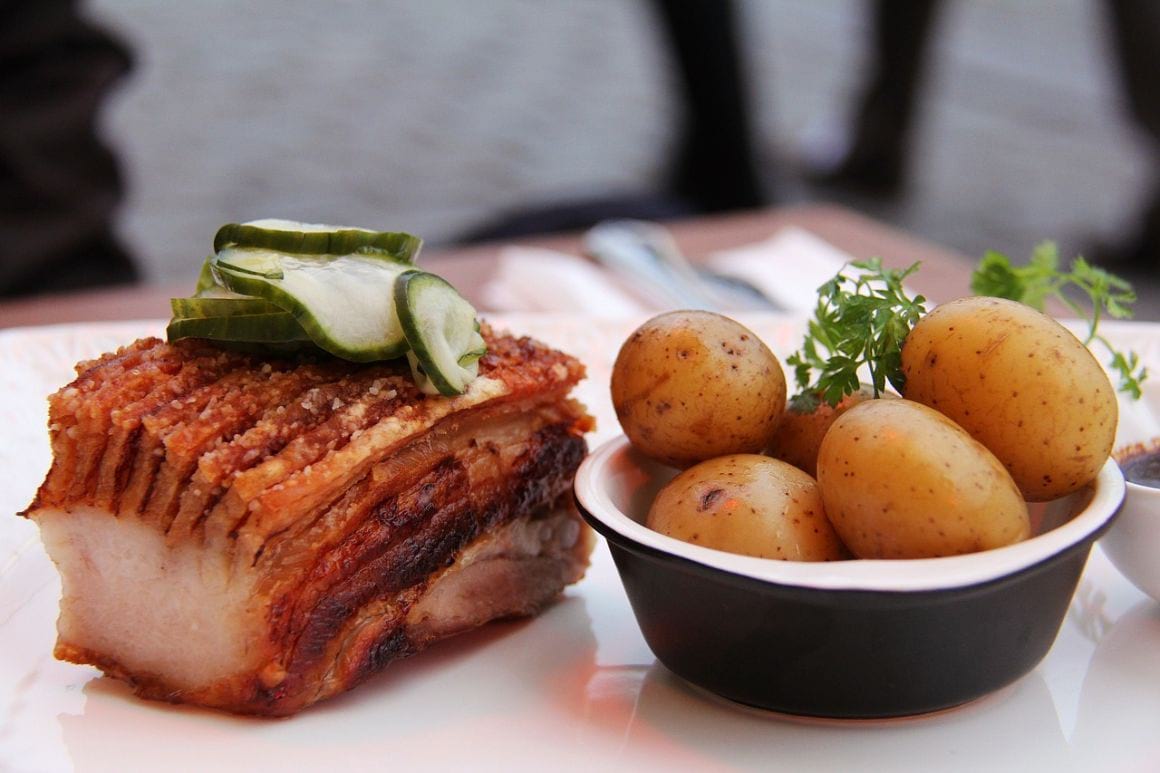 One thing you can look forward to is dessert! Danes love their sweets, and will come up with any reason to celebrate and enjoy a cake. If you aren't sure what to bring to a party, you can never go wrong with a strawberry tart or chocolate cake.
If you are vegetarian or vegan, Denmark might be a little harder to assimilate into, but it has definitely gotten easier over the last few years. The country has seen a rise in Danish natives transitioning into a plant based lifestyle. You will find quite a few restaurants in Copenhagen and plant based options at the supermarket.
Milk (1 gallon) – $5.50
Bread (loaf) – $2.60
Rice (1lb) – $1.00
Eggs (dozen) – $3.90
Local Cheese (p/kg) – $5.50
Tomatoes (1lb) – $1.70
Bananas (1lb) – $1.30
Drinking in Denmark
Denmark has some of the cleanest tap water in the world. It is perfectly safe to drink, and is what you will be served in a restaurant. Water is one of the only things in Denmark that is inexpensive ,making it very easy to get for free at many establishments.
The alcohol drinking culture in Denmark is unlike anywhere in the world. You will find pubs conveniently located near high schools as the legal drinking age is 16. Many parents encourage their children to take a load off and have a beer. You won't find a get together or an office social that isn't accompanied by booze and heavy drinkers.
Many Danes take offense if their guests don't partake in drinking at their social gathering. I recommend sipping slow, as just about any Dane will drink you right under the table!
A night out drinking in Denmark can cost you a bit more than most European countries, but is pretty on par with the other nordic countries. Grab a pint for under $7, and a cocktail for $10.
Why You Should Travel to Denmark with a Water Bottle
Access to clean water in Denmark is very viable and being a responsible traveler means taking care of the world around you. Traveling with a water bottle is your best option to stay hydrated and is keeping the country clean by not using single use plastic. Each year it is becoming harder and harder with plastic pollution. So fill up your water bottle before you leave the house to save money and the planet.
Plastic washes up on even the most pristine beaches… so do your part and keep the Big Blue beautiful
You aren't going to save the world overnight, but you might as well be part of the solution and not the problem. When you travel to some of the world's most remote places, you come to realise the full extent of the plastic problem. And I hope you become more inspired to continue being a responsible traveller.
Plus, now you won't be buying overpriced bottles of water from the supermarkets either! Travel with a filtered water bottle instead and never waste a cent nor a turtle's life again.
Keeping Busy and Active in Denmark
With so much change coming your way, you want to make sure you make the time to enjoy yourself and step away from the hustle and bustle!
Denmark is known to be one of the most active countries in the world. Whether it's hot or cold, Danish people can be seen going for an early morning run or riding their bike to work to get the blood flowing. After work many people participate in some form of sports. Football being the most popular, there are plenty of amateur clubs for you to join!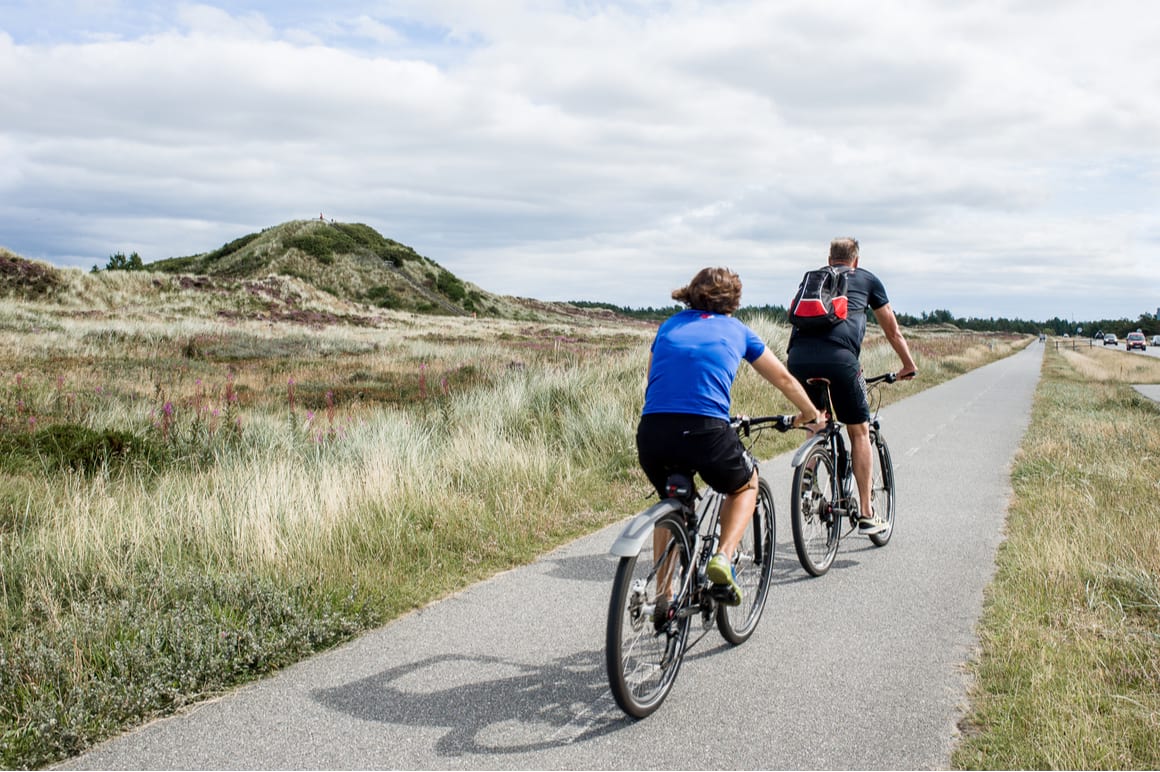 Spend your weekends exploring the national parks, enjoying Denmark's best hikes or learning Danish history at the multiple open air museums. During the warmer months, you can go island hopping and enjoy water sports like windsurfing and kitesurfing. Make sure to take a book, and relax on the coast for the afternoons, too.
If you aren't a big fan of being out in the cold or want some consistent exercise, yoga sessions is widely accessible. You can join a studio or try a few different ones with their day pass options.
With so many things to do, you won't be bored!
Island Hopping Ferry Ride  – $60
Bike Rental (1 day) – $15-$30
Football League (1 Season) – $100
Windsurfing (one 5hr lesson) – $150
Yoga Class – $25
Gym Membership(1 month) – From $45
School in Denmark
Denmark's education system is ranked as one of the top in the world. The country offers exceedingly high standards of learning for free to all residents. Most of the classes are predominantly taught in Danish. To make sure your child doesn't fall behind in a public school, find a school that will offer alternative classes in English, along with other English speakers.
As Denmark grows in welcoming expats, international schools are becoming more accessible around Copenhagen. This is a great way to ensure your child excels without a language barrier, and continues to be exposed to kids and cultures from all over the world. While public school in Denmark is free, you can expect these international schools to come with a very high fee.
If you are on the fence about your schooling options, many of the schools will give day tours. Take some time to let your kids get familiar and choose the environment they will thrive best in.
Fees for international schools in Denmark – $8,000-$18,000
Is This the Best Travel Pack EVER???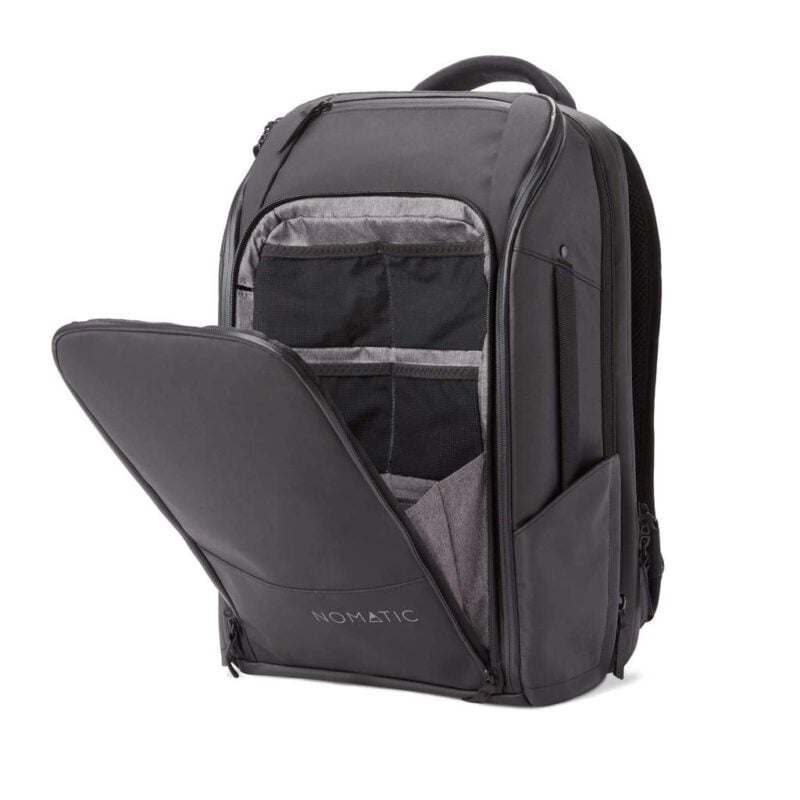 Medical Costs in Denmark
The Danish healthcare system is constantly ranked as one of the best in the world. Denmark provides free healthcare to all residents. You will find plenty of public facilities that provide you with excellent and timely care. Once you have resided in the country for 6 months, you will be required to apply for a CPR number which will give you full access to Denmark's healthcare.
If you are unsure of your length of stay, another option is to enroll in private healthcare. It will cost you anywhere from $20 – $100 a month, but will reduce your wait time and give you direct access to the best providers in your area.
As always, we recommend Safetywing as an alternative until you feel more comfortable making a proper decision.
SafetyWing offers a monthly healthcare plan which covers Digital Nomads, expats, and long term travelers. We have been using it ourselves for a while now and find them to provide great value.
Visas in Denmark
Your visa requirements will depend on where you are coming from. Many countries are visa exempt, and allow you to work and live in Denmark for free without having to apply for a permit. After 6 months you will be required to apply for a CPR number which you will need for a bank account, medical card, and even a permanent sim card for your phone.
If you are not from a visa exempt country, you can apply for the Schengen visa which will allow you to remain in the country for 90 days in a 180 day period. This is a great option if you aren't sure how long you want to stay in Denmark.
Applying for a permanent visa gets a bit lengthy with all of Denmark's requirements. If you have been offered a job, the company will most likely handle this process for you. I recommend contacting an agent to walk you through your best options.
Banking in Denmark
Not just anyone can open a bank account in Denmark. You are required to have been in the country for 3 months, have a residence permit and you must apply in person. This is why many people opt out of using a Danish bank.
You might be wondering why Denmark has made these rules for opening a bank account. Well the largest bank in Denmark, Danske Bank, was the banking hub for Europe's largest money laundering scandal, and the majority of the accounts were non-residents. They started making changes immediately and now are very thorough when it comes to their clients.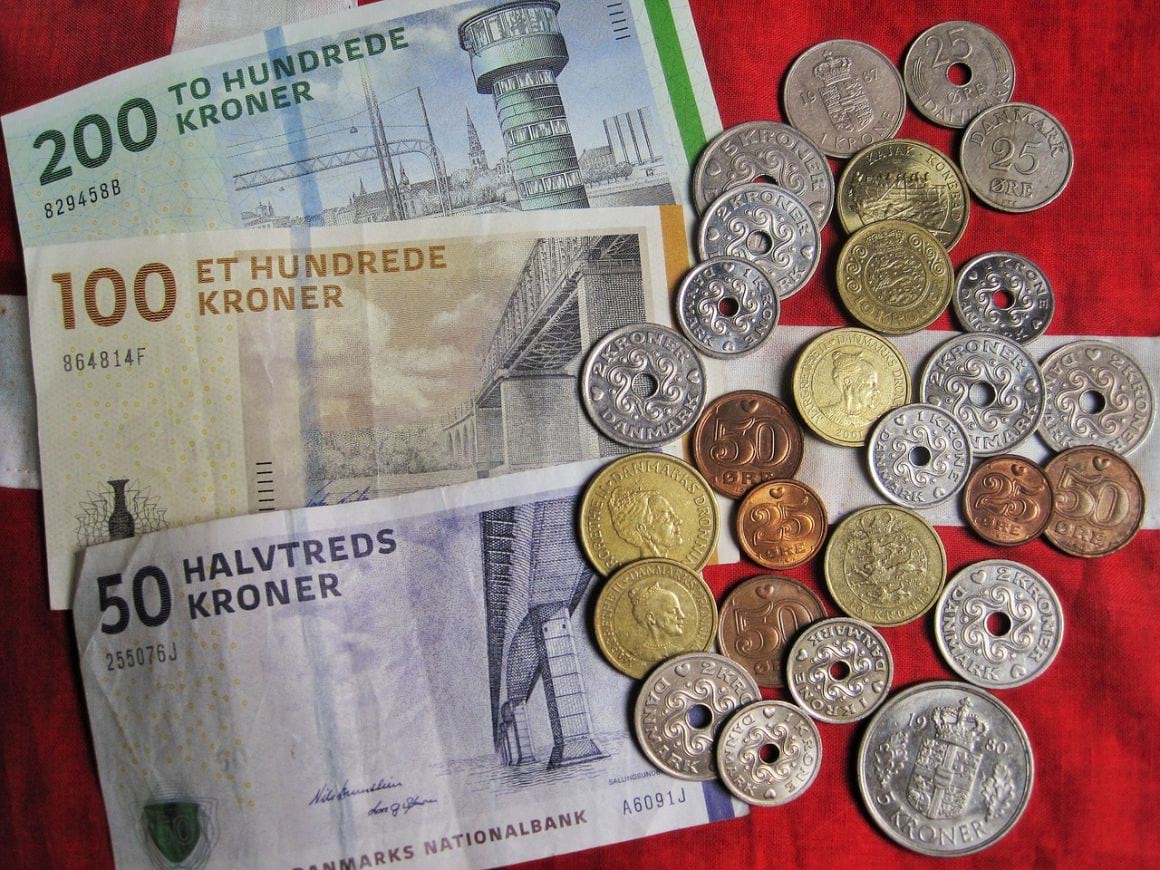 There are plenty of international banks throughout Denmark which will allow you to use your foreign card. The country is very electronically savvy, and makes it very easy for you to pay directly with your credit or debit card.
With this being said, to avoid spending heinous amounts of money on ATM fees, or foreign transaction fees with your home country's bank, we recommended getting a few different travel banking cards as they all offer a certain level of fee-free ATM withdrawals. If you get yourself a Transferwise, Revolut, and Monzo card, you'll be able to withdraw around $600/month and have unlimited card payment allowance.
For making and receiving international bank transfers without incurring any fees, we recommend using Payoneer.
Taxes in Denmark
Residents – someone living in Denmark longer than 6 months – are required to pay taxes on their worldwide income. Expats will need to pay 26% of their annual income minimum. If you are coming from America don't choke on your water quite yet. Non residents are only required to pay taxes on income earned in Denmark! There are a few exclusions and tax reductions for certain incomes, I recommend working with an accountant to make sure you are paying all the proper taxes.
Always make sure to check in with your home country to know the rules and regulations of how to properly file your taxes in both places of residency.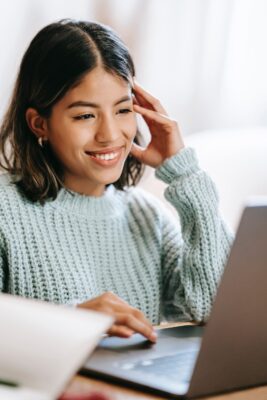 Earn $$$ ONLINE Whilst Travelling the World!
Keen to live the digital nomad dream while travelling the world? Who the hell isn't?
Teaching English online is a surefire method to earn a consistent income on the road. Work from anywhere, change some lives, and earn some dollaridoos while you do it!
Check out this detailed article for everything you need to know to start teaching English online.
Along with any big life change, there are sure to be a few things we forgot to take into account and we would hate to find ourselves in a financial pickle in a foreign country. The cost of living in Denmark isn't all about rent and food, you need to consider the unexpected.
Hope for the best, but prepare for the worst!
Imagine getting a phone call from your family needing you home immediately. Flights can be expensive, especially if your home country is on another continent.
So, you love Denmark so much you've become a resident – did you consider those huge tax fees in your budget?
Make sure to maintain your savings account and give yourself a buffer during those more expensive months. Your future self will thank you. I recommend having at least 2 flights home in your savings at all times, and 3 months worth of rent.
Insurance for Living in Denmark
Statistically, Denmark is considered to be one of the safest countries in the world. At most you may see some petty theft or pick pocketing on the metro. Outside of these minor crimes, you should feel confident walking the streets alone and enjoying a night out with friends.
With that being said, you can never be too prepared. The best way to take care of yourself is making sure you are insured should anything happen. You never know when a minor bicycle accident could happen, or you leave your brand new laptop on the train. We never think these things will happen to us, but being prepared will help you to feel at ease.
As mentioned before, a great option for digital nomads is SafetyWing's insurance. They have affordable plans for nomads, travelers, and expats. Click the button below to see which plan works best for you.
Month to month payments, no lock-in contracts, and no itineraries required: that's the exact kind of insurance digital nomads and long-term traveller types need. Cover yo' pretty little self while you live the DREAM!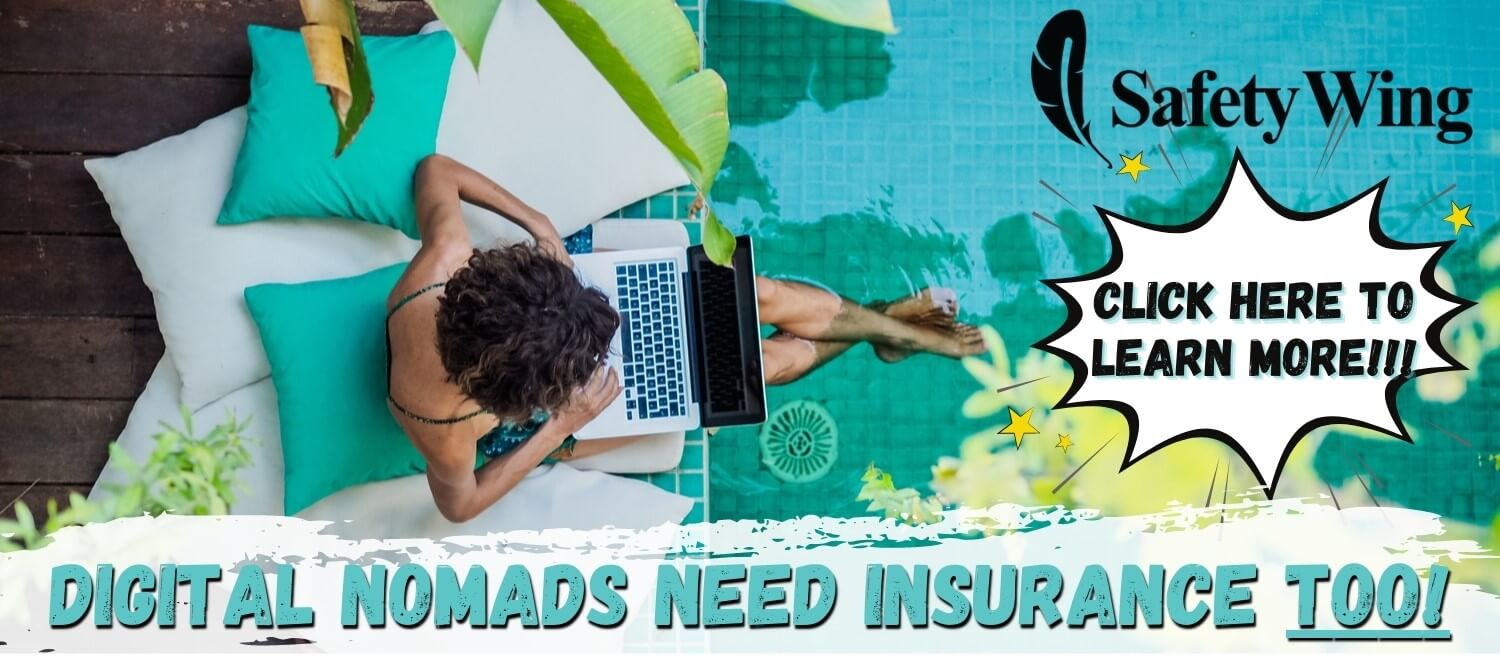 SafetyWing is cheap, easy, and admin-free: just sign up lickety-split so you can get back to work! Click the button below to learn more about SafetyWing's setup or read our insider review for the full tasty scoop.
Moving To Denmark – What You Need To Know
Now that we have covered the nitty gritty of living in Denmark, let's get to the culture, the city life, and all the best places to enjoy yourself! There are so many options when it comes to living in Denmark, and hopefully by the end of this section you will have a much better idea of where you want to be calling home in the near future!
Finding a Job in Denmark
I won't beat around the bush, finding a job in Denmark is incredibly hard for foreigners. Even if you are neck and neck with a Danish candidate, it is extremely likely they will go with the dane. Don't let this discourage you from applying if you are dead set on working, I just want to make sure you have the proper expectation.
It is important you have a plan for making money before you move. With the sky high living expenses, it is imperative to set yourself up for success financially. Some great options are negotiating with your current employer to work remotely, or applying to jobs with work from home benefits.
If you are already working remote, or as a digital nomad, you can work in Denmark for 3 months without needing a permit or visa.
Another great option is English teaching opportunities. Danish is the main language, so you will find many private and international schools looking for English teachers to teach primary learners. You can get a TEFL certificate online and start applying.
Where to Live in Denmark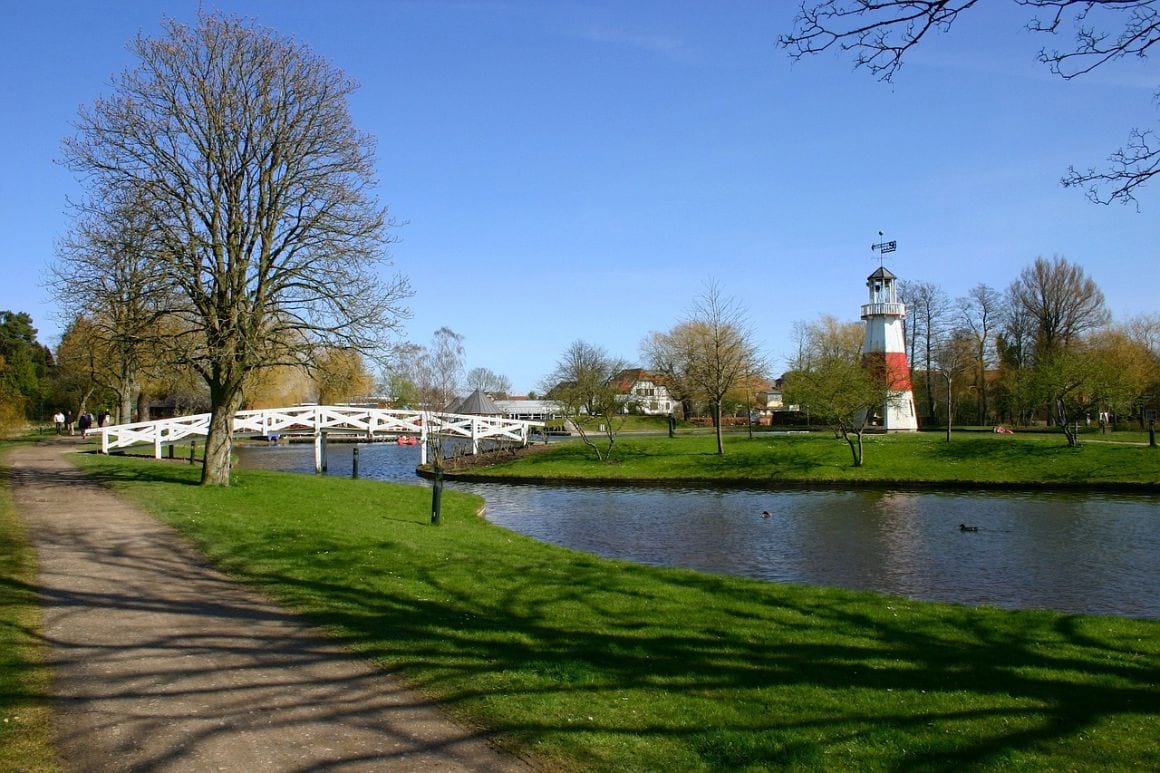 Copenhagen
Copenhagen is Denmark's most popular city and the country's capital. This is the perfect location for the city lover. Get lost in the cobblestone streets exploring and sightseeing the incredible city.
You will find a plethora of coworking spaces and other expats. This really helps when trying to meet new people and create a community. The city has plenty of outdoor areas for activities and a huge food scene. I can assure you will never get bored here.
Copenhagen is not a very budget friendly city, and has a very high standard of living. This is something to prepare for when choosing which city is best suited for you.
Bustling Capital for City Lovers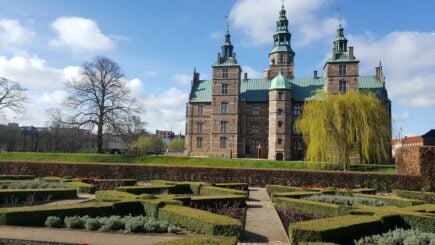 Bustling Capital for City Lovers
Copenhagen
If you have the means, and love bustling city life, Copenhagen is the place to be! Offering a life of luxury, with easy access to coworking spaces, restaurants and nightlife, its easy to spend a pretty penny living here. Ideal for young nomads and remote workers, Copenhagen has everything you need for an epic work/life balance.
Aarhus
Aarhus is the second largest city in Denmark, located right on the sea giving it a coastal feel. The city is full of bright, spunky youth thanks to the incredible university downtown! This city has some of the most impressive buildings in the country, and a welcoming group of expats.
It was even named the 3rd most sustainable city in the world in 2020. The residents take pride in keeping their streets clean and creating a lasting world around them. This is a great place to call home if you are used to a smaller city, but want all of the perks of a big one.
Big City Feel for Cheaper
Big City Feel for Cheaper
Aarhus
If you can't quite afford Copenhagen, but still want a city feel, check out Aarhus. It has all the makings of an epic home with its beautiful streets, coastal location and amazing amenities, without the hefty prices. It is especially perfect for younger nomads with its buzzing university, the nightlife is spectacular!
Esbjerg
Home to the largest sea port in Denmark, Esbjerg is located 164 kilometers southwest of Aarhus. It is a much smaller town that is continuously growing.
I wouldn't recommend this city to every digital nomad, but if you are working in the import or export industry, or moving with family, this could be the perfect place for you. The major port city that plays a vital role in Denmark.
It also has a great international school for your young ones.
Great Place for Families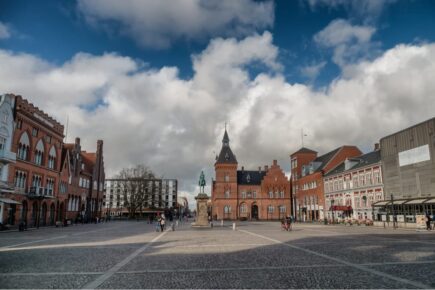 Great Place for Families
Esbjerg
Esbjerg may not appeal to every nomad, freelancer or remote worker. It is relatively quiet, with not a lot going on and fewer working hubs. However, it is a great spot for families – thanks to its international school.
Aalborg
Aalborg is a hub for sporting events and university students. It is also a fantastic option for those looking for work in the industrial sector. The center of the city is full of excellent restaurants and bars, allowing for a bustling nightlife.
If you are considering teaching English at an international school, Aalborg is the best city in Denmark to begin applying. They have quite a few openings, and many different schools to choose from.
Best Area for English Teachers
Best Area for English Teachers
Aalborg
Aalborg is a hub of international schools that are often searching for new teachers. If you are looking to explore a residential area, or settle down with a role moulding the minds of the next generation, Aalborg is a perfect base.
Vejle
Vejle is a charming town full of Denmark's best eats. This small spot is located about 2 ½ hours from Copenhagen, and is considerably underrated. It is full of cool architecture and historic art!
Your choices in coworking spaces might be limited, but you will be able to expand your budget exponentially. As one of the more affordable cities in Denmark, you can live the good life just a short train ride away from the capital.
Most Affordable Town
Most Affordable Town
Vejle
Vejle is just a short train ride away from Copenhagen and allows for a budget friendly life. You can find cheap accommodation, tasty eats and fun weekend activities. Who said living in the big city is a must?!
Danish Culture
Denmark is a 400 island peninsula with so much cosmopolitan charm. Danish people are friendly and known for being some of the happiest people in the world. The culture is extremely progressive and open minded, making it a very easy country to move to and find a community.
Danish families are very supportive and tight knit. You may find yourself being invited over to family dinner on a regular basis, as many people like to stay in and enjoy the company of their loved ones. Plus, who doesn't love a good home cooked meal? YUM! Food has a huge cultural influence in Denmark, hardly anyone restricts themselves to a "diet" and they love sweets!
Eating a few hefty meals a day doesn't do near the damage it would in other countries.. America, I'm looking at you ;). Denmark is a very active country creating a great balance. Make sure to pack your running shoes as you will be asked on more than one occasion to go for a quick run.
Danes are definitely one of a kind and will do just about anything to maintain a sense of "hygge", a sense of being content or comfortable.
Pros and Cons of Moving to Denmark
Denmark ticks so many boxes when it comes to being an expat, but of course just like anywhere, it can't be perfect all the time. Here are some pros and cons to moving to Denmark.
Pros
Healthcare – The healthcare system is superb. It is affordable and accessible to all residents.
Public Transportation – Denmark has one of the best transportation systems in the world. Fast, efficient, and extensive.
Work/Life Balance – Danes have gotten very good at separating professional and personal time. The average work week is 37 hours.
Nature – Denmark has so many outdoor spaces and parks to explore. On the weekends people are out and about enjoying the great outdoors.
Cons
Difficulty getting a job – As a foreigner, getting a job in Denmark is very hard.
Weather – Denmark is very cold, and most of the year consists of gray skies. Rain is very common throughout the whole year and when the sun is shining its strength is not high due to the northern location of Denmark.
Language barrier – Many Danes in Copenhagen speak English. Outside of the cosmopolitan city it is less known. Learning basic conversation in Danish can go a long way.
Cost of living – Everything in Denmark is expensive, from a drink with friends to renting a one bedroom flat. You will be paying much more than other EU countries.
Living as a Digital Nomad in Denmark
Internet in Denmark
Every internet provider in Denmark provides a steady and reliable internet connection to their customers. The most popular way to stay connected is with wifi. In the last few years fibre optic has become more widely used. Regardless which provider you go with, you will be able to get everything you need done at an incredible speeds. No more dropped zoom calls!
The Future of the SIM Card is HERE!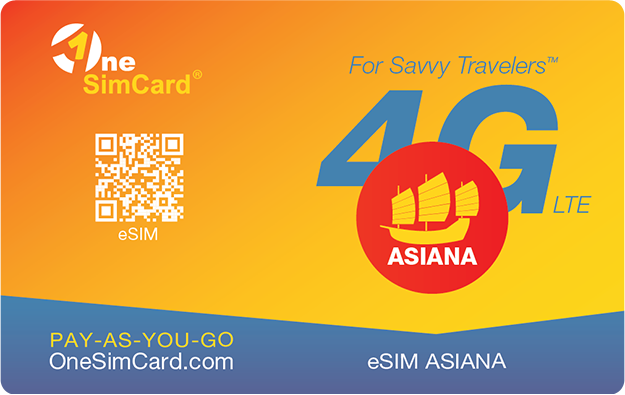 A new country, a new contract, a new piece of plastic – booooring. Instead, buy an eSIM!
An eSIM works just like an app: you buy it, you download it, and BOOM! You're connected. It's just that easy.
Is your phone eSIM ready? Read about how e-Sims work or click below to see one of the top eSIM providers on the market and ditch the plastic.
Buy an eSIM!
Digital Nomad Visas in Denmark
If you are not from a visa exempt country, you can apply for the Schengen visa which will allow you to remain in the country for 90 days in a 180 day period. Applying for a permanent visa gets a bit lengthy with all of Denmark's requirements. I recommend contacting an agent to walk you through your best options.
Co-Working Spaces in Denmark
The best thing about working remotely is working from wherever you want, but sometimes I miss that office camaraderie. Thankfully, co-working spaces are becoming more accessible.
You will have no problem finding coworking spaces in the more popular cities like Copenhagen. Smaller cities have a few co-working spaces, but you will not have all the amenities that come with living in a larger city renting out a space. You might have to say goodbye to free coffee Fridays, but you will pay less for your office.
They typically range from $40 a month to $250. These prices vary depending on how many days you will be in the office, 24/7 access, and location in the city. I recommend using a few day passes until you decide which space is best for you.
Final Thoughts on Denmark's Living Costs
Denmark may be pricey, but with the incredible healthcare system, active society, and the work/life balance, it is definitely worth considering!
Prepare before you buy the plane ticket, create an attainable budget, and Denmark can become everything you've wanted. Become enchanted with its cosmopolitan vibe all while maintaining its fairytale charm.
---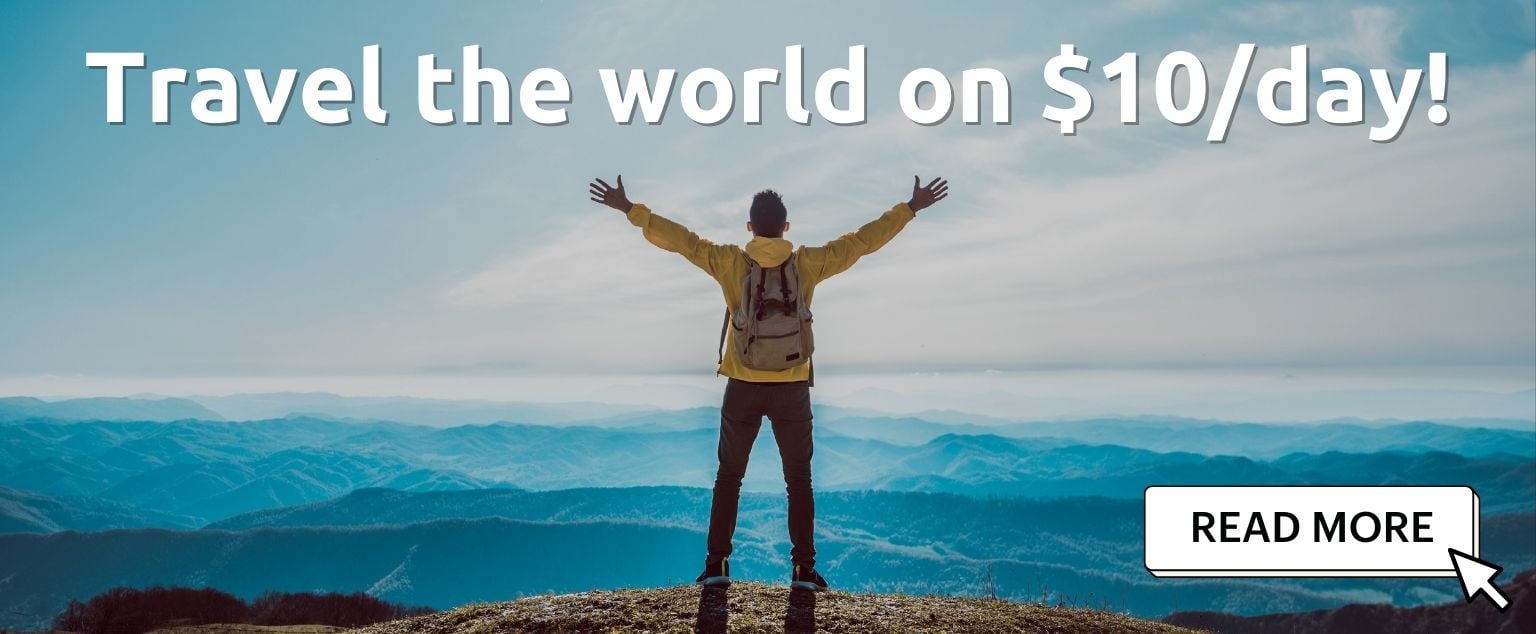 And for transparency's sake, please know that some of the links in our content are affiliate links. That means that if you book your accommodation, buy your gear, or sort your insurance through our link, we earn a small commission (at no extra cost to you). That said, we only link to the gear we trust and never recommend services we don't believe are up to scratch. Again, thank you!