Work-life balance isn't a luxury many people get to enjoy in the United States and Western Europe. Sometimes it feels like all you do is work, work, work with little time to enjoy life once you clock out for the day. There's not enough time for having fun with friends, chilling out with your family or exploring what the world has to offer.
It doesn't have to be like that! There are some parts of the world where work-life balance is valued and respected. New Zealand is one of those countries! The high minimum wage, diverse recreational activities, and modern industries make this a great place to live for truly enjoying life. What's more, you'll also have some of the world's most awe-inspiring landscapes right on your doorstep. What's not to love?
We totally understand that moving to another country isn't as simple as just hopping on a plane, accepting the first job offer, and enjoying your brand new life overnight. It's definitely not that easy with a destination on the other side of the world. This is why we've created this guide. We've already lived in New Zealand so we have the rundown on how much it costs and whether it's truly worth it.

Do You Want to Travel FOREVER??
Pop your email in below to get a FREE copy of 'How to Travel the World on $10 a Day!'.
Why Move to New Zealand
Kia ora! New Zealand is one of the top backpacker destinations in the world. The stunning scenery, generous working holiday visa, and unique culture draw in visitors from across the world looking for a life-changing experience. That being said, it's totally different living in the country as a backpacker as opposed to moving there long-term.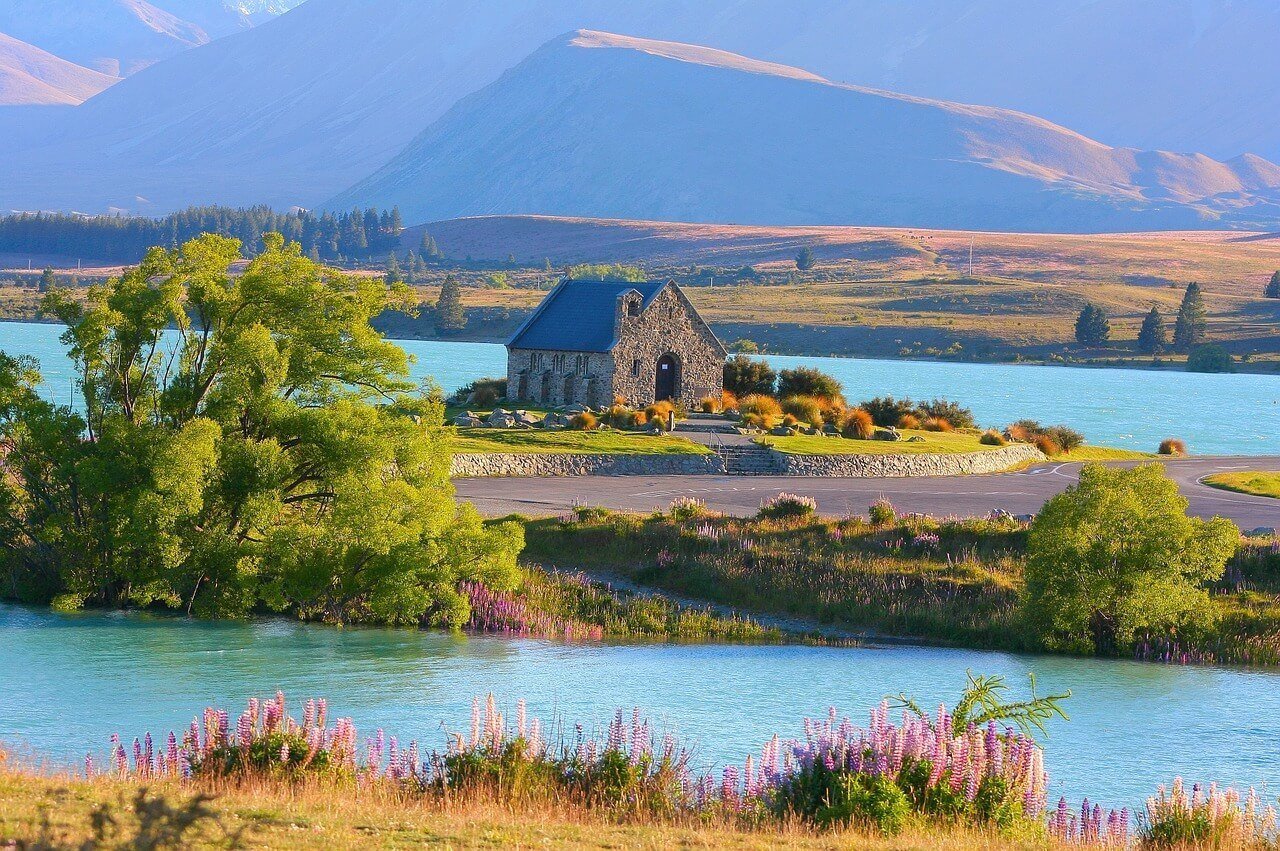 Whilst nearby Australia is often the headline destination for moving abroad, New Zealand offers a laid-back alternative. The weather is milder, the work-life balance is more satisfying and the animals are much less likely to kill you. New Zealand doesn't take itself too seriously, and for those looking to kick back and take it easy, it is an attractive prospect.
As much as we love the mountains, parrots and beaches it also comes with its downsides. New Zealand is one of the most remote countries in the world. The nearest country is at least two hours on a plane, with North America and Europe taking anywhere from 16 to 28 hours. New Zealand is a rewarding destination, but it's a massive commitment. You'll have to say goodbye to all of your ties with home.
Cost of Living in New Zealand Summary
This might sound exciting but it's also important to get a sense of the reality which is that New Zealand is a notoriously expensive country. You need to get a grasp of how much it costs before you hop on the plane.
The cost of living in New Zealand really depends on what kind of lifestyle you're looking for. Staying in a flatshare and cooking all of your own meals will obviously cost a lot less than regularly eating out and living in a luxury apartment. That being said, you don't move to another country just to stay in the house all the time. It's about finding the right balance. And there are plenty of amazing things to explore and do in New Zealand.
Here are some general figures for the most common expenses. They have been compiled from user data from a variety of sources. We've used Auckland as the main reference as this is where most people move to, but you might find costs slightly lower elsewhere.
Cost of Living in New Zealand

| Expense | US$ Cost |
| --- | --- |
| Rent (Private Room vs Luxury Villa) | $700 – $2000 |
| Electricity | $140 |
| Water | $80 |
| Mobile Phone | $15-35 |
| Gas (per litre) | $2 |
| Internet | $45-90 |
| Eating Out | $15-100 |
| Groceries | $140-160 |
| Housekeeper (less than 10 hours) | $200-300 |
| Car | $430 |
| Gym Membership | $45 |
| TOTAL (Monthly) | $1810+ |
What it costs to live in New Zealand – The Nitty Gritty
The table above gives you a rough idea of costs, but it isn't the whole picture. We need to take a closer look at the most common costs and how they vary depending on your lifestyle.
Rent in New Zealand
Like basically everywhere else in the world, your biggest cost in New Zealand will be rent. It is a notoriously expensive place to rent a room, and you'll need to be on your guard when finding somewhere to stay. Auckland is the largest city and therefore the most expensive. But generally speaking, all of the city areas are pricey. That being said, the urban parts of the South Island can be more within reach if you find a good place. Obviously, rent prices depend on where you stay in New Zealand.
The first thing you'll need to decide is whether or not you want to live with other people. If you're coming as a family you'll obviously want your own house, and if you've got two incomes this is totally achievable. Solo travellers will really struggle to find an affordable apartment unless you've got a top paying job. House shares are really common, and it's also a good way to get to know other people.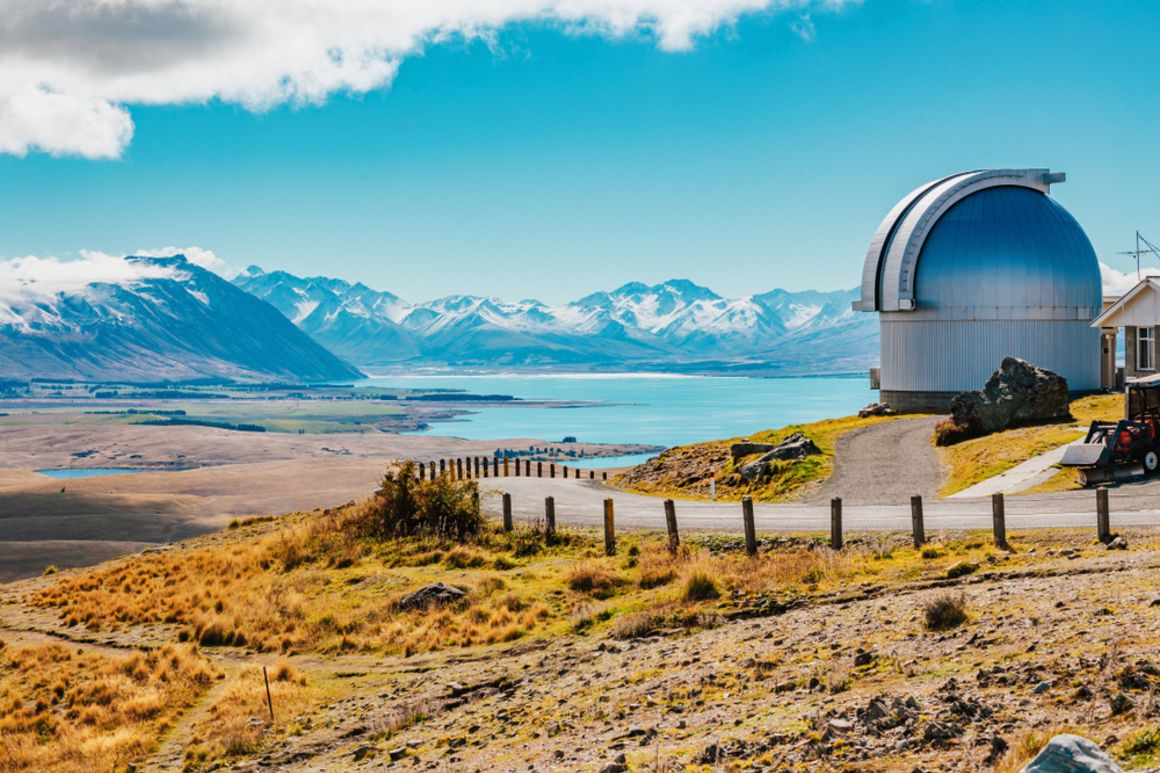 It can be tempting to opt for a cheaper place outside of the city centres, but this really depends on the mode of transport you're using. It's a fantastic way to save money for those with their own car, but otherwise, you'll probably be better off finding somewhere close to your workplace. Public transport is expensive and unreliable in most cities (with Wellington being the main exception).
You can start looking for somewhere to stay before you arrive, but we recommend waiting until you're there to actually settle on a place. Photos can be misleading online. TradeMe is the most popular website, but there are also a few great Facebook groups. If you're planning on living in a house share it's really common for existing housemates to interview those interested in staying there. This does get a little frustrating, but at least it means you'll probably end up living with like-minded people.
Room in a house share in New Zealand – $700-900
Private House in New Zealand – $1000-1700
Luxury Residence in New Zealand – $1800-$2000
We recommend booking an Airbnb before you arrive and use it as a temporary base whilst you find somewhere else to stay. You'll need to get your bank account sorted out first. Auckland is notoriously difficult to find somewhere to stay, so give yourself a couple of months. New Zealand's hostels are also popular options, and many of them offer heavily discounted long-term stays.
In New Zealand, property taxes are paid by the landlord. You'll find most other bills are included in the rent in houseshares, but it really varies when it comes to private residences. Rent is also typically paid on a weekly basis rather than on a monthly basis and will be listed as such on ads.
Need a Crash Pad in New Zealand?
Need a Crash Pad in New Zealand?
Home Short Term Rental in New Zealand
This excellent Airbnb Plus property is located on Waiheke Island. Whilst outside of the city proper, Waiheke Island can easily be reached by ferry and is a popular getaway with both tourists and locals! If you want a romantic break in one of the warmest parts of the country, this studio gives you easy access to all of the vineyards and restaurants, and is only a short walk from the beach.
Transport in New Zealand
Public transport in New Zealand is notoriously awful. It isn't impossible to get around without a car, but it'll certainly be much easier if you can drive. Traffic jams in Auckland are also pretty horrendous, so factor this into your journey times. Wellington is a little bit of an exception, with a reasonably well connected public transit system.
Active travel is experiencing a renaissance in New Zealand, so definitely consider getting yourself a bike (or your preferred form of wheels). This is a great way to get around the more compact cities, though it might be more of a struggle in Auckland.
Thankfully, both cars and gas are super cheap in New Zealand which is finally some good news! It's pretty common for backpackers to buy a vehicle when they arrive and sell it a couple of weeks before they leave. If you just want something cheap and reliable, this is definitely your best option, and you can find these on TradeMe as well.
Taxi Ride (Auckland CBD to Auckland Beaches) – $25
Car Rental (per week) – $100
Food in New Zealand
Much like other English speaking former colonies, New Zealand has discarded bland British cuisine for a more diverse diet. Auckland in particular is home to cuisines from basically every corner of the world. You can find yourself in an Asian-style hawker centre one second, and in a Mexican inspired taqueria the next.
Café culture is huge in New Zealand, and you'll likely find yourself grabbing a daily flat white. From business meetings to catching up with friends, Kiwis conduct much of their lives in cafés. They usually offer table service for those sitting in, and using local ingredients is the standard. Dining out in restaurants, on the other hand, is an activity reserved for once or twice a week.
How much you spend on eating out really depends on where you choose to go. Asian cuisine is pretty inexpensive across the board, regardless of whether you eat in or take away. New Zealand cuisine is very meat-based so you'll find a lot of that locally sourced cuisine is super pricey.
Supermarkets are pretty cheap by New Zealand standards, but quality really varies. Double-check ingredient and nutrition information if you're super health-conscious. Countdown and New World are the most common stores. Pak 'n Save is the biggest budget supermarket, but these are usually outside the city centre.
Milk (litre) – $2
Bread – $2.50
Eggs (12) – $5
Beef (1kg) – $15
Onion (1kg) – $2
Avocado (each, peak summer season) – $2.50
Rice (1kg) – $2.10
Flat white – $2 (plus NZ$1 for the barista if it's good)
Drinking in New Zealand
New Zealand tap water isn't just drinkable. In many cases, it is better than bottled water. The low population density, natural springs, and mountainous landscape all contribute to some of the best natural water reserves in the world. That being said, don't believe the tour guides who say you can drink from the rivers. This is true most of the time, but not all of the time. You don't know who else has visited (and pooped in) the river.
If you do opt for tap water, this will set you back a little bit – around $1.50 per bottle. It's actually cheaper to just get soft drinks, although these aren't as healthy. We really have to emphasise that the tap water is often a better option. In many cases, the bottled water comes straight from the main supply anyway.
Alcohol is horrendously expensive! A bottle of cheap beer will set you back around $3.50. Spirit and mixer can easily set you back around $5, except in a few dodgy clubs in Auckland. New Zealand has its own selection of world-famous wines, and you'll find bottles in the supermarket are pretty affordable at around $4 each. Unfortunately, there's a massive bar premium.
Why Should You Travel to New Zealand with a Water Bottle?
Whilst there's a lot that we can do when it comes to traveling responsibly, reducing your plastic consumption is one of the easiest and most impactful things you can do. Don't buy one-use water bottles, don't take plastic shopping bags, and forget straws. All of this just ends up in landfill or in the ocean.
Keeping Busy and Active in New Zealand
New Zealand is a super active region. All of that activewear everyone wears in Auckland isn't just for show – the nation is obsessed with sports and keeping fit. Beach walks and breathtaking hikes can be found everywhere. Auckland even has a few volcanoes walks for you to get the blood pumping.
Outside of these activities, you'll find that sports are a great way to socialise. Surfing is super common across the North Island, especially in the Bay of Plenty and Waikato coast. In the cities you'll find a whole host of sports clubs where you can enjoy your favourite activities with others.
Surfboard rental (per day) – $15
Sports group (per session) – $10
Gym membership – $30
Bike hire (per half day) – $30
Rollerblade/skateboard hire (two hours) – $20
Walking into Mordor – Free! (and surprisingly simple)
School in New Zealand
The New Zealand education system is pretty similar to most other Western nations. It consists of 13 years – a primary stage from 5-12 years old, and a secondary stage from 12-17 years old. Outdoor learning is popular across the country, especially for younger ages. The final three years of secondary school feature exams, though these are more practical based than elsewhere.
There are a few notable differences in New Zealand. Parents can opt to send their kids to English or Maori medium education, though most expats opt for the former. The school year also lines up with the calendar year due to the Kiwi summer lasting from December to February. Exams usually finish just before Christmas, with results given in the New Year.
Private education isn't common, but there are still a few good options. The public education system is really good though, and it's offered to every kid with citizenship, residency or a long-term visa. University education is also universal for those with citizenship and residency.
Is This the Best Travel Pack EVER???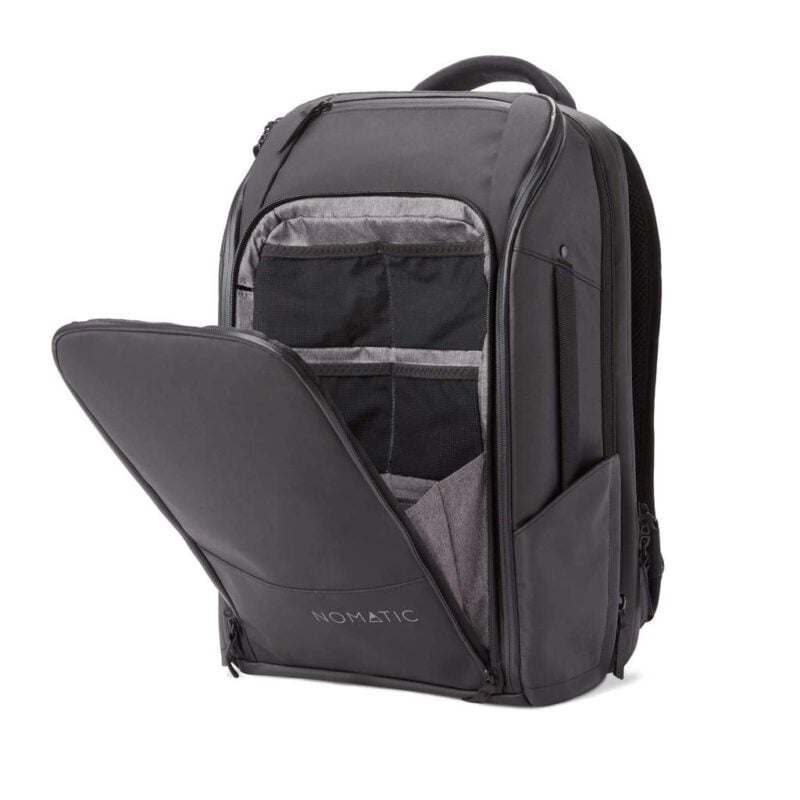 Medical Costs in New Zealand
New Zealand has a hybrid system that features both universal healthcare and private healthcare. Which category you fit in depends on your earnings and medical needs. Most citizens opt for some form of medical insurance to cover primary care such as GP visits. That being said, emergencies and specialist care are usually free at point of use.
Opting for health insurance will also let you skip the queue when it comes to higher demand services. Southern Cross Medical is the most popular provider in the country covering 60% of the health insurance market. In the bigger cities, they have their own hospitals. This is only really an option for those with residency, however.
SafetyWing offers a monthly healthcare plan which covers digital nomads, expats and long term travellers. We have been using it ourselves for a while now and find them to be approachable and helpful.
Visas in New Zealand
New Zealand uses a similar visa system as nearby Australia. The most popular option for moving to New Zealand is the Skilled Migrant Category Visa. For this, you'll need to meet certain qualification, experience and skills requirements. These have to be in areas that are on the government's skills in demand lists.
We won't sugar coat it – this is an excruciating process. It will be much easier for you to get a visa if you already have a job lined up. That being said, some careers that require specific qualifications won't necessarily require this. Medical professionals, engineers and builders are all usually in high demand. Even hospitality workers can gain this kind of visa with good experience.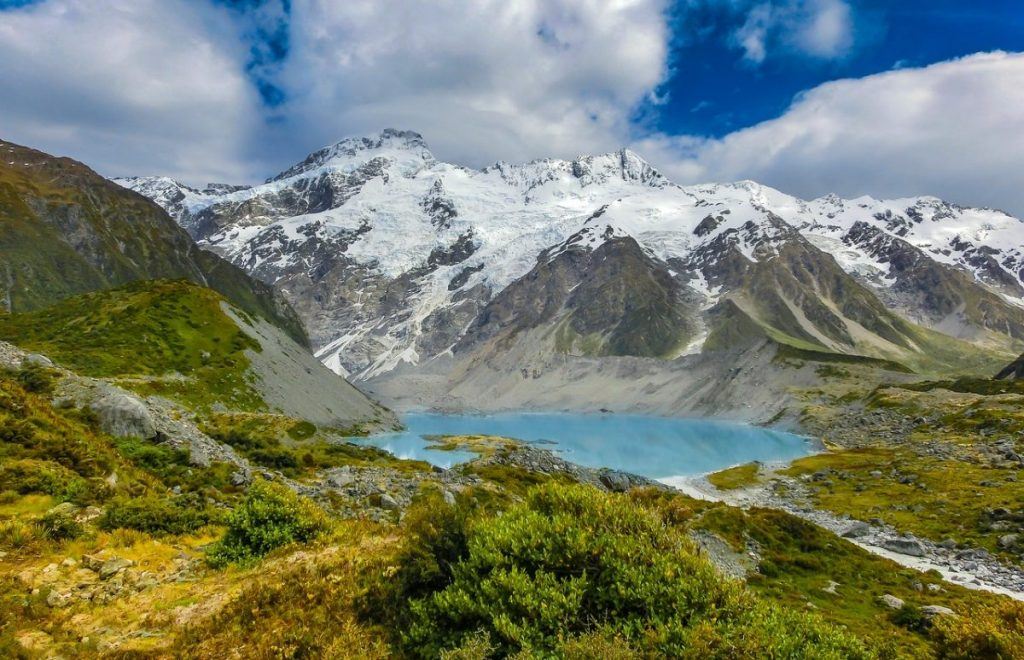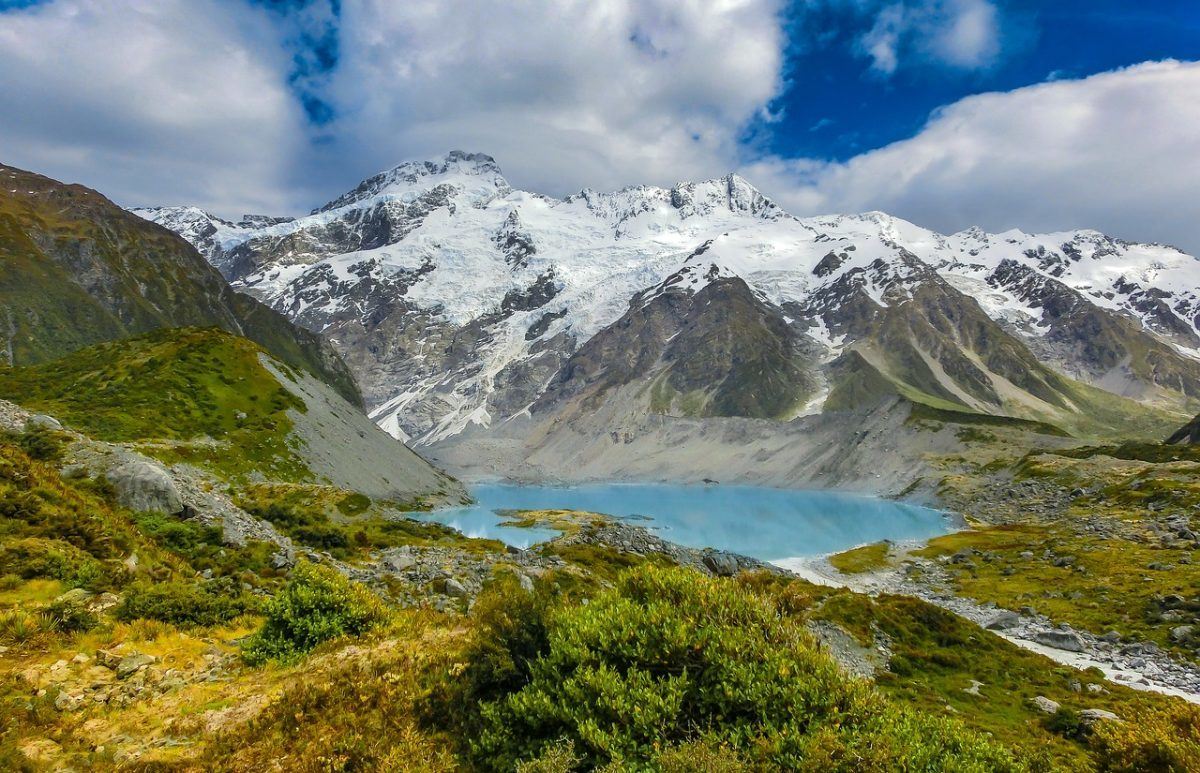 Whilst a working holiday visa won't let you stay long term, it's a good way to get to know the country. If you're under 30 and from a country that is a member of the programme, you can stay in the country for a year and work as much as you like. If you're from the UK, you can stay for up to two years (although you can only work for a total of one).
Digital nomads will struggle to find a relevant visa. If you're on a working holiday visa you can work as a freelancer, but you'll need to do more research on taxation. A tourist visa technically isn't enough, but if all of your employers are based outside of New Zealand and pay into a foreign bank account you're usually fine. If you want to stay long term, however, you'll need to go through the skilled migrant process.
Banking in New Zealand
The banking system in New Zealand is super easy to navigate. Kiwibank, ANZ and Westpac are the most popular, but you'll find plenty of international institutions as well. If you bank with HSBC in your home country it's actually possible to transfer everything over to a New Zealand bank account.
New Zealand has a huge student population, and it's also one of the most popular working holiday destinations in the world. For this reason, most banks have plenty of accounts to offer to both of these groups. You can actually set it up before you even arrive, but you'll get a better deal if you wait until you can visit in person. It usually only takes an hour or so in the branch.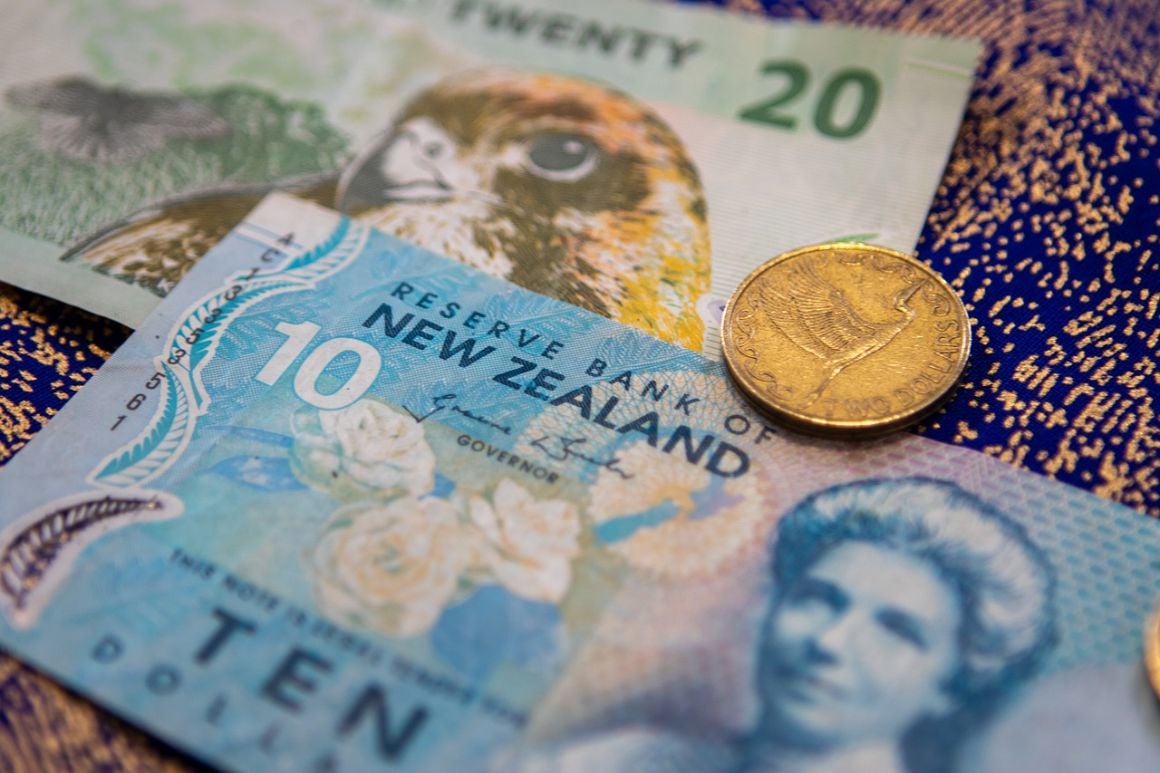 Using a card from your home country will rack up massive fees. The New Zealand dollar often comes with massive forex fees. You can avoid this by taking out an account with low fees. Monzo and Revolut offer free currency exchange up to a certain amount which should be enough to get you by until you can set up an account. Transferwise also offers international banking cards.
Plan on receiving money from abroad? Payoneer is our favourite money transfer site. You can transfer money from one account to another yourself – or receive money from an international client. It's the gold standard for digital nomad money transfers.
Taxes in New Zealand
New Zealand uses a PAYE (pay as you earn) system of taxation. This means that your employer will usually deduct it from your paycheck. As soon as you arrive you should head to New Zealand Post and grab an IRD number form. This is the taxation number used by Inland Revenue and you'll need it to get a job.
If you're working as a freelancer in New Zealand, you will be liable for your own taxes. It's a pretty smooth system to navigate, but we recommend consulting an accountant. It's better to just keep them on full time, but if you don't want to pay for this, at least book an appointment to understand how to manage it yourself.
Digital nomads usually pay taxation to their home country, but this depends on how you are employed. If your clients are all based abroad and pay money into a non-NZ account (Payoneer counts), then this should be fine.
Keep in mind that some countries (like the United States) require citizens to pay taxes even if they don't live there anymore.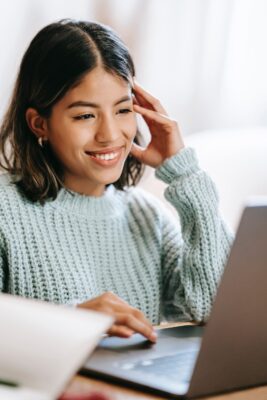 Earn $$$ ONLINE Whilst Travelling the World!
Keen to live the digital nomad dream while travelling the world? Who the hell isn't?
Teaching English online is a surefire method to earn a consistent income on the road. Work from anywhere, change some lives, and earn some dollaridoos while you do it!
Check out this detailed article for everything you need to know to start teaching English online.
Moving abroad always comes with costs you don't anticipate. It's always worth adding a little extra to your budget to account for these. That being said, there are a few you can account for with just a little bit of foresight.
Thankfully, New Zealand is similar enough to the rest of the Western world that most of these hidden costs are things you're already paying for at home without realising. It's worth keeping their taxation regime into account though. Whilst some countries around the world (such as the UK) allow their citizens a tax-free allowance, New Zealand taxes every cent you make. Some people forget to factor this into working out their earnings.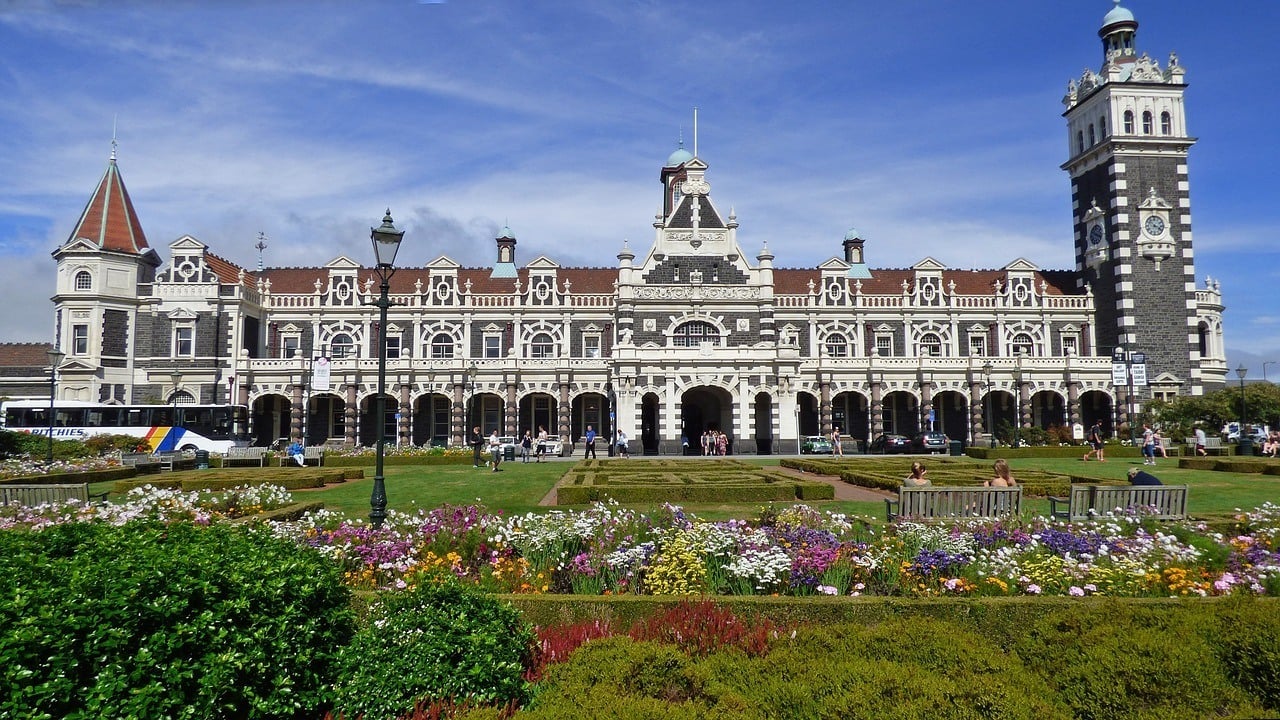 It's also pretty far away – so both holidays and visiting home will set you back. Flights to Europe and North America can easily cost $1000+ both ways. Whilst you can sometimes get good deals on holidays to Australia and the South Pacific, you're generally looking at spending at least $150 return for these shorter hops.
Also, this is a much smaller cost, but New Zealand doesn't have any coins smaller than 10c. If you're paying by card, this won't make a difference. But when paying by cash, it's common for prices to be rounded up. Whilst most shops now charge in denominations of 10c, this changes a little bit on bank holidays. Workers legally have to be given time and a half on bank holidays, so an additional surcharge (usually 20%) is charged on these days. This can result in prices outside the usual 10c increments.
Insurance for Living in New Zealand
New Zealand is consistently ranked one of the safest places in the world! Crime is low, streets are safe and the wildlife is unlikely to cause you any harm. That doesn't mean you're totally safe, however. Sometimes things happen that we don't have much control over.
Whilst the wildlife won't hurt you, New Zealand lies within the Pacific Ring of Fire and is super prone to earthquakes. There are also risks involved with getting in the water, walking into the wrong neighborhood or even driving. Traffic accidents are actually on the rise!
We've already mentioned SafetyWing's health insurance – which offers healthcare cover for digital nomads, expats and long term travellers. You should also look into travel insurance that will cover missed flights, gadgets and repatriation costs.
Month to month payments, no lock-in contracts, and no itineraries required: that's the exact kind of insurance digital nomads and long-term traveller types need. Cover yo' pretty little self while you live the DREAM!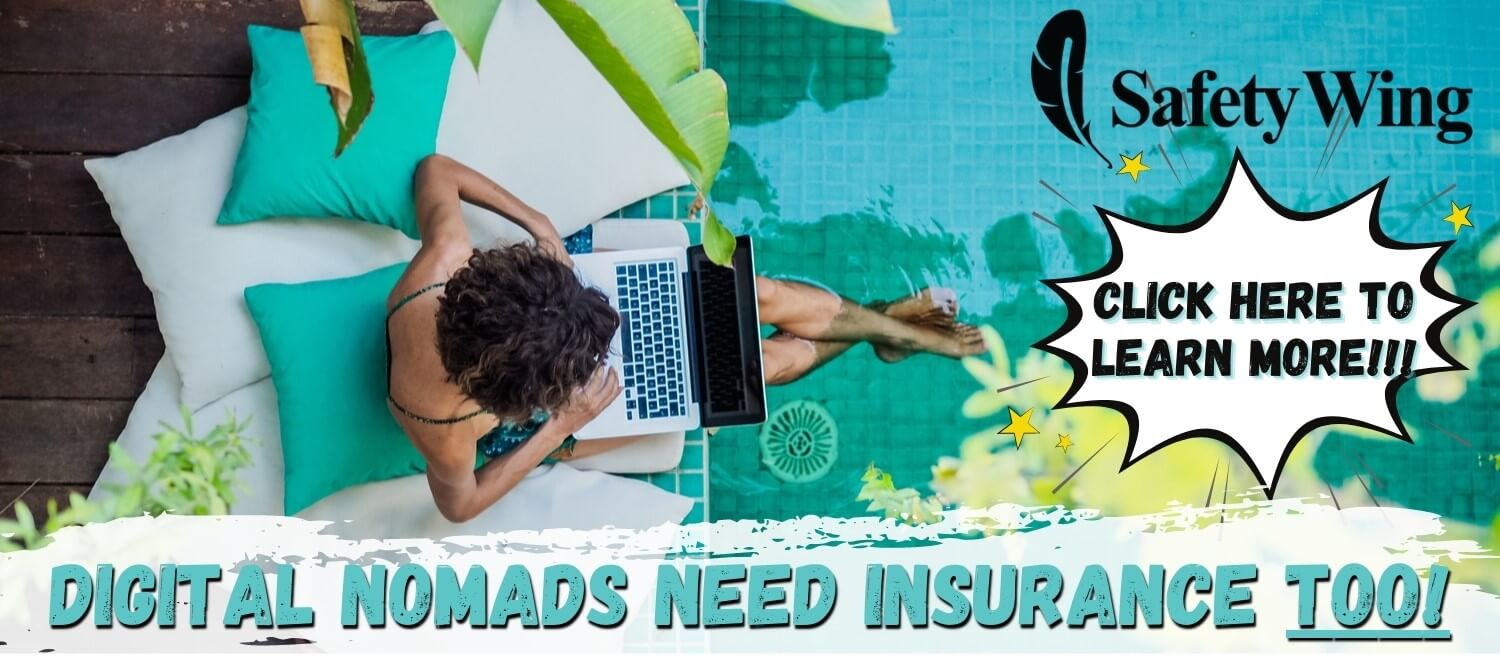 SafetyWing is cheap, easy, and admin-free: just sign up lickety-split so you can get back to work! Click the button below to learn more about SafetyWing's setup or read our insider review for the full tasty scoop.
Moving to New Zealand – What You Need to Know
Now that we've got the costs out of the way let's talk about other aspects of living in the country. It might be expensive, but the lifestyle is totally worth it.
Finding a job in New Zealand
When we say New Zealand is an expensive country we really mean that it's expensive for people who live in Europe or North America. Incomes in New Zealand are generally higher, so once you start earning local currency you'll find it much easier to meet these costs. The minimum wage is just over US$14, one of the highest in the world.
As we've already mentioned getting a visa is much easier if you already have a job lined up. Companies tend to prefer to hire locals so you'll need to have a solid background. We recommend checking out which skills are in demand on the New Zealand government's website. This will give you an idea of what kind of jobs are crying out for workers.
There are also some careers that will add points to your immigration application but aren't necessarily in demand. Hospitality, for example, is a massive industry in New Zealand, but there are already lots of workers living in the country that have skills in the industry. A great way to find work in this area is to start out with a working holiday visa and find a company that will agree to keep you on through the visa sponsorship process.
Or…Go with Global Work and Travel
If you've read this far and are starting to think there are just too many logistics of hauling my entire life to New Zealand, why not try a working holiday with Global Work and Travel. Not only do they assist you with opening a bank account AND the working holiday VISA process, but you'll also be provided with a trip coordinator to help with accommodation support, airport transfers and finding that coveted job.
You'll even have a virtual interview with one of Global Work and Travel's vast network of partner companies before you step on a plane. You'll arrive in Auckland where you'll stay for 4 nights and receive your SIM card (yes, they arrange this for you too) before travelling to your next destination to start your working holiday adventure in industries such as tourism, sales, hospitality and more.
Global Work and Travel's New Zealand program offers cities such as Wellington, Christchurch and Auckland or you could choose to go all the way to Mount Cook or Waiheke Island. The Global Work and Travel office will be on hand to assist you throughout your stay of 6 to 24 months in New Zealand with a 24/7 helpline available. There isn't much that Global Work and Travel doesn't help you with so pack your hiking boots. You'll get a Queenstown adventure day included with your package too!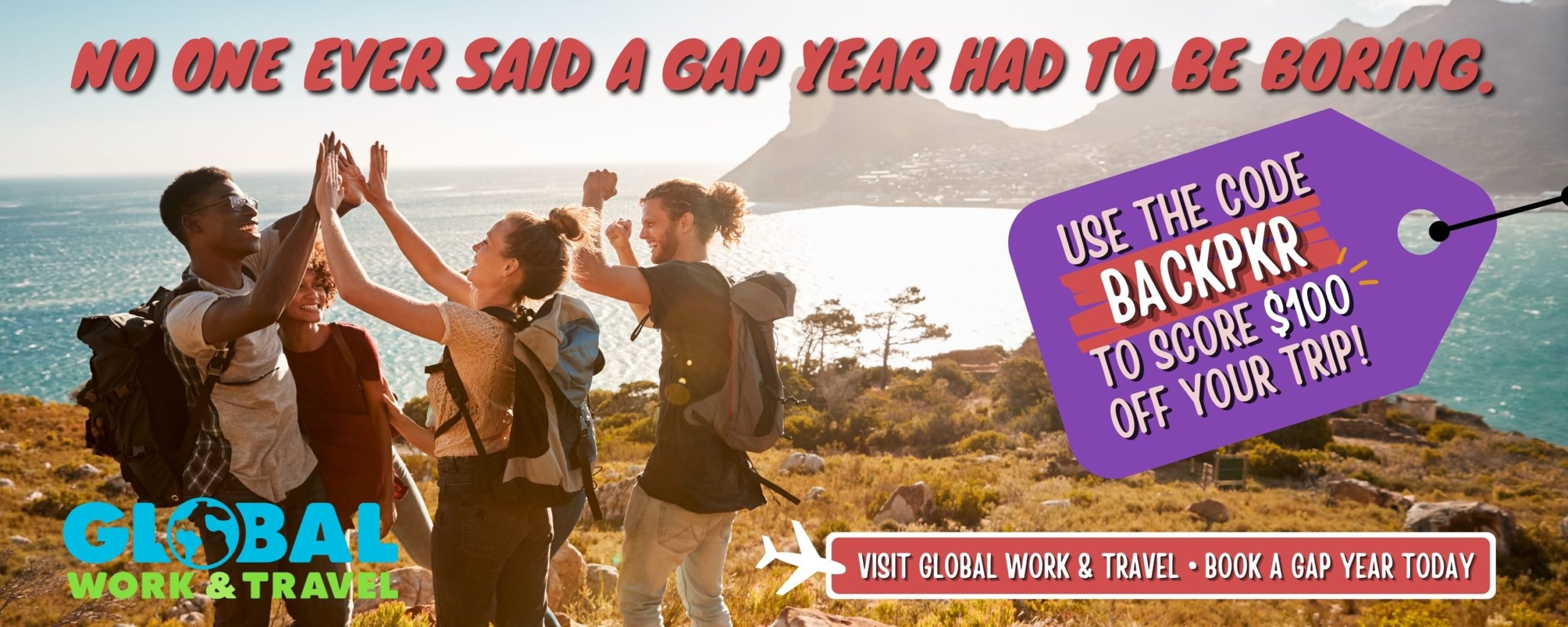 Where to live in New Zealand
Realistically, you'll have to live wherever the work is. For most industries, this will still give you a little bit of legroom, but we recommend researching your industry before you arrive. There's a big urban/rural divide in New Zealand, and most immigrants end up in the urban areas. It used to be that you would get more points for moving to a destination outside of Auckland, but that rule has since finished.
Generally speaking, the North Island has more job opportunities as it is more populous. This is also the warmer island (with the northern tip considered subtropical), whilst the South Island offers a more moderate climate similar to Europe.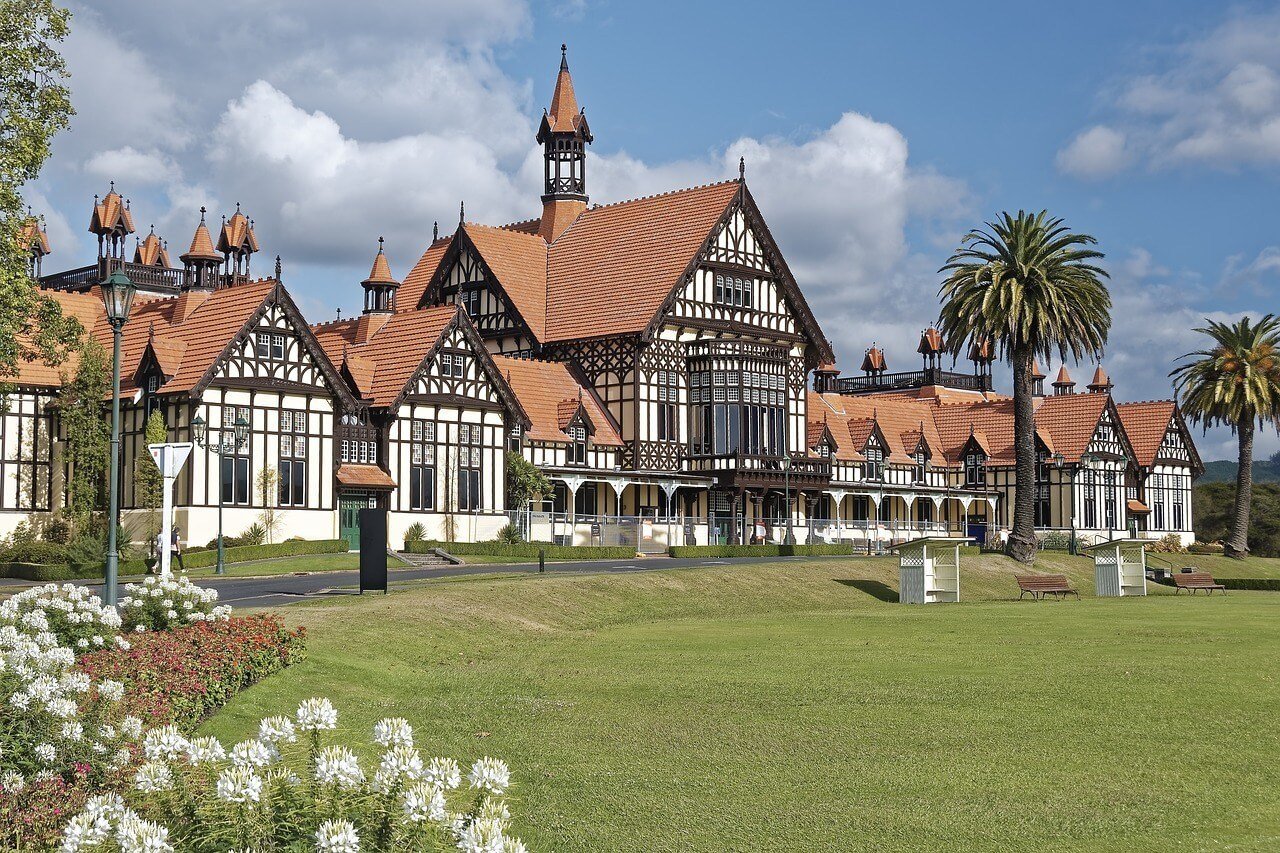 If you can, we recommend getting to the country first before settling on a place. Each town and city has its own unique vibe that you can only truly experience in person.
Auckland
Auckland is the largest city in the country hosting about a third of the total population. If you're more of an urbanite, this really is the only option for you. It has a super multicultural vibe which is expressed in the multiple events held throughout the year – from Matariki to Christmas to Diwali. Loads of travellers backpack their way through Auckland, but living here is a completely different topic.
Generally speaking, this is where most of the jobs are, especially for immigrants. Auckland is a modern city that is constantly changing, with some world-changing companies tracing their roots to the city. Its position in the far north also means the climate is one of the warmest, rarely dropping below 12C in the winter, and exceeding 25C for most of the summer.
We're not lying when we say that Auckland is big. There are many different neighborhoods in Auckland, each with different job opportunities and options.
Popular and Massive
Popular and Massive
Auckland
This cosmopolitan city sprawls across a narrow isthmus in the far north of the country, giving it a warm, maritime climate. There are many great neighborhoods in Auckland, each of them offering different vibes and attractions.
Wellington
Wellington, known as the coolest little capital in the world, is the political centre of New Zealand. We also believe it's the hippest city in the country. Backpacking Wellington is on most people's itinerary, so the city is also quite lively. Whilst Auckland is a multicultural metropolis, Wellington has an incredibly Kiwi spirit.
The city is known for its coffee culture, film industry and hipster vibes. Surrounded by mountains on one side and the sea on the other, there are some fantastic natural attractions nearby. It's also a great base for exploring elsewhere, with daily ferries departing to the South Island.
Arts, culture, and more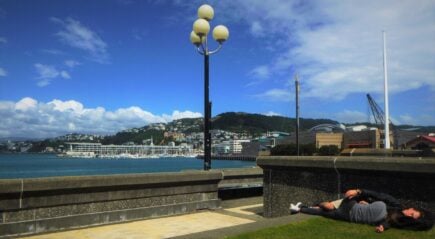 Arts, culture, and more
Wellington
Wellington is where you will get a great introduction to Kiwi culture – from well crafted flat whites to winding nature trails. The city centre is home to independent boutiques and some of the best nightlife destinations in the city.
Queenstown
Right in the heart of South Island, Queenstown is arguably the most popular tourist destination in the country. It's nestled right at the edge of the Southern Alps, offering stunning scenery straight out of the Lord of the Rings movies. It's a super popular stop for South Island Road Trippers, yet it's got an incredibly calm atmosphere.
In the town you'll find an endless selection of activities. Regular excursions take visitors to Milford Sound, Tekapo and the Glaciers. You'll also be able to get the adrenaline pumping in the town which is considered a bungy jumping hub.
An Adventure Paradise
An Adventure Paradise
Queenstown
Queenstown is a tourist playground and has truly earned its place as one of the most-visited parts of the country! Located along the shores of Lake Wakatipu, from the second you enter the town you will notice the striking mountain scenery and gorgeous waterfront area.
Napier
Napier is one of the most unique destinations in New Zealand. The town was destroyed by an earthquake in the 1930s – which gave the locals the idea to build something a little bit different. Napier stands out for its art deco inspired buildings, acting as a time capsule to the era in which it was built.
During the summer the town comes to life with visitors from across the country (and the world!) looking to enjoy the unique architecture, peaceful Pacific vibes and vibrant events. It winds down in the winter, allowing those who stay there the opportunity to experience small town New Zealand without feeling like they've totally escaped from civilization.
A beautiful hidden gem
A beautiful hidden gem
Napier
Napier is another town that is kept off most itineraries, but is absolutely well worth considering if you want to discover a hidden gem! Once destroyed by an earthquake, the town rebuilt itself in the art deco style – making it a bit of a time capsule back to the era.
Kiwi Culture
New Zealand culture is a bizarre mix. Once heavily influenced by British colonialism, it has come a long way since becoming an independent country. You'll find the indigenous Maori culture is much more celebrated these days, as well as the cultures of immigrant communities across the world.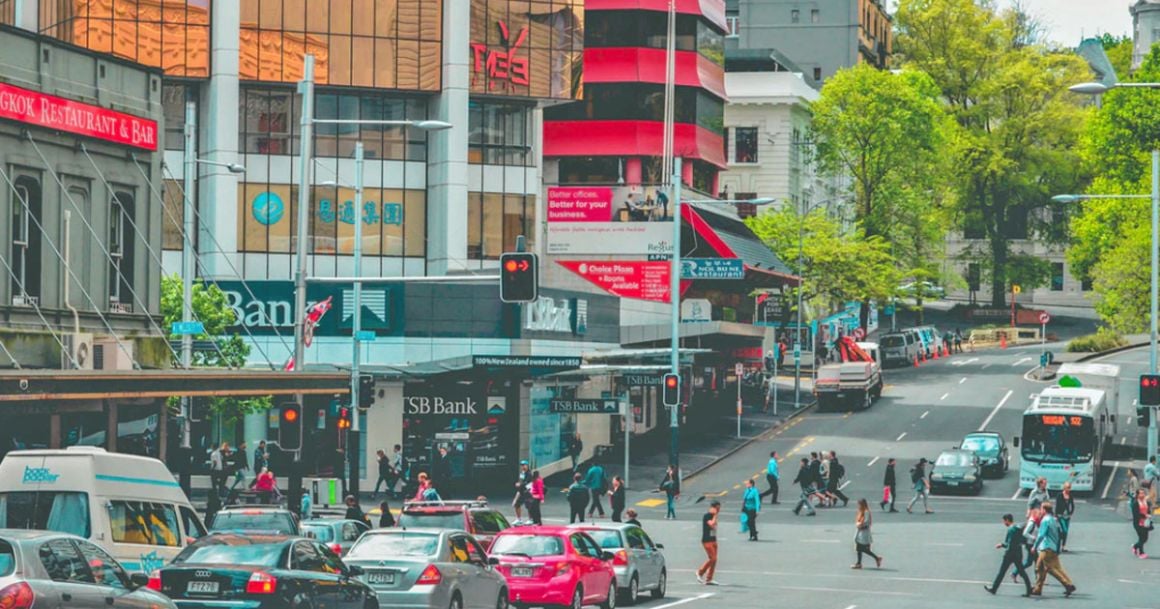 Kiwis have a reputation of being quite closed off to start with but, ultimately, they are one of the most friendly populations in the world when you get to know them. This really only applies to Auckland – elsewhere, you'll find people are much more approachable. The multicultural spirit results in a more integrated society with regular events from all walks of life (even outside the largest city).
Pros and Cons of Moving to New Zealand
As with every life decision, moving to New Zealand comes with its pros and cons. The key to deciding whether it is the right choice for you is balancing these factors and figuring out what is more important to you. What might not be a problem for us could be a dealbreaker for you. Let's have a look at some common pros and cons.
Pros
Laid back way of life – New Zealand is known for its easy-going atmosphere. Many people choose to stay in the country for the great work-life balance and excellent recreational opportunities. If you want to work to live rather than live to work, New Zealand is a great place to stay.
High earnings – With one of the highest minimum wages in the world you can easily increase your earnings by moving to New Zealand. The median salary is around $5-10k higher than the United States and even higher when compared to Europe. This contributes to the fantastic work-life balance enjoyed by residents.
Stunning scenery – Famously the filming location for Lord of the Rings, the scenery in New Zealand is truly out of this world. This isn't just great for tourists, it also makes it a great place to live. You'll never run out of outdoor pursuits, and a quick escape to the mountains is the perfect way to destress.
Multicultural atmosphere – Auckland is host to citizens from all across the world. Even smaller cities like Wellington, Christchurch and Dunedin enjoy multicultural populations. This creates an excellent culinary scene and a packed calendar of events throughout the year.
Cons
Expensive place to live – With high wages comes high costs! Once you factor in how much extra you're paying (especially for rent), it isn't always that different from the experience back home. This is especially true if you're working in a lower-paid industry like hospitality.
Difficult visa process – The New Zealand points system is incredibly demanding. Whilst 100 points is the minimum for consideration, visas are rarely given to those with less than 160 points. This means you'll either need a masters, heaps of experience in a skills shortage area or proof that your company couldn't hire a Kiwi in your place. The visa process alone is enough to put many people off.
Far away from everywhere else – New Zealand is so far away that some people forget to put it on the map altogether. The nearest country, Australia, is a two to three flight. For Europeans, you'll be travelling for an entire day, and even North Americans can expect a 16 hour flight time. It's not a great base for exploring the rest of the world.
Small population – This one can be a pro and a con depending on what you like. If you consider yourself a city slicker, Auckland is your only real option. Otherwise, New Zealand is an incredibly rural country.
Living as a Digital Nomad in New Zealand
High costs and tricky visas make New Zealand a difficult spot for digital nomads. That being said, it's certainly not impossible to manage this kind of lifestyle in the country. Working holiday visas give you plenty of scope for this kind of working – though the one-year limitation really enforces the 'nomad' aspect.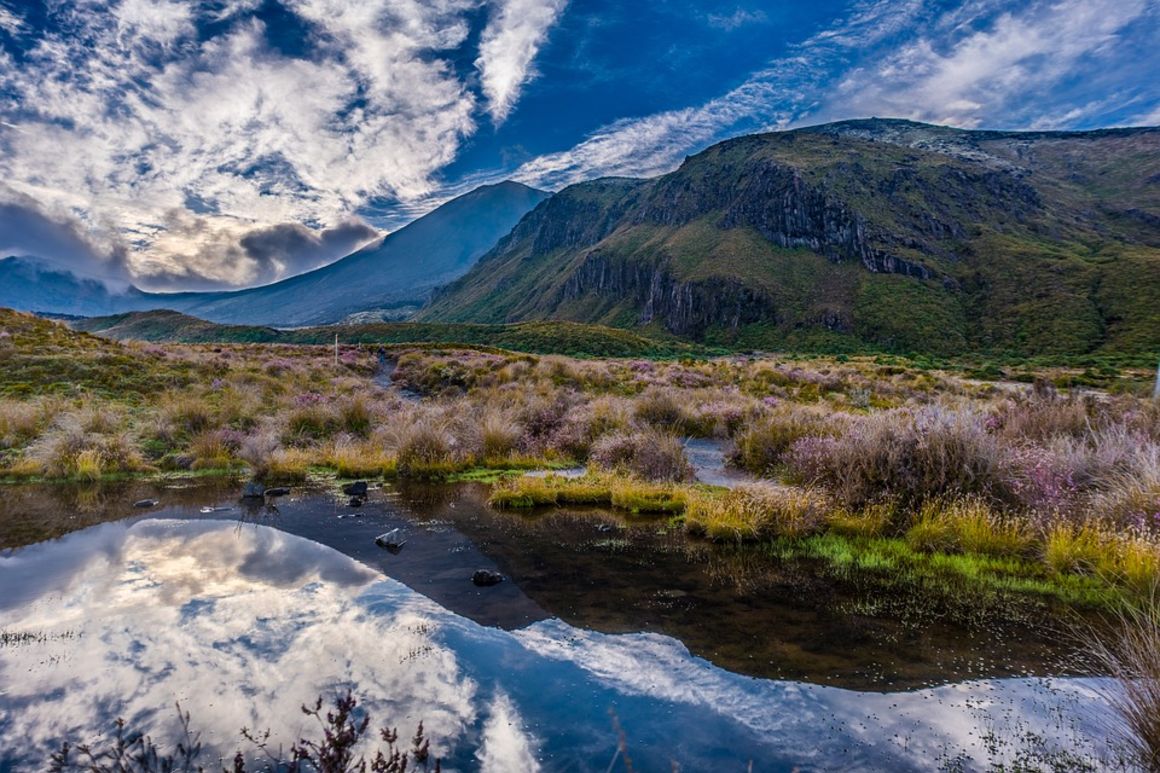 If you can look past the cost of living and are happy to leave after your year is up, there are a few great reasons to visit New Zealand as a digital nomad. This is a country that is best experienced at a slow pace – and what better way to do that than over the space of a year whilst working online?
Internet in New Zealand
The internet situation in New Zealand is kinda complicated. All of the urban areas (and a big chunk of the rural areas) are fitted with fibre optic. If you're trying to visit another New Zealand website, the speeds are pretty fast. If your work is within New Zealand, you'll have an easy time.
That being said, it's still at the end of the world. The big global internet cable makes its final stop in New Zealand, so ping speeds are a little slower. When connecting to servers in Europe and North America you will notice slower speeds.
The Future of the SIM Card is HERE!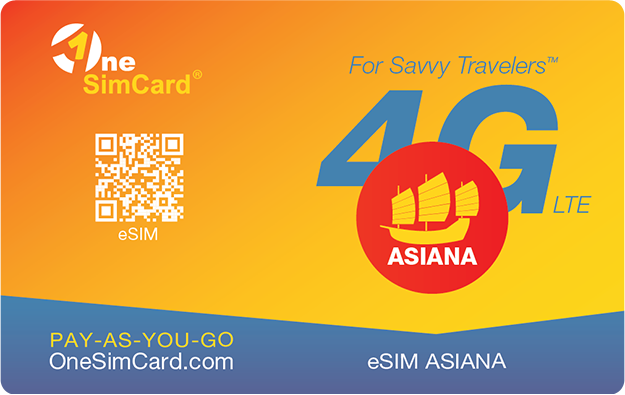 A new country, a new contract, a new piece of plastic – booooring. Instead, buy an eSIM!
An eSIM works just like an app: you buy it, you download it, and BOOM! You're connected. It's just that easy.
Is your phone eSIM ready? Read about how e-Sims work or click below to see one of the top eSIM providers on the market and ditch the plastic.
Buy an eSIM!
Digital Nomad Visas in New Zealand
There aren't any digital nomad visas in New Zealand, but you can work as a digital nomad on either a working holiday visa or a tourist visa. The tourist visa is severely limited. You'll only have three months in the country (or six if you're from the UK) and your business must be operated entirely outside of the country.
If you want to do business with other New Zealand entities you'll need a working holiday visa. This gives you a year to do as much work as you want in the country (plus an additional 11 months for play if you're from the UK). Once this is finished, however, then you won't be able to take another WHV. You also have to be under 30.
Co-working Spaces in New Zealand
New Zealand has a thriving start-up culture, especially in the games and tech spheres. This has resulted in a number of coworking spaces popping up. Office space is just as expensive as living space (sometimes even more), so these spaces were set up as an affordable alternative for small businesses and freelancers.
BizDojo is the most popular, with spots all over the country. In each city, you'll also find some independently owned coworking spaces. These tend to be more focused on the local market than on international customers, but that's starting to change.
Living in New Zealand – FAQ
Living in New Zealand can give you a real headache when it comes to planning and figuring out all of the little details. To help you out a bit, we've listed and answered the most frequently asked questions.
Final Thoughts on New Zealand Living Costs
So should you move to the other side of the world? That really depends on what you're looking for in your new home. New Zealand is fantastic for work-life balance, epic travel destinations and a vibrant social scene – but it's also expensive and far away from everywhere else. We loved our experience living there, but it's not for everyone. We hope this guide has helped you make your mind up.
---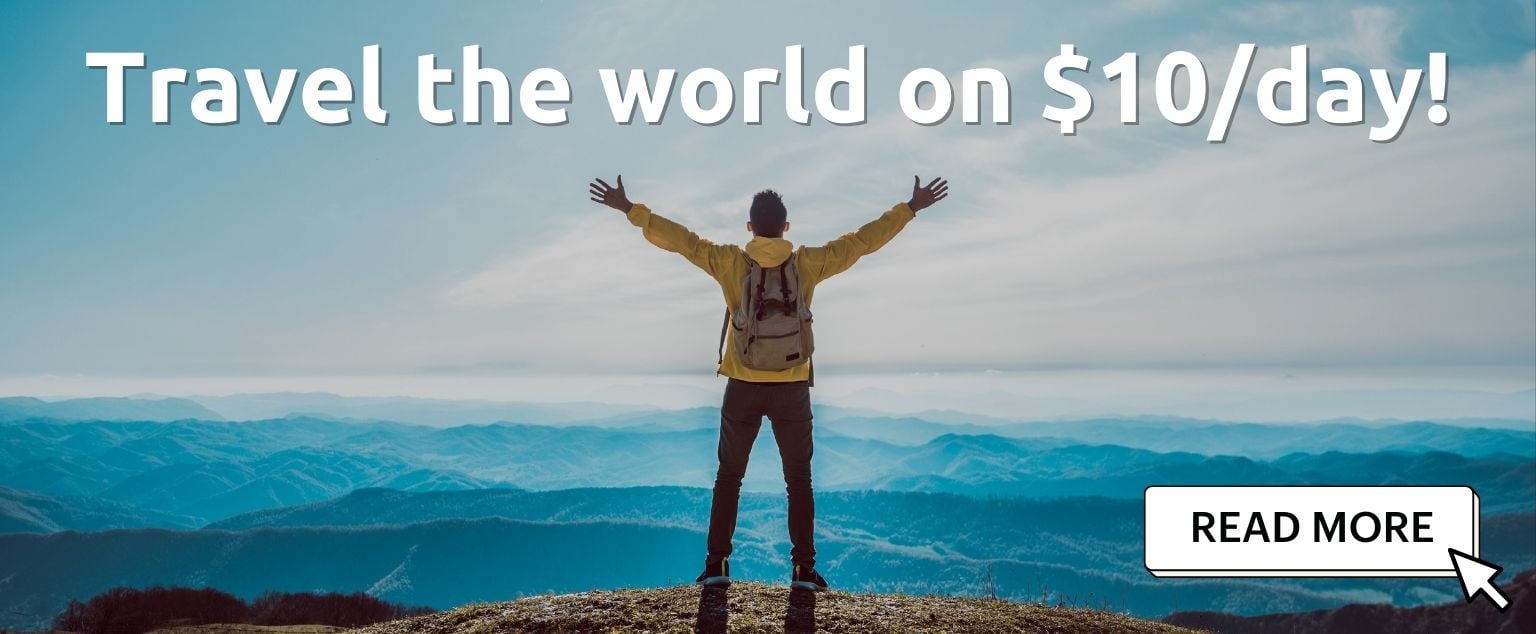 And for transparency's sake, please know that some of the links in our content are affiliate links. That means that if you book your accommodation, buy your gear, or sort your insurance through our link, we earn a small commission (at no extra cost to you). That said, we only link to the gear we trust and never recommend services we don't believe are up to scratch. Again, thank you!