Did you miss out on bikini season this summer and fancy getting back into shape, but haven't got the willpower to do so? Then you might benefit from a fitness retreat!
Don't worry, fitness retreats are not boot camps for weight loss, they are relaxing escapes from day to day life, with some fitness regimes thrown into the itinerary that is designed to motivate your to get back on your fitness journey.
Fitness retreats take you away from the distractions of daily life where there's no excuse to give up on your fitness goals, and with the help of experienced instructors, you can take the necessary steps to improve your overall health and fitness.
Bali is a place that embodies good vibes only, so if there's ever a somewhere that would inspire you to meet your goals – it's Bali. With breathtaking nature and volcanic landscapes, this Indonesian island is bound to inspire you.
But fitness retreats are becoming incredibly popular, and finding the best one is no easy task. That's where this guide comes in. If you don't know what to look for or how to choose the right retreat for you, this guide to fitness retreats in Bali is all you will need.
Why Should You Consider a Fitness Retreat in Bali?
In a world where overworking is seen as a badge of honor, it is very easy to fall into a variety of unhealthy habits, such as binge-watching Netflix and eating fast food instead of cooking. It's easy to fall into a routine, and when you're struggling to find the motivation to get out of it, where do you look?
Taking a vacation away from your daily routine is exactly what you need. By embarking on a fitness retreat, you'll get to explore Bali in a way different from a regular vacation, as they combine fitness classes and exploring in a seamless manner.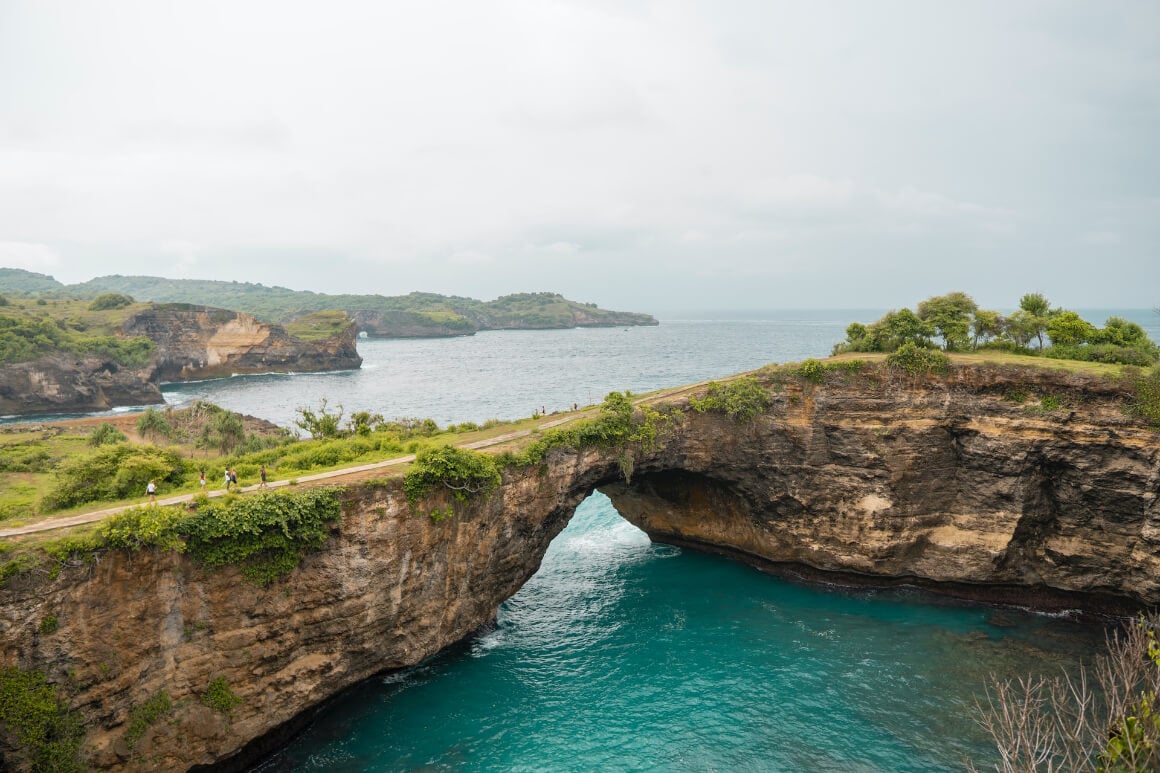 Going on a fitness retreat means you get help from professionals, whether your goal is to lose weight or just get back into a routine – nothing is better than learning from the experts. You'll not only have fitness classes, but you'll learn about healthy eating habits and maybe even cooking skills and sleep improvement techniques too.
Shaping is fun on a fitness retreat because you get to meet like-minded people who are also on their own fitness journey. You're surrounded by people who will support and empower you. You get the chance to discover new programs, get inspired by your surroundings, and see the beautiful places in Bali.
Sounds good, right?
What Can You Expect from a Fitness Retreat in Bali
When life gets busy, it can often lead to body-related stress and pressures, among many other things. Fret not as Bali has plenty of fitness retreats that can help get you on the path to better health and wholeness.
Bali fitness retreats are diverse but there are a few things that all retreats have in common, such as experienced instructors, tailored meal plans, Balinese massages, state-of-the-art facilities, and offering a bunch of excursions to some of Bali's top attractions.
Some may even provide detox juices while you sweat and shed those extra pounds off. It's all about healthy living when you go on a fitness retreat in Bali, and a few even have workshops where you get to meet a nutritionist to help you put together a meal plan and achieve your goals.
Some fitness retreats also tend to be specialized, meaning they cater to a certain group of people. You have fitness retreats for water lovers which include surfing, diving, and other water sports, and you can also find retreats that are more focused on detoxification.
Whatever your fitness goal is, with the wide range of beautiful gyms in Bali, you're bound to find something that suits all your needs. There is no better time than now to be a healthier, fitter, and happier version of yourself.

Unlock Our GREATEST Travel Secrets!
Sign up for our newsletter and get the best travel tips delivered right to your inbox.
How to Choose the Right Fitness Retreat in Bali for You
As mentioned previously, fitness retreats abound in Bali and this only highlights the importance of choosing the right one for your needs. The number of fitness retreats can leave you overwhelmed and confused so you need to think about what you're looking for carefully before you make a decision.
Ask yourself what exactly is your fitness goal. Are you looking to get rid of extra pounds, or do you just want a toned body? Do you just want to get back into a healthy routine? Or are you thinking you would prefer a more relaxing retreat with a few fitness elements? The answer to these questions will largely determine what to look for.
Spend time thinking about your goals and what you want to get out of the retreat. After that, you have some more practical considerations to choose from…
Location
…such as where you stay in Bali. Luckily for you, Bali is an island with immense natural beauty and wherever you go, you're sure to be greeted by spectacular sights. The luscious tropical landscape is not only pleasing to the eye; its serenity will calm your soul.
If you'd like to get it while participating in a variety of water sports and activities, you should choose a fitness retreat in Nusa Lembongan, Canggu, or Kuta.
If you'd rather see the rice fields and verdant greens while working out, you should opt for retreats in Ubud and Tegalalang.
Practices
The Balinese follow a form of Hinduism known as Agama Hindu Dharma and their culture and religion impact every aspect of life on the island. This is just one of the many things that make fitness retreats on the island truly unique.
Bali, among many things, is famous for its local traditions too. The 'Balian' or traditional healer is someone who you will encounter in fitness and wellness retreats on the island. They are said to heal physical and mental afflictions through spiritual knowledge and energy.
Anyone that goes to Bali has come across Balinese massage. It is a deep-tissue, full-body, and holistic treatment that uses a combination of reflexology, acupressure, gentle stretches, and aromatherapy to stimulate oxygen, blood flow, and 'qi' or energy around your body. It includes a few techniques such as kneading and stroking, skin rolling, and pressure point stimulation combined with essential oils.
Watukaru yoga is another common health and fitness practice on the island. It is an ancient and traditional form of yoga that has been practiced by the Balinese people for decades. It is a combination of cleansing mudras, sound meditation, holy mantras, and Hatha yoga. It is deeply relaxing and rejuvenating.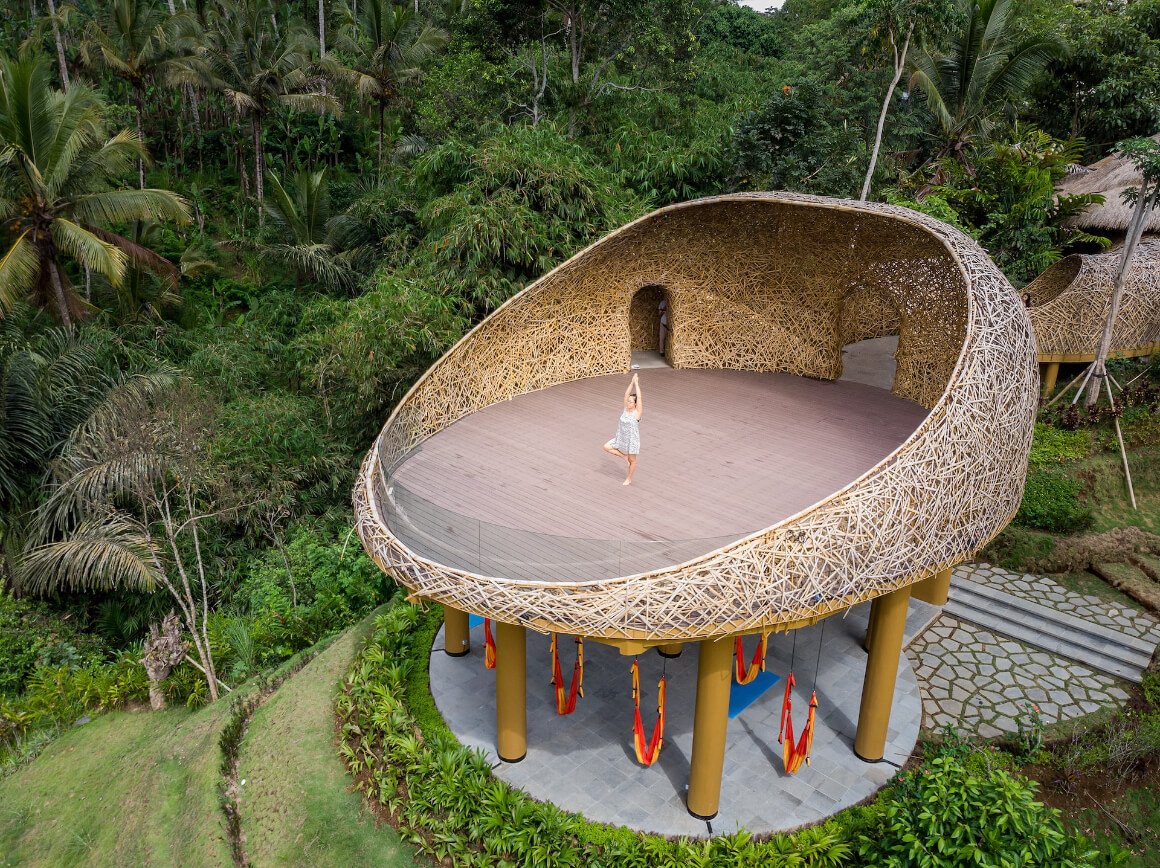 Price
The price point is one of the most important considerations when it comes to choosing fitness retreats but it shouldn't be the only factor when it comes to making a decision.
There's a variety of reasons that can make a retreat out of your budget and some of the most common are the accommodation, duration, and location of the retreat.
The more lavish the accommodation is, the more you can expect to pay. If you're thinking of a private Bali villa in your retreat, then expect to pay more for it. Most of the time, the more isolated the retreat location is, the steeper the price.
The same thing goes for the duration because the longer the retreat takes; the more money you can expect to spend too.
Perks
Going on a fitness retreat hardly means working out from sun up to sun down. Of course, you need time to unwind, rest, and do your favorite activities.
Fitness retreats often offer a bevy of perks alongside its main fitness offering, to give you a break and also allow you to explore some of the island. Some of the perks include spa treatments and a variety of massages to pamper your aching body and heal your sore muscles.
A few excursions and a variety of activities are guaranteed to be included in your itinerary, and you can also expect to be offered temple tours, surfing, hiking, diving, water rafting, cooking classes, and even Balinese language lessons.
It's important to pick a fitness retreat that offers the activities you love, such as sightseeing, so you can make good use of your breaks and free time.
Duration
Bali fitness retreats cater to people of all schedules, so you need not fear if you only have a limited amount of time to spare in achieving your fitness goals.
You can go on a retreat that lasts as short as 3 days or you can join a fitness retreat that lasts as long as a month. It's really all down to how much time you can free up on your schedule.
Dedicating a longer time to a fitness retreat gives you the opportunity to learn healthy habits, boost your health, make changes within yourself, get away from technology, and focus on your workouts.
However short retreats can also be really intensive, so don't think you won't come away having achieved anything in three days.
The Top 10 Fitness Retreats in Bali
By now you probably have a good understanding of what to expect from fitness retreats in Bali. So here are the 10 best retreats for you…
Price: From $637
Location: Canggu, Indonesia
Nestled between the rice fields of Canggu and the beach, Mondo Surf & Lifestyle Village is only a stone's throw away from some of the best surf spots in Bali.
Suitable for martial arts enthusiasts of all levels and even newbies, this fitness retreat provides coaching so you can develop your grappling, and stand-up skills and of course, have an amazing workout session for that healthy body.
Each day starts with a yoga session in the morning and you can choose between once or twice daily yoga. You'll be practicing a combination of Ashtanga style with Vinyasa flows. After which, you'll participate in surfing lessons and Muay Thai and chill out in the afternoon.
During the retreat, you'll be served seven healthy breakfasts made from Indonesian and international menus.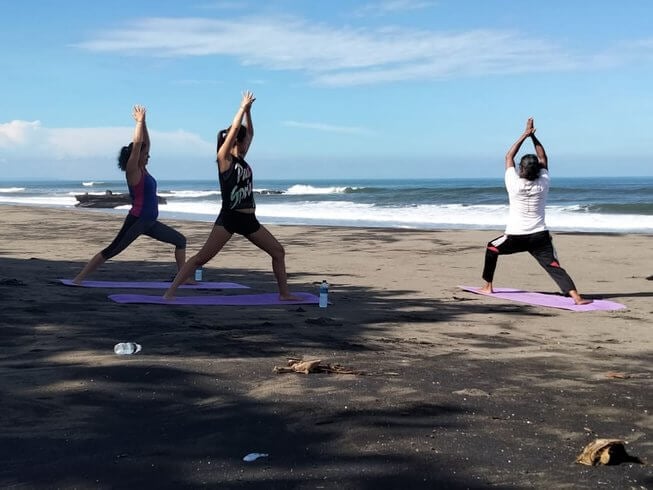 Price: From $270
Location: Tabanan, Bali, Indonesia
Baligrass Retreat is in a spiritual village away from the hustle and bustle of Bali's touristy locations. Located close to Mount Watukaru, the retreat is only 30 minutes away from Tabanan City.
This unique fitness program combines getting fit and healthy with laidback barbecue on the beach, traditional Watukaru yoga, daily excursions to various places of interest such as Batukaru Mountain Temple, Penatahan Hot Spring, and a local waterfall, and an introduction to Balinese culture.
A few other activities included making traditional herbal drinks, Balinese language lessons, and making coconut oil and Hindu offerings.
During this retreat, you'll stay in a homestay or bungalow type of accommodation in a village surrounded by rice paddy farmlands.
Month to month payments, no lock-in contracts, and no itineraries required: that's the exact kind of insurance digital nomads and long-term traveller types need. Cover yo' pretty little self while you live the DREAM!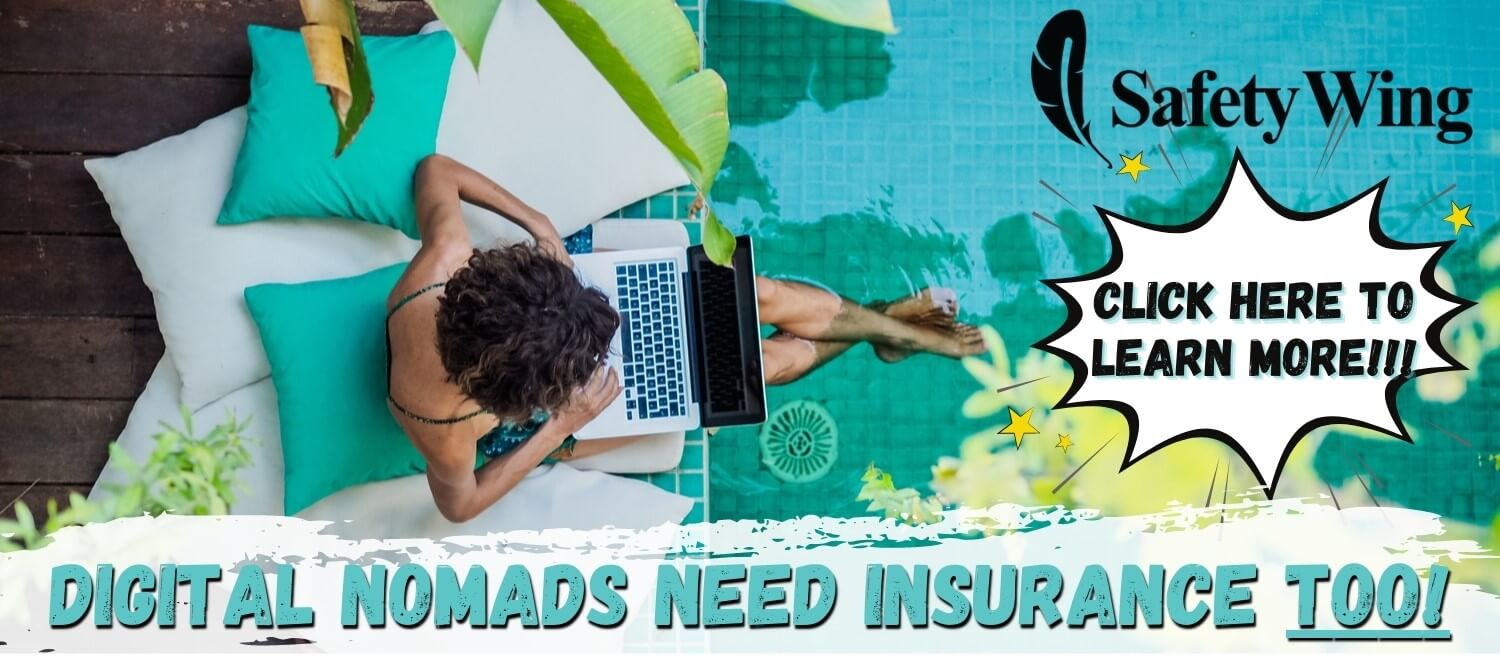 SafetyWing is cheap, easy, and admin-free: just sign up lickety-split so you can get back to work! Click the button below to learn more about SafetyWing's setup or read our insider review for the full tasty scoop.
Price: From $465
Location: Tabanan, Bali, Indonesia
Reset your mind and body with a full body detox, connect with yourself to a deeper level, de-stress and recharge with this yoga and fitness retreat in Bali.
The program has a schedule of daily activities but participation is not compulsory. You can expect morning daily yoga classes in Ashtanga, Hatha, Vinyasa, and Yin Yoga; mediation sessions; and 3 all-natural daily detox juices.
Of course, there's plenty of room for fun too and you'll be joining a few activities such as rice paddies trekking, sunrise watching, organic coconut oil making, traditional Balinese ceremonial dance, and Balinese cooking as well as music class.
Wholesome, abundant, and delicious vegetarian and vegan food is served daily, all made from local produce. This is one fun fitness retreat, if you ask me!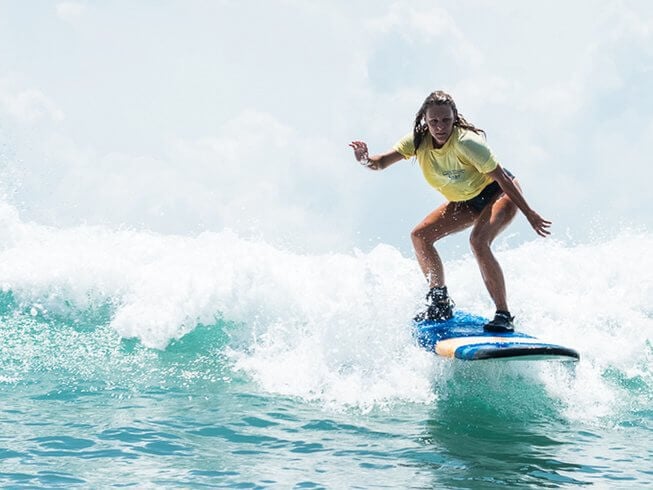 Price: From $362
Location: Nusa Lembongan, Bali, Indonesia
Nestled in Lembongan, Isla Indah Retreat is within walking distance of one of the best beaches in Bali and has various activity centers.
Surfers and yoga enthusiasts of all levels are welcome to participate in the program. With the small groups in surfing classes, you're guaranteed to have the expert attention you need. They also have an evolution program for beginners and intermediate surfers.
In addition, you can look forward to 3 yoga and meditation classes accessible to every level and tailored especially for surfers.
Healthy vegetarian and vegan meals are available throughout the retreat at Pisang-Pisang Restaurant, as well as unique smoothies and juices. However, only 3 daily breakfasts and water are included in the package.
The program also includes an excursion in the form of a snorkeling trip with manta rays.
Price: From $1,599
Location: Tabanan, Bali, Indonesia
Located in the spiritual city of Tabanan, this retreat is run by local Balinese people living in a traditional village. It will get you fit with the thousand-year-old ancient yoga practice of Watukaru yoga.
You'll be spending 3 weeks showered with the warmth of the local people while you rejuvenate both your mind and your body.
You'll be joining an authentic cultural experience that involves yoga, pranayama, and chakra opening, as well as excursions such as waterfall purification, beach BBQ, rice farming, music classes, and rice paddies training.
In line with getting fit, you'll be served a healthy diet with food that's considered medicine. Abundant, wholesome, and delicious vegetarian and vegan cuisine are made with local produce, and with each meal, you enjoy tropical fruits too, including snake fruit, dragon fruit, and guava.
You'll enjoy your time so much that you just might stay longer.
Forget boring accommodation… book yourself an EPIC STAY!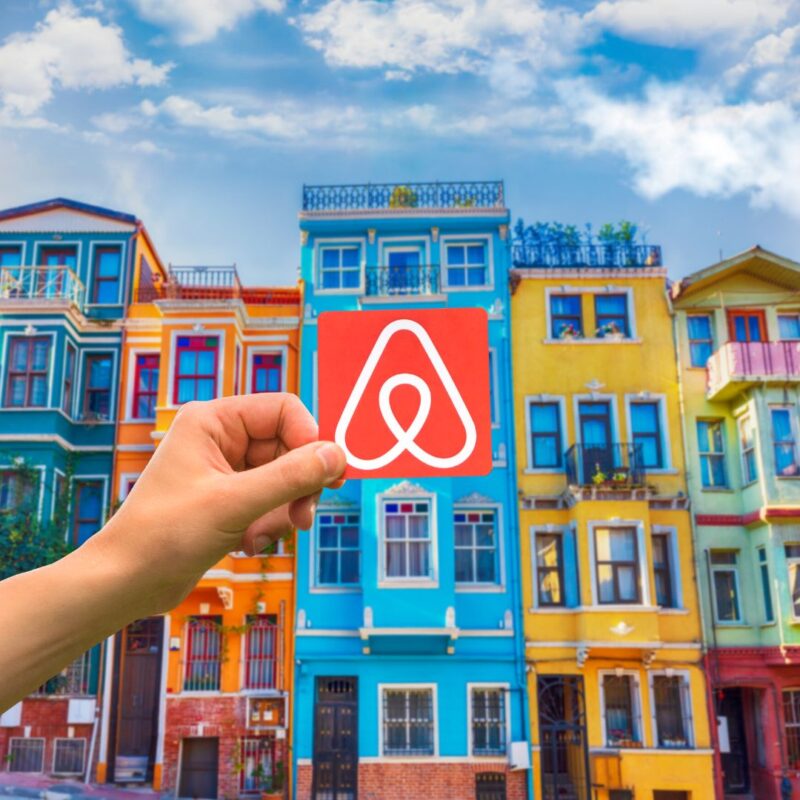 Why stay in a naff hotel when you can stay in a cosy, stylish local house instead? And for half the money too!
Stay somewhere EPIC and save your hard-earned dollars — from houses to barns to castles and caves, there is an Airbnb for every occasion!
Book an EPIC Stay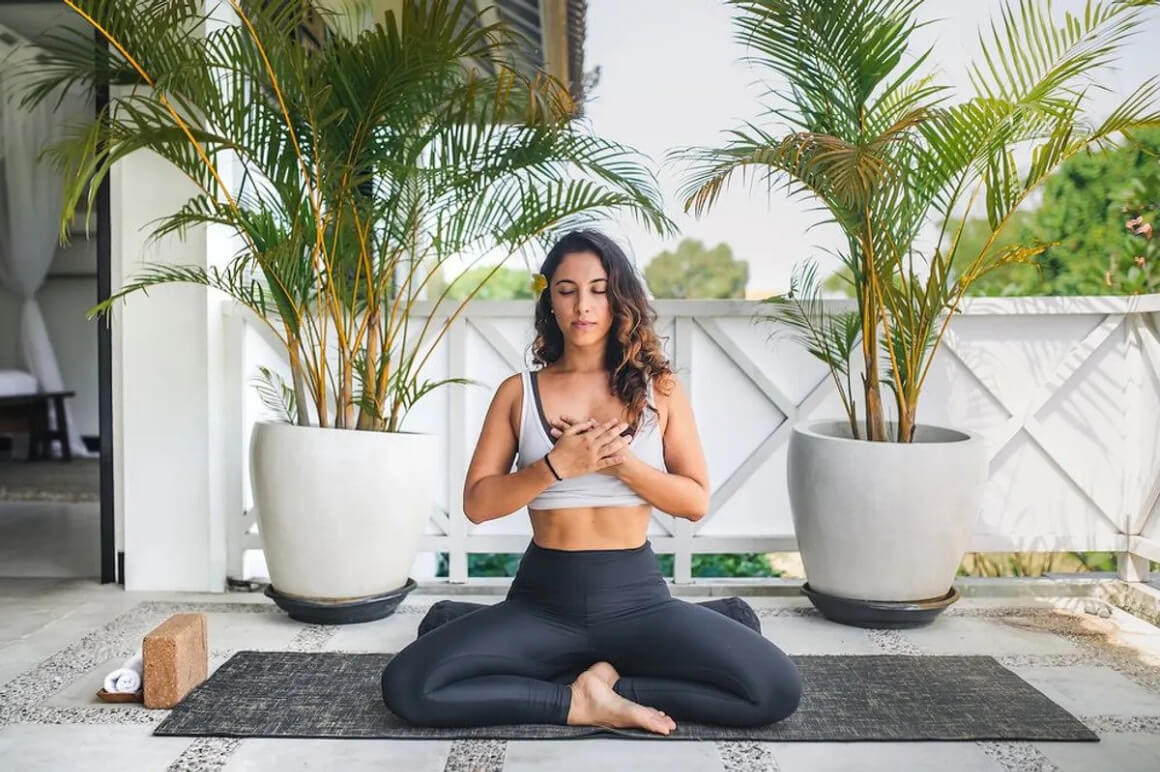 Price: From $1,695
Location: Canggu Beach, Bali, Indonesia
Set in a boutique villa, this retreat is perfect for solo female travelers. With no set schedule, you have the flexibility and the freedom to create a week your heart desires.
However, the base package includes four massages and four yoga classes in Nidra, Dynamic, Yin, Hatha, General, and Restorative styles, and you have the option to add on as you please.
There are 7 custom retreat packages to choose from namely; yoga and spa; surf, fitness and yoga; Ayurveda; detox; pilates; and healing.
The program is inclusive of a one-day excursion to Ubud, which can include a culinary class and a traditional Balinese offering-making workshop.
Bicycles are available to use if you want to ride to the beach and there is a variety of markets, cafes, and shops in Canggu should you wish to roam around during your free time.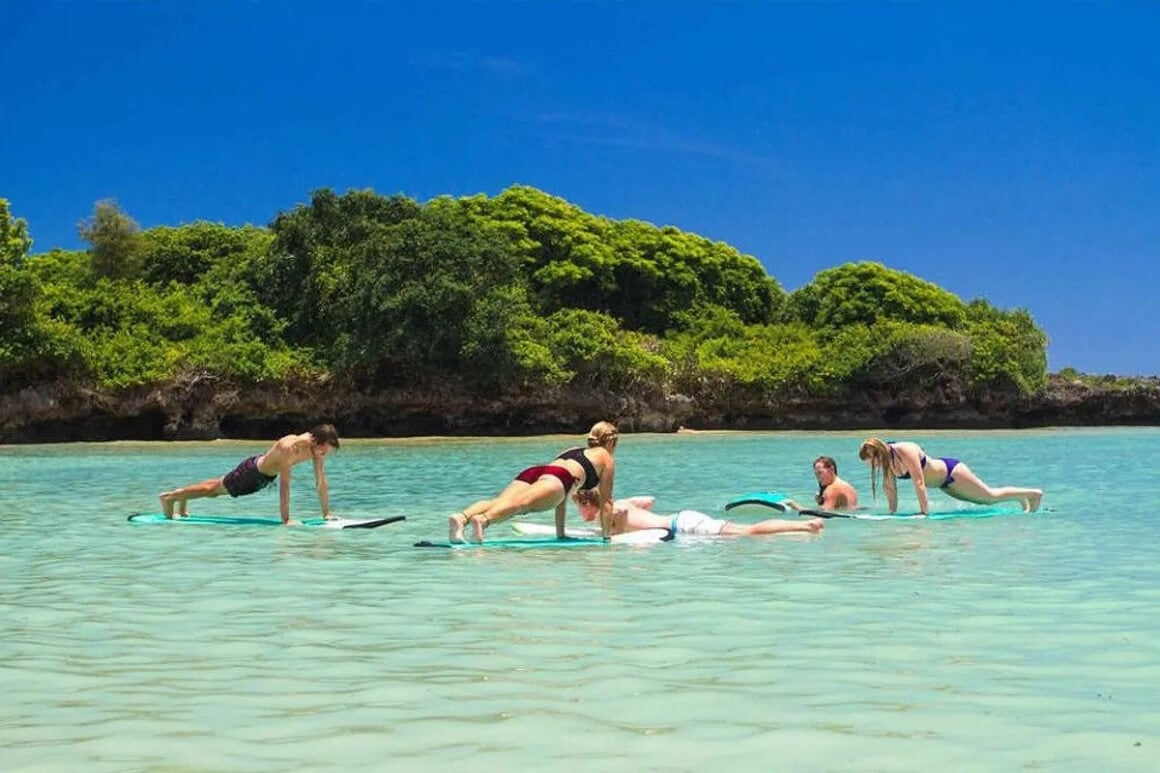 Price: From $617
Location: Canggu Beach, Bali, Indonesia
A unique surf and yoga retreat located between the rice fields and the beach of Bali, this retreat mixes photography, yoga, martial arts, and surfing.
From the moment you open your eyes in the morning until the sun sets, you can look forward to activity-filled days.
Photography classes will include frequent trips to several beautiful locations such as local markets, rice fields, sunsets, beaches, and local markets.
Yoga classes are in the morning and your body and mind will be awakened with a combination of Vinyasa flows and Ashtanga style. The class is adapted according to the level of practice so it doesn't matter if you are a newbie or an advanced yogi.
A healthy breakfast follows the yoga class where a variety of fresh fruits and fruit bowls are served. Lunch and dinner at the restaurant comprise Indonesian and international cuisines with fresh coconuts and juices.
Price: From $1,190
Location: Banjar Tebola Sidemen, Bali, Indonesia
Located in a hidden gem of rice fields with spectacular views of the mountains, you'll be practicing Tantra in an authentic Balinese village.
This retreat will explore your relationship with your body, your sexuality, and your inner masculine and feminine, as well as the repercussions these relationships have on the outside world.
With yoga, dynamic meditations, and movement, your sexuality will be used as a portal to the unconscious depth of your being. It will bring about awareness of blockages and distortions and bring energy back.
The program is intensive so expect long hours with few breaks.
Delicious, simple, and healthy home-cooked sattvic meals are served throughout the retreat. All meals are vegan but gluten-free options are available too.
Is This the Best Daypack EVER???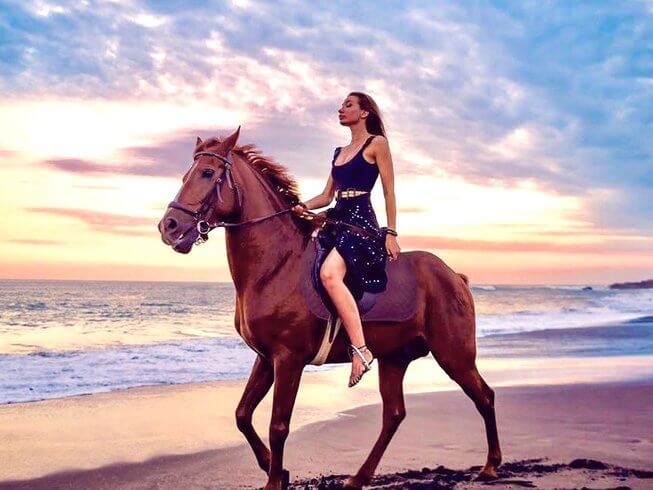 Price: From $369
Location: Tabanan, Bali, Indonesia
Set in the village of Sesandan, Megati, Tabanan, Baliuma Retreats is close to Mount Watukaru, about 30 minutes away from the city.
Participate in one-on-one surfing lessons, traditional Balinese Watukaru yoga, sunset horse riding sessions on the beach or rice paddies, chakra opening, and mediation sessions.
Wholesome, abundant, vegetarian, and vegan cuisine that's prepared from local and organic produce is served during the retreat. Each meal also comes with tropical fruits such as guava, dragon fruit, coconut, and snake fruit.
You can look forward to a personalized spa treatment to relax and recharge your body. You can take your pick from a traditional massage by a village healer or a Balinese deep tissue massage, or a modern massage.
Fun local excursions are included in the agenda too.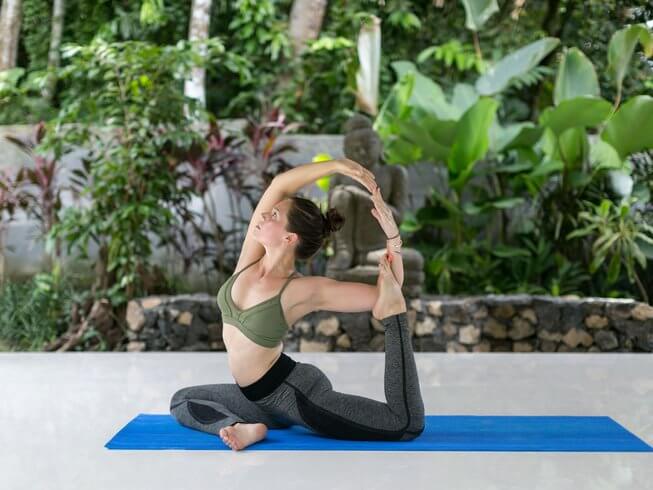 Price: From $3,026
Location: Canggu, Bali, Indonesia
Grab this opportunity for the whole family to get fit and have a surf holiday at the same time.
This program also includes a trip to Tanah Lot temple, guided meditation sessions, culinary classes in authentic Balinese cuisine, and relaxing Balinese massages.
Located in Canggu, you'll be surrounded by hipsters, artists, surfers, and vacationers of all kinds. Canggu is popular for its waves, surf lifestyle, and nightlife.
Daily delicious breakfast and homemade Indonesian lunches from Monday to Friday are included in the retreat.
A variety of tours, trips, and activities can be booked for an additional fee such as cycling around Ubud, jewelry-making classes, and spa treatments.
Don't forget insurance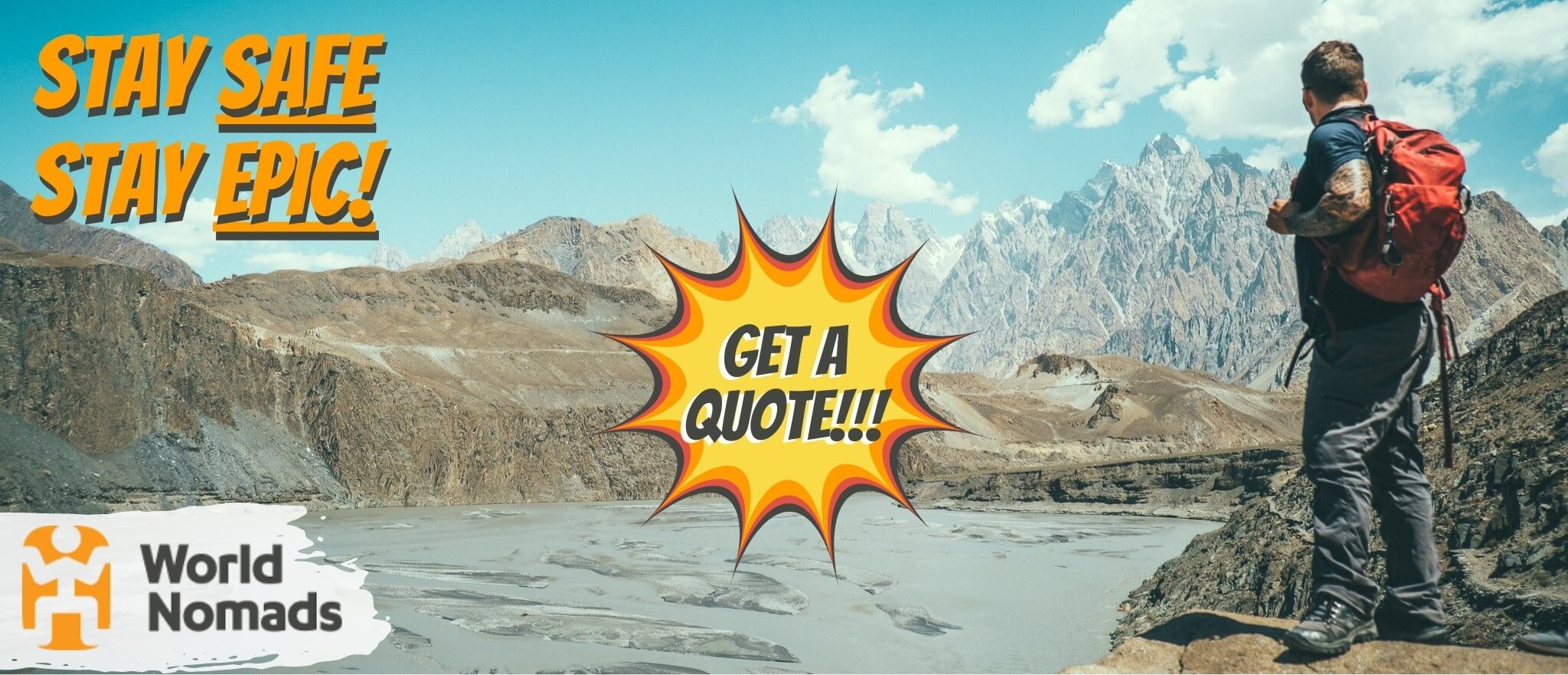 World Nomads' mission is to support and encourage travellers to explore their boundaries. They offer simple & flexible travel insurance, and safety advice to help you travel confidently.
They've been doing it since 2002 – protecting, connecting, and inspiring independent travellers just like you.
Get a quote below or read our in-depth review!
World Nomads provides travel insurance for travelers in over 100 countries. As an affiliate, we receive a fee when you get a quote from World Nomads using this link. We do not represent World Nomads. This is information only and not a recommendation to buy travel insurance.
Final Thoughts on Fitness Retreats in Bali
Bali, without a doubt, is one of the most magical places on Earth. From the majestic temples, surfing havens, amazing waterfalls, and rich culture, there is no better place to get fit and healthy.
Whether you have a few days or a few weeks, a thousand dollars or a couple of hundreds, you can get your heart rate up and get fit – then you should definitely consider a fitness retreat in Bali.
Whichever retreat you choose, these fitness retreats will get you eating right, being mindful of the things you do, sweating and working on your fitness, and come out of it a better version of yourself.
There is no better time than now to start your fitness journey.
---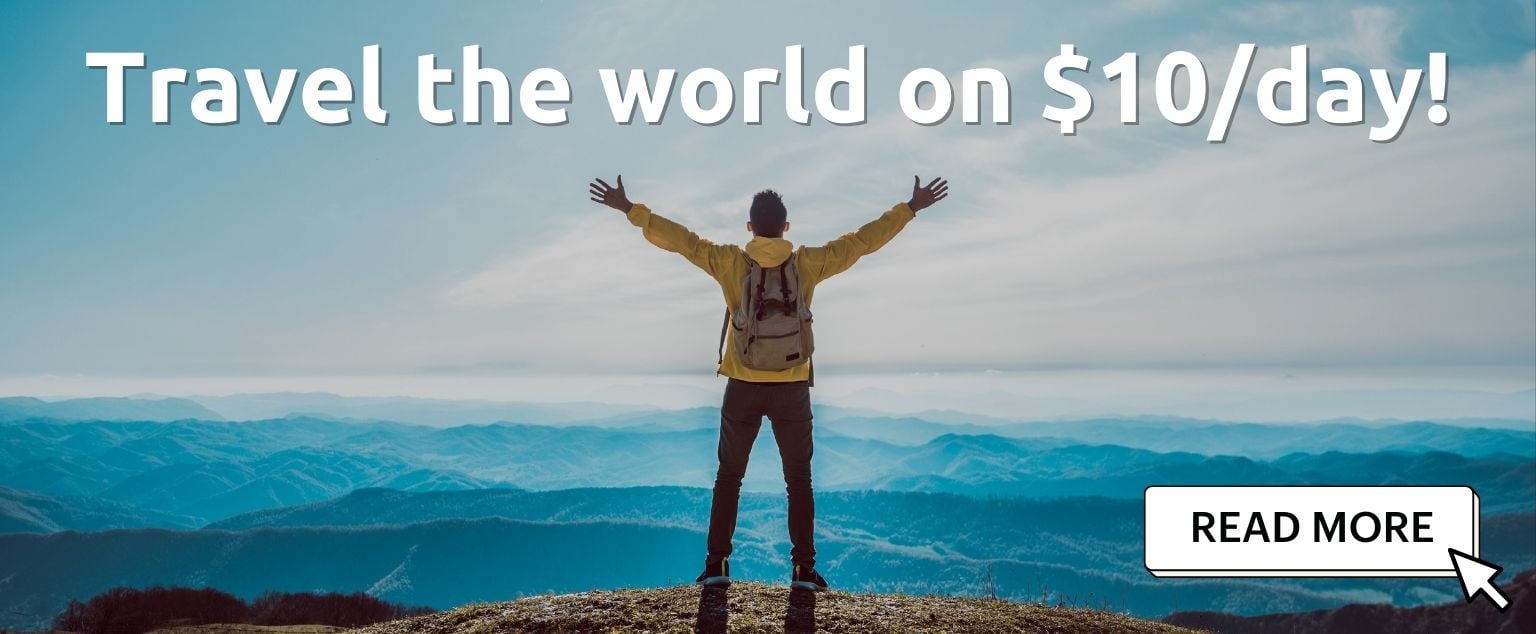 And for transparency's sake, please know that some of the links in our content are affiliate links. That means that if you book your accommodation, buy your gear, or sort your insurance through our link, we earn a small commission (at no extra cost to you). That said, we only link to the gear we trust and never recommend services we don't believe are up to scratch. Again, thank you!