When it comes to the leading tourism and fashion capitals of the world, the same three always rise to the top: Paris, London and New York. Vibrant NYC sparks the interest of every traveler, and for good reason. As a mecca of couture, culture, bohemian grit and edgy trends – the Big Apple has something for everyone.
If you're used to packing casual, outdoorsy clothing for your backpacking ventures – you should reconsider your wardrobe options for New York. As a budget traveler, this may sound daunting or intimidating and knowing what your New York packing essentials may not be so clear.
But – no need to worry – we're here to help! Here you'll find your ultimate New York survival guide with step-by-step instructions on what to pack for New York with options that are both functional and fashionable.
So, read on, and this is what you'll find: our top-21 needs packing list, tips on what to wear in New York that won't make you stand out like a sore thumb, an overview of seasonal weather conditions and what to pack for New York accordingly. You'll also see a section with specific recommendations for men and women for their packing lists – plus a list of what NOT to pack for New York.
Ready? Let's get to it!
Top 21 NEEDS for New York – New York Packing List
#1 – Nomatic Travel Bag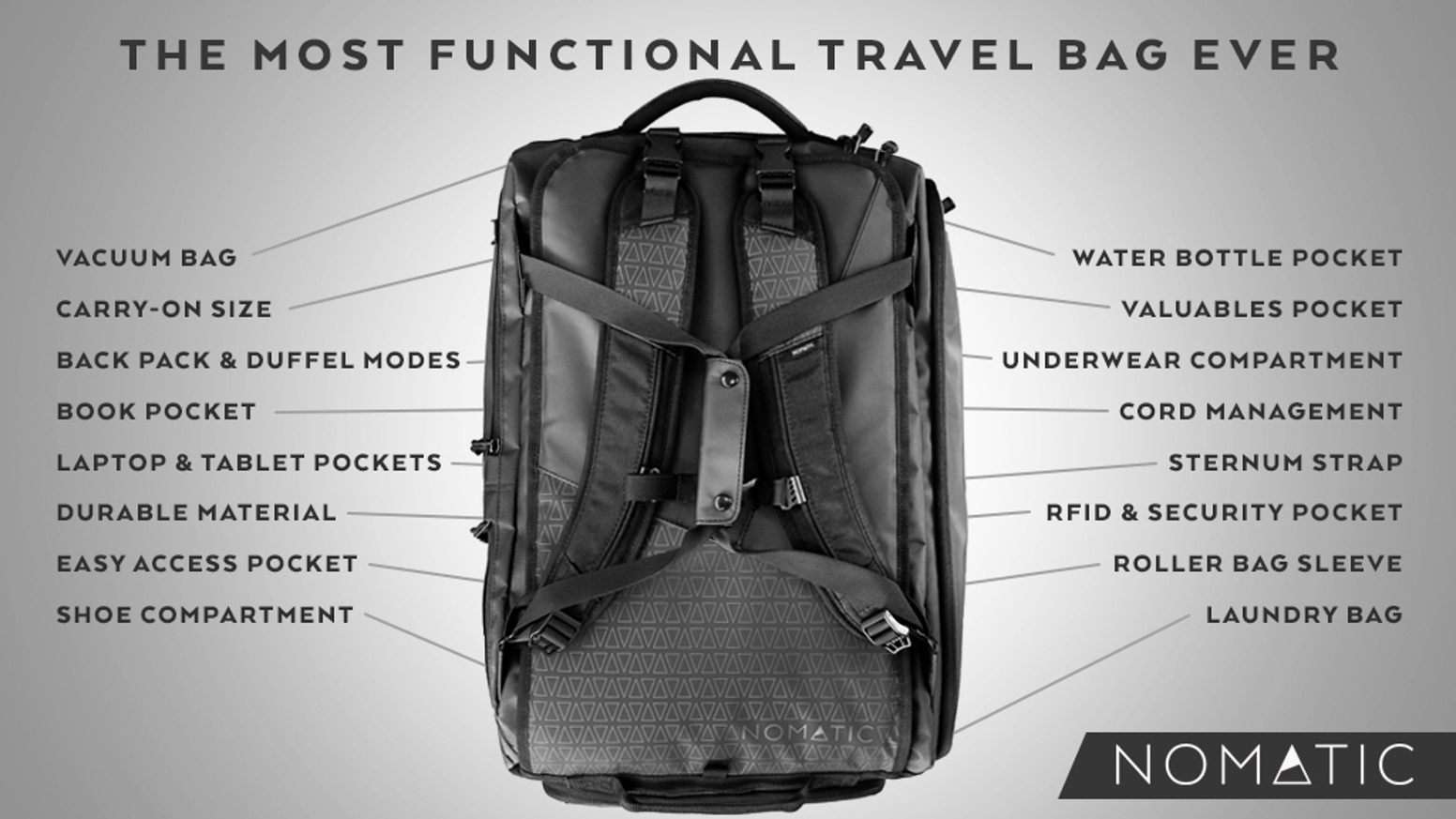 The basic starting point before preparing all of your New York packing essentials is having an amazing backpack to fit it all into. You need something durable and efficient, with the right touch of sleek and modern styling. Luckily, we've found the Nomatic Travel Bag that has all of this and more. With its intelligent, innovative design and attention to detail – we're sure you'll love this bag as much as we do!
#2 – Active Roots Security Belt
We all know that New York doesn't exactly have the reputation of being a crime-free city. You'll be fine if you exercise basic precautions – like keeping your money close and as hidden from plain view as possible. We like the Active Roots Security Belt because it conceals a zipper pocket on the inside while looking like a regular belt from the outside. It's a winning combination of security and style.
Need a little more storage?
When moving from place to place, you should keep your travel documents and other valuables on your body. Your carry on isn't safe, even when it's under your seat or overhead.
A full-sized money belt that stays tucked under your clothes keeps your documents and cash organized during your travels and assures nothing critical gets left behind or stolen.
#3 – Travel Insurance
Thinking about something going wrong during your travels isn't the most pleasant part of trip planning – but it's much less pleasant to be unprepared or not be covered by insurance if something should go wrong. We recommend getting insured through World Nomads Insurance because they offer affordable plans and exceptional service for all travel mishaps – including medical needs, unexpected cancellations and stolen or damaged goods. You don't want to travel without this coverage and peace of mind.
#4 – Active Roots Water Bottle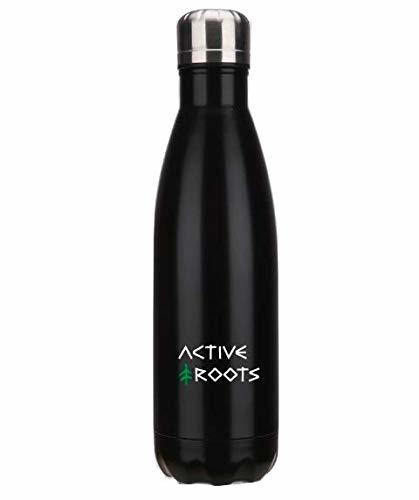 No matter when you decide to visit New York, you can be sure you'll be doing lots of walking. An eco-friendly way to stay hydrated is a must for you what to pack for New York needs. The best choice is the 25-ounce stainless steel Active Roots Water Bottle, compared to the 17-ounce size of comparable bottles. It'll keep your water nice and cool in hot summer days – or your coffee nice and warm in snowy winter days!
#5 – Combination Lock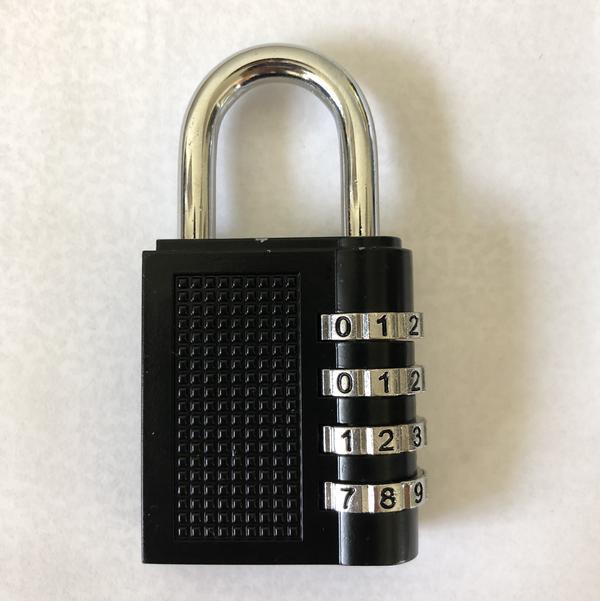 Another basic safety precaution is to always keep your backpack locked – particularly when it's left unattended in shared rooming spaces like hostels and during long-haul transportation. The Active Roots Combination Padlock is easy to use and travel-friendly, and it's comforting to know that it locks with a combination that's resettable at any time – you know, in case you forget what the combination is! Oh, and there's no tiny key you have to worry about misplacing.
#6 – Skeletool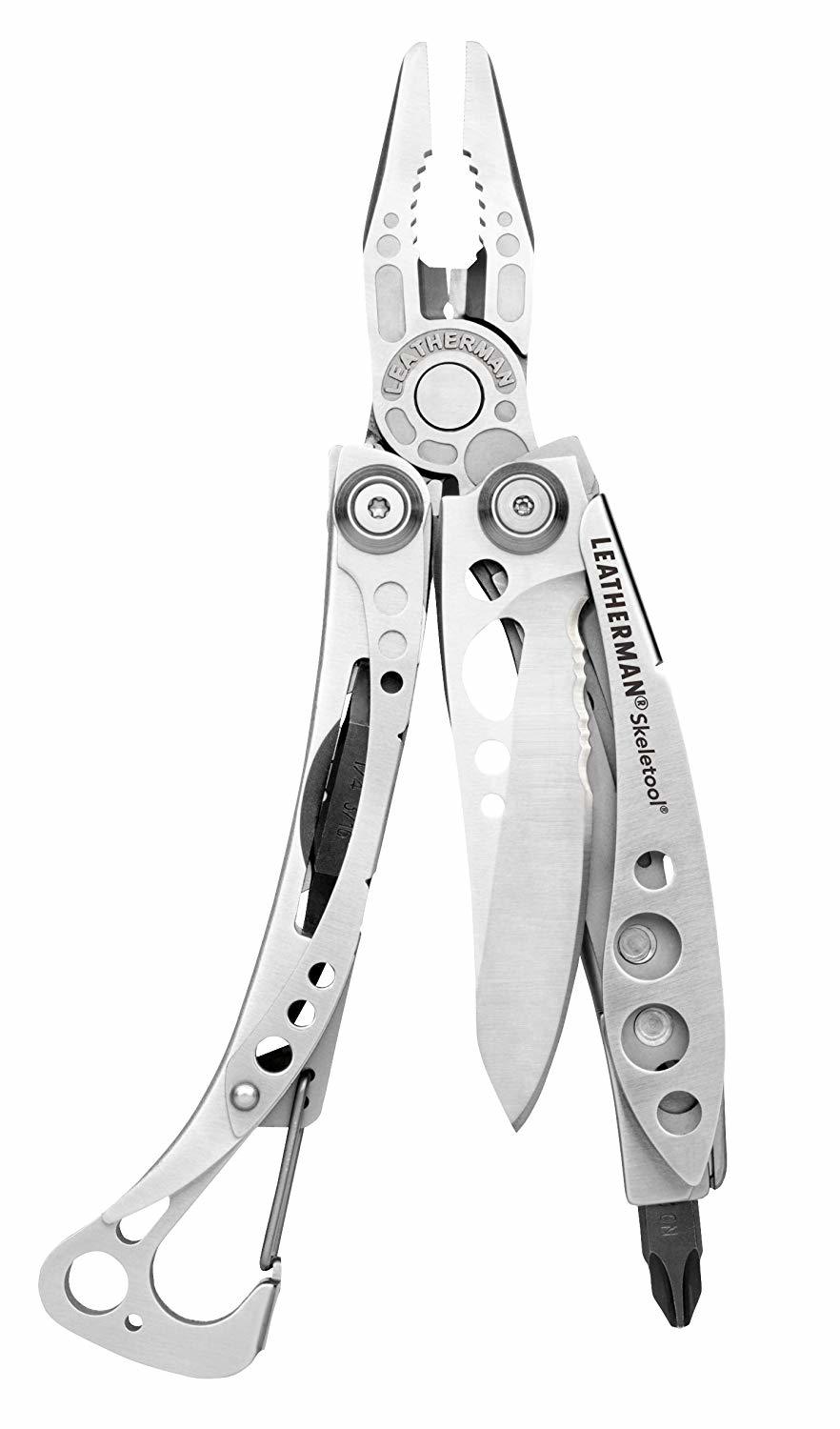 We're firm believers that every backpacker should travel with a small multi-tool, like the Skeletool. There are plenty of cool pocket-size – and tiny keychain-size – options to choose from with a variety of different tools. If you encounter a situation where a small knife, scissors or bottle opener will come in handy – it's nice to know that you have them. Once you travel with one, you'll never travel without one again.
#7 – Active Roots Microfiber Travel Towel
Packing a regular towel is bulky and inconvenient, but you need to have a towel on your what to pack for New York agenda. Hostels and budget-friendly accommodations aren't known for providing the freshest towels to their guests, so you need to have your own as back up. The Active Roots Microfiber Travel Towel is lightweight, antibacterial and folds up into packing-friendly compact the size, so you really shouldn't be with
#8 – Active Roots DayPack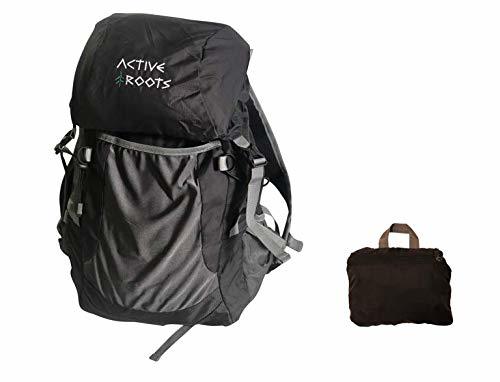 It's always worth having a daypack with you whenever you travel but often NOT worth carrying something bulky around. The Active Roots adventure daypack is hands down the best foldable day pack around, it comes with a water bottle holder, folds down super small yet provides plenty of space for your day-venture and is tough and sturdy.
#9 – Fairywill Electric Toothbrush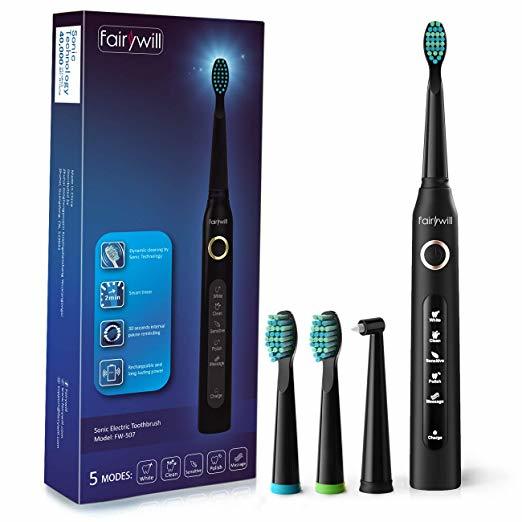 If you've never considered traveling with an electric toothbrush, we'd like to propose adding it to your New York packing essentials. Fairywill Electric Toothbrush has different modes for a powerful cleaning to keep your teeth healthy and fresh – which feels fabulous! It weighs a travel-friendly 55 grams and with convenient USB charging capabilities – but just one 4-hour charge keeps it alive for 30 days of use so you won't be needed much recharging.
#10 – SunGod Sunglasses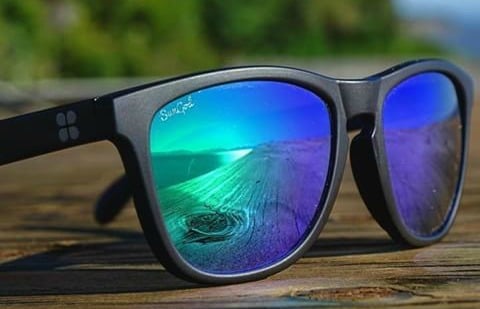 In order to properly top off your New York street fashion look, you need a pair of chic sunglasses. With SunGod Sunglasses you'll get durable glasses designed for performance while maintaining maximum style. Their triple-layer scratch-resistant lenses and trademarked Adventureproof frames are customizable – with lots of cool color and pattern options that let you design your perfect pair. Another function and fashion win-win!
#11 – AR Toiletry Bag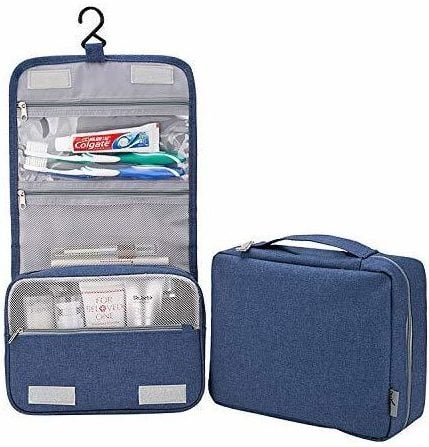 Another backpacker favorite for staying organized is a hanging toiletry bag. It's extremely helpful to have all of your accessories neatly gathered in one bag that you can hang for easy accessibility, especially when counter space isn't plentiful or even available. A well-organized bag is worth having whether you're tree whilst camping or a hook in the wall – it helps to have quick access to all your stuff.
#12 – Travel Jungle Gym Set
Whether you're traveling for a weekend or for a year, it's difficult to keep your usual workout routine on the road. There are loads of workouts online to print and follow, but there's nothing like being in a gym with proper exercise equipment. Enter: Monkii Bars. You can set up your workout station anywhere – hotel rooms, mountainsides, your backyard – and the pocket gym comes with its own app so you can learn the ropes (cough, cough) of staying fit on the road!
#13 – Small Crossbody Bag
Carrying a regular-sized day backpack – no matter how stylish – still doesn't quite cut it for New York nightlife. You'll want a small crossbody bag to conveniently and securely carry your going-out essentials – your cell phone, a little bit of cash and a credit card. Men this goes for you too! New Yorkers use "man purses" so don't be shy about carrying a small bag for your stuff – you'll appreciate the convenience!
#14 – Packing Cube Set
Anything that helps you pack more efficiently and stay organized is a bonus when you're living out of a backpack. Almost all avid travelers swear by a packing cube set to keep things tidy and to maximize space. Plus, knowing which cube you keep your t-shirts in will save you a lot of time when a t-shirt is all you need – versus digging around through a pile that's all jumbled together.
#15 – Digital Camera
In a city as photo-worthy and picturesque as New York, you don't want to solely rely on your cell phone camera to capture those priceless moments. You'd be remiss to not add a digital SLR (single-lens reflex) camera to your what to pack for New York inventory list. There are a variety of starter cameras out there at that can accommodate your budget if you don't have one yet. You won't regret the investment!
#16 – Cell Phone Camera Accessories
Even if you're traveling with the most top-quality of digital cameras, you'll likely still use your cell phone for at least some pictures. When you're out enjoying the city's endless nightlife options, bringing your expensive camera isn't the most sensible. A small, simple accessory – like a selfie ring light – will give those photos enough brilliance and wow-factor for your adventures in the Big Apple scrapbook!
#17 – Portable Charger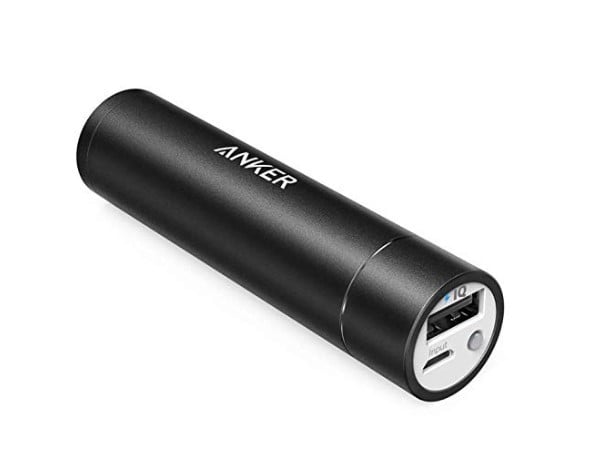 Think about how much you use your cell phone on any given day, and it's no wonder that they run out of battery so quickly. You're more likely to be out of your room all day and away from a convenient outlet when you're traveling. If you're using your phone as a navigator – and it dies before you navigate your way back to your accommodations – you could be in deep trouble! It's smart to have a portable charger in your day bag and as a backup.
#18 – Universal Plug Adapter
If you're traveling from outside the US, you'll need a travel adapter. We all know that keeping your electronics charged is pretty important, so having an adapter that lets you do that is a must-have for what to pack for New York. Either double check that you have the right adapter for the USA – which uses plug types A and B – or cover all your power configuration bases with a universal travel adapter that works almost anywhere.
#19 – Travel Pillow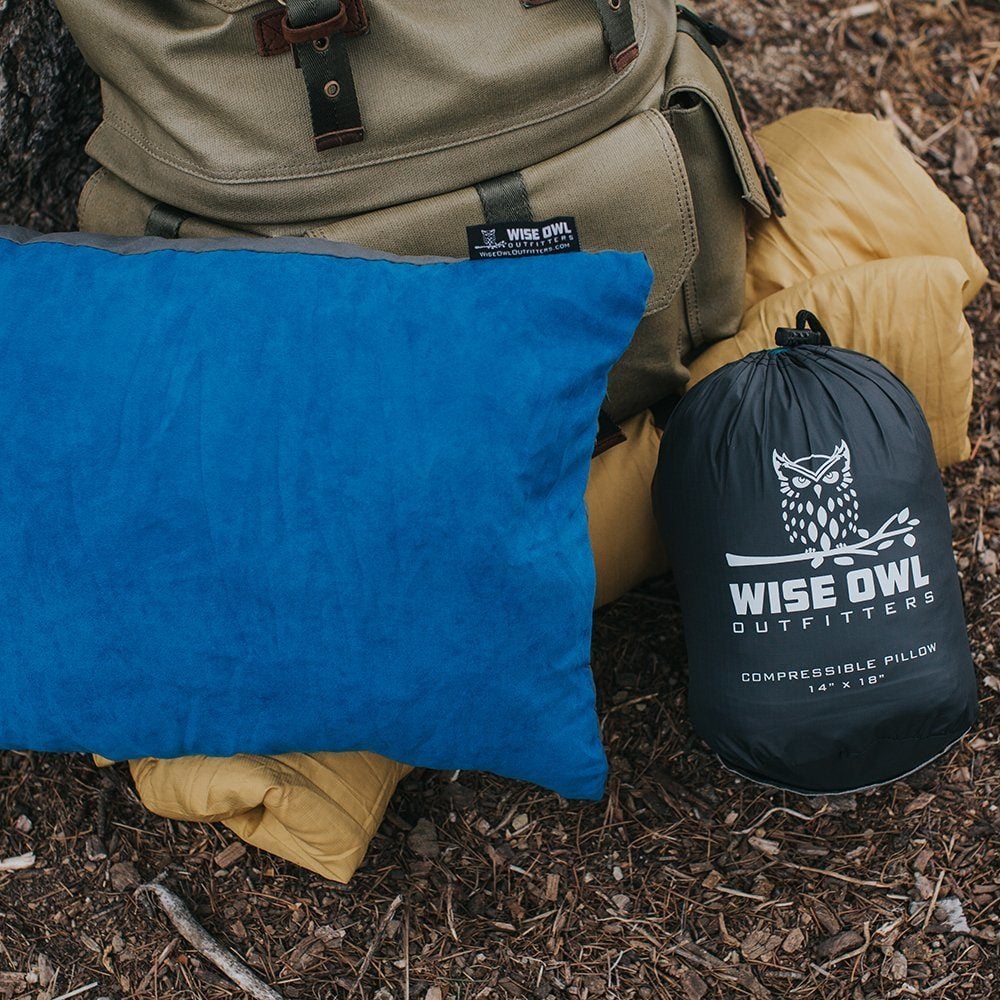 Every avid backpacker needs a travel pillow in the travel arsenal. They're comforting to have if you're given a less-than-satisfactory pillow at your hostel or budget-friendly lodging. They also make for more comfortable flights or any type of long-haul transportation – especially red-eye travel. One that folds down into a small bag won't take up much space, and you'll definitely use it.
#20 – Sanitizing Wipes
New York is a grimy city. For all of its charm, being immaculate is not one of its strong points. You'll want to always have a travel pack of wet wipes readily available in your day bag – so add at least a few packs to your what to pack for New York list. Staying healthy during your travels is essential, and keeping your hands clean is a must for keeping unwanted germs away. Plus, it's just nice to wipe down after an exceptionally long bout of meandering through traffic-jammed streets and grungy subways!
#21 – E-reader of Kindle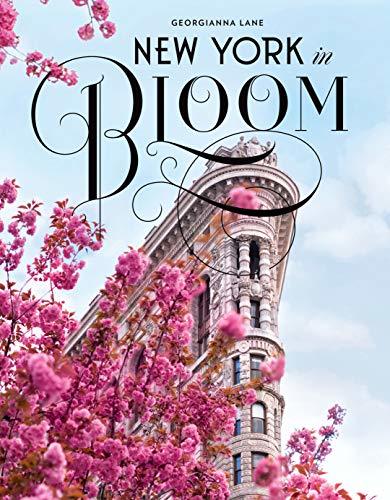 Amidst all of the hustle and bustle of New York City, sometimes it's nice to relax and slow down. The city offers some amazingly cozy, atmospheric cafes that lend themselves to whiling away a couple of hours reading while sipping a cappuccino. But packing books adds weight and bulk – two things to avoid! An e-reader or Kindle offers the best solution – you can download 30 different books, and it's still slim and light enough to easily slip into your day bag.
What to Wear in New York
The good thing about New York is that "fashionable" doesn't necessarily translate strictly to haute couture – there's edgy fashion, alternative fashion, retro fashion and practically any type of fashion under the sun. In that sense – almost anything goes – when it comes to what to wear in New York. There's nothing New York hasn't seen!
However, there is one look we recommend you avoid: the typical tourist look. You know the one – gym shoes, long shorts, Hawaiian print shirt, and a fanny pack. While that may be a stereotypical exaggeration, you get the idea. It's always more comfortable to blend in, and it makes you less of a target. Plus, it's fun to do as New Yorkers do – and spice up your fashion!
For your what to take to New York checklist for everyday wear, we recommend dark solid-color items that mix and match easily. Anything black is always a safe choice. White, grey, dark blue and beige are all versatile and classy. Jeans, a mix of long-sleeve and short-sleeve shirts, pants, sweaters, and a raincoat are also smart. A coat, scarf, and hat will be necessary for winter. You'll want one or two killer outfits for what to wear in New York at night!
The weather will affect your packing list, so below you'll find recommendations on what to pack for New York by season.
Visiting New York in Summer
The summer season in New York isn't too intense temperature-wise, but the humidity makes it feel hotter. Average temps in June, July, and August average between 80 and 85° F. August often gets up into the 90s. The city air can feel muggy and stifling on some days, so you'll want to pack accordingly and seek out some air conditioning.
As with most top tourist destinations, summer is a crowded time in NYC. The city streets are already packed, but expect long lines and masses of sightseers at popular sites, like the Empire State Building. But it's also a very lively, fun time to be in New York – as the city's outdoors scene comes alive with free concerts and festivals.
For what to wear in New York in summer, you'll want to focus on clothing made of lightweight, breathable fabrics – like linen, cotton blends, and rayon. Some New York outfit ideas for women are a pair of cropped pants and a boho blouse, or a mid-calf length cotton sundress.
For men, a pair of chino shorts with a solid-colored, v-neck t-shirt or a Henley shirt is a fashionable choice. Change into a black button-down shirt, and you're set with what to wear in New York at night!
Visiting New York in Fall
Temperatures begin dropping incrementally from September through November. It's not unusual to get sunny 75° F days in September and then have the New York weather turn and drop down to 55° F by the time November rolls around.
September into October is a wonderful shoulder season to consider for your New York escapade. Central Park's fall foliage starts dotting the landscape with wonderful, serene autumn colors. The weather isn't terribly cold yet, but conditions can fluctuate and temperatures will drop at night – and there's always the possibility of rain.
As for what to pack for New York for fall travel, you need to be prepared for variable conditions and cover all your bases by packing layers. You'll want to add sweaters and a good travel jacket to your other basics – which should include short and long-sleeve shirts, dark jeans and fashionable pants. A down vest is also a smart choice if weather conditions don't get too cold but require a bit more insulation. Add a scarf and a warm hat for some stylish accessorizing and for added warmth if needed.
New York outfit ideas for autumn are a pair of dark jeans – for both men and women – topped with a fitted sweater and a black down vest. For what to wear in New York at night for a nice dinner or trendy bar exploring, throw on a black blazer or stylish jacket, and scarf.
Still looking for a good base for your adventures in New York? Check out our guide for the

best hostels in New York and set up shop!
Visiting New York in Winter
New York weather is cold in the winter months of December, January and February. Temperatures often go down to freezing, and even lower. Definitely, be prepared for some snow. Winter temperatures average between 35 to 45° F.
If you're looking for fewer tourist crowds at the Statue of Liberty, winter could be your season to find that. But if you're planning your travels with the idea of spending a white Christmas in the city or watching the ball drop in Times Square for New Year's Eve, you won't be alone – you'll need to plan and book ahead.
For what to pack for New York for the cold winter months, we advise focusing on layers that will keep you warm and still stylish. Pack one or two base layer choices – like leggings or thermal pants and shirts – to wear under jeans and sweaters. Top it all off with a warm coat. A peacoat looks much classier than a ski-type winter jacket and will serve you well for daytime sightseeing and for going out to a Broadway show.
Warm accessories are New York packing essentials for winter. Pack a warm hat or two, a pair of waterproof insulated gloves and a chunky knit scarf.
Visiting New York in Spring
The Spring months of March, April and May bring lovely Spring to the city – and is considered New York's other shoulder season. You'll find a combination of sunny and rainy days – so be prepared with sunglasses and a raincoat. Temperatures may be as low as 50° F in March, but start creeping up to reach an average of about 70° F by May.
As is the case with all shoulder seasons – the upside is having less fellow tourists – although May can start getting busy. Along with warmer temperatures that the spring season brings – you can enjoy blossoming flowers in a rainbow of colors in Central Park, long brunches outside and a variety of outdoor food and music festivals taking place all over the city.
For what to pack for New York spring travel, we again recommend covering off on layers for capricious weather – jeans, tailored pants, short and long-sleeve shirts, cardigans, blouses, and light sweaters should cover your New York packing essentials. Make sure you have a quality rain jacket – a black or beige trench-style coat looks chic with all outfits, and is a more attractive NYC alternative to an overly casual hiking-type rain jacket. It's just a suggestion, but a highly recommended one!
What Shoes to Pack for New York
All true New Yorkers walk – a lot – and so will you. Exploring New York city on foot is the best way to soak in all the wonders the Big Apple has to offer. When planning what shoes to pack for New York, comfort is the most important – but that doesn't mean you should completely forego style!
Luckily for our feet, comfortable street sneakers are trendy and considered hip by New York street fashion standards. Both men and women can wear white or dark leather sneakers to compliment pretty much any look – from shorts and jeans to dresses for women.
Women should consider a pair of leather sandals that will work perfectly for what to wear in New York in summer for daytime and nighttime looks. Another option for more formal occasions is a pair of leather or suede flats that are comfortable and appropriate for sightseeing, but also dress up nicely for New York nightlife. For men, a pair of loafers or Oxford shoes are always classy and attractive.
For cooler seasons, fashionable and water-proof boots are a sure thing. For women, leather booties or low stack-heeled mid-calf or knee boots are comfortable and pair well with every kind of outfit. Men can opt for a pair of lace-up leather ankle boots or Chelsea boots that are just as classic and versatile.
Females – What to Pack for New York
Hey ladies, we have some tips just for you as you prepare what to pack for New York!
For Fashion
A versatile and timeless article of clothing we suggest packing is a fashionable poncho. We're not talking a plastic rain poncho here – but an elegant lightweight poncho for warmer months or a knit sweater poncho for colder months. No matter what you're wearing underneath, throw on a classy black poncho, and you're instantly chic! Whether you're going to the theater, or just adding a layer as you're out exploring, a poncho will serve you well.
The main staple of New York fashion is a well-fitting, flattering pair of jeans. Female New Yorkers wear them in all seasons and for all occasions – and you should too! Dark blue or black denim looks perfect with a flowing halter tank in summer and with your black poncho for colder conditions. And don't worry about wearing black on black – it's a surefire way to fit in with the locals!
Pack accessories that keep you safe!
Infinity scarves are chic and classy, but some even provide a hidden pocket to keep your valuables.
The Active Roots Zipper Scarf is your run-of-the-mill infinity scarf but with a hidden pocket that's big and sturdy enough for a night's cash, your phone, a passport and (hell with it) some snacks too!
For convenience
If you're not used to packing makeup for your backpacking trips, NYC is an appropriate destination to consider adding some to your what to take to the New York checklist! No need to go over-the-top goth (although you could), but a little classic makeup compliments your dressier city look. The perfect carry-on size packing accessories are cosmetic pots because you can ration out the small amount you need without taking up extra space or wasting product. They're ideal for foundation, tinted moisturizer, concealer or any other liquid makeup.
Males – What to Pack for New York
Hey guys, now we have some suggestions for you as you plan what to pack for New York!
For Fashion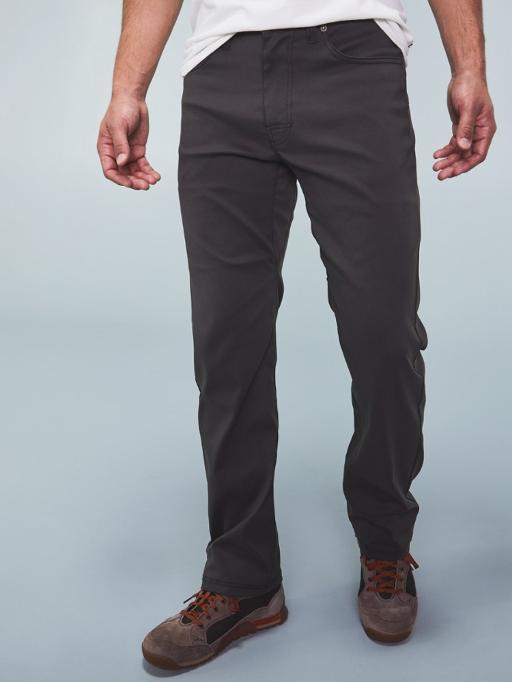 There are two types of men in New York: the ones who are fashion-forward and try a little – and the ones who don't at all. You don't want to be the tourist who falls in the latter category. Be sure to pack some classic items – a polo shirt and a short-sleeve button-down shirt and a pair of black or tan chinos are perfect for summer. For putting together a classic cold-weather look, pack a pair of well-fitted dark jeans with a dark sweater and a collared shirt to wear underneath. Throw on a scarf and slouch beanie for an extra edge.
For comfort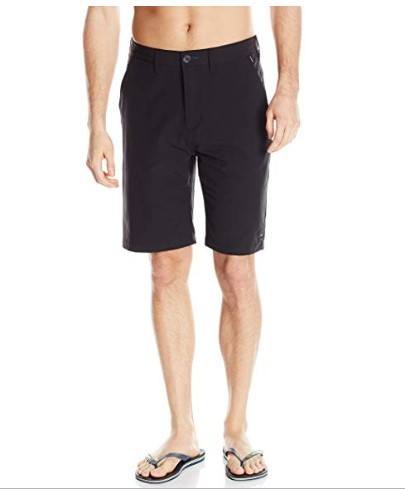 It's perfectly acceptable to wear shorts in New York – you'll want them for the hot, humid months. Just be selective about the kind you pack. Rule of thumb: if they're shorts you'd go to the gym in or play basketball in, don't pack them! A more attractive option are a pair of chino shorts and a pair of hybrid shorts, which are breathable and quick-drying cargo-style shorts that look like a nice pair of dress shorts.
Want to learn more about how amazing New York is? Then check out our EPIC

backpacking New York guide for more info! It covers everything from culture to activities to lodging to cuisine; all that and more.
What NOT to Pack for New York
Let's shift gears from what pack for New York to our tips on what NOT to pack for New York!
Don't pack excessively-casual clothes. Unless you're wearing them as PJs, don't pack sweatpants, baggy sports shorts or oversized t-shirts. You'll be giving off a negative impression that is better to avoid in NYC.

Don't bring obviously-valuable or flashy items. Not only is misplacing items is easy to do while traveling, but anything you wear that's looks expensive makes you a target for theft. Better to play it safe and leave that stuff behind.

Don't pack too much – like extra clothes and heavy books. You don't leave home with your bag completely full. Pack the essentials, but leave room for fabulous shopping finds and all those New York souvenirs!
The Best Backpack to Pack for New York
As a backpacker, your most important travel item is your backpack! We've tried every bag in the market, and we confidently recommend the Nomatic Travel Bag as the best backpack to pack for New York. Just like us, we're sure you'll like everything about it.
As far as functionality and efficient packability, it's the top. The bulkiest items that take up the most space – like shoes, water bottle, and electronics – all have separate built-in compartments and pockets and compartments, so you're really maximizing every inch of packing space. It also has an RFID pocket for added security – you can't go wrong with that.
Its design is as sleek as it is smart. Its innovative strap system lets you choose between a backpack or a duffel-style to fit any situation. For extra comfort, it also has attachable chest and sternum straps that your back will certainly appreciate. We love its black, classy look – perfect for New York!
And lastly, the Nomatic is made of highly durable and waterproof material that will stand the test of time – and of any condition, it's thrown into. You can be sure this backpack will stick with you for a long list of adventures to come.
Final Thoughts on What to Pack for New York
There it is, friends! Your complete New York survival guide with everything you need to know for what to pack for New York. Keep your planning focused by referring to our handy top 21-needs packing checklist, the breakdown of weather conditions by season and how to pack for each. You also have our packing recommendations for women and men to help guide you, along with a few tips on what not to pack for New York.
Just keep things smart, simple – and stylish. Be ready to have your senses overwhelmed with everything that is crazy, beautiful New York.
All that's left now is to get in a New York state of mind!
Enjoy!
Also – don't forget to sort your travel insurance! We've put together a roundup of the best travel insurance for backpackers, or if you're low on time, get a quote from World Nomads now, our favourite travel insurance provider.
Yay for transparency! Some of the links in this post are affiliate links. This means that if you book your accommodation through the site, The Broke Backpacker will earn a small commission at no extra cost to you. Your support helps me keep the site going.
---
Need More Inspiration?
Like this post? PIN ME!!!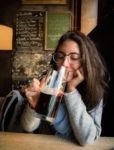 Writer and Editor, Ana Pereira is a California native, inspired by Earth exploration and introspection. Recently, she spent several months exploring Africa and South Asia. She spends most of her "down-time" out in the wilderness, climbing, hiking, and beyond, and is feverishly passionate about travel and health.