Dubai is a city that blends two worlds – East and West. It's a place of conservative culture and old-world customs combined with modern lifestyles and high-tech industries. Often referred to as the 'Vegas of the Middle East', this city sprawls 13 square miles across the Arabian Desert.
Most people treat Dubai as a layover destination since the city is home to one of the most globally extensive airlines in the world. However, this incredible city deserves its own attention, with an astonishing history and long list of things to do and see.
Dubai is known for its high-end culture and extravagant nightlife scene, expensive shopping, and diverse ex-pat population. But it's also a culturally exciting place buzzing with Middle Eastern traditions. If you take a step past the glitz and the glam of the sparkling city, there is a cultural heritage that will take you into an entirely unsuspecting world of wonder.
Tourists visit the city for this incredible blend of ancient culture and modernity. As you might expect, this high-rise city is packed with expensive hotels, beach resorts, and boutique properties. However, one of the best ways to experience the city in all its glory is to stay in one of the best villas in Dubai.
Best Villa for Couples in Dubai
Best Villa for Couples in Dubai
Sleek and Modern 3-Bed Villa
> $$
> 2 Guests
> Newly renovated with stylish modern interiors, black marble, and dark wooden features
> Private pool and yard with fire-pit
Best Budget Villa in Dubai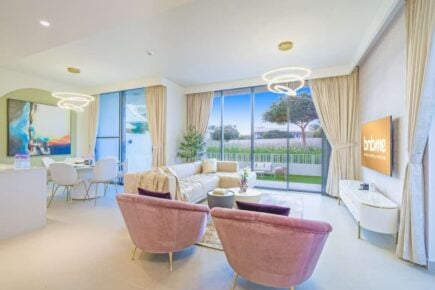 Best Budget Villa in Dubai
Designer Villa with Modern Interiors in Dubai Hills
> $
> 6 Guests
> Interior-designed home with tons of natural light and open space
> In the Dubai Hills community near a golf course
Over-the-Top Luxury Villa in Dubai
Over-the-Top Luxury Villa in Dubai
Five Palm Jumeira 3-Bed Villa on Beach
> $$$$
> 6 Guests
> Grand living room, high ceilings, private pool, and terrace on the beach
> Located on the beach of the Palm Jumeira
Staying in a Villa in Dubai
Whether you're visiting for a short weekend getaway with your friends or an extended visit with family, staying in a villa is one of the best ways to experience life in Dubai. There are a few reasons for this.
Villas are a lot more private when compared with hotels. You'll have access to an entire private home, typically designed with an open-concept living space, a spacious garden or yard, and private bedrooms with ensuite bathrooms.
Some of the more extravagant villas here will even have staff working the property, offering an all-inclusive, hotel-like experience, except without sharing your space with other guests.
If you're after space, you'll find it in a villa here. Most villas are set on the beach, with the odd villa located in a high-rise building overlooking desert or city views.
Typically speaking, villas are centrally located near the commercial hub, yet not in the heart of the inner city. Instead, you'll find most villas in sought-after residential communities on the city's outskirts. Whether in the desert or on the beach of the iconic Palm Jumeira, where you choose to stay depends on the vacation you hope to have.
With your own space in the big city, a villa is a sure way to make you feel at home in this diverse metropolis.
What to Look For in a Villa in Dubai
Other than privacy and space, the amenities of a villa are one of the primary benefits of this type of accommodation. Most villas are equipped with high-end facilities like private swimming pools, hot tubs, BBQ terraces, and fully-equipped kitchens where you can prepare any meal you wish.
They are also an excellent option for families with young kids, and many villas have their own personal playgrounds where children can let loose in a safe and secure environment.
Other helpful amenities include garage parking, free internet access, air conditioning, cleaning services, and personal workspaces, making the best villas in Dubai suitable for all visitors.
Since villas are easily one of the more popular types of accommodation in this city, you shouldn't struggle to find a beautiful spot in the right area. The best platforms to search for villas here include Booking.com, Airbnb, and VRBO. Airbnb offers the widest variety of villas, from those suitable for budget travelers to villas spacious enough to comfortably fit fifteen guests.
The Top 15 Villas in Dubai
It doesn't matter whether you're visiting for a week or a month, with family or as a couple; there are plenty of villas in the heart of Dubai to suit your specific travel needs and budget.
Let's take a look at the top villas in this bustling metropolis:
Spacious garden with a trampoline and BBQ terrace
By the beach and park in the heart of Dubai
With three ensuite bedrooms and a garden with a furnished patio and lush lawn, this is the perfect spot for families, friends, or couples. The villa is located in the heart of the city's trendy Jumeira 3 neighborhood, just a short cycle from the beach and a five-minute drive into the city's center.
Furnished with contemporary interiors and colorful art, you'll feel right at home in this unique accommodation in Dubai. Best of all, it comes at a reasonable price, offering quality accommodation for a fraction of what you might expect to spend in such a vibrant city.
Interior-designed home with tons of natural light and open space
In the Dubai Hills community near a golf course
With calming neutral tones, abundant natural light, and floor-to-ceiling windows, you'll never believe this spot is on the market for such a reasonable price. The home is designed by professional interior designers using contemporary mid-century-inspired furnishings, trendy lighting, and warm colors.
Let your children play in the fenced-in garden while you enjoy the views of the lush golf course surrounding the home. With three bedrooms, a plethora of modern amenities, and a sprawling lush golf course just around the corner, you'll feel right at home in this villa in the posh and safe Dubai Hills Estate.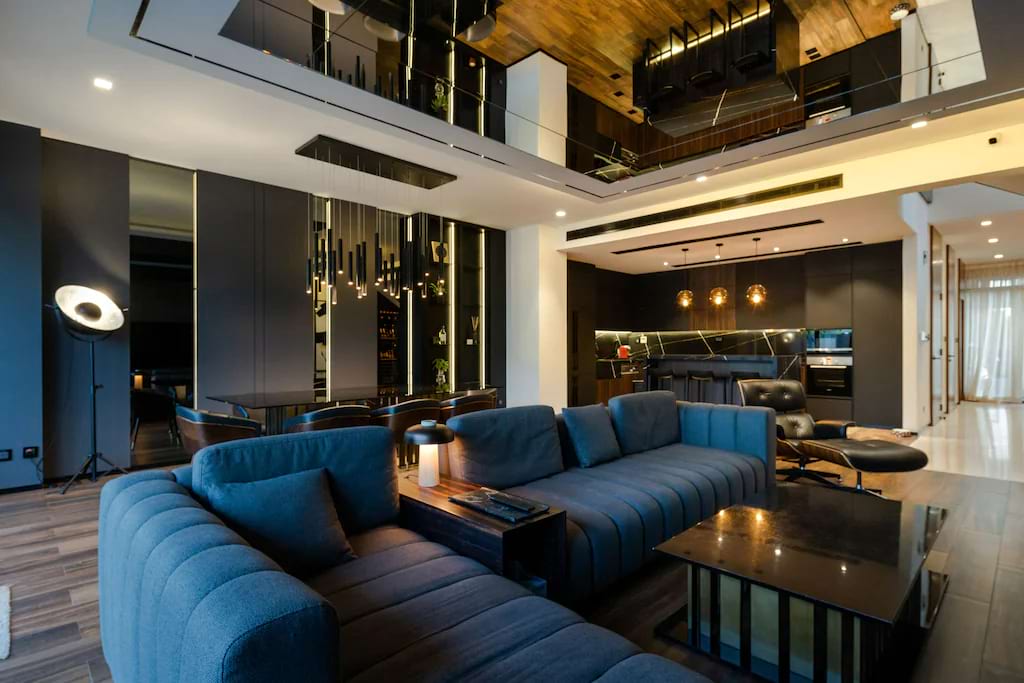 Newly renovated with stylish modern interiors, black marble, and dark wooden features
Private pool and yard with fire-pit
Chosen as the best villa in Dubai for couples and romantic vacations, this home is easily one of the most zen properties in the area. Designed by famous architects and interior designers and furnished with contemporary furniture with dark and neutral tones, the home has a double-height living space with plenty of room for activities.
Guests can relax in the open-concept living room, which opens into the pool terrace to create one spacious indoor/outdoor living space. Set in the desirable Dubai Hills Estate, this home is part of a self-contained community with its own golf course, gardens, lakes, stables, and sporting facilities.
Beautiful white interiors with modern lighting and high ceilings
On an island with a beach club and hotel just off the Jumeira Coastline
This villa is the quintessential opulent Dubai home with sparkling white marble floors, bright lighting, and high ornate ceilings. Located on a small island community just off the Jumeira coastline, it's close to the beating heart of the city but also a more relaxing beach community.
This five-star accommodation has five bedrooms and space for twelve guests. It has everything you could dream of in a modern mansion, plus additional extras. In fact, guests who stay for five nights or longer are served a complimentary traditional Arabic meal. It's the whole package!
Grand living room, high ceilings, private pool, and terrace on the beach
Located on the beach of the Palm Jumeira
Anyone who has visited Dubai will know that Palm Jumeira is one of the most elite locations to be in the city. Located on one of the main beaches of this artificial palm-tree-inspired island, Five Palm is one of the best villas in Dubai that blends the convenient amenities of a hotel with the privacy of a self-catering vacation rental.
The home has a spacious kitchen, a grand living area, and tons of terraces and balconies overlooking the sea and city. However, you'll likely spend most of your time outside by the pool, which is lined with beach loungers and day beds just a few meters from the sandy shoreline.
Massive yard with games, playground, toys, billiards, and swimming pool
Near the beach in Downtown Dubai
No matter how old your children are, you will struggle to find a property in Dubai as marvelous for kids as this one is. It has four bedrooms and space for eight guests, a fully-equipped kitchen, and a spacious living area.
But this home boasts more than the average property, with a bunch of child-friendly amenities. These include a games room with a pool table, a swimming pool, a trampoline with a safety net, a massive lawn dotted with garden games, jungle gyms, and toys, and a dedicated den for children to spend time indoors. It also features a laundry room with washer/dryer facilities and a home gym.
Garden with BBQ and private swimming pool
Family-friendly neighborhood on the beach with waterfront views
While visiting most buzzing cities with children can be exhausting, Dubai is the exception to the rule. With beaches and children-friendly activities scattered throughout the city, there is plenty to see and do with young kids. That said, staying at one of the best villas in Dubai on the beach is the best way to experience Dubai with children.
This deluxe villa is set on the sand of Palm Jumeira, with its own swimming pool overlooking the water. The house has five bedrooms and sleeps twelve guests. Of course, you will have access to a private kitchen fitted with all the facilities you could wish for, as well as a washer/dryer and a dishwasher (of which any parent will know the true value).
Classy modern interiors with tons of natural light
In Al Murqabat, Deira
Renting out a villa isn't the most practical accommodation for a backpacker since they tend to have multiple rooms and run at a high price. Instead, book a private room in this luxurious hotel/hostel, which is just as well suited to leisure travelers as it is to business guests.
Located in the heart of the city, you'll be close to bars, restaurants, and shops and enjoy a social atmosphere at the hotel. The rooms are beautifully designed with traditional Arabic-inspired interiors. Just like at one of the best villas in Dubai, guests can use the rooftop swimming pool and hot tubs, central courtyard living area, and on-site fitness center.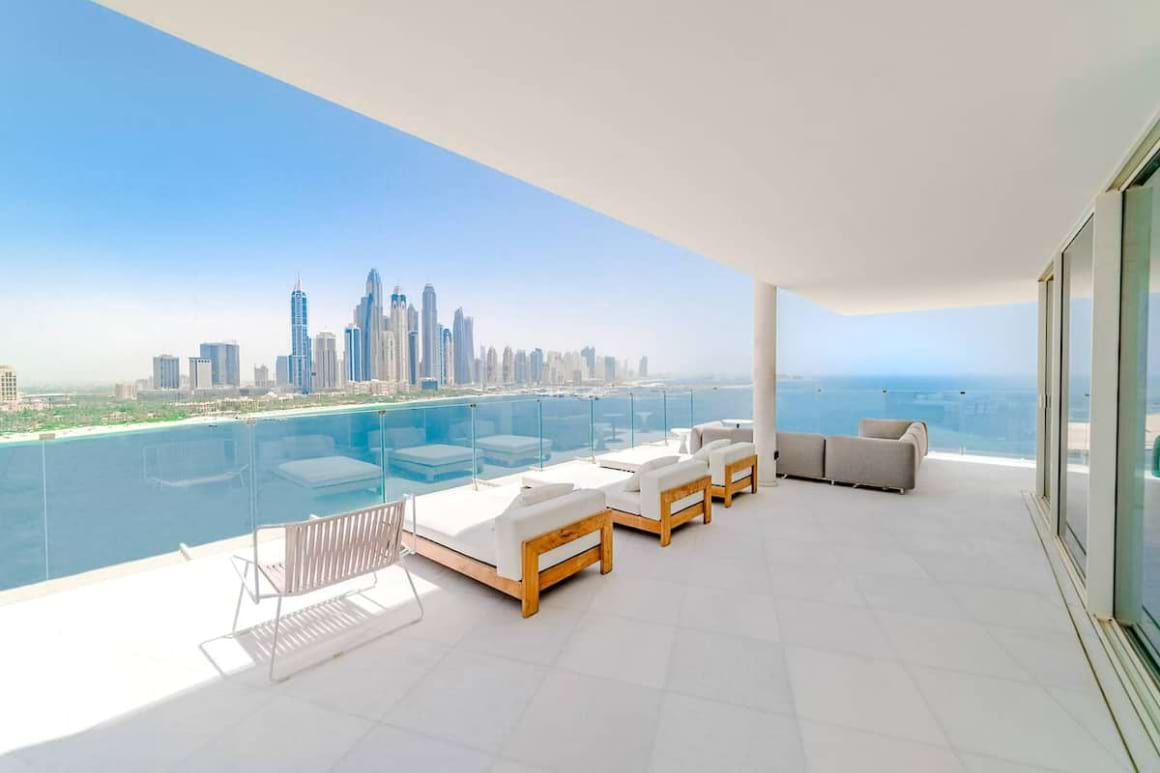 Pool and terrace with 180-degree city and ocean views
Within the luxurious FIVE Palm Jumeira Hotel
Not all villas were created equal, and this incredible sky villa towers over the rest in an extraordinary penthouse. It is located in the FIVE Palm Jumeira, one of the city's most exclusive resorts and hotels, and offers the perfect combination of a private self-catering vacation rental with the services and facilities of a hotel.
With four bedrooms, a massive central living area, and a balcony overlooking the city, this penthouse perfectly captures the glitz and glamour of Dubai. Other than a kitchen with washer/dryer facilities, and four bedrooms with luxurious ensuite bathrooms, this villa includes access to free parking, a private indoor pool and hot tub, a gym, and a dedicated workspace with well-working Wi-Fi. What more could you ask for?
Daily housekeeping
In the sought-after Sidra community, great for families
Stylish enough to be in an interior magazine yet cozy enough to call home, this five-bedroom villa is the perfect unique accommodation in Dubai for those after an all-inclusive stay. The home is ideal for long-term or quick visits and is maintained with daily cleaning to ensure you don't have to worry about housework on vacation.
Located in one of Dubai's most prestigious and family-friendly neighborhoods, this home includes a yard with a swimming pool and a covered gazebo. After a day in the city, unwind with your family on the daybed under the sun while BBQing in the practical outdoor kitchen space.
Private office space, BBQ area, and fenced-in yard
In a residential neighborhood outside the city center in Ud al Bayda
As one of the world's leading industrial and tech hubs, Dubai is a hotspot for digital nomads. It offers the perfect combination of a high-intensity business center with the benefits of great weather, beautiful beaches, and a vibrant cultural scene.
If you're looking to spend some time working from home in the city, this villa has five spacious bedrooms, five bathrooms, a cozy yet enormous living area with a fireplace, and it's very own private office. When you aren't tending to emails, make use of the shared garden, children's playground, BBQ area, and sporting facilities, including a tennis court, pool, and hot tub!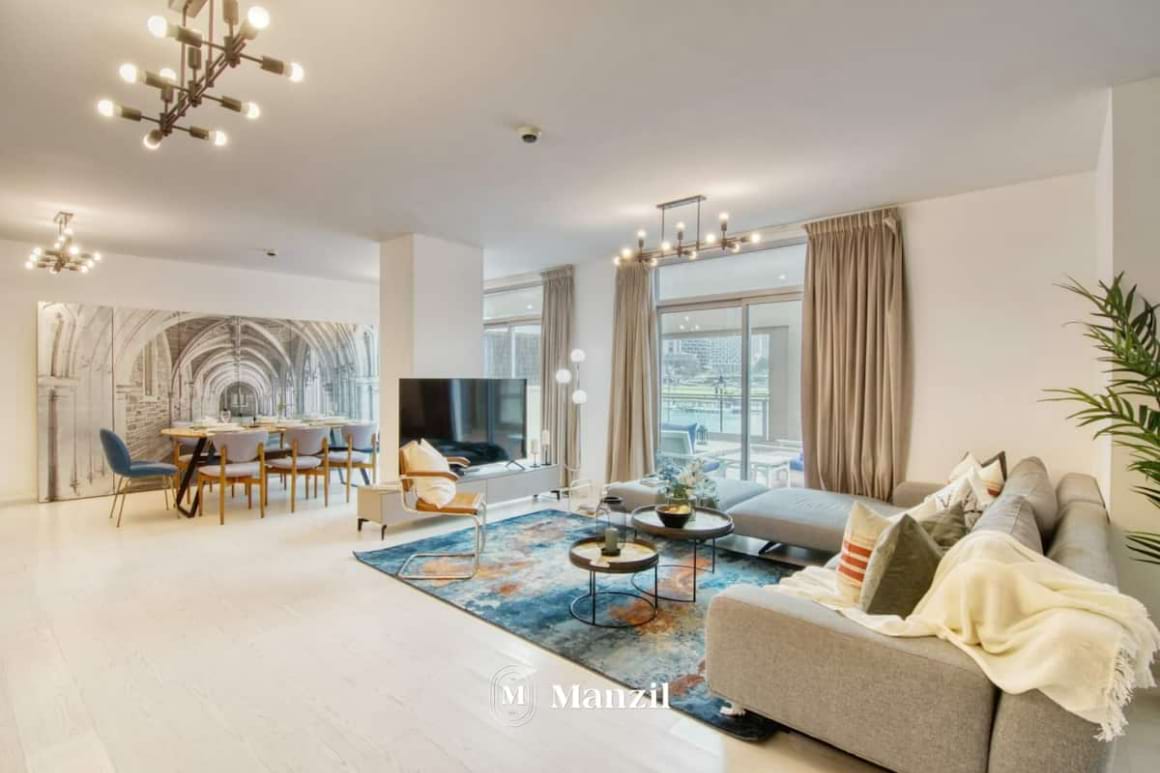 Spacious living area and terrace with uninterrupted fountain views
In the heart of Dubai, overlooking the Burj Khalifa and Dubai Fountain
If you know anything about Dubai, it would be that the city is home to the world's tallest building (the Burj Khalifa), massive shopping malls, and a dancing fountain that performs a regular show throughout the day. Well, this villa is located on the edge of this fountain, with unbeatable views of the Burj Khalifa, a stroll away from the incredible Dubai Mall.
Not only is this the best villa in Dubai for its views, but the space is homey and elegant, decorated with modern furnishings and thoughtful touches. The layout offers three air-conditioned bedrooms with ensuite bathrooms and plenty of storage space.
Regal architecture and over-the-top interiors with sprawling gardens and a pool
In the luxurious Zabeel Saray Royal Residences on Palm Jumeirah
If you're craving the full Dubai experience, this majestic villa might just be the spot for you. Designed to look like an elaborate palace, with extravagant interiors featuring gold and white touches, this home exuberates wealth and traditional Arabic design opulence.
The villa has five bedrooms, a private pool, and a garden set right on the banks of the water on the Palm Jumeira. Surrounded by palm trees and a lush garden, you'll never believe you're in the middle of the desert here.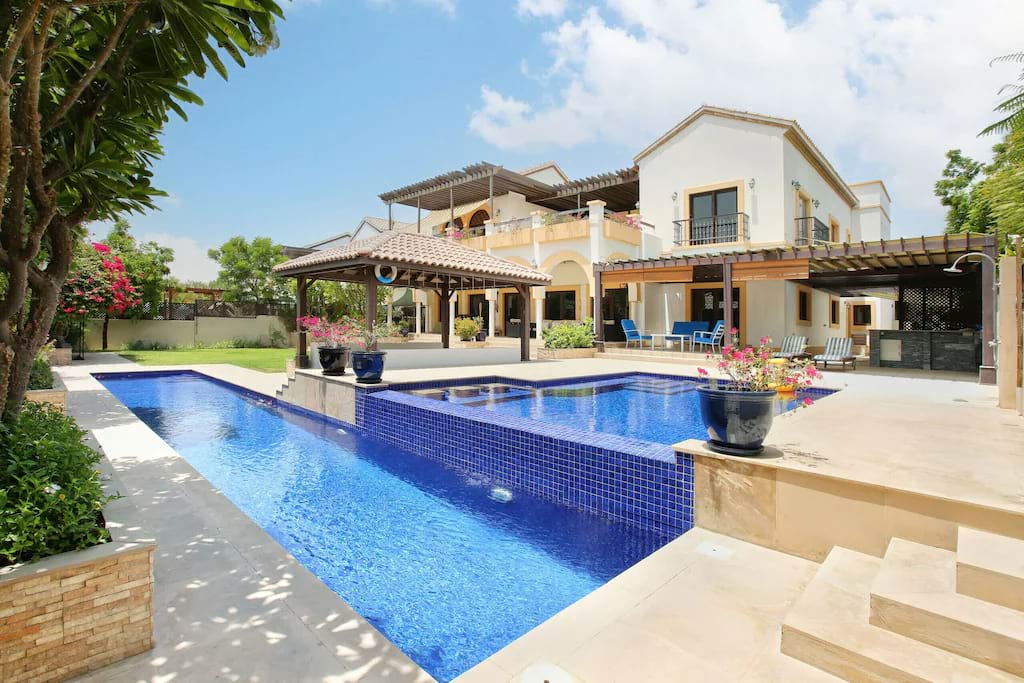 All bedrooms are ensuite. Large outdoor area with table tennis, sun loungers, and BBQ
Just outside the city center in Al Barari
If the buzz of the city doesn't hype you up, you might prefer staying at this gorgeous villa in residential Dubai. Just outside the city center, this spot is removed from the bustle and traffic and has a suburban feel.
As one of the most unique accommodations in Dubai, the home boasts two private outdoor pools with garden views and features four bedrooms within the leafy green Ponderosa neighborhood. Lay low in the family room or cook up a storm in the kitchen, before you enjoy your meals in the sunny breakfast room.
Stunning garden with outdoor pool and hot tub
On the iconic Palm Jumeira, with city views
There is no shortage of luxurious villas in Dubai, but if you're looking for something particularly lavish, this seven-bedroom villa won't disappoint. It is set on one of the arms of the Palm Jumeira, surrounded by iconic hotels and luxury homes.
With a sprawling lush lawn and private pool and hot tub overlooking undisturbed sea views, this spot has one of the better outdoor living areas on this list. Another bonus? You'll be able to reach the sandy shores of the Palm just a few meters from home.
Don't Forget Your Dubai Travel Insurance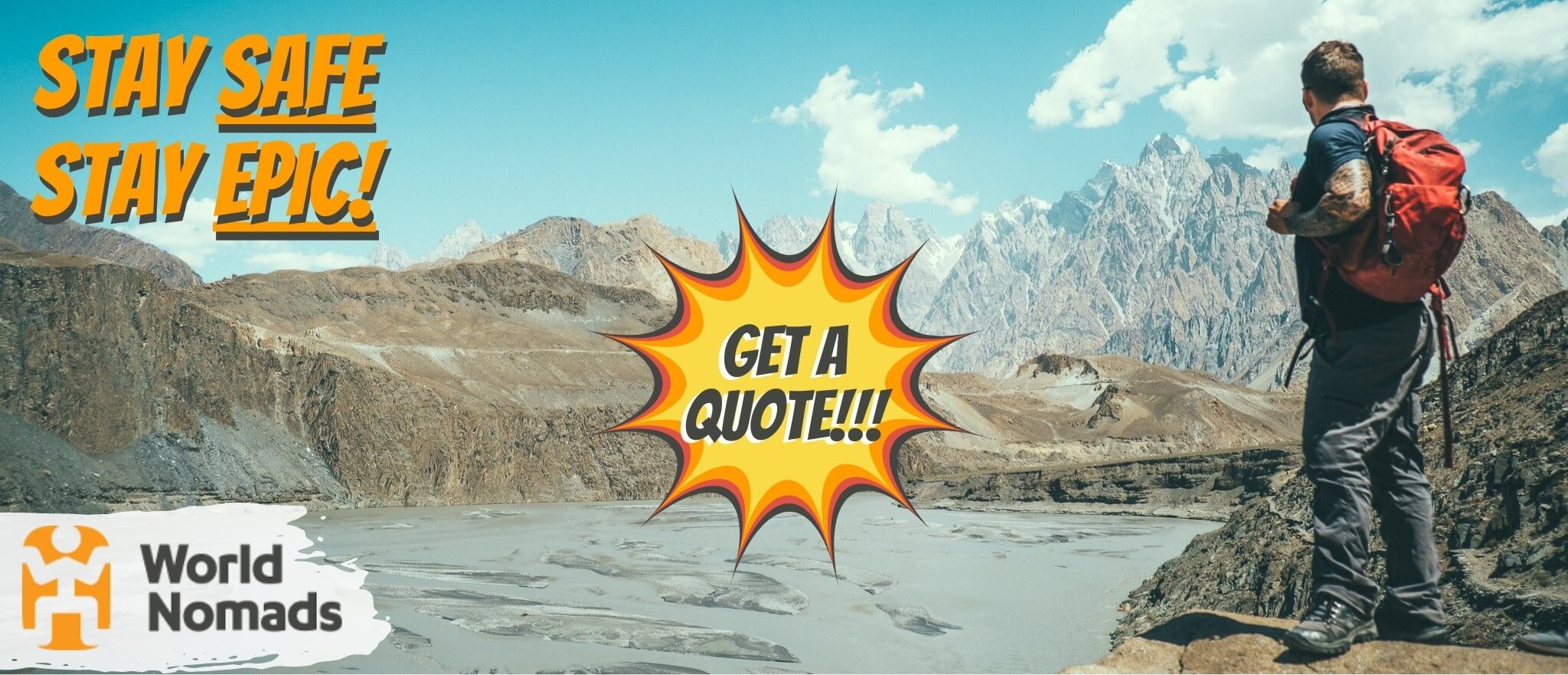 World Nomads' mission is to support and encourage travellers to explore their boundaries. They offer simple & flexible travel insurance, and safety advice to help you travel confidently.
They've been doing it since 2002 – protecting, connecting, and inspiring independent travellers just like you.
Get a quote below or read our in-depth review!
World Nomads provides travel insurance for travelers in over 100 countries. As an affiliate, we receive a fee when you get a quote from World Nomads using this link. We do not represent World Nomads. This is information only and not a recommendation to buy travel insurance.
Final Thoughts on Villas in Dubai
The demand for villas and townhouses in Dubai has skyrocketed since the city started growing from strength to strength. With so many ex-pats moving to the city for endless good weather and work opportunities, it's no wonder this type of accommodation has become so popular.
However, staying in one of the best villas in Dubai is also an incredible option for holidaymakers, whether visiting with family or friends. There are villas to suit all types of travelers and budgets.
So, next time you have a layover in Dubai, make the most of your trip and explore this wonderful city by staying in one of the best villas in Dubai.
If you're visiting from overseas, organize yourself and all members of your travel party with comprehensive travel insurance. Losing a bag or injuring yourself is never fun, but it's even more unpleasant in a foreign country.
---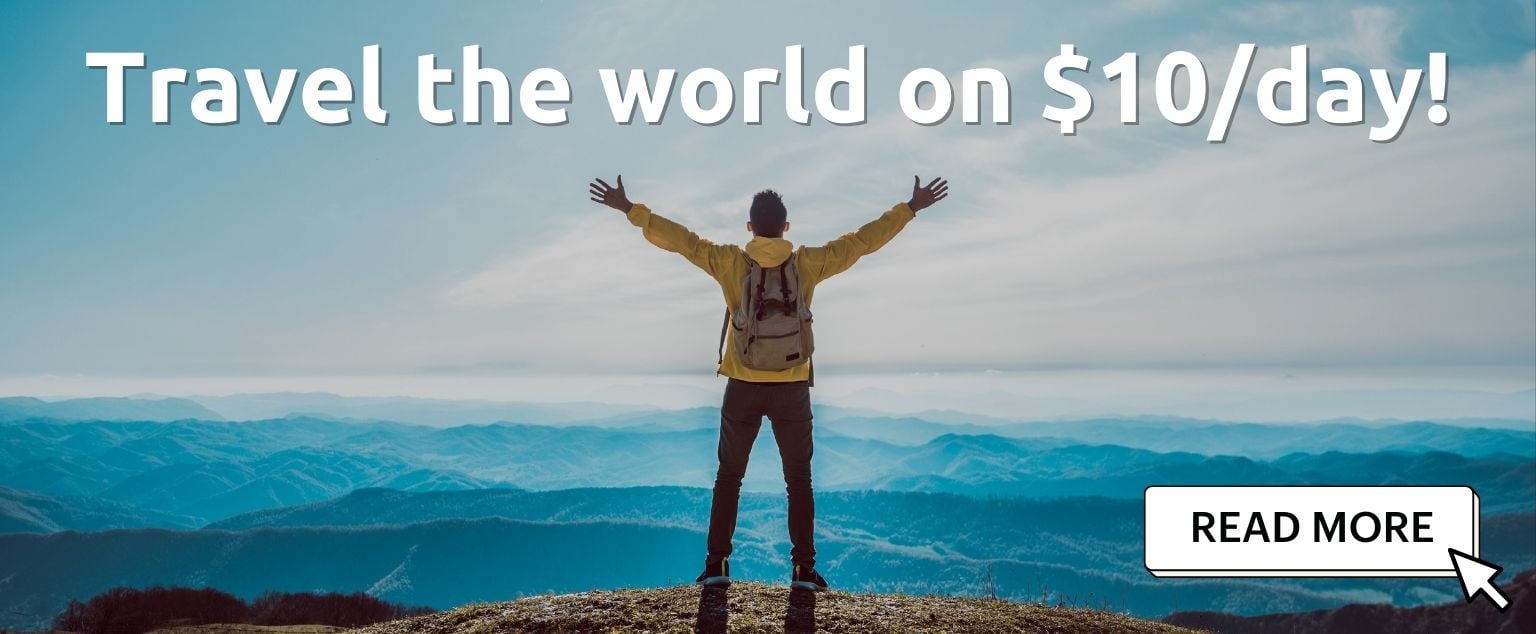 And for transparency's sake, please know that some of the links in our content are affiliate links. That means that if you book your accommodation, buy your gear, or sort your insurance through our link, we earn a small commission (at no extra cost to you). That said, we only link to the gear we trust and never recommend services we don't believe are up to scratch. Again, thank you!