As one of the most popular destinations along the Central Coast, Santa Barbara has some of the most amazing beaches, plentiful natural beauty spots, and a renowned food and wine scene.
Santa Barbara exudes Californian cool and laid-back charm. From State Street's boutique shops and eateries to the vibey Funk Zone and its variety of local wineries, there's plenty to see downtown. Further out of the city centre, beaches, hiking trails, and biking trails offer an abundance of outdoor pursuits.
You could easily stay in Santa Barbara for a week, or more, just enjoying all the activities there are to enjoy. And if you're staying for more than a few days, I always recommend staying in a vacation rental like VRBO. Vacation rentals provide you with more freedom than a hotel or hostel, plus you get all the homely comforts you need for a comfortable stay.
Anyone seeking a VRBO in Santa Barbara will find a variety of options to choose from ranging from the super-budget, extraordinarily unique to the super luxurious. Rentals in Santa Barbara span a range of price ranges and are dotted all around the city and its surroundings.
Whatever your travel style or budget, you're sure to find a VRBO to suit you, provided you know what you're looking for.
To help you with your search, I've gathered my list of the best VRBOs in Santa Barbara to make it easier for you to find what you're looking for. Travelling on a budget? Visiting with the kids? Looking for romance? No problem, I've got you covered.
So, let's get stuck in!
Quick Answer: These are the Top 5 VRBOs in Santa Barbara
Overall Best Value VRBO in Santa Barbara
Overall Best Value VRBO in Santa Barbara
Tranquil Garden Cottage
> $
> 2 Guests
> Leafy patio and barbeque
> Between the mountains and beach
Best Budget VRBO in Santa Barbara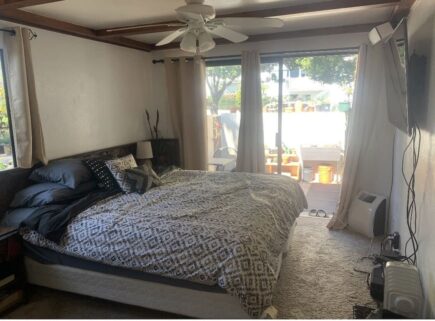 Best Budget VRBO in Santa Barbara
Private Room in Wine Country
> $
> 2 Guests
> Enclosed private patio
> Close to beach and downtown
Best VRBO for Couples in Santa Barbara
Best VRBO for Couples in Santa Barbara
Charming, Country-style B&B
> $
> 2 Guests
> Jetted bathtub
> Old-world charm
Best VRBO for Families in Santa Barbara
Best VRBO for Families in Santa Barbara
Designer Family Home
> $$$
> 8 Guests
> Amazing garden, pool, and games
> Country living with modern amenities
Over-the-Top Luxury VRBO in Santa Barbara
Over-the-Top Luxury VRBO in Santa Barbara
Exclusive Italian-style Villa
> $$$$
> 12 Guests
> 3-acre property on a private lane
> Panoramic ocean and mountain views

Unlock Our GREATEST Travel Secrets!
Sign up for our newsletter and get the best travel tips delivered right to your inbox.
What to Expect from VRBOs in Santa Barbara
Santa Barbara is an eclectic city and as such, the options of VRBOs here are varied, to say the least. As well as providing a wide range of options, one of the greatest things about staying in a VRBO in Santa Barbara is that many of them are operated by locals. The benefit of this is that you get a real authentic experience of the city and its people.
In addition to oozing local charm, the variety of VRBOs in Santa Barbara also offers the chance to get as close or as far from the action as you prefer. Usually, they're within easy reach of public transport for ease of getting around or come with parking if you're on a California road trip.
There are many types of homes available to rent, but some are more suited to certain types of travellers than others. If you're not sure which type of VRBO is right for you, let's take a look at some of the most common ones now.
Houses
Depending on where you stay in Santa Barbara, you'll find houses are the most common types of rental options.
Ideal for those seeking privacy and independence, Santa Barbara offers houses that range in many different sizes and budgets. From beach houses to city bungalows, most of these options include an outside area of some sort, including patios and sprawling yards.
Usually, these houses also offer a full kitchen for those wanting to do some cooking of their own, and plenty of space for everyone to relax. Other common extras include a pool or hot tub, and convenient parking.
Most commonly, houses enjoy a quieter, more residential setting which is more peaceful than inner-city living, and are often closer to nature, with hiking trails, parks, and beaches usually within easy reach. They provide the perfect base for families and small groups.
Cottages
On the fringe of the downtown area, cottages are extremely common. These are often smaller than houses but still offer a comfortable and convenient retreat. Couples, families, and groups who don't need too much space or added bells and whistles of a house will enjoy this compact, pared-back offering.
Cottages also offer a more residential feel than other downtown options such as hotels or hostels in Santa Barbara, while still being within easy reach of the sites. Cottage VRBOs in Santa Barbara are usually big on local personality and are often operated by locals.
While not as spacious as houses, cottages are perfect for travelers who plan to spend most of their time out and about, exploring all that there is to see and do.
Apartments
Apartments come in a variety of shapes and sizes and in a range of locations across the city. Most often, their location puts you in the heart of the action, but there are options further out to offer a more tranquil setting. Ranging in budget and size, you can easily find one that suits your exact needs.
Choosing an apartment offers a comfortable retreat with all the essentials, but parking isn't always included. That said, their location is usually within easy reach of public transport and within walking distance of many attractions.
Many apartments in residential areas have a separate entrance and are add-ons to family homes, which offer the perks of living like a local while still enjoying complete autonomy. Apartments are usually cheaper than houses or cottages and are therefore a better option for couples or those travelling alone.
Why Stay in a VRBO in Santa Barbara
There are plenty of good reasons to choose a VRBO when visiting Santa Barbara. Here are just a few:
Local Experience: Live like a local in a home operated by a local. Most hosts are happy to provide recommendations of things to see and do in Santa Barbara.
Privacy: More and more options are offering private and contactless check-ins. This means you can enjoy complete autonomy while still safe in the knowledge that VRBO customer support and your host are available should you need them.
Affordability: VRBOs in Santa Barbara offer a more affordable alternative to large chain hotels and resorts. You'll get more bang for your buck and not have to sacrifice comfort to achieve it. More often than not, VRBOs offer discounts to those wishing to stay for a week or more.
Safety: VRBO has your back with 24/7 support in the event that you encounter issues.
The Top 20 VRBOs in Santa Barbara
Now that you have been introduced to the types of VRBOs available to you, it's time to look at my list of the best VRBOs in Santa Barbara. I've scoured the many VRBOs online and selected some great options to suit all travel types, budgets, and needs.
ENjoy!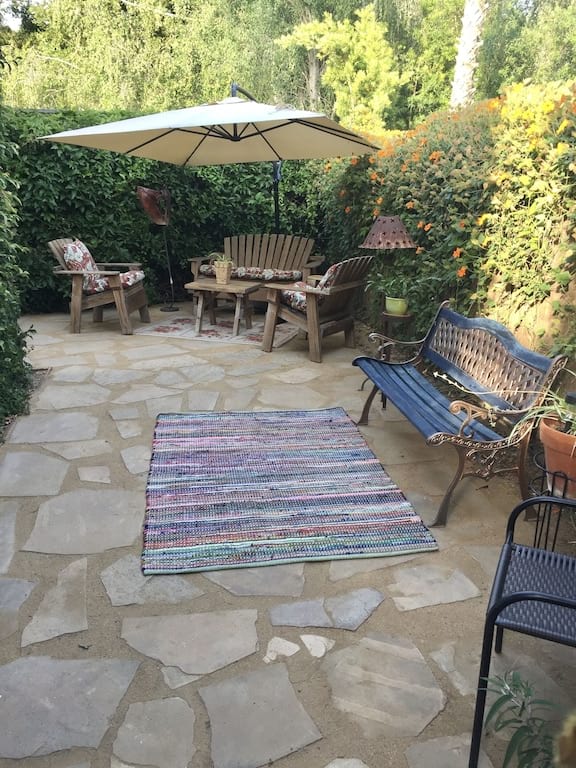 $
Leafy patio and barbeque
2 Guests
Between the mountains and beach
This tranquil garden cottage lies in a peaceful setting in Hidden Valley with a distinct country-like feel. The cottage is ideally located between the mountains and the beach, close to plenty of attractions.
Featuring one bedroom, the cottage is well-furnished and equipped with all the essentials. A compact kitchenette is perfect for whipping up basic meals, while the barbeque and patio area is ideal for outdoor meals.
There's plenty to see and do within a one-minute radius of this lovely VRBO in Santa Barbara, including restaurants, the beach, dog parks, golf, and tennis. Lovers of the outdoors will love the nearby biking and hiking trails, and the more adventurous can enjoy paragliding.
2 Guests
Close to beach and downtown
Ideal for a couple on a budget or a solo traveller, this private room in a residential home is located on the border of Montecito and Santa Barbara. Just 10-minutes from downtown and 45 minutes from the Santa Ynez wine valley, the room offers easy access to a range of attractions.
This master bedroom of a residential home has been converted to offer a private room for guests. In addition to the bedroom and bathroom, the room offers a separate entrance and private patio with loads of potted plants to enjoy.
Relaxation on the beach is just five minutes away, but if you're keen to explore downtown, you can access public transport one block away.
2 Guests
Neat and comfortable
Single travelers or couples can enjoy a comfortable stay in this bright, compact studio apartment. The location of this Santa Barbara VRBO is conveniently close to the freeway, making touring and getting around super easy.
This is a compact space but comfortable, and offers lots of added extras like Wi-Fi, cable TV, and air-conditioning. There's a queen-sized bed, a simple kitchen, and a small outside seating area.
The closest beach to the studio is East Beach, but Butterfly Beach and Hammonds Beach are within easy reach. Visit the Santa Barbara Museum of Natural History Sea Center or the Wolf Museum of Exploration and Innovation that are not too far away from this property.
Stay at this romantic country cottage is one of 15 individually decorated guestrooms in a quaint bed and breakfast. Centrally located in Santa Barbara, the cottage offers easy access to the downtown area as well as to the freeway for exploring further out.
The cottage is ideal for a couple, and is equipped with an ornate queen-sized bed, a furnished patio, and relaxing garden views. There isn't a kitchen as such, but there's a refrigerator, minibar, and coffee maker.
Visit the Arlington Theater, the Santa Barbara Museum of Art, or the Santa Barbara Historical Museum. If you're undecided as to what to explore, make use of the concierge services to arrange activities and excursions.
Is This the Best Travel Pack EVER???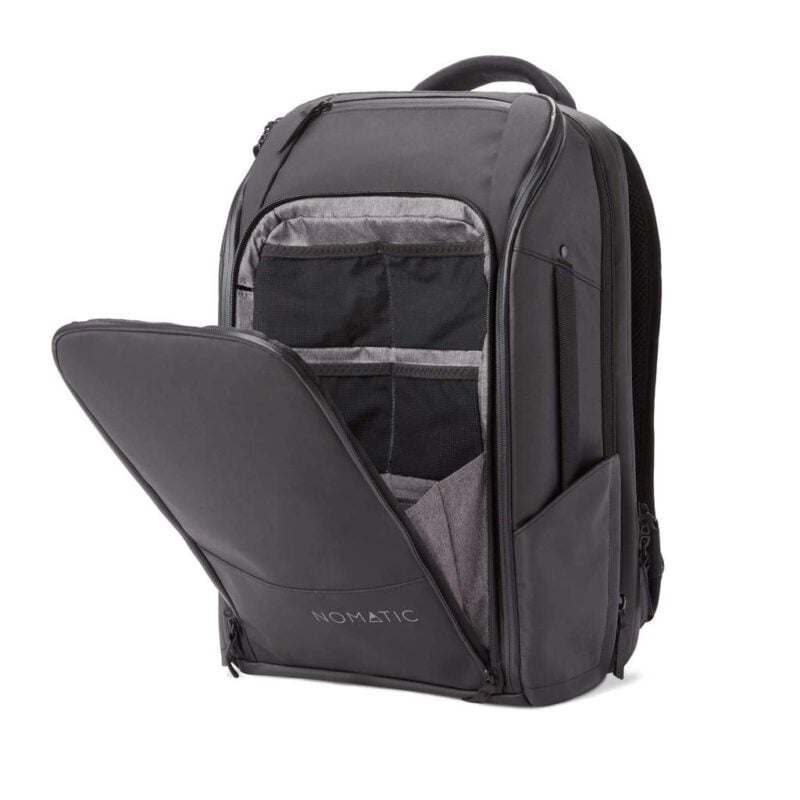 Best VRBO in Santa Barbara for Families | 4BR Designer Home
$$$
Amazing garden, pool, and games
8 Guests
Country living with modern amenities
This ideal family vacation home enjoys a private, peaceful location. In addition, the downtown area is just minutes away, so guests have the best of both.
The house has four bedrooms, two of which are suited to children and teens, as well as loads of space for everyone to kick back and relax. Outdoors, you'll find immaculate gardens, a pool, and a hot tub with a child-safe cover. There's even a chicken coop in the back to supply eggs for breakfast.
The area hosts a number of bike paths (the house has three mountain bikes and a child-size bike), horse trails, and jogging trails to explore. Visit the horse farm two blocks away, do some shopping or dining nearby, or head downtown to visit the museums and theatres.
$$$$
3-acre property on a private lane
12 Guests
Panoramic ocean and mountain views
Regal living at its best at this exclusive Italian-style villa set on three lush acres – arguably the most impressive vacation rental in Santa Barbara. The villa is located close to Montecito's most secluded beaches and offers easy access to both the Upper and Lower Village.
This expansive villa has six spacious bedrooms and seven and a half luxury bathrooms. There's also a home office, gym, sport court, chipping and putting green, guest house, and both indoor and outdoor entertainment areas.
With all the space and amenities, there's not much reason to leave the villa, but if you're keen to explore, downtown Santa Barbara and its many attractions are a short drive away.
Best VRBO in Downtown Santa Barbara | Cosy 2BR Home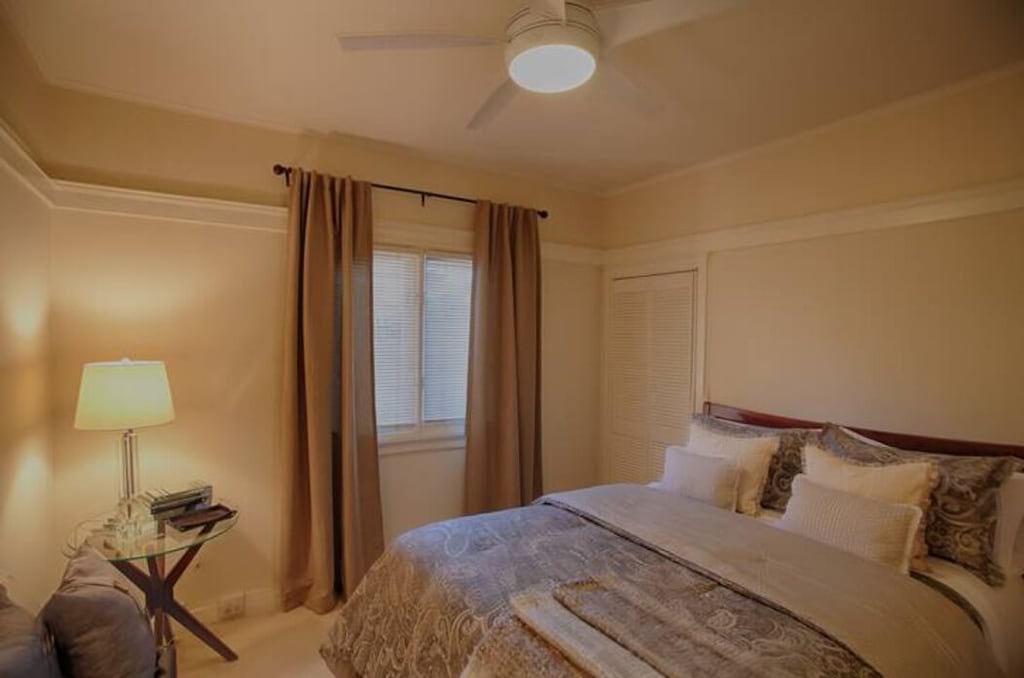 $
Private yard and Jacuzzi
6 Guests
Convenient downtown location
This cozy and comfortable house is centrally located in downtown Santa Barbara, mere blocks from State Street and Paseo Nuevo. This location is perfect for a couple or a small group who want to be close to everything.
This neat two-bedroom house is well furnished to provide a comfortable retreat. From the well-equipped kitchen to the furnished deck and barbeque area, there are plenty of opportunities to stay in and relax in good company.
There's plenty to see and do within walking distance of the house, including a variety of restaurants and shopping options, beaches, and the Funk Zone.
Best Cottage on VRBO in Santa Barbara | 2BR Central Cottage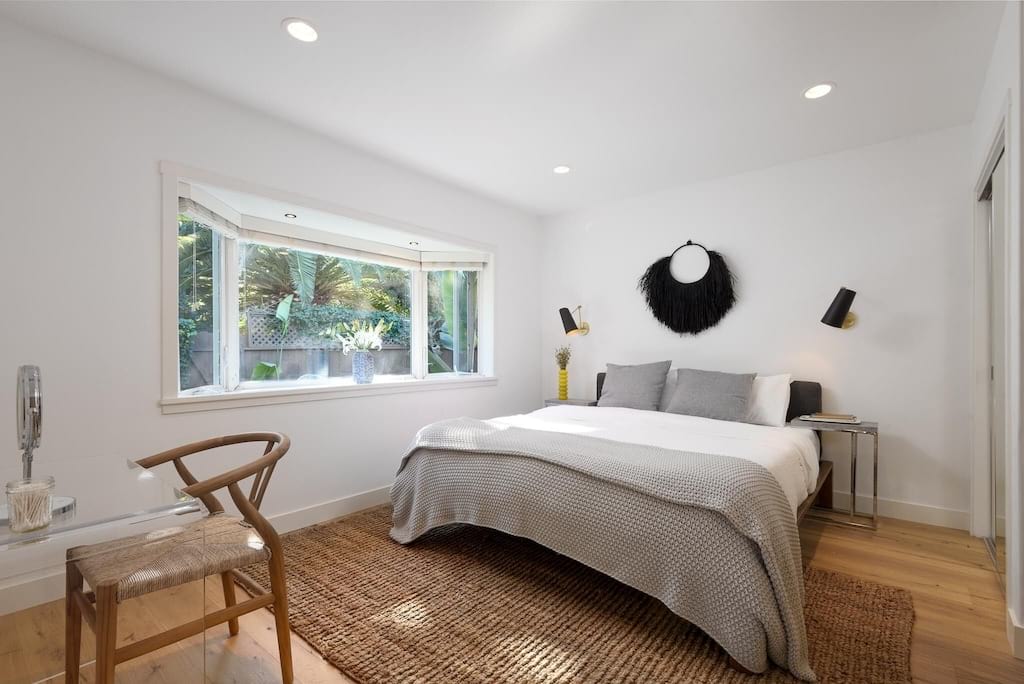 $$
Outdoor dining and hot tub
4 Guests
Private path to the beach
Airy and light, this modern cottage is located in Montecito, near the beach. Close to top restaurants, this cottage is ideal for a small family or two couples.
This sunny cottage has a modern and beachy feel and is equipped will all the modern comforts of home. Outside, you can enjoy the private patio, barbeque, and dining area, as well as a Jacuzzi with a view.
Hammonds Beach is a three-minute walk away down a private path – ideal for catching amazing sunrises and sunsets. Within two miles of the cottage, you can visit other top beaches including Butterfly Beach, East Beach, and the Cabrillo Pavillion.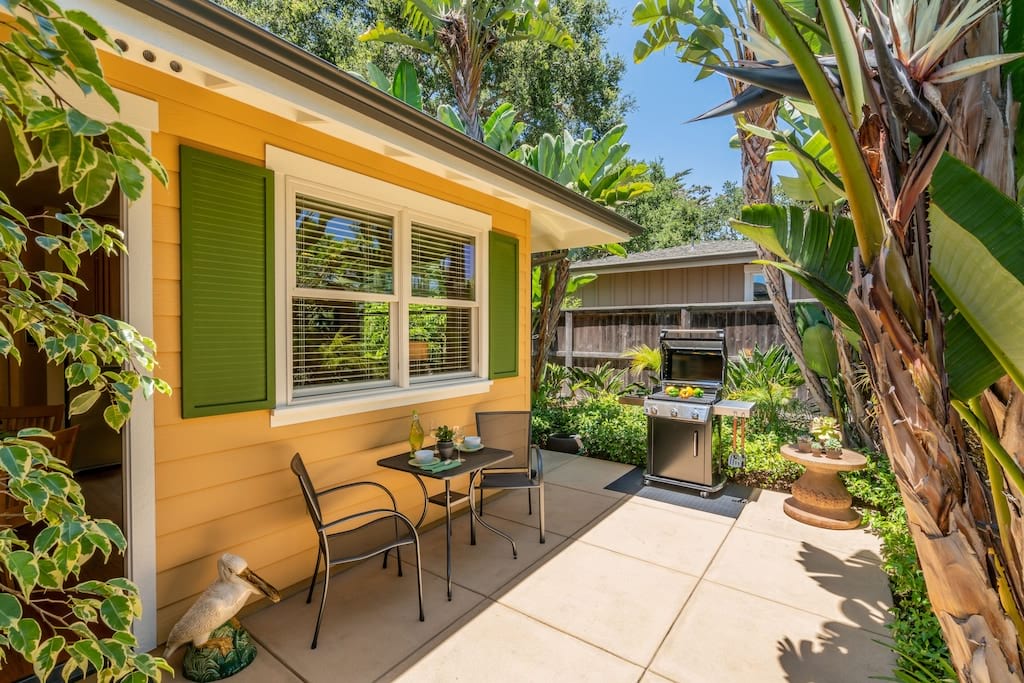 2 Guests
Plenty of palms and birdlife
Located in Santa Barbara's Mesa neighborhood, this tropical hideaway is conveniently located near the beach and a nature preserve. Downtown Santa Barbara is easy to access on those days you want to sample the city life.
This compact apartment offers open plan living which includes a kitchen, dining area, and lounge. The bedroom opens onto its own private patio. Outside, the apartment is surrounded by swaying palms and vibrant birdlife that you can appreciate while firing up the grill.
There are a number of great beaches in the area, including Arroyo Burro Beach and Leadbetter Beach. Enjoy the outdoors on a walk through Elings Park or Shoreline Park.
$$
Swimmer's pool with spa
9 Guests
Outdoor entertainment area
Set in a gated and landscaped acre, this beautiful English-style country home is the ideal retreat for a group that enjoys being outdoors. Located near the beach in Montecito, this Santa Barbara VRBO is also with easy reach restaurants and shops, as well as great hiking and biking trails.
This retreat is made up of two separate buildings. The main house has three bedrooms, as well as a full kitchen, lounge, dining area, and four patios. There's also a small guest house which is totally separate from the main house.
Spend lazy days beside the large swimming pool and spa, surrounded by landscaped gardens and trees. The enormous patio is perfect for enjoying barbeques and hanging out together.
Best VRBO in Santa Barbara for Nightlife | 3BR Heritage Home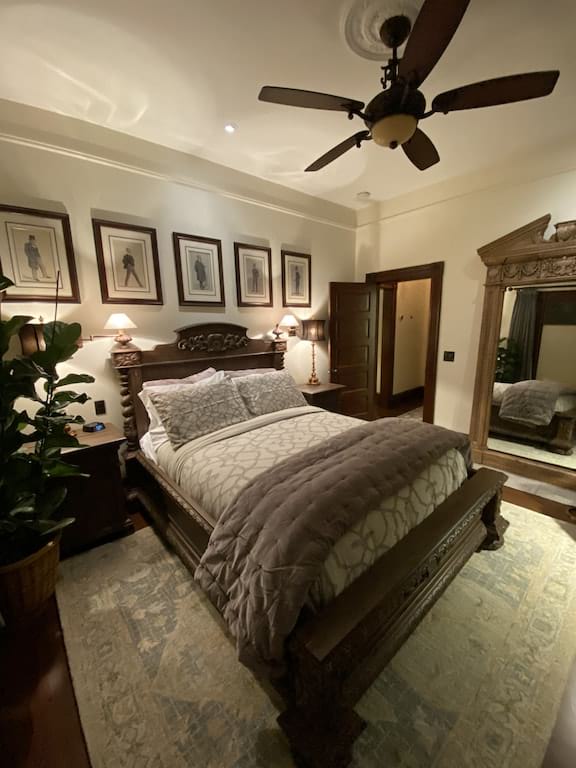 6 Guests
Upgraded heritage home
Located in the historic Brinkerhoff district, this landmark home has been lovingly restored to offer an upscale retreat in the city. From this central and convenient location, the city is at your fingertips.
Offering three luxurious bedrooms, the home retains some of its original old-world charm. Top-of-the-range appliances and modern conveniences bring contemporary comfort to this comfortable house.
Within a short walk, you'll be in the heart of downtown Santa Barbara. The Funk Zone's arty food and beverage venues are just minutes from your doorstep, while the ocean and beaches are just six blocks away.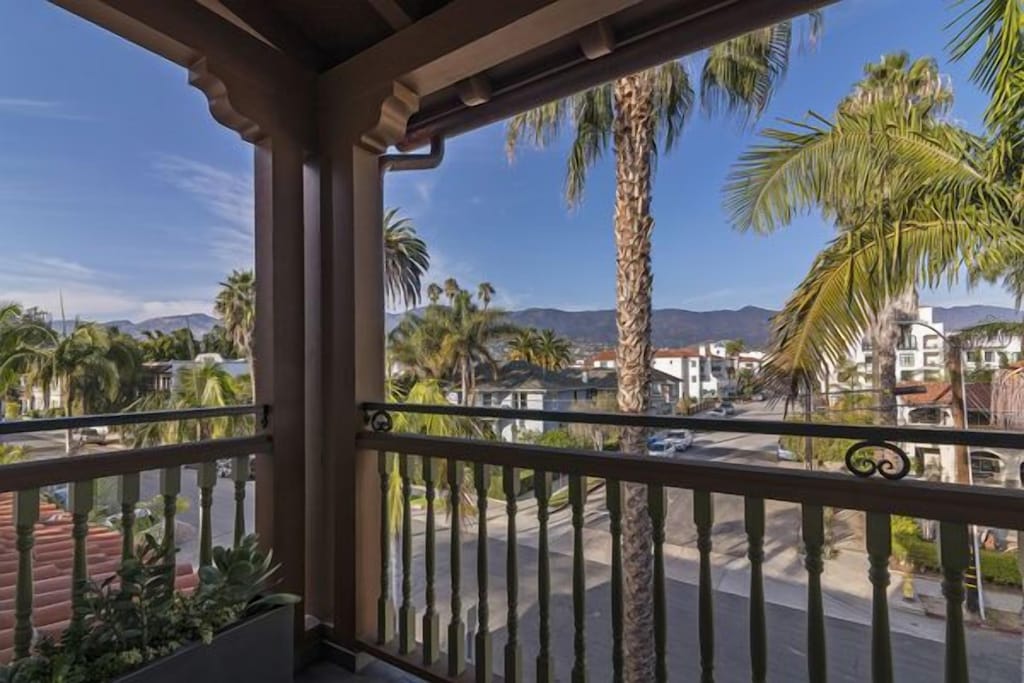 4 Guests
Luxuriously renovated space
This beautiful penthouse is located in West Beach, between Stearn's Wharf and the Sea Landing Harbour. From here, guests can enjoy effortless access to some of the city's best sights.
The penthouse occupies the top two floors of the building to offer gorgeous views of the ocean from the living room and master bedroom. With two spacious and well-appointed bedrooms, a stylish modern kitchen, and a spacious living area, the penthouse offers a superior retreat.
There are plenty of beaches nearby for swimming and sunbathing, as well as opportunities to enjoy kayaking, windsurfing, and beach volleyball. The Funk Zone, with its many restaurants and bars, is a short distance from the penthouse.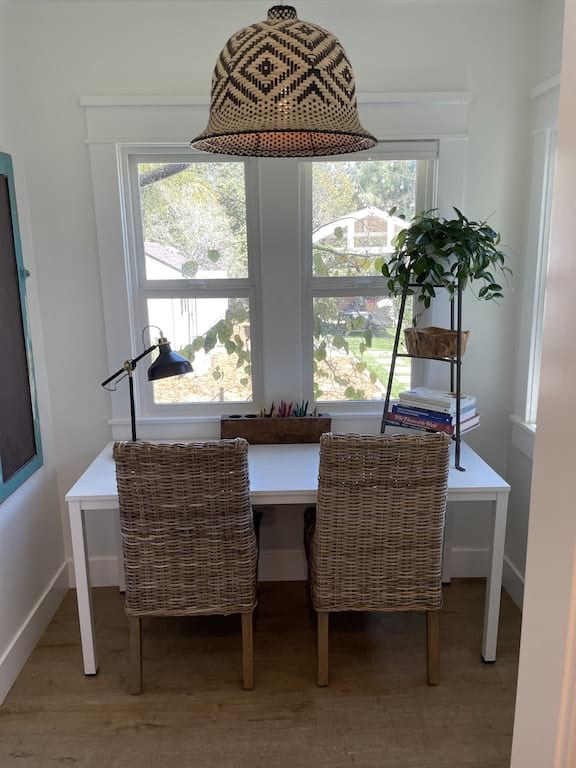 4 Guests
Spacious and bright
Located in a sought-after area, the house enjoys a great location on a large property in a secluded setting. Within walking distance of this VRBO in Santa Barbara, guests can enjoy many restaurants, shops, and markets.
This quaint two-bedroom, country-style home has plenty of space to enjoy. There's a spacious kitchen, a large living room with a fireplace, and a dining area, as well as a bright office space. Outside, there's a peaceful pavilion strung with fairy lights for romantic evenings.
Walk to one of the many nearby restaurants or coffee shops or explore the beaches and hiking trails just five-minutes away. State Street is within walking distance of the house, and if you're keen to explore the rest of the city, consider renting an electric bicycle.
$
Contactless check-in/check-out
4 Guests
Close to top attractions
Right in the heart of downtown Santa Barbara, this bright home is a perfect bolt hole from which to explore the city. With many top attractions within walking distance, you won't have much need for a car.
The original structure of the home dates to the 1920s and has been restored to offer a home-away-from-home. From the well-equipped kitchen and lounge to the spacious patio, this two-bedroom home offers plenty of spots to relax.
Explore the many restaurants, music venues, and museums that are all within easy reach, including popular State Street one block away. Grab some beach chairs from the house and head to the beach is just 10 minutes away.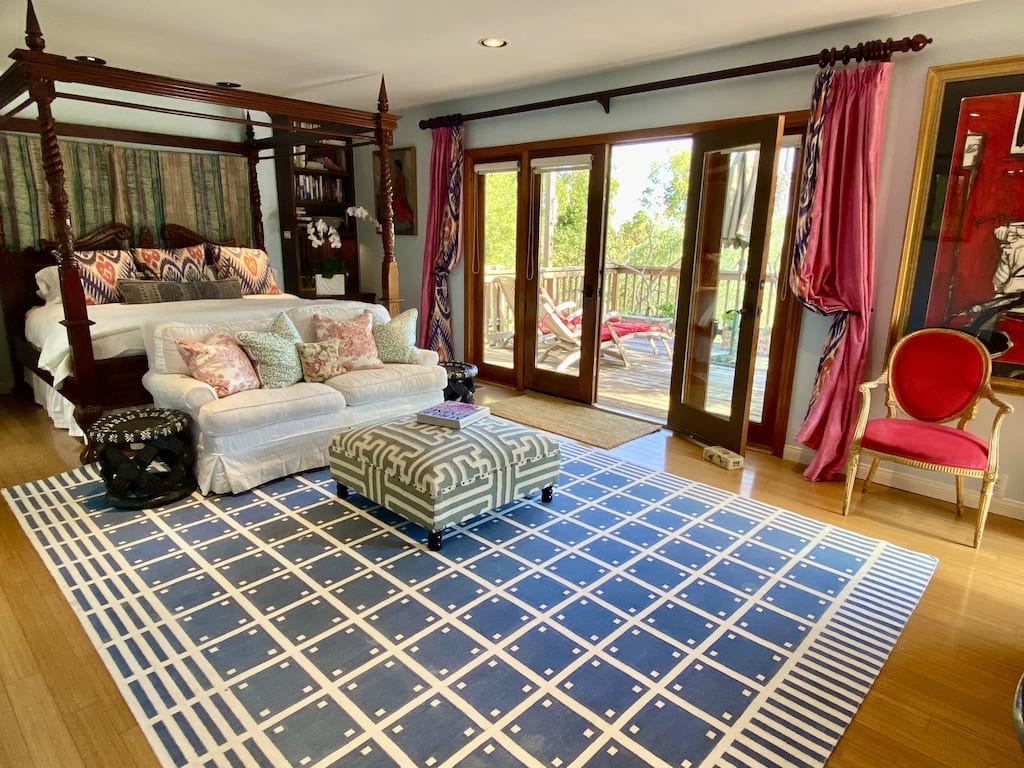 $$
Terrace and entertainment area
10 Guests
Gorgeous ocean views
Set in the Santa Barbara foothills, this stylish home is ideally located to the beach as well as both the Upper and Lower Village. From its location, the home enjoys beautiful views over the ocean, beaches, and the Channel Islands.
This gracious home has five well-furnished bedrooms, as well as a dining room, a lounge, a family room, and a well-stocked kitchen. Designed for indoor/outdoor living, the home is surrounded by a terrace that offers excellent views.
When you're not lounging beside the pool, there's plenty to see and do nearby. Shops, restaurants, and beaches are just a few minutes away, and within easy access, you'll find golf courses and tennis courts. Head into Santa Barbara or explore the Saint Ynez wine region that's just 30 minutes away.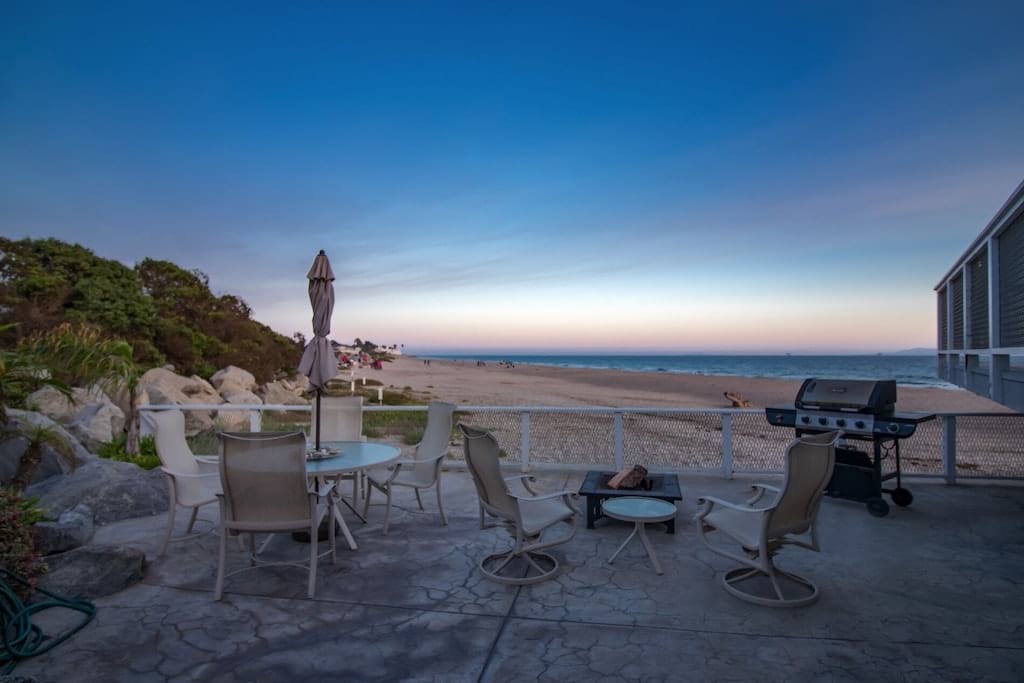 $
Linens and towels provided
4 Guests
Deck overlooking the beach
Located overlooking the beach in Carpinteria, this beautiful Santa Barbara VRBO is the perfect romantic getaway. The gated house offers access to a small area of private beach.
Oozing casual, coastal charm, this beach house has two bedrooms, a gourmet kitchen, and loads of space for relaxing. The deck area overlooks the beach and ocean and is the perfect place for a barbeque, sunbathing, and watching dolphins in the ocean. There's also an outdoor hot tub overlooking the ocean.
The area offers plenty to see and do, including a café and surf shop within walking distance. Downtown Carpinteria is two miles away, while Montecito is only five miles away if you feel like exploring further out.
$
Water sports gear included
10 Guests
Near a top surf spot
Rincon Point is a gated community located south of Santa Barbara. This charming beach community offers a laid-back feel in an unbeatable setting near the beach.
The main house features four bedrooms, one of which is perfect for the kids with bunks beds. A few steps from the main house is a small guest cottage. Guests in the cottage will need to use the downstairs bathroom in the main house as the cottage isn't equipped with a bathroom.
After a day on the beach, return to the house for a barbeque on the deck in the large backyard. The deck also has a ping pong table, hot tub, and plenty of seating for everyone.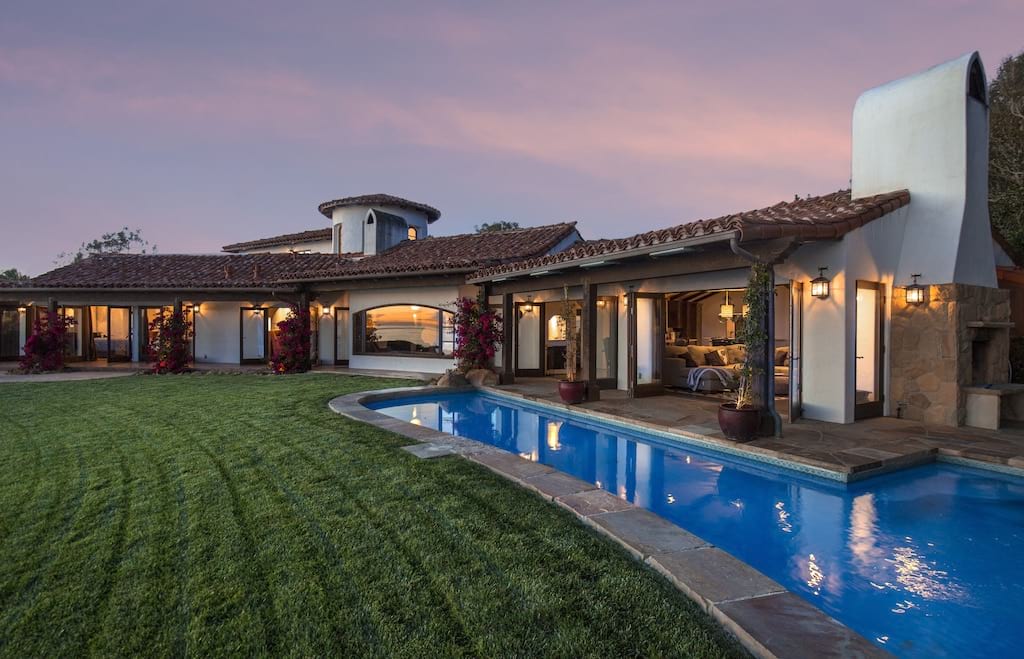 $$$
Private beach stairway
16 Guests
Unparalleled panoramic ocean views
This spacious Spanish retreat is located on a sprawling property in a secluded and private setting. The home offers magnificent ocean views and direct beach access via a private beach stairway.
With six bedrooms and eight bathrooms, the home offers plenty of space for groups or large families. Luxury furnishing, modern conveniences, and thoughtful extras combine to offer a truly comfortable ocean retreat.
With the beach on your doorstep, there's no real need to travel too far. The house is equipped with a fun game room with loads of entertainment options for all ages. There's a pool and hot tub, as well as a fitness room and sauna.
Best VRBO Party House in Santa Barbara | Secluded Ranch Home
7 Guests
Convenient yet secluded
Located in a peaceful neighborhood in Campanil, this spacious home offers a secluded retreat while still within easy reach of Santa Barbara's sights.
The spacious, bright home offers four bedrooms and plenty of space for everyone to kick back and relax. With bright interiors and stylish furnishings, you're assured of a comfortable stay. In addition to two acres of property, there are several furnished patios to enjoy – perfect for entertaining.
Santa Barbara's many attractions are easy to access from the home within just a short drive, and the beach is mere minutes away.
4 Guests
Vibrant design and décor
Situated in the heart of downtown Santa Barbara, this unique home has been designed by world-renowned architect, Jeff Shelton. With colorful accents and Moroccan influences, the home is a feast for the eyes.
Occupying the second floor of a four-storey building, the property offers plenty of living space to enjoy, as well as two well-furnished bedrooms. Whimsical design elements and convenient extras make this a truly comfortable retreat in the city.
Head outside your door to explore all that Santa Barbara has to offer. State Street's shopping, dining, and galleries are a short stroll away, while the Funk Zone's wineries and bars are easy to access.
Don't Forget Your Santa Barbara Travel Insurance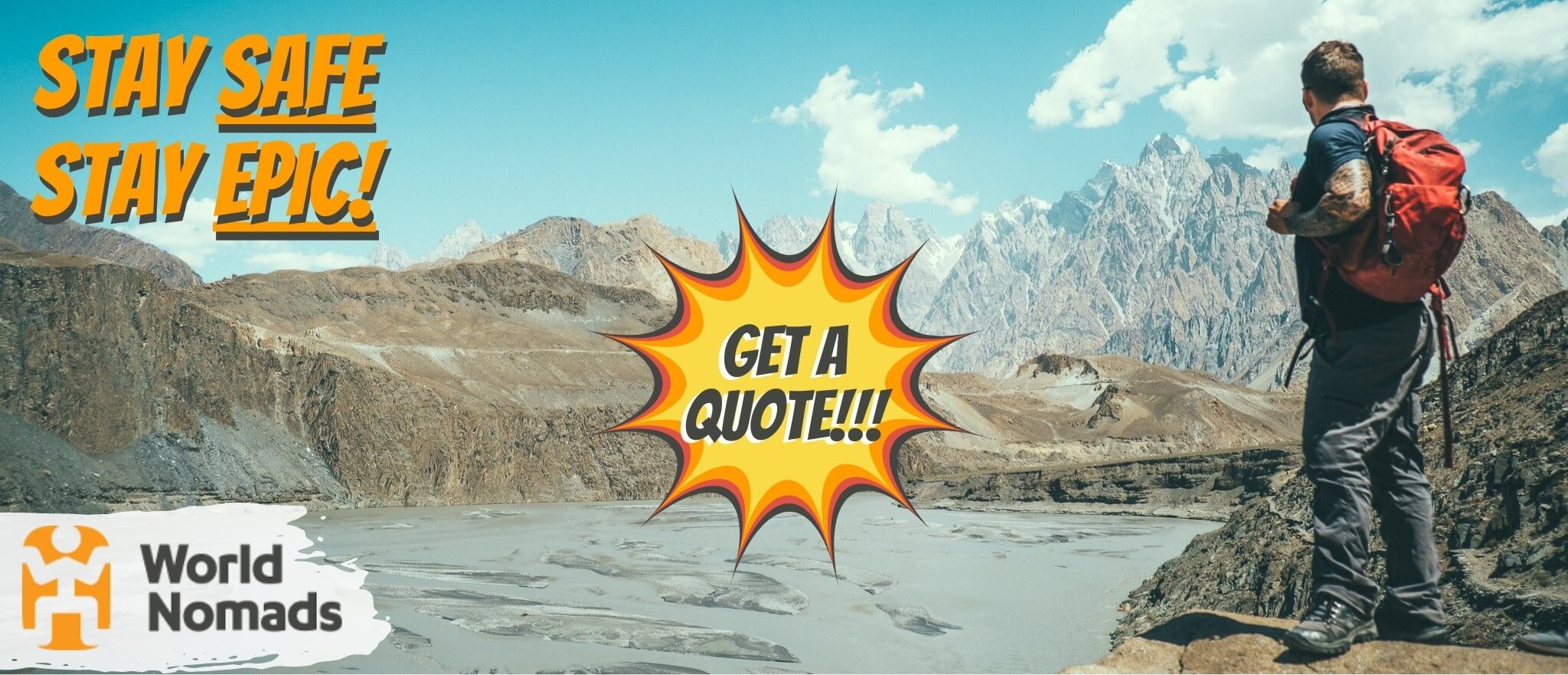 World Nomads' mission is to support and encourage travellers to explore their boundaries. They offer simple & flexible travel insurance, and safety advice to help you travel confidently.
They've been doing it since 2002 – protecting, connecting, and inspiring independent travellers just like you.
Get a quote below or read our in-depth review!
World Nomads provides travel insurance for travelers in over 100 countries. As an affiliate, we receive a fee when you get a quote from World Nomads using this link. We do not represent World Nomads. This is information only and not a recommendation to buy travel insurance.
Final Thoughts on Santa Barbara VRBOs
Tucked between the mountains and the ocean, Santa Barbara is a vibrant destination that offers everything from outdoor adventures to historic museums and galleries. In between, there are plenty of food and wine options to fuel your explorations.
Choosing a VRBO in Santa Barbara can seem overwhelming at first, with the many options available. However, our handy list will narrow down the vast array of options to make it easier for you to find the best VRBO in Santa Barbara.
If you're still unsure, I recommend looking again at the best overall value VRBO in Santa Barbara,Tranquil Garden Cottage, which has everything you might need for a comfortable stay, a great location, and an affordable price to match. You can't get better than that!
Do you have a favourite on my list? Let me know in the comments.
If you're visiting Santa Barbara from overseas, I'd recommend considering some travel insurance to protect you on your travels. In these uncertain times, it's always advisable to err on the side of caution to make sure that you'll be taken care of in the event that things do go according to plan.
---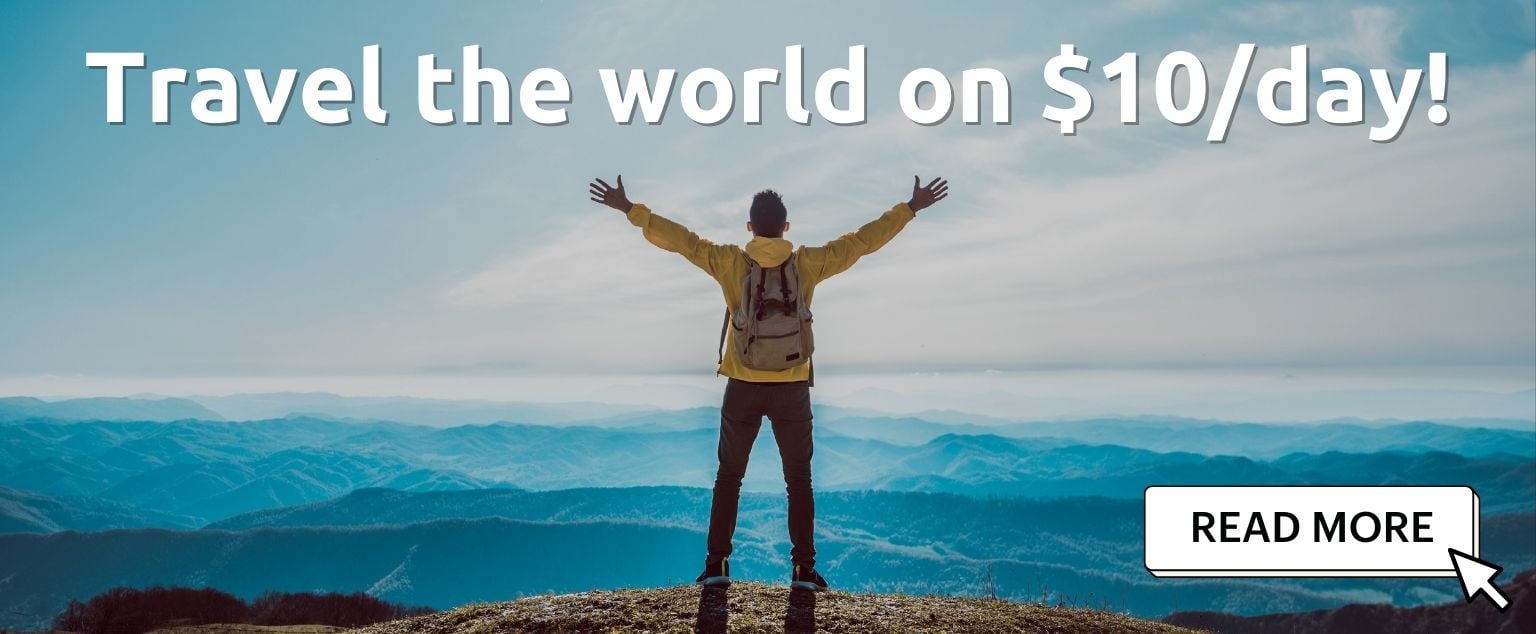 And for transparency's sake, please know that some of the links in our content are affiliate links. That means that if you book your accommodation, buy your gear, or sort your insurance through our link, we earn a small commission (at no extra cost to you). That said, we only link to the gear we trust and never recommend services we don't believe are up to scratch. Again, thank you!