Edmonton is the capital of Alberta and also its second-largest city. Plenty of visitors use it as a gateway to the stunning Jasper National Park which is only four hours away by car!
However, it would be a great shame to miss out on the city itself. The downtown area has been reinvigorated and there are some top restaurants offering haute cuisine, as well as some awesome nightlife options! The fringe festival here is also second only to Edinburgh's in size!
Edmonton is pretty cold all year round, so you'll need somewhere warm to stay! Rather than looking at hotels and hostels, why not save yourself some money and get somewhere with a bit of personality and charm at the same time?
If that sounds good, check out Airbnbs in Edmonton. From minimalist loft apartments to friendly homestays, to cosy carriage houses, there's something for you, no matter your usual travel style, in budget.
Rather than let you trawl through the website, I've put together this list of the best rentals in Edmonton. I'm sure that whatever you want from your accommodation in Alberta's capital, I'll have found something suitable for you. So, let's jump straight in and check them out!

Quick Answer: These are the Top 5 Airbnbs in Edmonton
OVERALL BEST VALUE AIRBNB IN EDMONTON
OVERALL BEST VALUE AIRBNB IN EDMONTON
Beautiful Modern Minimalist Loft
> $$
> 2 Guests
> Great location
> 24-hour security
BEST HOMESTAY IN EDMONTON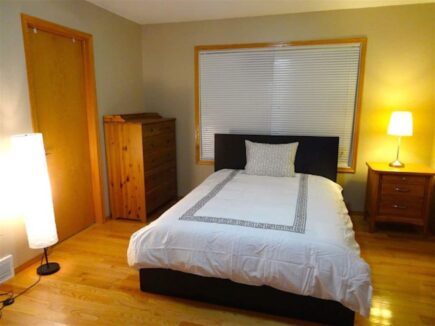 BEST HOMESTAY IN EDMONTON
Private rooms in clean quiet homes
> $
> 2 Guests
> Super close to University
> Spacious work station
BEST AIRBNB FOR COUPLES IN EDMONTON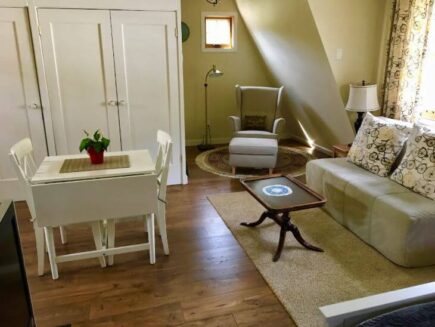 BEST AIRBNB FOR COUPLES IN EDMONTON
Warm and Cosy Carriage House
> $$
> 2 Guests
> Private entrance
> Peaceful and comfortable
BEST AIRBNB FOR FAMILIES IN EDMONTON
BEST AIRBNB FOR FAMILIES IN EDMONTON
Home in West Edmonton
> $$
> 6 Guests
> Fully equipped kitchen
> Family-friendly with baby gate
BEST LUXURY AIRBNB IN EDMONTON
BEST LUXURY AIRBNB IN EDMONTON
Two Storey Penthouse with Hot Tub
> $$$$$$$$$$
> 6 Guests
> Outdoor patio
> Sauna and Bar

Unlock Our GREATEST Travel Secrets!
Sign up for our newsletter and get the best travel tips delivered right to your inbox.
What to Expect from Airbnbs in Edmonton?
Canada is a vast country with a diverse landscape and a ton of unique experiences for tourists to enjoy. However, to really enjoy them, you will need to pick your location wisely.
Edmonton is the vibrant capital city of Alberta and your gateway to Elk Island National Park and the North Saskatchewan River. If you're planning a Canada road trip through some national parks, then you'll probably find yourself here at some point, if not starting your trip from here.
A good tip to keep in mind when deciding on vacation rentals in Edmonton is that you should base yourself as central as possible, such as in the downtown area near transport systems, especially if you don't have a car. This way you can save money, as well as time, because you'll be within walking distance of places of interest such as the Royal Alberta Museum and Rogers Place.
There are many types of accommodation available to rent on Airbnb in Edmonton, such as private rooms, condo units, and apartments, which are some of the most common Edmonton vacation rentals.
However, if you venture farther out, you'll find truly unique stays such as treehouses and cabins. Let's take a look at some of the most popular Edmonton vacation rentals.
Private Rooms
Whether you are looking for something that's right smack in the middle of the city or quieter and peaceful stays in suburban areas, private rooms are pretty much everywhere. Booking a private room is an excellent option for solo travelers or couples on a budget.
Some private rooms come with private bathrooms but others may require you to share them with other guests. You'll also usually have shared access to other common spaces such as kitchens and living rooms. Just make sure to check the description to avoid unpleasant surprises.
Most private rooms provide guests access to washing machines, dryers, and all the amenities you might need for a comfy stay, but the best thing about them is they allow you to stay with a local who can give you insider tips on your destination.
Apartments and Condos
Condo units and apartments are pretty much all over Edmonton and are the perfect choices for couples, families or business travelers, those who would like more privacy. If you're travelling in a group or with children, or just like to have the entire apartment to yourself, these are a good option that doesn't break the bank.
As a general rule of thumb, apartments and condos are cheaper than houses, so if you're backpacking Canada and looking for somewhere to yourself for a while, you might find a good deal with an apartment.
Since most condos and apartments are in tall buildings, you might just get amazing views as a bonus. Located close to city centers, they make the perfect base to explore the surrounding attractions. Sometimes they even come with shared facilities such as pools and fitness centres.
Townhouse
A townhouse is essentially an entire house but they tend to be in older and more historical buildings. These are the best option for families or large groups since they often come with two or more bedrooms.
They are entire rental units, so you get a fully equipped kitchen, modern bathrooms, living areas and a dining room. If you're lucky it might also come with a garden, patio or free parking.
Townhouses are the biggest and often most expensive types of holiday rentals, but split the cost between each member of your group and it can work out to be quite affordable.
Why Stay in an Airbnb?
I can think of many reasons why you would pick holiday rentals over hotel rooms, but here are just a few…
Local Experience: While many Edmonton Airbnbs are managed by companies, they're still locally based. Get the best recommendations for your Edmonton itinerary that you won't find in the guidebooks to make your trip truly special!
Unique Properties: In a place chock full of unique vacation rentals like trendy lofts and eco-lodges, why on earth would you want to stay in a drab and dull hotel?!
Affordability: Airbnbs are considerably cheaper than an equivalent hotel – and you won't have any hidden charges from the minibar either! Airbnbs are possibly the best option for backpackers in Canada that need to keep the costs low.
Safety: It might seem a little weird staying in someone's house; however, both hosts and guests are vetted by Airbnb reviews to ensure the safety of both. Canada is overall safe, and the Airbnb booking security just adds a little extra to it.
Airbnb Experiences: It's not all about where to stay – check out what there is to do in the area with Airbnb Experiences!
The Top 15 Airbnbs in Edmonton
Without making you wait any longer, here are my top 15 favorite Airbnbs in Edmonton. Each of them is special in its own way, so you'll definitely find the right home for you!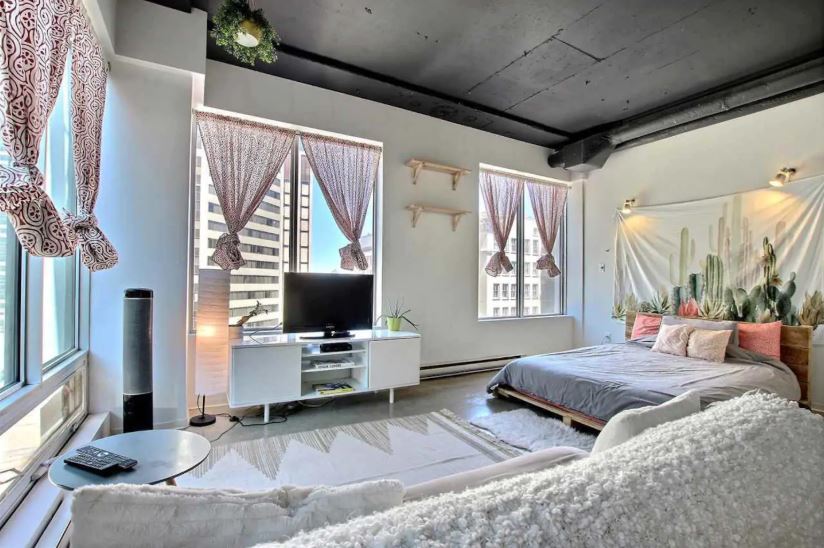 Let's kick off our list of the best Airbnbs in Edmonton with a great value option for solo, business travellers, and couples. The loft is in the heart of downtown, one of the best neighborhoods in Edmonton to base yourself in. If you want to get out of town or to a neighbourhood, the LRT station is actually in the building!
The cool design is a lovely place to spend time, and you won't be disappointed with a night in here. As well as the minimalist and tranquil decor, you can kick back in front of your favourite movie or series on the HD TV. There's even a desk if you need to fire off some emails!
This stunning Airbnb nearly made it to the top of the list, but for now, it's our runner-up recommendation in Edmonton. Located in the best possible spot, you'll be close to Downtown, Rogers Place, the Convention Centre and the Citadel Theatre. On top of that, you'll be surrounded by beautiful cafes, parks and nature.
The designer home offers the ideal getaway for a group of friends or a small family. There's plenty of space so that 5 people can live togethercomfortably.
The beautiful living area is perfect for socializing or chilling on a rainy day. Be sure to make use of the designer kitchen and enjoy the open concept floorplan when everyone gets together after a long day of exploring Edmonton.
$
Bicycles to explore city
Want to stay in a charming Edmonton apartment but can't afford to blow a lot of money? Don't worry, I've found somewhere that will suit you perfectly.
This modern guest suite in Little Italy may be one of the cheapest places in town, but it sure doesn't feel that way. You've got an entire rental unit to yourself, with one bedroom with a queen bed, a cosy living area, and a fully equipped kitchen.
Little Italy is a pretty nice area as there are plenty of markets within walking distance to explore, and with the money you've saved you could even splash out on a tasty meal at a restaurant!
Is This the Best Travel Pack EVER???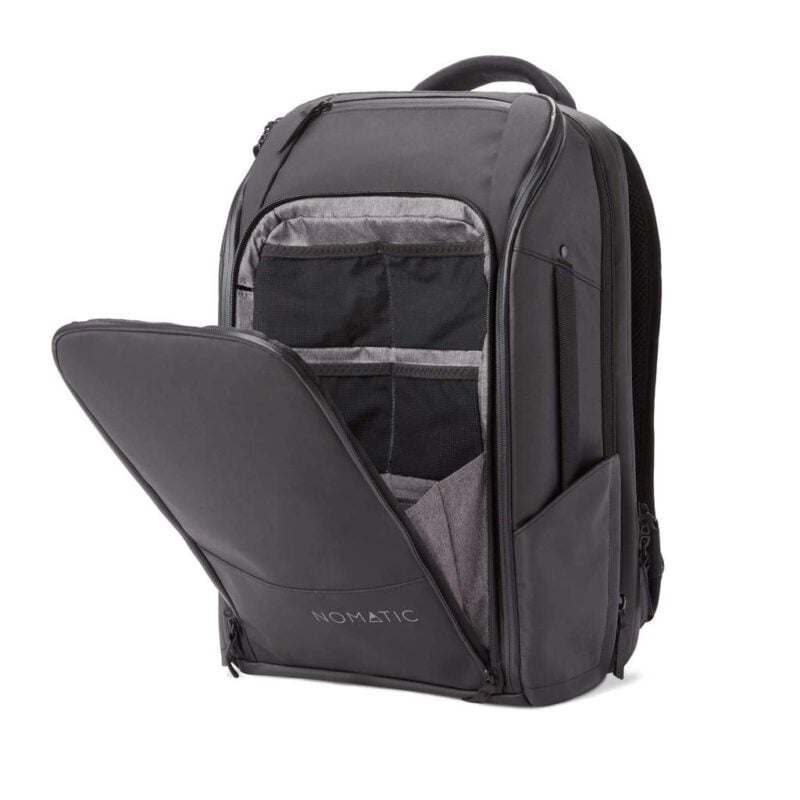 4 Guests
Bright space w/ city views
What's the most important thing for digital nomads? A reliable and speedy Wi-Fi connection and a desk certainly come high on that list. And this awesome Edmonton Airbnb offers both of them things.
Less important but pretty nice to have is the indoor fireplace. That's in the living room, which is one of the most spacious and comfiest places in the penthouse! There are two bedrooms, each with a queen bed, and a balcony overlooking the city.
Not only is this place centrally located and walking distance from downtown, but it's also a really lovely modern apartment in Edmonton.
$
Complimentary Tea and Coffee
If you're travelling solo, most people will tell you to head to a hostel. However, I understand that's not for everyone so I've found a suitable alternative just for you.
This comfy and spacious room is easy on the wallet, but a delight to come to after a long trip or simply just a day of sightseeing. There's even a desk if you've set aside some time to work or study! You have full use of the kitchen to prepare any meals you want, and complimentary tea and coffee.
It's about 15 minutes from downtown, so if you don't fancy making that journey at night, this is a great idea!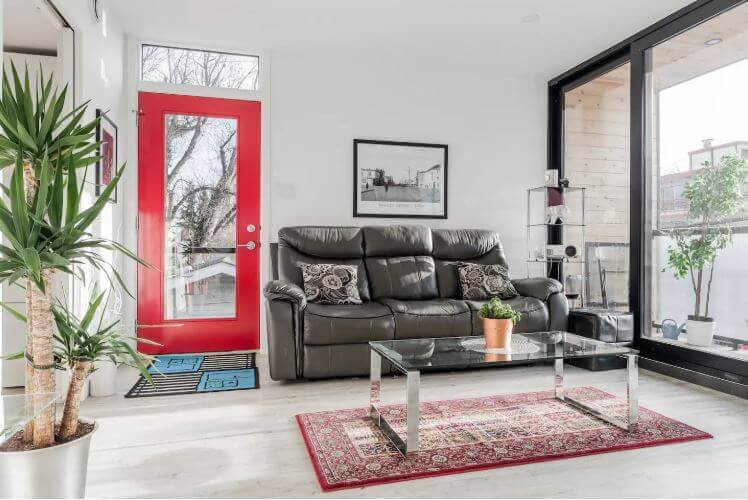 Strathcona has some of the coolest nightlife in town, so it makes sense to search for a place to yourself in that area. And for groups of up to 3, you can't do much better than this!
This cool Edmonton Airbnb is actually set on top of a garage! It's made of recycled shipping container materials so you can be assured that you're doing your bit for the environment while also staying in an awesome apartment!
The main attraction (other than the great location) is definitely the 8 foot screen which you can hook up to the HD movie projector. Perfect for a pre-night out show!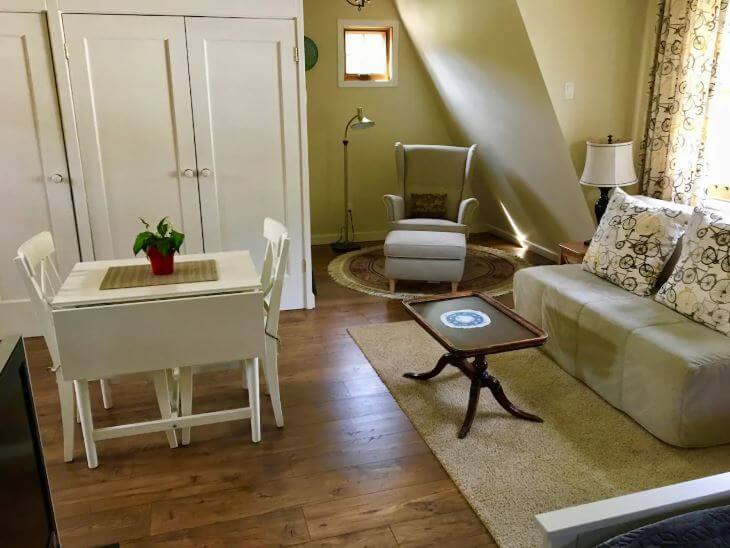 $$
Peaceful and comfortable
Some quality time together is exactly what you need when you're travelling with your other half. And this warm and cosy Edmonton Airbnb will give you exactly that!
Set a little out of the city centre, and with a twist of countryside in the decor, it really is a home away from home.
The small apartment has its own private entrance but it's another property above a garage! The hosts are on-site in their house, and they're happy to help you with any recommendations for discovering the capital of Alberta!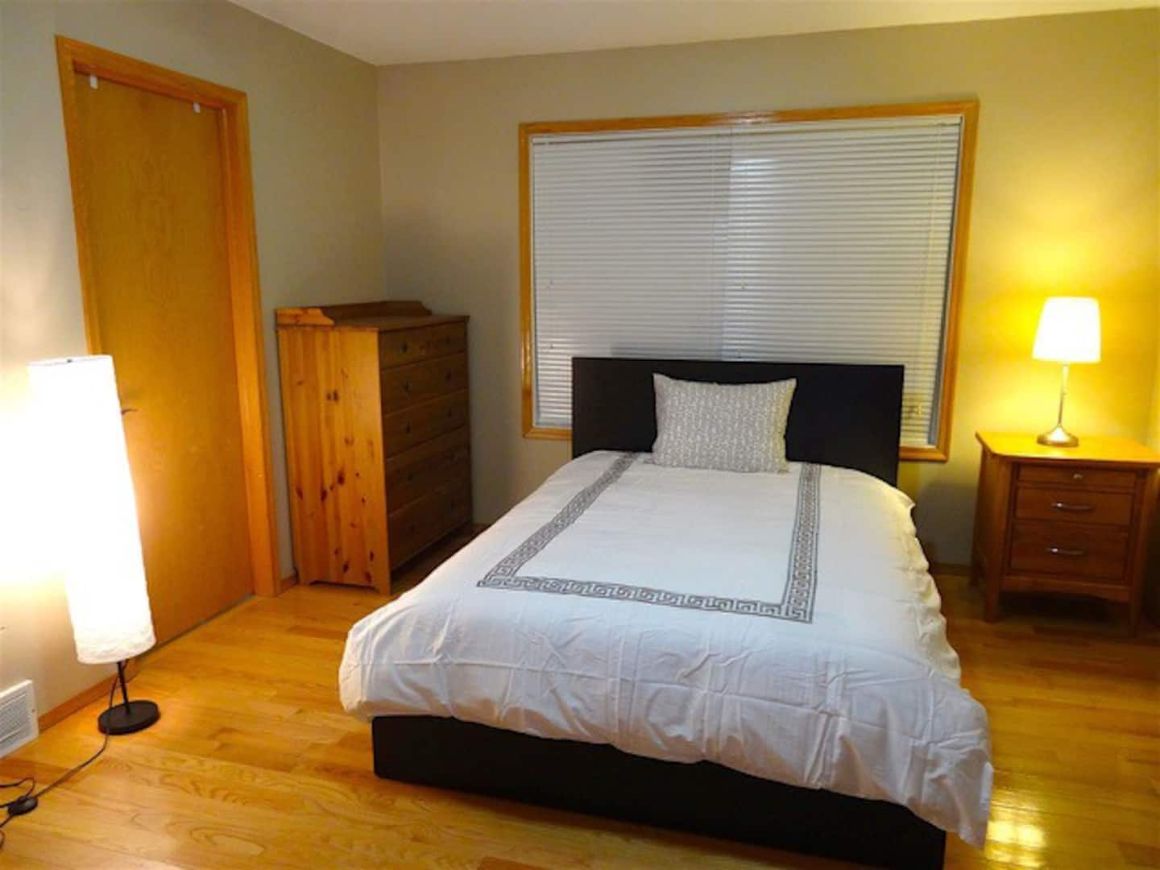 $
Super close to University
2 Guests
Spacious work station
A great way to save yourself some cash and get to know a new city is by staying with a local. So, let us show you the best homestay in Edmonton!
Your friendly host not only provides you with a comfortable and clean room but with some top knowledge about the surrounding area and things to do! In the room, you'll find a great bed, enough space to put away your clothes and a big desk.
The Airbnb is located just 5min from the University and can be rented daily, weekly or even super long term. It's an ideal spot for students on a budget or Digital Nomads that need to get some work done.
This Airbnb is one of the most stylish and well-equipped homestays in Edmonton. You have a massive room all to yourself, including a private bathroom.
It's nestled in an amazing modern home that's incredibly clean, super bright and airy, and run by two of the nicest people you can find in Edmonton.
You'll have your space to hang out in if you want some privacy, but there's also a shared living area with a fully equipped kitchen. Plus you're only a stone's throw from downtown.
$$$$
Steam room, jacuzzi and balcony
This is the type of place that Airbnb is all about. One of the coolest short-term rentals in Edmonton, this penthouse loft is right in the heart of downtown. It's been custom designed and is full of natural light and contemporary finishes.
You'll be able to enjoy one of the finest views of the city from here, perhaps while you're enjoying the hot tub, balcony and steam room! You're also located near downtown, just a stone's throw from Rogers Place.
So, if you've got the money for it, why wouldn't you pick an Edmonton apartment that has an outdoor patio complete with a hot tub, sauna, bar, and BBQ? I know I would!
There's even a putting green so you can practice your golf swing! Awesome or what?! The downside is it's very expensive. However, this place definitely becomes more affordable if you split it with 5 other people!
$$
Family-friendly with baby gate
6 Guests
Fully equipped kitchen
This great Edmonton Airbnb is equipped for families of all ages. With a baby gate and pack n' play, if you're travelling with little ones this is the perfect place for you.
Located in West Edmonton near the West Edmonton Mall, you'll be close to a whole host of restaurants and entertainment. You'll also have all the comforts from home including a fully equipped kitchen!
On a sunny day, head out to the garden and fire up the BBQ. You really can't do much better if you travel to Edmonton with the family!
$$$
Cooking basics provided
For a group of mates, you'll want something with plenty of space that's affordable when split between your group. This awesome Edmonton Airbnb ticks those boxes!
Want to all make a meal together? Then use the fully equipped kitchen to save money over going to a restaurant. Instead, spend the money you saved on going to a game at the nearby arena!
Want to gaze out over the cityscape? This high-rise Edmonton apartment offers one of the best views in the city! It's suitable for up to three people, but if you're a couple, this is a really good option as there is only one king bed.
Not only do you have that romantic view (especially at sunset), but you also have a stylish living area, a fully equipped kitchen and a washing machine.
There's plenty of space to relax before you get ready to explore the area. Speaking of, you'll be in the heart of Downtown Edmonton and close to all awesome hotspots!
$$$$
Panoramic floor to ceiling windows
I know you've seen a lot of awesome apartments in Downtown Edmonton and I promise this is the last one! It's a bit of a wildcard, as it's pricier than some of the others on my list. However, if you're happy to splash the cash, you certainly won't regret it.
The panoramic floor to ceiling windows in this super cool loft gives awesome views of the city, while those with their own transport will be delighted to know they get free parking here! You also get access to the building's facilities, such as a fitness center and an outdoor terrace with a fire pit.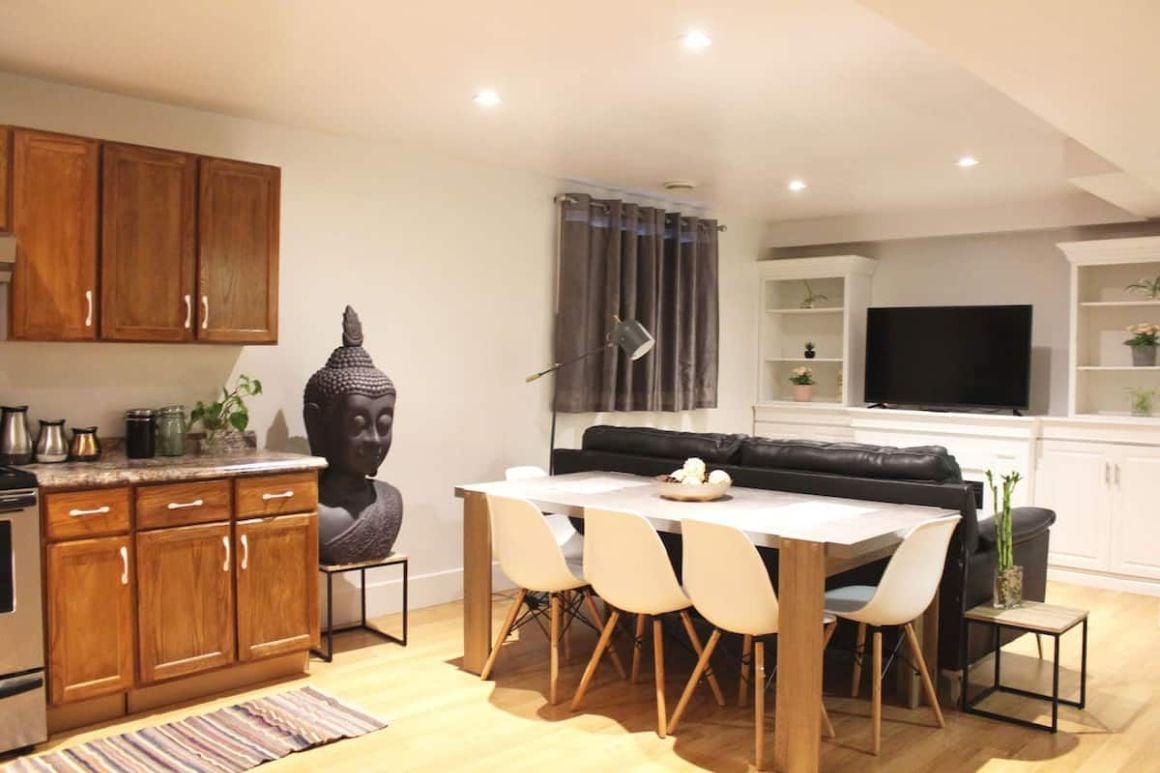 $$
Near West Edmonton Mall
Last but not least, we're heading out of the centre. West Edmonton has a super cool mall that is high on many tourist itineraries – so it makes sense to find a place near there too.
This stunning Airbnb accommodates 4 guests, but I'm going to be honest and scale that down to 3 for a more comfortable stay. It's a great place for a small family or a group of friends and is located in a peaceful area, so a good night's sleep is guaranteed.
There's a fully equipped kitchen, ready to be used, and a charming little living area – perfect for socializing and sharing stories after a long day of exploring the area.
FAQ about Airbnbs in Edmonton
Here's what people usually ask us when they look for vacation homes in Edmonton.
Don't Forget Your Edmonton Travel Insurance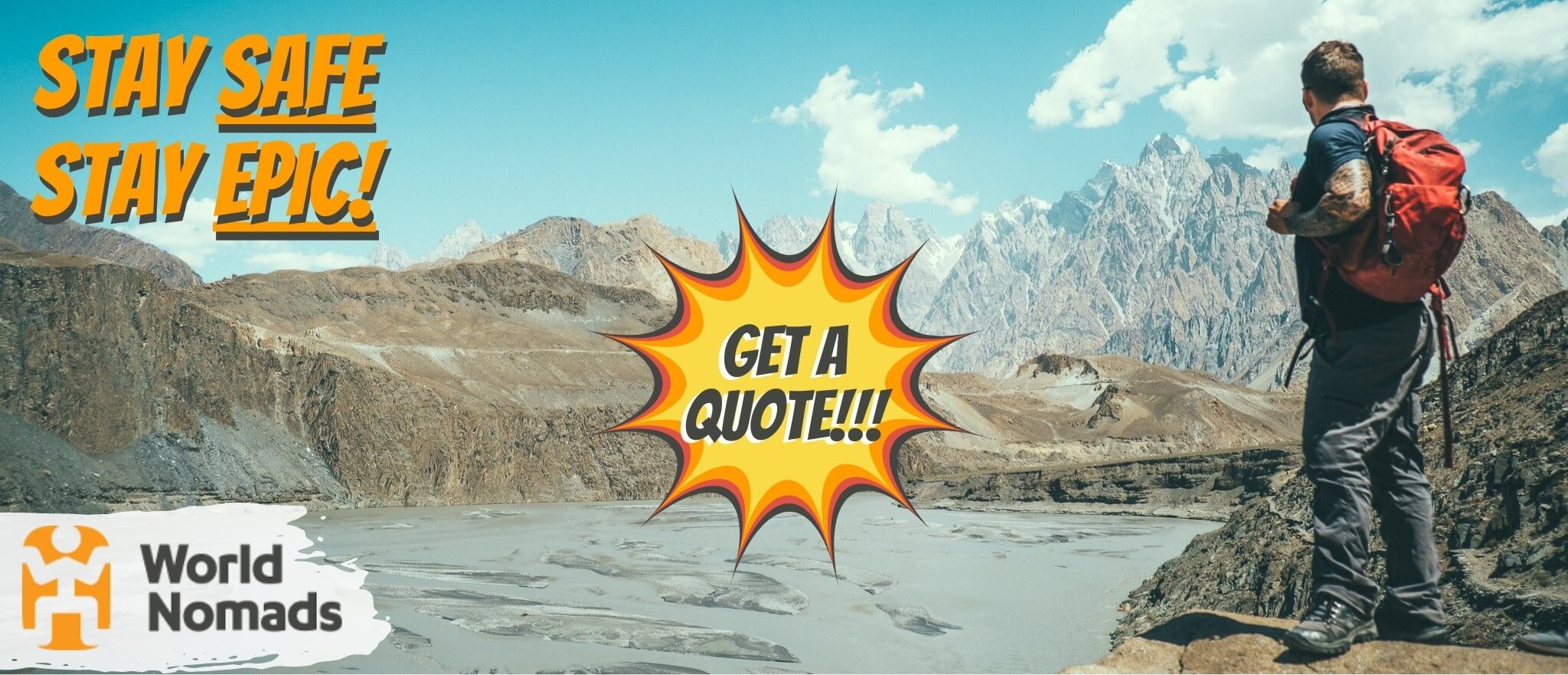 World Nomads' mission is to support and encourage travellers to explore their boundaries. They offer simple & flexible travel insurance, and safety advice to help you travel confidently.
They've been doing it since 2002 – protecting, connecting, and inspiring independent travellers just like you.
Get a quote below or read our in-depth review!
World Nomads provides travel insurance for travelers in over 100 countries. As an affiliate, we receive a fee when you get a quote from World Nomads using this link. We do not represent World Nomads. This is information only and not a recommendation to buy travel insurance.
Final Thoughts on Edmonton Airbnbs
So, that's it for the best Airbnbs in Edmonton. I think you'll agree that there are a wide variety of options for you to choose from on my extensive list before you start properly planning your holiday. I really have taken all budgets and travel styles into accommodation!
The city is pretty cool as you can stay in a friendly homestay with a warm and welcoming family, a small house in the middle of the best nightlife, or a private room where you can get loads of work done before enjoying the city's attractions. Rentals in Edmonton really do cater to everyone!
And if you're still having trouble deciding on your Airbnb in Edmonton, don't worry. I know I've given you a lot of choices but just go for my best value option – Beautiful Modern Minimalist Loft. It scores highly on location, style, and price!
All that's left for me now is to wish you an awesome vacation in Edmonton. Have a great time!
---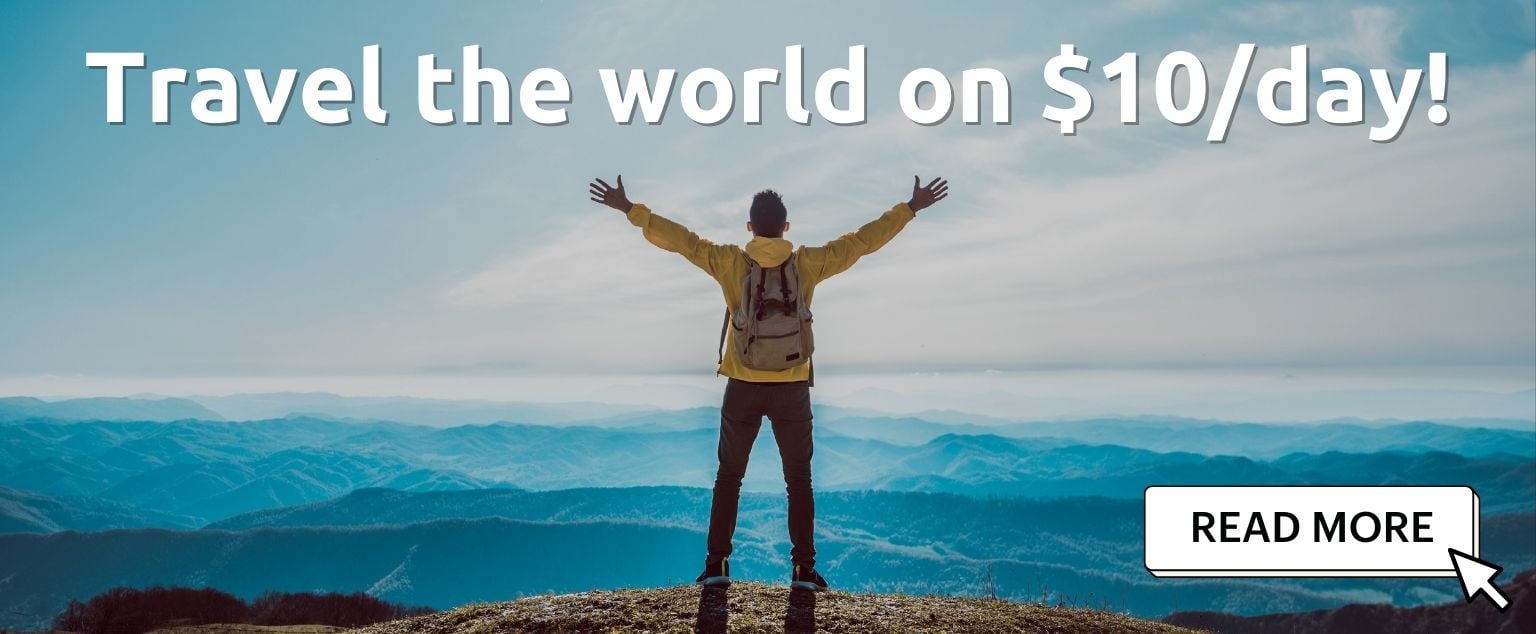 And for transparency's sake, please know that some of the links in our content are affiliate links. That means that if you book your accommodation, buy your gear, or sort your insurance through our link, we earn a small commission (at no extra cost to you). That said, we only link to the gear we trust and never recommend services we don't believe are up to scratch. Again, thank you!