Let's talk about periods, menstruation, PMS. It's okay, you don't need to freak out.
Most people have adopted to this weird culture where we just have to pretend it doesn't exist. But how sad is that? Everyone has come from a person who's been visited by Auntie Flow.
Most of us with bleeding uteruses were taught that we had two options to deal with it: tampons or sanitary pads. Let's be honest, when you're travelling, neither of these are exactly convenient.
Long haul flights aren't often more fun when you're pissing blood down your leg. Then you still have to figure out the product situation in whatever country you're in. Besides incredible inconvenience, they are also terribly flawed: they are unhygienic, they cost money, and they are incredibly unsustainable, to name but a few.
Now, we are in a revolution of sustainable menstrual products. No longer are we bound by these two bloody options. We are being greeted by new and improved options that are kinder to us, our planet, and make travelling a whole lot easier too.
So here are the BEST sustainable period products on the market today. They're ready to change your life.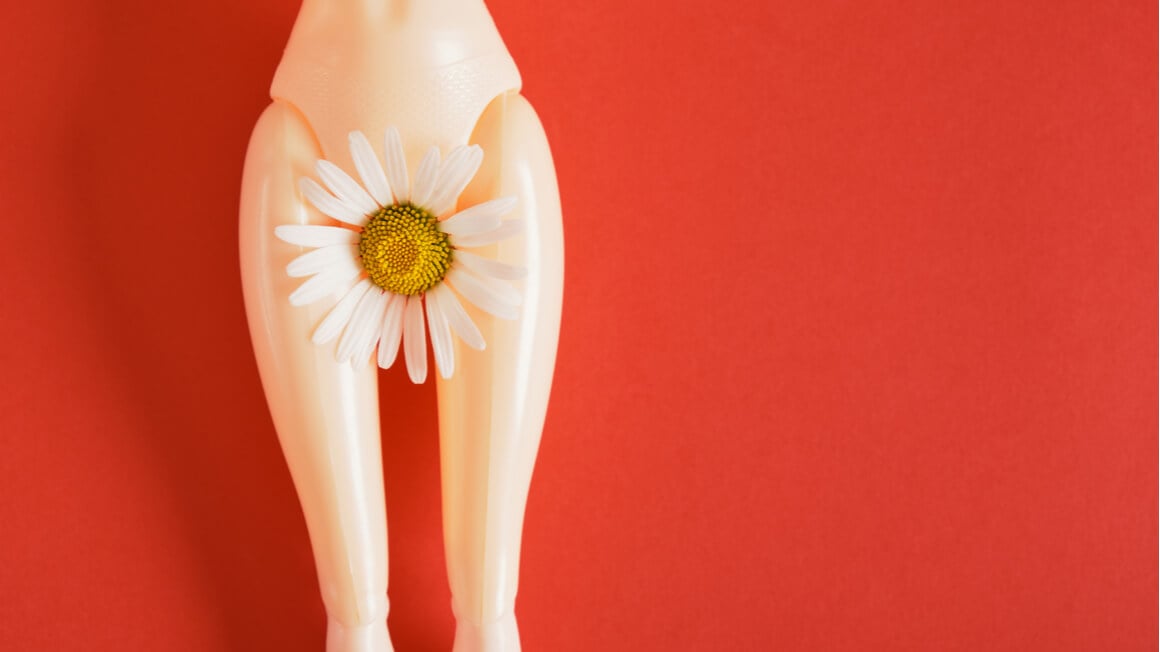 Why Should You Use Eco-friendly Menstrual Products?
Having to find sustainable period products should be the least of our worries. Most of the time, you're just trying not to be a crazy bitch. You're elated one minute, furious the next, then crying your heart out, and that's just while watching Moana… again.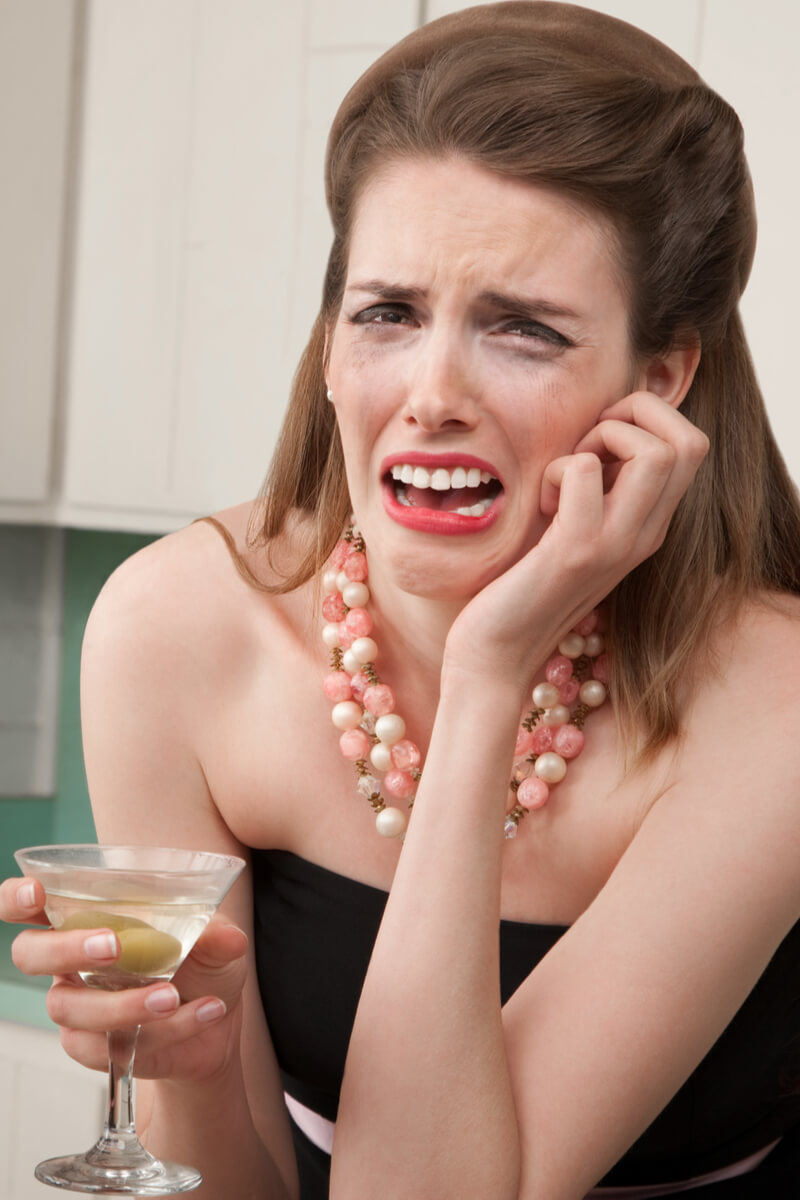 Then I have to deal with bleeding out of my vagina – and pay for the pleasure to do so? And that's going to happen every month?
If single-use options, tampons or pads, weren't flawed enough from the get-go anyway, they're also laced with plastic. The plastic in these products takes between 500 and 800 years to degrade.
Yep – that's all the bloody products we have already used in our lifetime here for the best part of the next millennium. That's not often included when you're talking about sustainable travel.
Fortunately, we are in an amazing era of technology and empowerment with eco-friendly period products. They bring a wave of new options for those of us who menstruate.
They're designed to be comfortable, easy to use, hygienic, save you money, AND more sustainable. What more could you ask for, really?

Do You Want to Travel FOREVER??
Pop your email in below to get a FREE copy of 'How to Travel the World on $10 a Day!'.
Two bloody options – really?
So to manage this monthly visit from the painters, we were generally taught two options: pads or tampons. Sustainability aside, they come with pros and cons on top of that.
Pads: They are safe – especially for newbies. Plus, they aren't tricky to get the hang of.

They are, however, super bulky and uncomfortable. They are a breeding ground for bacteria and, to me, they're disgusting.
Tampons: Once you have the know-how, they are much more comfortable and discreet than pads and a little bit less gross.

They pose a high risk of Toxic Shock Syndrome, which can be fatal.
It's estimated that the average person who menstruates can use more than 6000 tampons in their lifetime. Pad users can use upwards of 8000 single-use products!
If you imagine that all piled up, it's pretty absurd. Especially as they'll be here for several hundred years after we're gone. It's about time that sustainable period products were readily available.
Don't even get me started on paying for them. Many countries are even still taxing tampons as a luxury item at 20%! Sick bastards.
We are making a difference by using reusable period products. After all, we're pretty intelligent as the human race goes. Finding the right product for you can change your life.
While we're making it more eco-friendly, dealing with our periods is safer, cheaper, and more comfortable. Here are the best sustainable menstrual products to try out today.
5 Top Sustainable Period Products
While there are more options when you're trying to deal with PMS, here are 5 of the best eco-friendly period products!
1. Most Sustainable Menstrual Product – The Menstrual Cup
You've probably heard of the moon cup – but that's actually just 1 sustainable brand. It seems like every day there's a new one coming on the scene. This little device showed up a few years ago and started making waves – particularly within the solo female travel community, where I first heard of it.
It was the first reusable period product that caught my attention. And when I read the reviews, they were just outstanding. You know when it's a little too good?
This is a silicone cup that sits where a tampon sits and catches it. You then simply wash it out and reuse it as many times as you need to. At the end and start of your period, you just boil it for 10 minutes to sterilise it.
The method does take a little getting used to. But once you've got the hang of it, you won't need a new product for many years to come. I gave this the hard test when I went trekking and volunteering in Nepal. It's definitely the most sustainable period product (and my favourite) on the market at the moment.
Pros:
You can wear them for up to 12 hours with no risk of TSS

They are comfortable and safe to sleep in

They are becoming increasingly available

Reusable for years

You only need 1
Cons:
They take a bit of getting used to

You can sometimes get some leaking

Public toilets are not always ideal for washing it (bring a bottle of water!)
These are what they say on the tin: a sanitary pad that you wash and reuse. They're a great choice to travel with consciousness.
No more plastic products making you sweat and stink to be left on the Earth for several hundred years. The bamboo and charcoal neutralise odours and they're breathable. You can also find pads available in hemp too which does a similar job.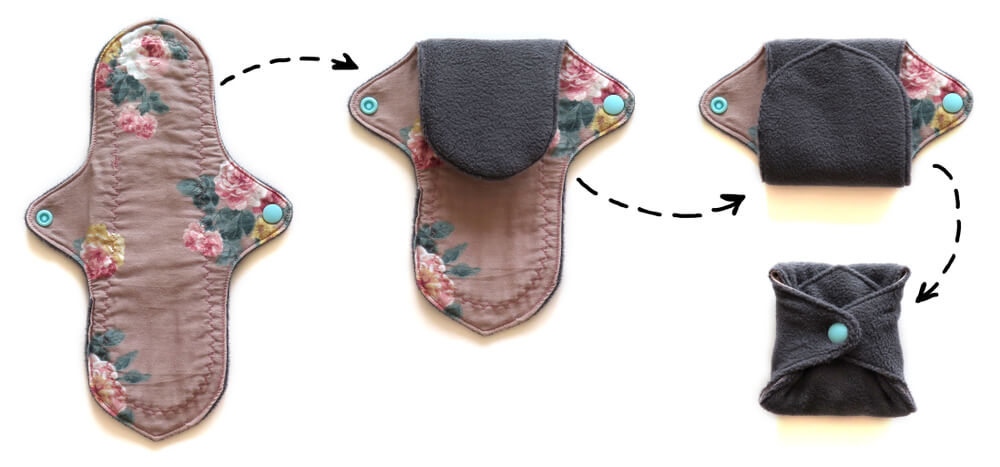 They come with a little pouch that you tuck them in when you have used them. Then you just rinse them and chuck them in with your normal clothes wash. Easy.
I would say that if you forget to wash them, it can be a little minging. Plus it feels strange at first washing it with your other travel clothes. So you need to change your routine slightly when you use these.
Pros:
They are breathable

They fight bacteria and also absorb odours making them more hygienic

You can use them for 5 – 10 years then you can compost them

They come in cute designs
Cons:
Some people don't like pads – straight up

If you forget to wash them you're buggered
Small Pack Problems? 😉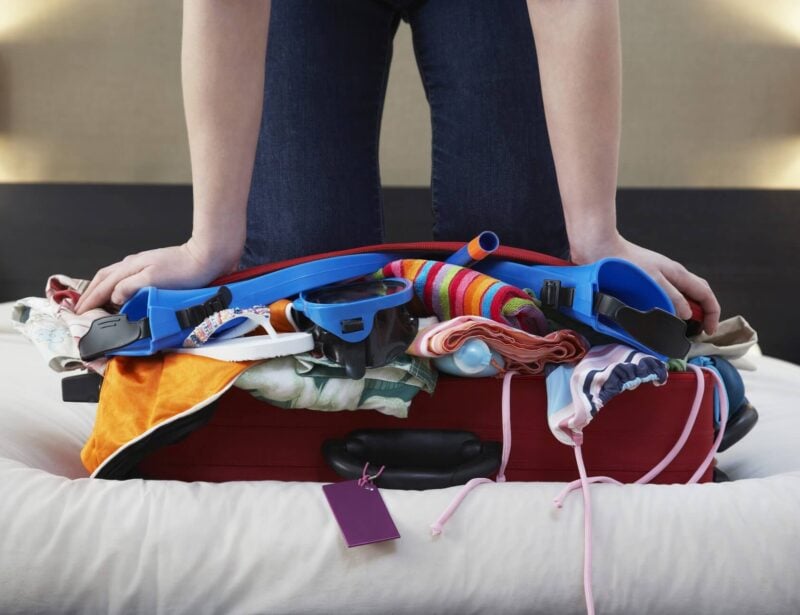 My missus travels with all her clothes in ziplock bags: don't be like my missus. UP YOUR PACKING GAME!
Packing cubes for the globetrotters and compression sacks for the real adventurers – these babies are a traveller's best kept secret. They organise yo' packing and minimise its volume too so you can pack MORE.
Or, y'know… you can stick to ziplock bags.
View Our Fave Cubes
Or Check Out the Sacks!
3. Best Discreet Eco-friendly Sanitary Products – Leak-proof Underwear
Super discreet leak-proof underwear can hold up to 4 tampons worth. These are one of my favourite sustainable period products to use right now: they're designed to prevent leaks and, in my opinion, they look good! They're one of the best sustainable travel clothes to pack and definitely evolving with style AND comfort in mind. 
There are endless sustainable brands selling these now so you won't struggle to find a style and colour that suits you. They are great to be paired with something else if you need extra protection.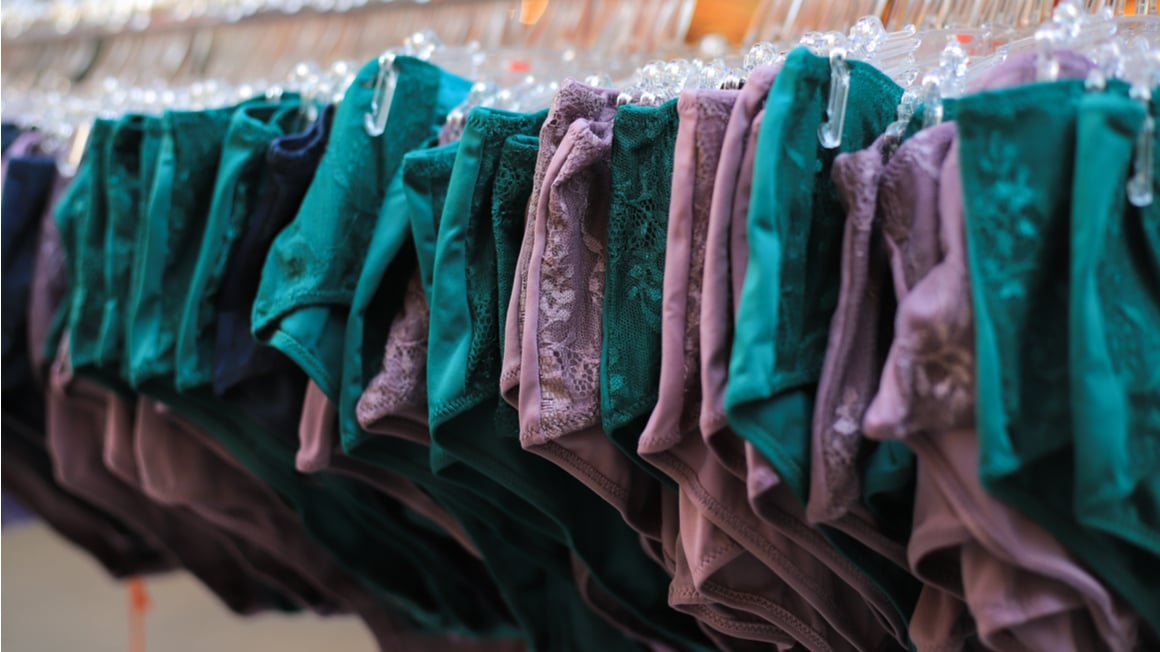 Although, you may need several of them if you use them exclusively per period. They're not the most budget-friendly option in this case. I personally think they're best to pair with another eco-friendly menstrual product.
Pros:
They look good!

You don't have to change all the time 

Comfortable to wear all day 

Great to pair with another period product to completely prevent leaks
Cons:
Not ideal if you like to change regularly 

They are quite expensive 

You'll need several pairs if you use them exclusively 
Normal tampons certainly have their uses. They're super discreet, most bathrooms are prepared for them, and they're easy to carry around. But is it absolutely necessary that they contain that much plastic?
Actually, no. Now you can get biodegradable tampons. They're usually made from organic cotton and they're chemical and bleach-free.
Unfortunately, they're not readily available everywhere. Especially if you're planning things like travelling to Southeast Asia where normal tampons barely exist, never mind biodegradable ones. Also, they still pose the same risk of TSS as normal tampons.
But if you still like to use tampons and you're ready to change it up to be kinder to the planet, you have a perfect step on the ladder.
Pros:
You don't have to change your routine

They're great for compost!

Becoming more readily available
Cons:
More expensive than standard products 

In some countries, they still don't exist

Still risk Toxic Shock Syndrome 
There are definitely some people out there that just do not like anything going up. That's fair enough. You have your own relationship with your fairy.
Having to wash reusable sanitary pads is not always convenient either. Nor is it necessarily an appealing job. Even the best hostels for women aren't always equipped for the new eco-friendly menstrual technology.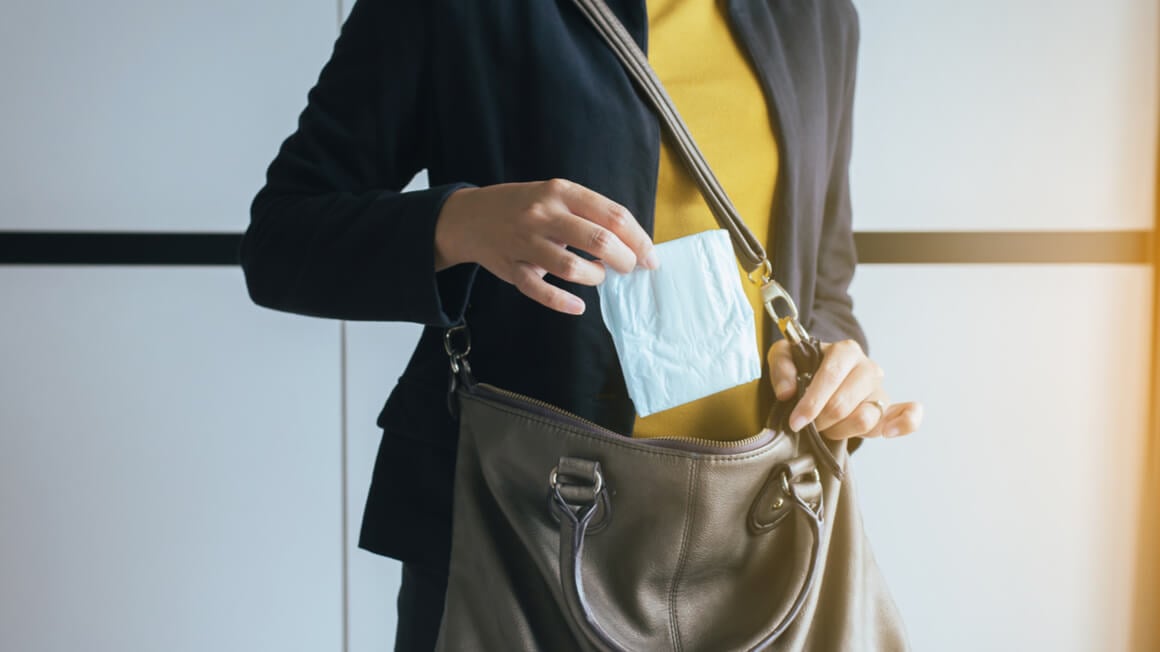 If you don't want to change up your routine much, but you are wanting to make a more eco-conscious choice, biodegradable pads are great. As well as being more sustainable, they're actually more breathable. That means a healthier, happier vagina – yay.
Pros:
Great if you're still figuring our your period

You can keep your same routine

No Toxic Shock Syndrome risk
Cons:
You still have throw away several products a month 

You can't find them everywhere

Not good if you don't like pads
An Eco-Friendly Traveller NEEDS an Eco-Friendly Backpack!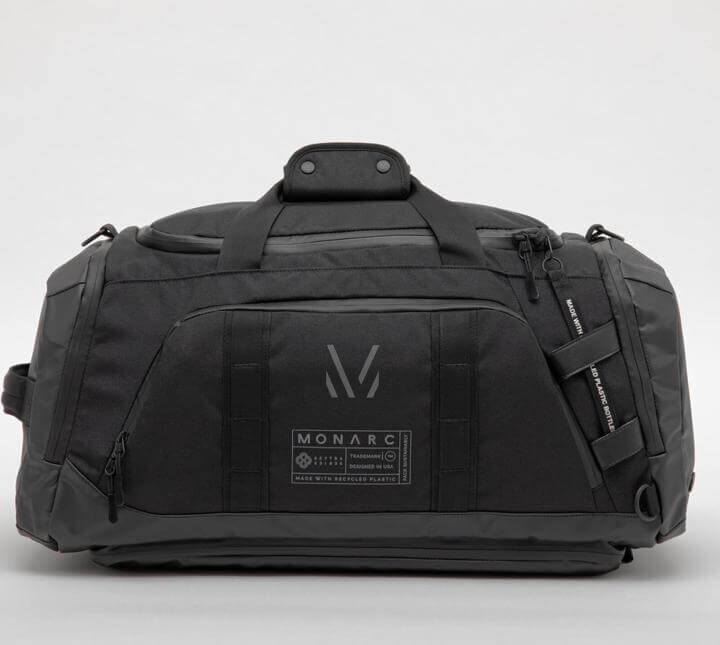 50 recycled plastic bottles – that's what goes into every Monarc Settra: the world's MOST SUSTAINABLE backpack.
Whether you're rocking duffel mode or backpack mode, if you're a traveller that gives a flying hoot about their environmental impact, then there's only one backpack you should consider – the plastic-negative Monarc Settra.
Learn More Now!
Final Word: The Best Eco Period Products
Using the best reusable period products can change your life. No longer are we stuck between a rock and a hard place when it comes to dealing with your period in an eco-friendly way.
I mean, don't get me wrong. I don't love my period anyway. But I feel lucky that I have more choice about how I deal with it than many people throughout history.
At the end of the day, there's nothing like feeling empowered. For me, I feel empowered every time I don't have to buy tampons and pads to deal with this monthly bullshit. And Mother Earth is much happier too.
So if you've never tried any of these eco-friendly menstrual products before, it's never too late! They're designed to make your life easier without compromising who you are. Don't just take my word for it either, take the millions of other people's words who are taking their first steps in sustainable period products too.
Now go and put Moana back on and have a little cry if you need to – it's all good.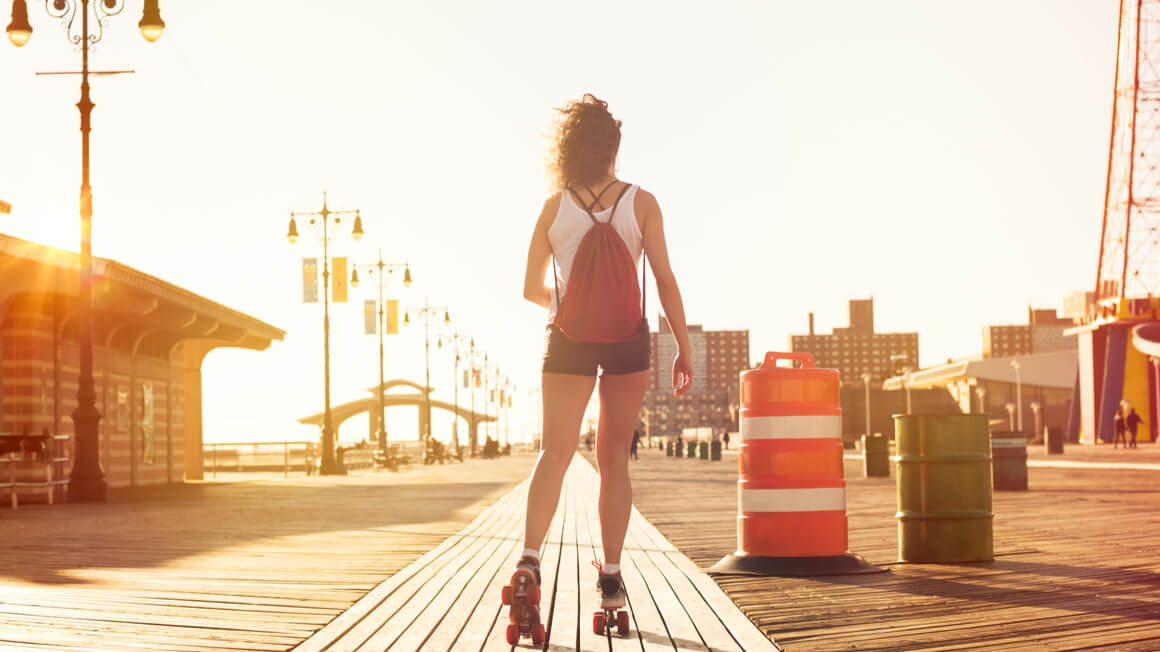 ---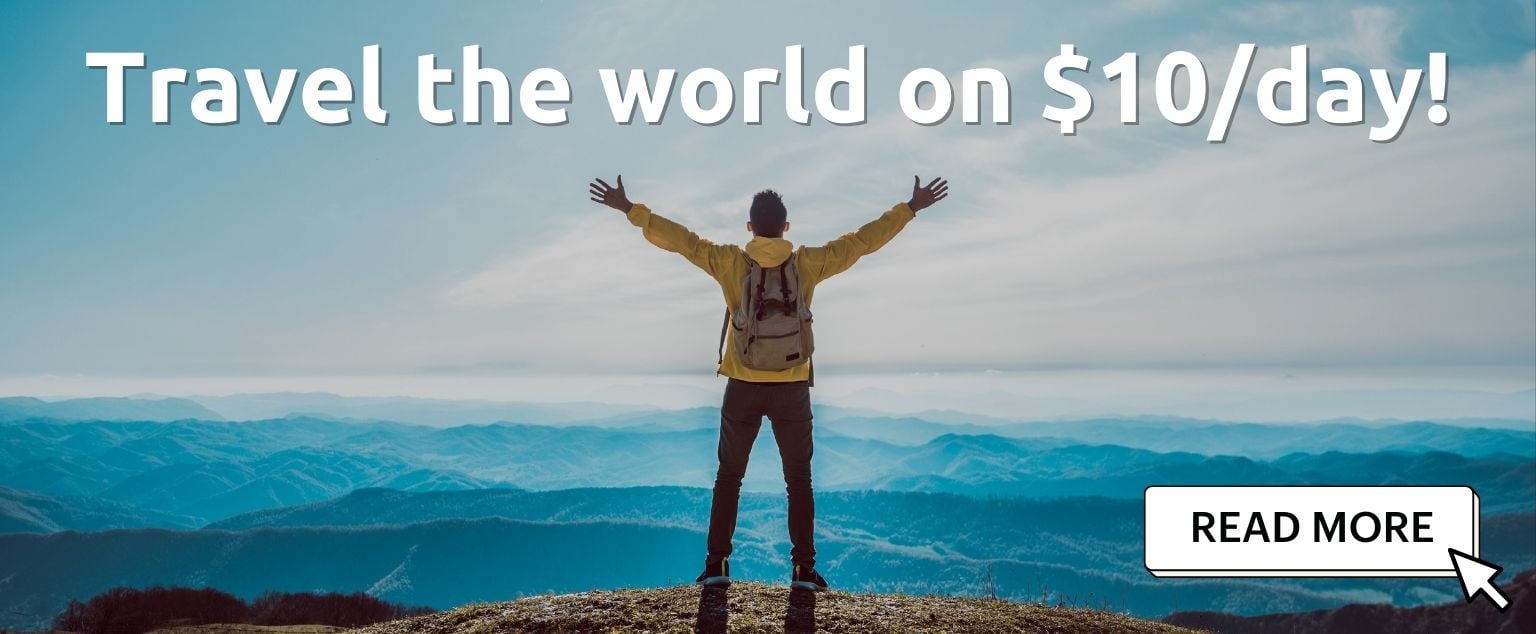 And for transparency's sake, please know that some of the links in our content are affiliate links. That means that if you book your accommodation, buy your gear, or sort your insurance through our link, we earn a small commission (at no extra cost to you). That said, we only link to the gear we trust and never recommend services we don't believe are up to scratch. Again, thank you!