Alabama is a state with rich cultural history, a list of music icons to call its own, space museums to leave anyone awestruck, and legendary film sets. However, Alabama also has a ton of natural landscapes to discover and explore. The Heart of Dixie is blessed with nature that can leave one speechless.
To appreciate and enjoy the picturesque mountains of Alabama, to be able to take a cool dip in a lake any time of the day, to head off down winding paths leading off to caves and caverns, and to stumble upon one of the many cascading waterfalls, staying in a cabin in Alabama is the only way to fully appreciate all this.
Forget hotels, resorts, and apartments if you wish to feel the fresh air and the bright sun of the state. Staying in a cabin in Alabama will take you to the heart of nature and wilderness, an experience that hotels simply can't offer.
If you're looking for a cabin in Alabama to meet your style but don't know where to start. Don't worry, my list of cabins in Alabama is the top ones you'd find in the state – ones that will bring you closer to the free-flowing rivers and soaring mountains.
Let's get started!
In a Hurry? Here's Where to Stay in Alabama for One Night
FIRST TIME IN ALABAMA
Serenity Cabin
This cozy cabin in Danville is your ticket to a no-frills natural retreat in Alabama. However, if the beauty of the state made you want to explore, the cabin provides super-easy access to some of the most popular trails in the region. With this cabin and its affordable rates, it's a win-win on all fronts.
Places to visit:
Bankhead National Forest
Rocky Creek Farm
Civil War Museum
Is this amazing Alabama Cabin booked for your dates? We've got your back with our other favorite properties below!

Unlock Our GREATEST Travel Secrets!
Sign up for our newsletter and get the best travel tips delivered right to your inbox.
Staying in a Cabin in Alabama
Cabins in Alabama are designed to amplify your experience of the state's scenic outdoors. Alabama has miles and miles of recreational trails and you'll find most cabins close to several of them. Another common feature found in many cabins in Alabama is a lake out front. In such cabins, you also get access to docks that are designed creatively to launch boats, dine, and lounges on, late at night.
From the tranquil lakes to the splendid Appalachians, Alabama's scenic beauty is unmatched. If you are hoping to stumble onto caves and caverns, taking boat rides on waterways that lead off the beaten paths, seeking endless opportunities to hike, fish, swim, and enjoy the great outdoors, then a unique accommodation such as a cabin in Alabama, is the right pick for an adventurer like you.
What to Look For in a Cabin
The first thing you need to consider is the location. Most cabins are in remote areas, and so it's common that you'll need to travel a little distance out of towns to get to your remote cabin. It goes without saying, you're gonna need a car. The road to your cabin may not be suitable for standard vehicles, so it's a good idea to check this out first to see if you need to rent a 4×4.
Though they are remote, they are not skimping on luxuries. WiFi, parking premieres, lake access, and fire pits are some of the most common amenities found in cabins in Alabama. Because of the remote environment in the wilderness, the majority of them have fully-equipped kitchens. Family-friendly cabins go as far as providing ovens and baking sheets to keep the little ones happy during vacations.
Lakefront cabins also provide towels, life jackets, showers, and other paraphernalia to accommodate water activities.
However, you should check what previous guests say about the cell service and WiFi strength. Part of the fun of staying in a cabin in Alabama is being off the grid, but if this isn't what you signed up for you, you just need to check whether the WiFi and cell service is sufficient before booking. Just remember to take a portable battery pack with you in case the power goes out.
Alabama has no shortage of amazing cabins for travelers. Whatever you're looking for, you are sure to find it in the beautiful great outdoors of the state. My list of cabins is all-encompassing and created with different kinds of travelers in mind. If you like to be thorough in your research, Vrbo has a lot more choices for you to help you make up your mind.
OVERALL BEST VALUE CABIN IN ALABAMA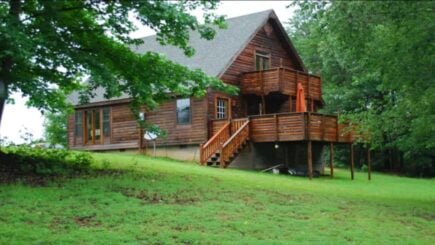 OVERALL BEST VALUE CABIN IN ALABAMA
Serenity Cabin
> $
> 6 Guests
> Game console
> Tons of outdoor activities
BEST BUDGET CABIN IN ALABAMA
BEST BUDGET CABIN IN ALABAMA
Whippoorwill Creek Ranch Cabin
> $
> 2 Guests
> Hot water
> Situated within 15-acres of Whippoorwill Creek Ranch
BEST CABIN FOR COUPLES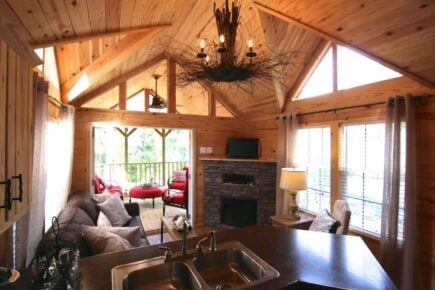 BEST CABIN FOR COUPLES
Deep Water Cabin
> $$
> 2 Guests
> Hammock
> Waterfront property
BEST CABIN FOR HONEYMOONERS
BEST CABIN FOR HONEYMOONERS
Mountainside Cabin
> $$
> 2 Guests
> Spa whirlpool
> Mountainside
BEST CABIN FOR A GROUP OF FRIENDS
BEST CABIN FOR A GROUP OF FRIENDS
Creekside Cabin
> $$
> 6 Guests
> Hammock
> Waterfront
OVER-THE-TOP LUXURY CABIN
OVER-THE-TOP LUXURY CABIN
Waterfront Log Cabin
> $$$$
> 12 Guests
> Pocket WiFi
> Located on Smith Lake
BEST CABIN FOR FAMILIES VISITING ALABAMA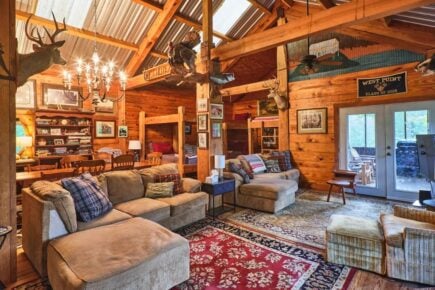 BEST CABIN FOR FAMILIES VISITING ALABAMA
Lake Farm Cabin
> $$
> 7 Guests
> Books and reading material
> Waterfront property
The Top 10 Cabins in Alabama
With views you want to capture in your mind forever and activities as exciting or as cozy as you wish, this list of top Alabama cabins offers options to help you find the getaway of your choice!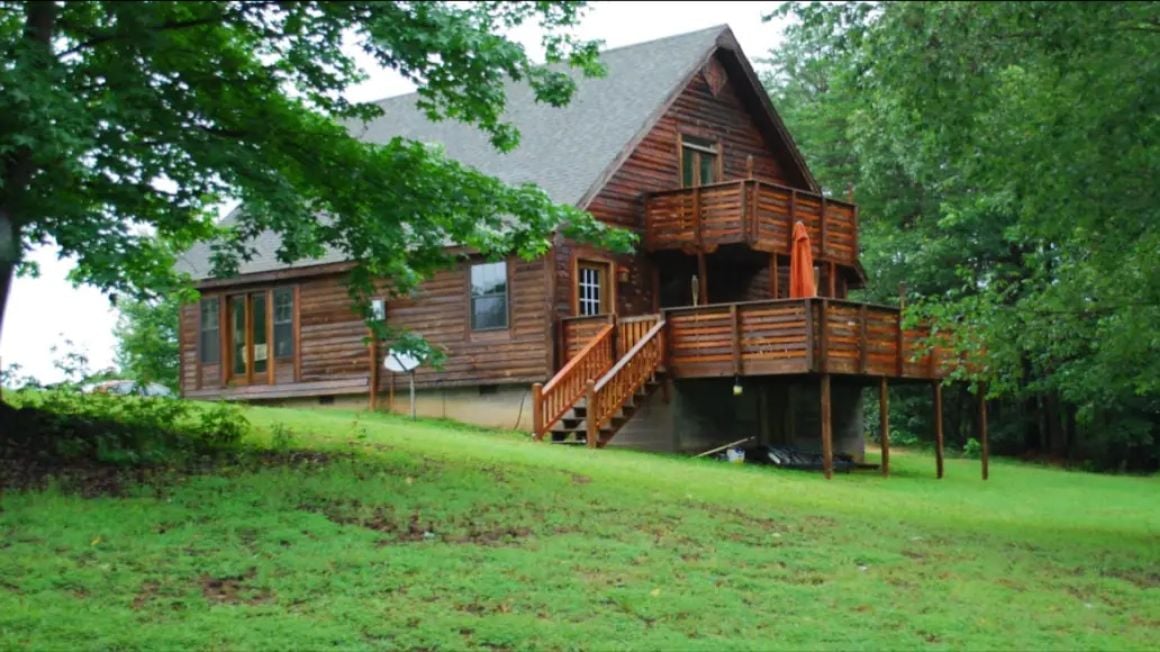 $
6 Guests
Game console
Tons of outdoor activities
This cabin is the perfect solution for all those who wish to enjoy the natural beauty of Alabama and all the outdoor activities but wish to have a budget vacation in the USA.
Just like the name suggests, the Serenity Cabin is situated in a tranquil setting in Danville, Alabama, where you can just sit and relax around campfires in the massive green backyard. And when you feel like having some fun, head over to the popular Rocky Creek Equine Trails where you can explore your surroundings on a horseback. There are even boarding facilities nearby for those bringing their horses.
The breathtaking Bankhead National Forest is also just minutes away where a morning hike has the potential to fill you with enlightenment. The cabin itself is cozy and spacious, with open balconies that let the outside serenity seep in. The fully-equipped kitchen also lets you fix yourself some comfort food or a meal fit for a king.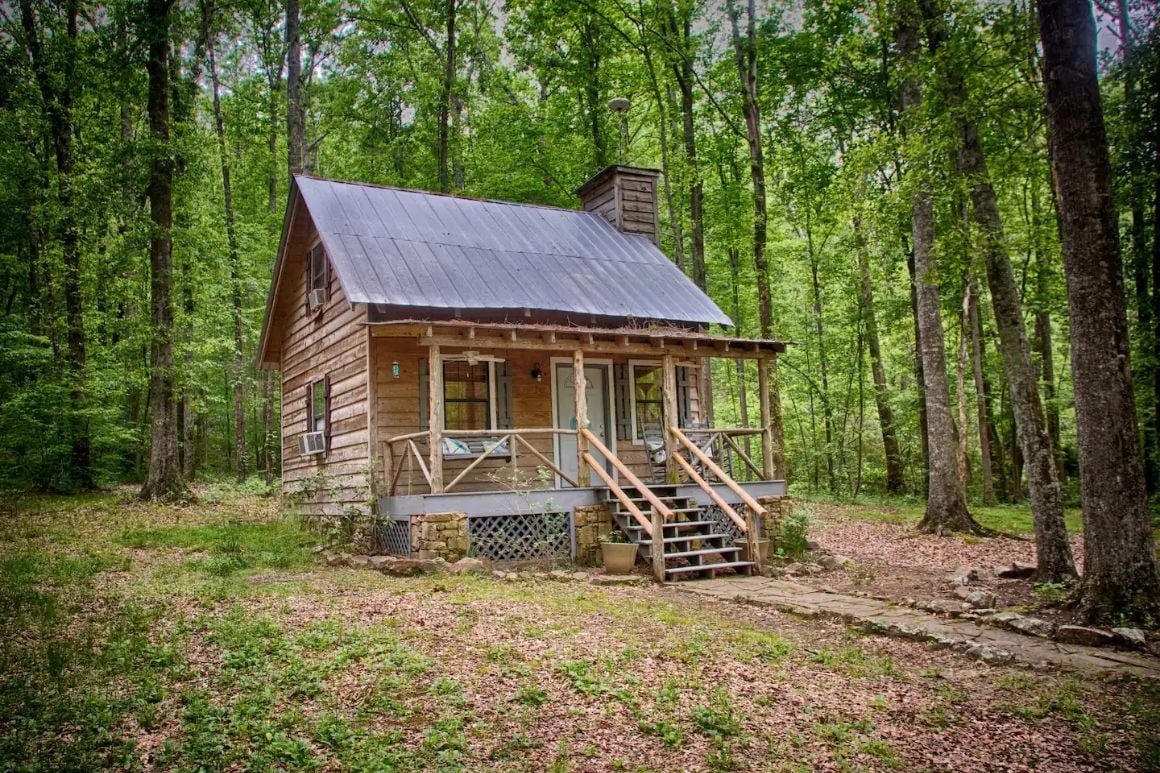 $
2 Guests
Hot water
Situated within 15-acres of Whippoorwill Creek Ranch
This shingled little lodging is as quaint and cozy as you would expect a cabin to be, with neat, and cute décor, modern amenities – perfect for those looking for quiet and relaxation.
Situated on 150-acres of beautiful Whippoorwill Creek Ranch in Altoona, with a spring nearby, the rustic cabin offers an open floor plan with the living room, a fully-equipped kitchen, and a bathroom.
There's a comfy loft with a queen bed for you to have the best sleep of your life. With woods all around, this cabin gives you abundant access to trails for hiking and a back porch where you can kick back and lose yourself in the natural beauty.
Best Cabin in Alabama for Couples – Deep Water Cabin
$$
2 Guests
Hammock
Waterfront property
This low-ceiling, first-class cabin located on the deep-water shores of Smith Lake in Crane Hill is ideal for a getaway for two.
The gorgeous cabin with its slanted-roofs, wooden shingles, warm lights, and neat and modern décor makes for a cozy and magical time with your significant other. The neighborhood is safe and allows for lots of privacy and the views from the cabin are to die for.
Some of the most popular restaurants are nearby Trident Marina. For fun and recreation, head over to the boat pier or the swim dock and enjoy water activities. The lake is also excellent for fishing. Don't forget to check out William Bankhead Forest National Park, Caney Creek Falls, and the natural bridge.
Best Cabin in Alabama for Honeymooners – Mountainside Cabin
$$
2 Guests
Spa whirlpool
Mountainside
With a pointed roof that stands head-to-head with treetops, the wilderness that runs all around and tumbles into DeSoto State Park, and trails that run alongside the Appalachian Mountains, this rustic cabin is as romantic as they come.
Perfect for honeymooners, this cabin in Fort Payne was originally built using timbers from a 100-years old cotton mill, and still maintains that old-world charm and cozy aesthetics.
The cabin features a sparkling hot tub from which you can enjoy the views of the jutting mountains and wilderness, a fully-equipped kitchen, a warm living room, and much more. And when you feel you have relaxed enough, head out to the trails to enjoy hiking, horseback riding, and sightseeing in the foothills of the Appalachian Mountains.
You can also hone your skiing or golfing skills at the Cloudmont Ski & Golf Resort. The Historic Mentone, DeSoto State Park, DeSoto Falls, and Little River Canyon give you plenty to do.
Is This the Best Backpack EVER???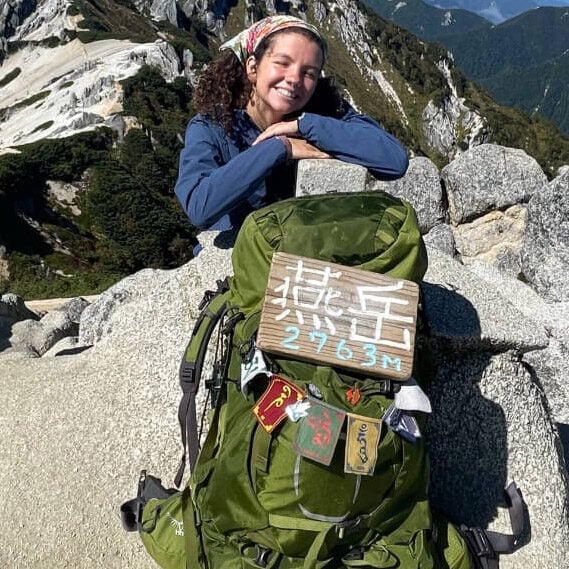 Best Cabin in Alabama for a Group of Friends – Creekside Cabin
$$
6 Guests
Hammock
Waterfront
Situated by a tranquil creek, in Lauderdale County, this authentic cabin is the perfect place to stay and enjoy the spectacular beauty of Alabama. With room for six people, the cabin is best suited for a group of friends seeking a retreat far from the crowd. While secluded, the cabin is only 15-minutes from Downtown Florence, so if you feel like spending a day exploring the local culture, you know what to do.
Peaceful days in this cabin are spent sitting on the back porch, grilling, and falling asleep to the sound of the creek. Or you can splash and play around without a worry, especially since the concrete rock shower downstairs is specifically built to help you rinse off. Or you can take long hot baths in the 106-years old refinished bathtub, with a breathtaking view of the creek.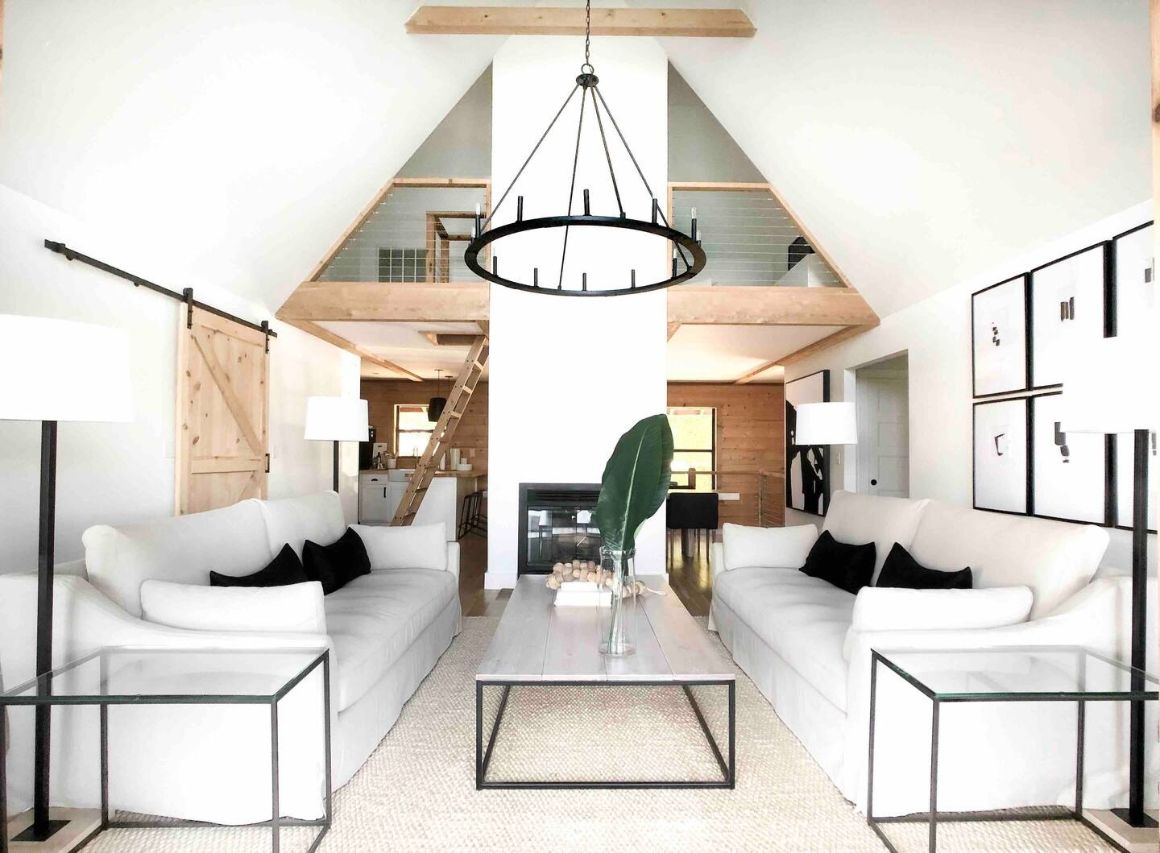 $$$$
12 Guests
Pocket WiFi
Located on Smith Lake
In an idyllic setting, right atop beautiful Smith Lake, with caves and jutting rocks, precious green clearings, and beauty all around, this is one of the most luxurious and dreamy cabins in Alabama. With custom-furnishings and every possible comfort known to man, the deluxe waterfront cabin is perfect for a party of 12 planning to treat themselves like royalty.
This 3,000 sq ft of lodgings has three levels, and a wraparound porch that gives an uninterrupted view of the lake. Every window in the cabin provides panoramic views of its surroundings. From there, you can take the adventurous walkway down to the lake where there are caves and rock formations you can get lost in.
By the lake, there is a two-level dock for lounging and launching your boats, paddles, and kayaks in the lake. For indoor entertainment, you have a media room, a game room, and much more to keep you relaxed and occupied during this dream vacation.
Best Cabin in Alabama for Families – Lakeside Cabin
$$
7 Guests
Books and reading material
Waterfront property
Want a vacation that strengthens your family bonds? This cabin in Perry County is perfect for it! Less like lodging and more like a destination, the cabin has a mesmerizing privately-managed lake out front, where you and the family can swim, boat, and enjoy all water activities at your leisure.
Then there's the farm, where you can walk and purchase some fresh produce, and cook a feast in the fully-furnished kitchen.
This place is equipped to make sure parents visiting with young ones have all the help and facilities needed to make this vacation a breeze. In this family-friendly cabin, you'll find children's books and toys, a high chair, bunk beds, and babysitter recommendations.
On top of that, the cabin is kept single-leveled to eradicate the need for stairs, in the case of toddlers and the elderly. Pets too are allowed. Families traveling with an electric vehicle will also find a charger in this cabin.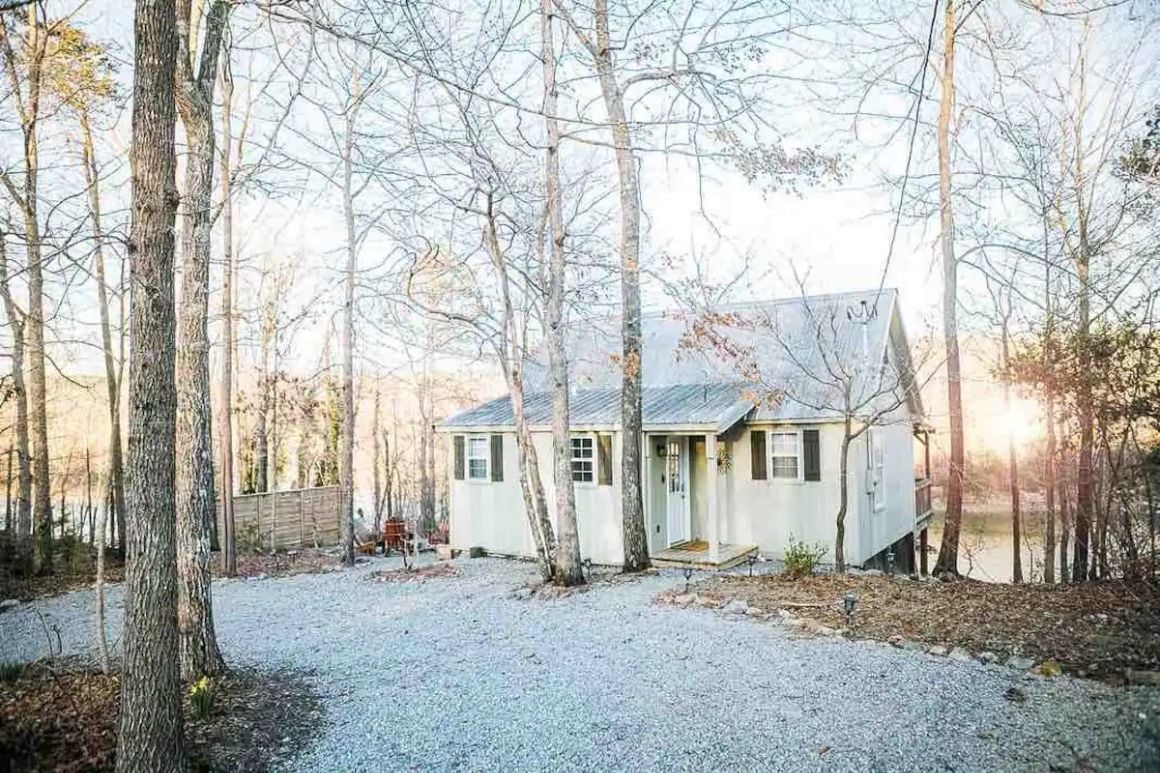 $$
6 Guests
Kayak, boat slip
Waterfront property
If small, warm, and snug cabins aren't your thing, don't worry. This family-friendly cabin comes with a twist. While situated across the shimmering Lake Smith, in the woods, in a green clearing – just like a typical cabin – this one has a light and bright décor. High vaulted ceilings, massive windows, and a white color scheme make it perfect for those who like spacious and airy lodgings.
Don't be mistaken though, this cabin is still comfy. Spending time here means, sitting with your family on the porch, enjoying the beautiful panoramic views of the lake and the occasional wildlife passing by. This would be the ultimate cabin for a Christmas holiday together.
You can start your day here with a boat ride or kayaking leisurely across the lake. Since the lake is recognized as deep water, the host responsibly provides three life jackets for adults and three for children.
$$
4 Guests
Spa whirlpool
Various Entertainment Options
For those planning a weekend of relaxation and enjoyment, this quaint cabin in Mentone has everything in and around it to provide one of the best mini-vacations to its guests.
With room for four, this cabin is nestled in the woods, with rusty décor, cozy sleeping arrangement in the loft, WiFi, DVD player, back porch swings, hot tub, games, book stereo, fire pit, and a lot more for just chilling and kicking it back.
And when you are all rested-out, you can go high-octane in DeSoto State Park, DeSoto Falls, Cloudmont Ski & Golf, and the Little River Canyon just a few minutes from the cabin.
Best Cabin in Alabama for Backpackers – Little River Cabin
$
4 Guests
HDTV with cable, books, and reading material
A panoramic view of the river and the mountain
Little River Canyon is one of the most gorgeous spots in Fort Payne, Alabama, and this little shingle cabin gives you quick access to it, at a fraction of a price.
The cozy cabin is situated in an idyllic location and is a perfect base for backpackers in the USA to explore the gorgeous surroundings. Staying here means having numerous hiking trails nearby, lakes to swim, fish, and enjoy water activities.
Furthermore, there are several rock-climbing facilities nearby. The cabin features a living space, a kitchenette, a bedroom with a queen bed, and a bathroom. Outside, there's a comfy swing on the wraparound porch, and a fire pit in the backyard.
Don't Forget Your Alabama Travel Insurance
ALWAYS sort out your backpacker insurance before your trip. There's plenty to choose from in that department, but a good place to start is Safety Wing.
They offer month-to-month payments, no lock-in contracts, and require absolutely no itineraries: that's the exact kind of insurance long-term travellers and digital nomads need.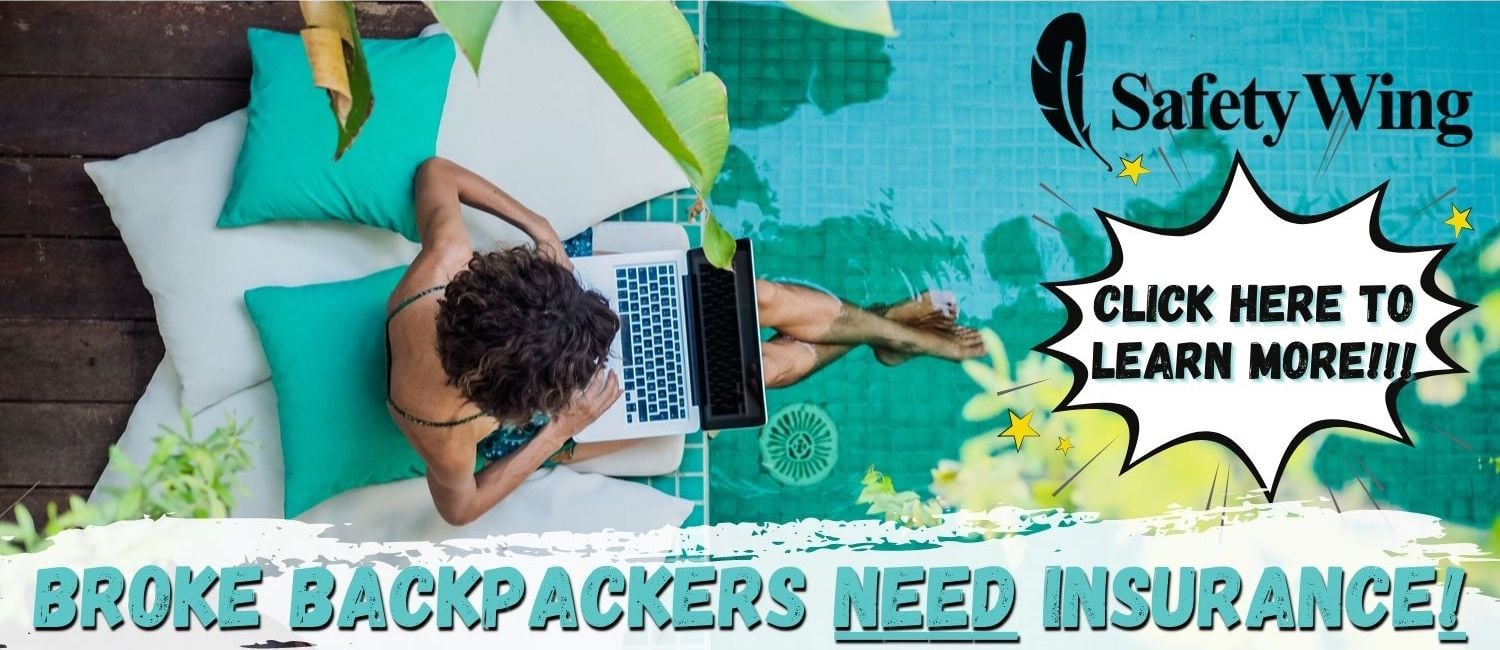 SafetyWing is cheap, easy, and admin-free: just sign up lickety-split so you can get back to it!
Click the button below to learn more about SafetyWing's setup or read our insider review for the full tasty scoop.
Final Thoughts on Alabama Cabins
Alabama's spectacular natural beauty makes it one of the most winning destinations to visit. No matter which cabins you choose from this list of unique accommodations in Alabama, you'd find yourself on a journey of exploring wild and mesmerizing beauty.
From wildlife to waterfalls, from rich cultural heritage to hidden caves and caverns, the best cabins in Alabama will expose you to the best that Alabama has to offer!
If this is your first time visiting the state of great adventures, consider protecting yourself against major and minor inconveniences with travel insurance. If you are heading off to Alabama for relaxation and peace of mind, you better go all the way to relieve yourself from worries of unforeseen risks and financial losses.
---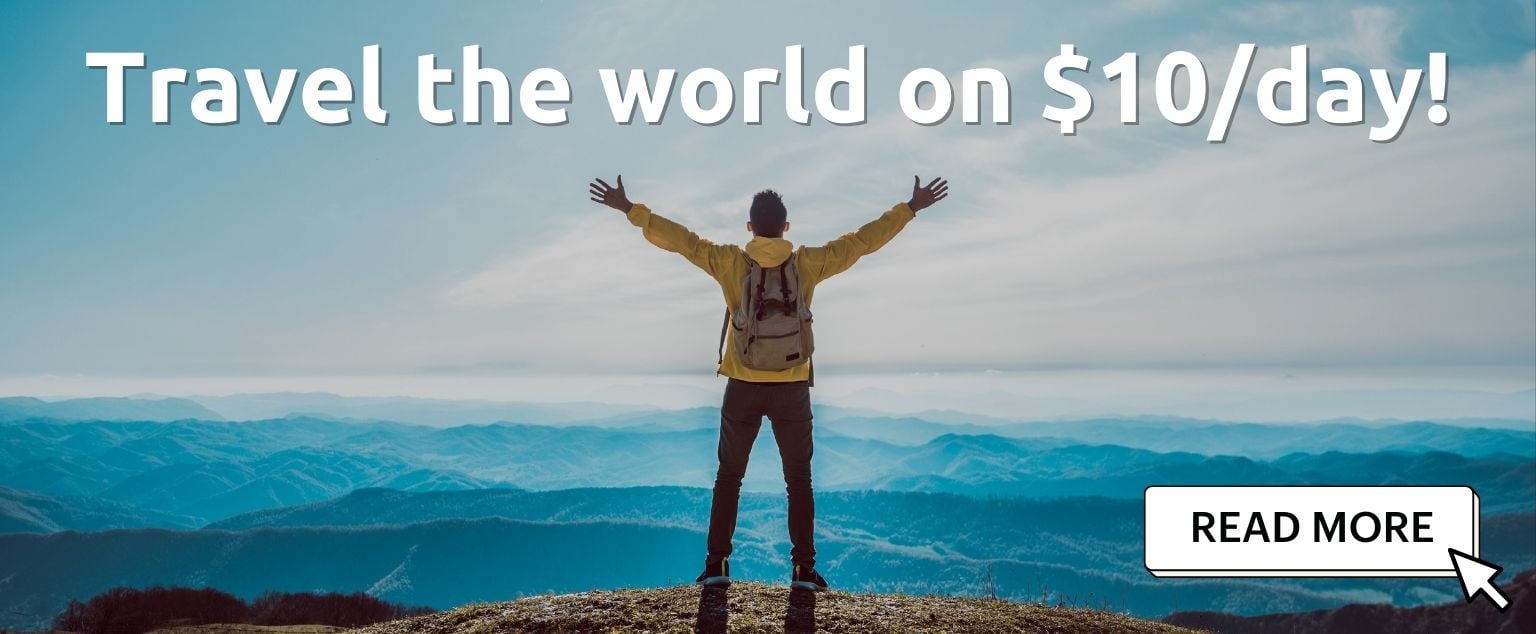 And for transparency's sake, please know that some of the links in our content are affiliate links. That means that if you book your accommodation, buy your gear, or sort your insurance through our link, we earn a small commission (at no extra cost to you). That said, we only link to the gear we trust and never recommend services we don't believe are up to scratch. Again, thank you!