So you want to go to Guatemala… We're all for it! 
There's a whole lot of amazing nature to explore here – and history too. From the colonial buildings of Antigua to ancient Mayan ruins of Tikal, you'll be in a wonderland full of archaeological sites and steamy jungles.
But Guatemala hasn't always been the safest place in Central America and it still necessarily isn't. Scams, petty crime, robberies, gang violence, and volcanic eruptions combine for a melting pot of intimidation.
So, of course, you may want to know – is Guatemala safe? We totally get it. 
Which is why we've written this guide on safety in Guatemala. We're all about smart travel and we want you to be able to explore this INCREDIBLE country and stay safe at the same time!
This guide is packed full of useful information regarding your Guatemala safety concerns. Is it safe to visit Guatemala right now after the recent volcanic activity?
Whether you've concerns on if it's safe to drive in Guatemala, how safe it is for American tourists, and if it's is for solo female travellers in Guatemala; it's all in here! Let the adventure begin.

Unlock Our GREATEST Travel Secrets!
Sign up for our newsletter and get the best travel tips delivered right to your inbox.
There is no such thing as a perfect safety guide, and this article is no different. The question of "Is Guatemala Safe?" will ALWAYS have a different answer depending on the parties involved. But this article is written for savvy travellers from the perspective of savvy travellers.
The information present in this safety guide was accurate at the time of writing, however, the world is a changeable place, now more than ever. Between the pandemic, cultural division, and a click-bait media, it can be hard to maintain what is truth and what is sensationalism.
Here, you will find safety knowledge and advice for travelling Guatemala. It won't be down to the wire cutting edge info on the most current events, but it is layered in the expertise of veteran travellers. If you use our guide, do your own research, and practise common sense, you will have a safe trip to Guatemala.
If you see any outdated information in this guide, please help out your fellow travellers and reach out in the comments below! We strive to provide the most relevant travel information on the web and always appreciate input from our readers (nicely, please!). Otherwise, thanks for your ear and stay safe!
It's a wild world out there. But it's pretty damn special too. 🙂
Updated February 2023
Is Guatemala Safe to Visit Right Now?
Yes, Guatemala is safe to visit right now. Though you must know some crutial safety information. Natural disasters, jungles, history, public transport, and violent crime all play a part in the safety of Guatemala today.
For a long time, Guatemala wasn't necessarily safe – but that never stopped us. Like the rest of Latin America, Guatemala has problems that just require a fair bit of savviness.
Guatemala is another jewel on the Central American trail. There's trekking, exploring ancient Mayan history, kicking back on a beach on the Pacific or Caribbean Coast, and so much more.
There are high crime rates in Guatemala that don't generally involve tourists. But travel warnings and stats don't paint a true picture of what it's actually like.
Most violent crime is gang-related i.e. only affects locals in certain areas. Tourists and toutist areas are rarely affected. That doesn't mean you can travel around without a care in the world, however. 
You also have to understand how the civil war still affects the county. For a long time, violence was the norm in Guatemala.
As is often the story in Latin America, corruption and political trouble never seem to be too far off. Guatemala is also still a developing country.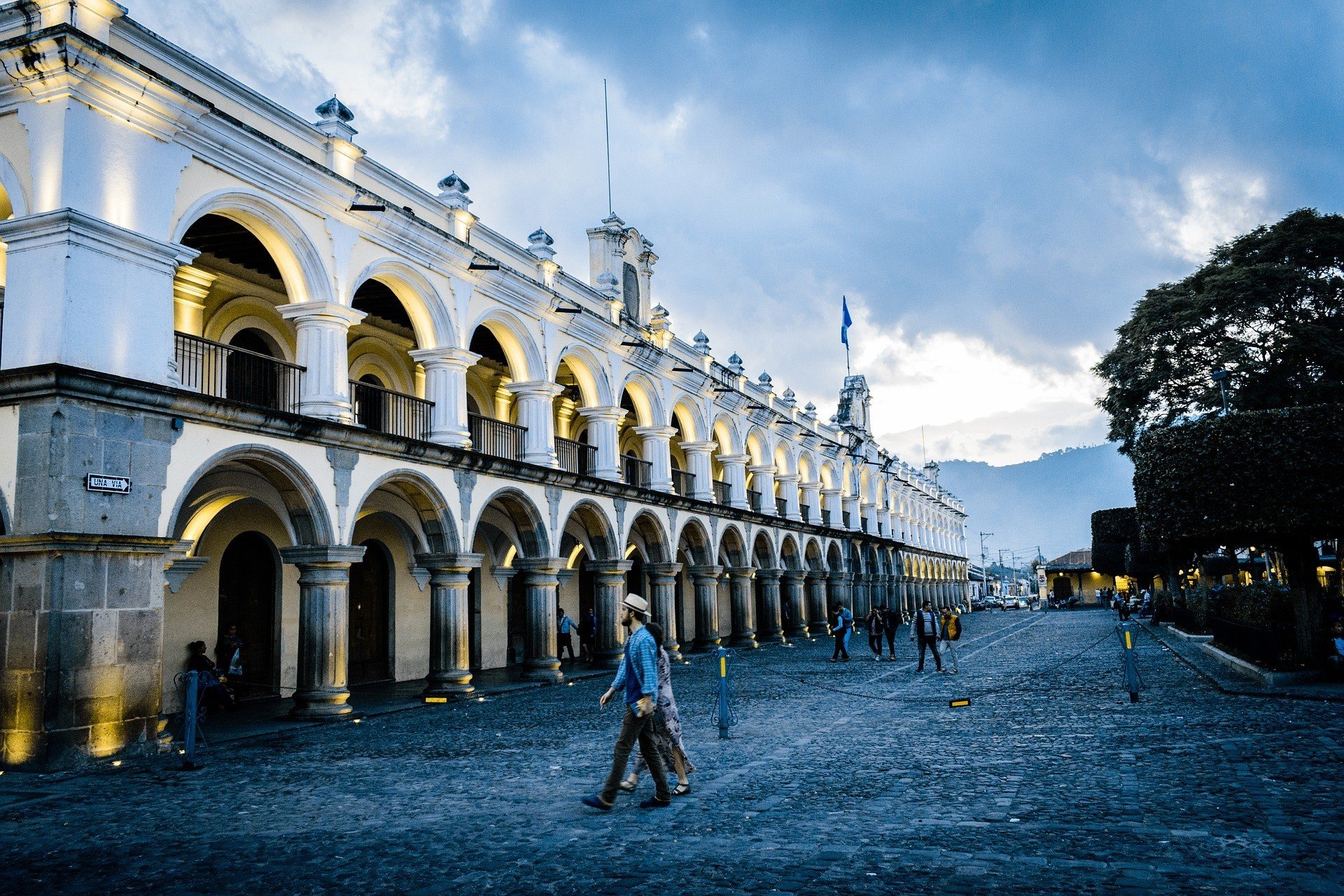 Natural disasters are also something to be vigilant about. Rainy season, volcanoes, tsunamis, and flooding all affect safety in Guatemala.
That said, Guatemalans are warm, friendly people and often welcome travellers with open arms. Many people will aid you on your journey through this amazing country.
Tourism is one of the main forces behind the Guatemalan economy. The local authorities and Tourist Police will help you out – and the Guatemalan government will help to make sure you are safe.
Guatemala is cleaning up its act and has become much more stable since the end of the civil war. So you CAN have safe travels in Guatemala.
Safest Places in Guatemala
There are awesome places to visit when you travel to Guatemala. Like everywhere, some places are safer than others.
Tourist areas are generally a sign that the area is safe. Of course, tourists don't eliminate risk from natural disasters and petty crime. But these tourist destinations have few travel warnings because you are more protected by local authorities from anything serious happening to you.
This doesn't mean they're 100% safe; you should still actively pay attention to your safety all the time – but the risk is much lower here. Plus, there is an endless list of incredible things to explore.
Antigua Guatemala – a classic colonial town with beautiful neighbourhoods. Kick back or wander around the cobblestone streets. There are great hostels in Antigua as well, which makes it a great spot for backpackers. It's smaller, but not as crime-prone as Guatemala City and one of the safest places in Guatemala.
Quetzaltenango – commonly referred to as Xela (pronounced Shela), is a bustling mountain town to organize treks or base yourself for Spanish lessons! Xela isn't as clean or extravagant as Antigua, but it's also not as expensive. Locals here are generally very welcoming and kind. You'll be well looked after!
Lake Atitlán – A number of villages surround this lake with completely different atmospheres and many things to do in Lake Atitlán. Most require a boat to reach them but they are generally pretty safe. You can summit Volcano Atitlán – the tallest of the three volcanoes – but opt for a guide for this adventure.
Dangerous Places in Guatemala
There are many amazing places in Guatemala and others that aren't safe for travellers. Whenever you get to a new destination, ask your accommodation if there are any areas or neighbourhoods to avoid. To help you plan a successful trip, we've listed some no-go areas below:
ANYWHERE after dark – whether it's in the countryside or in the city, avoid being on the street at night. Most violent crimes, kidnapping, and mugging happen at night. If you want to stay safe, stay inside. Avoid using public transport at night too. 
Zones 1, 3, 6, 18, and 21 – these zones are in Guatemala City and are hotspots for all sorts of crimes. If possible, avoid them!
The Agua Volcano – you don't need to avoid it, but there has been armed robbery recorded of tourists that just wanted to go on a peaceful hike. If possible get a guide. That'll add a significant level of safety to your trip. 
Huehuetenango Department – Tourists have been coaxed into ferrying drugs here with bad results. Don't get involved.
And of course, always stay away from the dodgy side streets, shortcuts, and areas where you can't find another tourist. You don't want to be in the wrong place at the wrong time, so stick to the busy streets or get yourself a local guide to explore the area further.
19 Top Safety Tips for Travelling to Guatemala
There are some scary government warnings, but Guatemala can be visited safely. Following travel safety protocol is detrimental to that statement being upheld. Here are some top tips for keeping safe.
Travel during the daytime – if you can help it.
Don't walk at nighttime – always take an official or hotel taxis. 
Ask about any local areas to avoid – There will be nothing to see here anyway.
Check volcanic activity – This local news is vital.
Learn some Spanish…and Mayan – it helps a lot to speak some of their language.
Warm clothing and waterproofs are essential – At high altitudes, the weather gets very dangerous.
Use GOOD bus companies – The more reputable the better.
Ask permission if you want to take photos of people – especially children (always do this anyway!)
Don't look rich – keep your valuables out of sight, or even better, at home. Keep some money hidden in a money belt.
Beware of scams – more on this to come.
Practice safe sex while travelling – goes without saying. But there's a relatively high rate of HIV.
Avoid drugs – you won't all listen to this but know that it is illegal.
Cross at designated border crossings – I hope I don't need to tell you why.
Keep away from political demonstrations – It's actually illegal for foreigners to get involved anyway.
Take care in the rainy season – June to November roads can get swept away; landslides also happen. The National Route 14 takes a particular beating during this season.
Use ATMs inside banks, shops, etc – and be cautious when you do.
Hand over the goods – if someone wants to rob you, let them. Your life is worth more.
Be aware of risks – but don't get consumed by danger. Stay rational.
Get travel insurance – and that the travel insurance covers your type of adventure.
Is Guatemala Safe to Travel Alone?
Yes! Guatemala is safe for solo travellers. Though, like anywhere you travel alone, there are some extra precautions to take. I'll give some special points for solo female travellers a little further down.
Solo travel is an amazing way to see the world. But Guatemala is not ALWAYS the safest of places.
Travelling solo is always going to pose more problems than if you were in a group. But many people do take the plunge to Guatemala and have the time of their lives!
For safety in Guatemala, there are a few things to keep in mind…
Make friends – There's safety in numbers.
Avoid walking at night – This puts you at a much higher risk of a robbery or worse. Use public transport or a taxi.
DO NOT go hiking by yourself – If you get into trouble you have nobody to lean on.
Avoid travelling to remote areas alone – You're just generally safer in tourist areas.
Don't party TOO hard – Keep your wits about you when you're backpacking in Guatemala.
Do your research – Get online and look up tourist destinations. You should also ask locals about current travel safety.
Get a sim card – keep track of where you are and keep in touch with your friends and family.
Let people know where you are – hostel staff, other travellers, and people back home.
Don't skimp on accommodation – A well-reviewed, decently located hotel or hostel saves a lot of stress too.
Know your limits.
So whilst it's not what we'd call the safest place in the world, Guatemala is awesome. What's going to make it even better is staying safe the whole time.
Remember: travelling solo doesn't mean you have to be a hero and do EVERYTHING by yourself. Make friends, keep in touch, and take minimal risks!
Is Guatemala Safe for Solo Female Travelers?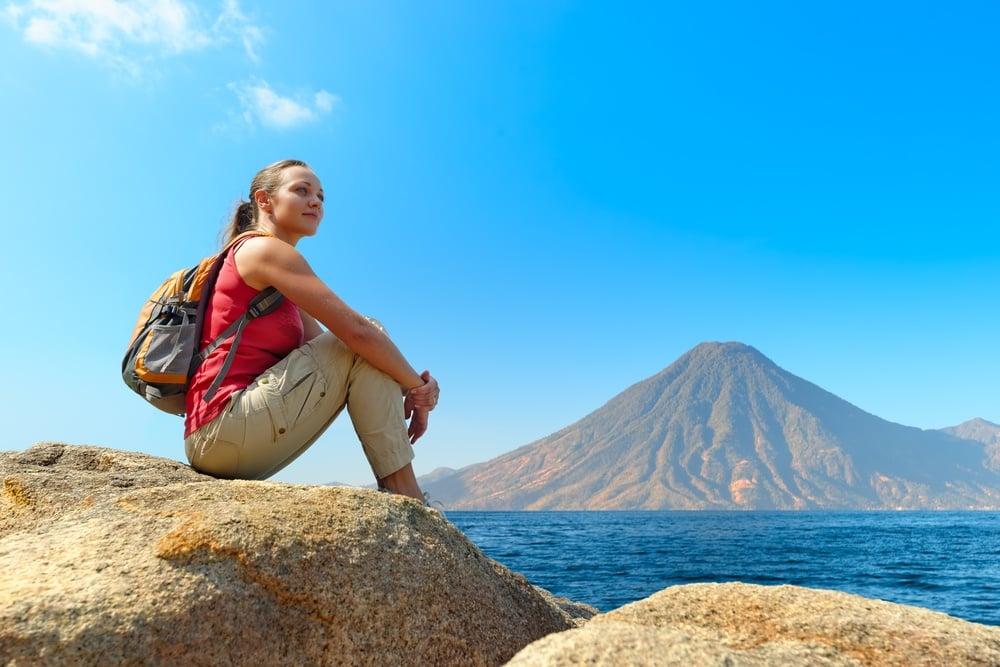 Yes! It is possible to travel to Guatemala as a solo woman safely. But, as with most places, solo female travellers in Guatemala need to take some crucial extra precautions.
Here are some solo female travel tips for Guatemala:
Trust your spidey senses! – if your gut says something is wrong then it probably is.
Check out good hostels for women – read reviews, make friends, and share experiences and tips. Use female-only dorms if you prefer.
Dress accordingly – skirts below the knee work well. Shorts scream TOURIST. Guatemala is still pretty conservative. Plus you don't need unnecessary attention.
Speak up – If you find yourself in an uncomfortable situation, make it clear the MOMENT it gets weird.
You don't have to be polite – or answer questions, or tell the truth. Saying "no" is always okay too!
Walk confidently – even if you're not.
Likewise, don't be overconfident – you're not a hero. You can ask for help when you need it.
Don't give too much information away – if someone seems too interested that's a red flag.
Join a group tour! Make friends and see a new side of Guatemala.
Avoid chicken buses – They may be cheap but that's for good reason. Solo female travellers need not increase the risk more.
Guatemala is still a macho society. Ignore catcalling – It's not worth the stress.
DON'T walk alone at night.
Tourists aren't usually the target of problems in Guatemala. A lot of female travellers DO go to Guatemala and have an awesome time. Take some extra safety precautions and have a blast!
Is Guatemala Safe for Families?
Yes, Guatemala is safe for families to travel. Better yet, Guatemalan society loves children. But to be honest, you're probably going to have to be an adventurous family to make the trip.
Guatemala is perfect for curious and mature kids. Though taking young children might be a bit stressful. If they're not interested in history or scenery, they might not have a good time either.
To make sure you keep your family safe while travelling in Guatemala, there are a few things to bear in mind.
Take precautions for mosquitos – Dengue fever and malaria in Guatemala are a risk. Children are more susceptible than adults.
Don't bring a pushchair – pavements aren't much of a thing in Guatemala. It will be a burden.
Roads in Guatemala are dangerous – make sure your children understand this and keep them away.
Keep away from strays – dogs (there are a lot of these) and cats may be carrying fleas and/or rabies. Your kids might want to pet them, so prep them for the dangers of going near potentially disease-carrying animals. Plus, you never know if they're going to be aggressive.
Maybe most importantly, maximum sun protection – it's hot and humid in Guatemala and you are at a high altitude. A good sun hat for everyone, plenty of sun cream, and a whole lot of water should keep off sunburn, sunstroke, and dehydration. Make sure you have a good water bottle with you.
To travel to Guatemala with children you have to be well-prepared. Remember, this is a developing country: it's not always going to be easy.
BUT there's a wealth of Guatemalan culture, history, and natural beauty to discover here. Your efforts will definitely pay off and travelling families get a whole different perspective on this amazing country!
Getting Around Guatemala Safely
Granted, it's safe to drive in Guatemala, but for the hassle it's not really worth it. Here's why:
Fraudulent car rental companies.
Roads are dangerous especially rural roads.
Drivers are reckless – to say the least.
Armed bandits do linger.
Drink driving.
People alert each other with bits of old trees in the road if there's a broken-down car ahead.
Note: vehicles coming UPhill have right-of-way.
If you choose to drive anyway, you'll need an international driving permit and AVOID driving at night. Honestly, it's safer to get a group together and hire a private driver. 
Taxis in Guatemala are generally safe but a little sketchy. Still, taxis are one of the safest ways to get around at night.
Besides some areas in Guatemala City, they don't use meters – so agree a price before you get in. Ask your accommodation where to take them or use hotel taxis. You can also use tuk-tuks. 
I DON'T recommend hailing taxis off the street. Fake taxi companies exist and using them puts you at high risk. If you find a good driver, take their card and use them again.
Better yet, Uber is safe in Guatemala. Uber operates in Guatemala City and other major cities.
The ubiquitous chicken bus is the primary mode of public transport in Guatemala. A lot of travellers use them. They make great adventures in Guatemala, but not exactly safe: hijackings, robberies, assaults, and road incidents happen. If you use the chicken bus, stay very vigilant.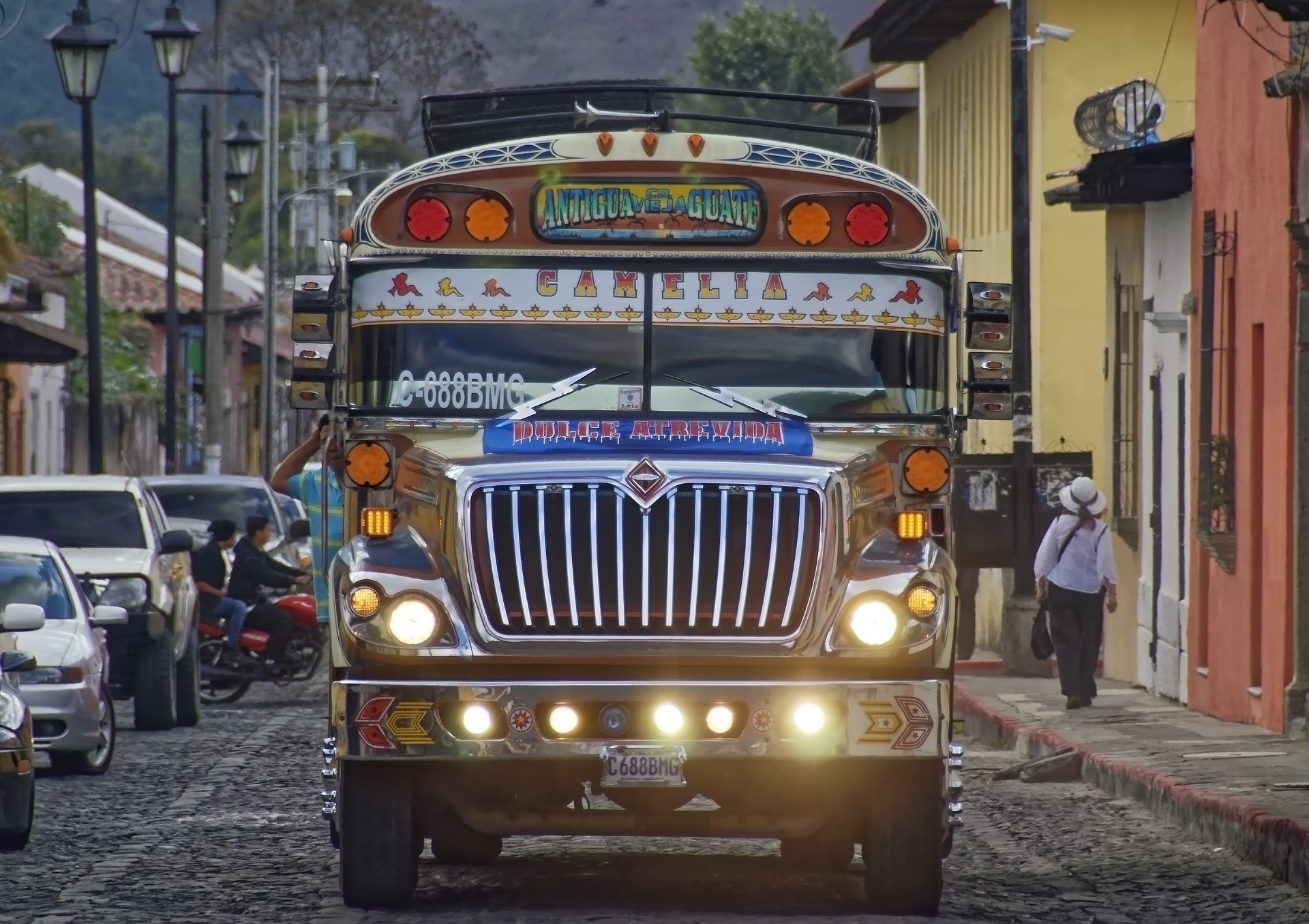 Express buses go between Guatemala City and other destinations. These are much safer than chicken buses.
Inside Guatemala City, you have old red buses (which we don't recommend) and newer TransMetro/TransUrbano ones. Most travellers get around on tourist shuttle services, which are basically minibuses. Just use a reputable company.
FAQs on Guatemala's Safety
Planning a safe trip to Guatemala can get quite overwhelming. That's why we've listed and answered the most frequently asked questions on safety in Guatemala.
So, is Guatemala Safe?
It's not always had the best reputation when it comes to safety, but Guatemala IS generally a safe place to visit. Granted, there ARE crimes committed against tourists, like petty theft and robberies. As we always stress: travel smart – try not to LOOK like a tourist, avoid deserted streets, use public transportation smartly, do your research on the best companies to use, and you'll most likely avoid trouble.
Also remember: the statistics for violent crimes in Guatemala are mainly down to gangs. Unless you get yourself into a really stupid situation involving drugs, you're unlikely to be involved in anything to do with these elements.
Natural disasters and volcanic eruptions occur are potentially the biggest threat to your safety in Guatemala. Reading up on the news, what to do in an emergency, and then chatting with locals is going to help you stay safe.
At the end of the day, Guatemala does have safety issues. But as a tourist, you are valuable to the economy. Sticking to tourist areas, steering clear of sketchy ones, and keeping our travel tips in mind are really going to help you stay safe. Guatemala is awesome – and you should be able to see how awesome it is!
Disclaimer: Safety conditions change all over the world on a daily basis. We do our best to advise but this info may already be out of date. Do your own research. Enjoy your travels!
---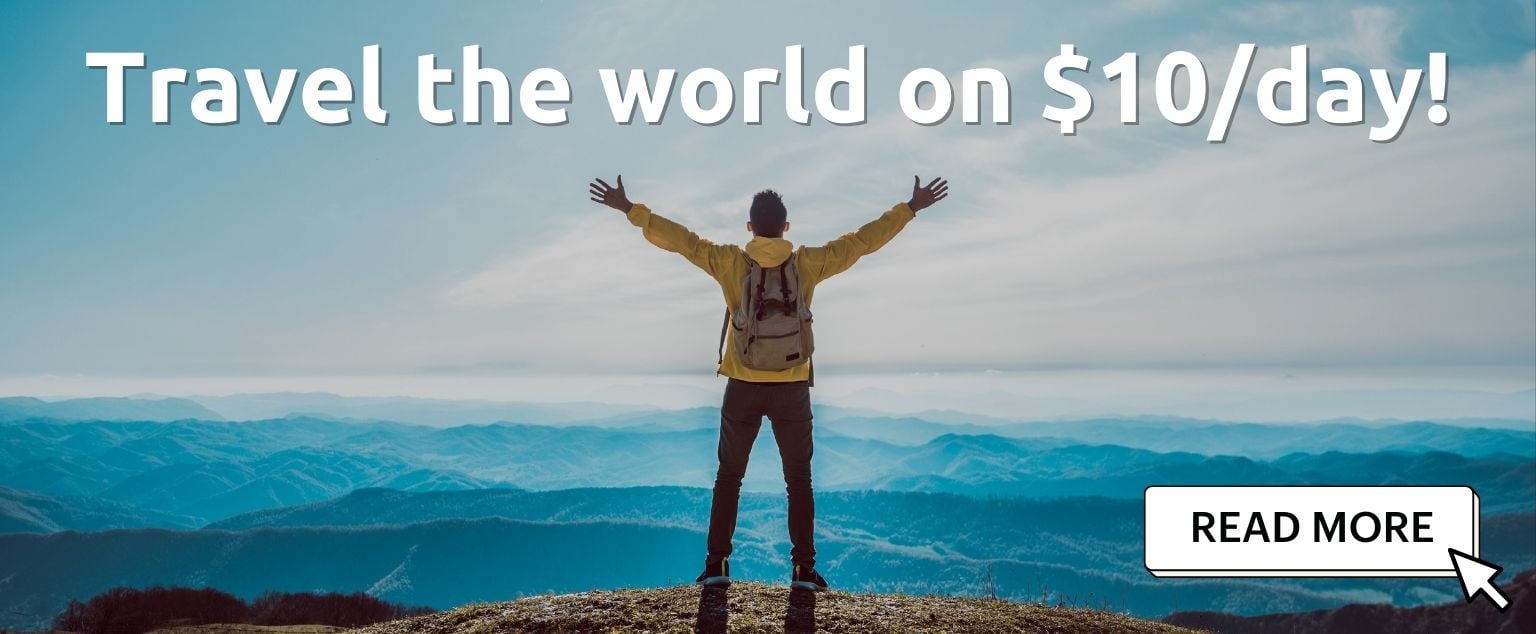 And for transparency's sake, please know that some of the links in our content are affiliate links. That means that if you book your accommodation, buy your gear, or sort your insurance through our link, we earn a small commission (at no extra cost to you). That said, we only link to the gear we trust and never recommend services we don't believe are up to scratch. Again, thank you!