So you want to go to Guatemala…we're all for it! There's a whole lot of amazing nature to explore here – and history too. From the colonial buildings of Antigua to ancient Mayan ruins of Tikal, you'll be in a wonderland full of archaeological sites and steamy jungles.
But Guatemala hasn't always been known as the safest place in Central America and it still necessarily isn't. Scams, petty crime, robberies, gang violence, and volcanic eruptions combine for a melting pot of intimidation.
So, of course, you may want to know if Guatemala is safe; we totally get it. Which is why we've written this insider's guide on staying safe in Guatemala. We're all about smart travel and we want you to be able to explore this incredible country and stay safe at the same time!
This guide is packed full of useful information regarding your Guatemala safety concerns. Whether it's safe to drive in Guatemala, safe to eat the food, and even how safe it is for solo female travellers in Guatemala; it's all in here!
You may be wondering, "can I travel with children to Guatemala?" You may also be wondering if it's safe to visit Guatemala right now after the recent volcanic activity. Whatever your worries are, it's ok – we've got you covered with our insider's guide.
COVID-19 UPDATE
Whilst COVD 19 has not gone away, the world is opening up again to travellers. However, at this time Guatemala's borders remain closed to visitors.
For the most up-to-date safety information and what you should be doing to help, please consult the WHO and your local government.
15/05/2020
How Safe is Guatemala? (Our take)
Volcanoes, jungles, colonial and Mayan history; Guatemala is another Central American jewel. There's plenty to do here, from trekking and getting lost in all that ancient civilization, to just kicking back on a beach on either the Pacific or the Caribbean Coast.
For a long time, we probably wouldn't have said Guatemala was safe – but that never stopped us from travelling there. Like the rest of Central America, Guatemala has its fair share of problems and does require a fair bit savviness.
Guatemala has one of the highest rates of violent crime in Latin America and a lot of petty theft/scams to go with it. There's always the potential for political trouble as well.
Guatemala is still a developing country. With a fractious history, much of the nation suffers from poverty and unemployment.
That said, Guatemalans are warm, friendly people and often welcome travellers with open arms. Many people will be there to aid you on your journey through this amazing country, so don't think that everyone is out to get you.
Is Guatemala Safe to Visit? (The facts.)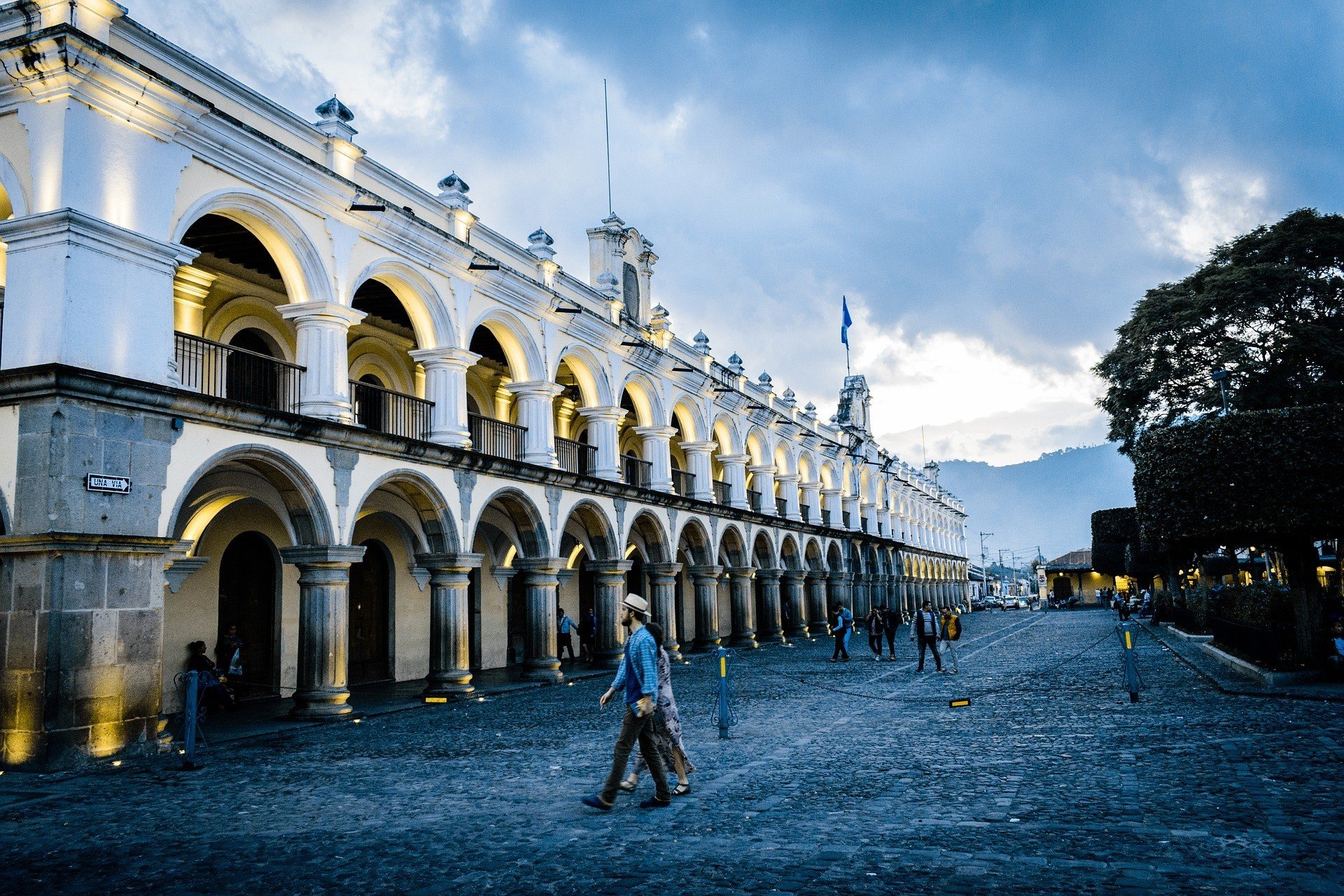 Despite having a reputation for crime, Guatemala is generally safe to visit.
Before going any further, you have to understand what has happened in the country. For a long time, violence was the norm in Guatemala. Though the civil war here may have ended in 1996 (after 36 years) it's still very much an issue.
Today violence remains. It's a corridor for drug traders, highway (and pathway) robberies happen, and human trafficking is becoming more and more common as well.
Travel warnings and stats don't always paint a true picture of what it's like to actually BE in the country.
For example, most violent crime is gang-related i.e. only affects locals living in certain areas. As such, the chances of a tourist becoming a victim are unlikely.
And a fair few foreign tourists DO visit Guatemala. In 2016, the country received just over 2 million visitors and the numbers continue to rise.
Tourism is one of the main forces behind the Guatemalan economy. There's Tourist Police here to help you out and the Guatemalan government will do what it can to make sure that you are safe.
So with that in mind…
Is it Safe to Visit Guatemala Right Now?
Guatemala is starting to clean up its act and has become much more stable since the end of the civil war. That doesn't mean you can travel around without a care in the world, however.
Political trouble seems to never be too far off. As is often the story in Latin America, corruption plays a big part in the government. The former president was impeached and imprisoned after a scandal in 2015. Current president Jimmy Morales is surrounded by his own controversies.
Political difficulties mean that there are demonstrations often without warning. This is especially the case in Guatemala City but these can occur all over. Demonstrations can cause lockdowns – e.g. roadblocks – and can affect how easy (and safe) it is to travel around.
And as far as nature is concerned, Volcán de Fuego near tourist-favourite Antigua erupted in June 2018, killing at least 190 people. It erupted again in November and will probably erupt again. So keep an eye on the news.
Do you need Travel Insurance for your trip? Even if you're only going for a few days, that's more than enough time to get smote by wrathful angels. Have fun in Guatemala, but take it from us, overseas medical care and canceled flights can be seriously expensive – insurance can, therefore, be a life-saver.
Travel mishaps can and do happen and it is well worth thinking about insurance before you leave home.
We have used World Nomads for years now and I have personally made several claims. Why not get a quote from them yourself?
Do be sure to read the terms and conditions to make sure that the policy covers your needs.
Getting an estimate from World Nomads is simple – just click the button or image below, fill out the necessary info, and you're on your way!

If you want to shop around a little, then read up on competing companies and what they can offer. There are lots of insurances out there, so don't feel limited.
There may be some scary government warnings, but Guatemala can be visited safely. It helps if you've already got a few countries or backpacking trips under your belt already.
Regardless of how much experience you have with hectic destinations, travelling smart is going to be the main thing to keep in mind. That and our top tips for keeping safe in Guatemala, of course.
Travel during the daytime – if you can help it. It's just best not to travel after dark, as this is when criminals like to operate.
Check out the latest volcanic activity – especially before hiking on an actual volcano. The threat is real.
Learn some Spanish…and Mayan – more than half the population is Maya and it'll go down well if you can actually speak their language; well, a bit anyway.
Warm clothing and waterproofs are essential – at high altitudes. Crazy low temperatures at night are very, very dangerous.
Use a GOOD bus company – travelling through rural areas can be sketchy. The more reputable the travel company, the better.
Be wary of talking to children in rural areas – ask permission if you want to take photos. Interacting with children can very much be taken the WRONG way.
Don't go flashing your cash – don't look rich. That's just asking to be robbed. Keep money out of view, preferably in a money belt.
And keep your smartphone out of view – just another thing to get stolen.
Scams are RIFE – BEWARE of overfriendly strangers, people falling over in front of you, 'priests', fraudulent charity fundraising, sauces getting 'accidentally'spilled on you…
Practice safe sex – goes without saying. But there's a relatively high rate of HIV compared to Western European countries.
Understand the risks involved with drugs – whilst cannabis is everywhere (especially in Lake Atitlan) it's still illegal.
Cross at designated border crossings – and the earlier in the day, the better. There is also the Belize-Guatemala border dispute to bear in mind.
Don't walk through empty city/town streets – robberies, at night or broad daylight, are most frequent in less busy areas.
Not all police are who they seem to be – people committing crimes against tourists dressed as police have been reported.
Keep away from political demonstrations – it's just not a good idea as they can turn violent. It's also illegal for foreigners to get involved.
Be extra careful in the rainy season – from June to November roads can get swept away; landslides also happen. The National Route 14 takes a particular beating during this season and closes often.
Use ATMs inside banks, shops, reputable places – card cloning happens. Don't take out too much at once and avoid withdrawing at night.
Hand over the goods – if someone wants to rob you, let them. Your life is worth more than all your worldly goods.
Feel free to carry to a dummy wallet – a wallet PACKED with cash is a worse loss than a wallet lightly lined with cash.
Cover up against mosquitoes – and use repellent and burn coils where you can. Not only are they just nasty in general, but they can also carry the Zika virus, amongst others.
Take care in Guatemala City – there's no area of the city where you will be 100% safe, so be vigilant.
Travel with your ID wherever you go – if you're afraid of losing it, a certified copy should work as well.
Only head out trekking in groups or with a guide – the risk of robbery is high if you're by yourself.
Contact PROATUR – this is the Guatemala government's tourist program and can give you advice on travel routes and more. They can even organise a police escort for you!
Stay alert – travelling through Guatemala isn't exactly a walk in the park, but it's amazing.
As that last point says, staying alert is definitely a good way to travel around Guatemala safely and to ensure your time isn't hampered by any petty crime – or worse.
It's not 100% safe (that much is easy to say) but then again many tourists and backpackers alike visit Guatemala without any trouble. Keep your wits about you, don't do anything stupid, keep abreast of the political (and volcanic) situation and you'll have a blast!
Some General Safety Tips from the OG Broke Backpacker
Keeping your money safe in Guatemala
As with pretty much anywhere in the world, the main risk you'll encounter in Guatemala is having your money stolen. (Sad but true.) It doesn't mean it WILL happen, but it might.
Whilst robberies do happen, pickpocketing is also common here. Both of these forms of theft can be countered pretty easily by employing a geniusly simple idea. We're talking money belt.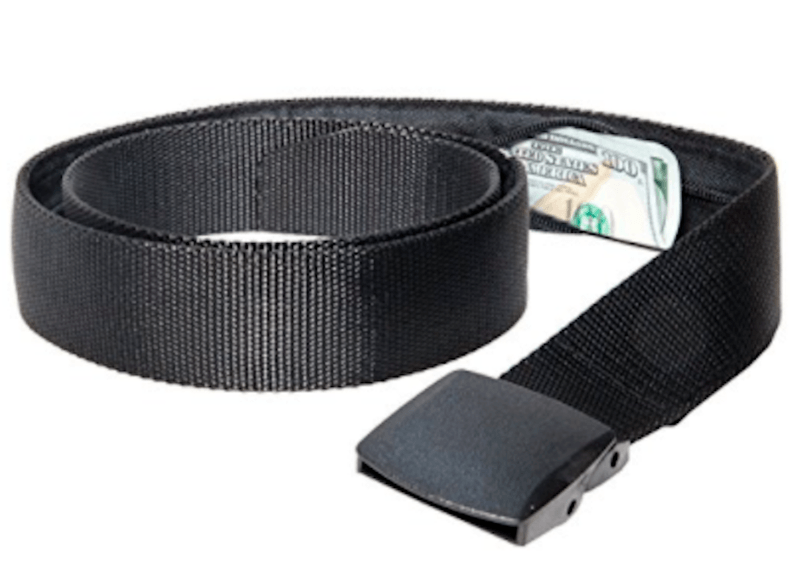 There is a load of different money belts out there to choose from, but we reckon we've found the best one for you. Yep, The Broke Backpackers' choice is, without doubt, the Active Roots Security Belt.
Budget-friendly, sturdy, simple, AND subtle. It looks so much like a regular belt that few thieves are going to notice it.
Even if you are robbed or pickpocketed, you're likely to get away with your belt intact. What the would-be robbers DIDN'T know was that your main stash of cash was in this belt; now, you have something to fall back on. A money belt is really going to pay for itself.
If you need a little more room for your passport and other travel valuables, have a look at a full-size money belt that tucks under your clothes instead.
If neither of those options appeals to your refined fashion sense, don't compromise! Opt for an infinity scarf with a hidden zipper pocket.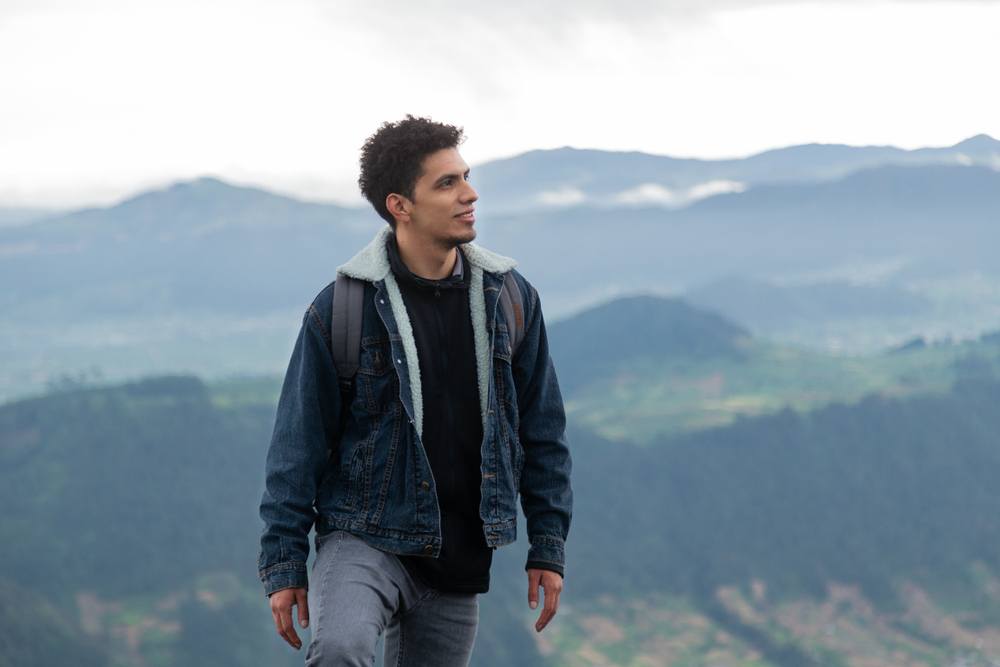 Solo travel is an AMAZING way to see the world – no one to answer to, no compromising on travel plans, the chance to make friends with a whole lot of other people, and the challenge to learn stuff about yourself! It's awesome.
But Guatemala is not ALWAYS the safest of places. Travelling solo is going to pose more problems than if you were in a group, absolutely. But many people do take the plunge to Guatemala and have the time of their lives!
To stay safe in Guatemala, there are a few things to keep in mind…
Avoid, at all costs, travelling around at night by yourself. This puts you at a much higher risk of a robbery.
Going hiking by yourself is a BIG no-no. You could get into trouble by injuring yourself, lose judgement, and have nobody to say "actually let's not keep climbing for another hour, let's rest." You could also be robbed. It's much better for your safety to NOT venture into the wilderness for the sake of staying solo.
Unless you're on a tour, travelling to remote areas by yourself isn't smart. You'll stick out more and be more of a target. Although you MIGHT be fine, we wouldn't advise it.
Make some travel buddies! There are loads of group tours and activities to get involved with, plus some fantastic local guides who can show you what's what in Guatemala. Just make sure you do your research with these and you'll be sure to have the best time.
Another good way to meet fellow travellers is at a well-reviewed hostel. Whether you want a social hostel, one where you can let your hair down and party, or just something chill, you'll be bound to find it. You might some great people to travel with through Guatemala as well.
That said, don't party TOO hard. It's a good way to lose your senses and take risks, which is NOT something you want to be doing when you're backpacking in Guatemala.
Learning either Spanish or Mayan, or preferably both, is a good shout. This doesn't mean you have to be fluent, but a few words will go a long way in impressing locals and actively helping you to get around.
Do your research. Get online and look up your next destination. You should also ask locals about current travel safety. Anything from "is that road safe?" to "what food is safe in Guatemala?" will help you keep safe in many different ways.
Take a cheap, unlocked phone with you and get a sim at the airport. You can use this to keep track of where you are and keep in touch with your friends and family. And if it's cheap, it won't matter too much if it gets lost or stolen.
Let people know where you are: hostel staff, other travellers, people back home. Travelling solo doesn't have to mean going off-grid. Your safety is more important than some delusion of authenticity and ghosting on everyone.
We reckon you shouldn't be hanging around in Guatemala City for too long. And if you do? Don't skimp on accommodation. A well reviewed, actually nice and decently located hotel (or hostel) could save you a whole lot of stress if you're by yourself. The staff will be able to arrange transport for you, give you travel tips, and you'll have a clean, comfy room to return to.
So whilst it's not what we'd call the safest place in the world, Guatemala is awesome. You're going to have an awesome time exploring it!
What's going to make it even better is staying safe the whole time. Remember: travelling solo doesn't mean you have to be a hero and do EVERYTHING by yourself. Be cool, make friends, keep in touch, and take minimal risks!
Is Guatemala safe for solo female travelers?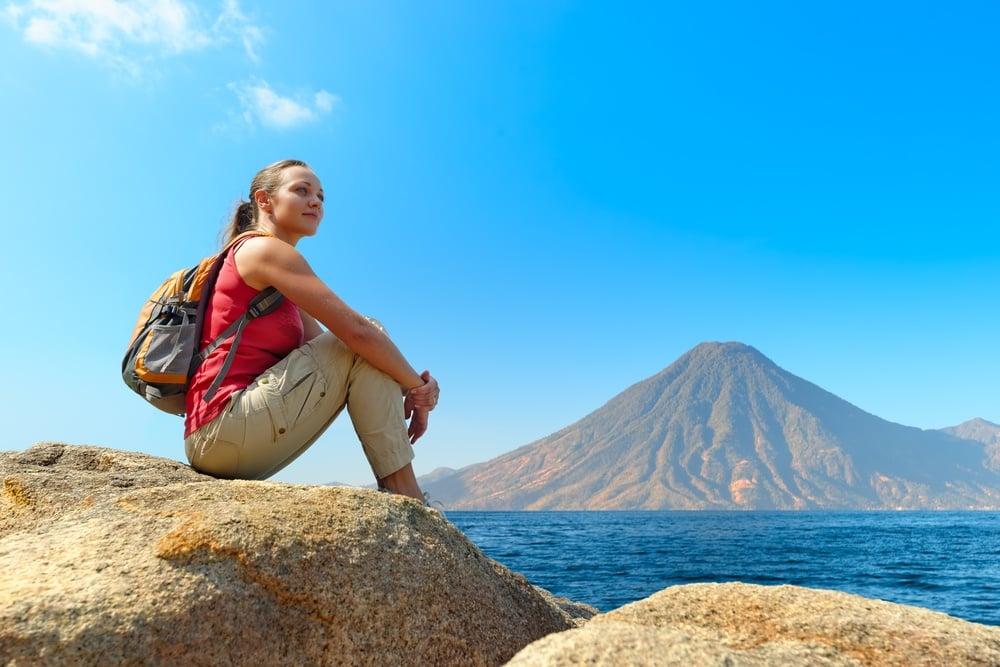 Solo travel is one thing, but solo travelling as a female is another story. Becasue of Guatemala's high crime rate, it doesn't immediately seem to be the best place for a woman travelling solo…
That being said, writer and creative editor at the Broke Backpacker, Ana Pereira, has traveled around Guatemala by chicken bus as a solo woman and says she never felt unsafe.
As with most places, traveling as a female is going to come with a higher risk, but it is possible to travel to Guatemala as a solo woman, just so long as you take some crucial extra precautions.
Travelling smart and listening to your gut is going to play a big part in staying safe in Guatemala. These, in addition to the following solo female travel tips for Guatemala, are going to help you enjoy travel and limit the hassles.
Speak up. If you find yourself in an uncomfortable situation, make it clear the MOMENT it starts getting weird. Doing so is most likely going to stop it from getting weirder. Remove yourself from any situation that feels sketchy.
And on a similar note, don't be afraid to stand up for yourself! If you're being hassled a polite brush-off might not have the same effect that a firm no is going to have.
Walk around confidently and do your best to appear less like a victim, but don't think you're untouchable. There are some situations that are just un-winable or too dangerous. If someone's being aggressive or scaring you, find somewhere safe and ask for help.
If somebody seems TOO interested in you, just be aware that you don't need to give all your personal information away. That means where you're staying, where you're going next, what you're doing tomorrow, even if you're married or not. A random stranger does NOT need to know all this – and you don't need to tell 'em.
When it comes to fashion, skirts below the knee work well. Shorts scream TOURIST. Guatemala can be pretty conservative and showing a lot of skin is not very respectful. Plus it will get you a lot of unnecessary attention.
Join a group tour! They're an amazing opportunity to see Guatemala with the help (and knowledge) of a guide. Plus it's a great chance to get to know some other cool travellers making their way around Guatemala at the same time as you!
Make sure that somebody knows your plans. Check-in with somebody back home and let them know what you're doing. Schedule check-ins every few days just to let them know you're safe. Plus they'll probably want to hear about your adventures too!
Chicken buses may be cheap, but can be sketchy for females travelling by themselves. A shuttle bus will be the safer option. Even then, make sure you read reviews so that you use the best company possible.
Guatemala is definitely a macho society – it's part of the social fabric here. Catcalling does happen sometimes, and when it does it's just best to ignore. It's not worth the stress. You'll have to be careful about walking alone anywhere at night. If possible, avoid doing so or buddy up.
Checking yourself into a hostel with a female-only dorm is a good idea. Not only will you get a safe space with no oddballs (not male ones anyway), but also you'll get to share tips with other female travellers, which can only be a good thing. Making friends is always a plus. Travelling onward in a group would be good even if you're feeling apprehensive.
Don't lose your money to a pickpocket! 
There are tons of ways to store valuables and goods while traveling but a travel scarf has to be the least obtrusive and the most classy.
The Active Roots Zipper Scarf is your run-of-the-mill infinity scarf but with a hidden pocket that's big and sturdy enough for a night's cash, your phone, a passport and (hell with it) some snacks too!
Guatemala has some shocking statistics – like boasting a high rate of femicide, among others – but it's important to remember that these require context. Most violent crime is gang-related or directed towards local communities. Indigenous women bear a huge brunt from the macho society here and seem to be at the bottom rung of society.
That said, tourists aren't usually the target. A lot of female travellers DO go to Guatemala and usually have an awesome time – no complaints apart from the odd catcall.
So if you are up for an adventure, aware of the situation, and willing and able to take some extra safety precautions, then you're going to have a blast in Guatemala!
Is Guatemala safe to travel for families?
Lucky for you, Guatemalan society loves children.
You're likely to have a memorable time here with your kids in tow, discovering ancient civilizations, riding horses up volcanoes, taking a tour of Lake Atitlan. There are tons for you all to enjoy.
Guatemala is perfect for curious and mature kids. Taking children younger than 7-years-old might be a bit stressful. If they're not interested in history or scenery, they might not have a good time either.
To be honest, you're probably going to have to an adventurous family to make the trip to Guatemala.
When it comes to the question of whether or not Guatemala is safe for families, there are a few things to bear in mind.
First of all, Guatemala is a malaria zone and children are more susceptible than adults – so make sure you pack all the necessary medication.
Dengue fever is also a threat. In the highlands, places, like Antigua, are less mosquito-ridden. Essentially, plenty of repellent, covering up, burning coils, all these things will help avoid nasty mosquitoes.
There's no point bringing a pushchair since pavements aren't much of a thing in Guatemala. Making sure your children understand that roads in Guatemala can be dangerous is a must.
Stray animals like dogs (there are a lot of these) and cats may be carrying fleas and/or rabies. Your kids might want to pet them, so prep them on the dangers of going near potentially disease-carrying animals. Plus, you never know if they're going to be aggressive.
Oh, and don't forget: it's hot and humid in Guatemala. A good sun hat for everyone, plenty of sun cream, and a whole lot of water should keep off sunburn, sunstroke, and dehydration. Make sure you have a good water bottle with you.
At the end of the day, it's safe to travel to Guatemala with children, but you have to be well-prepared and ready. Remember: this is a developing country – it's not always going to be easy, or even straightforward…
BUT there's a wealth of culture, history, and natural beauty to discover here. Your efforts will definitely pay off and traveling with children is going to give you a whole different perspective on this amazing country!
Is it safe to drive in Guatemala?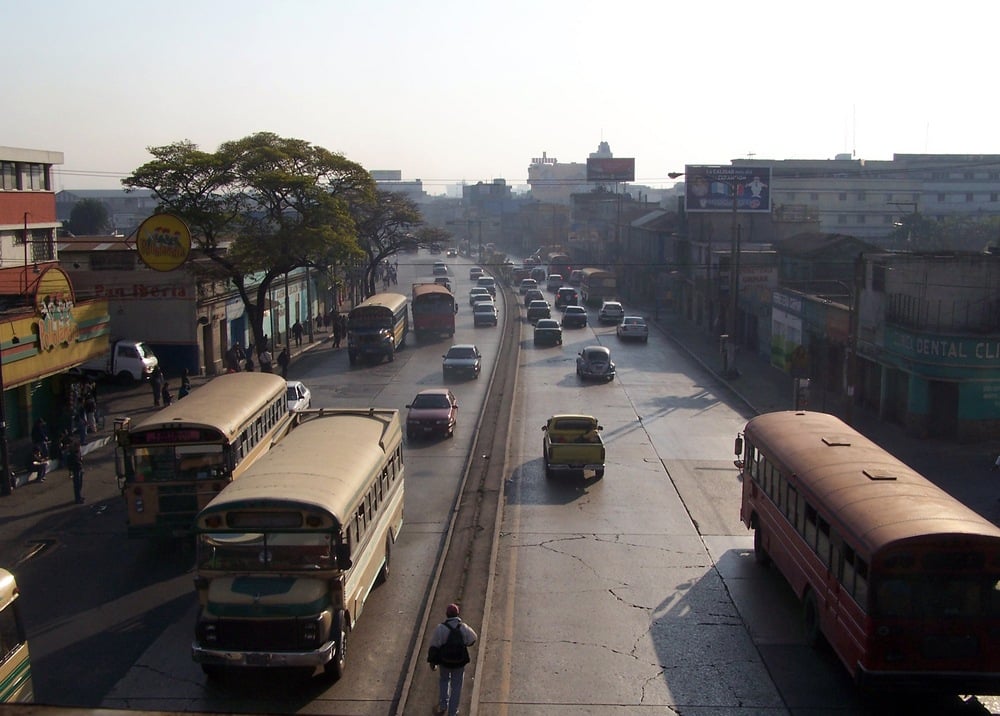 Whilst you can drive in Guatemala, it's not something we'd recommend. Granted, it's safe to drive in Guatemala, but for the hassle involved it just might not be worth it. Here are some reasons why:
For starters, hiring a car is not as easy as it ought to be. There have been reports of trouble with car rental companies trying to extort money out of people. This is obviously made ten times more difficult if you don't habla espanol.
When driving outside of the city, it's best to stick to the main highways, but things can still be pretty dodgy. Drivers can be all over the place so make sure you drive carefully and are alert. There's crazy overtaking on blind corners, random honking, no use of indicators, using hazard lights for things other than hazards, drunk drivers… It's all here.
If you see bits of branch or old tree in the road, it probably means there's a broken-down car around 100 metres ahead. It's a way that people alert each other here (so there you go).
Avoid driving in rural or isolated routes. It's not altogether uncommon for armed bandits to rove around. Similarly, don't drive at night.
To be honest? It's safer to get a couple of other people together and hire a private driver to shuttle you. The roads can be mad, the cities aren't worth driving around, and you'll still have to figure out where to park at the end of it.
So there you go. Driving in Guatemala is safe enough, but stressful.
Note: a vehicle coming UP a hill has right of way.
Is Uber safe in Guatemala?
Yes, Uber IS safe in Guatemala.
Officially, Uber operates in Guatemala City and Antigua. People even take an Uber all the way from Guatemala City to Antigua.
Uber is a good option for non-Spanish speakers as they don't need to worry about communicating with the driver so much – it's all on the app.
The cars are cleaner than regular taxis, often cost less, and are much less of a hassle. In the end, Uber wins.
Are taxis safe in Guatemala?
Taxis in Guatemala can be a little sketchy.
There are a lot of them and, besides some areas in Guatemala City, they DON'T use meters. So make sure you agree on a price before you get in. Be prepared to negotiate – you may well be seen as a rich foreigner. Research the rates of well-trodden routes.
The language barrier might be an issue. Having your destination written down and showing it to the driver works to clear up some confusion.
The best way to get a taxi is to ask your hotel or hostel to call one for you. If you find a driver you like, it's ok to take their card and use them again!
Fake taxi companies do exist and using them will put you at high risk. Using authorized taxi stands is a good way to avoid hailing the wrong taxi. You'll find these outside malls and hotels as well as alongside parks. Hailing a random taxi off the street may not always be safe.
Getting around at night is always going to be sketchy, even when taxis are involved. That being said, taxis remain one of the safest ways to get around at night.
If you can't get an Uber, that is.
Is public transportation in Guatemala safe?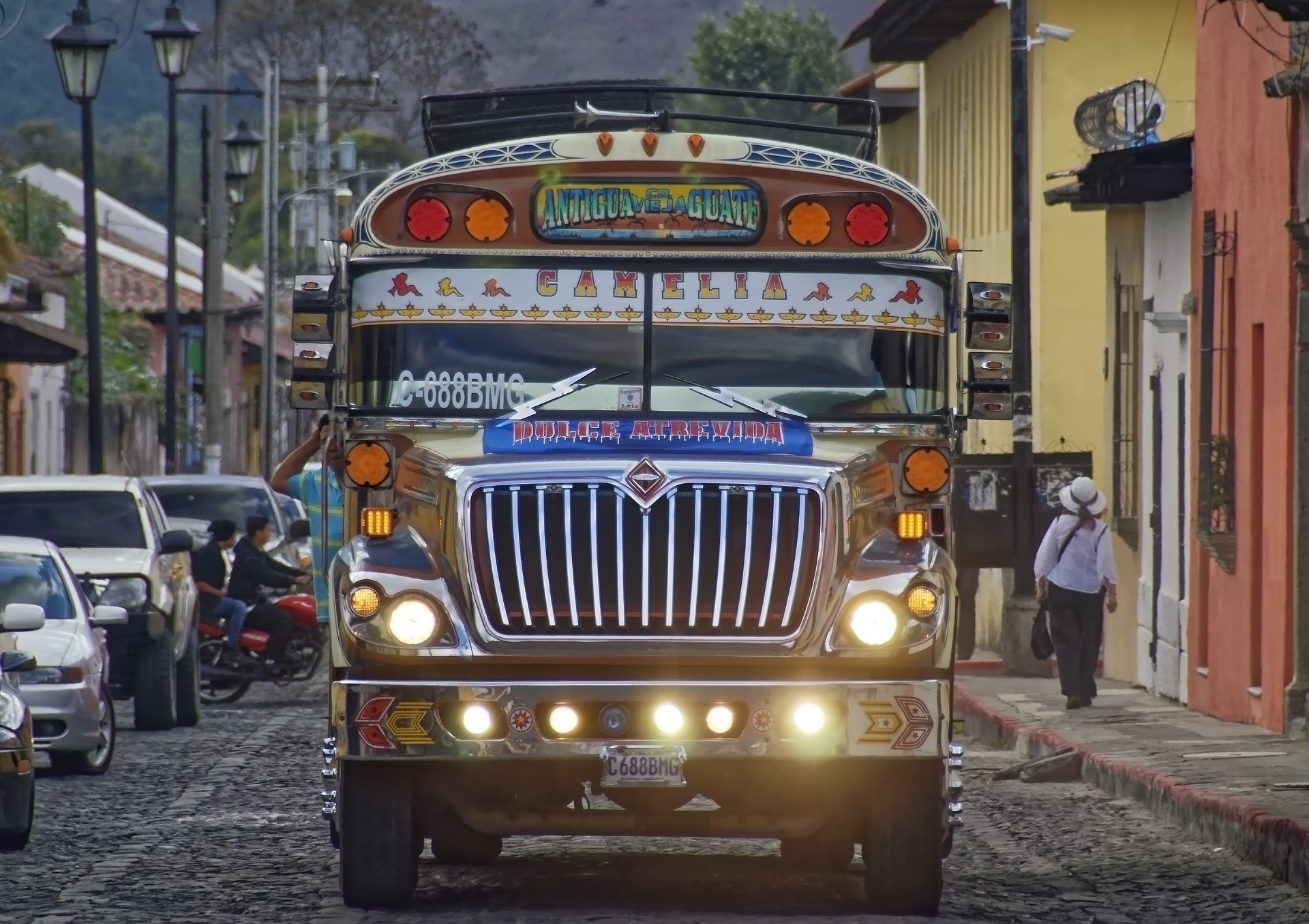 The ubiquitous chicken bus is the primary mode of public transport in Guatemala. These are colourful, cramped affairs that ferry people from town to town. Good for an adventure, not so good if you have problems.
Chicken buses are exactly safe either. Hijackings, robberies, assaults on travellers; these things have all happened to them.
Whilst a lot of travellers still use them and incidents are few and far between, that doesn't mean they won't happen. So if you do fancy hopping on a chicken bus, be aware of the risks, keep your important belongings on you, and stay vigilant. The drivers aren't always the best, either, so expect a crazy experience.
There are express buses that go between Guatemala City and other destinations. These are much better than chicken buses. Some even come with toilets or show films during the ride.
Inside Guatemala City itself, buses are split between older red buses and newer TransMetro/TransUrbano ones. We wouldn't recommend the old ones. It's so much hassle – they're busy and we'd definitely say they aren't safe to use at night.
The more modern services ARE admittedly better, but again: night travel on these is to be avoided.
Most travellers get around on tourist shuttle services, which are basically minibusses. Do your research on these and find a reputable company.
In Guatemala, you can also hop on a tuk-tuk, much like in Southeast Asia! Agree on a price before you get in and away you go!
In general, public transport in Guatemala isn't the safest in the world. We'd recommend doing your research and going with the most modern vehicle where possible if you're concerned about safety.
Keep everything on you in transit!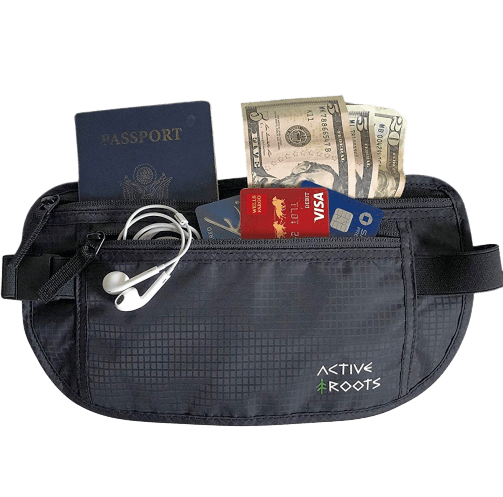 When moving from place to place, you shouldn't store travel documents in a bag, even if it's under your seat or overhead.
A full-sized money belt that stays tucked under your clothes keeps your documents and cash organized during your travels and assures nothing critical gets left behind or stolen.
Is the food in Guatemala safe?
Be prepared for a tasty trip because the food in Guatemala is AMAZING. Its roots are firmly Mayan, so you can expect a lot of corn, a lot of beans, and a lot of chilies. Throw in plantain, tortillas, tamales, and a whole lot more and you're in for a feast!
Like much of the world, getting to know Guatemala means getting to know its food – and especially the places where people eat food; notably on the street. Street food is definitely great in Guatemala and it's safe. Just be sure to remember these points:
There's plenty of fruit on offer in tropical Guatemala, but this REALLY needs to be washed before you eat it. Do it yourself using filtered water, because often the food at the market has either not been washed or has been in unsanitary water. Or better yet: peel it.
When it comes to vegetables, cook 'em.
Often food is served with salad. If you're worried, avoid it, especially if you're far from the tourist trail.
Use your common sense. Does the food stall look clean? Does the restaurant look clean? Usually, if it looks the part, it's probably going to be alright.
Similarly, popular = good. If there are a lot of (local) people eating somewhere, chances are it's going to be delicious AND safe to eat there. Nobody's going to keep going back to somewhere that gives them a dodgy tummy, are they?
Also, eat WHEN locals eat. Go during lunch or dinner, stalls will be cooking up a storm. Chances are everything's going to be cooked super freshly at these stages. The lull between the two might mean leftovers…
Go for hot, freshly cooked food where possible. Anything that's been sitting there uncovered could have been doing so all day and attracting all sorts of germs the whole time. Avoid.
Smoothies might LOOK delicious, but these can be made with ice – not good – and fruit that hasn't been washed – also not good. This can really give you a bit of stomach trouble, that's for sure.
The coffee here is delicious!! But do make sure that the water that's been used to make has been properly boiled. If you're worried, then don't bother with it.
Wash those hands. Seriously, your hands are probably just as dirty as anybody else's.
Traveling with an allergy? Research ahead of time how to explain your allergy. Keep in mind that store owners and restaurant staff might not know all the foods that contain allergens, so it's helpful to know the names of some of these too. If you're gluten-free, pick up a handy Gluten-Free Translation Card with descriptions of Celiac disease, cross-contamination risk, and local Guatemalan ingredients in Latin American Spanish.
Guatemalan food is TASTY and eating your way around the country is going to be a great way to discover how the locals live. Mainly how they eat, to be honest!
But by following our tips, you're likely to have a great time trying out all there is on offer. Of course, if you're super worried you can always bring diarrhea medication (which you should be bringing anyway).
The food in Guatemala is safe, but it pays to be prepared. Remember: eating where everyone else is eating isn't 'unauthentic'. In fact, it's going to give you some serious taste sensations!
Can you drink the water in Guatemala?
Nope. Unless you want traveller's diarrhea.
Stick to purified water. This is widely available at every hostel and hotel, so bring a refillable bottle. Some water purification tablets or a Grayl Geopress would be great, too. Use single-use plastic only when necessary.
Want to save the world?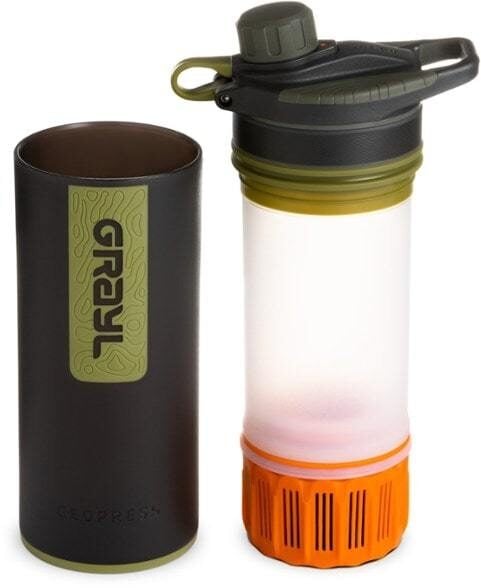 Single-use plastic bottles are a huge threat to Marine Life – Be a part of the solution and travel with a filter water bottle.
The GRAYL GEOPRESS water bottle is the ONLY all-in-one filter water bottle setup you'll need. Whether you need to purify the water from a hostel sink in Kathmandu or a stream trickle in the Andes, the Geopress has got you covered.
Read our full review of the GRAYL GEOPRESS!
Is Guatemala safe to live?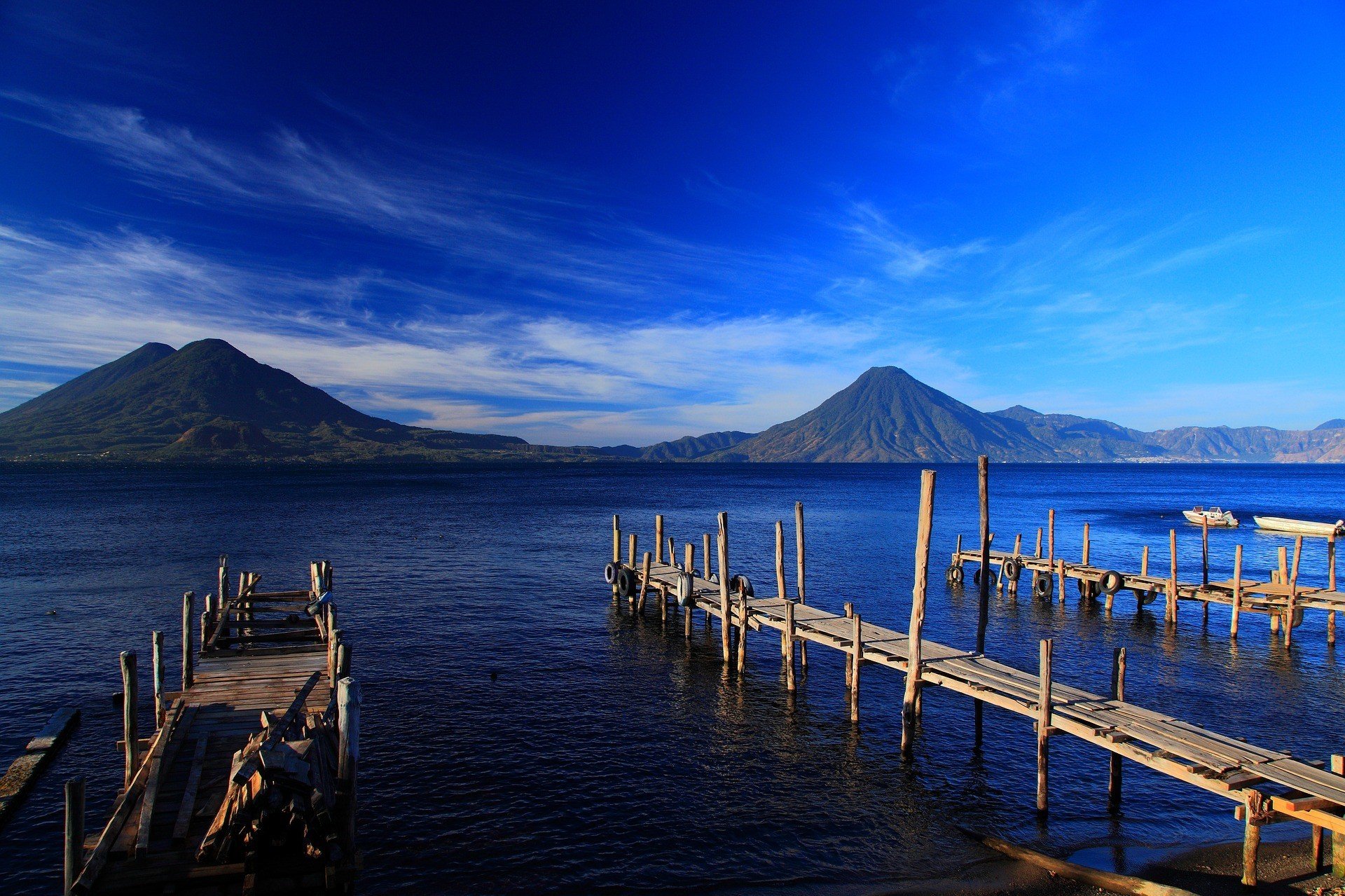 Guatemala is actually safe to live in. Of course, you'll have to pay attention to some new things if you're planning on making the move to Guatemala. Namely, these are cultural differences and the weather. Also gang violence, but mainly if you live in Guatemala City.
So whilst it IS safe to live in Guatemala, HOW safe it is will depend on your outlook and where you choose to live as well.
Crime does happen and vigilance is important. That means paying attention to your surroundings at pretty much all times. Police are usually helpful towards foreigners.
Being a foreigner in the country means you'll stick out more. So trying to blend in and trying to understand local customs is going to go a long way in making sure you don't end up feeling like a tourist. Learning Spanish, and some Mayan is a good place to start.
WHERE you live in Guatemala makes a big difference. Antigua, for example, is a relative paradise when compared to Guatemala City. In fact, lots of expats live there. The closer you are to a town, the less isolated you are, and the more likely you are to make friends. Let's face it: it's just more convenient.
And that weather…heavy rain can cause landslides, power outages, and flooding, so being prepared makes sense. Other times of the year, it's very hot.
Knowing what to do in a disaster situation, like a volcanic eruption, is going to be invaluable. This means knowing where you're supposed to go, knowing where the evacuation points, and a whole lot more.
So do your research, join Facebook groups, make friends with expats and locals alike, and you'll have an awesome time. LEARN about the country you're about to move to.
And when you're not working, there's the whole Guatemala to explore. What's not to like?
How is healthcare in Guatemala?
In Guatemala, there are two types of healthcare.
There's cheap, public healthcare. Public involves long waits, poor hygiene, and often sub-standard conditions. You probably will need to use your best Spanish at any public healthcare facility, too.
Then there's the less cheap but still affordable private healthcare. Private = faster, better conditions, and doctors that speak English.
Guatemala is actually becoming a destination for medical tourism. This indicates that the quality of private healthcare is high and cheap; enough to please most foreigners. Private institutions are mostly in cities, particularly Guatemala City.
If you're in a rural area, small town or village, head to the local pharmacy if you've got a minor ailment. These are well stocked with medication.
But if you need something stitched, or you have some other complaint (not major – hopefully), rural clinics can provide this level of service, too. Again, not really English speaking, but they are FREE.
Health insurance is a must. Carry evidence of this with you when you go to the clinic or they may not treat you. Really.
But in general, healthcare in Guatemala is good! Surprisingly good! (If you opt for private and you're in a city, that is.)
Helpful Guatemala Travel Phrases
The first official language of Guatemala is Spanish, but there are also 23 Mayan languages spoken here! Many Mayans in remote places do not speak Spanish, let alone English. This is quickly changing in the touristic areas.
10 years ago most Mayans couldn't speak Spanish in Lake Atitlan, for example. Now they speak Spanish and English.
Hola – Hello
Buenos Días– Good Day
Buenos Tardes– Good Evening
Buenas Noches– Good night
Como Estás– How are you? (Informal)
Una cerveza, pór favor- One beer, please.
No plastic bag – Sin bolsa de plastico
No straw please – No paja por favor
Buena Onda– Basically translates to good vibes.
No plastic cutlery please – No hay cubiertos de plástico por favor
No entiendo.– I don't understand.
Perdon– Excuse me
Sorry– Discúlpe (pardon) or lo siento (emotional)
Can you help me, please?– Me puedes ayudar, por favor?
Vos– Informal You, instead of the Spanish word Tú.
Final thoughts on the safety of Guatemala
It's not always had the best reputation when it comes to safety, but Guatemala IS generally a safe place to visit. Granted, there ARE crimes committed against tourists, like petty theft and robberies.
As we always stress: travel smart – try not to LOOK like a tourist, avoid deserted streets, do your research on the best companies to use, and you'll most likely avoid trouble.
Also remember: the statistics for violent crimes in Guatemala are mainly down to gangs. Unless you get yourself into a really stupid situation involving drugs, you're unlikely to be involved in anything to do with these elements.
Volcanic eruptions are a natural but dangerous event to be aware of, too. Reading up on what to do in an emergency is going to help you stay safe.
At the end of the day, Guatemala does have safety issues. BUT as a tourist, you are valuable to the economy. Sticking to tourist areas, steering clear of sketchy ones, and keeping our travel tips in mind is really going to help you stay safe. Guatemala is awesome – and you should be able to see how awesome it is!
And have you thought about getting Travel Insurance for your trip? You can get a quote from World Nomads by clicking on the link below.
Disclaimer: Safety conditions change all over the world on a daily basis. We do our best to advise but this info may already be out of date. Do your own research. Enjoy your travels! Some of the links in this post are affiliate links which means we earn a small commission if you purchase your insurance through this page. This costs you nothing extra and helps us keep the site going.