Despite being six times smaller than Texas, Guatemala is a remarkably diverse country, home to striking landscapes, Mayan culture, lush jungle, dry highlands, and ancient ruins. In this guide, I'll cover the best places to visit in Guatemala. And let me tell you: there are a lot of them.
There aren't many countries where you can roast marshmallows at the top of active volcanoes, swim among crystal-blue waterfalls, explore ancient ruins, and hike around lush rainforests, all in one trip.
Guatemala is definitely a nature lover's paradise, but it is also home to the unique Mayan culture, and a few cool cities to explore.
Antigua, Lake Atitlan, and Tikal are definitely the show-stopping highlights in Guatemala but don't stop there. This guide will cover all of the other unmissable places to visit in Guatemala.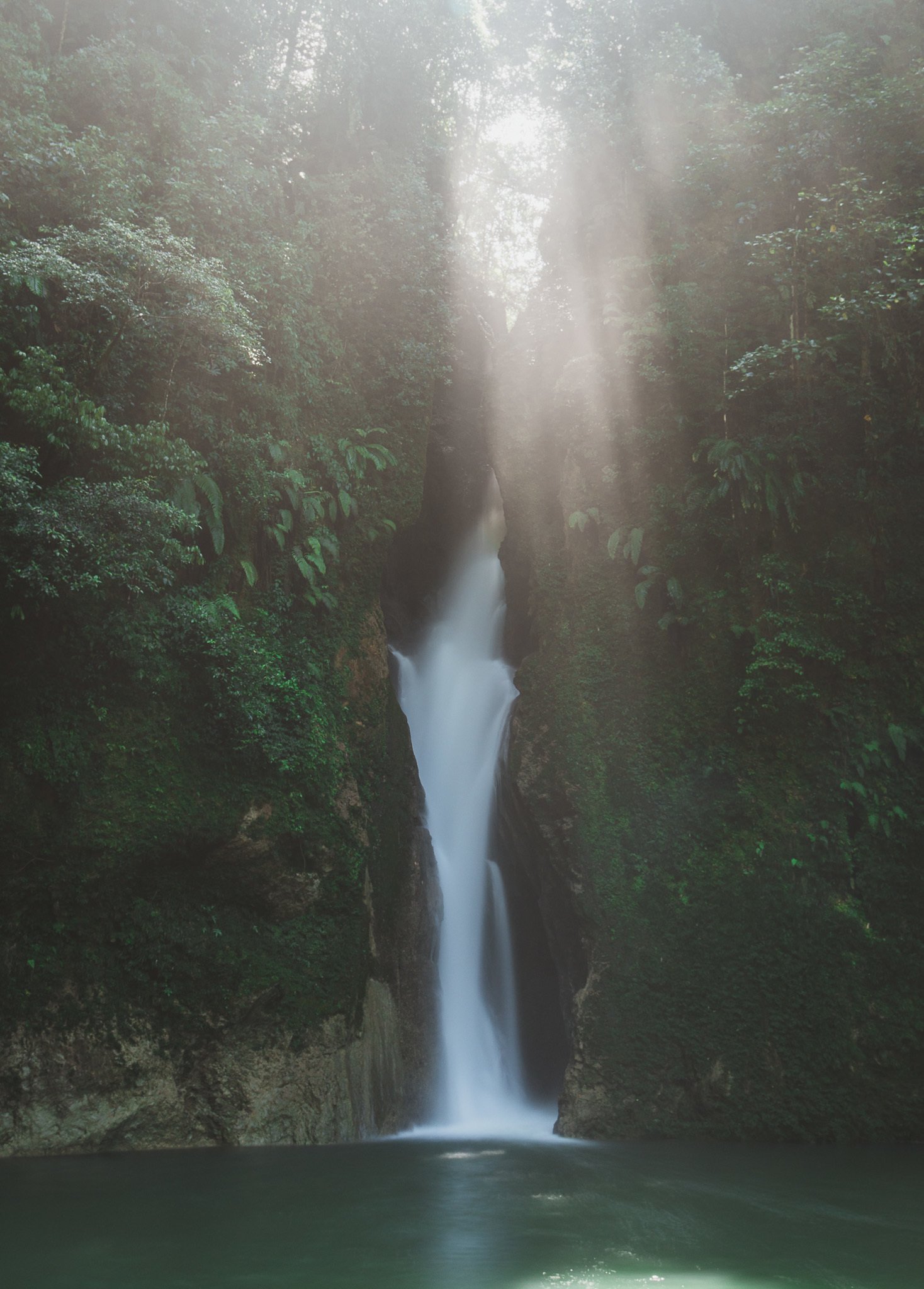 The BEST Places to Visit in Guatemala
Whether you want to summit volcanos, hike between Mayan villages, wander around ancient sites, or taste all of the amazing food, you'll have an action-packed backpacking trip in Guatemala!
Insider Tip: Literally all of the top things to see in Guatemala are worth visiting, so fitting everything in might become a real struggle if you don't have a rough itinerary. Plan your trip beforehand and you'll have the time of your life!
#1 – Laguna Lachua – One of the most incredible places to go in Guatemala!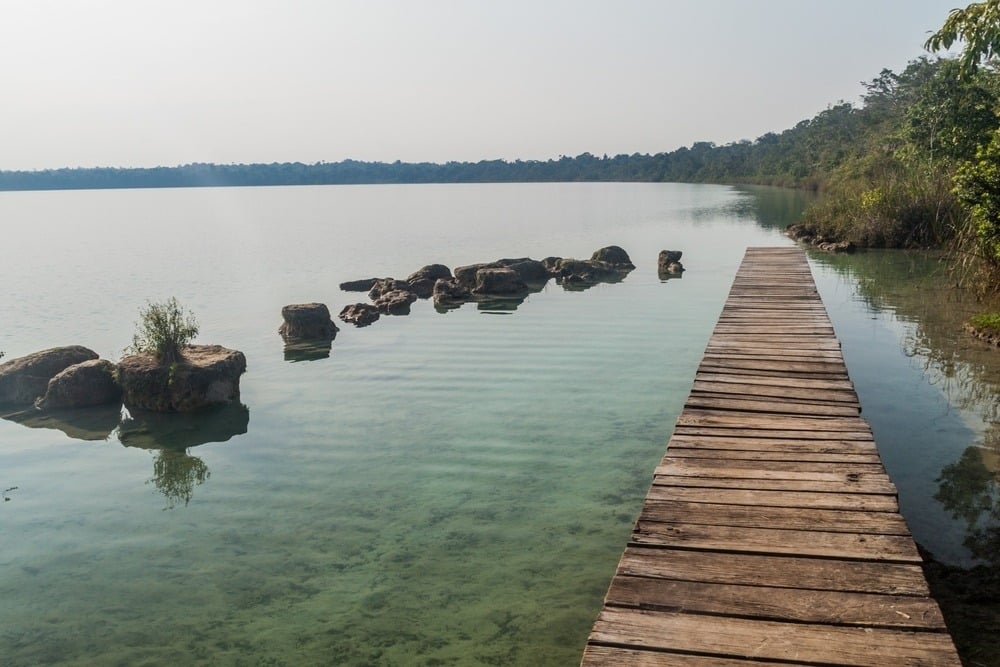 High biodiversity of native plants and flowers.
After a few rough roads and an hour-long hike through thick, dense rainforest, you will earn your afternoon at Laguna Lachua, one of Guatemala's most beautiful natural wonders.
This calcitic, bright turquoise lake is perfect for a variety of outdoor activities. Located in the middle of Laguna Lachua National Park, the lake remains free of villages and settlements, so you can relax in tranquility. A refreshing oasis in the middle of a jungle, Laguna Lachua is the perfect place to spend an afternoon.
Best Attractions
Hiking might be necessary in order to reach Laguna Lachua lake, but this 4-kilometer long path is full of flora and fauna to explore. Although it takes roughly an hour to complete, the trek is fairly flat and suitable for beginners.
Swimming in the lake on a hot day is the best way to cool off after the jungle hike. Soaps, shampoos, and other liquids are not allowed in the protected lake, so the waters are extremely clean.

Unlock Our GREATEST Travel Secrets!
Sign up for our newsletter and get the best travel tips delivered right to your inbox.
#2 – Tikal National Park – The most impressive Mayan site… in the world!?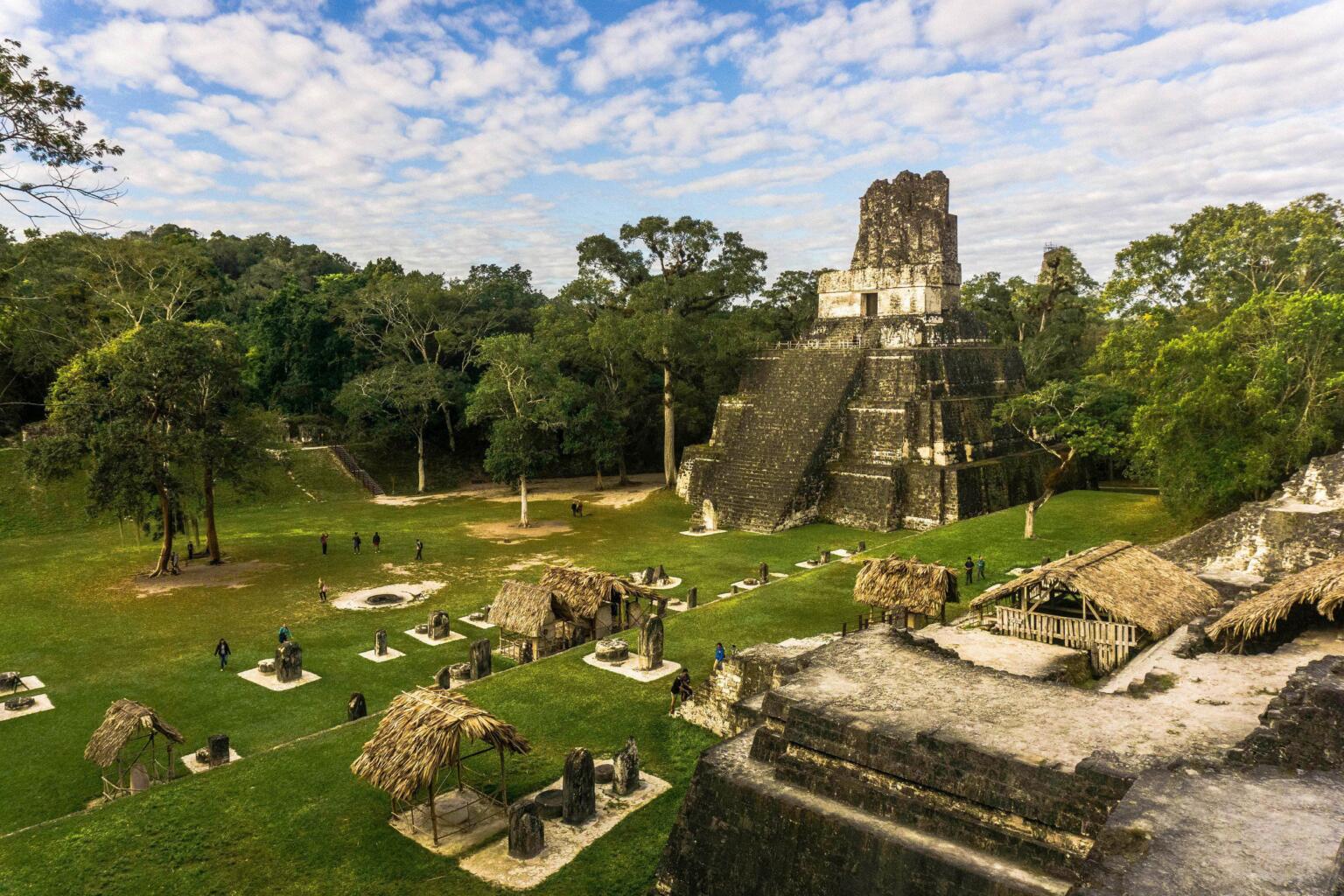 One of ancient Maya's most powerful cities;
Only a small percentage has been excavated.
Guatemala is home to one of the largest pre-Columbian Maya ruins in all of the world! Once known as Yax Mutal during its reign in the 4th-century BC, Tikal's ruins shed a glimpse of what life was like for this economically and politically important Maya city.
Now a UNESCO World Heritage Site, Tikal is full of palaces, homes, and monuments that cover an astounding 60 square kilometers.
Most of the park is covered in forest and fauna, but just a few feet under the jungle floor is a concrete floor. The theory is that the Mayans abandoned Tikal because their monstrous city ran out of natural resources. No matter what happened, the city they left is absolutely breath-taking, and it's still being excavated!
As someone who has explored multiple Mayan ruins, including the popular ones in Mexico, Tikal is the best one.
You can easily spend a full day here, if not more, exploring the trails and ruins. You can also expect to see spider monkeys, howler monkeys, plenty of birds, such as toucans, pizotes, and maybe (if you're lottery lucky) a jaguar.
Best Attractions
The North Acropolis is the main necropolis that contains the burial sites of citizens dating back 1,300 years. It most notably contains the tombs of several Maya kings, including Yax Nuun Ayiin, Siyaj Chan K'awiil II, and Wak Chan K'awiil.
The Plaza of Seven Temples is a complex of seven small temples that were built in 650 BC. Because of the similar size and shape of the temples, all seven are almost identical to each other. If you look on the north side of the temples, you'll find a three-sided ballcourt, which was completely unusual for this time period.
Tikal Temple I is one of the most prominent buildings in Tikal. Standing 47-meters high, the temple was built as a tomb and shrine to the King, Jasaw Chan K'awaiil I.
#3 – Chichicastenango – Home to the largest market in Central America!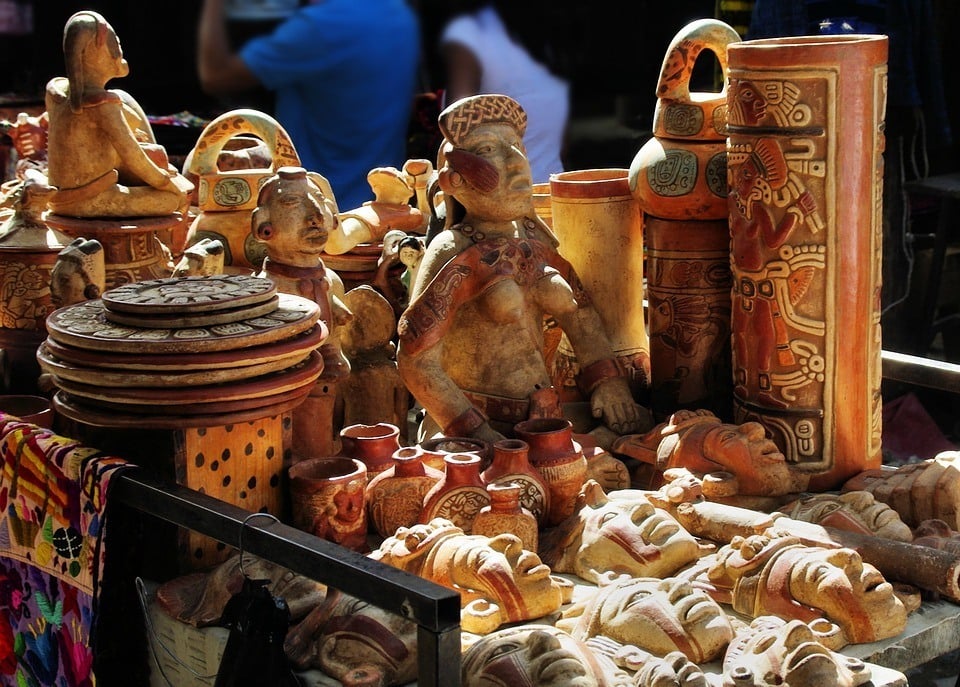 Traditional markets and shopping.
Situated high in the Guatemalan Highlands, Chichicastenango translates to place of Chichica (an itchy plant you should never touch). The seemingly normal town doesn't off tourists much to do on most days, but if you have the chance to visit on a Thursday or a Sunday, you will not be disappointed!
The Chichicastenango market is bursting with vibrant textiles, colorful crafts, and just about anything you could need. Chichicastenango is a photographer's dream.
There is something is buzzing around every cobblestoned corner, from the lively handicraft markets to the street-side grocery stores. Even if you aren't into shopping, Chichicastenango is worth visiting!
Best Attractions
Chichicastenango Market occurs every Thursday and Sunday right in the middle of the city center. Shops and stalls spill out into the street selling everything from fresh produce to pottery to livestock.
Iglesia de Santo Tomás is a church dedicated to Saint Thomas. Dating back almost 500 years, the church is marked by the 18 steps in front of it, which represent the 18 months of the Mayan calendar. The church holds significance as one of the only to mix Catholicism and the ancient Mayan religion.
Chichicastenango Regional Museum showcases traditional artifacts from Guatemala. You'll find everything from 800-year old ceramics to bright, colorful jade and stone carvings.
#4 – Semuc Champey – One of the most beautiful and scenic places to visit in Guatemala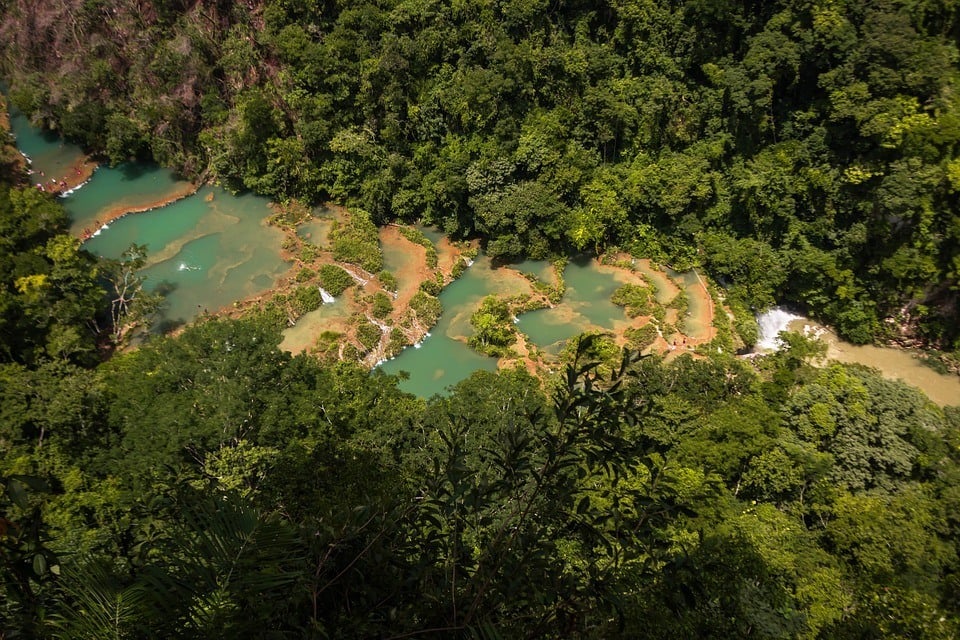 One of Guatemala's natural wonders;
Hiking, swimming and exploring.
Semuc Champey is one of the natural highlights of Guatemala. The brightly colored pools are tiered, and the water cascades down through each one until it reaches the Cahabón River.
It's truly one of Guatemala's most magical landscapes, and you'll be happy that you made the journey through the jungle to see its flowing falls.
Best Attractions
El Mirador is the highest viewpoint in Semuc Champey. A 45-minute hike to the summit boasts some of the best views of the pools, along with the green rainforests and mountains that surround them.
Swimming is allowed in the Semuc Champey pools. Some of the pools are deep enough for diving, so find a rocky cliff and jump into the refreshing turquoise waters for an unforgettable memory.
K'an Ba Cave can be explored directly in the water! It may be an additional fee to take the guided tour, but you'll have the chance to swim through the shallow, dark waters around the protruding, rocky stalactites.
#5 – Quetzaltenango (Xela) – One of Guatemala's most fun and authentic cities!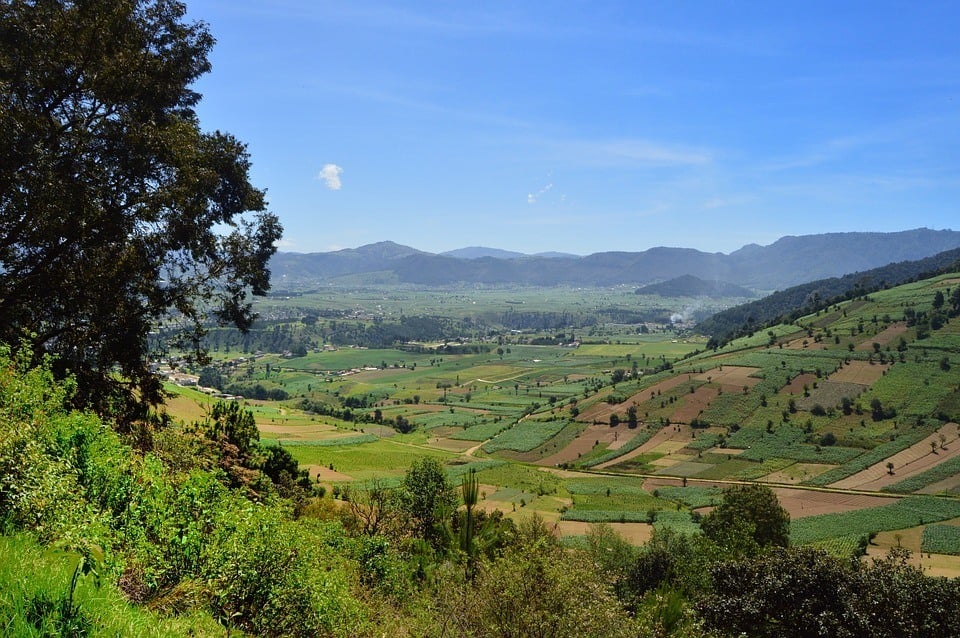 High altitude at 2,300-meters;
Although Quetzaltenango is the second-largest city in Guatemala, it feels quite a bit smaller than the polluted and loud capital.
Located high in the Sierra Madres Mountain range, Quetzaltenango is the perfect base for anyone looking to experience authentic, real-life Guatemala. Here you will find great Guatemalan food, lively locals, street fairs, and more.
Because Xela is lively and much more affordable than the cities in the south (the capital and Antigua), many backpackers settle down in Xela for a few weeks or months to learn Spanish.
The best part about Xela, however, is not found in the city proper. The surrounding mountains and volcanos provide ample opportunities for hiking, hot springs, and multi-day treks.
Because of the high altitude, Quetzaltenango can be cooler than the other cities, so don't forget to pack your sweater!
Best Attractions
Parque Centro América is a beautifully manicured park and the center of life in Quetzaltenango. Surrounded by museums, palaces, and cultural buildings on all four sides, Parque Centro América is the best jumping off point for seeing the city and also where you should stay. Many of the city's best restaurants are walking distance from here.
Volcán de Cerro Quemado, Santa Maria, and Santa Aguito: Explore dormant and active volcanos, where you can hike, cycle, and camp. If you make it to the summit of a volcano, you'll be rewarded with sweeping views of the entire city.
National History Museum is dedicated to Guatemalan history over the last several centuries. From taxidermied animals to ancient Mayan artifacts, you'll find everything in this fascinating museum.
Fuente Georginas are natural hot springs just outside of Xela, perfect for taking a dip after a long day of hiking!
Where to Stay in Xela
Hostel: Casa Seibel
Hotel: Casa Morasan Hotel
#6 – Acatenango Volcano – One of the best volcano hikes in Central America!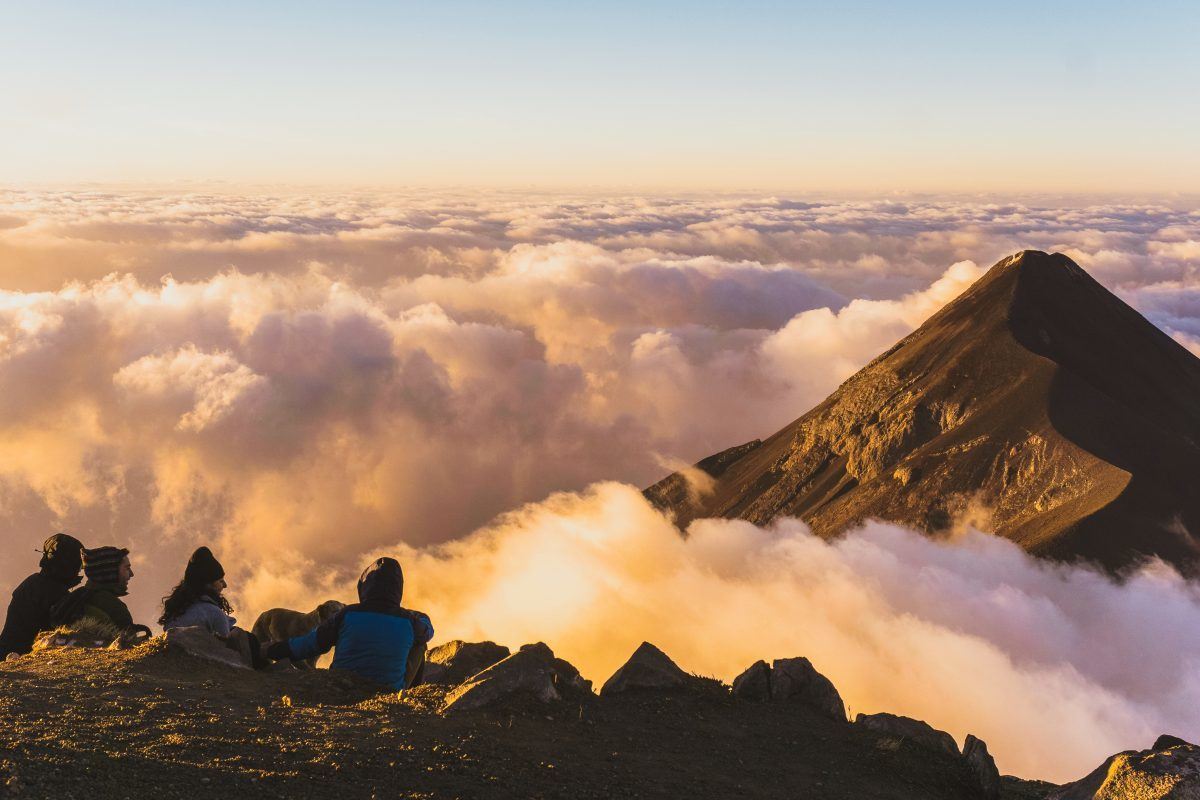 Strenuous Overnight Hike to Watch Volcan Fuego Erupt;
Beautiful Sunrise over Volcan Fuego.
One of the best volcano hikes in Central America, the hike to summit Volcano Acatenango is also tough with a capital T. This is due to the sheer steepness of the volcano; nevertheless, it's one of the most popular volcanos to summit, purely for its incredible views of the nearby (and very active) Volcan Fuego.
At the time of writing, Volcano Fuego is erupting every 10 minutes!!! Absolute madness, right!? The difficult climb is totally worth a front seat to Volcano Fuego. There are some tours that will even take you on top of Fuego, but not without its risks. A massive eruption killed hundreds of people just last year (June 2018).
Best Attractions
An Overnight Hike to the top of Volcano Acatenango is the best way to experience the hike. This way you can witness the sunrise, one of the best in the world!
Camping with a View of Fuego is my favorite part about this hike! At night you can really see the lava spewing from Volcano Fuego.
#7 – Pacaya Volcano – Most Active Volcano in Central America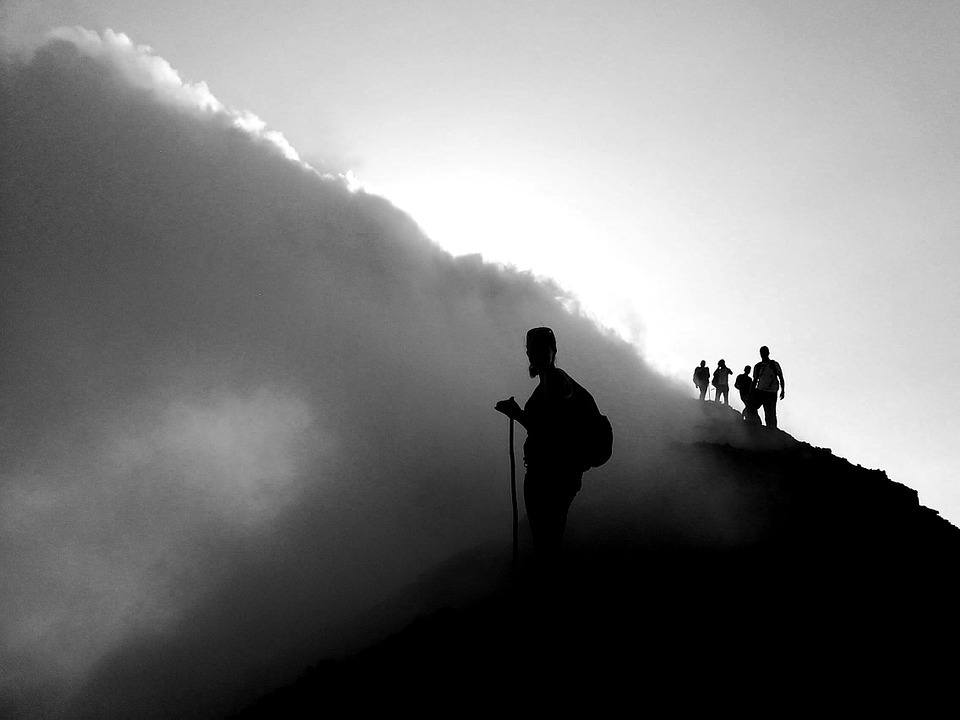 Erupted 23 times in 500 years;
See flowing, orange lava.
While there is no shortage of volcanoes in Guatemala, Pacaya remains one of the most active. Its last massive eruption was just in 2014, but that hasn't stopped tourists from climbing it anyway.
Towards the top, you'll have the opportunity to see the glowing, molten lava flowing down the volcano in streams! Standing over 2,500-meters into the sky, Pacaya is a natural site that can't be missed during your visit to Guatemala.
Moreover, the climb to the top of Pacaya is one of the easiest in the country (not to say it is easy) and only takes a few hours.
Best Attractions
Hiking to the top of Pacaya is the best way to experience the volcano. It's a fairly steep hike but only takes a couple of hours. The hike can be toured individually or in a tour group.
Roasting marshmallows over the burning lava flow is a unique activity to do on Pacaya. The marshmallow gets hot and toasty from the heat the radiates through the cracks in the volcano.
Horse rides can be taken to the summit if the hike is too steep for you. It's the perfect way to take photos and enjoy the view without burning any calories!
#8 – Pacific Beaches of Monterrico and Paredon – The most underrated places to visit in Guatemala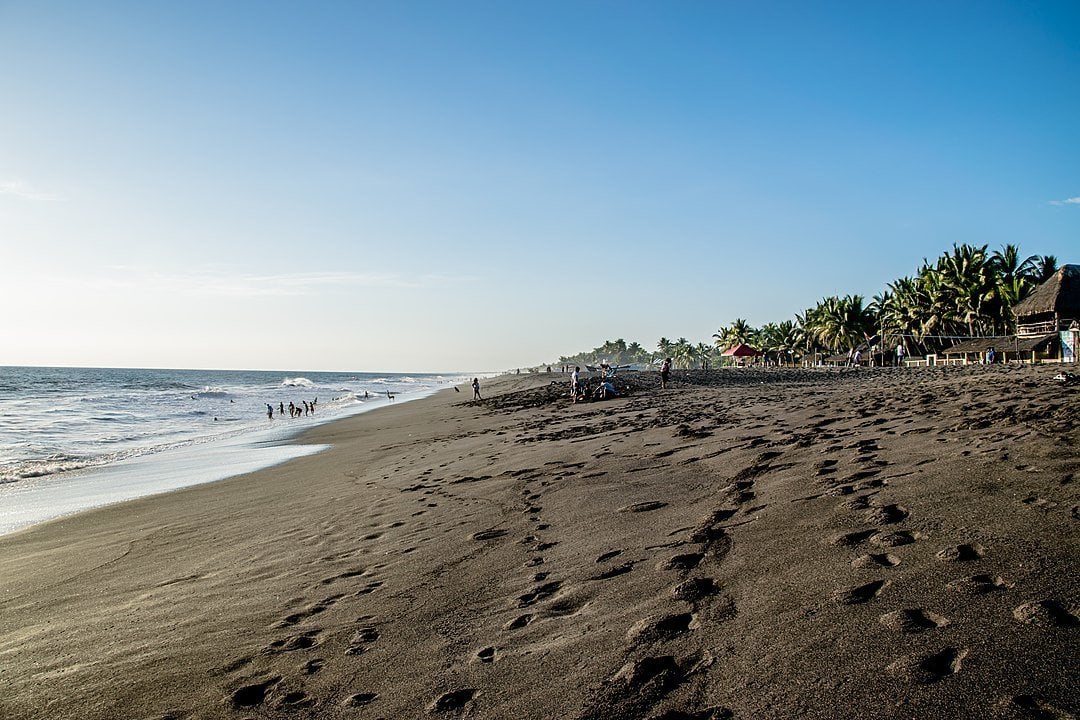 Underdeveloped black sand beach;
Surfing Paradise;
Monterrico in the middle of a mangrove swamp.
If you're looking for a bit of relaxation and sun in Guatemala, head to Monterrico, a pristine beach right on the coast. While Guatemala is not known its beaches, Monterrico remains a hidden gem just 2 hours away from Guatemala City. The black sand stretches as far as your eyes can see, and the lapping ocean waves are perfect for surfing.
Speaking of surfing, I definitely wanted to mention the even lesser developed village of Paredon. Further north from Monterrico, this beach is more famous for its surf breaks, and not there are a few surf schools and hostels setting up shop.
Here you'll find surf, sun, and seafood, and almost nothing else.
If you are looking for relaxing and more unique places to visit in Guatemala, then head to the coast!
Best Attractions
The mangrove swamp near Monterrico is a protected canal of trees situated right on Monterrico's beach. You can walk on the wooden boardwalk through the mangroves, or take a guided boat tour through the swamp.
Surf in Paredon is pretty decent, though not the best for total beginners. You'll have a good time no matter what, though!
Photography is popular during sunset or sunrise due to the contrasting orange and pink sky against the dark, black sand. The beach is rarely crowded, so you don't have to worry about any tourists photobombing your pictures!
#9 – Lake Atitlan – One of the Best Places to hang for a week in Guatemala!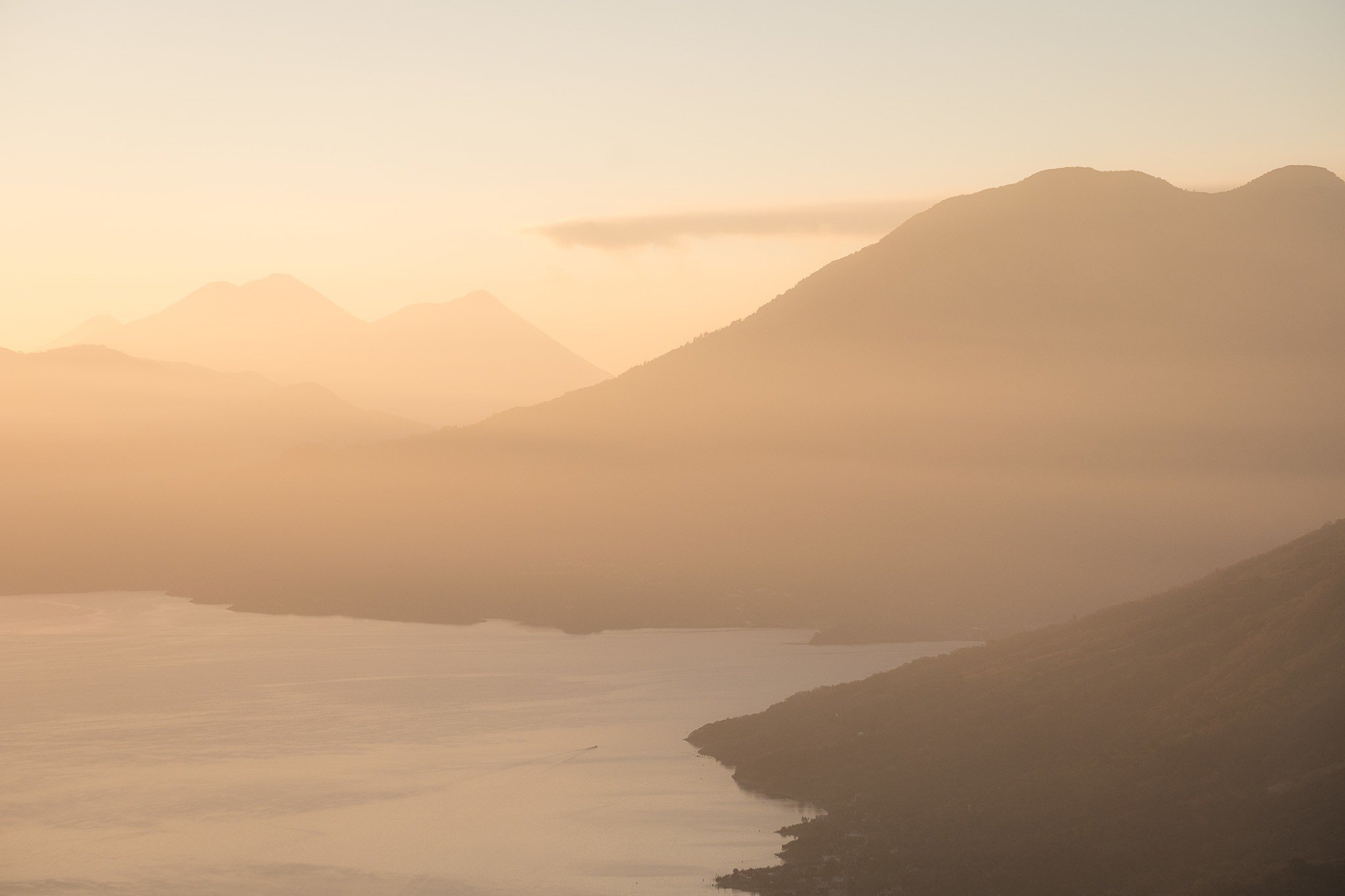 The deepest lake in Central America;
Many unique and small villages to explore, lakeside.
Lake Atitlan isn't really a secret anymore. It's been frequented by backpackers since the 60s and continues to remain one of the most popular places to visit in Guatemala. All of that being said, it is also one of my personal favorite places to visit in Guatemala.
Lake Atitlan is a cobalt blue lake surrounded by rugged, volcanic mountains. The views are absolutely incredible and there are plenty of awesome activities to do on and around the lake, such as a sunrise hike (as pictured), kayaking around the lake, or even just hanging out on the docks.
There are several towns that surround the lake, and each has a completely different atmosphere than the other. The three most popular are Panajachel (also the most convenient to reach from Antigua and the Capital), San Pedro, and San Marcos.
Panajachel is a nice mix of everything and is convenient to reach, but it's also a bit noisy and polluted. I recommend visiting the markets for an afternoon and staying elsewhere on the lake for a more relaxing stay.
I always tell travelers there are two types of backpackers: those who stay in San Pedro and those who stay in San Marcos. San Pedro has the best nightlife and San Marcos has the best vegetarian food served with a side of Kombucha *shout out to Love Probiotics!*
Actually, Love Probiotics is technically in Tzuluna and you can find it in San Pedro too 😉 All jokes aside – as I appreciate both towns for what they are – these are great spots to base yourself if you want to be close to other travelers, things to do, and good food.
They are not authentic nor do many locals live in the center, but luckily some of my favorite towns are not far away.
San Juan is just a short boat or tuk-tuk from San Pedro. Here you'll find some of the best textiles and art classes. The people are ultra laid back. This is my favorite town, personally.
Just a tuk-tuk from San Marcos is the tiny town of Tzuluna. Come here to visit Bambu House and the awesome permaculture farms. Santa Cruz is also on the same side of the lake and a nice village to spend a couple of nights as it has some of the best views of the lake, but there isn't much to do here other than relax in the sun.
Best Attractions
Paragliding is one of the most thrilling activities to do over Lake Atitlan. You'll have the most exquisite bird's eye view of the volcanoes and valleys as you gracefully fly over the Lake and Panajachel River.
San Pedro is the largest village around Lake Atitlan. Attracting a variety of backpackers and students attending one of the many Spanish schools, San Pedro also happens to be a wild nightlife area.
San Juan is a charming village located 10-minutes from San Pedro. Overlooked by most tourists, San Juan caters more for those looking for authentic Guatemalan culture.
Is This the Best Daypack EVER???
#10 – Livingston – Give the Atlantic Coast some love!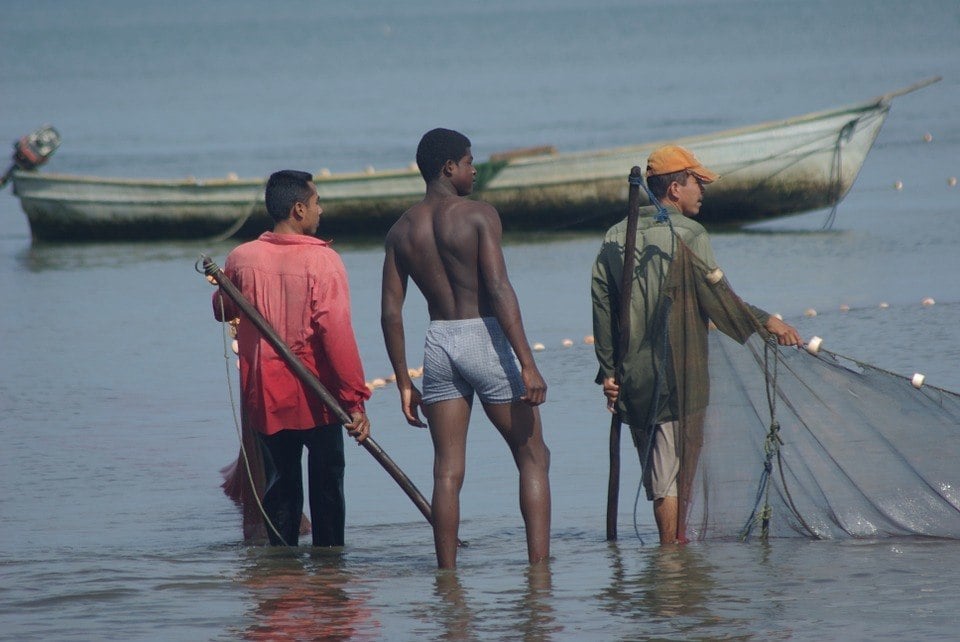 Majority of the population is ethnically Garifuna;
Peninsula is only accessible by boat.
For a slice of the Caribbean in Guatemala, head to Livingston, a unique city that makes you feel as if you've left the country! Although it was populated by escaped Garifuna slaves, Livingston has transformed to become a culturally diverse city with a laid-back Caribbean-like atmosphere.
Come to learn more about Garifuna culture, indulge in gourmet cuisine, and unwind in this picture-perfect town. Playa Blanca isn't too far away either!
Best Attractions
Los Siete Altares are stunning, cascading waterfalls that can be viewed just 5-kilometers from the city center. Swim in the freshwater pools, or take a boat tour to experience everything Los Siete Altares has to offer.
Shop through the local markets to find a unique souvenir. Traditional handicrafts from Livingston include shell jewelry, coconut artwork, and embroidered textiles.
Drink Coco Loco, the local tropical cocktail of the area. You'll find several street stalls selling this delicious drink, which is rum that has been poured inside a fresh coconut! If you're feeling adventurous, don't forget to try Guifiti, another rum-based cocktail known to have healing properties.
Where to Stay in Livingston
Hostel: Casa De La Iguana
Hotel: Casa Nostra
#11 – Zone 1, Guatemala City – A great place to visit in Guatemala for the architecture!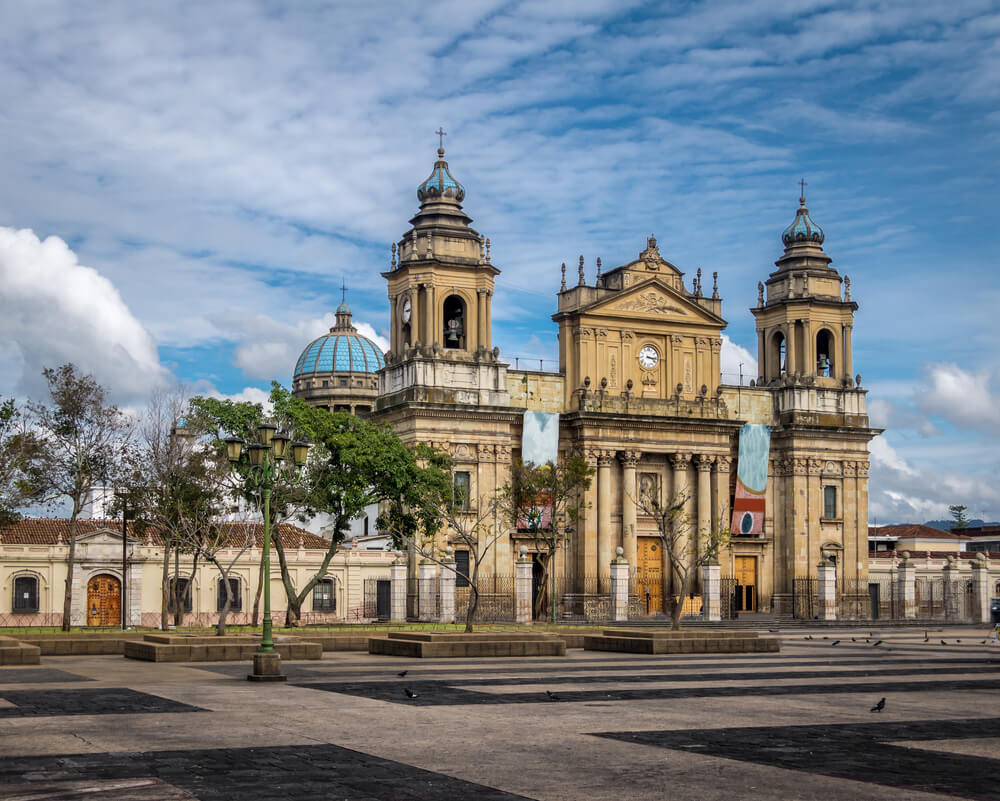 Architecture hub of Guatemala City;
The historic part of the city.
When visiting the bustling Guatemala City center, you'll most likely wander through the metropolis of Zone 1. Breathtaking plazas and grand palaces intertwine between cheap bars, restaurants, and hostels.
If you're looking for a bit of quiet and relaxation, then Zone 1 is not for you! The neighborhood becomes even more hectic at night with loud music, rowdy cocktail bars, and late-night clubs. If you want to explore the historic sights of Guatemala city in Zone 1 and the others, we'd recommend doing so with a private guide.
Best Attractions
Catedral Metropolitana is the stunning cathedral that looms over the city. Although several earthquakes destroyed the interior of the church, the ornate exterior facade is impressive on its own. Taking almost 100 years to construct, this baroque and classical building has 12 towering pillars, a marble altar, and two side-wing towers.
Plaza Mayor de la Constitucion is the main square and beating heart of Zone 1. Surrounded by some of the most grandiose buildings in the city, Plaza Mayor de la Constitucion is the perfect place to grab a cup of coffee and people watch.
Guatemalan National Theatre is a jaw-dropping complex that was once a historical military fortress. This cultural center shows every type of performance in its grand theater, from musicals to operas to ballets.
#12 – El Boqueron Canyon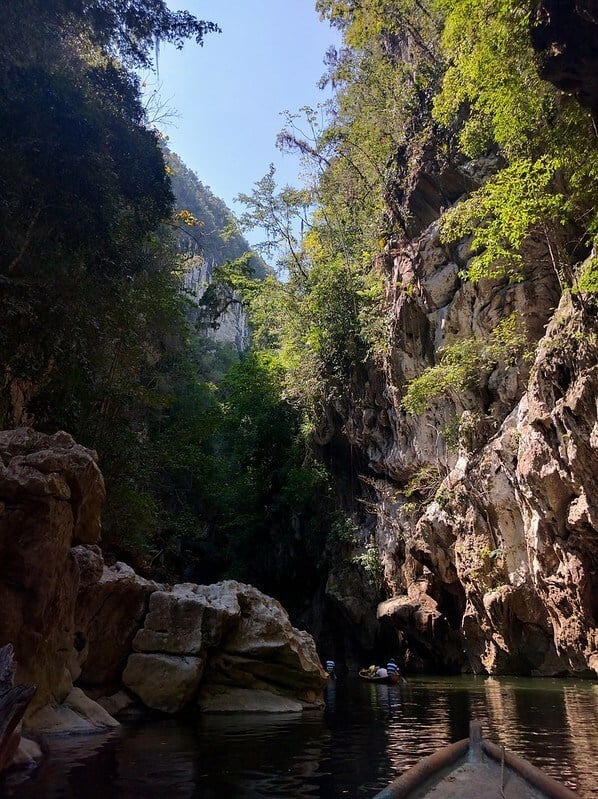 The perfect non-touristy natural park.
If you are looking for a place to visit in Guatemala that is off the beaten path, head towards El Boqueron Canyon. Located just one hour from Rio Dulce, the steep limestone walls of the El Boqueron Canyon are just one of the many impressive sites to see.
Rarely visited by tourists, you'll most likely have the jagged cliffs and running waters all to yourself. The further you go into the canyon, the more stunning and gigantic the rocks are!
Best Attractions
Swimming through the shallow waters is the best way to experience the El Boqueron Canyon. Although it's an exhilarating experience, keep in mind that you will be swimming in currents and around rocks.
Boat tours are offered by many of the locals that live around the canyon. For a small fee, they'll take you out on their canoe for some of the most jaw-dropping views of the towering canyons above you.
Explore the caves that have been created by the limestone rocks. As you bob above the blue waters, you'll see some of the impressive carved out stalagmites and stalactites.
Small Pack Problems? 😉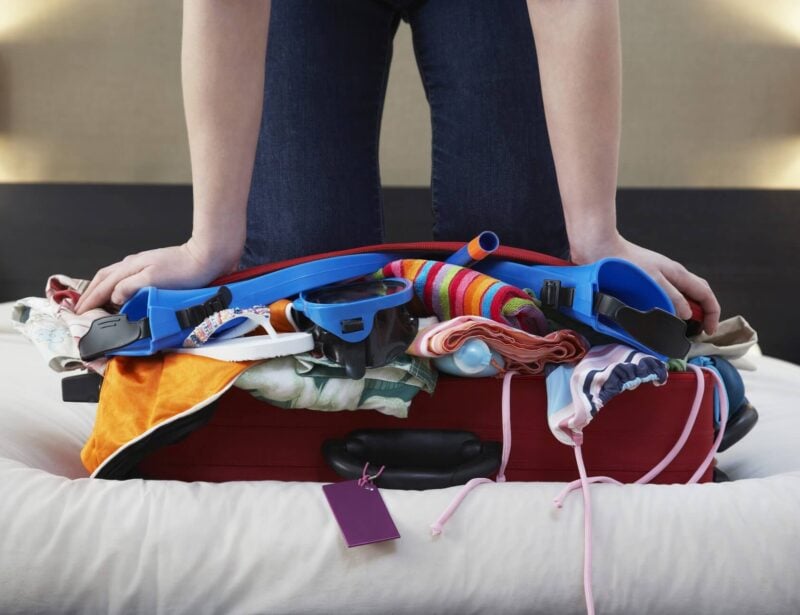 My missus travels with all her clothes in ziplock bags: don't be like my missus. UP YOUR PACKING GAME!
Packing cubes for the globetrotters and compression sacks for the real adventurers – these babies are a traveller's best kept secret. They organise yo' packing and minimise its volume too so you can pack MORE.
Or, y'know… you can stick to ziplock bags.
View Our Fave Cubes
Or Check Out the Sacks!
#13 – Antigua – A must visit place in Guatemala on the weekend!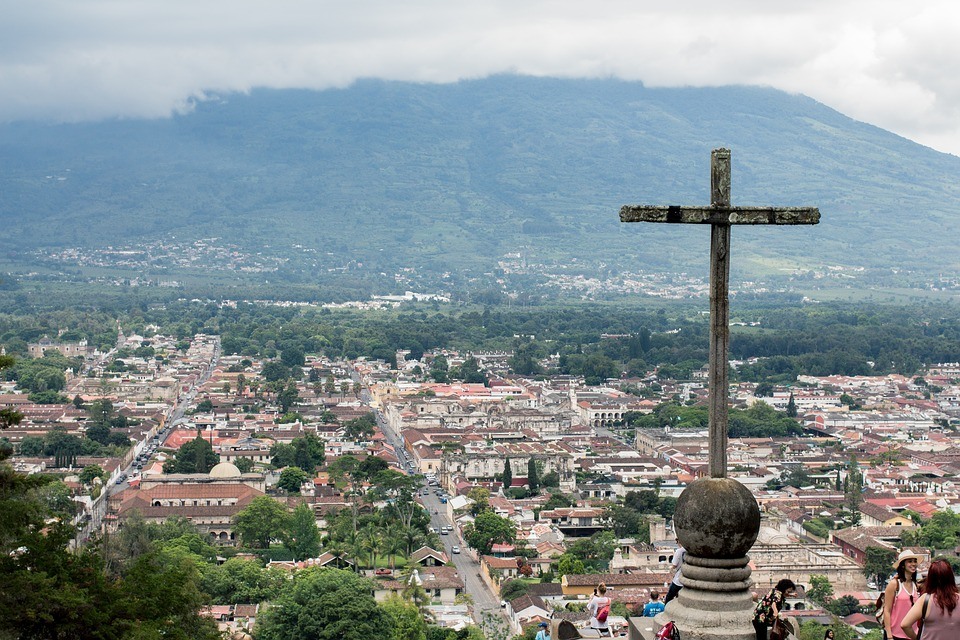 Only 35,000 local residents;
Spanish-Baroque architecture and one of the most beautiful towns in the country.
You didn't think we'd leave Antigua off of the list, did you!? This Spanish colonial town is arguably the most aesthetically pleasing city in the country, if not on the continent! Since there are different neighborhoods in the city, doing some research on where to stay in Antigua can make your trip a lot more enjoyable.
Architecture lovers will enjoy spending the day wandering around the preserved streets of Antigua. From the colorful colonial buildings to the narrow cobblestone alleys, the entire city center is a designated UNESCO World Heritage Site.
Antigua is also regarded as one of the best places to learn Spanish, and there are many highly regarded institutes and schools that teach students from all over the world! For this reason, and its convenient location, Antigua has become the most visited place in Guatemala.
With such popularity comes plenty to do, and awesome restaurants, but also a loss of local authenticity. While Antigua is beautiful and a lovely place to live for a while, it doesn't represent the country anymore. However, there are countless amazing hostels in Antigua that make the stay absolutely worth it.
Best Attractions
Arco de Santa Catalina is the recognizable, iconic arch that stands in the middle of the city. Built in the late 1600s, this bright yellow landmark connects a Catholic convent to a school but also symbolizes the entrance to Antigua.
Iglesia de La Mercedes is a grand church styled in a classically Spanish-Baroque style with a dab of Moorish influence. Don't miss the sprawling tiered water fountain that takes up the entire inside courtyard.
Cerro de la Cruz is the tallest hill that looms over the entire city of Antigua. Marked by a tall cross at the summit, you'll be able to see panoramic views of the city and volcanic backdrop.
Where to Stay in Antigua
Hostel: El Hostal BNB
Hotel: Selina Antigua
#14 – Cobán – One of the Best Jungle Regions to Explore in Guatemala
Coffee and cardamom plantations;
Lots of rivers and beautiful nature.
Cobán is the main city in this region and honestly doesn't have much to offer in the city proper. You come to Cobán as a base for exploring the nearby rivers, waterfalls, and farms!
The most famous nearby attraction is Semuc Champey, which is just outside of Lanquin. If you really want to get off the beaten path, consider visiting places like Moy Sac.
Cobán is close to many of Guatemala's top national parks and reserves, and is one of the best places for tasting one of Guatemalan's biggest exports – coffee! Situated in the central highlands of Guatemala, coffee and cardamom are grown here.
Best Attractions
El Calvario Church is not only the most prominent religious building in the city, but it also boasts the best view from its terrace! Legend has it that the church was built when a hunter spared two sleeping jaguars and instead saw the image of Christ the next day where they were sleeping.
Las Victorias National Park is just a few minutes outside Cobán and is an 82-hectare park that was once a coffee plantation.
Nearby Nature like Semuc Champey and Moy Sac.
#15 – Lake of Peten Itza – Let's Give Lake Atitlan a run for its money for most beautiful lakes in Guatemala…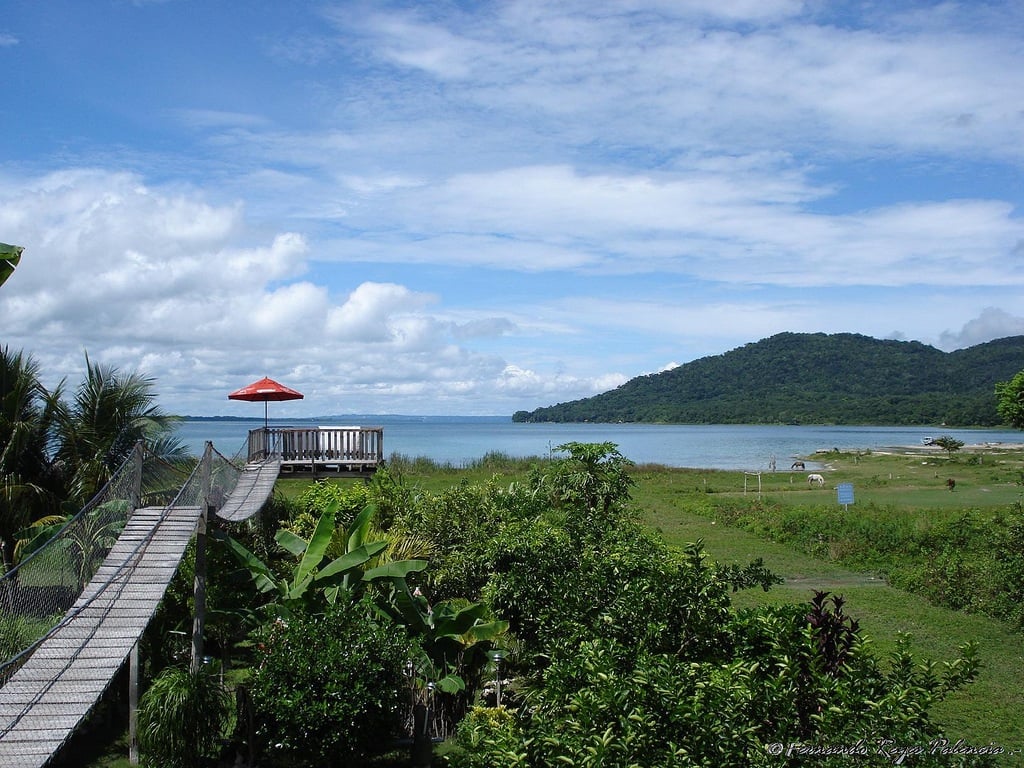 Chill on the lake before visiting Tikal;
The name Itzá means "Brujo del agua", or water witch. This beautiful lake is often visited because of Flores Island, which is a jumping point for Tikal, but with the right guide and transportation, there is so much to explore around this lake!
You can take a kayak, swim, or even sail to a lost island! Playa Chechenal is the most convenient beach near Flores, mostly known for its wooden dock, white sand, and turquoise water.
El Remate is my personal favorite place on the lake! This is a small and relaxed town on the eastern side of the lake, opposite to Flores and so not visited often by backpackers. The water is much cleaner on this side, so it's a great place to swim and kayak.
Best Attractions
El Remate is a laidback and beautiful part of the lake. It's also the best spot to catch the sunset.
Explore Flores, the town/island in the middle of the lake!
#16 – Panajachel, Lake Atitlan – The Gateway to the Blue Lake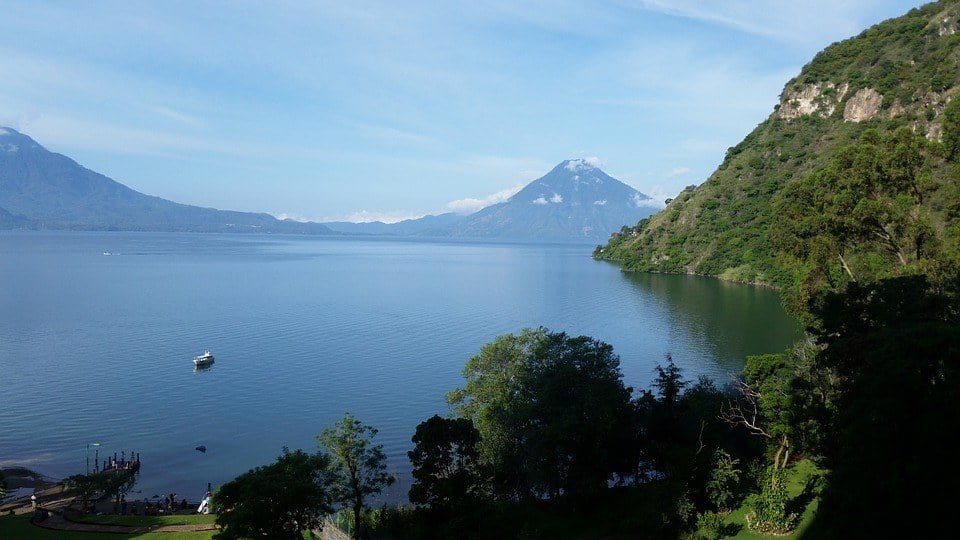 Cheap shopping and markets
Panajachel sits on the banks of Lake Atitlan and is the perfect home base for exploring the neighboring area.
While you can easily spend a full day admiring the buildings and churches, the main draw is watching the vibrant sunset from the shores of the lake. Because of its location, it's the best town to catch the sunset.
Best Attractions
Souvenir shopping in Panajachel is a great way to get affordable trinkets and gifts for everyone back home. You can find great bargains compared to most other cities, as long as you're prepared to haggle for it! If you want to visit a more authentic market, head up the hill to Solola.
Temescals or traditional Mayan saunas can be found throughout Guatemala, but Panajachel has some of the best treatments. Nothing is more relaxing than sweating out all the toxins in a beautiful, remote sweat lodge.
Calle De Los Salpores is a street that runs straight through the city center to the lake. At the end of the street, you'll be rewarded with one of the best viewing points to watch the colorful, infamous sunsets.
Where to Stay in Panajachel
Hostel: Hostal Dulces Sueños
Hotel: Hotel Utz Jay

Our GREATEST Travel Secrets…
Pop your email here & get the original Broke Backpacker Bible for FREE.
#17 – Quiriguá – Lesser-known but impressive ruins to visit in Guatemala
An ancient archeological site from 200 AD
The archeological site of Quiriguá is located on the Southeast coast of Guatemala. Once a powerful kingdom during the Maya Classic Period, the city slowly started to decline after the death of the King Uaxaclajuun Ub'aah K'awaiil.
From the sprawling plazas to the towering monoliths, Quiriguá is a historical and educational site to learn more about Guatemalan history.
Best Attractions
The Great Plaza sits at the center of Quiriguá and is considered the largest plaza in the entire Maya region. Legend has it that the Great Plaza was the site of where King Uaxaclajuun Ub'aah K'awaiil was sacrificed.
Stela C is one of the site's oldest monuments. Built in 775, and standing over 9-meters tall, the monolith is adorned with ancient hieroglyphic texts and pictures.
Stela E is the world's tallest free-standing monument at 10.5-meters high. While it looks strong the monolith has actually fallen over multiple times due to bad weather. It now has to be partially buried underground in order to keep it sturdy.
#18 Crater Azul – One of the most beautiful places in Guatemala
The blue crater or (Crater Azul) is a small blue-water pond located at the end of a series of natural streams. To get here, you'll need to boat on Rio La Pasion, which is also known for its outstanding flora. It's best to go to Crater Azul with a guide since there is plenty to learn about the nature and crater itself.
Crater Azul was formed by a natural barrier, and the blue color is due to a large population of snails that keep it clean!
#19 – Sierra Del Lacandon National Park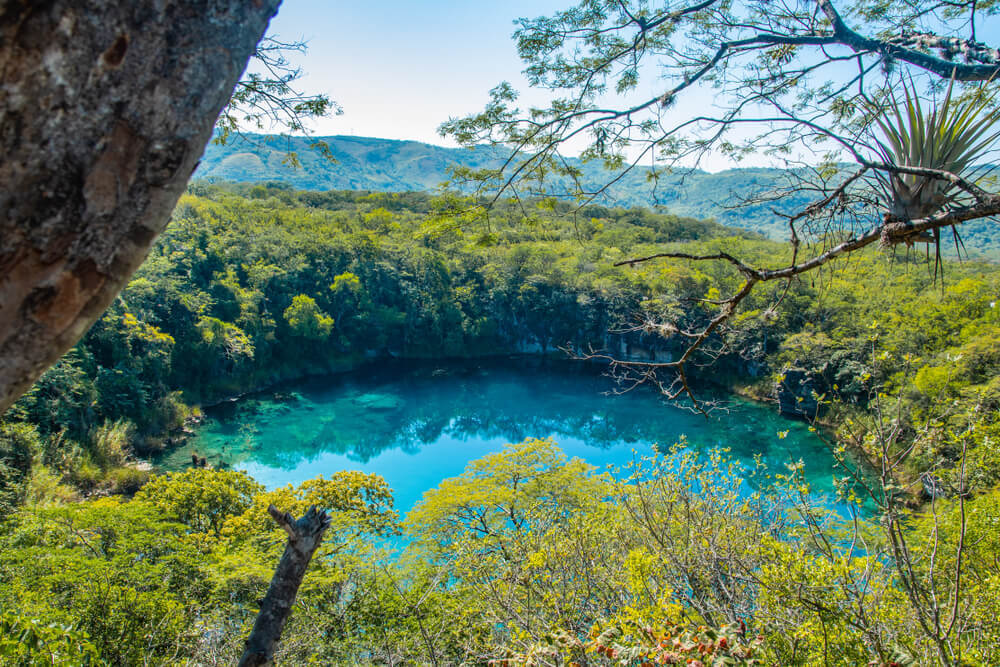 Most biodiverse park in all of Guatemala;
Several Maya ruins to explore.
With some of the most diverse ecosystems in the entire country, Sierra Del Lacandon National Park is a stunning site with jagged limestone cliffs and lush green rainforests. Budging up to the Mexican border, Sierra Del Lacandon National Park is protected land that covers an astonishing 2,000 square kilometers.
Not only is the park thriving with native plants and flowers, but it's also home to more than 30 archaeological sites to explore.
Best Attractions
Piedras Negras is an ancient pre-Columbian Maya site known for its abundant sculptures. Human activity was recorded in Piedras Negras dating all the way back to the 7th century BC!
Selva Lacandona is a gigantic rainforest that also stretches into Mexico and Honduras. The Chiapas section of the rainforest is located in Guatemala and contains babbling rivers, flowing waterfalls, and lush vegetation.
Cenotes are located everywhere throughout the park. Bring your swimsuit and dive straight into the crisp, blue pools on a hot summer day.
#20 – Ixil Region – Places to Visit in Guatemala with Culture and Hiking
The Ixil Region in the state of Quiché is remote and rural. It's one of the harder to reach areas of Guatemala but definitely worth reaching to experience the authentic Ixil culture and hike around the highlands that reach over 3,500 meters!
There are several towns to visit in this area, many of which can be hiked in-between. Nebaj is generally the starting off point. It's a small city, but worth stopping through to eat Boxbol and check out the market! One of the best hikes also starts here: Nebaj to Todos Santos.
Some of my favorites include Acul (known for its cheese), Chajul for its coffee and nearby waterfalls, and more remote towns like Chortiz, which you have to hike to in beautiful natural surroundings.
Best Attractions
Hiking in the highlands is one of the best ways to experience this incredible area. There are many remote villages and natural surroundings to explore as well as waterfalls!
Eat Boxbol, the regional dish.
Save $$$ • Save the Planet • Save Your Stomach!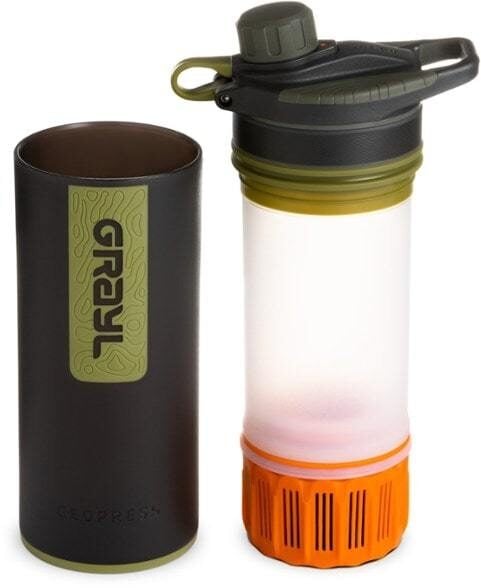 Drink water from ANYWHERE. The Grayl Geopress is the market's leading filtered water bottle protecting your tum from all the waterborne nasties. PLUS, you save money and the environment!
Single-use plastic bottles are a MASSIVE threat to marine life. Be a part of the solution and travel with a filter water bottle.
We've tested the Geopress rigorously from the icy heights of Pakistan to the tropical jungles of Cuba, and the results are in: it WORKS. Buy a Geopress: it's the last water bottle you'll ever buy.
Buy a Geopress!
Read the Review
#21 – Flores – The Gateway to Tikal National Park
Gateway to the Tikal Ruins;
A charming, colorful island town.
Nestled on an island surrounded by Lake Peten Itza, Flores is a good jump off point to visit the Tikal ruins. Flores still attracts a variety of visitors thanks to its well-preserved architecture and historic buildings.
The town itself is so compact that you can actually walk the entire thing in only 15-minutes, but Flores can be reached by a small highway that connects the island to the mainland.
Best Attractions
Flores Plaza is the main square in the center of town. There are many cheap bars and restaurants that surround the square if you're looking to get a delicious filling snack without breaking the bank.
Tuk Tuk ride to Flores over the small causeways that connect to the mainland. It's one of the cheapest ways to reach the city, and also one of the most memorable!
The Night Market has some of the best food in the city.
Where to Stay in Flores
Hostel: Hostel Yaxha
Hotel: Ciao Cacao
#22 – Rio Dulce – An awesome place to visit in Guatemala for half a day!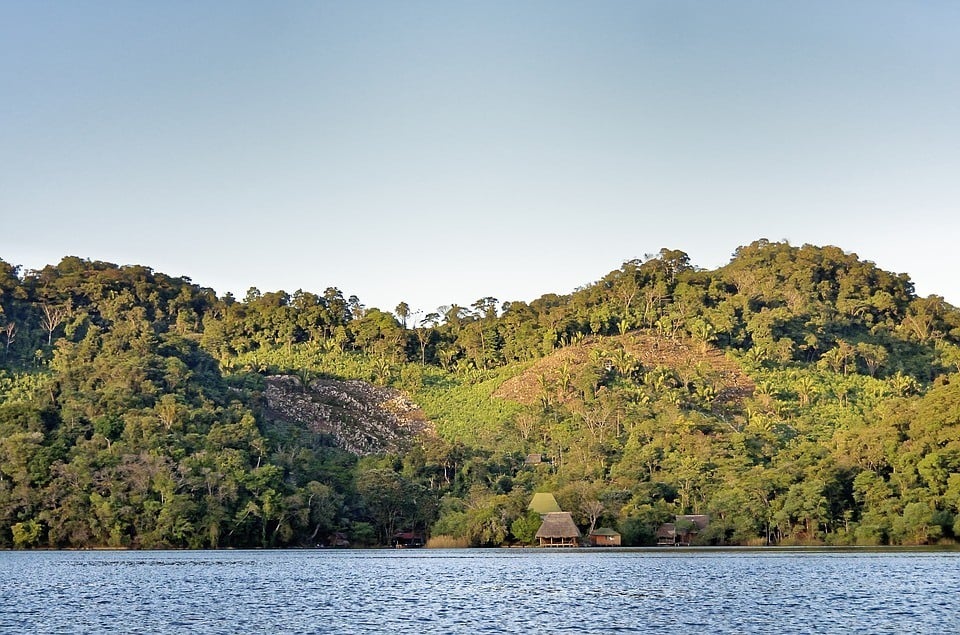 The main connection to Livingston.
The Rio Dulce flows 43-kilometers through Guatemala and is home to the country's top attractions and cities. Snaking through narrow, limestone gorges and riverbank homes, Rio Dulce is the perfect place to relax and let time slip by you. Whether you're cruising down the river on a boat or admiring the streams from the bank, you'll definitely be in awe of this wonderful natural landmark.
Best Attractions
Boat tours are the best way to see large parts of Rio Dulce. Take a short tour down the water and see a plethora of dense jungles, tangled mangroves, and charming villages!
Thatched houses are scattered all over the banks of the Rio Dulce. These wooden huts are propped a few feet over the river with palm leaf roofs to keep indoors cool and dry.
Sailing is another popular activity down the river. Many sailors rent their boats in Honduras and make their way down the river via the Carribean sea. The best thing about hiring your own sailboat is that you can make stops wherever you want, from the bustling town of Livingston to the ancient Mayan sites.
#23 – Zone 4, Guatemala City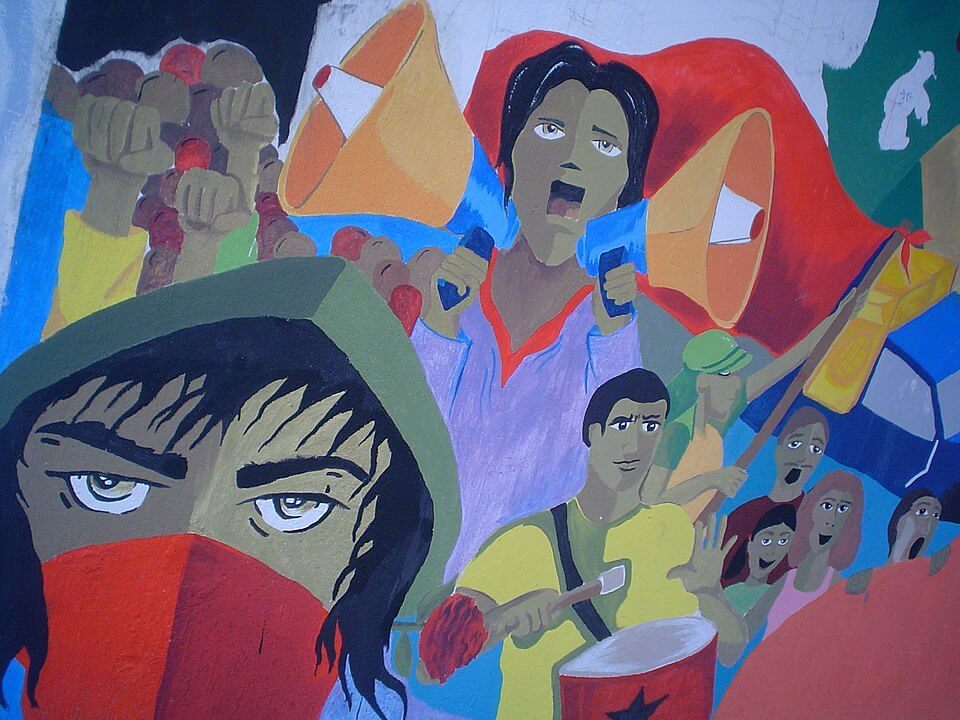 The artistic hub of Guatemala City
Line with boutique stores, cozy cafes, and cool art galleries, Guatemala City's Zone 4 neighborhood is the cities artistic and cultural hub.
While it was once a seedy, run-down area south of Zone 1, it has since seen a wild transformation making it one of the coolest places in the entire city. Don't miss out on the color street graffiti painted on most of the buildings and walls throughout the neighborhood.
Best Attractions
Cuatro Grados Norte is a pedestrianized street in the middle of Zone 4, and one of the neighborhood's trendiest hangouts. Overflowing with bars, shops, and cafes, Cuatro Grados Norte should be your first stop for bohemian, artistic culture.
La Esquina is a small market with some of the best contemporary food stalls in the city! Built in the style of a traditional Guatemalan market, you're sure to find something tasty in this indoor food palace.
La Erre is a quaint art gallery that also hosts a variety of unique exhibitions and workshops. This cultural center features a gallery dedicated to the local artists of Guatemala City, as well as several interactive exhibits.
Get insured for your trip to Guatemala!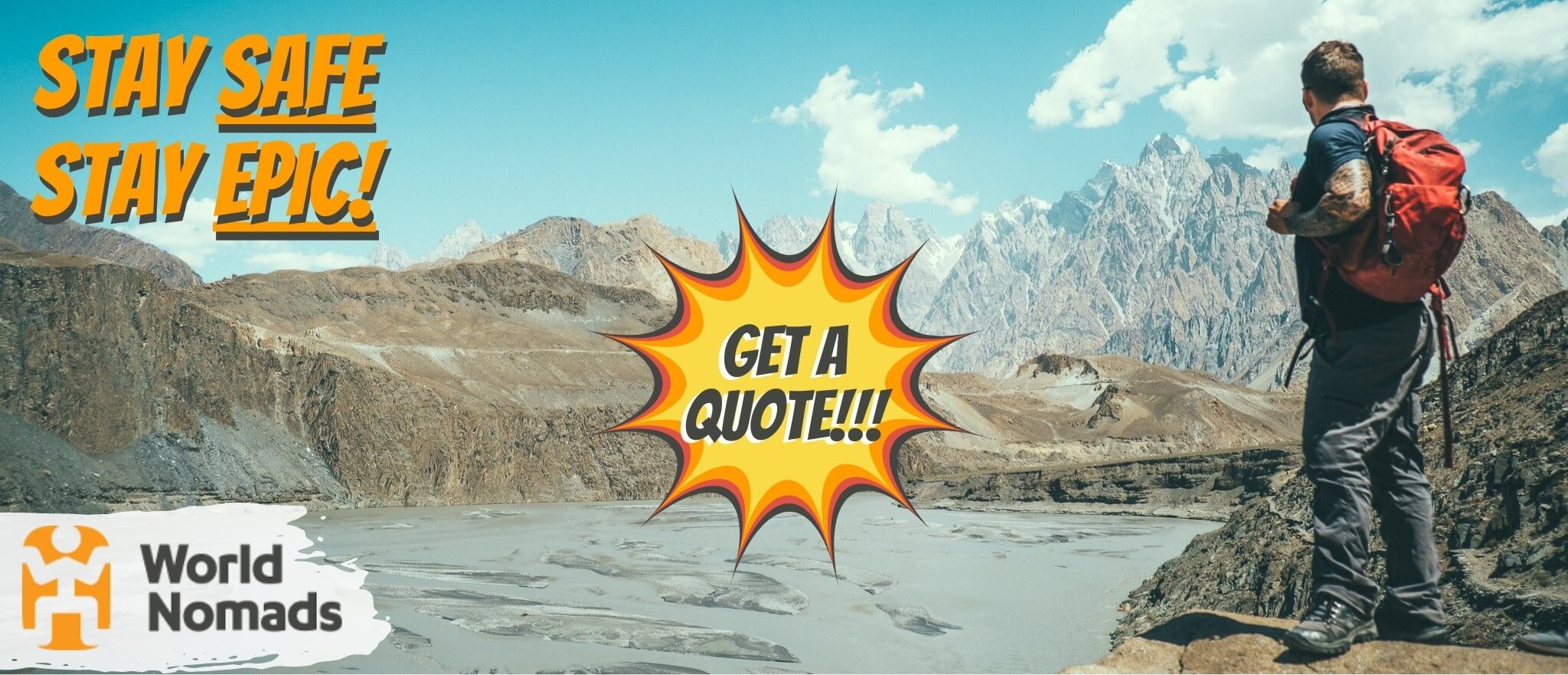 World Nomads' mission is to support and encourage travellers to explore their boundaries. They offer simple & flexible travel insurance, and safety advice to help you travel confidently.
They've been doing it since 2002 – protecting, connecting, and inspiring independent travellers just like you.
Get a quote below or read our in-depth review!
World Nomads provides travel insurance for travelers in over 100 countries. As an affiliate, we receive a fee when you get a quote from World Nomads using this link. We do not represent World Nomads. This is information only and not a recommendation to buy travel insurance.
FAQ on the Best Places to Visit in Guatemala
Find out what people want to know about the best places to visit in Guatemala
Final Thoughts on the Best Places to Visit in Guatemala
Now that you know a little more about Guatemala, you can see how this stunning country is rich in history and overflowing with some of the most abundant landscapes in the world. With tons of outdoor activities and iconic attractions, we hope you feel inspired to visit this often overlooked destination!
Whether you're backpacking through the quaint villages on the Lake Atitlan coast or indulging in local, tropical cuisine, we know that Guatemala has something special for you.
---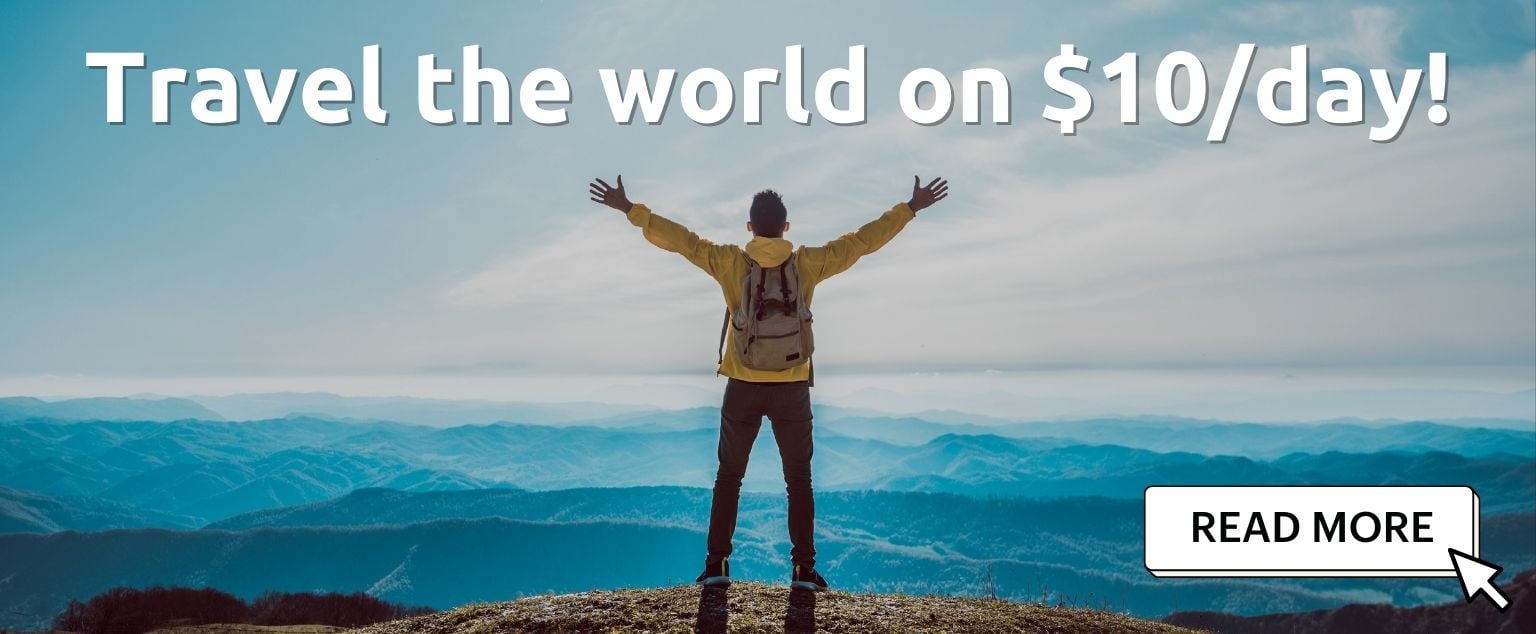 And for transparency's sake, please know that some of the links in our content are affiliate links. That means that if you book your accommodation, buy your gear, or sort your insurance through our link, we earn a small commission (at no extra cost to you). That said, we only link to the gear we trust and never recommend services we don't believe are up to scratch. Again, thank you!