Oaxaca may look like a mouthful (pronunced wa-ha-ka) but now we've got that cleared up, you're about to receive core life memories. The sheer depth of culture in Oaxaca rivals that of anywhere else in the world. It's complete with a vibrant art scene, soulful food, and landscapes to make your heart fall out your arse. 
The central valleys teem with archaeological sites. Hop over to the coast for sandy beaches and easy-living. Nature-lovers take note: Oaxaca is also one of the most biologically diverse states in Mexico.
A surfer's paradise as much as foodie heaven, Oaxaca looks great on paper. And actually, it's even better in real life. It's no wonder this is one of the top destinations to visit in Mexico.
Though, there we have it: the buzz word. We are in Mexico. So how safe is Oaxaca really?
There are certain things – and certain areas – that aren't as safe as you'd want them to be. A lot of the time, nature plays a role in posing a danger.
If you're wondering whether or not Oaxaca is safe, read on. Here are some tips, important info, and details you'll need for your journey around this magical Mexican state.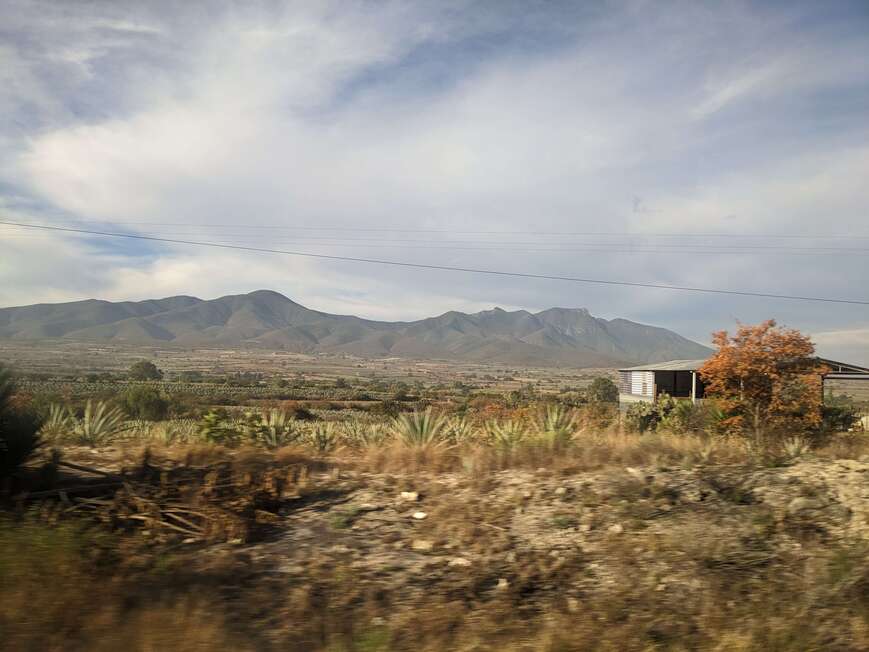 Unlock Our GREATEST Travel Secrets!
Sign up for our newsletter and get the best travel tips delivered right to your inbox.
There is no such thing as a perfect safety guide, and this article is no different. The question of "Is Oaxaca Safe?" will ALWAYS have a different answer depending on the parties involved. But this article is written for savvy travellers from the perspective of savvy travellers.
The information present in this safety guide is as accurate as possible at the time of writing. However, we know now better than ever that the world is a changeable place. Between the pandemic, cultural divisions, and a click-bait media, it can be hard to maintain what is truth and what is sensationalism.
Here, you will find safety knowledge and advice for travelling Oaxaca. It won't be down to the wire cutting edge info on the most current events, but it is layered in the expertise of veteran travellers. If you use this guide, do your own research, and practise common sense, you will have a safe trip to Oaxaca.
If you see any outdated information in this guide, be a good sport and reach out in the comments below.(Nicely, please!) We strive to provide the most relevant travel information for our readers on the web and always appreciate input from you intellegent people. Otherwise, thanks for your ear and stay safe!
It's a wild world out there. But it's a damn special too. 🙂
Updated January 2023
Is Oaxaca Safe to Visit Right Now?
Yes, Oaxaca is safe for tourists to visit! And actually, I recommend that you DO visit!
Mexico has been working hard to increase tourism in Oaxaca – and it's working. The focus on the safety of visitors has made a noticeable difference, making it a great place to explore in Mexico.
While the USA Oaxaca travel advisories remain at "exercise increased caution" for most of the state, this is mainly due to petty crime such as pickpocketing.
Oaxaca is safe for tourists, yet large, and very diverse. The colourful capital, Oaxaca City, is one of the most visited destinations in Mexico and for the Day of the Dead festival.
The state has a large coast on the Pacific Ocean, and between them is a large mountainous region. If you want diversity, Oaxaca is your place.
Especially as far as Latin America goes, Oaxaca is a destination with few complications. That is not mean to say that there are NO safety concerns in Oaxaca. Having some safety tips under your belt is still invaluable.
While much of Mexico suffers from travel warnings, high crime rates and dangerous drug dealings, Oaxaca remains relatively safe. It's a great alternative to Mexico City.
Drug-related violence, though still existing, is low and generally under control in Oaxaca. It's extremely unlikely that any would affect tourists minding their own business.
Natural disasters are a small risk in Oaxaca. Hurricane season affects Oaxaca from June to November. The size of these storms vary, but can cause widespread flooding, landslides, and disruption of local services.
Earthquakes can and do occur. Big tremors are uncommon but it's good to be aware that they can occur.
Oaxaca's coastline has powerful undercurrents and waves. Even strong swimmers get into trouble. On many beaches, you'll find flags and warnings, which you should always heed.
So that's the basics. But let's go into a little more detail now.
Safest Places in Oaxaca
The safest places to visit in Mexico are usually the places with the most tourism. For this reason, much of Oaxaca state is safe to visit. Although visitors are recommended to exercise increased caution. (Good advice for anywhere you're travelling.)
These "safe destinations" have very few issues. However, you should still follow local laws and practice your usual safety protocol.
Oaxaca City – Visiting Mexico is not complete without staying in Oaxaca City. It's one of the more colourful and culturally rich places, with exciting art and endless places to eat. Go with an empty belly, leave with a full heart.
Puerto Escondido – This popular backpacker spot attracts travellers from all over – and many find themselves not wanting to leave. On the Pacific Coast, people come for the surf, incredible food, and a relaxed vibe. Puerto Escondido's hostels are something you should definitely experience.
San Jose Del Pacifico – Once a hidden gem, now a pretty popular tourist town. This astonishing mountain spot is a place where time slows down. There's nowhere else like this in Mexico (or even the world).
Unsafe Places in Oaxaca
While Oaxaca is mostly safe, there are certain areas of the state to avoid. Though there are very little to see in these places anyway, you really can skip across them and not miss a thing.
The USA government also recommends avoiding certain highways. This could be due to the safety of the road or illegal roadblocks. These rarely affect tourists – especially using reputable bus companies – though if you're driving or hitchhiking in Mexico, it's good to do thorough research.
Towns bordering the state of Chiapas – including Juchitan de Zaragoza, Salina Cruz, and San Blas Atempa.
Anywhere at Night – some select areas are okay such as downtown Oaxaca City, though it's best to use a taxi or public transport if you're going between areas or back to your accommodation.
Sketchy Neighbourhoods – ask your accommodation staff if there are any barrios to avoid. Again, there will be nothing to see here anyway.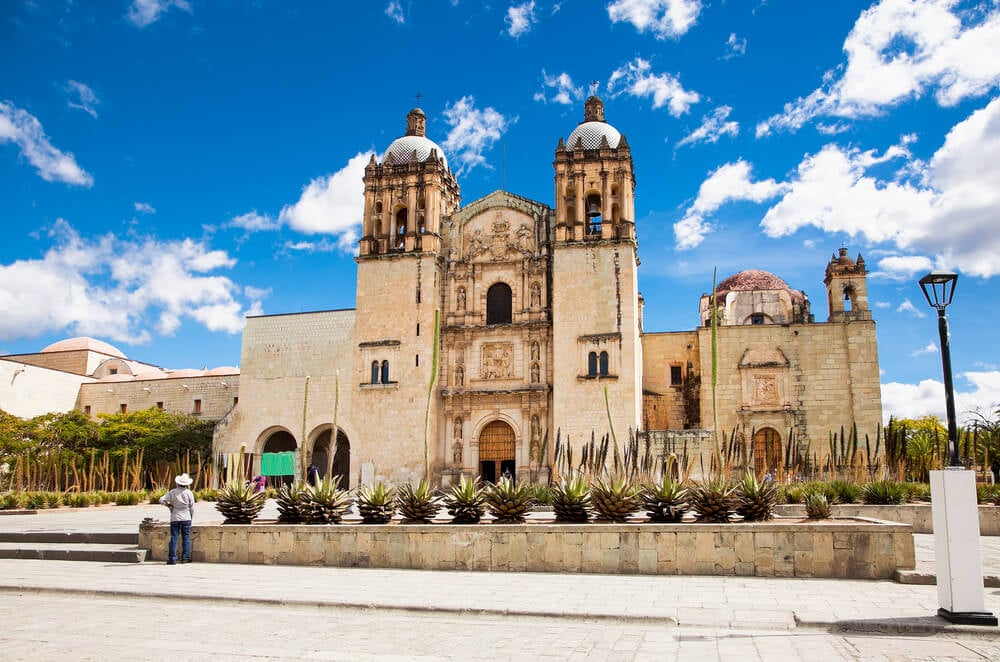 So the safety concerns for Oaxaca and the conclusion of "is Oaxaca Safe to visit?" comes down to knowing some crucial safety tips. This is not an exhaustive list, though they will help you experience safety in Oaxaca and enjoy this incredible adventure.
So here are some of our top safety tips for Oaxaca to keep you travelling smart.
Don't walk around looking rich – Leave designer clothes, flashy watches, and expensive jewellery at home.
Try to dress down and blend in with what you are wearing – Erring on the side of casual is best. Try to reflect what other people may be wearing around you.
Do your research – Oaxaca is a big place so plan accordingly. Different areas have different safety standards and cultures, too. Puerto Escondido is very different from Oaxaca City, for example.
Learn Spanish – You don't need to be fluent, but you'll be surprised how much this helps – including getting yourself out of some sticky situations.
DO NOT WALK AROUND ALONE AT NIGHT – Even in groups, it's still very risky. I cannot stress this enough. Very certain areas are okay but it's always better to ask locals before you do.
Limit the amount of money you carry around with you – The more you have, the more you potentially lose. Store cash in different places of your person and luggage. Travel money belts are great for this.
Be careful when using ATMs – Use them during daylight hours and preferably inside a mall, shop, or bank. Put it away discreetly before you leave the machine.
Keep an eye on your belongings – Even on your suitcase when checking in at a hotel or bus station.
The emergency number is 911 – remember it.
Be careful of people who claim to be police officers – Not everyone is who they appear to be. If you aren't sure, ask for details such as their name, badge number, patrol car number, etc.
Watch out for scam artists – People approaching you asking for personal information or financial help. Treat unsolicited chats like these as suspicious.
Watch for warning on beaches – Not all beaches are safe for swimming. If there are no flags or lifeguards, ask the locals. Even the calmest looking waters can have extremely strong undercurrents. The Pacific Ocean takes no prisoners.
Research tour companies – If you're heading out on a tour, make sure you are going with a reputable company that has good safety standards.
Don't leave food and drink unattended – Spiking does occur, so keep an eye on it and take care.
Don't get involved in drugs – I know it's fun, but drugs are the source of many problems in Mexico. There are certain places that are okay in Oaxaca but unless you're 1000% sure it's really not worth the hassle.
Keep an eye on earthquakes – Small tremors are common. Large tremors are uncommon. It's good to have a general idea.
Pay attention to the weather – Local reports will tell you about any tropical storms on the Pacific coast.
Get a local sim card – This helps a lot.
If somebody tries to rob you, hand over the goods – It is just not worth being a hero in these kinds of situations.
Get trusty travel insurance – an absolute essential for any trip. Make sure your travel insurance covers the type of trip you're having.
Oaxaca is safer than much of Mexico overall, but that doesn't mean that you'll be able to wander around freely without a care in the world. Keep these tips in mind and make sure to keep vigilant as you explore this amazing Mexican state.
Is Oaxaca Safe to Travel Alone?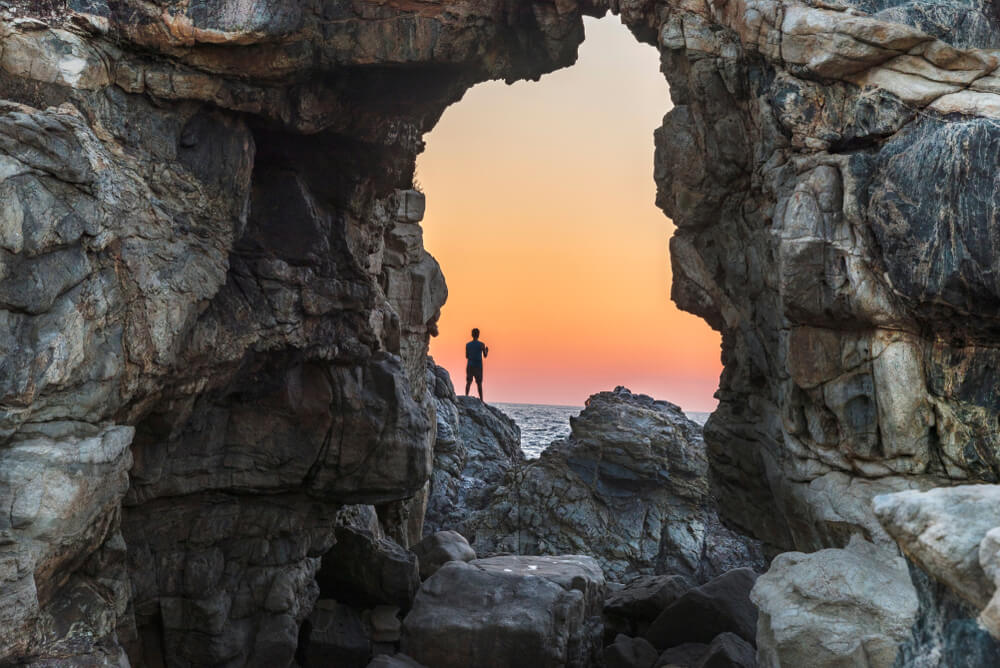 Yes! Oaxaca is an amazing place to travel – even alone.
It's a great place to go for history, with the colonial centre of the capital city to explore, as much as it is a foodie destination with a wealth of delicious treats to enjoy.
It may not be a well-developed tourist destination, but it's doable – and worth it. We've put together some tips for solo travellers in Oaxaca to bear in mind when you travel around.
Make friends! – Always rule number 1 for solo travellers. There's safety in numbers – plus it's a lot more fun.
Do your research – Have a rough idea of your itinerary, book accommodation ahead and read reviews, and ask other travellers for recommendations.
DO NOT walk around at night alone – some very select places are okay. Generally, this is a big no no. Know how to get to your accommodation before you leave.
Keep your phone charged – Your lifeline.
Choose good hostels in Oaxaca – The state has no shortage of great choices. Read reviews, ask for recommendations, and stay somewhere that suits your personality.
Stay alert. Don't walk around with your iPhone in hand, not paying attention to your surroundings. I hope this is not the first time you're hearing this.
Download useful travel apps. Maps.me, Hostelworld, and even Tinder (to some extent) can be super useful for safety in Oaxaca.
Take care when visiting beaches by yourself. Don't leave belongings and valuables unattended on the beach.
Ask locals for their insider knowledge – They will know interesting spots to visit, and places to eat, plus areas to avoid.
Sun Protection! You don't want to get sunstroke or increased risk of skin cancer.
Let someone know where you are. Friends and family back home, or at the very least someone your accommodation staff.
Don't push yourself too much. Know when to stop and when to take a break.
Travel light. Less baggage, less worries – literally.
Keep track of your money and don't keep it all in one place. You lose your wallet, you lose everything. Spread your bank and credit cards around.
Usually, Oaxaca feels like some remote wonderland of Mexico where everything's fine. But the truth is, it's not always. It's somewhere in between, where you still need to watch out for your belongings and travel with some level of vigilance.
Is Oaxaca Safe for Solo Female Travellers?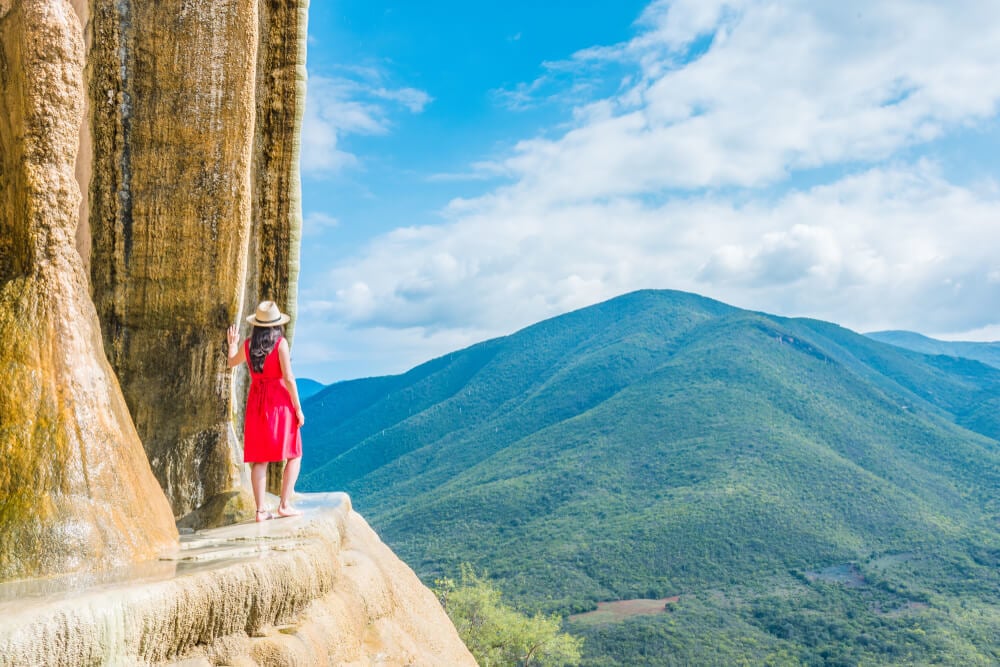 Yes! Oaxaca is one of the best places in Mexico for solo female travellers.
Though, like anywhere, travelling alone as a woman comes with some extra things to think about. Here are some tailored tips to keep you solo travellers super safe on your adventure.
Listen to your spidey senses – female solo traveller tip 1: if your gut tells you something isn't right, it probably isn't. Get yourself out of there.
Choose accommodation carefully – there are great hostels for women in Oaxaca.
Chat with other female travellers – they understand the road you're on better than anyone.
Only use reputable bus companies – especially if you're travelling at night, it's worth paying the extra bit of cash for a safe journey.
Read reviews before you book – that goes for hostels, hotels, tour companies, or anything else.
Damn it, DO NOT WALK AROUND ALONE AT NIGHT – I've repeated this so many times already but it's vital that everyone visiting Oaxaca understands this.
Choose accommodation in a good location. In Oaxaca City, for example, stay close to attractions so it's easy to get back at night.
Dress modestly – Mexico is still quite conservative. Breaking boundaries is great but this is not the time or place. See what local women are wearing and try to match.
Saying no is ALWAYS okay – you don't need to please anyone, especially if it involves your safety.
Make a fuss – It is unlikely that any hassle will turn ugly, but in a worst-case scenario, let everyone around know!
Be careful of how much you drink – Keep your wits about you.
Careful who you share information with – If someone's asking too much personal information – red flag. Never share details of your accommodation or itinerary.
As a solo female traveller, one of the biggest dangers is falling in love with the place. It's hard to drag yourself away when your time is up.
Is Oaxaca Safe for Families?
This is a question that comes us a lot. Is Oaxaca safe for families? YES!
Oaxaca is a kid-friendly place to travel to. From Oaxaca City itself to the beach, the coast, and the mountains, there's a lot to keep everyone entertained.
Oaxaca city is very different from the likes of Mexico City. It's walkable, colourful, and full of amazing character.
It is perfect for exploring with children with plenty to enlighten their senses. Lots of Mexican families travel to Oaxaca too, and you'll see the main squares full of kids playing day and night.
The coastal area is also an ideal spot. Though the road from the city to the coast is long, don't rush, plan accordingly, and you'll arrive to enjoy all the best that you can expect from any coast anywhere.
Just pay attention to beach warnings. It is not always safe to swim everywhere. If there are no flags, ask at your accommodation whether or not it's safe to swim.
Remember, like everywhere in Mexico, the places with the most visitors are the safest areas. So when you're looking for a safe place to travel in Oaxaca with your family, bear that in mind. If you're travelling between places, only use reputable companies like ADO bus.
Also, much of the state of Oaxaca has high altitudes. So even sometimes when it doesn't feel hot, the sun can be extremely strong. Make sure you have all the sun protection!
All in all, Oaxaca is a safe destination for families if you exercise increased caution (like you should everywhere).
Getting Around Oaxaca Safely
Getting around Oaxaca safety isn't overly complicated. You have the choice of buses, minivans, taxis, or driving yourself. They're generally all pretty safe options – with a few important pointers.
Depending on where you go, the roads in Oaxaca can be complicated. From Oaxaca City to the coast it's pretty rough.
Roads are narrow and winding, aren't well maintained, and hazards aren't well marked. Bear this in mind, whatever type of transport you choose.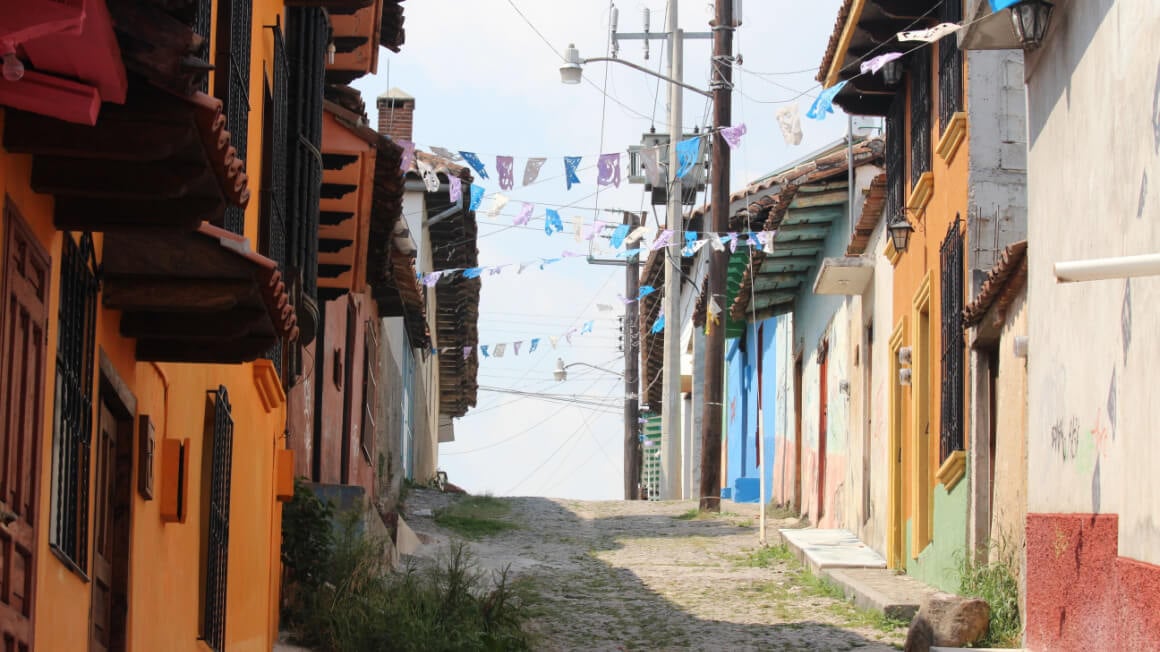 Driving in Oaxaca is safe enough, but may be challenging. Drivers in Oaxaca City are more aggressive, won't stop for pedestrians, and don't tend to follow traffic laws too much.
Local laws aren't necessarily followed by police or drivers – so just be slightly aware of that. Go slowly, stop as you need to, and absolutely avoid driving at night at all costs.
Taxis in Oaxaca are generally safe. Though ensure that they are official taxis.
Use the sititos (taxi ranks) or ask your accommodation where to find them. If you are worried about the driver, take note of the driver's name and license plate number.
Public transport varies throughout the state of Oaxaca, from luxurious buses to local pickup trucks. Reputable bus companies like ADO bus are your best bet. They do checks on the drivers and passengers, take toll roads, and drive sensibly.
Local buses, like the buses that drive around Oaxaca City, are regular and cheap. Though make sure to HOLD ON TIGHT because they do not always drive the safest.
Minibuses are a great option for mid-distance travel. Lineas Unidas are super cushty, will give you an assigned seat, and generally drive safer than other minibus firms.
Depending on where you are going will depend on where you take them. Your best bet is to search on Google Maps, or ask locals for advice.
Crime in Oaxaca
Oaxaca has a low crime rate compared to much of Mexico – though that doesn't mean it doesn't occur. Fortunately, most of this crime is petty theft which is pretty easily avoided. Violent crime is rare in Oaxaca.
Wherever you are, at the beach or in Oaxaca City, keep your valuables close.
Not watching your back and letting your guard slip when you're on the beach at night, for example, or walking around looking like you're wealthy, could result in being a victim of crime.
Protests in Oaxaca City are common, for example, and are usually held by union workers. Not often turning violent, these gatherings do throw up roadblocks and prevent travel in and around the capital city or further afield.
I do suggest that you avoid drugs in Oaxaca. I love a joint as much as the next person but, for various reasons, Mexico is not really the place to do it. There are some very select places where you can get away with it but there's absolutely no way I'd list them here for fear of someone running with that idea.
Police are corrupt, you don't need to give them any more reasons to hassle you, and drug cartels are the source of many of Mexico's issues. It's really best for everyone's sake to just not get involved.
Apart from that, Oaxaca is one of the safest places in Mexico to take your travels.
Getting Insured BEFORE Visiting Oaxaca
Before you go anywhere, having top-notch travel insurance for Mexico is vital. If something goes awray, and that does happen, this is your guardian angel.
ALWAYS sort out your backpacker insurance before your trip. There's plenty to choose from in that department, but a good place to start is Safety Wing.
They offer month-to-month payments, no lock-in contracts, and require absolutely no itineraries: that's the exact kind of insurance long-term travellers and digital nomads need.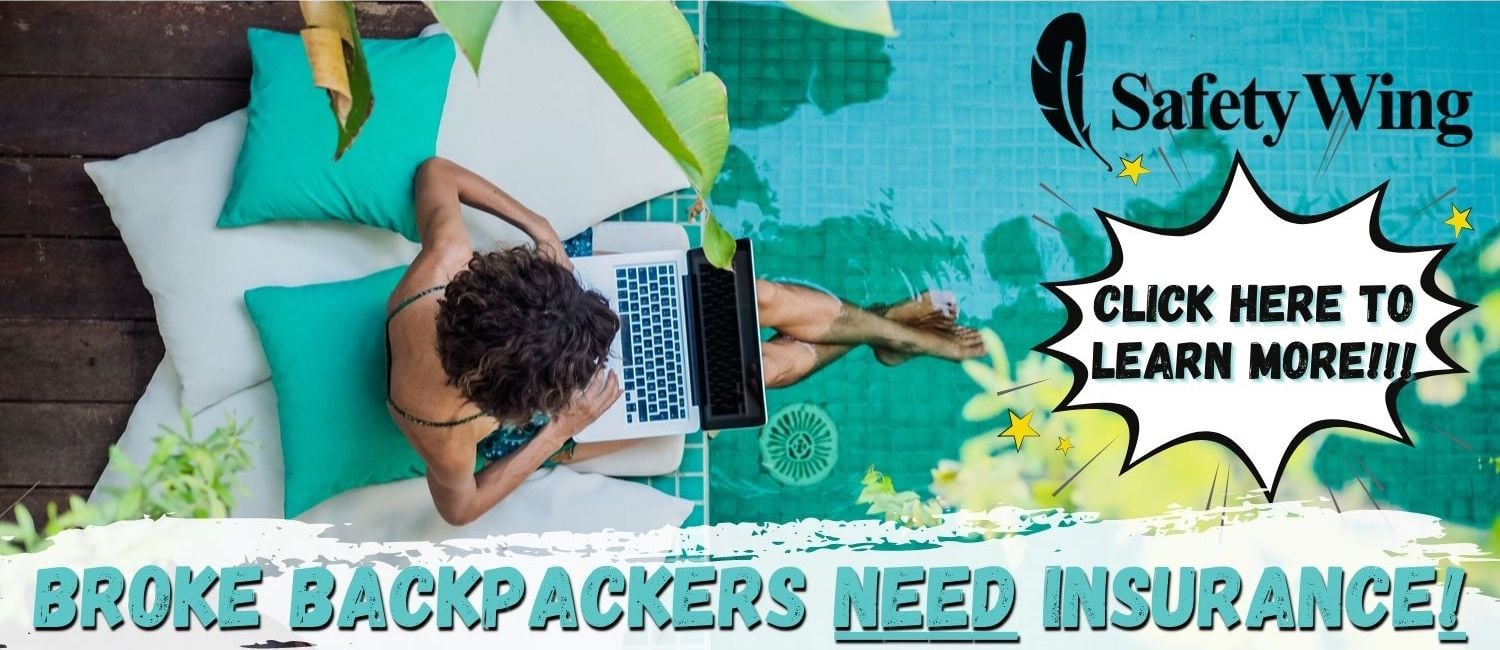 SafetyWing is cheap, easy, and admin-free: just sign up lickety-split so you can get back to it!
Click the button below to learn more about SafetyWing's setup or read our insider review for the full tasty scoop.
FAQs on Oaxaca's Safety
Here are some quick answers to common questions about safety in Oaxaca.
So, How Safe is Oaxaca?
At this point, I hope you've come to realise that the question of whether Oaxaca is safe to visit or not isn't necessarily straightforward. Yes, you absolutely can visit Oaxaca and have a safe trip. Safety concerns are low and you'll create memories to enlighten your life.
I've been in and out of Oaxaca for a few years now and never had any worries. So yes, it can be done. Without a doubt, I'll be back to visit Oaxaca again one day.
Families, solo female travellers, and even LGBT travellers are all safe in Oaxaca. BUT you must practice some caution. This is Mexico after all and you are a guest here.
If you're going to walk around with your Rolex, looking at maps on your iPhone 22, hailing illegal cabs in the night, and smoking a fat joint in the central squares, you can probably guess it's definitely not going to be safe. Though, that would apply to most places really.
Be aware of your surrounding, but don't get consumed by worry. Keep your sensible head on, exercise increased caution, prepare yourself with good travel insurance, and you'll be rewarded ten folds by this impossibly beautiful state; one that leaves a big, fat, taco-shaped stamp on your heart.