From its Viking heritage to its cosmopolitan cities of the present day, Sweden is a cultural powerhouse with so much to see across the country. With more coastline and islands than you could imagine, as well as vast open spaces, it's also nature's playground and the perfect destination for outdoor adventurers.
Sweden has a focus on meaningful and conscious travel with enriching experiences (Northern Lights, anyone?). You could opt for a city break in Stockholm or Gothenburg, a summer trip to one of its thousands of lakes, or stay in an ice hotel under the stars. It's a Scandinavian dream.
However, when it comes to the price tag of a trip to Sweden, it's not really known for being a budget-friendly country… But is that true?
That's where this guide comes in. If you're asking yourself "is Sweden expensive?" then you've come to the right place. I'm going to dive deep into the costs and expenses you'll need to factor in before your plan a trip to Sweden.
The cost of a trip to Sweden is going to vary depending on your budget. And that's where every trip should start, really: the budget. In order to create your budget, this guide will help you factor in the cost of just about everything from flights and food to accommodation and souvenirs.
Travel costs listed in this guide are all estimates and are subject to change. Prices are listed in US Dollars.
Sweden uses the Swedish Krona (SEK). As of August 2022, the exchange rate is 1 USD = 10.13 SEK.
2 Weeks in Sweden Travel Costs
For some guideline prices, you'll find a summary of the average costs of a 2-week trip to Sweden summarised here:
ESTIMATED EXPENSE: $130 – $1,933 USD for a roundtrip ticket.
Is it expensive to fly to Sweden? Well, it can be. Mostly I'd say that it depends on where you're flying from. For example, you'll be paying less if you're hopping over to Sweden on a flight from the UK than if you were doing the same from New Zealand.
However, no matter where in the world you're flying from, it's possible to find cheaper flights. That does come at a different cost, however, and that is being flexible with when you travel. If you were angling on a trip to Sweden in July, perhaps reconsider: July is high season and when flights are most expensive. Want something cheaper? Try February (very much low season).
The busiest airport in Sweden is Stockholm Arlanda Airport (ARN). It's not exactly what I'd call close to the capital city itself, being 34 kilometres (21.26 miles) away. Naturally, getting from the airport (taking anywhere between 18 and 32 minutes) is something you'll need to factor into your budget, too.
Below you'll find the average costs of a flight to Sweden from various international air travel hubs:
New York to Stockholm Arlanda Airport: 480 – 671 USD
London to Stockholm Arlanda Airport: 106 – 326 GBP
Sydney to Stockholm Arlanda Airport: 1806 – 2,780 AUD
Vancouver to Stockholm Arlanda Airport: 1163 – 1,498 CAD
Clearly, things are cheaper from London – even from New York (to an extent). Not so when it comes to Vancouver or Sydney. If you're balking at the thought of forking out that much money for a flight to Sweden, try looking for flights with multiple changes. These aren't exactly fun, and take ages, but can save you a bundle.
You should also try looking on flight comparison websites like Skyscanner. This is a great place to look for flights, mainly because you have everything you need in one place. It's certainly better than trying to compare all the prices yourself individually. Big time saver.
ESTIMATED EXPENSE: $17 – $150 per night
When it comes to planning out your trip budget, accommodation is usually going to be one of the biggest expenses. The good news is that Sweden has an amazing range of accommodation choices to opt for. This choice means that there is something for every type of traveller who visits this Scandinavian nation.
The cost of a night at a hotel, hostel, or Airbnb can vary hugely depending on the location and time of year.
This means working out the answer to the question "is Sweden expensive?" isn't always easy. For those of you who are travelling on a shoestring, it's best to avoid high season, but your trip to Sweden on a budget is totally doable.
To help you get started with planning your trip, here's a run-through of the accommodation on offer in Sweden…
Hostels in Sweden
Backpackers and budget travellers, rejoice. Sweden has a fantastic hostel scene which makes that dream adventure completely doable. From the smart city centre hostels in Stockholm to the hip and happening digs in trendy local neighbourhoods. There are even hostels located in the most amazing locations which are ideal for nature enthusiasts.
The cheapest hostels in Sweden start at around $17 per night.
The hostel scene in Sweden is pretty reliable and you can expect to stay in clean and safe accommodation if you decide to book one.
You will be able to save yourself a whole load of cash and be able to make full use of the hostel amenities such as laundry facilities, cafes, and communal kitchens. Some even come with private rooms too!
If you think that staying in a hostel in Sweden is something you might enjoy, here are a few of the best for you to check out:
City Backpackers Hostel – This award-winning accommodation is located in a trendy neighbourhood in Stockholm, making it great for exploring the city. It has a ton of perks: free food, free ice skate rental, free saunas, and events like movie nights.
Centralstation Vandrarhem Uppsala – Just metres from the Central Station in Uppsala, this hostel is a great base for discovering the city's bars, restaurants, and cultural sights (all within walking distance). There are good value private rooms to choose from here, too.
Linneplatsens Hotel and Hostel – Billing themselves as affordable accommodation, this place is set in a leafy neighbourhood of Gothenburg and is a clean, organised, and cosy place to stay. Overall it feels very friendly – as well as being great value for money.
Airbnbs in Sweden
Sweden is a nation packed full of Airbnbs. Airbnb is so popular here that the country actually listed the entire nation on the accommodation site – all to promote Sweden as a place for people to freely explore. And Airbnb in Sweden does just that: it opens up far-flung destinations and various towns and cities to all sorts of travellers.
Answering the question of whether or not Sweden is expensive for accommodation is easy if you look at the choice of Airbnbs. You'll usually be able to find affordable and stylish accommodation that suits your trip itinerary.
The cheapest can be priced as low as $50-120.
One of the best things about staying in an Airbnb in Sweden is that you will usually find a wide choice of unusual accommodation. Think small cottages and rustic cabins surrounded by forests. The ideal places to really make your trip to Sweden special.
Of course, there's also the extra perk of having all of the self-catering facilities at your disposal, helping you to keep costs low by making your own meals or doing your own laundry.
If you're thinking about booking yourself into an Airbnb during your trip, here's a good selection of places you can stay:
Kiruna Cabin – This cute cabin is located on the banks of the Thorn River in Kiruna. It has enough room for four guests across three bedrooms. Most of all, set right in the middle of the wilderness, it's in a great location for marvelling at the Northern Lights.
Stockholm Loft – Chic and polished, this loft apartment is situated in a classic Old Town building in the heart of Stockholm. With sights and a good choice of eateries on the doorstep, the apartment is also close to public transport and shops.
Beach house at the shore of Lake Mälaren – This modern beach house has been beautifully designed to slot perfectly into its natural surroundings. Its simple stripped-back interiors allow views of the water to take centre stage. Still comes with everything you'll need to make your stay as comfortable as possible.
Hotels in Sweden
If you're wondering if hotels are expensive in Sweden, here's your answer: not very. They're not amazingly pricey, but then again the room rates don't really start very low either. But if you want something fancy, you'll have to pay a lot. It's Scandinavia.
Generally speaking, the most budget-friendly hotels in Sweden will start at around $80 per night for a room. Doable, maybe, but not if you wanted to travel on a shoestring budget.
That said, staying in a hotel has perks all of its own. Maybe you don't want to share a room at a hostel, or you don't want the vibes of a hostel – they're not for everyone, after all. You get things like room service, housekeeping (no chores!), on-site restaurants, bars, and gyms, and sometimes a complimentary breakfast, too.
Sweden has some fantastic budget hotel chains which help to make a trip so much more affordable. These budget hotels may not be overly luxurious but they're usually very clean and professionally run.
Sweden's budget hotels are also pretty good. They're smart, clean, and reliable. In cities, they're located near transport options or in areas convenient for sightseeing; in the countryside, they're charming and make for great bases for seeing the surrounding natural world.
Here are some top hotels in Sweden that best illustrate what you can expect:
Hotel Ullinge – Situated in Swedish Småland, right next to Lake Södra Wixen, this hotel is a peaceful place where you can relax in nature. There are hiking opportunities nearby, while there's a sauna and onsite restaurant to enjoy back at the hotel. Rooms look out over the lake.
Rex Hotel – You'll find Rex Hotel in a grand 19th-century building close to a metro station in Stockholm. As well as being conveniently located, just a few bus stops from the Central Station, it also comes with a good breakfast included in the price. Great value for money.
Hemavans Wärdshus – Located in Hemavan, this lodge-style accommodation is the perfect place to get away from it all. It serves up a delicious selection of food made with local ingredients and features rustic, cosy decor throughout.
Unique Accommodation in Sweden
It's fair to say that Sweden is not short on unique accommodation. In fact, there are so many beautiful and unique accommodation options that it can make choosing one pretty difficult. The most famous of them all is Sweden's original Icehotel, which opened up as the world's first in 1989.
Made with snow and ice from the nearby village of Jukkasjärv, the Icehotel is amazingly rebuilt every year. Staying in this frozen wonderland is a completely unique experience and one not to be missed if you can help it.
The hotel has a long list of different accommodation types, ranging from cabins to frozen rooms carved out of the ice itself. Staying at the Icehotel is not cheap: expect to pay from around $150 per night to stay in this seasonal hotel.
But, there are some other options too. Sweden's vast landscapes and winter skies filled with the northern lights have also brought on a new type of unique accommodation: glass igloos. Working in a similar way to the Icehotel, they allow guests to stay warm among the snow-coated landscape while still enjoying the outdoors.
If you think that sounds like the perfect accommodation for you, here's a choice of unique accommodation in Sweden:
Icehotel Jukkasjärvi – The one and only Icehotel provides individually-themed rooms furnished by international artists. Room temperatures range between -5°C to -8°C, so naturally, you sleep in sleeping bags covered in reindeer hides. Mornings start with a sauna (if you like), and food is made with locally sourced ingredients.
Cozy Glass Igloo at Voyager Park – Set in Nayiem, a place known for its forests, lakes, and wildlife, this modern take on an igloo provides guests with a sleek, comfy stay with views of the starry skies as you lie in bed.
Aurora Glass Igloo – This compact dome of an igloo has glass sides all around, making it the ideal spot to soak up the northern lights from your bed. Surrounded by the wilderness, there's a hot tub and sauna to use for extra indulgence. It's also within walking distance of the Icehotel.
ESTIMATED EXPENSE: $0 – $23 per day
Sweden is 450,295 square kilometres (around 173,860 square miles) in area. It's a pretty big country – the largest Nordic nation, in fact – but despite that, getting around is pretty easy. You'll have the option of going by car, if you like, or making full use of Sweden's very efficient public transport system to travel around.
Here you'll have the choice of getting long-distance buses or getting the train to reach far-flung cities and destinations throughout Sweden. There's also a selection of routes plied by coastal ferries, allowing you to see Sweden's shoreline and scattering of islands.
And for the more intrepid traveller, if you want to cycle there are some fantastic long-distance routes; one example is Kattegattleden. Running for 390 kilometers (242.3 miles) in total, from Helsingborg to Gothenburg, it won the accolade of European Cycle Route of the Year in 2018.
When it comes to getting around cities in Sweden, it's simple. Trams run in several Swedish cities – Gothenburg and Norrköping included – while Stockholm boasts the country's only metro system. Buses trundle around pretty much everywhere, too.
But is Sweden expensive to travel around? You're about to find out as this guide dives into the details of its main transportation options.
Train Travel in Sweden
Sweden has a lot of railway tracks to utilise – 15,006.25 kilometres (9,324.45 miles) of it, to be precise, and around 400 stations. So a lot of the country is connected by rail. The trains in Sweden are run by the government agency Statens Järnvägar (SJ) and have been since 1887. Naturally, as you probably assume, it's a very well-run and comprehensive system.
You can purchase your tickets up to 24 hours in advance from the SJ website; you can even pre-order meals for your trains, as some of the journeys can be pretty long. There are even overnight trains where you can book either a seat, a beat, or a private compartment to whisk you to your destination.
But is Sweden expensive for its trains? It depends. To take one example, let's look at the trip from Malmo to Stockholm. The high-speed railway journey, covering 513 kilometres (approximately 318 miles) takes 4.5 hours and costs upwards of $84 for a one-way ticket.
As you can see, while the train network is extensive, and the quality of the trains themselves – some of the most modern in Europe, according to some people – is top-notch, it's not exactly cheap. The scenery, however, is awesome and makes it part of the whole experience.
But it is possible to make Sweden fairly cheap to travel around by train by option of an SJ Rail Pass. Their site has various options, like passes for seniors and students, but below is the standard adult SJ Rail Pass:
7 days: $197
15 days: $325
30 days: $464
The SJ Rail Pass is valid only for consecutive days of travel, meaning that once you activate your pass on the first day, you'll have seven days in which to make the most of train travel in Sweden.
If you don't like being tied down by having to travel on consecutive days, then you may want to opt for the flexibility of the Sweden Eurail Pass (only non-European citizens are eligible). But it's expensive: prices start at $234 for 3 non-consecutive days of train travel within one month.
Bus Travel in Sweden
Long-distance bus travel in Sweden is generally much cheaper than travelling around the country by train. But by saving on your travel budget, you will be spending more time travelling – journeys take longer when they're not on a fancy high-speed train, after all.
Long-distance bus journeys were de-nationalised in the 1990s, so today there are a number of companies providing intercity bus routes. The main company is Flixbus, but there's also Ybuss and Vy.
You'll be able to find the timetables for these various companies on their respective websites; you can also buy tickets for journeys online in advance, but you can also do this at bus stations on the day of your journey (not recommended: it's not as cheap and could leave you disappointed).
Buses aren't necessarily a bad option though. It may take longer to get from A to B, but these are modern coach-style buses with Wi-Fi, air-conditioning, power outlets, toilets, and sometimes even first and second-class seating options.
Prices vary, but they're usually very affordable. For example, from Gothenburg to Stockholm, you'll pay around $31. They're also flexible, allowing you to change your ticket (i.e. departure time, destination, etc.) up to 15 minutes before the scheduled departure time.
Buses can also travel overnight in Sweden. This means saving money on accommodation for the night and arriving at your destination in the morning.
Ferry Travel in Sweden
Travelling by ferry is an important part of getting around Sweden. This Scandinavian nation has a sizeable coastline – 3,218 kilometres (2,000 miles) to be exact – and 267,570 islands, though under 1,000 of them are actually inhabited.
Naturally, getting around by sea in Sweden is something you'll probably do, or want to do, while you're here.
Passenger ferries are an important part of connecting communities in Sweden. There are various companies that operate routes between different destinations, from the Stockholm and Gothenburg archipelagos to West Coast locales.
The closest islands to Stockholm are a mere 30-minute boat trip from the capital. Over in Gotland, big cruise ship-type boats connect larger islands with the mainland. Large lakes inland are served by smaller ferries.
Thankfully, for those on a road trip, many of the connecting ferries are free of charge (with a few exceptions).
If you're wondering if boat travel is expensive in Sweden, here's an example journey. Take Käringön, for instance. Situated in the Bohuslän archipelago of the West Coast, it's a popular summer spot for locals and tourists alike. A boat trip takes 40 minutes and costs only around $3.50 each way.
Getting Around Cities in Sweden
Public transport is a popular way to get around in Sweden, and the nation's towns and cities are well connected by buses, trams, light rail services, and even a metro system in Stockholm.
Swedish cities are usually well connected by bus networks – this is the main deal pretty much everywhere. These connect the inner city with the suburbs and the countryside.
Stockholm, being the capital, has arguably the comprehensive selection of public transport: it's got buses, commuter trains, and a metro system (even some vintage trams). All of this, and in Greater Stockholm, is run by Stockholm Public Transport.
A single ticket costs $3.75 and is valid for 75 minutes, across all modes of transport. There's also the option to buy a 24 and 72 hour ticket, as well as a 30-day ticket, too.
It's not just Stockholm; Gothenburg has a good tram network and buses. In Malmo and the wider Skane County, the public transport system is all under one umbrella. Thankfully, this means you can explore this whole area with one handy transport card: Öresund runt.
But if all else fails, and if the weather isn't too cold, there's always cycling. Plenty of people get around on bikes in Sweden's towns and cities, and there are a number of dedicated cycling paths to use.
Renting a Car in Sweden
Having your own set of wheels in Sweden gives you the freedom to not have to rely on the timetables (and prices) of public transport in Sweden. Renting a car offers you so much more flexibility, and the gift of being able to explore at your own pace, allowing you to stop off wherever you want, whenever you want.
There are multiple companies to choose from to rent a car in Sweden. You can usually find the top international firms at airports and dotted around larger towns and cities. Car rental in Sweden costs around $85 per day – that's for a small car with unlimited mileage. For a week, that would be upwards of $150.
Want something bigger? Well, a Volkswagen Passat, for example, will set you back $217 for four days' rental.
Prices of renting a car in Sweden usually include collision damage waiver and theft protection, but if you want supplementary insurance you can expect to pay an additional $20 per day.
There are also additional fees for young drivers (under 25 years of age) and seniors over 70. There are also fees incurred if you're picking up a car from an airport.
Another cost to look out for is a flat daily fee that accounts for traffic congestion in cities like Stockholm and Gothenburg. The cost of fuel can also be expensive when compared to other countries – it's around $2 per litre.
Want to save some cash and explore Sweden by rental car? Use rentalcar.com to find the best deal possible. There are some great prices on the site and they aren't difficult to find.
ESTIMATED EXPENSE: $10 – $40 USD per day
Food in Sweden is much more than just smorgasbord (open-faced sandwich). It's a mix of locally produced ingredients, international influence, and open-mindedness.
The food centres around a healthy, balanced diet that's distinctly linked to the seasons and the region; there are big differences in northern and southern cuisine in Sweden.
Swedish people started making preserved food during the Viking Age, and these traditions have persisted to the modern age. Salting and smoking, fermenting and pickling – all forms part and parcel of the Swedish diet.
Wondering what you should try? Don't miss out on these tasty morsels…
Kanelbulle – This sweet cinnamon bun is almost like a national dish in Sweden. You'll be able to pick one of these up at pretty much any bakery or cafe across the nation. Made from wheat bread and flavoured with vanilla, cardamom and saffron. Can't go wrong; especially when paired with a coffee for fika – the national pastime of sitting down with a coffee and a sweet treat. Costs around $1.
Inlagd sill – Pickled herring. But so much more: you'll find it on a smorgasbord, or served alongside new potatoes and sour cream. Sometimes it's also mixed with carrots and onions into a creamy sauce; in this form, it costs around $8.
Husmanskost – Translating to "house-owner's fare", this peasant-style, homespun dishes comprise what people would have eaten back in the day after a day of working in the fields. Expect dishes such as meatballs and potato gratin. Usually served up as lunch specials. Prices start at around $12.
Those dishes are a great way to gain an insight into Swedish cuisine. But it's not always the cheapest way, so for a few tips on how to eat cheaply in Sweden, keep the below tips in mind…
Look for lunch deals – A lot of establishments that are open for lunch in Sweden will have some kind of lunch-time special advertised in their window. Usually, you'll get a combo that will include a drink and a side. Usually much cheaper than eating at the same place for dinner.
Hit up food halls – Big cities have food halls. These places are packed full of a variety of stalls, from the traditional to the trendy. Expect kiosks selling cheese and meats and newer spots selling Asian cuisine. You can pick up meals here for around $12.
Go for a picnic – When the sun is out, heading out for a picnic is the ideal way to enjoy a low-cost meal. Head to a market (or supermarket) and pick up whatever you feel like – fruits, salads, cheeses, pickles, meats – and enjoy a picnic among nature. You're never too far from a nice park or scenic spot in Sweden.
Where to Eat Cheaply in Sweden
If you want more ways to keep your trip to Sweden inexpensive in terms of food and drink, stay tuned. There's yet more to add to your already long list of money-saving tips. In particular, remember to visit…
Mom's Kitchen – A city favourite in Stockholm. Here you can get affordable, traditional meals served up by friendly staff in a casual environment. You also get the bonus of free-flowing refillable bread and coffee. Meals with a drink cost around $15.
The Herring Wagon – Another local favourite in the capital, The Herring Wagon is a food truck that serves up freshly caught fish on rye bread. Costs around $5. You can add sides like lingonberries and potatoes for a total of $8.
Stora Saluhallen – Stora Saluhallen is one of Gothenburg's many food halls, except this one is super old-school (it's been in business since 1888). Literally translating to "The Market Hall", here you can get a whole lot of food for relatively affordable prices.
Eating out in Sweden is fun. But it isn't exactly cheap, and all those rounds of fika you keep partaking in are going to add up. To keep things extra cheap, it's better to make things for yourself. Is that expensive? Not really.
Sweden has a bunch of low-cost supermarkets where you can get low-cost produce to match. Two of the most famous are…
Lidl – Probably the cheapest grocery store in Sweden, here you can find pretty much everything you'll need and save cash while you do it. Plenty of locations and weekly deals to look out for, too.
Coop – Sells a range of different organic and eco-friendly products. Certain days of the week have rotating discounts, which is always a plus. The quality of goods is pretty high and it's always reliable.
ESTIMATED EXPENSE: $0 – $36 per day
Spoiler alert: Sweden is expensive for alcohol. Like neighbouring Norway, Sweden has a monopoly on alcohol, namely the state-owned Systembolaget. This has been in place since the 1880s, limits access to alcohol above 3.5%, and isn't going away anytime soon.
The government body operates a nationwide off-licence system – the only places you can buy alcohol with a high alcoholic percentage other than bars, restaurants, and clubs.
Because of this, it can be pretty expensive – probably much more expensive than you're used to in your home country – whether you go to the off-licences or bars.
In a Systembolaget establishment, you can buy a wide range of alcohol. There's not a lot of choice in terms of cheap alcohol, but possibly most cost-effective is purchasing a box of wine. This will usually cost around $23.70 for a three-litre box (approximately four bottles of wine).
One bottle of vodka, on the other hand, costs around $24. Drinks are taxed based on their ABV.
In a restaurant or bar, a beer will cost around $5; in a grocery store, that'll be more like $2. A glass of wine in a bar is almost $7.
However, you can find low ABV beer in supermarkets. It's colloquially named folköl or "people's beer", and its maximum strength is 3.5%.
In supermarkets, one can of domestic beer costs you between $0.40 to $1.36. In a bar, a draught beer will cost around $6. If you like wine, a bottle of this will cost around $8.85 at a supermarket, or somewhere in the region of $16.33 for a bottle of house wine at a restaurant.
Here are a couple of local tipples that you shouldn't miss out on during your trip to Sweden:
Brännvin – Translating to "burn wine", the name pretty much says it all. It covers a number of spirits distilled from potatoes, with dozens of versions throughout Sweden; it's flavoured with herbs and spices. Strong stuff – and a must-try while you're in the country. You'll pay $25 in an off-licence for a bottle of the good stuff.
Omnipollo Nebuchadnezzar – Originally homebrewed, this Swedish beer created by craft brewery outfit Omnipollo is now popular throughout the country. It's been touted as one of the IPAs you should drink before you die, so don't skip the chance to try it. Costs $3.65 for a small bottle.
Thirsty for more? Try a punsch. This historic concoction is usually enjoyed after a meal; it's a national cocktail of sorts that has links to Sweden's student population.
Spirits (rum, brandy, arak, etc.) are mixed with tea (yes, tea), sugar and water, as well as extra flavourings such as lemon. It can be drunk neat or mixed into further cocktail creations. It's even used as syrup on desserts. Brands include Trosapunsch and Facile.
ESTIMATED EXPENSE: $0 – $18 USD per day
Sweden's cities are packed full of cultural things to see and do. There's the ever-interesting city of Stockholm, artsy Malmo, and canal-strewn Gothenburg, to name just a few, with charming towns and villages dotted throughout the country besides.
You'll find some immense museums in urban landscapes. The Vasa Museum plays homage to Sweden's Viking heritage, while Drottningholm Palace serves up grandeur as the UNESCO-recognised home of Sweden's Royal Family. There are plenty of things to do in Stockholm to keep you busy.
Then there's nature. Sweden plays host to 30 national parks, as well as literally thousands of nature reserves – all of which are completely free to visit. There are multiple trails where you can embark on famous hikes, explore uninhabited islands on Sweden's largest lake, and camp out in the wilderness for free.
It's not exactly expensive to see the sights in Sweden. The transport – the trains and boats between the places you want to explore – might add up though. When it comes to cities, bike or walk to save on your daily costs.
Here are a couple more tips to keep in mind when you're exploring Sweden…
Find free walking tours – Sweden's many cities come packed with as many tour guides, companies and even hostels willing to take visitors out to see the sights without charging a single krona. Make the most of this and scour the internet for such tours before you book anything expensive.
Enjoy nature – Nature is often very easily accessible from Sweden's cities, and so it makes sense that you should be utilising this natural boon during your trip. And don't worry: it's not all crazy vast tundra for only the most intrepid travellers. There are national parks with easy walks, well-known trails, and long-distance cycle routes to try your hand at, too.
You've come this far in creating a budget for your trip to Sweden. All the big things are factored in – the accommodation, the flights, the transport, food, drink, everything… Actually, that's more like almost everything.
Because there are always going to be unforeseen costs that, well, you don't foresee. You might need to pay a fine for something, who knows, or maybe you want to pay for luggage storage or buy household supplies for your Airbnb rental. Even a souvenir or two.
In any case, it all adds up. I would recommend setting aside 10% of your budget for these extra, more unpredictable costs.
Tipping in Sweden
Tipping in Sweden is strictly optional. It's usually used as a way of saying thanks for good service, so if you choose not to leave a tip, it's totally fine. Nobody's going to chase you down the street demanding a tip.
However, in cafes and restaurants, there is usually a service charge built into the final cost of the bill. If this is the case, it will be clearly stated somewhere in the restaurant, usually on the menu and on the bill itself.
When you're eating out in Sweden, and you want to leave a tip, it's customary to round the bill up to the nearest number. For example, if your bill came to 275 SEK, you'd leave 300 SEK; otherwise, a tip consisting 5-10% of the final bill is the norm.
Leaving a few krona (not US dollars) on top of the bill is seen as a kind gesture showing appreciation.
When it comes to the tipping service staff at a hotel, it is likewise seen as a goodwill gesture and not something that will bolster the staff's living wage. You could opt to leave a few krona in the hotel room for the cleaning staff, or give the bellhop a few krona for helpful service.
For taxi drivers, you can round your fare up to the nearest 10 SEK, but again, it's not expected. Similarly, with tour guides, tipping is not expected, but if you're on a free city walking tour or something like that, then it is customary to give the tour guide a few krona for their effort.
In short, tipping in Sweden won't eat into your budget too much – it's more like a way of saying thank you (and then only if you feel like it).
Get Travel Insurance for Sweden
Something else to think about is travel insurance. It's not something that you'd automatically include as part of your budget for your Sweden adventures, but it's probably something that you should at least consider.
It's mainly because unpredictable things can happen at any moment. War? Volcano erupting? Global pandemic? All these things have affected travel in the past few years.
For simple stuff like having to book extra nights at your hotel and paying for missed flights, travel insurance can provide a nice financial cushion. Worth a ponder.
ALWAYS sort out your backpacker insurance before your trip. There's plenty to choose from in that department, but a good place to start is Safety Wing.
They offer month-to-month payments, no lock-in contracts, and require absolutely no itineraries: that's the exact kind of insurance long-term travellers and digital nomads need.
SafetyWing is cheap, easy, and admin-free: just sign up lickety-split so you can get back to it!
Click the button below to learn more about SafetyWing's setup or read our insider review for the full tasty scoop.
I've almost reached the end of this guide, but before you go, here are a few final tips to help you keep well within budget during your trip to Sweden…
Go in low season – It doesn't particularly matter about the sun in Sweden; winter is a wonderland and a perfect time to see the Northern Lights and get all cosy inside. February is the cheapest, but November would be good, too (avoid Christmas).
Have a water bottle: Don't waste money on plastic, bottled waters; carry your own and refill it in the fountains and the tap. If you're worried about potable water, get a filtered bottle, like the GRAYL, which filters out 99% of viruses and bacteria.
Stay in hostels – Hostels are easily the cheapest way to stay during your Sweden adventures. Even private rooms at most hostels are cheaper than hotels. Plus many hostels offer so many free things, from breakfast to tours, that it makes them ideal for budget travellers.
Earn money while you travel: Teaching English while traveling is a great way to make ends meet! If you find a sweet gig, you may even end up living in Sweden.
Use buses – If you're not a fan of driving, or can't, then public transport will be the only way to get around. Trains are still pricey, even with the 15-day SJ Rail Pass (which still costs around $325). That's a lot to pay upfront, so I'd say just opt for buses as and when you need to travel.
See nature – It costs nothing to hike or bike around Sweden (well, maybe a little with bike rental), so get out there and see nature. You could embark on the Kattegattleden, hang out by the shores of Lake Vänern, or walk part of the 1,000-kilometre-long Sörmlandsleden trail. It's all there for the taking.
Become a volunteer with Worldpackers: Give back to the local community and, in exchange, you're room and board will often be covered. It's not always free, but it's still a cheap way to travel in Sweden.
Self cater – I know: it's not fun to always be making food for yourself, but making sure you have breakfast, lunch, and sometimes dinner covered means you can save a whole lot on your trip. That means opting for a hostel or Airbnb with a kitchen; some come already stocked with basic supplies, which is a plus.
Sweden is expensive. Generally speaking, that's what I'd say. It can definitely come across as a destination that's un-doable for independent travellers on a budget. But don't let that put you off at all. Because you don't need to spend a huge amount of cash to explore Sweden.
The public transport is super reliable and affordable; the bus network will get you to a whole lot of destinations for a few dollars. Hostels, Airbnbs, and budget hotels combine to create a network of accommodation to keep your budget in check – you'll be able to stay in some incredible locations, as well.
What we think the average daily budget for Sweden should be:
As long as you're mindful of what you're spending (and stay in cheap accommodation, and maybe make your lunches more often than you eat lunch out), it could come to around $55.
---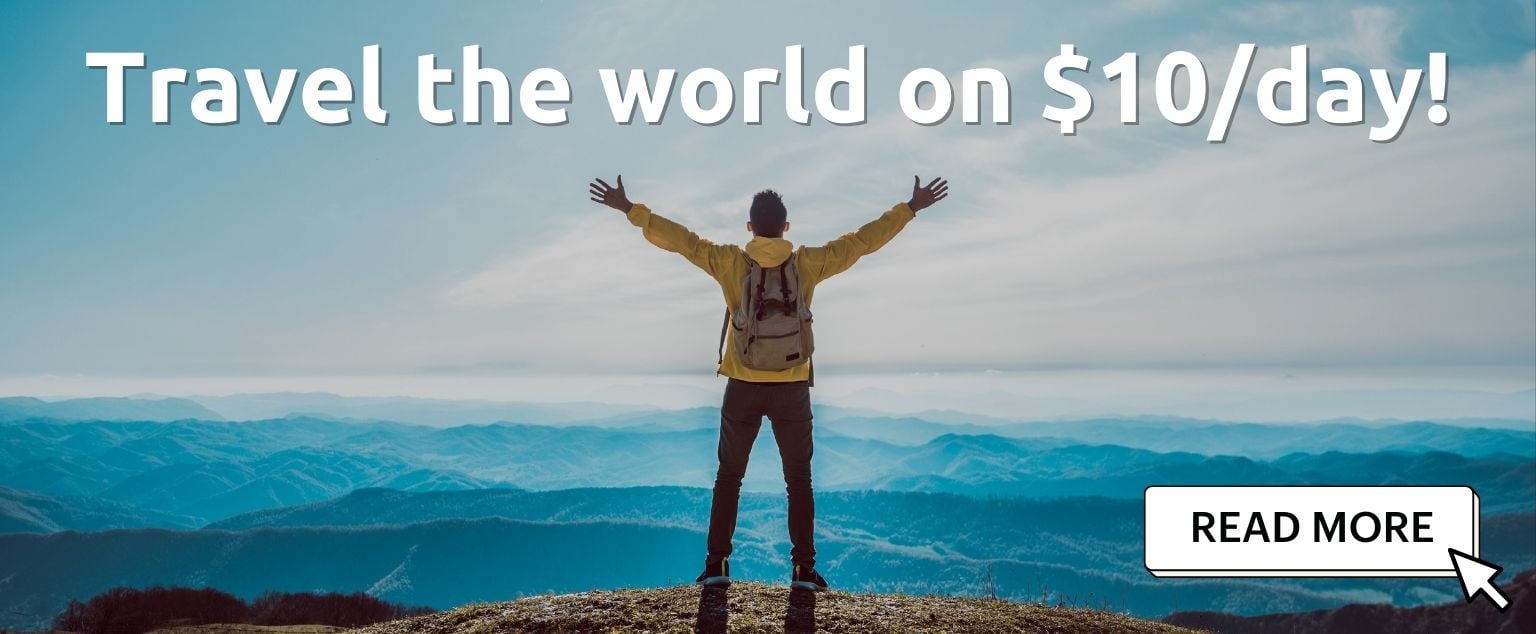 And for transparency's sake, please know that some of the links in our content are affiliate links. That means that if you book your accommodation, buy your gear, or sort your insurance through our link, we earn a small commission (at no extra cost to you). That said, we only link to the gear we trust and never recommend services we don't believe are up to scratch. Again, thank you!