Hold on to those frozen margaritas, it's time to head to Albuquerque! As the most populated city in New Mexico, the city is full of exciting things to see and do! Nestled on the banks of the Rio Grande and Sandia Mountains, this urban metropolis is surrounded by natural beauty.
Whether you want to attend the balloon fiesta, or chomp down on an authentic Southwestern breakfast burrito, you can be to find plenty of attractions in Albuquerque to keep you busy.
While there are many things to do in Albuquerque, the outskirts are also brimming with hidden gems. In just a quick train ride on the New Mexico Rail Runner Express Train, you'll land yourself near top attractions such as the Georgia O'Keeffe Museum, the Palace of the Governors, and Santa Fe Plaza.
Because there's just so much to see and do, knowing which Albequerque attractions should make the itinerary can be hard to narrow down. With that in mind, I've put together a list of some of the best sights in the city, so you can make planning much easier.

Unlock Our GREATEST Travel Secrets!
Sign up for our newsletter and get the best travel tips delivered right to your inbox.
The Top Things to Do in Albuquerque
Just landed in Albuquerque and don't have a lot of time? Don't worry – I've got your back! Here are five unmissable Albuquerque attractions that you may wish to add to your trip.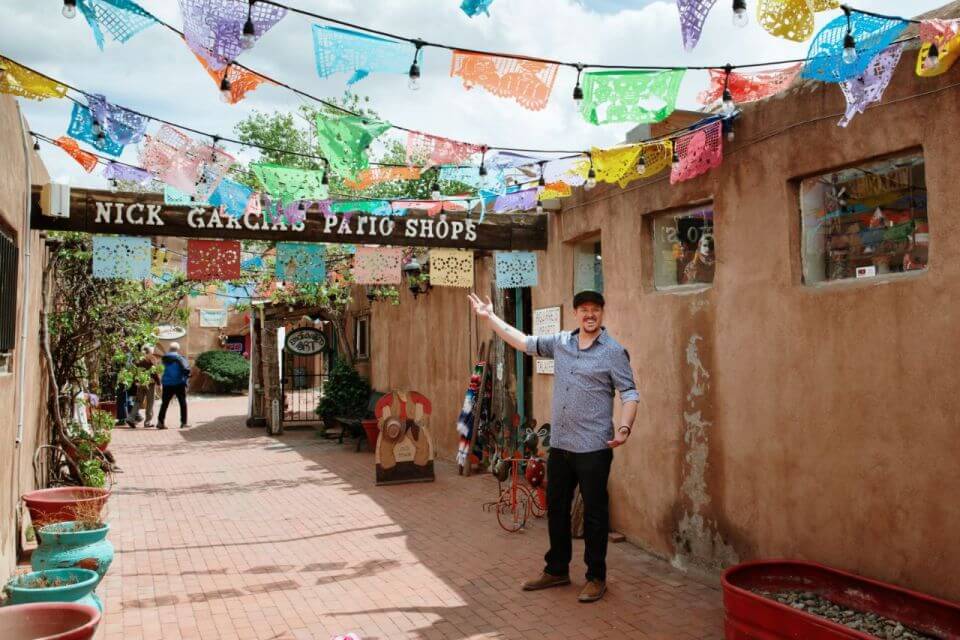 Anyone who's ever been there will tell you that the Old Town is the best place to soak up Albuquerque's charm and beauty!
This bustling hub is an absolute sight to behold with its narrow lanes and century-old casitas. Travelers will be able to enjoy the city's delightful blend of heritages and cultures – not to mention the excellent eateries in the vicinity!
It's all too easy to spend an entire afternoon just exploring the colorful streets while soaking up the exceptionally lively vibe.
If you opt for a guided Culture & Heritage Walking Tour, you'll be taken through some of the most coveted Old Town spots like the Albuquerque Museum Sculpture Garden, and even an old one-room schoolhouse.
Entrance fee: $86.02
Hours: Dependent on tour
Address: 482J+69C Albuquerque, New Mexico, USA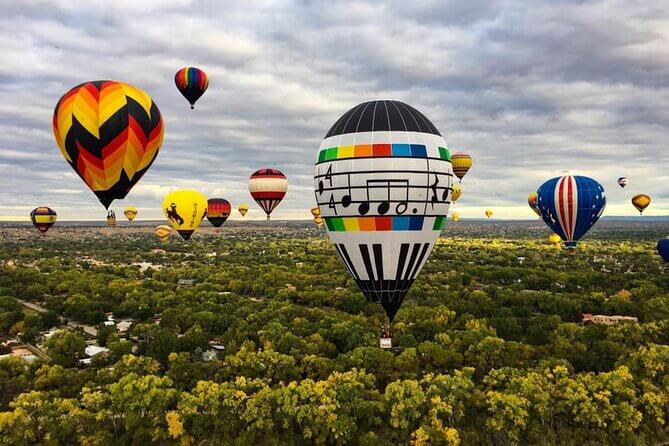 By far one of the most popular activities in Albuquerque, the Balloon Fiesta draws locals and tourists from all over.
Held in October, this nine-day festival creates a magical world filled with a mass ascension of balloons all day long. This event also sees plenty of other thrilling activities such as skydiving.
Now, if you can't make it to Albuquerque in October, fret not: there are plenty of hot air balloon expeditions that you can book throughout the year.
With this activity, you'll not only get to (literally) soar to new heights with an experienced pilot, but you'll also be treated to a spectacular sunrise over the picturesque Sandia Mountains. This is by far one of the coolest festivals in the US that you don't want to miss out on.
Oh, and did I mention that the experience includes a champagne toast?
Entrance fee: $259
Hours: Dependent on tour
Address: 9301 Coors Blvd NW, Albuquerque, NM 87114, USA
3. Enjoy the View from the Sandia Peak Tramway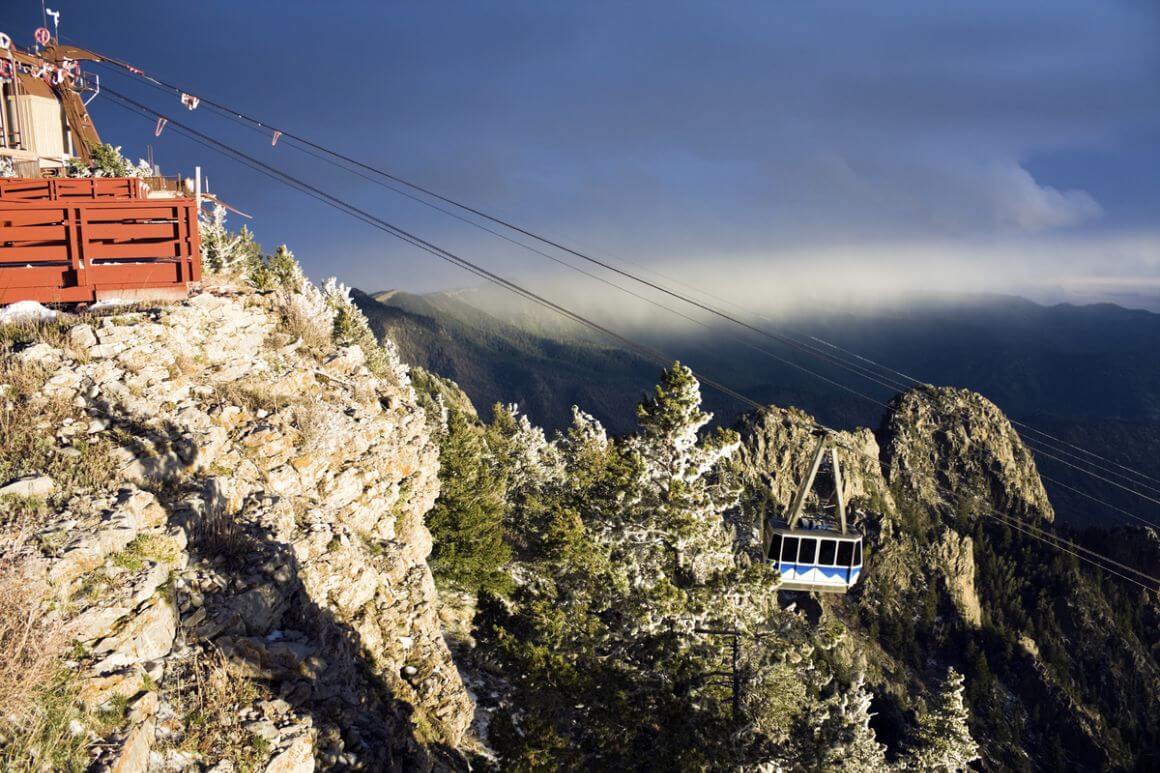 Unless you've got a fear of heights, ascending one of the most stunning urban peaks in the U.S on the Sandia Peak Tramway should absolutely feature on your to-do list!
The view from up there is quite unlike anything you can imagine and if you want to experience it for yourself, you can either trek your way up or hop on a cable car that'll take you to the very top.
This aerial tramway stretches all the way from northeast Albuquerque to the Sandia Mountains. When the weather's clear- which is virtually every day in Albuquerque- you can even see the Rio Grande Valley and the Land of Enchantment.
Entrance fee: $29 (adults), $19 (children)
Hours: 9 a.m. to 8 p.m. daily (except Tuesdays)
Address: 30 Tramway Rd NE, Albuquerque, NM 87122, USA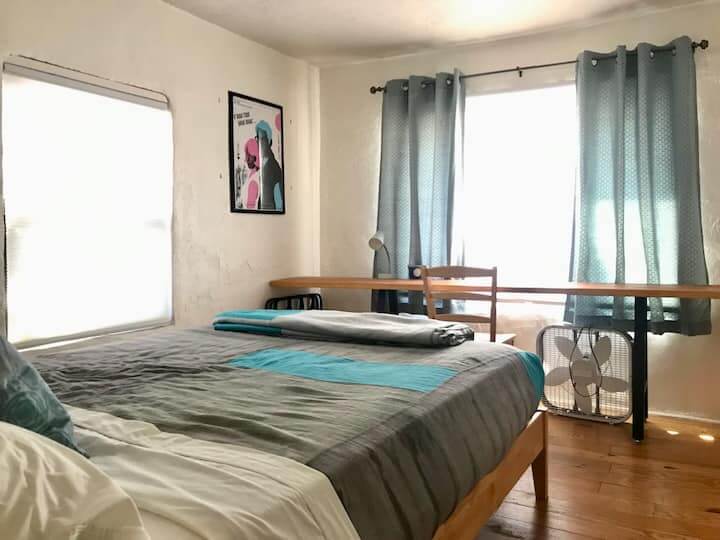 When visiting New Mexico, you should definitely look for a historical place to stay. One of those unique accommodations is the Abode House.
What's an Adobe House, you ask? Well, it basically refers to a traditional Spanish house made from mudbricks – and yes, you'll find plenty of these all over Albuquerque!
Located near some of the most exciting attractions in Albuquerque, this Adobe House can comfortably accommodate 4 guests in 2 bedrooms.
Now, this place does boast a fully-equipped kitchen, but with some of the downtown area's most popular eateries close by, why bother with cooking, right?
Families traveling with children will be glad to learn that this space lies just a quick, five minutes walk to the Children's Museum and Tiguex Park.
Entrance fee: $111/night
Hours: Check-in after 3 p.m., Checkout at 11 a.m.
Address: Albuquerque, New Mexico, USA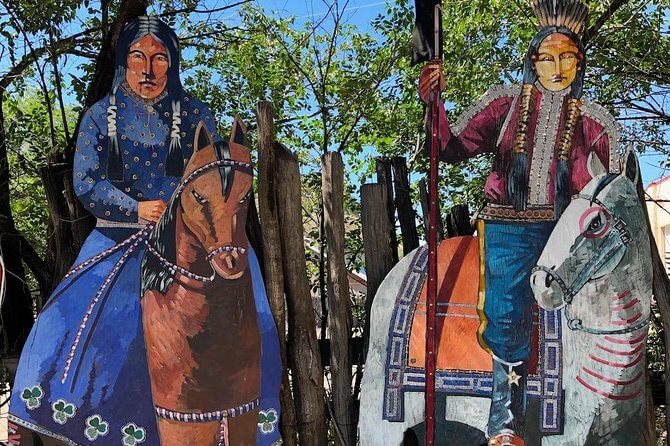 Oodles of Old West history and jaw-droppingly gorgeous views await on the Turquoise Trail, a two-lane road that connects Tijeras to East Albuquerque and Santa Fe.
And no, it's not just another boring ol' road trip either: the Turquoise Trail houses some of the most historic venues in the area, including Madrid, a former coal-mining town that now houses plenty of restaurants and art galleries.
Because it's such as historically charged place, one of the best ways to explore the Turquoise Trail is in the company of an experienced guide who'll take you through its rich past. This activity even includes a stop at the scenic Garden of the Gods, known for its incredible road formations- perfect for those IG pictures!
Entrance fee: $345 per group of 3
Hours: 9 a.m. to 3.30 p.m.
Address: Various pickup locations in Albuquerque
6. Visit the Indian Pueblo Cultural Center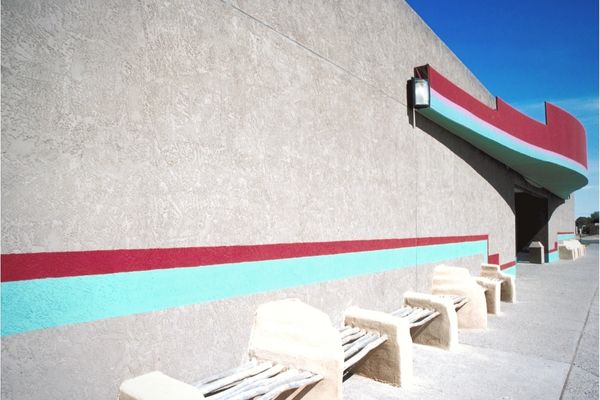 Visiting the India Pueblo Cultural Center is often said to be one of the best things to do in Albuquerque, especially if you would like to learn more about the city's Native American heritage.
This center has plenty of exhibitions where you can learn more about the Pueblo People's many indigenous tribes. Depending on when you're visiting, you may even get to attend lectures or cultural events such as artist demonstrations and galas.
I would totally recommend that you make time to attend the center's traditional dances as well. And if you get peckish after your tour, you can always sample New Native American Cuisine at the on-site Pueblo Harvest Café.
Entrance fee: $8.40
Hours: 9 a.m. to 4 p.m. (Tuesday to Sunday)
Address: 2401 12th St NW, Albuquerque, NM 87104, USA
Small Pack Problems? 😉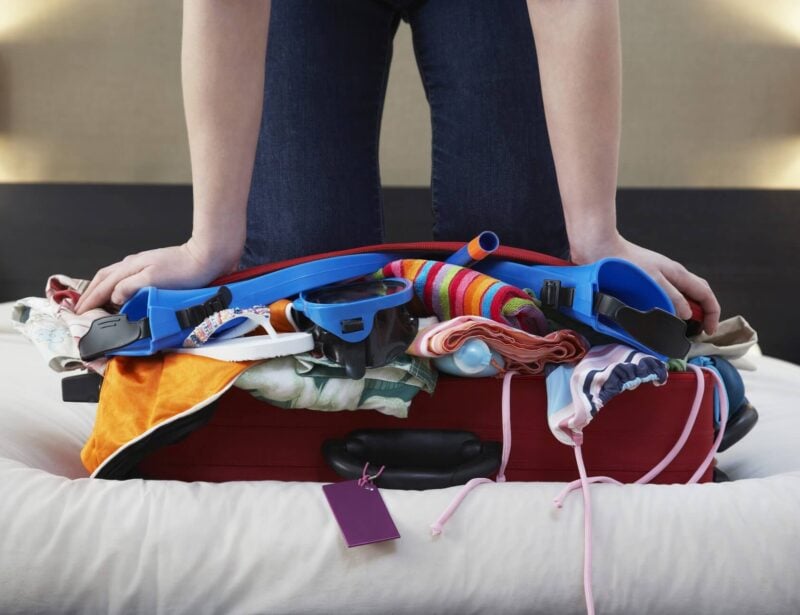 Wanna know how to pack like a pro? Well for a start you need the right gear….
These are packing cubes for the globetrotters and compression sacks for the real adventurers – these babies are a traveller's best kept secret. They organise yo' packing and minimise volume too so you can pack MORE.
Or, y'know… you can stick to just chucking it all in your backpack…
Get Yours Here
Read Our Review
7. Sample the Local Wine
New Mexico may be known for its scrumptious beers, but it won't take you long to realize that Albuquerque also has an excellent wine scene.
Ask any local where you can get the best wine, and they'll immediately point you towards the Casa Rondena Winery.
Not only is this place acclaimed for its amazing wine, but it also hosts fun events such as St. Patrick's Day celebrations, Venetian Carnivals, and the Festival de Música Rondeña. No wonder it's such a popular venue!
Just a quick heads-up: the winery doesn't accept reservations and operates on a first-come, first-served basis. As such, it's always a good idea to head there early if visiting in peak season or attending one of the events.
Entrance fee: $12
Hours: 12 p.m. to 7 p.m.
Address: 733 Chavez Rd, Los Ranchos De Albuquerque, NM 87107, USA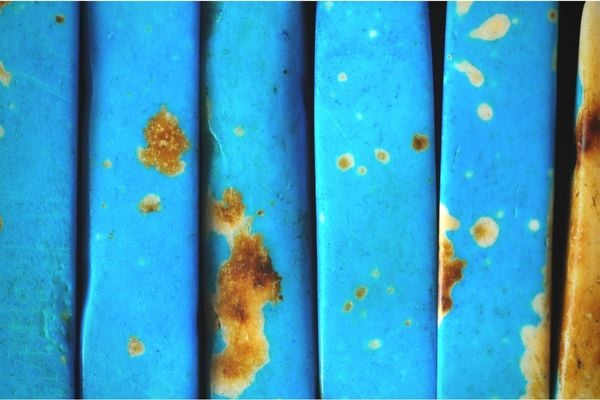 Are you looking for the quirkiest things to do in Albuquerque? Well, let's head over to the Turquoise Museum where everything is, as you might guess, turquoise.
The turquoise gem is an important part of the history here in the American Southwest, and mining this precious jewel has dated back to Native American roots. The museum is nestled in a modern 'castle' and showcases a vast collection of jewelry and antique furniture featuring the stone.
Step back in time and learn about how this precious jewel has transformed the history of Alberquerquie.
Entrance fee: $21.00
Hours: 12 p.m. to 2 p.m. (Closed Thursdays and Sundays)
Address: 400 2nd St SW, Albuquerque, NM 87102
9. Stroll Along the Paseo Del Bosque Trail
Fans of the great outdoors, this one's for you! Albuquerque's flagship trail spans all the way from the north to the south of the city – perfect for hikers looking to cover a lot of ground in just one day.
Best of all, the Paseo Del Bosque Trail cuts through the stunning cottonwood Bosque Forest, Tingley Beach, Central Avenue, and the Rio Grande Valley State Park, so there'll be plenty to explore on this five-hour route. Talk about sightseeing bonanza, right?
If hiking's not really your thing, let me assure you that Paseo Del Bosque does have biking trails too. Locals actually bike right through the trail when they want to quickly sprint through the city while avoiding traffic. Since it's free to hike, this is the perfect activity for backpackers in the US.
Entrance fee: Free
Hours: Open 24 hours
Address: Paseo del Bosque TrailNew Mexico, USA
10. Take the kids to the New Mexico Museum of Natural History and Science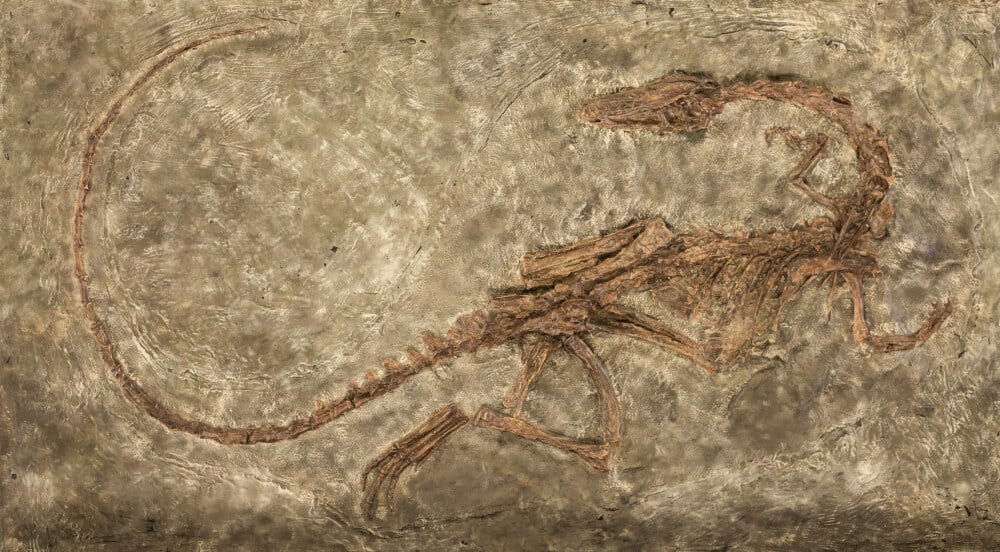 Located just a short distance from the Old Town Plaza, the New Mexico Museum of Natural History and Science offers plenty to keep the whole family entertained.
This place is especially known for its life-sized models of dinosaurs, including the massive Tyrannosaurus Rex. The Dawn of the Dinosaurs exhibition is actually the only Triassic Hall in North America.
This high-tech museum even houses a super-accurate replica of an active volcano and an Ice Age Cave. There are also plenty of events and classes that cater to guests of all ages- perfect for travelers looking for things to do in Albuquerque with kids!
I would recommend that you set aside a solid three to four hours to properly take everything in.
Entrance fee: $8 (adults), $5 (children)
Hours: 9 a.m. to 5 p.m. (Monday to Saturday)
Address: 1801 Mountain Rd NW, Albuquerque, NM 87104, USA
Is This the Best Daypack EVER???
11. Shop Till You Drop at Historic Nob Hill
Here's an excellent way to stock up on souvenirs while supporting locally-owned businesses!
Located on Central Avenue, this mile-long neighborhood boasts a wide array of eccentric boutiques, specialty shops, and quaint dining spots. Owing to its location, there's a distinct Route 66 theme to the whole place which only adds to its charm.
This go-to shopping district offers new and older stores- some of which still have their original neon signs that date all the way back to the '40s! Be sure to check out the Nob Hill Business Center which is said to be the state's very first modern shopping center.
After sunset, this place bursts into life with plenty of funky pubs, bars, and nightclubs that draw locals and tourists alike.
Entrance fee: N/A
Hours: Dependent on stores/restaurants
Address: Central Avenue between Girard and Washington, Albuquerque, NM, USA
12. Be Wowed by the Petroglyph National Monument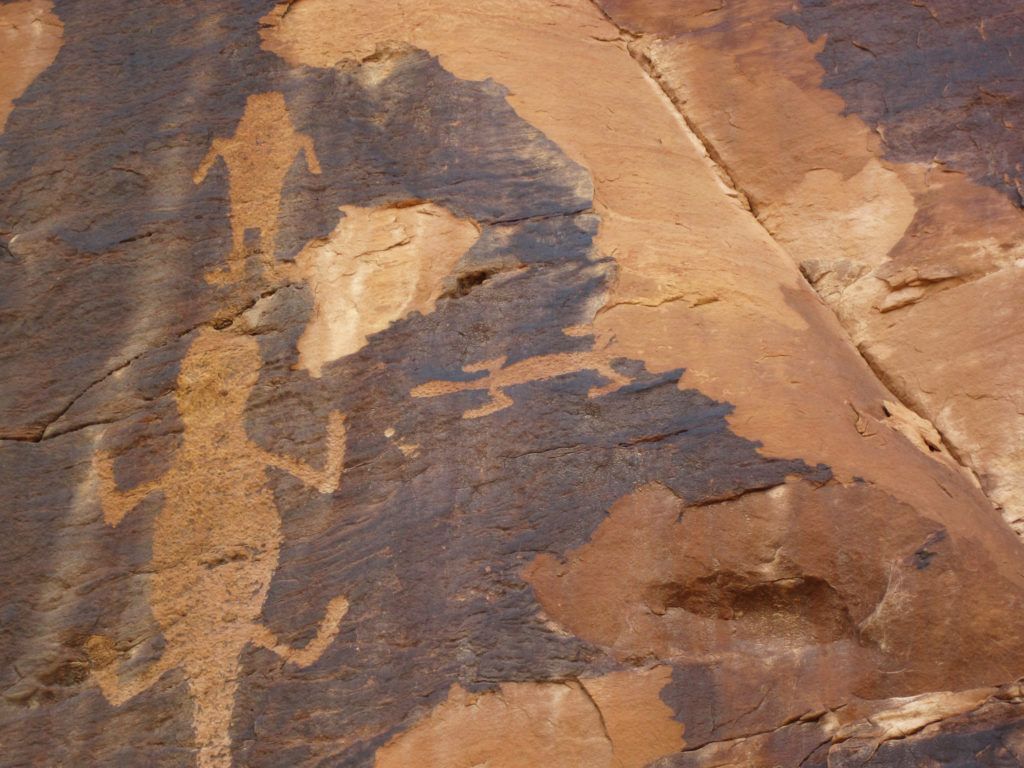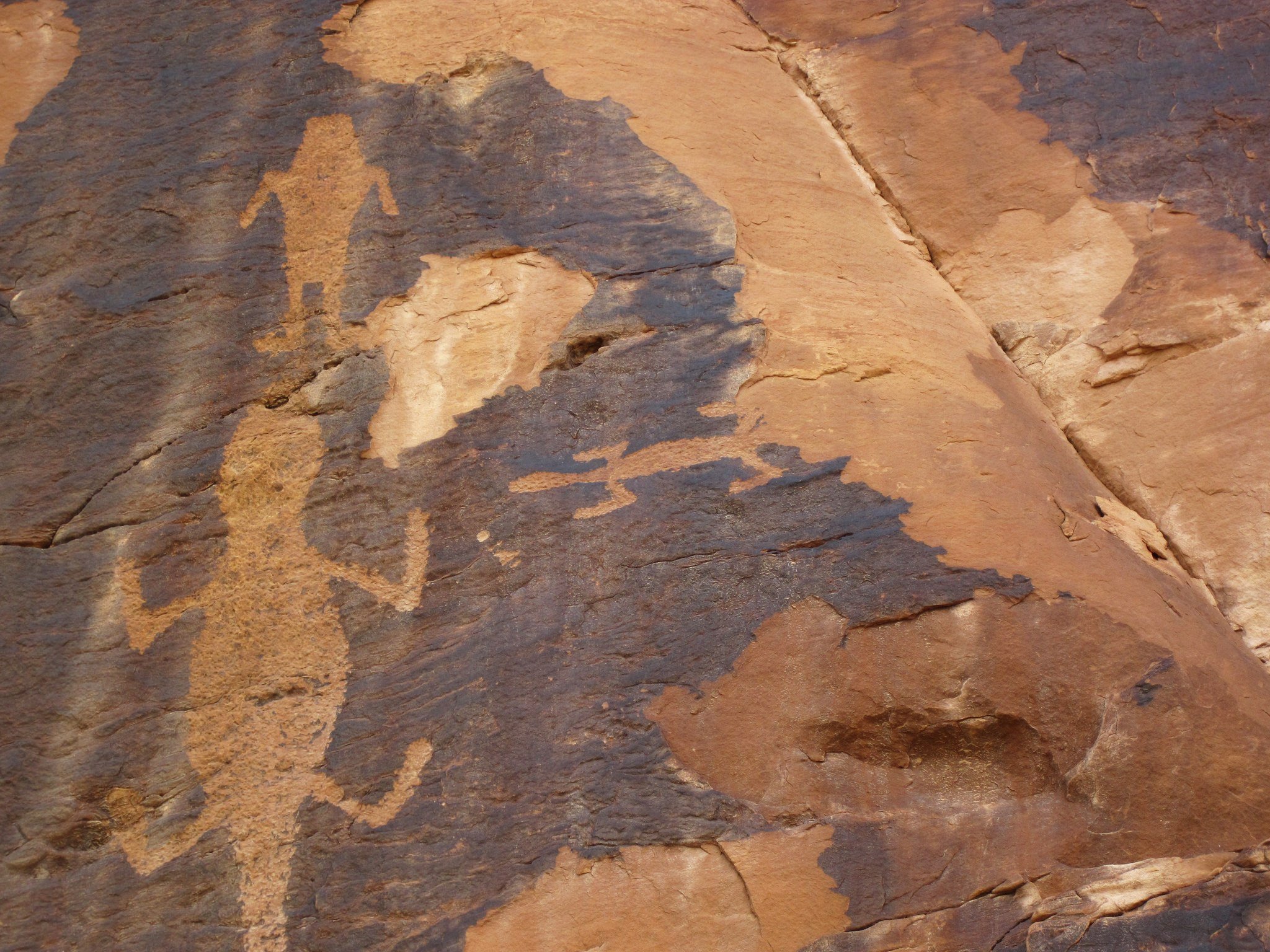 Hands-down, this was easily the highlight of my trip to Albuquerque- and not just because it's free!
Contrary to popular belief, this is not a monument on its own. Rather, the Petroglyph National Monument is a sprawling park that houses over 20,000 petroglyphs. Take it from me: there's something really awe-inspiring about seeing all these symbols, carvings, and messages left by Native Americans and Spanish settlers.
Because it's hailed as one of the best attractions in Albuquerque, the Petroglyph National Monument is the one place that you really can't afford to skip during your stay in the city!
If you're a first-time visitor, I would also suggest that you hit the Visitor's Center first where you'll get more info about the different sights and hiking trails.
Entrance fee: No entrance fee, a parking fee of $1/vehicle (weekdays), $2 (weekends)
Hours: 8.30 a.m. to 4.30 p.m.
Address: Western Trail NW, Albuquerque, NM 87120, USA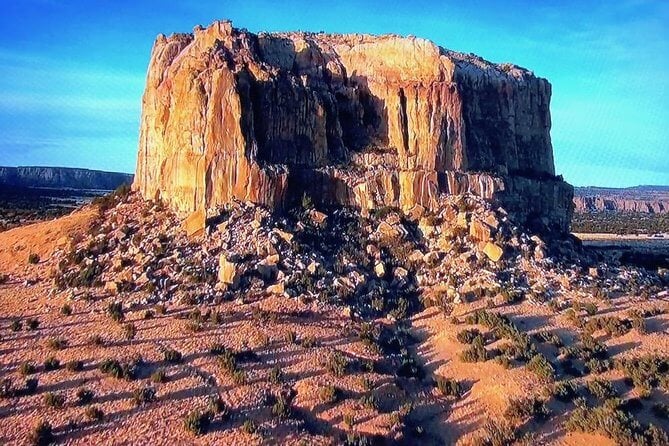 Just over an hour from Albuquerque is found Acoma Pueblo, one of the oldest continually inhabited cities in North America.
Locals will tell you that visiting this cultural landmark is among the top things to do in Albuquerque- and I totally agree with them!
With a guided tour of the place, you'll not only learn more about this fascinating ancestral culture, but you'll also get to explore the multi-storied adobe buildings. Inside, you'll find plenty of artifacts like ceremonial kivas.
This activity also includes a trip to the San Estevan del Rey Mission, the Haaku Museum, and the Cultural Center. And if you're not watching those purse strings, you can even buy some original Pueblo polychrome pottery to take back home.
Entrance fee: $325 per group of 3
Hours: 9 a.m. to 3 p.m.
Address: Old Town, Albuquerque, NM 87104, USA (hotel pickup also available)
Travel with peace of mind. Travel WITH a security belt.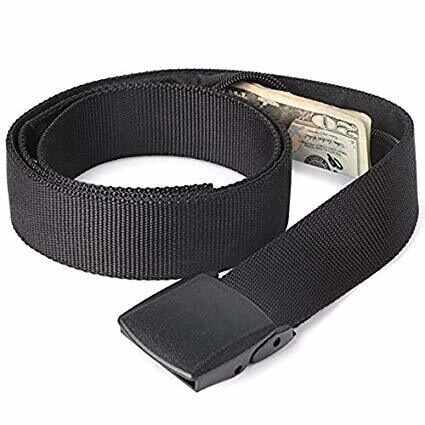 Stash your cash safely with this money belt. It will keep your valuables safely concealed, no matter where you go.
It looks exactly like a normal belt except for a SECRET interior pocket perfectly designed to hide a wad of cash, a passport photocopy or anything else you may wish to hide. Never get caught with your pants down again! (Unless you want to…)
Hide Yo' Money!
14. Cheer on a Baseball Game at Isotopes Park
New Mexico may be acclaimed for its excellent pro soccer club, but a lesser-known fact is that Albuquerque also has a great baseball scene. In fact, the city's home to the minor league Triple-A-Isotopes Baseball Team. If you're wondering why this name sounds familiar, it's because they borrowed it from the Simpsons!
Whether you're a sports aficionado or not, catching a game at the Isotopes Park should definitely feature on your to-do list. Not only will you get to soak up that super vibrant atmosphere but it's also the ideal venue to connect with locals.
And if you're a baseball fan like me, you'll quickly notice that the park's high elevation produces some pretty impressive batting feats.
Entrance fee: Dependent on the game (cards-only facility)
Hours: 10 a.m. to conclusion of the game (Tuesday to Saturday)
Address: 1601 Avenida Cesar Chavez SE, Albuquerque, NM 87106, USA
15. Check out the Albuquerque Museum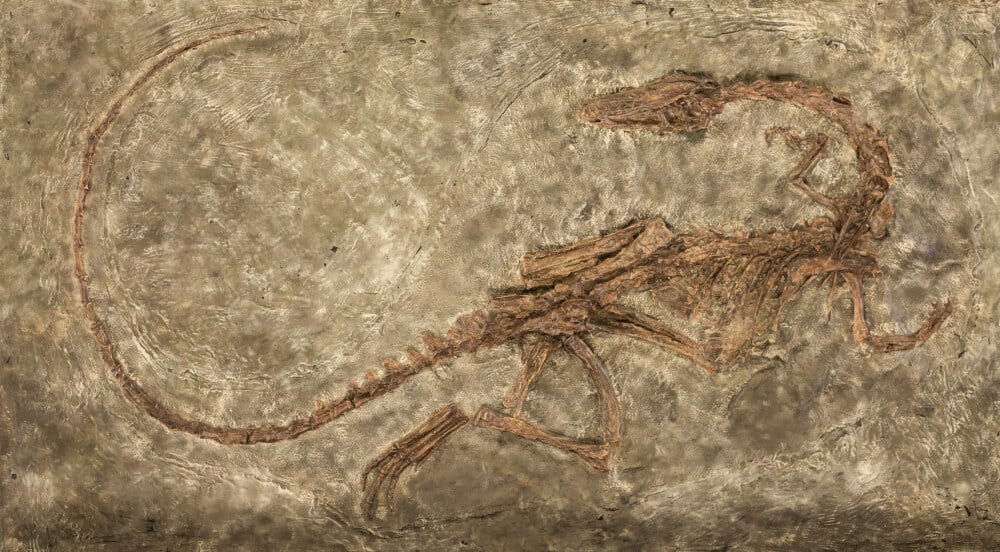 The Albuquerque Museum is one of the most popular attractions in the city so I would really advise you to plan your visit early or book those tickets in advance if you're visiting in peak season.
There's nothing pleasant about standing in line for ages or having to push through a sweaty gaggle of tourists while trying to enjoy the exhibitions- something that I learned the hard way!
Home to centuries of Spanish and Native American cultural artifacts, this museum also offers plenty of interactive spaces. Be sure to check out the Sculpture Garden which features a diverse collection of pieces centered around the local history, cultures, and New Mexico landscapes.
While note-taking and sketching are allowed, just remember to keep a respectful distance from the objects.
Entrance fee: $6 (Adults), $3 (Children)
Hours: 9 a.m. to 5 p.m.
Address: 2000 Mountain Rd NW, Albuquerque, NM 87104, USA
16. Get your Insta Game on at Elena Gallegos Open Space
Charge your phones and grab your walking shoes as we head into one of New Mexico's most beautiful areas!
Perfect for travelers looking for things to do in Albuquerque off the beaten path, the Elena Gallegos Open Space is exactly what it sounds like: a wide, open space bordered by the Jemez Mountains, Tijeras Arroyo, and Mt. Taylor.
One piece of advice? Try to plan your visit close to sunset so you can enjoy breathtaking scenery as the sun dips beneath Mt. Taylor.
This open space is speckled with an abundance of flora that includes local plants like Soapweed Yucca, Apache Oak, and Chamisa. Be sure to pack some snacks since the venue also provides picnic areas and barbecue facilities.
Entrance fee: $1/vehicle on weekdays, $2/vehicle on the weekend
Hours: 7 a.m. to 9 p.m. (summer hours), 7 a.m. to 7 p.m. (winter hours)
Address: 7100 Tramway Blvd NE, Albuquerque, NM 87122, USA
Okay, you just can't end your trip to Albuquerque without checking out the Rio Grande! After all, this just so happens to be the fifth-longest river system in North America!
Enjoying a stroll by the water's edge is cool and everything, but you know what's even better? Whitewater rafting down the river! If rafting is new to you, the rapids at Rio Grande Gorge are a gentle family-friendly 2-3 level, perfect for beginners.
As you paddle your way down the rapids, take in the incredible views of the gorge and learn about the names for the rapids, such as The Maze, The Narrows, Thunderdome, and Souse Hole.
Entrance fee: $96.71
Hours: Dependent on tour
Address: N/A
18. Hop on a Train to Santa Fe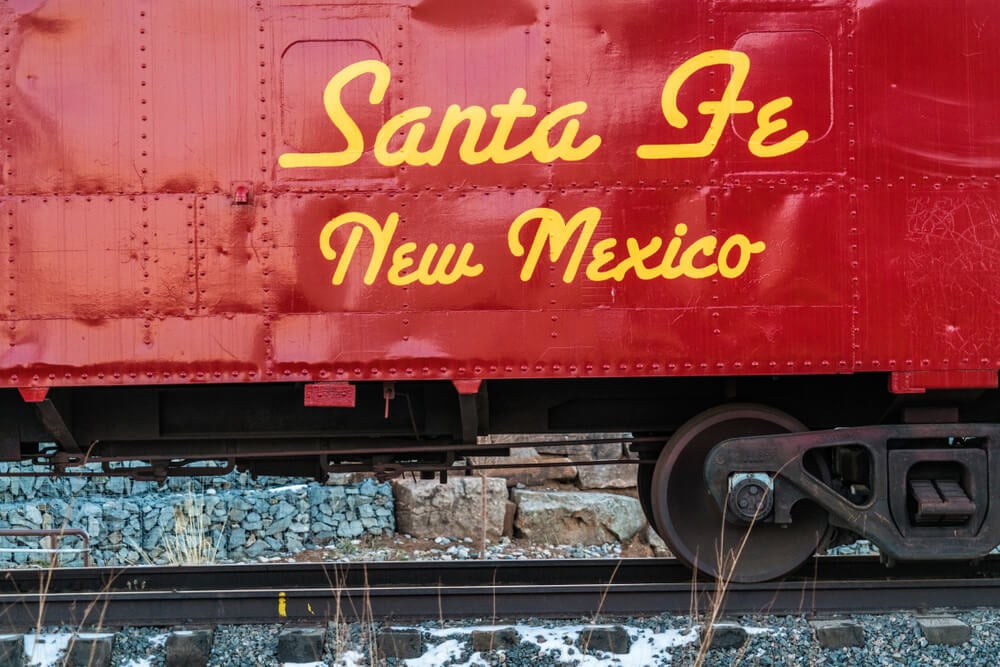 Ideal for travelers looking for the best day trips from Albuquerque, Santa Fe lies less than two hours from the city. While you can just get into the car and hit the l-25, a more eco-friendly and fun way of getting there would be to catch a ride on the New Mexico Rail Runner Express Train!
In my opinion, every trip to Santa Fe should absolutely include a stop by the Plaza- a bustling hub surrounded by several ancient buildings like the Palace of the Governors.
Afterward, you can always grab a quick bite at the Santa Fe Farmers' Market before touring other popular venues like the Museum of International Folk Art.
And if you'd like to stay overnight, be sure to check out the best places to stay in Santa Fe!
Entrance fee: $10 for a one-way train ticket, $11 for a day pass
Hours: Varies according to the train schedule
Address: 809 Copper Ave NW, Albuquerque, NM 87102, USA
19. Munch on Tacos at El Paisa Taqueria
Now, after all this sightseeing, you're probably in dire need of refreshment, right? Well, head over to foodie paradise, also known as El Paisa Taqueria!
Tacos may be super popular all over the States, but you haven't lived until you've allowed your tastebuds to dance along with the delectable flavor of an authentic Albuquerque taco smothered in cheesy, saucy goodness.
And in my opinion, El Paisa Taqueria has the best tacos in the whole freakin' world so be sure to check out this place if you want to be wowed by Albuquerque's food scene!
This unpretentious food stand also offers other local delicacies such as tortas and gorditas which you can enjoy on the covered patio. Just remember to bring cash since this place doesn't accept cards.
Entrance fee: Free, just the price of your tacos
Hours: 8 a.m. to 10 p.m.
Address: 820 Bridge Blvd SW, Albuquerque, NM 87105, USA
Have you sorted your accommodation yet?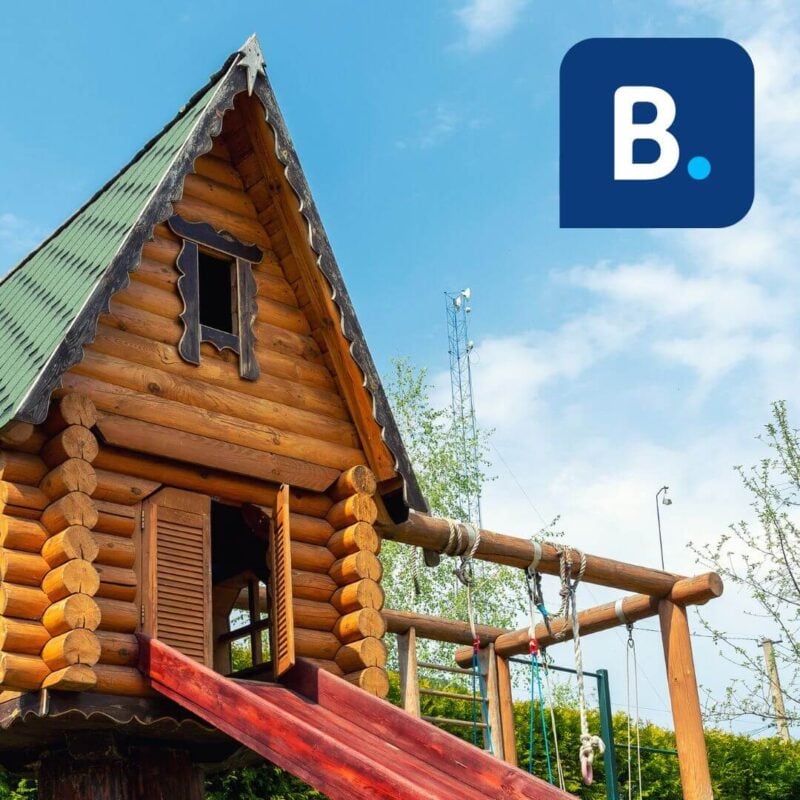 Get 15% OFF when you book through our link — and support the site you love so dearly 😉
Booking.com is quickly becoming our go-to for accommodation. From cheap hostels to stylish homestays and nice hotels, they've got it all!
View on Booking.com
20. Unwind with a Show at the KiMo Theatre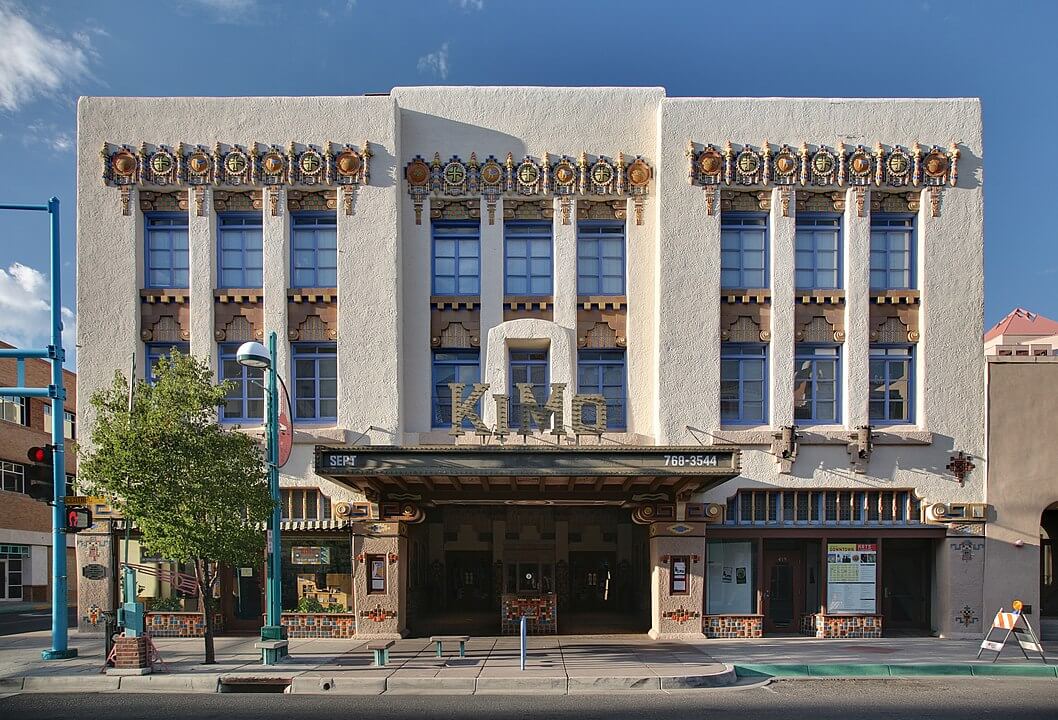 While the city is full of eye-catching houses and buildings, you probably won't see one quite like this theatre. Indeed, the KiMo Theatre still maintains its original Pueblo Deco architecture that was all in the rage back in the '20s.
Whether you're looking for things to do in Albuquerque at night or simply want to check out one of the most historic landmarks on Route 66, this is one place that won't disappoint!
Experience art exhibitions, and live performances or if shows aren't really your thing, you can always take a self-guided tour of the place. Inside, the theatre has a classic Native-American style décor, complete with war drum chandeliers.
Entrance fee: Varies according to the show
Hours: 8.30 a.m. to 4.30 p.m. (Tuesday-Friday), 11 a.m. to 5 p.m. (Saturday)
Address: 423 Central Ave NW, Albuquerque, NM 87102, USA
21. Attend a Festival
There's always some kind of festival or event in Albuquerque so I sure hope you're ready to party!
While the International Balloon Fiesta is by far the most popular event, it's definitely not the only one. If you head there in February, you can attend the annual Fiery Foods and BBQ Show which sees a huge gathering of the absolute hottest chili products from all around the world.
In April, travelers will be privy to the Gathering of Nations which takes place at Expo New Mexico. During this event, Native Americans from all over North America gather for a weekend of fun-filled contests.
In November, you can even attend the Marigold Parade which is part of the Day of the Dead celebrations.
Entrance fee: Varies
Hours: N/A.
Address: Various locations across Albuquerque
Where to Stay in Albuquerque
There's nothing quite like that glorious feeling of retreating to air-conditioned comfort after a day of exploring some of the most sought-after activities in Albuquerque.
Last-minute reservations tend to be quite pricey, especially in peak season. As such, it's always a good idea to book ahead of time to ensure that you get the best deals.
From luxurious hotel rooms to rural New Mexico cabins, you'll find there's never a shortage of options for places to stay in Albuquerque.
Here are a few recommendations for where to stay in Albuquerque.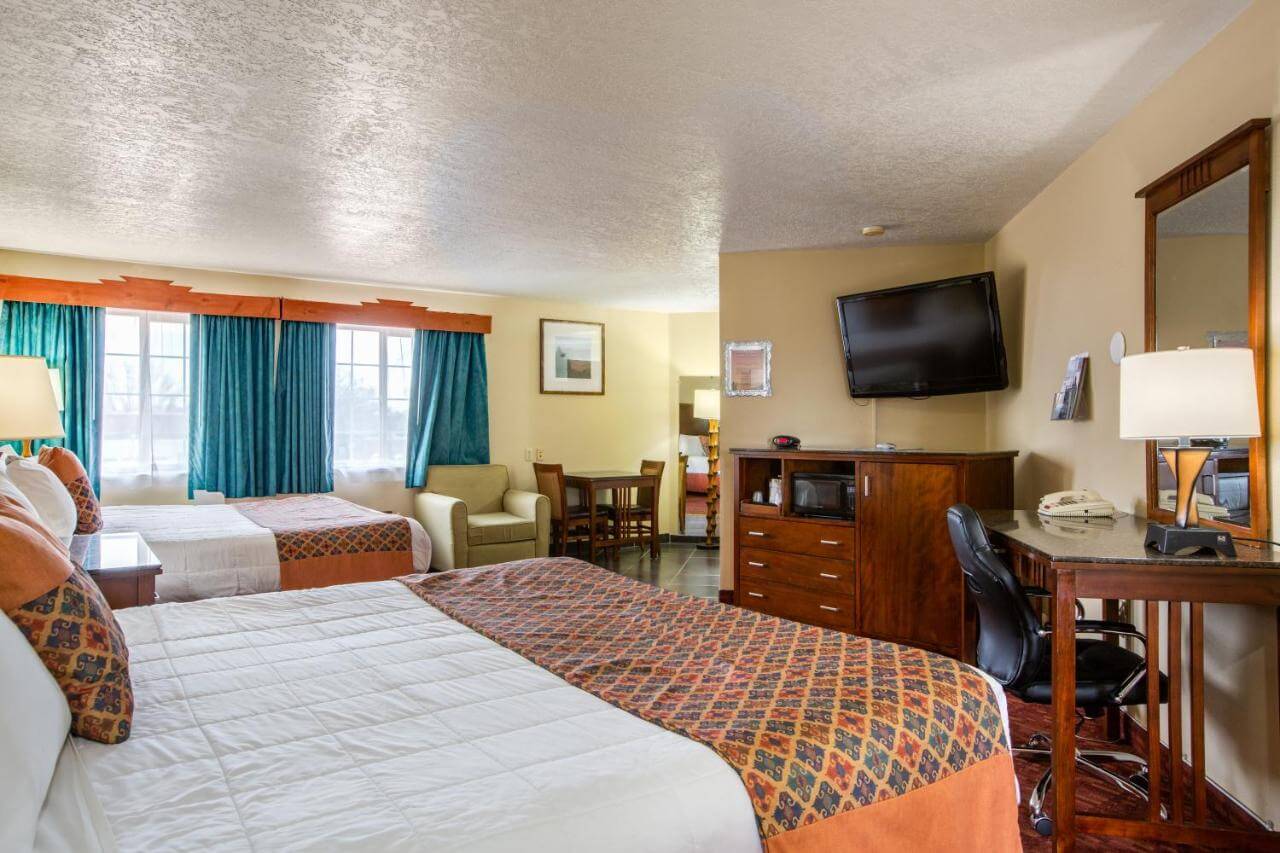 Affordable rooms, an excellent location, and free breakfast every morning? Sign me up!
This one hands-down gets my vote for the best motel in Albuquerque and it's super well-located too. King and Queen rooms have one or two large double beds while Family Suites can accommodate up to three guests. All rooms come with tea and coffee-making facilities and select ones even have spa baths. This motel also offers easy access to the New Mexico Museum of Natural History and Science and Kimo Theatre.
Perfect for couples and small families, this gorgeous casita comes with everything you'll need for a fun stay: a spacious yard shaded by cottonwoods, a shared seasonal pool, and a modern, well-equipped kitchen. With a bedroom to comfortably sleep two guests, this Airbnb also has a sofa bed in the living area for two more people. And if you want to visit some of the best attractions in Albuquerque, you can always head over to the Old Town and Balloon Park, both located just a short distance away.
If you can afford to splurge a little, this is one hotel that ticks all the boxes! Not only does it have an on-site casino and a bowling alley, but it also lies just a quick drive from the downtown area. After exploring all the cool sights in the area, retreat to the generously-sized rooms fitted with iPod docking stations. If you're hungry after sightseeing, you can always treat yourself to a delicious meal at the on-site steakhouse. With a stay at this hotel, you'll be close to the Rio Grande River and Tingley Beach.
Some Additional Tips for Visiting Albuquerque
I know you're eager to hit the road and explore all those blistering beautiful sights that await but before you do, be sure to check out these travel tips to make sure that you have an absolutely epic time in Albuquerque!
Invest in travel insurance! You never know what may happen on the road.
Plan your visit in the fall. Albuquerque can get exceptionally hot in the summer. If you're particularly sensitive to the heat, try to plan your visit between September and November.
Bring a good water bottle with you and avoid buying single-use plastic ones!
Find cheap flights. Every once in a while, a killer deal pops up.
Indulge in the local cuisine. Skip the super fancy restaurants in favor of street stalls or smaller-scale eateries. Not only are these super easy on the wallet, but in my opinion, this is how you'll get to experience the very best of Albuquerque's cuisine.
Take the bus. There's no easier way to cut back on costs than to take the bus, especially if you're going to spend the majority of your time within the city.
October is a great time of year to visit as the weather is perfect.
Don't forget your travel insurance for Albuquerque
ALWAYS sort out your backpacker insurance before your trip. There's plenty to choose from in that department, but a good place to start is Safety Wing.
They offer month-to-month payments, no lock-in contracts, and require absolutely no itineraries: that's the exact kind of insurance long-term travellers and digital nomads need.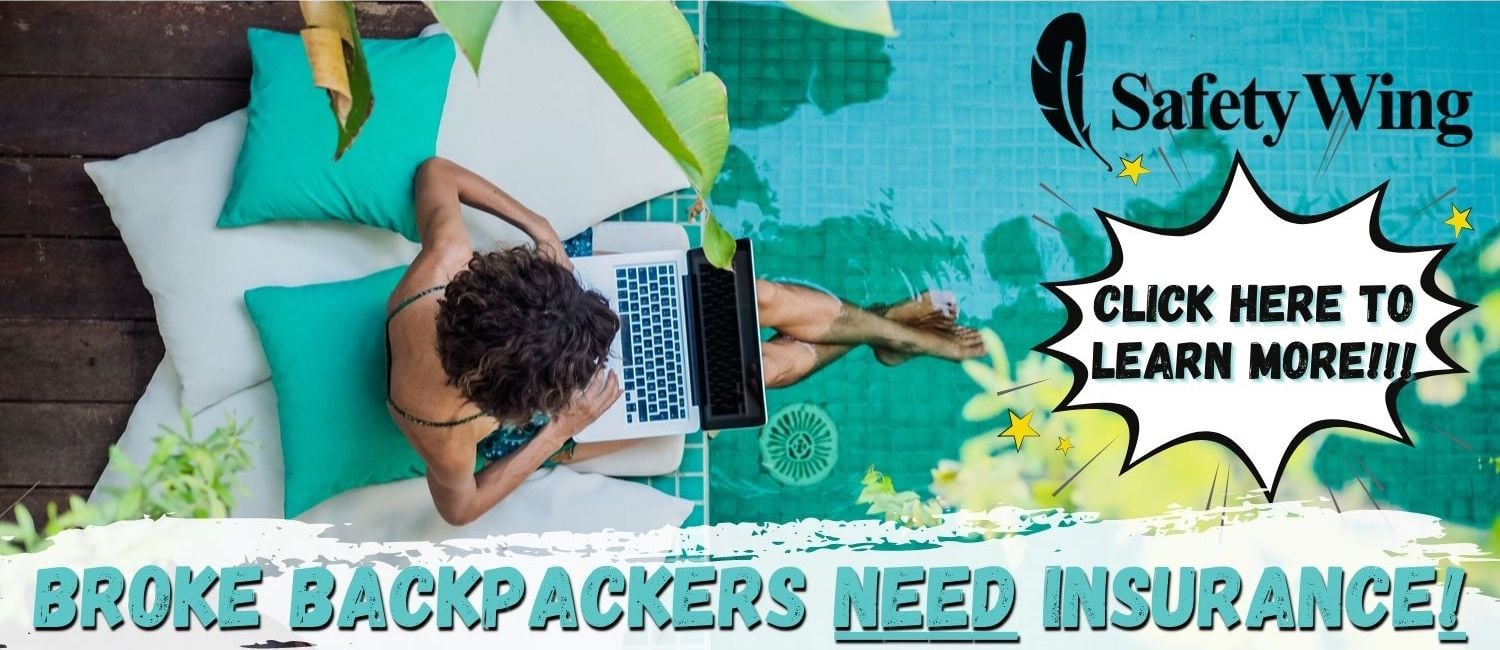 SafetyWing is cheap, easy, and admin-free: just sign up lickety-split so you can get back to it!
Click the button below to learn more about SafetyWing's setup or read our insider review for the full tasty scoop.
Final Thoughts on Things to do in Albuquerque
The city of Albuquerque isn't just loaded with an extensive array of attractions, but it's also a terrific jumping point for exploring other destinations in New Mexico.
Nestled in the high desert, this city beautifully fuses the old and the new and packs plenty to suit just about every type of traveler!
Best of all, there's something unique to be experienced in just about every corner: whether you want to learn more about the ancestral Pueblo culture, see the petroglyphs, or hike one of the many picturesque trails, this is one city that certainly lives up to the hype!
---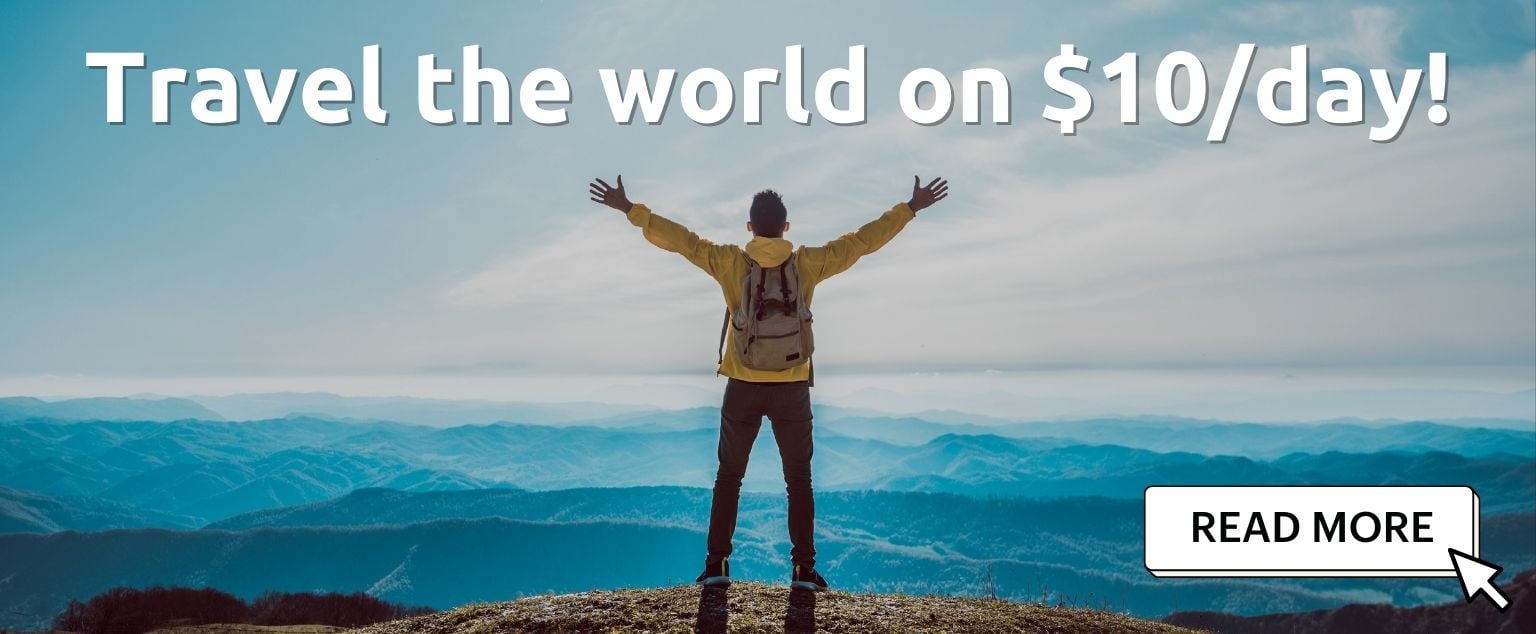 And for transparency's sake, please know that some of the links in our content are affiliate links. That means that if you book your accommodation, buy your gear, or sort your insurance through our link, we earn a small commission (at no extra cost to you). That said, we only link to the gear we trust and never recommend services we don't believe are up to scratch. Again, thank you!