Vanakkam and welcome to Pondicherry – or the Paris of the East as it's known in India!
Brimming with beaches, excellent eats, and temples galore, this place is one of those rare Indian places where you will still find relics of the country's ancient colonial past. Indeed, some of Pondicherry's streets have been likened to Parisian quarters owing to its many French-style buildings.
Located in the southern state of Tamil Nadu, Pondicherry has a distinct French-Tamilian culture that makes it different from other Indian cities.
The great news is that there's something for just about every type of traveler: couples totally have it made with lush parks and beaches where they can enjoy the sunset while outdoorsy types will find ample biking, hiking, and boating opportunities.
The city's sheer abundance of activities can sometimes be overwhelming. As such, I've put together this guide of top things to do in Pondicherry to help you map out the perfect itinerary. So, let's get started!

Unlock Our GREATEST Travel Secrets!
Sign up for our newsletter and get the best travel tips delivered right to your inbox.
The Top Things to Do in Pondicherry
Whether you're backpacking India or simply want to cover more grounds in less time, you'll definitely find more than your fair share of attractions in Pondicherry!
If you're not quite sure where to start though, check out my absolute favorite things to do in the city below.
Things to Do in Pondicherry for Couples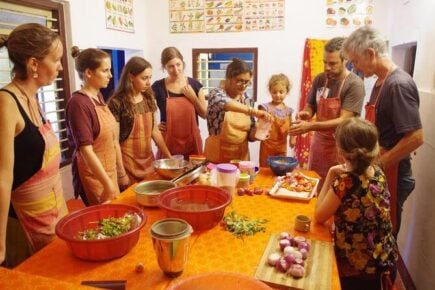 Things to Do in Pondicherry for Couples
Enjoy a Local Cooking Class
Worried about missing your favorite Indian meals once you're back home? Then you may wish to sign up for this South Indian food class that offers a hands-on experience so you can easily replicate those scrumptious delicacies!
Best Day Trip from Pondicherry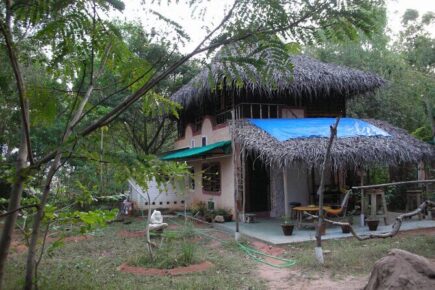 Best Day Trip from Pondicherry
Head to Auroville
Located just 20 minutes from Pondicherry, Auroville is a unique township with inhabitants from over 60 countries. This activity takes you through some of the town's most famous attractions, including the golden-domed Matrimandir Viewpoint.
Unmissable Things to Do in Pondicherry
Unmissable Things to Do in Pondicherry
Cycle Through the City
Not only will a cycling tour help you beat both the crowds and the traffic, but you'll also get to see the best sights in less time. This activity also takes you through Pondicherry's French, Tamil, and Muslim quarters.
Things to Do in Pondicherry with Kids
Things to Do in Pondicherry with Kids
Learn How to Paint with Rice Flour
Learn about Kolam, an Indian painting technique that uses dyed rice flour to trace geometrical patterns and designs on the floor. Both kids and adults will no doubt enjoy making their very own Kolam!
Free Things to Do in Pondicherry
Free Things to Do in Pondicherry
Marvel at the Temple's Architecture
Head over to the impressive Sri Vedapureeswarar Temple, known for its intricate five-tiered entrance and stunning sculptures.
1. Watch the Sunset from Paradise Beach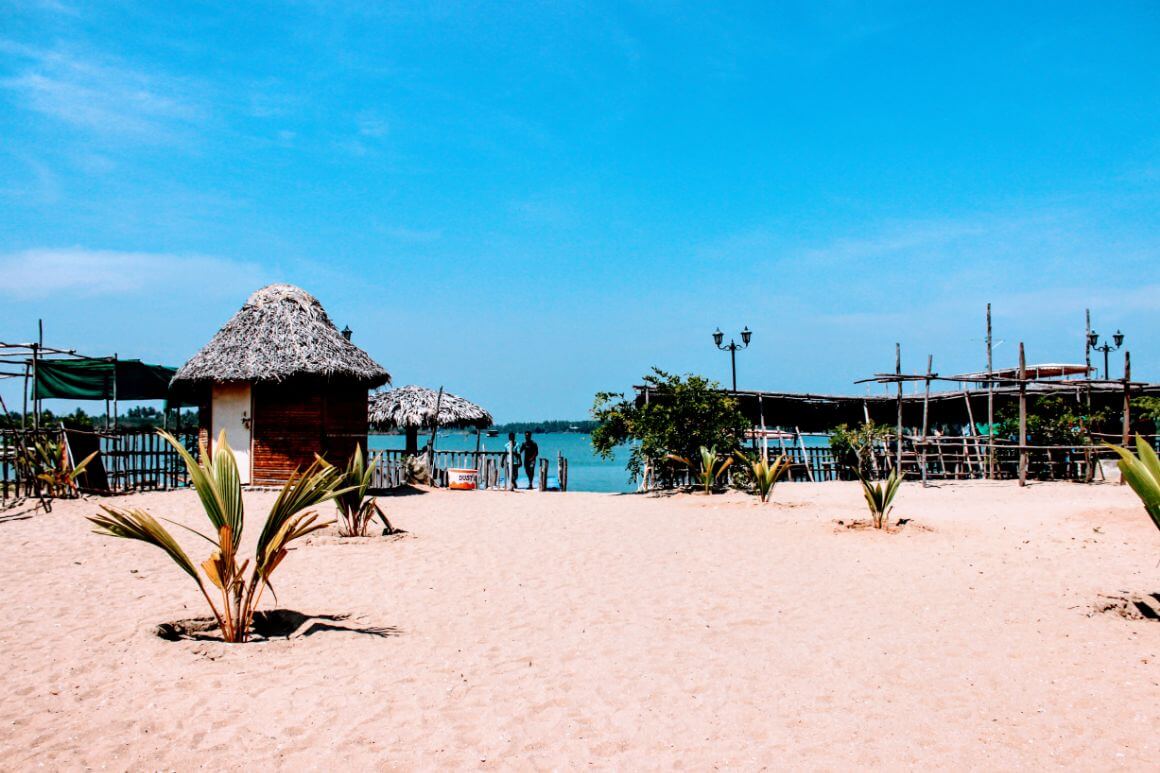 I'm sure I don't have to tell you that Pondicherry has some of the absolute best beaches in India!
Indeed, travelers looking for outdoor things to do in Pondicherry will undoubtedly be thrilled by the abundance of glorious beaches that surround the city.
A favorite of mine is Paradise Beach, colloquially known as Plage Paradiso. To reach the beach, head over to the Chunnambar Boathouse where a ferry will take you through thick mangrove trees and green backwaters before dropping you off on Plage Paradiso.
While Paradise Beach offers heaps of water sports, I wouldn't recommend that you venture too deep into the lagoon because the currents can be strong. Try to plan your trip in the late afternoon because Paradise Beach is known for having some of the best sunsets in Pondicherry.
Entrance fee: $1.82
Hours: 9 a.m. to 6 p.m.
Address: Thiru Vi-Ka St, Chinna Veerampattinam, Puducherry 605007, India
It won't take you long to realize that India is a land of foodies, with excellent eats awaiting all over Pondicherry.
If you'd like to learn a few local recipes to replicate back at home, you can always consider signing up for a South Indian food class.
This activity includes a trip to the nearby Goubert Market to stock up on a few ingredients, giving you a chance to mingle with the locals. You'll have a list of around 30 dishes to choose from, including numerous vegetarian options.
During the class, the chef will provide plenty of insider tips and hands-on instructions. And yes, you'll also get the chance to enjoy the fruits of your labor afterward!
Entrance fee: $28.21
Hours: 10 a.m. to 2 p.m.
Address: 22, Kandappa Mudaliar St, White Town, Puducherry, 605001, India
A mere five kilometers from the city center, this charming villa offers proximity to some of the best things to do in Pondicherry!
Ideal for families or larger groups of seven, this beachfront space offers three bedrooms. Guests will revel in classic home comforts such as a living area and a furnished sea-facing terrace where you can enjoy Al Fresco meals. There's also a well-equipped kitchen, but you'll also find two beach restaurants just a few steps away!
A housekeeper will also show up every day to take care of the cleaning.
Nearby, there are heaps to explore, with attractions like Bharathi Park, Puducherry Museum, and Rock Beach located just a short distance away.
Entrance fee: $90/night
Hours: Check-in from 2 p.m. to 10 p.m., Check-out before 11 a.m.
Address: Puducherry, India
4. Go Scuba Diving
Because of its (many) incredible beaches, Pondicherry offers plenty of diving spots.
The Bay of Bengal is teeming with marine wildlife and believe me when I say it's a whole other world down there! A scuba diving expedition will allow you to explore the vivid marine life and see the natural coral reefs up close. Keep your eyes peeled for lionfish, moray eels, various types of crustaceans, manta rays, and even rare creatures like sea butterflies.
For the best visibility and diving conditions, I would recommend that you plan your dive between February and April or from September through November.
For safety reasons, remember to only book your dives through a reputed and licensed diving school or agency.
Entrance fee: As from $60
Hours: N/A
Address: N/A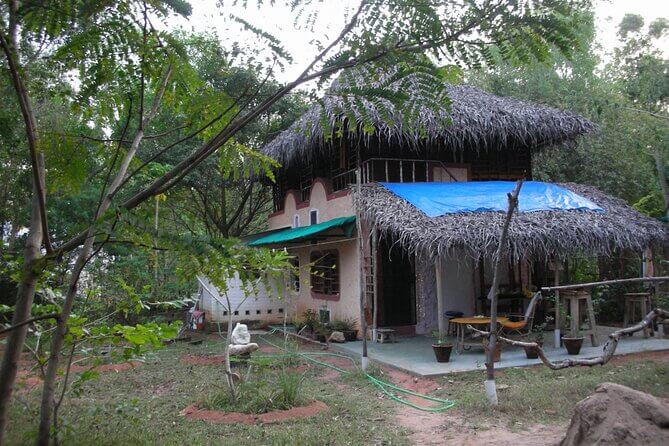 One of the absolute best day trips from Pondicherry, Auroville lies just a 20-minute drive from the city center.
The Pondicherry-Auroville route is served by three buses with departures scheduled at 7.30 a.m., 1.30 p.m., and 4.30 p.m.
If you'd like to explore this unique township that houses inhabitants from over 60 countries, I can absolutely vouch for this Auroville tour. You'll be able to stroll through the open fields of the Matrimandir Viewpoint and pose for pictures by its iconic gold-domed structure.
This activity also includes a stop by the Savitri Bhavan and the Arts and Culture Center which boasts a variety of activities to promote relaxation and mindfulness.
Oh, and did I mention that complimentary tea or coffee is provided?
Entrance fee: $10.58
Hours: Various time slots
Address: Visitor's Centre, Auroville, Tamil Nadu 605101, India
6. Mosey around the Ruins of Arikamedu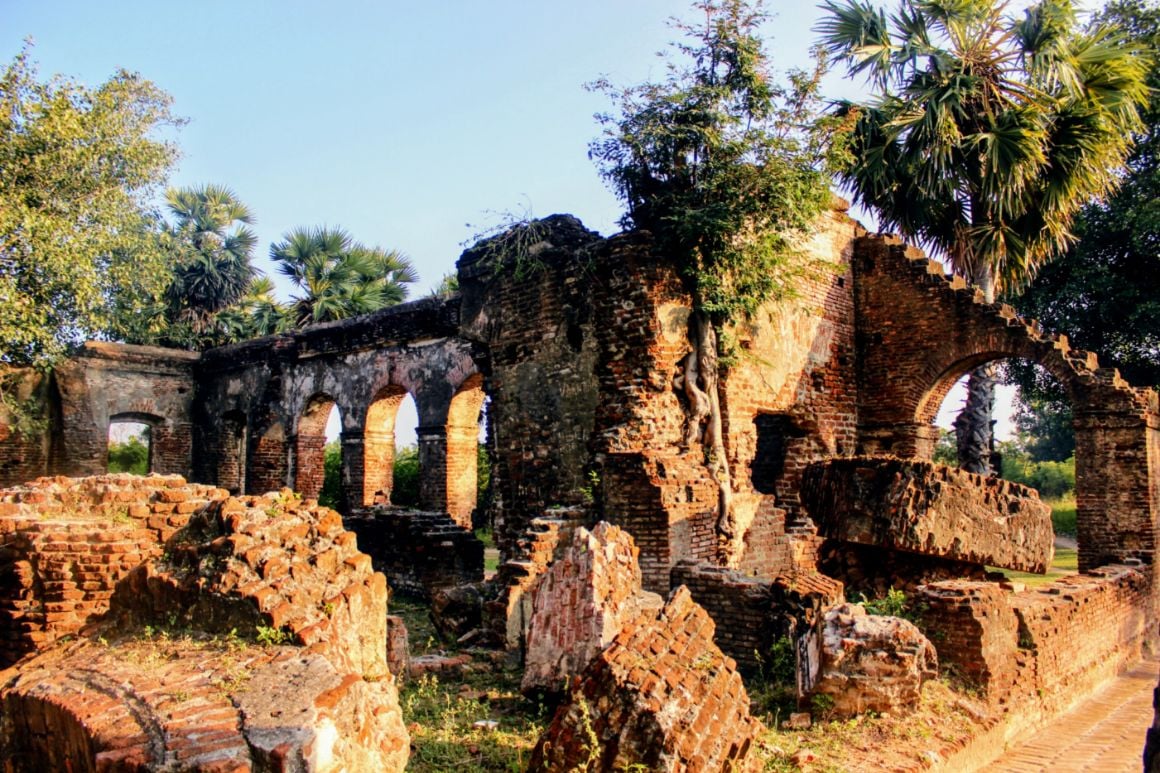 Okay, Pondicherry may be known for its heavy French influences, but did you know that the city also houses ancient Roman ruins?
That's right: just a half hour away from the city are found the Ruins of Arikamedu, a former Roman maritime trade center that very few tourists know about. According to archeologists, this place once housed the people of Cholas, Rome, and France.
The site is quite small so you definitely won't need all day, but I would still recommend that you set aside 45 minutes to an hour so you can properly take everything in without rushing. Some columns, mortars, and bricks have withstood the test of time and it's possible to walk through them while admiring the ancient craftsmanship.
Entrance fee: Free
Hours: 10 a.m. to 4 p.m.
Address: Ariyankuppam, Puducherry, 605007, India
Small Pack Problems? 😉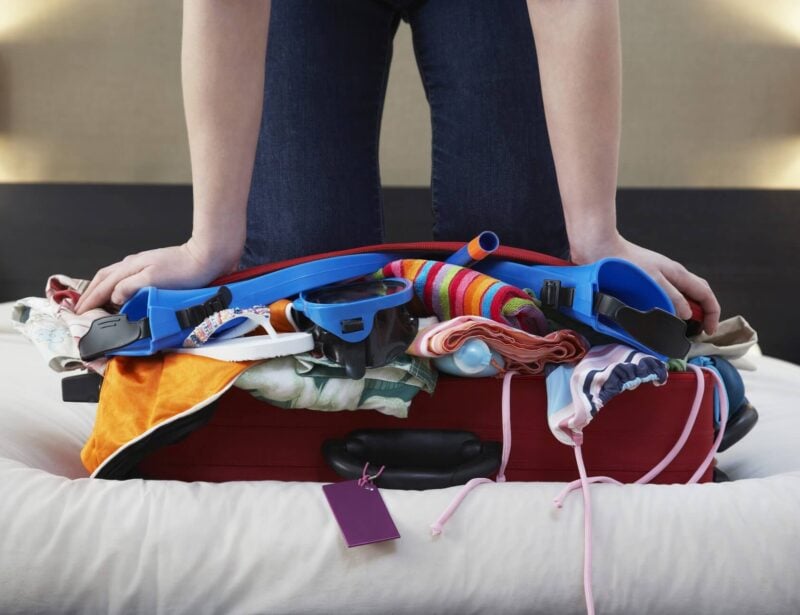 My missus travels with all her clothes in ziplock bags: don't be like my missus. UP YOUR PACKING GAME!
Packing cubes for the globetrotters and compression sacks for the real adventurers – these babies are a traveller's best kept secret. They organise yo' packing and minimise its volume too so you can pack MORE.
Or, y'know… you can stick to ziplock bags.
View Our Fave Cubes
Or Check Out the Sacks!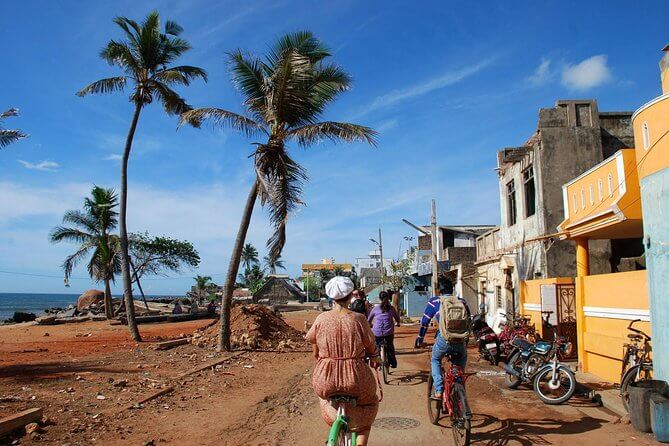 It's no secret that Pondicherry can get pretty crowded in the summer. One of the best ways of beating the traffic or avoiding gaggles of overly-excited tourists is simply to explore the city on a bicycle. Plus, it's eco-friendly as well!
Perfect for exploring the best sights in less time, this activity offers a guided tour of Pondicherry as you ride a vintage-style bicycle through the city's Muslim, Tamil, and French quarters. As you cycle down the beachside promenades and cobblestoned streets, you'll also be treated to close-up views of ancient colonial architecture as well as public parks.
A French or South-Indian breakfast is provided prior to the expedition so you can properly fuel up for the bicycle tour!
Entrance fee: $18.59
Hours: 7 a.m. to 9 a.m.
Address: 22, Kandappa Mudaliar St, MG Road Area, Puducherry, 605001, India
8. Take the Kids to the Jawahar Toy Museum
Looking for some fun things to do in Pondicherry with kids? Then, you may wish to check out the Jawahar Toy Museum, located near the Old Lighthouse.
This museum showcases over 120 toys, all crafted n various parts of India. Famous for their intricate artistry, the toys are also perfect for learning about the different Indian states and their national costumes.
After your museum tour, you can also take the kids to the nearby Lighthouse, one of the city's oldest structures that were built way back in the 19th century. Try to visit the lighthouse later in the afternoon so you can admire panoramic views of Pondicherry bathed in the golden glow of the setting sun.
Entrance fee: Free
Hours: 10 a.m. to 5 p.m. (Tuesday to Sunday)
Address: Goubert Avenue, Puducherry, Tamil Nadu, 605002, India
South India is undoubtedly reputed for its many amazing sights, but did you know that it's also the birthplace of Kolam, one of the oldest crafts in the world?
In my opinion, there's no better place to learn more about this craft than in Pondicherry- something that you can experience thanks to this traditional Kolam class.
And if you're wondering what Kolam is, it basically refers to geometrical designs and patterns painted on the ground with rice flour dyed in various hues. In some parts of India, Kolam is also regarded as a physical form of prayer.
Ideal for kids (6 +) and adults alike, this workshop takes you through the basics of Kolam painting alongside a professional instructor.
Entrance fee: $9.62
Hours: 3 p.m. to 4.30 p.m.
Address: 22, Kandappa Mudaliar St, White Town, Puducherry, 605001, India
10. Stroll Through the Botanical Garden
Travelers looking for romantic things to do in Pondicherry really can't go wrong with a sunset stroll through the Botanical Garden!
First things first though: for a truly refreshing experience, I would suggest that you visit it in the winter (November through February). The city's notorious humidity goes way down in the winter and the weather is pleasant enough for an afternoon stroll without being too cold.
The garden isn't really that big so an hour should be more than enough to explore the place. Despite its small size, the garden houses around 1,500 local and international plant species. If you're visiting over the weekend, you'll also be treated to a free musical fountain show.
Entrance fee: $0.12
Hours: 10 a.m. to 5 p.m.
Address: WRJC+3XM, Marimalai, Maraimalai Adigal Salai, near Anna Statue, Orleanpet, Puducherry, 605001, India
Is This the Best Daypack EVER???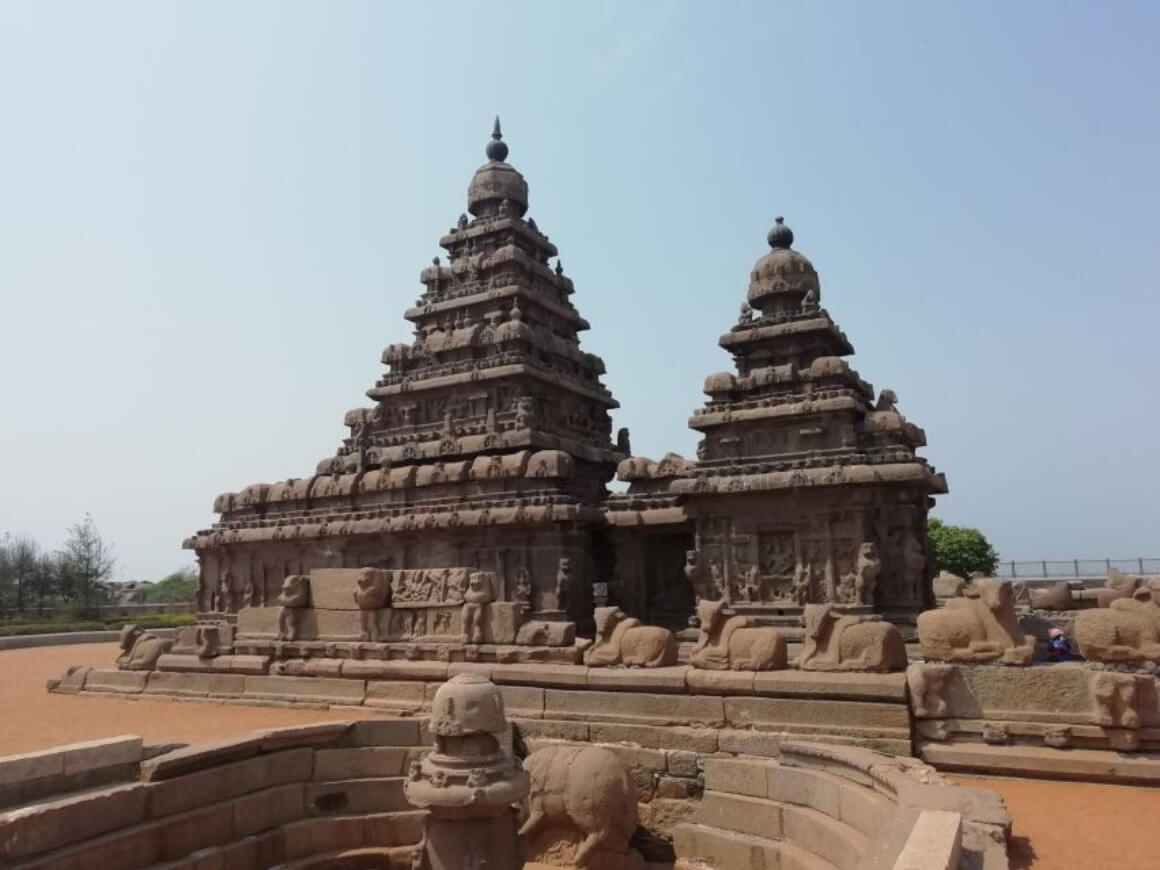 Given that the capital city Chennai lies less than three hours away by car, I would really recommend that you cross over to this lively area if you've got some extra time to spare. Art galleries, parks, monuments, and temples await so there's always plenty to see!
In fact, Chennai offers easy access to the Mahabalipuram, an 8th-century UNESCO World Heritage Site known for its spectacular rock structures. Over there, you'll explore one of the 7 Pagodas that Marco Polo mentioned in his 11th-century memoir.
You'll also see Krishna's Butterball, a five-meter-tall boulder that appears to defy gravity as it perches precariously on a slope.
In addition to a tour of this incredible place, this activity provides lunch.
Entrance fee: $138.62
Hours: 7.30 a.m. to 1.30 p.m.
Address: Various pickup points in Chennai
12. Marvel at the Temples
Pondicherry's temples are famous all over India for their religious beliefs and historical backgrounds. Checking out the temples' eye-catching architecture is often said to be among the top things to do in Pondicherry – and for good reason!
The city's temples are especially known for their ornate, hand-carved sculptures that usually adorn both the interior and exterior.
Head over to the Sri Vedapureeswarar Temple, located in the Southern Union to admire some of the most spectacular Dravidian architecture in the city. While this temple was demolished back in colonial times, it was restored by the locals. Nowadays, it's famous for its spectacular five-tiered entrance.
You can also check out the Gokilambal Thirukameswarar Temple, known for its French-style architecture and influences.
Entrance fee: Free
Hours: 6 a.m. to 12.30 p.m. and 4.30 p.m. to 8 p.m.
Address: Sri Vedapureeswarar Temple, WRQH+WWH, Mahatma Gandhi Rd, Heritage Town, Puducherry, 605001, India
13. Learn the Local History at the Pondicherry Museum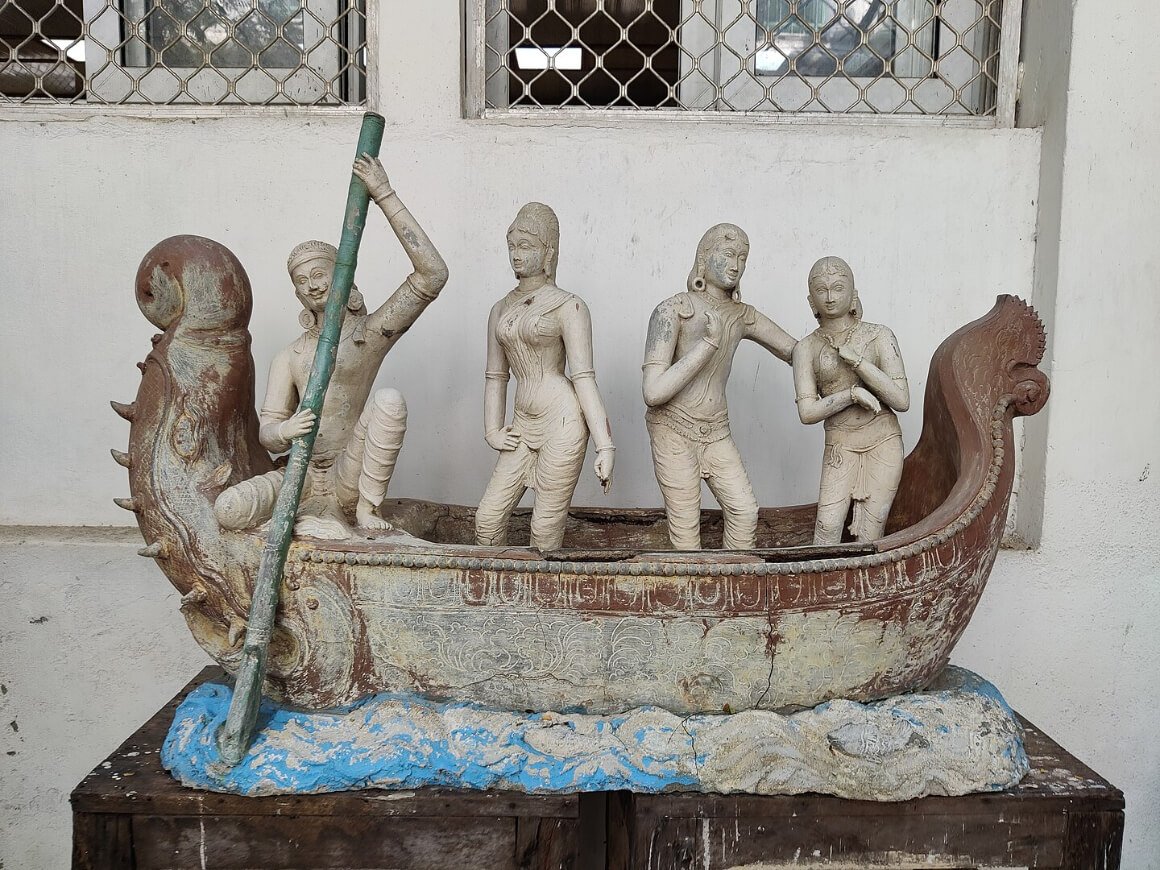 See how Pondicherry evolved over the years with a visit to the city's main museum! Whether you're into history or simply want to enjoy the local art scene, I can assure you that a visit to the Pondicherry Museum is entirely worth it.
Locally referred to as the Pondy Museum, this place is found in Pondicherry's Bharathi Park. This place houses quite an impressive collection of sculptures, including archeological treasures dating all the way back to the Arikamedu Roman settlement.
Be sure to allocate yourself enough time to mosey around Bharathi Park after your visit to the museum. Infused with vintage French charm, this park features picnic areas and a towering monument dedicated to a famous courtesan.
Entrance fee: $0.60
Hours: 10 a.m. to 5 p.m. (Tuesday to Sunday)
Address: White Town, Puducherry, Tamil Nadu 605001, India
Wondering what to do in Pondicherry on a lazy evening? How about dinner with a local family?
I know, I know. The city's speckled with a wide range of restaurants to suit just about every budget and taste. But believe me when I say that nothing can even begin to compare with a local, homemade meal.
Unlike classic cooking classes that are usually conducted in a more professional environment, this experience is pretty laid back.
Whether you want to participate in the cooking process or not is up to you. Once the meal is ready, you can all gather around the table to feast on classic South Indian fares served on a banana leaf in true Pondicherry fashion!
Entrance fee: $153
Hours: 5.30 p.m. to 8.30 p.m.
Address: Various pickup points in Pondicherry
Travel with peace of mind. Travel WITH a security belt.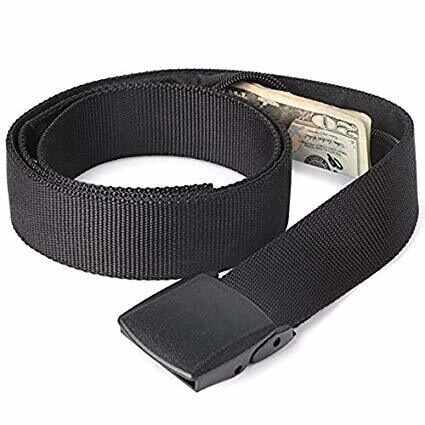 Get your cash stashed with this awesome Pacsafe money belt. It will keep your valuables safe no matter where you go.
It looks exactly like a normal belt except for a SECRET interior pocket perfectly designed to hide a wad of cash or a passport copy. Never get caught with your pants down again! (Unless you want to.)
Hide Yo' Money!
15. Party at Asta
Contrary to popular belief, Pondicherry has quite a lively albeit underrated night scene.
A little-known fact is that Pondicherry has a tax exemption on liquor which is why young Indians usually flock to the city every weekend to party!
While the city has plenty of lounge bars, some of the more popular options include Ecstasy, Paradise Lounge, Bamboo Bar, and St. James Court Beach Bar.
If you really want to let loose and dance until midnight, locals will tell you that there's no better place for it than Asta on 100 Feet Road – and after checking the place out for myself, I have to say I quite agree with them! Think of chic crowds, neon lighting, and an extensive selection of drinks.
Entrance fee: Free
Hours: 8.30 a.m. to 11 p.m.
Address: Pondicherry Museum
16. Shop 'Till you Drop at Serenity Beach Bazar
One of the great things about shopping in Pondicherry is that you can directly support the local economy since most businesses are family-owned.
The city may be a tourist hotspot but it's quite easy to bag a great bargain if you know where to look!
Be sure to check out the bazaars (open-air markets) where you'll find excellent deals on just about everything you can think of – perfect for travelers looking for things to do in Pondicherry on a Sunday!
A favorite of mine is the Serenity Beach Bazar, known for its handcrafted ceramics, souvenirs, and Indian-style accessories. Because the bazaar is only open on the weekend, it can get quite crowded so you may wish to head there early in the morning.
Entrance fee: Free
Hours: 10 a.m. to 5 p.m. (weekends only)
Address: Serenity Beach, Kottakuppam, Puducherry 605101, India
Here's an activity that perfectly lends itself to fans of the great outdoors!
Not only does this expedition include a guided visit to the 10th-century Nataraja Temple in Chidambaram, but you'll also get to enjoy a relaxing boat ride through the Pichavaram Mangrove Forest. This area features numerous terrain types, including sand and mud flats, gullies, creeks, and channels.
Bird watchers will be glad to learn that it houses over 200 different bird species, including Storks, Egrets, Herons, and more.
After your boat ride, a car will drive you over to the massive temple which extends over 50 acres. After visiting the temple, you can always treat yourself to a traditional Indian lunch at one of the nearby restaurants.
Entrance fee: $220
Hours: 8.30 a.m. to 4.30 p.m.
Address: Various pickup points in Pondicherry
18. Stroll Around the White Town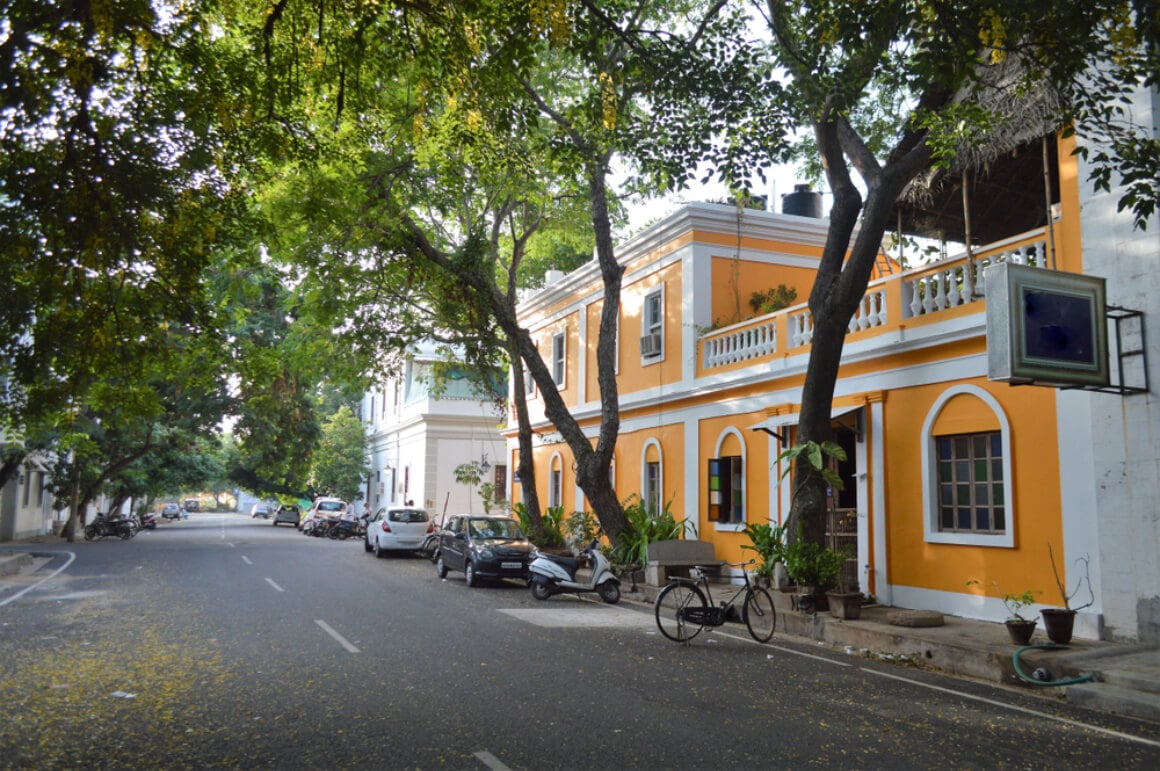 Pondicherry's French Quarter, the White Town is easily distinguishable by its bright white and yellow buildings, some of which date all the way back to colonial times.
Once lavish homes to European noblemen, these iconic buildings have since been reconverted into restaurants, hotels, shops, and guesthouses.
As you stroll through the White Town, you'll be able to experience this French-Tamilian region to the fullest. Keep your eyes peeled for the Sri Aurobindo Ashram, the Old Court Complex, and the Joan of Arc Park.
Because this place is something of a cultural hotspot in Pondicherry, you'll also find plenty of artwork and monuments centered around the city's past. Plenty of quaint cafes are dotted across the White Town so you can always refuel up after your walk!
Entrance fee: Free
Hours: N/A
Address: White Town, Puducherry, India
19. Visit the Cluny Embroidery Centre
One of the best free things to do in Pondicherry, the Cluny Embroidery Centre is found in a historic home that dates back to the 18th century.
What makes this place special is that it was founded by a convent to provide job opportunities to impoverished women.
As you tour this place, you'll witness their talent as they deftly work with crochets and laces to produce gorgeously embroidered pillowcases, bath sets, cushion covers, tablecloths, handkerchiefs, and more. These products are all on sale at the center.
While you're there, I would also recommend that you take a tour of the centuries-old building. With its arched doorways, towering ceilings, and refined portico, this place is an absolute architectural delight indeed!
Entrance fee: Free
Hours: 9 a.m. to 12 p.m. and 2 p.m. to 5 p.m. daily (except Mondays)
Address: 46 Rue Romain Rolland Street, Hotel Lagrenee de Mezieres, Puducherry, 605001, India
Save $$$ • Save the Planet • Save Your Stomach!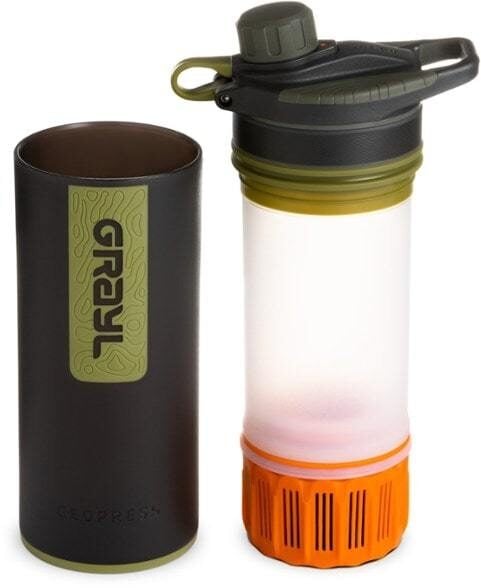 Drink water from ANYWHERE. The Grayl Geopress is the market's leading filtered water bottle protecting your tum from all the waterborne nasties. PLUS, you save money and the environment!
Single-use plastic bottles are a MASSIVE threat to marine life. Be a part of the solution and travel with a filter water bottle.
We've tested the Geopress rigorously from the icy heights of Pakistan to the tropical jungles of Cuba, and the results are in: it WORKS. Buy a Geopress: it's the last water bottle you'll ever buy.
Buy a Geopress!
Read the Review
20. Relax at the Ousteri Wetland and National Park
Leave the noise of the city behind as you escape to the Ossudu Lake Bird Sanctuary, located around 10km from Pondicherry.
By far the most famous freshwater lake in the city, Outsteri Lake- also known as Ossudu Lake- was originally a dam that was built nearly a century ago. In addition to the lake, the park has a diverse wetland with an abundance of flora and fauna.
Bird watchers will be spoilt for choice, with over 190 types of both local and migratory birds, including several varieties of storks. Remember to bring a pair of binoculars along so you can observe them in their natural habitat.
Various types of activities are offered at the park, including a leisurely boat ride down the lake.
Entrance fee: Free (activities charged separately)
Hours: 9 a.m. to 5 p.m.
Address: XQ25+2C, Oussudu, Tamil Nadu 605111, India
21. Be Awed by the Immaculate Conception Cathedral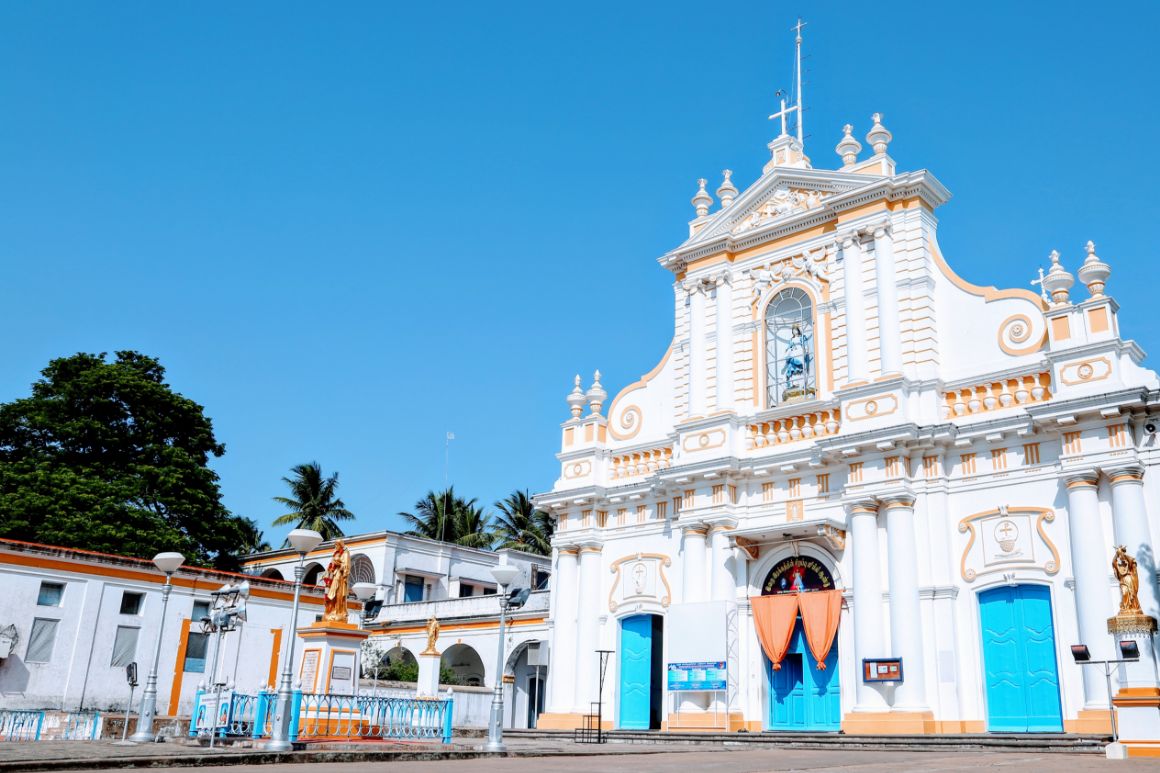 Another one of Pondicherry's architectural marvels, the Immaculate Conception Cathedral is quite a sight to behold with its imposing white and yellow façade.
Built three centuries ago for the Roman Catholic Archdiocese, this building is among the top attractions in Pondicherry – and you'll quickly understand why once you step into its ornate interior.
One of Pondicherry's most important cultural sites, the cathedral has quite an interesting history attached to it since it was built, then destroyed, then rebuilt at least three times. It was built from the ground up a fourth time and has survived the test of time since then.
Be sure to check out the Bell Tower, the Choir Loft, and the Redesigned Esplanade which features plenty of intricate detailing.
Entrance fee: Free
Hours: 7 a.m. to 12 p.m. and 3 p.m. to 8.30 p.m.
Address: 204, Mission St, MG Road Area, Puducherry, 605001, India
Where to Stay in Pondicherry
Here's the great news: since it draws heaps of tourists from all over, there's definitely no shortage of accommodation in Pondicherry. Hostels, hotels, guesthouses, Airbnbs…you name it!
Here are some of my favorite places to stay:
Best Hostel in Pondicherry – Nomad House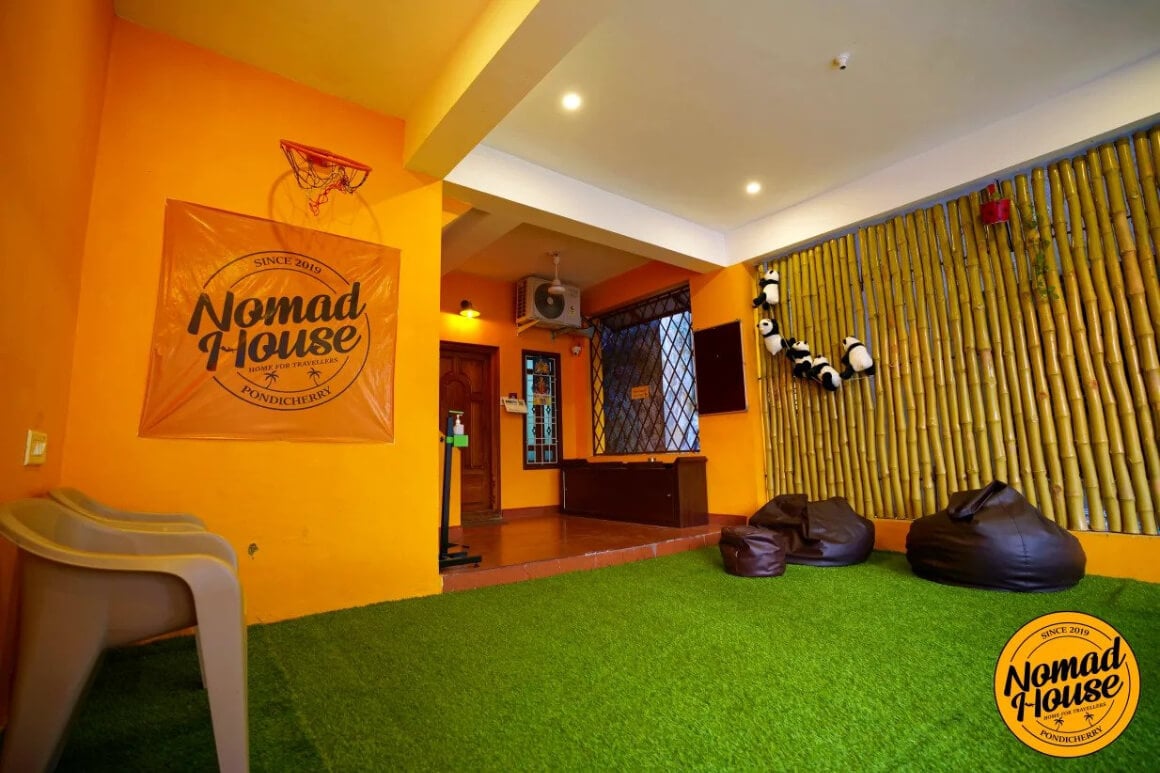 Hands down, this is my absolute favorite place to stay in Pondicherry! Because it's located near a Bus Terminal, this hostel offers easy access to various attractions like the Varadaraja Perumal Temple, the Mahatma Gandhi Statue, and the Promenade.
After exploring the city, you can always relax in the common area before retreating to the mixed dorm room.
Best Airbnb in Pondicherry – Villa Mandala
Located smack dab on Serenity Beach, Villa Mandala is well suited to accommodate up to five guests.
With two bedrooms and two bathrooms, this private villa features a well-equipped kitchen. If you don't feel like cooking, rest assured that there are three beach restaurants within walking distance.
You'll also find heaps to explore nearby, including Rock Beach and the Sri Aurobindo Ashram.
Wake up to a daily complimentary breakfast with a stay at the Grand Hotel D'Europe!
Guests can choose from spacious King, Twin, or Grand Twin rooms. Onsite amenities include a restaurant and an indoor pool.
More importantly, the hotel lies close to some of the best attractions in Pondicherry such as the Pondicherry Museum, the Botanical Garden, and Promenade Beach.
Some Additional Tips for Visiting Pondicherry
Impatient to get out there and hit all those wonderful attractions yet? I bet you are!
But before you do, I've got just a few more travel tips for you.
Visit in the Winter: Okay, those South Indian summers are scorching, y'all! To avoid the uncomfortable heat and humidity, you may wish to visit in the winter (November to March) when the temperate ranges from a comfortable 17 to 35 degrees C.
Stick to Bottled Water: I'm sure you've heard of Delhi Belly. Well, the same rule applies to Pondicherry. Stick to bottled mineral water and avoid ice cubes in your drinks.
Don't hesitate to Try the Local Cuisine: Pondicherry's diverse culinary scene is an absolute treat for the senses. I would absolutely recommend that you try local specialties like Idli-Sambar or Soybean Dosa.
Dress Modestly at the Temples: When visiting a temple, remember to leave your shoes outside. Men and women should preferably keep their shoulders covered and avoid wearing shorts.
Don't forget your travel insurance for Pondicherry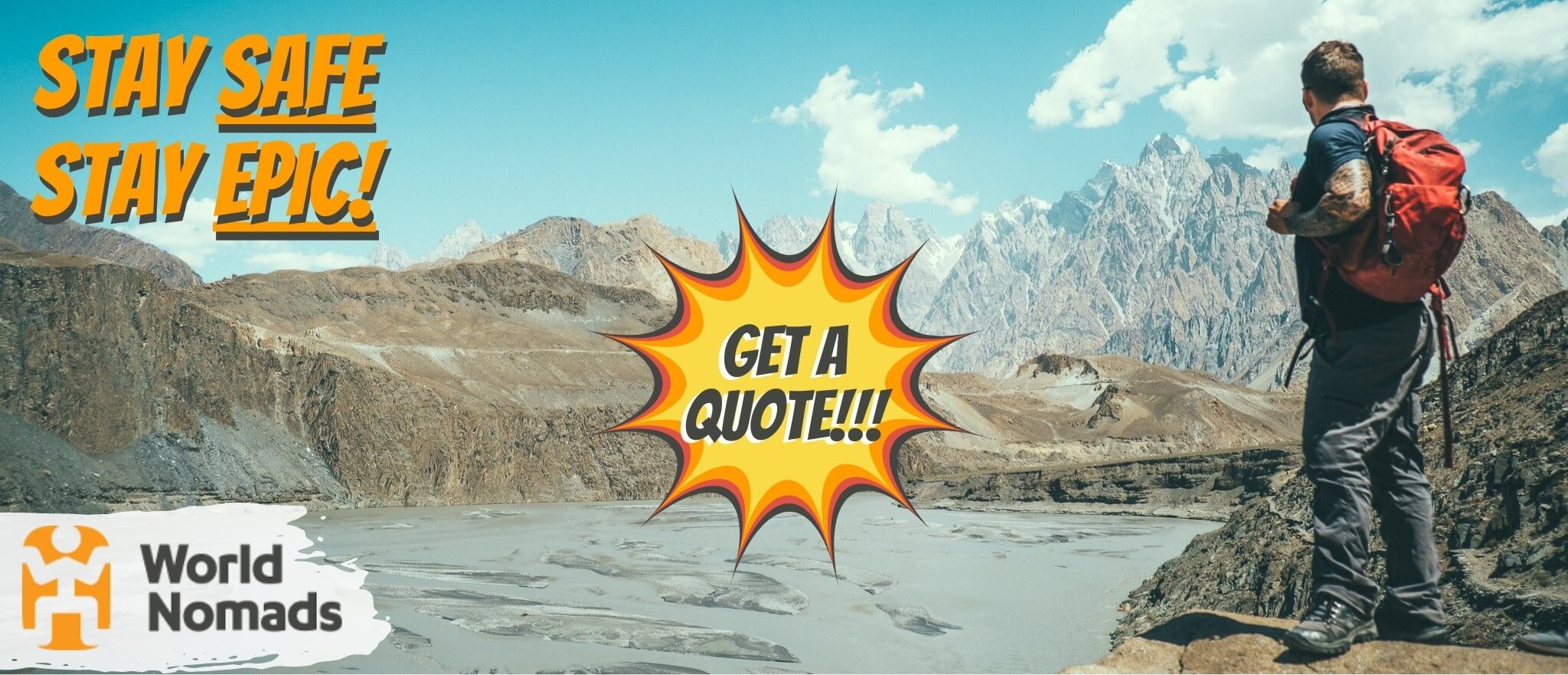 World Nomads' mission is to support and encourage travellers to explore their boundaries. They offer simple & flexible travel insurance, and safety advice to help you travel confidently.
They've been doing it since 2002 – protecting, connecting, and inspiring independent travellers just like you.
Get a quote below or read our in-depth review!
World Nomads provides travel insurance for travelers in over 100 countries. As an affiliate, we receive a fee when you get a quote from World Nomads using this link. We do not represent World Nomads. This is information only and not a recommendation to buy travel insurance.
Final Thoughts on Things to do in Pondicherry
Whether your idea of fun is to lounge on one of Pondicherry's spectacular beaches, take a cooking class, or boat through a mangrove forest, you bet the city's got you covered!
Parents traveling with children will find plenty of fun things to do in Pondicherry with kids while outdoor fans will no doubt have a blast exploring the many parks in and around the city. Best of all, Pondicherry is super budget-friendly so there's no need to save up for ages just so you can afford that trip!
---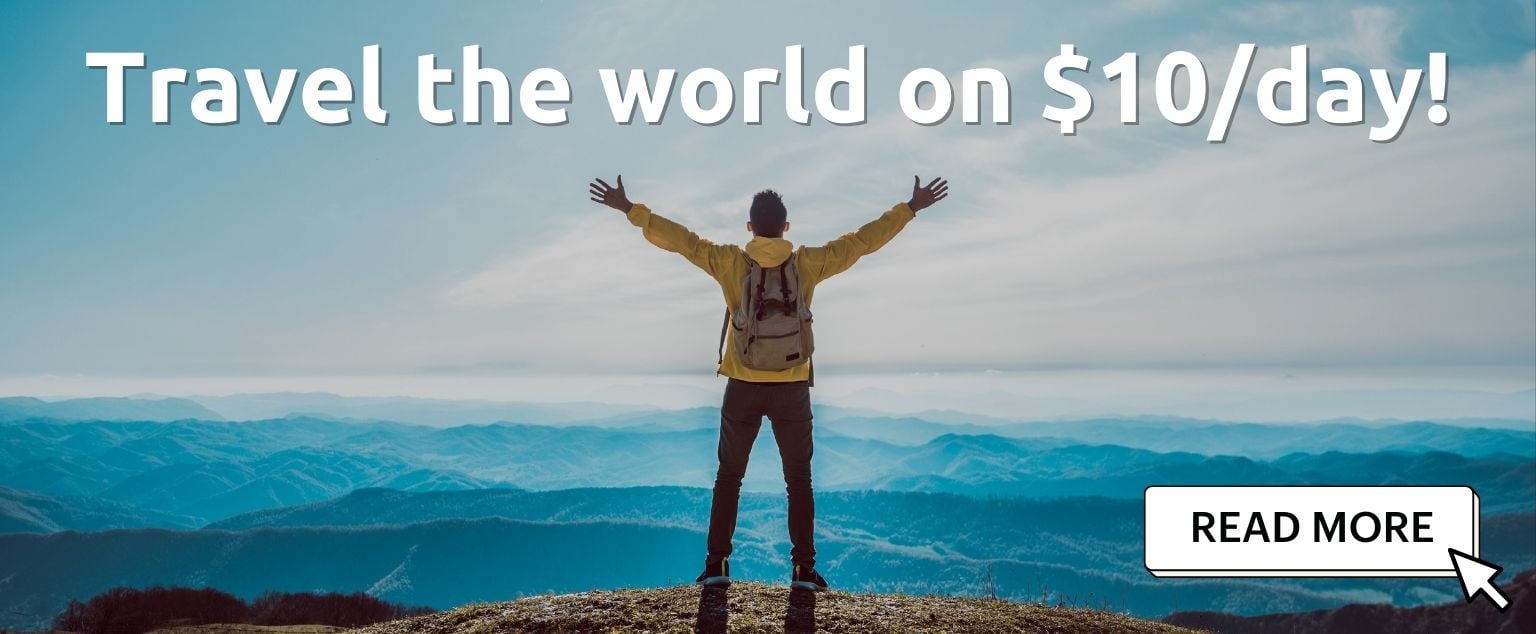 And for transparency's sake, please know that some of the links in our content are affiliate links. That means that if you book your accommodation, buy your gear, or sort your insurance through our link, we earn a small commission (at no extra cost to you). That said, we only link to the gear we trust and never recommend services we don't believe are up to scratch. Again, thank you!