Grab your cowboy hats and hockey sticks, because we're off to the Tennessee capital – Nashville. A popular destination for country music fanatics, bachelor and bachelorette parties, and ice hockey enthusiasts, Nashville has loads to offer its visitors.
The city has a deep and fascinating history as one of America's railway centers, paving the way for modern transportation. As a cultural hotspot, Nashville is also home to six top-level universities.
While it's known for being a must-visit for music, fried chicken, and whiskey, you don't have to venture far out of this bustling city to admire beautiful mountain and lake views. From lush green parks to dense city landscapes and stunning vineyards, let's dive in and look at some of the best vacation rentals in Nashville.
Quick Answer: These are the Top 5 Vacation Rentals in Nashville
Overall Best Value Vacation Rental in Nashville
Overall Best Value Vacation Rental in Nashville
Charming 1 Bed Historical Condo
> $
> 3 Guests
> Contemporary condo in a historical Downtown building
> Located in the heart of Downtown Nashville
Best Budget Vacation Rental in Nashville
Best Budget Vacation Rental in Nashville
Artsy Industrial 1 Bed Condo
> $
> 2 Guests
> Refurbished warehouse with graffiti details
> Located in Watkins Park
Best Vacation Rental for Couples in Nashville
Best Vacation Rental for Couples in Nashville
Stylish 1 Bed Loft with City Views
> $$$
> 3 Guests
> Brandy new trendy loft
> Located in Downtown Nashville
Best Vacation Rental for Families in Nashville
Best Vacation Rental for Families in Nashville
Grand 2 Bed Condo in Secure Resort
> $
> 6 Guests
> Safe condo in a gated community
> Located in the Wyndham Resort
Over-the-Top Luxury Vacation Rental in Nashville
Over-the-Top Luxury Vacation Rental in Nashville
Opulent European Style 4 Bed Estate
> $$$$
> 8 Guests
> Includes games room, pool, cinema, and office space
> Located in the lake region of Gallatin
Types of Accommodation in Nashville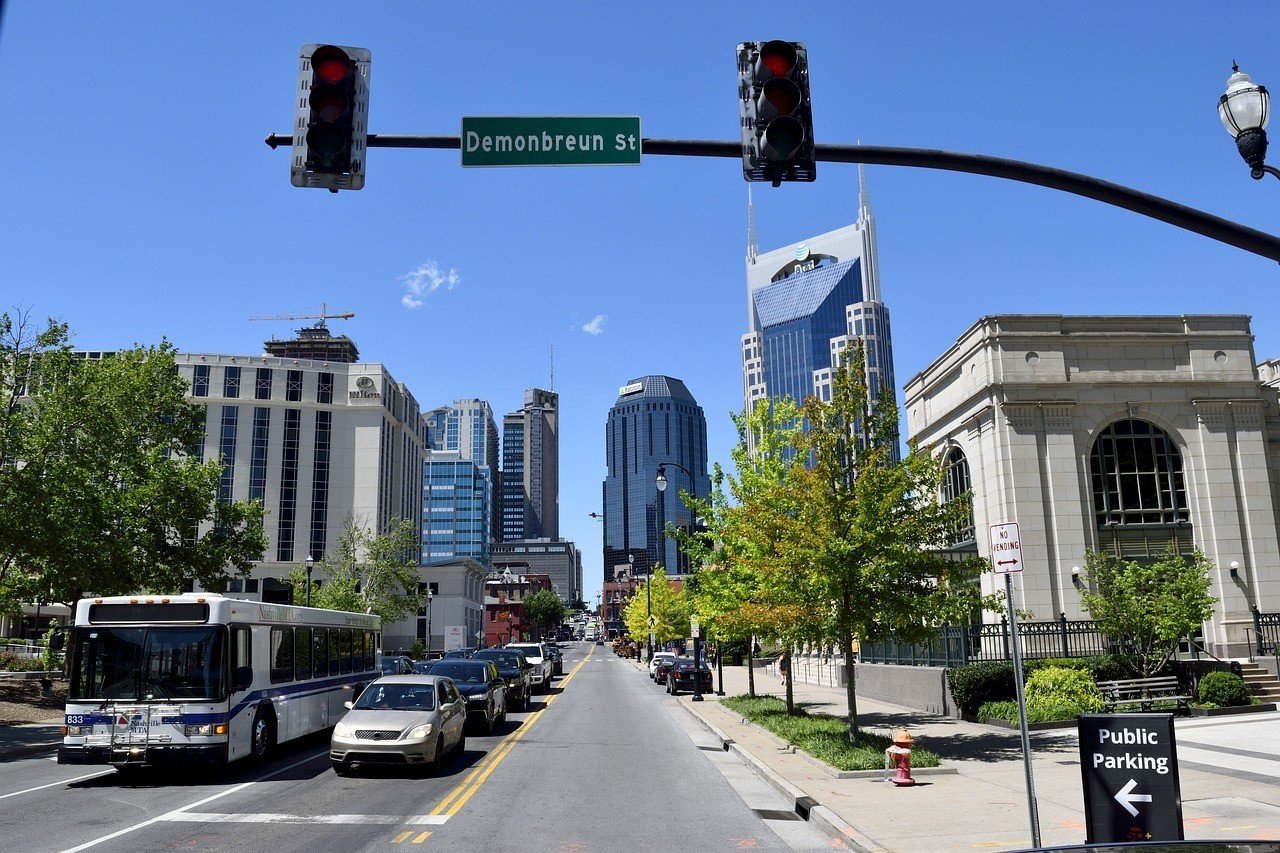 Condos and Studios
Nashville is a big city with a densely populated downtown district. Filled with condos and studios, in downtown you can find new skyscraper apartment blocks and refurbished historical buildings. 
In central locations giving guests a chance to walk just about wherever they wish within the city center, these vacation rentals are ideal for small families, couples, and even digital nomads looking for long-term rental options. 
Prices are decent in central Nashville, and it's not difficult to find a well-located and beautifully remodeled apartment for a fraction of the price you would pay at a hotel. Even better? Residential apartment blocks often offer access to shared swimming pools, Jacuzzis, gyms, and even reading lounges.
Riverside Houses
With the Cumberland River running straight through downtown Nashville and several estuaries and rivers surrounding the city, there are loads of riverfront holiday homes in Nashville for rent.
Within the central city, the Cumberland River is lined with apartment blocks. Featuring river views and central locations, these rentals are ideal for anyone who wants to be in the hustle and bustle of the city while having a quiet home to retreat to at the end of the day. 
Further out in the countryside, riverside houses are much larger and often have space to sleep up to 12 people. Great for large families with children and pets as well as for those wanting to host events, these homes have great views, large outdoor yards, and plenty of indoor space.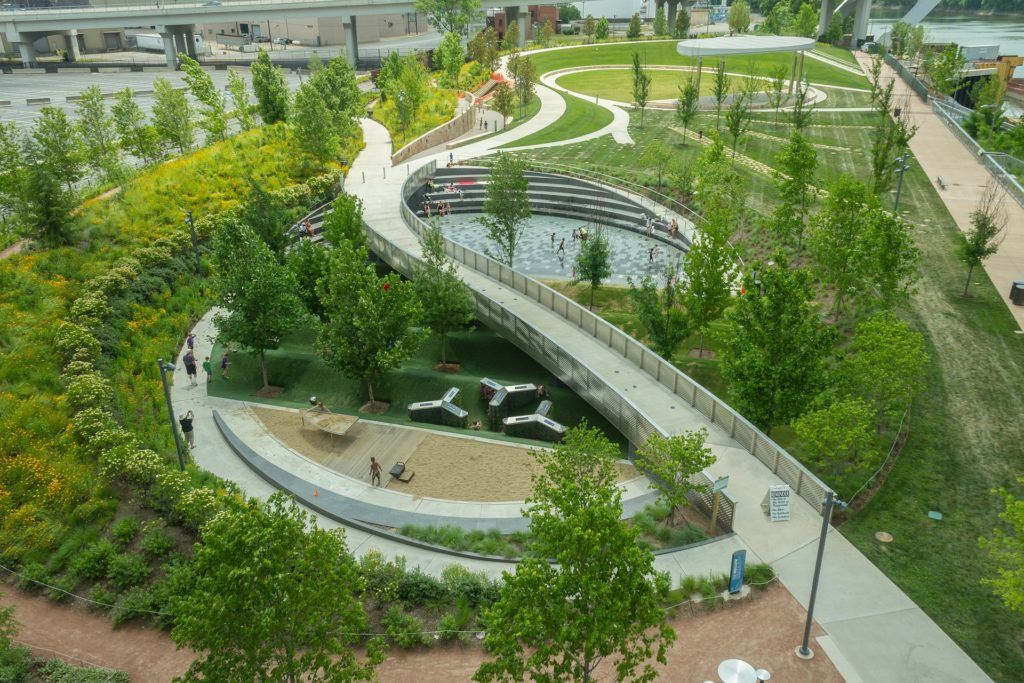 Historic Properties
With a long history as one of America's centers for transportation, Nashville is dotted with old homes with historical significance. The oldest residential building in downtown Nashville is said to have been built in 1820! Many of these homes and buildings have been remodeled and renovated to boast modern interiors while maintaining their rustic and industrial old charm.
Broadway Street runs straight through this area and is lined with historic properties. In and amongst the country music and culinary scene, these homes are great for couples and small families to rent out. They are also a good option for digital nomads.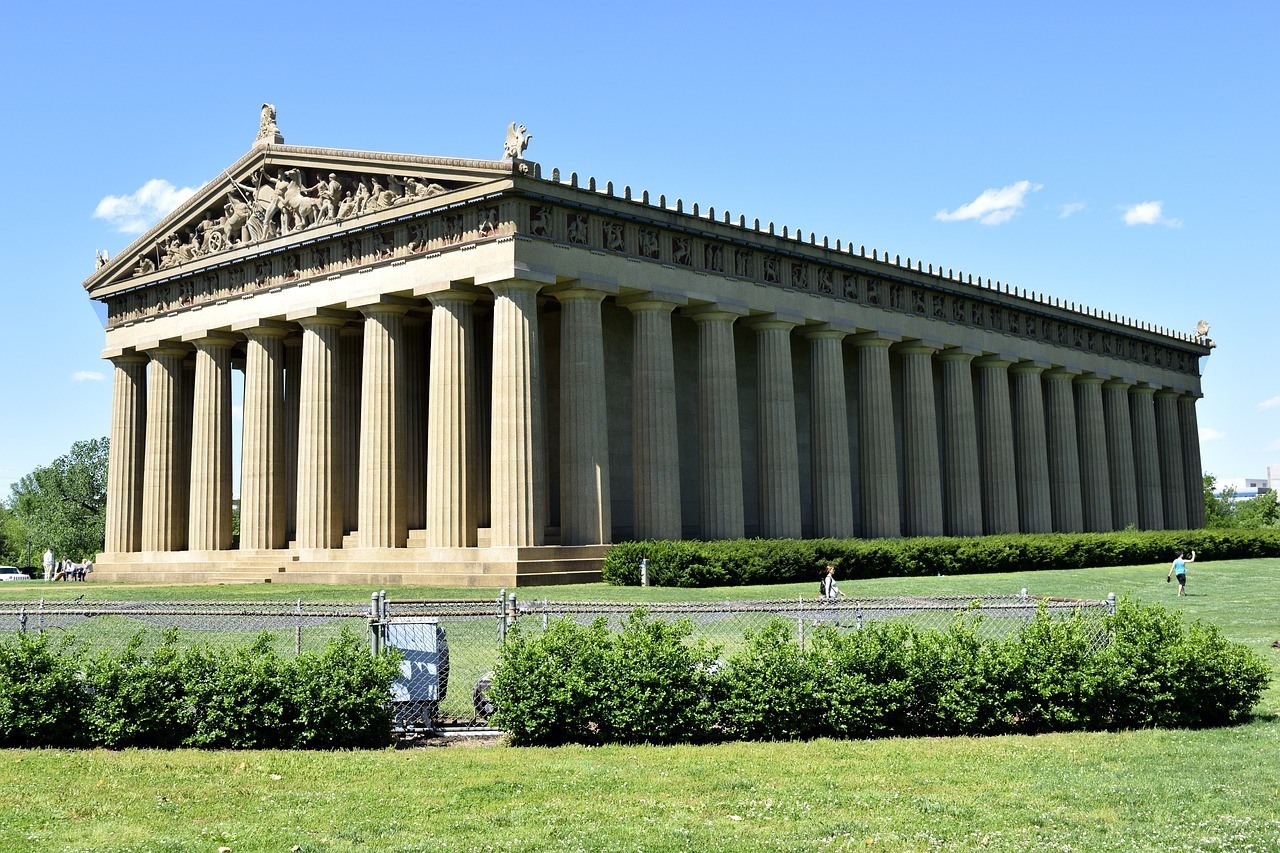 Top 20 Vacation Rentals in Nashville
Home to a buzzing music scene, gorgeous natural rivers and parks, and a historical city landscape, Nashville is overflowing with American culture and heritage. Let's take a look at some of the best vacation rentals in Nashville.
$
Contemporary condo in a historical Downtown building
3 Guests
Located in the heart of Downtown Nashville
This central condo screams affordable luxury. It is in a newly refurbished historic building in the most central location you could wish to be. The home has warm wooden floors, marble countertops, and comfortable neutral furniture giving the space a welcoming and homey feel. Perfect to retreat to after a day in Music City!
Kitted with an equipped kitchen and a dedicated workspace with a quality Wi-Fi connection, this affordable home is well suited to digital nomads. The building has a laundry room and elevator access, making it easily accessible for wheelchair users too.
$
Refurbished warehouse with graffiti details and pool access
2 Guests
Located in Watkins Park, near central Nashville
This artsy home combines high-end linens and appliances with funky art and quirky furniture. The one-bedroom condo is located in an old refurbished warehouse, giving off serious industrial vibes. It has exposed wooden and concrete ceilings, and raw brick walls.
Remodelled using top-quality wooden floors, plastered walls painted with street art, and sleek wooden and marble cabinetry, this budget vacation rental in Nashville won't disappoint.
There is a spacious living area with a sleeper couch that can fit an additional two guests if necessary. I would definitely be posting this spot on my Insta!
$$$
Large family home with games room, pool, and Jacuzzi
12 Guests
Located in the residential Cherokee Park
This gorgeous home looks like something out of a House and Garden magazine. Tuscan-inspired architecture blended with clean whites and warm wooden interiors brings tons of natural light into the house.
The main shared living space includes an open-plan kitchen, dining, and living room. On top of that, there is a games room with a stacked library of books, a second lounge with a purple piano, and a dedicated TV lounge on the second floor. 
The vast space inside the home is complimented by a large outdoor patio with a swimming pool, Jacuzzi, and barbeque area. This truly is one of the top luxury vacation rentals in Nashville for a reason.
Is This the Best Travel Pack EVER???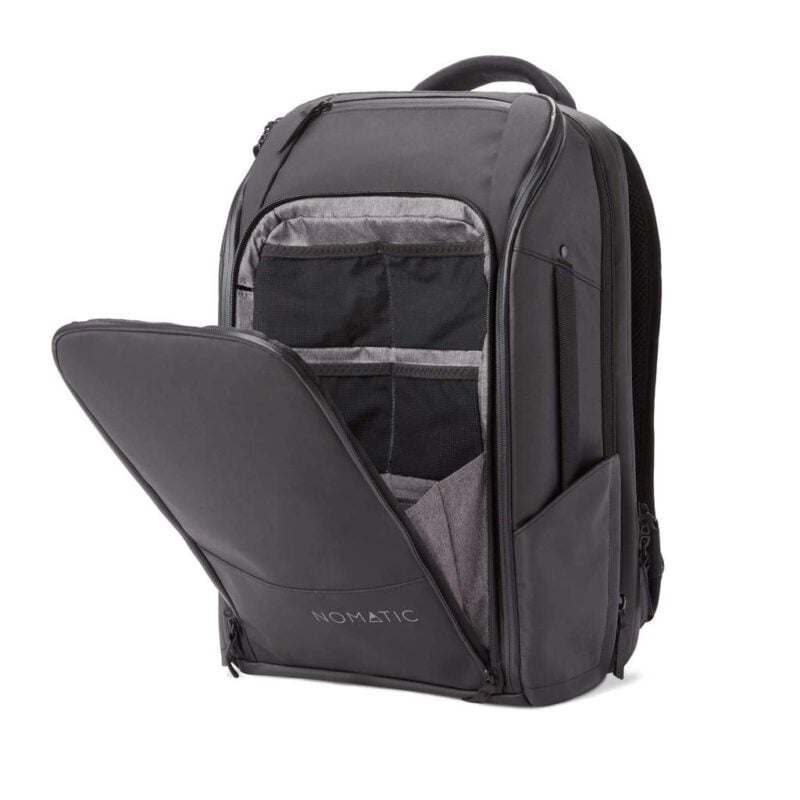 $$$$
Games room, pool, cinema, and office space
8 Guests
30 minutes from Downtown
The Hamptons of Nashville – this extravagant holiday home has 4 en-suite bedrooms and everything you would expect from a luxury vacation rental in Nashville. There is a home office, cinema, games room, and a bright sunroom where you can enjoy your morning coffee.
You'll need to step outside to truly experience the luxury and beauty of this estate. 3 outdoor fireplaces, a large swimming pool surrounded by manicured hedges and spiralling fountains, and a secluded Jacuzzi will make it difficult to leave this gorgeous spot.
$
Safe condo in a gated community
6 Guests
Located in the Wyndham Resort on the Cumberland River
The best family vacations are those where you don't have to stress about where your kids are, and what they're up to. After all, you're on vacation! This condo is located in a gated resort along the beautiful Cumberland River.
From the privacy of your large jet bath and covered balcony, relax with peace of mind as your children safely enjoy the shared resort facilities, including both an indoor and outdoor pool. You might even make use of the gym and sauna while you're at it.
$$
Gorgeous new apartment with pool and common lounges
2 Guests
Located in SoBro, walking distance to Downtown
A quick weekend visit to Nashville calls for a comfortable central spot with a view. This condo boasts all that, and more! It's within walking distance to the Nissan Stadium, Ryman Auditorium, Broadway, Bridgestone Arena, and Country Music Hall of Fame.
There are modern fittings and warm light coming through the vast floor-to-ceiling glass windows.
The building offers unrivaled shared amenities, making this stay feel like you're in a five-star hotel, for half the price. Sip cocktails at the rooftop lounge, take a dip in the pool, and sweat it out in the gym. There are also loads of common lounges to relax in if you're into a social scene.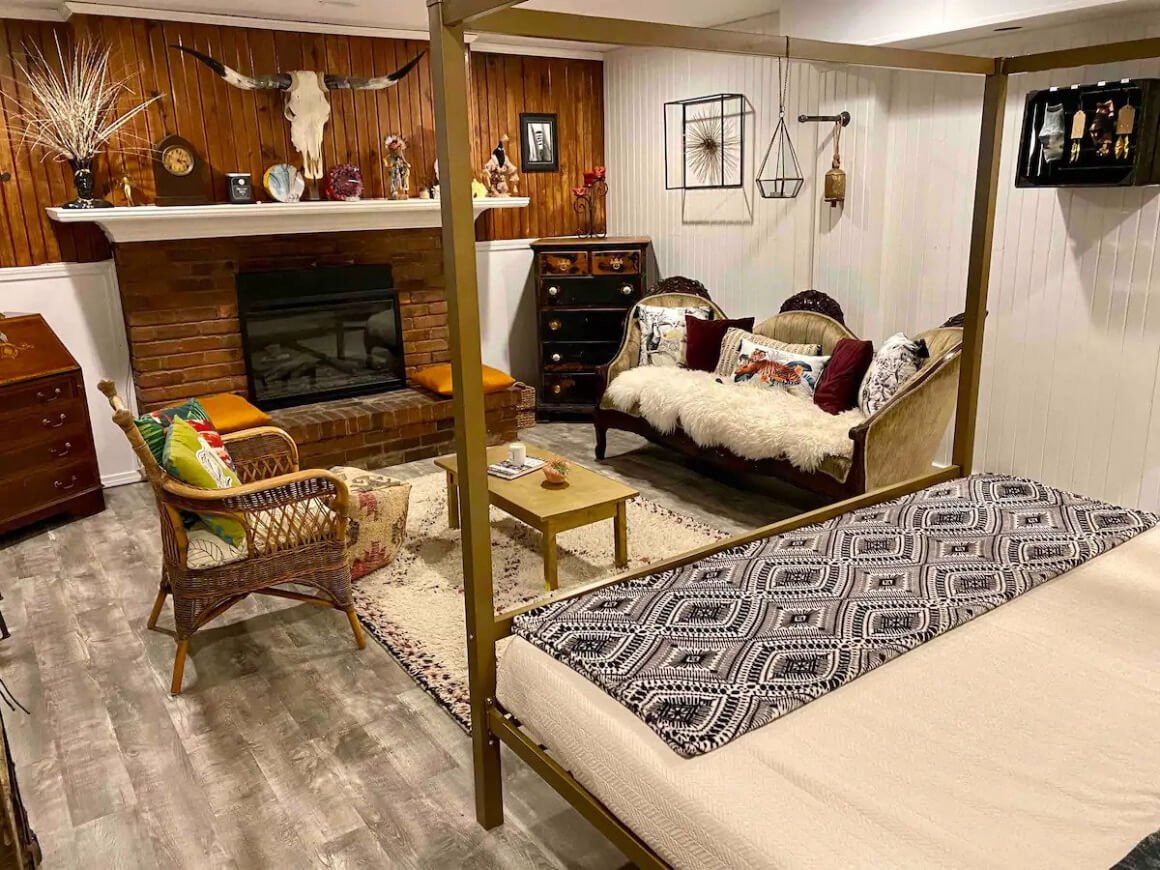 $$
Rustic home decorated with eclectic style
5 Guests
Located in Inglewood, Northeast of Nashville
This rustic and grunge-style family home has 2 bedrooms, making it a great spot for small families. Best of all? There is a massive yard, with rolling lush lawns shaded by tall trees, outdoor seating areas, a trampoline, a Jacuzzi, and a temporary swimming pool!
Your kids will love this holiday home in Nashville. Within walking distance to some lovely bars, restaurants, and eateries you can have a full itinerary with a cosy place to call home. You'll be pleasantly surprised with funky decor pieces and pops of color scattered around this private sanctuary.
$$$
Wheelchair accessible unit with an elevator in the building
6 Guests
Located in a secure block in West End Park
With wide passageways and a shared building elevator, this condo is well suited for wheelchair users. The gorgeous 3-bedroom condo is in a brand new modern apartment block, boasting warm wooden tones, funky kitchen tiles, and marble countertops, giving it a modern yet simple feel. 
The home is furnished with brand new comfortable and classy furniture, and scattered with glass vases and sculpture pieces as the finishing touches. Laundry facilities and a full kitchen with a dishwasher make this a comfortable spot for six guests to enjoy.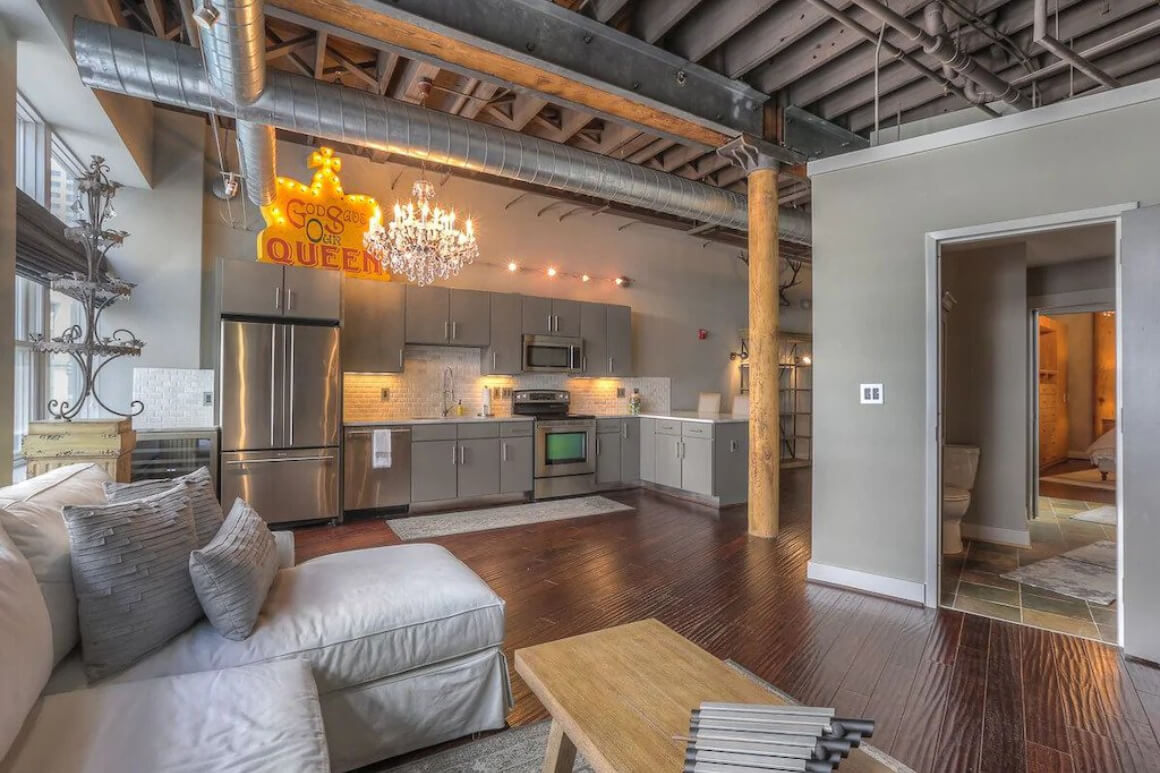 $$$
Spacious condo with exposed pipes and ceilings
2 Guests
Located in The District, a block from Broadway
Downtown Nashville is best enjoyed on foot, as you'll have more opportunity to see the small quirks and corner alleyways the vibey city has to offer. This modern and spacious home is located in the heart of downtown, only a minute's walk from the famous Broadway Street.
Exposed ceilings and brick walls give this old building an industrial appeal. However, furnished with modern wooden touches, leafy plants, and opulent crystal chandeliers, it's no doubt one of the best vacation rentals in Nashville for its unique charm and great location.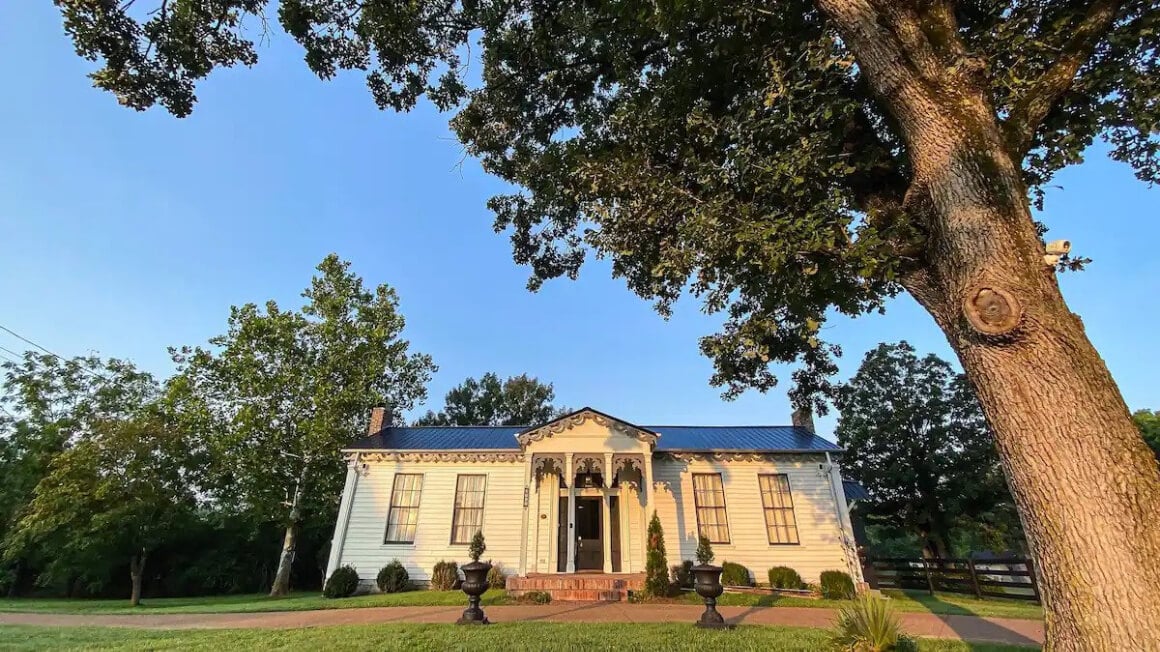 $$$
Large private home with barbeque deck and pool
8 Guests
Out of the city hustle in Bordeaux Area
This luxurious residential home has history oozing out of its 1850 foundations. The old home has been recently renovated and fitted with clean and simple yet old-style furniture. Twelve-foot-high ceilings and vintage hardwood floors complement the restored original furnishings of the historical home.
With beds for eight guests and a large yard with a swimming pool and barbeque area, this is one of the best luxury vacation rentals in Nashville for a large family to enjoy. The home is located across the Cumberland River, just outside of the busy city center.
$$$
Newly renovated and homey condo with balcony
6 Guests
Located 5 minutes from Downtown in Maxwell, East Nashville
Looking for a luxurious hideout for a friend's getaway? This gorgeous condo is located in the perfect spot and has all the space you'll need. Designed by a professional interior designer and fitted with top-of-the-range appliances, the host has left no stone unturned.
Featuring high-thread count linen, an open-plan living area, and a custom-designed chef-standard kitchen, you and your friends will love spending time relaxing together in this stunning space.
$$
Characteristic home filled with interesting artifacts and interiors
5 Guests
Located about 5 miles from Downtown Nashville
Eclectic charm comes to mind when you step into this fairy-tale-inspired home. Recently renovated with newly painted walls and hardwood floors, it's the furniture that gives the home its unique character.
In a quick glance you will spot South American carpets, Viking style thrones, modern furniture, collectors edition dolls, interesting art pieces, and mix-and-match crockery. There's no lack of color and texture here. You never know what the next room will bring.
With a fully-equipped kitchen fit for a king, this is by far one of the most unique self-catering vacation rentals in Nashville.
$
Restored historic home with colorful interiors and a yard
3 Guests
Located in East End, one mile from Downtown Nashville
Private, intimate, and simple – this refurbished historic home has a modern feel yet maintains its old charm. It was originally built over 100 years ago and has been split into two smaller properties. The old home has all new technology, including high-speed Wi-Fi, a smart TV, even an Amazon Echo and BlueTooth speaker.
Couples and honeymooners looking for an escape in the city will enjoy the seclusion of the home. If you're traveling with young children, you'll be pleasantly surprised by a pack-n-play, high chair, baby gate, and children's toys and books included in the stay. The washer-dryer facilities will also be useful.  
$
Modern studio with rooftop bar and pool
2 Guests
Located in trendy SoBro, minutes from Broadway
Nashville is best known for its southern food and music scene. This makes it one of the best cities to enjoy a fun night out. In fact, it's often referred to as Vegas as the South! This studio is located in a social building in the heart of downtown Nashville, within walking distance to Broadway and its many bars and nightclubs.
The huge bathroom, studio bedroom, and living space with basic kitchenette and skyline views are the ultimate spot to return home to after a big night out on the town. The apartment block even has its own rooftop bar and swimming pool, where you can get the night started.
$$
Modern style condo with pool access and river views
3 Guests
Located on the riverfront, nearby Downtown Nashville
City views are abundant in Nashville, however, if you're looking for more natural surroundings, you should seek a spot on the Cumberland River. This one-bedroom condo has tons of space and is furnished with top-quality pieces in warm colors. With a large balcony overlooking the river, this spot is an oasis within the bustling city.
While there is only one en-suite bedroom, there is also a large sleeper couch in the living room, which is spacious enough to fit an extra adult or two children.
$$$
Brand new trendy loft with a fully-equipped kitchen
3 Guests
Located in Downtown Nashville near Nissan Stadium
An ideal couples vacation calls for a peaceful retreat in a central location. This bright and cozy loft sits in the center of downtown Nashville, with city views from its large windows. 
The loft has been recently refurbished with clean finishes and white cabinetry. This space features a gorgeous outdoor patio and a garden area. Of course, it's also fitted with a fully-equipped kitchen making it a great self-catering vacation rental in Nashville for couples.
$$$$
Stunning ranch house with pool on a working ranch
12 Guests
Located 20 minutes from Downtown Nashville near Pleasant View
Large families and groups of friends will appreciate the sheer size and facilities offered at this huge country ranch estate. The ranch house sits on a working farm with llamas, cattle, chickens, and fishing ponds as well as local wild deer.
Head off to pet the farm animals and pick some berries at dusk before returning to the house for a fry-up breakfast and a day at the pool and Jacuzzi. This five-bedroom ranch has classic yet modern interiors, with tons of natural light and clean renovated finishes. 
$$
Recently remodeled home with river views and pool
10 Guests
Located north of Nashville near Opry
This riverside timber home has been newly remodeled with warm wooden interiors, marble countertops, and freshly painted walls. Most of the house follows a cabin-style look, with timber details and large outdoor windows bringing tons of sunlight into the home. 
A few surprises await you inside, including a bright pink painted bathroom and a temporary swimming pool on the large deck. The house also includes a private river viewing deck jutting out over the water. I can feel the fresh river air on my face already.
$
Small clean home with a sleeper couch in a wooded area
3 Guests
Located 10 minutes drive from Downtown, in Antioch
Tiny homes are all the rage in big cities. This one boasts modern interiors, white walls, and it has adequate sleeping space for three guests. Clever storage solutions optimize the best use of the space in this small spot. If you're looking for affordable convenience, this tiny self-catering vacation rental in Nashville is easy to clean, convenient to lock up and go when you need, and it can serve as a super place for a long or short-stay vacation.
$
Quaint secluded cottage in a historic neighborhood
3 Guests
Located in Green Hills, a mile from Vanderbilt University
Traveling with pets can be tough. But this cozy home with a private garden makes it easy. The home is perfect for up to four guests, with sleeping arrangements that would suit a family with kids.
If you're in the mood to host, the large living space has enough room to seat ten visitors.
The studio has a super homey feel and boasts wooden details, a rustic garden area, and cozy furniture.
Don't Forget Your Nashville Travel Insurance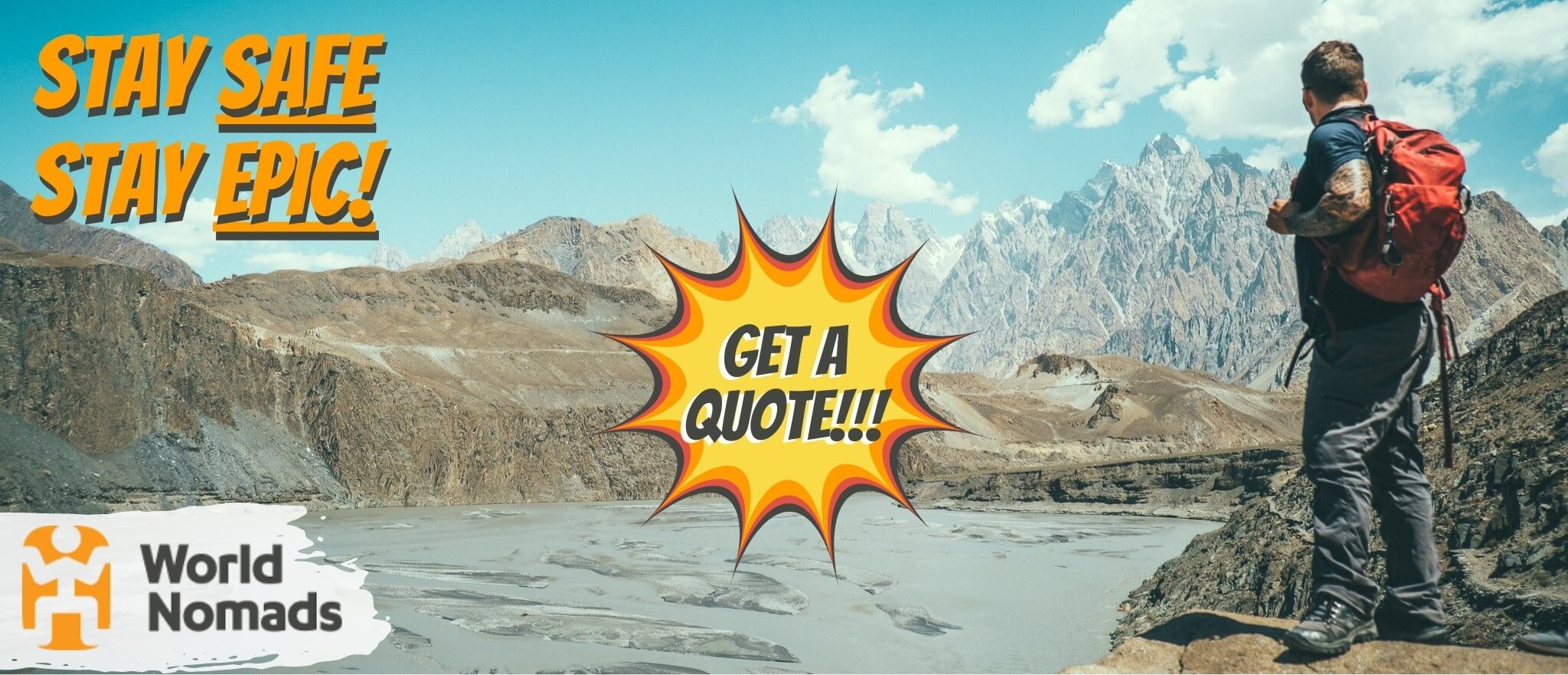 World Nomads' mission is to support and encourage travellers to explore their boundaries. They offer simple & flexible travel insurance, and safety advice to help you travel confidently.
They've been doing it since 2002 – protecting, connecting, and inspiring independent travellers just like you.
Get a quote below or read our in-depth review!
Final Thoughts on Vacation Rentals in Nashville
Nashville, Tennessee is well-known for its whiskey, fried chicken, and country music scene. However, if you're willing to dig a bit deeper, you'll find exciting culture and interesting history oozing from every corner of this old American city.
While you'll be kept busy with an abundance of Southern fried chicken, barbeque eateries and musical establishments, sometimes all you need is a homey spot to kick back and relax after a day playing tourist. Nashville is dotted with exciting holiday homes that can be your home away from home.
---
Bye for now, but not forever!
If you want MORE top-tier Broke Backpacker content like this, then sign up for our weekly newsletter below to get the latest and greatest!
And for transparency's sake, please know that some of the links in our content are affiliate links. That means that if you book your accommodation, buy your gear, or sort your insurance through our link, we earn a small commission (at no extra cost to you). That said, we only link to the gear we trust and never recommend services we don't believe are up to scratch. Again, thank you!