The deep south of the United States enjoys warm weather year-round, beautiful landscapes, and numerous historical sites. Texas is the heart and center of it all, from gorgeous deserts to coastal scenery, there's a bit of something for everyone visiting Texas!
Whether you're going on a long road trip across the United States or a short summer vacation, it's a good idea to make the most of your visit by finding unique accommodation in Texas. Of course, trip planning can be a bit of a challenge, which is why we've already taken the first steps and put together this list of the best cabins and treehouses in Texas.
Just imagine waking up in a secluded woodland cabin or starting your morning with lofty views out of a luxury treehouse window! And don't worry, there are plenty of options for all sorts of budgets, group sizes, and travel preferences.
In a Hurry? Here's Where to Stay in Texas for One Night
FIRST TIME IN TEXAS
Grey Forest Vineyard Cabin
The Vineyard Cabin offers a serene setting while still being close to all the conveniences of San Antonio. Whether you decide to swim in the pool or go out hiking on the nearby trails, this cabin is the perfect home-base for your travel adventures in Texas.
NEARBY ATTRACTIONS:
Old Town Helotes
Sea World
Six Flags Fiesta
Is this amazing Texas cabin booked for your dates? We've got your back with our other favorite properties below!

Unlock Our GREATEST Travel Secrets!
Sign up for our newsletter and get the best travel tips delivered right to your inbox.
Staying in a Cabins and Treehouses in Texas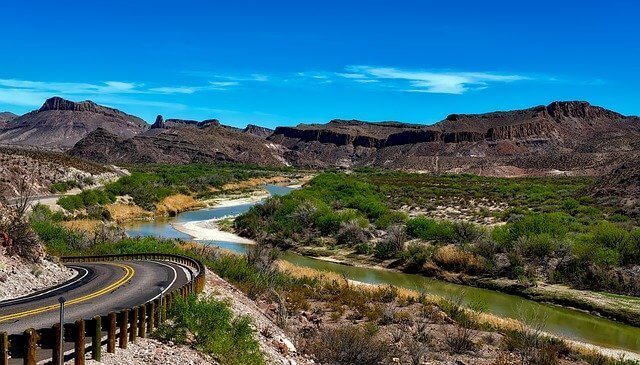 Texas is one of the biggest states in the US, and has a diverse and varied landscape from big cities to forests to deserts and even an incredible coastline. Each area has its own singular vibe, and staying at unique accommodation in Texas will add to your experience.
Cabins and treehouses are better for people who want to experience the natural side of Texas, but there are plenty of properties located close to towns and big cities so you don't have to worry about being far away from modern amenities and stores.
Depending on just how close to nature you want to get, there are accommodation options that feel more like glamorous camping, or other luxury options where you can enjoy all the comfort and style that you'd expect from a classy hotel, but with a beautiful natural setting and no annoying neighbors!
Texas is a vacation destination year-round, and most areas stay pleasantly warm in the winter, making it a popular place to visit for those trying to escape the cold winter weather. Cabins and treehouses make this experience even better by giving you a unique outdoor setting to enjoy the best of Texas.
Staying in a Cabin in Texas
Cabins range in size and location and can accommodate solo budget travelers as well as large families traveling together. One of the great benefits of staying in one of the best cabins in Texas is that you'll have the entire space all to yourself, giving you that home-away-from-home experience!
Depending on how close you want to be to cities, it's easy to find properties either a short drive or even walking distance from towns and shops. On the other hand, there are also plenty of cabins in Texas that are removed from city traffic and noise, offering a peaceful retreat during your visit.
Even those remote cabins are equipped with great modern amenities, often including a kitchen, heating and air conditioning, and sometimes even a place to do laundry. Parking is usually available for free onsite which is great since having your own car and going on a road trip is the best way to explore Texas.
Sometimes, these remote cabins might forgo things like Wi-Fi, allowing you to have a true break from the hustle and bustle of daily life. However, many cabins have a luxury-retreat sort of feel, with prices that are comparable or even better than many hotels!
Depending on your group size, you might want to check whether the cabin charges per person or a flat rate for the entire property; this way you can get the best deal for a cabin in Texas regardless if you're traveling as a couple, a small family, or a big group of friends.
Staying in a Treehouse in Texas
If you've ever dreamed of waking up with a bird's-eye view, then staying at one of the best treehouses in Texas is your chance! These super cool and unique properties are a great way to turn a regular vacation into a once-in-a-lifetime experience.
You can let go of your idea of a children's backyard treehouse, and upgrade your expectations to a luxury cabin in the treetops. Treehouses are the perfect blend of modern style and natural beauty.
Staying in a treehouse, you can expect to still have modern comforts like running water, electricity, air conditioning, and Wi-Fi. Most treehouses have kitchens and living areas, making the space feel more like a home.
A lot of the best treehouses in Texas have a more remote location, so having your own vehicle is the best form of transportation. Despite being so secluded, it's often only a short drive to reach nearby towns, restaurants, and shops if you need to pick up supplies.
One of the benefits of staying in a treehouse in Texas is that they're usually located close to some of the top parks and natural attractions. In fact, instead of just visiting these famous wilderness areas, you'll often be staying right in them!
Treehouses are usually a bit more expensive than cabin properties, but there are some budget options, particularly if you're traveling as a larger group where you can split the cost between you.
OVERALL BEST VALUE CABIN IN TEXAS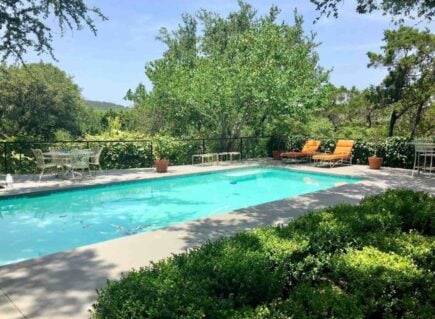 OVERALL BEST VALUE CABIN IN TEXAS
Grey Forest Vineyard Cabin
> $$
> 2 guests
> Shared swimming pool
> Breakfast ingredients provided
BEST BUDGET CABIN IN TEXAS
BEST BUDGET CABIN IN TEXAS
The Bunkhouse in East Texas
> $
> 2 guests
> Equipped kitchen
> Countryside setting
BEST CABIN FOR COUPLES
BEST CABIN FOR COUPLES
Dilly Dally Cabin
> $$
> 2 guests
> Hot tub
> Wooded property
BEST TREEHOUSE FOR COUPLES
BEST TREEHOUSE FOR COUPLES
Bright Austin Treehouse
> $$
> 2 guests
> Public transport close by
> Equipped kitchen
BEST CABIN FOR A GROUP OF FRIENDS
BEST CABIN FOR A GROUP OF FRIENDS
Coyote Creek Cabin
> $
> 5 guests
> Forest setting
> Indoor fireplace
BEST TREEHOUSE FOR A GROUP OF FRIENDS
BEST TREEHOUSE FOR A GROUP OF FRIENDS
Arbor House of Dripping Springs
> $$
> 5 guests
> Exceptional hospitality
> BBQ grill
OVER-THE-TOP TREEHOUSE IN TEXAS
OVER-THE-TOP TREEHOUSE IN TEXAS
Ryders Treehouse
> $$$$
> 2 guests
> Beautiful spaces
> Firepit and hammock
13 Top Cabins and Treehouses in Texas
Now that you have an idea about what to expect when staying at one of the best cabins or treehouses in Texas, you can check out this list of some of our top choices! We've narrowed down the selections to fit specific travel styles and budgets so you can find a place that's perfect for you.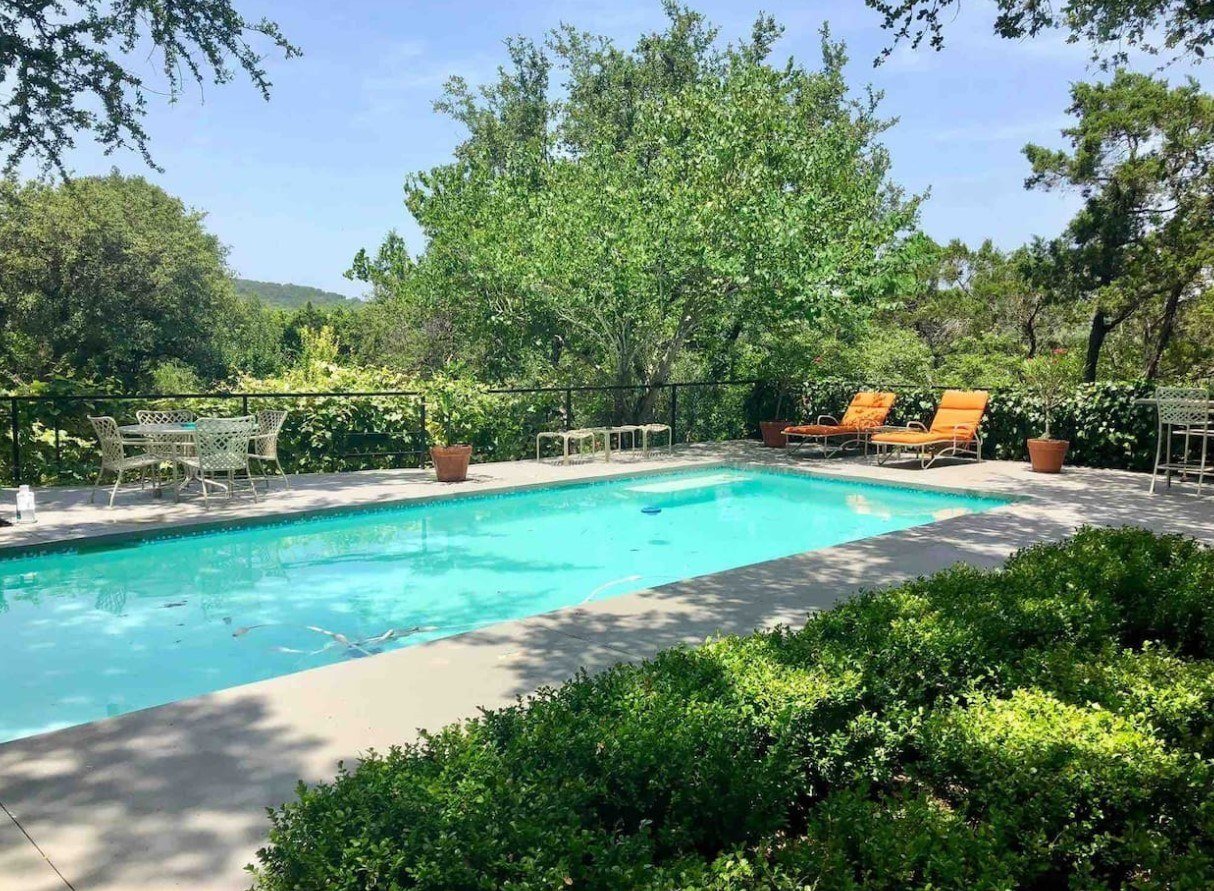 $$
2 guests
Shared swimming pool
Breakfast ingredients provided
Enjoy endless starry skies and a peaceful, remote feel at the Vineyard Cabin. You'll have the entire cabin to yourself, with a queen bed, living area, and kitchen. Plus there's the beautiful gardens, vineyard, and shared swimming pool for you to use.
The cabin will be stocked with breakfast foods including homemade pancake mix which is sure to be a treat in the morning. There's a local market nearby, plus plenty of options for hiking and biking. You can also spend your time exploring antique shops and legendary Texas restaurants like the Grey Moss Inn!
$
2 guests
Equipped kitchen
Countryside setting
A quaint cabin on two acres of private property, this is the perfect escape for any budget traveler in Texas! The cabin has all the comforts of home including a kitchen, living area, full bathroom, and a pull-out futon in case there are more guests.
There's free parking onsite, and it's only five miles to the town of Nacogdoches where you can find shops and restaurants. Just two miles from the property there's also the popular Zip Nac, a famous zipline attraction of the area!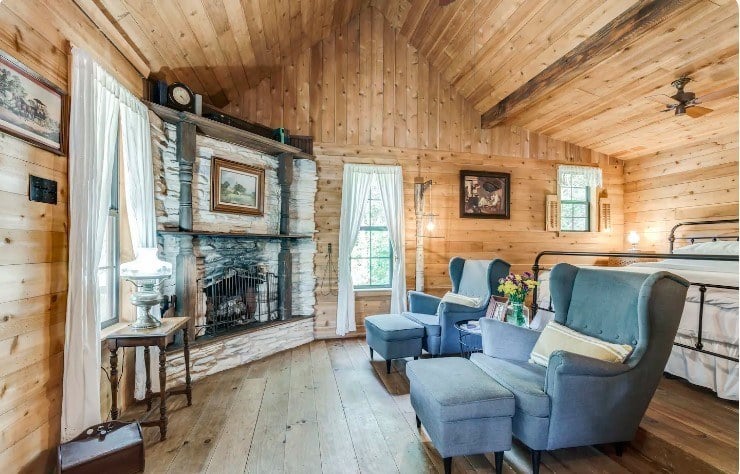 $$
2 guests
Hot tub
Wooded property
A sweet spot for a romantic trip, the Dilly Dally Cabin will live up to its name thanks to the relaxed energy! The cabin has a rustic feel with top modern amenities including a private hot tub, kitchenette, and a stunning stone shower.
You're free to roam around the 10 acres of private property, or it's an easy 15-minute drive to the historic area of downtown Granbury. Depending on your mood, you can just chill on the porch, build a fire in the outdoor firepit, or watch your favorite movies on the TV.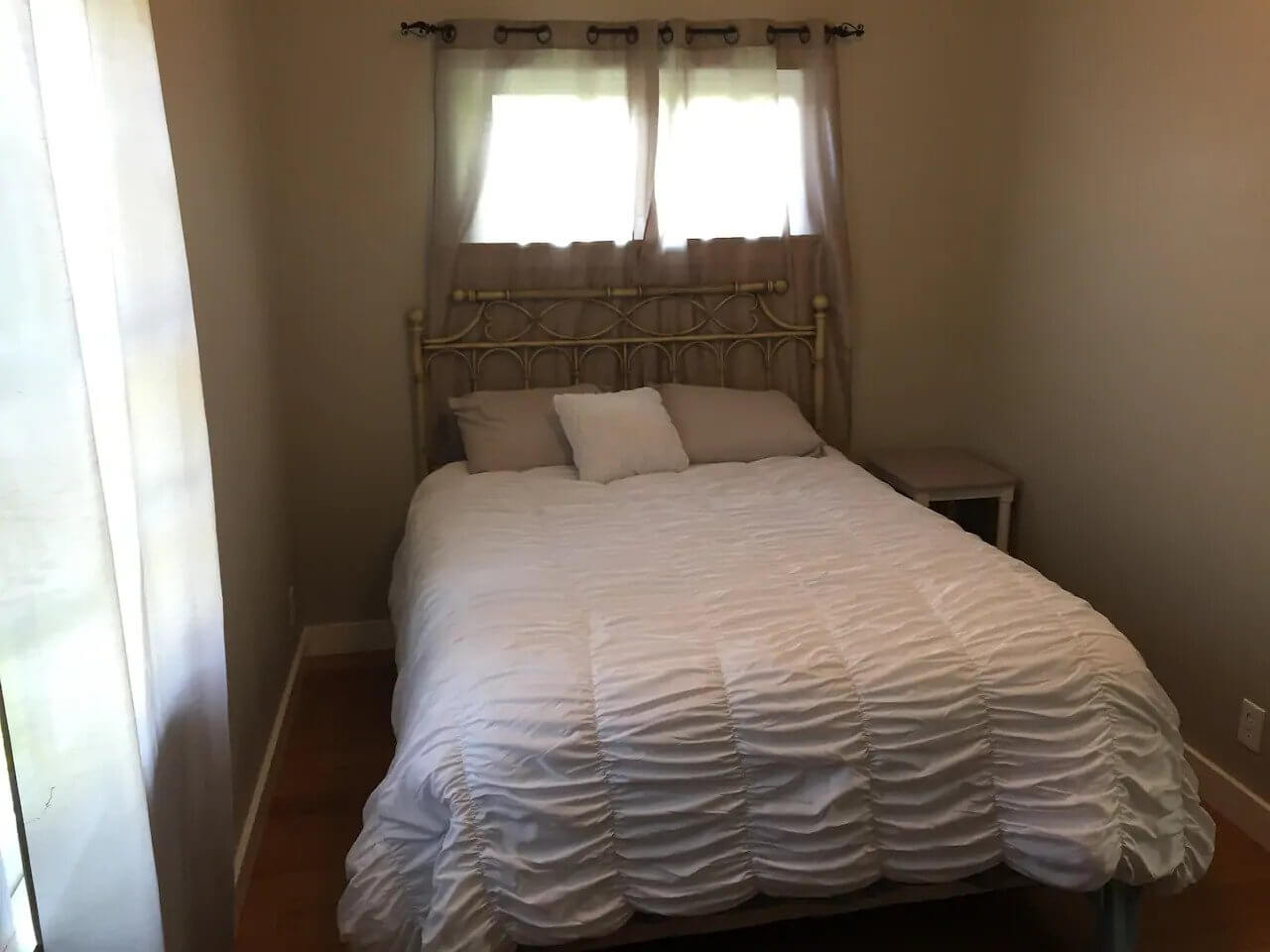 $$
2 guests
Public transport close by
Equipped kitchen
If you prefer to stay closer to the big cities during your vacation, this treehouse is the perfect option for unique accommodation in Texas! It's just a short bus ride into the center of Austin, but you can still enjoy a quiet, residential area at the private treehouse.
There are plenty of excellent restaurants nearby, but there's also a fully equipped kitchen if you'd prefer to eat in. Breakfast ingredients are provided at the property so you can prepare a hearty meal before heading out for the day's activities. Since it's close to downtown Austin, this a great option if you don't have your own vehicle and need to rely on taxis and buses during your trip.
An Eco-Friendly Traveller NEEDS an Eco-Friendly Backpack!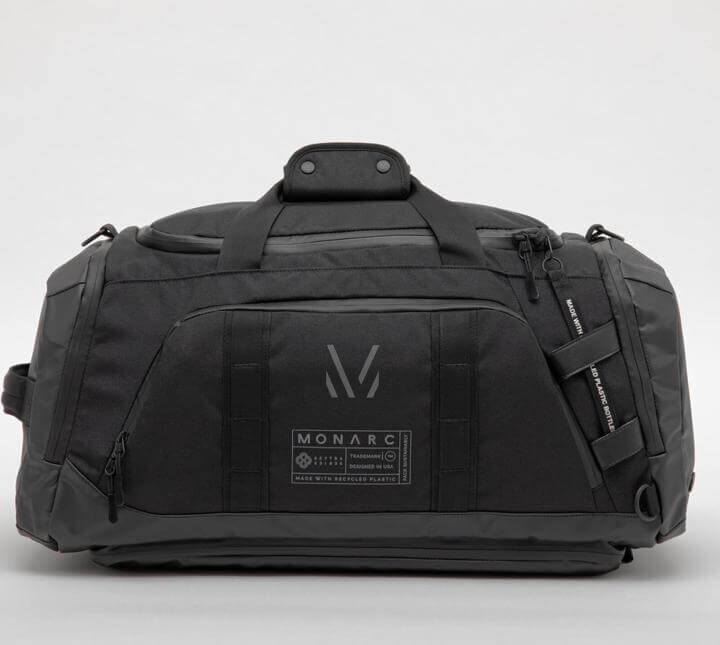 50 recycled plastic bottles – that's what goes into every Monarc Settra: the world's MOST SUSTAINABLE backpack.
Whether you're rocking duffel mode or backpack mode, if you're a traveller that gives a flying hoot about their environmental impact, then there's only one backpack you should consider – the plastic-negative Monarc Settra.
Learn More Now!
$
5 guests
Forest setting
Indoor fireplace
If you're looking for the ultimate experience with your friends, check out the Coyote Creek Cabin in Texas where you can enjoy the best of the outdoors yet still have modern amenities like a TV, kitchenette, and air conditioning for the hot summer months.
There are plenty of hiking trails nearby and it's the perfect base for an outdoor adventure. The cabin is only a 15-minute drive to Canton if you need supplies or want to check out the world's largest flea market! To complete the experience, camp food essentials like popcorn, oatmeal, and coffee are provided by the hosts.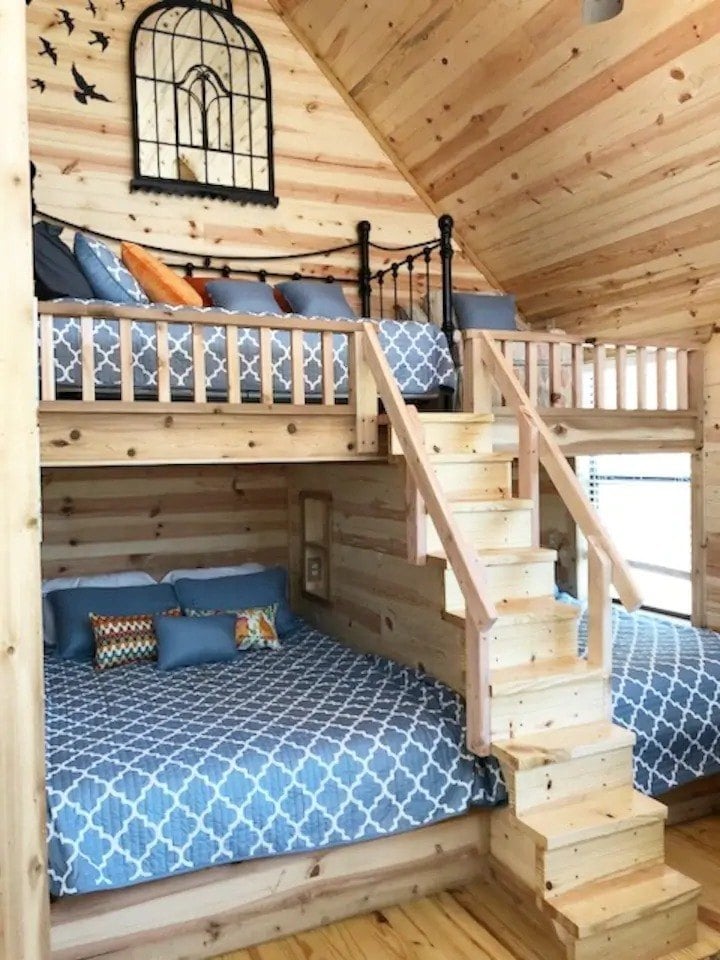 $$
5 guests
Exceptional hospitality
BBQ grill
Ever dreamed of having a treehouse slumber party? Well, now's your chance at the Arbor House of Dripping Springs! This cool, three-bedroom treehouse is big enough for you and all your friends, plus it comes with a kitchen and an outdoor BBQ for you to use.
The treehouse has a remote feel and offers you the chance to see lots of wildlife whilst still being an easy drive to the town of Dripping Springs. To make you feel welcome, there's a free gift basket of goodies that you'll receive upon arrival including a complimentary bottle of wine.
Over-the-Top Treehouse in Texas – Ryders Treehouse
$$$$
2 guests
Beautiful spaces
Firepit and hammock
A truly unique and luxurious option, this treehouse in Texas is certainly a one-of-a-kind place to stay! The property has awesome amenities including heating, air conditioning, as well as a stunning kitchen and comes with complimentary breakfast items, champagne, and juices for your stay.
Within a 30-mile radius, there are a number of charming small towns and famous restaurants like the Homespun Kitchen and Bar. The treehouse itself is on an 800-acre working ranch, so you can really experience the authentic southern charm of Texas!
$$
4 guests
Kayak provided
Large deck
Finding the perfect place for a family vacation in Texas presents its own challenges, but you might just find a solution at the Mid Mod Cabin! This lakeside property comes with a kayak, a gorgeous large deck, and 2 TV's in the living room so no one has to fight over what to watch.
The nearby lake has 3 public boat ramps in case you have your own boat, and there is an array of places to go hiking and birding in the area. Plus, the cabin has great features including a BBQ grill, open plan kitchen, and there's even space to do your laundry.
Another Great Cabin for Families visiting Texas – Hilltop Hacienda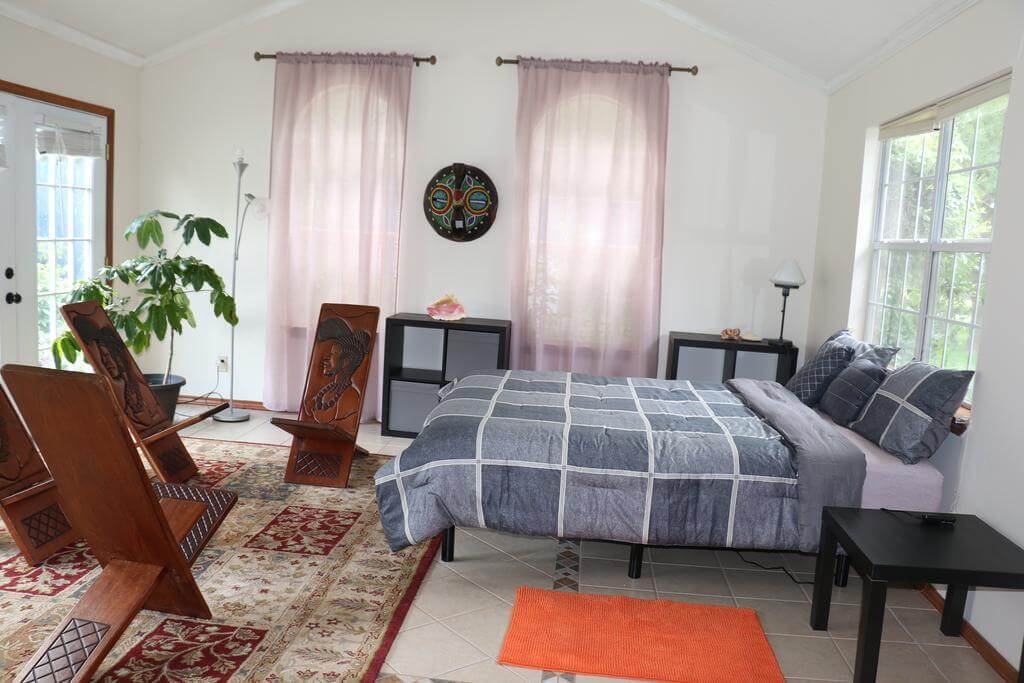 $$
4 guests
Swimming pool
Equipped kitchen
Let the kids splash around in the pool while you relax on the terrace when you stay at the Hilltop Hacienda in Texas! Each private cabin has an equipped kitchen, air conditioning, a flat-screen TV, and access to the public garden area.
Nearby there are plenty of fun activities for the entire family like tubing on the Guadalupe River, waterpark resorts, natural parks, and hiking trails. There's free parking onsite at the Hilltop Hacienda, making it ideal for families on a road-trip vacation in Texas.
$
2 guests
Garden and patio
Outdoor dining area
A rustic and charming property, this cabin in Texas is perfectly fitted for backpackers. With a fully equipped kitchen, outdoor BBQ area, heating, and a flat-screen TV with streaming services, it's no wonder this is one of the best budget cabins in Texas!
The Cibolo region of Texas has plenty of parks, and it's easy driving distance from other attractions including water resorts and river tubing adventures! If you're interested in outdoor activities and authentic southern vibes of Texas, this is the perfect cabin for you.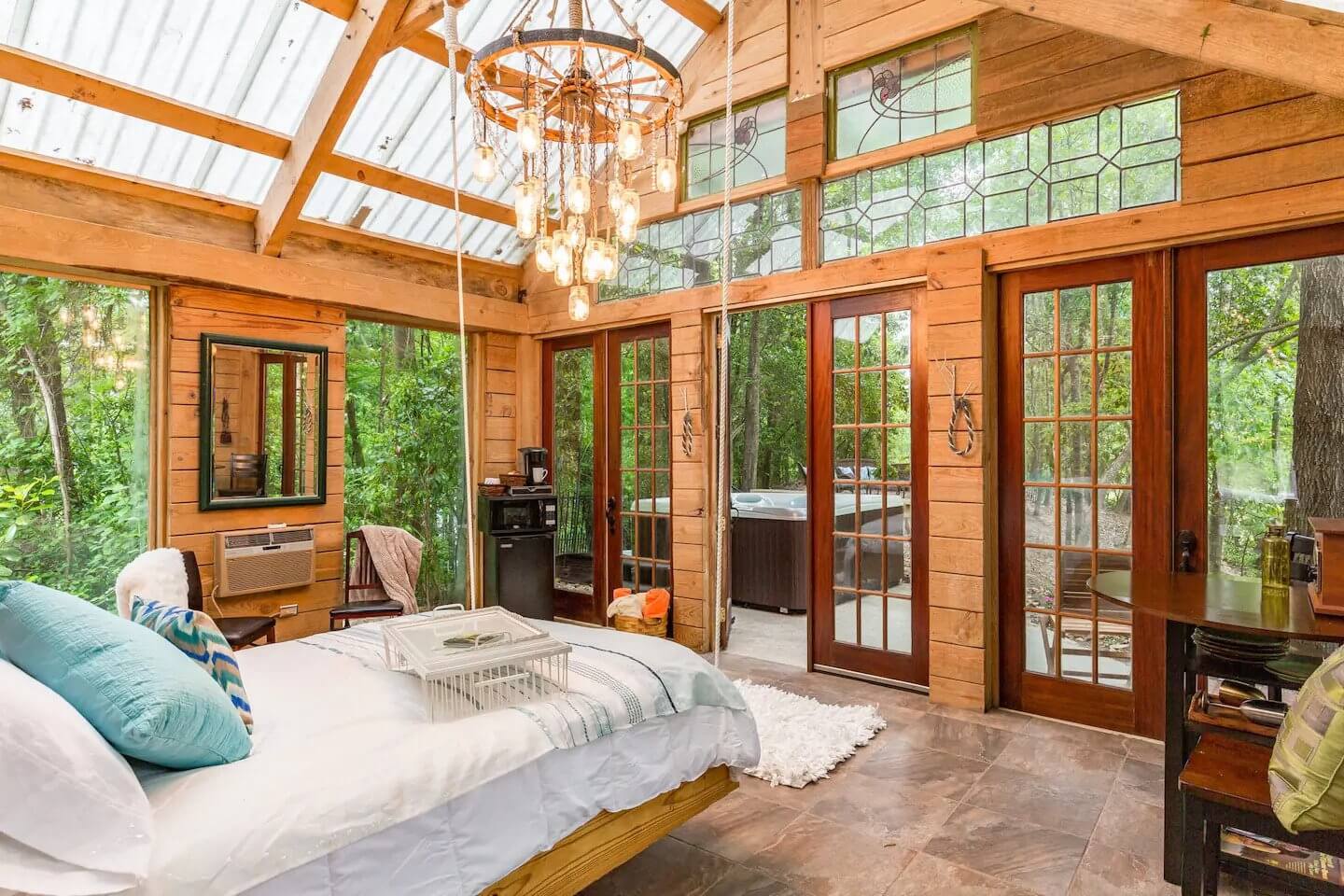 $$$
2 guests
Outdoor hot tub
Amazing windows
You can literally surround yourself with nature at the Naturalist Boudoir in Lumberton, Texas. The property is surrounded by 100 acres of beautiful Texas nature, great hiking areas, and pleasant creeks, and it's just a short ride into Lumberton if you need any supplies.
The enormous floor to ceiling windows allow you to appreciate the beautiful woodland area and thanks to the private setting, there's no need to worry about neighbors. Plus, there are all the comforts of home available such as a kitchen, living space, laundry, and even a hot tub!
Best Cabin for Honeymooners in Texas – Three Graces Cabin
$$
2 guests
Indoor fireplace
Hot tub
Relax in the hot tub, gaze at the stars, hike along the creek, and enjoy the original woodwork at this stunning and romantic cabin in the Hill Country of Texas. You can enjoy privacy and nature, but you'll still be a quick drive from downtown Wimberley where there are plenty of shopping and dining options.
In between relaxing by the campfire or enjoying a meal at the outdoor picnic table, you can also make use of the comfy, home-style amenities like an equipped kitchen, laundry space, air conditioning, and a TV.
$$
2 guests
Equipped kitchen
Campfire and firewood
A cozy spot for solo travelers, couples, or close friends, Das Jager Haus is certainly unique thanks to the fact that two llamas live on the property! These furry friends are just the beginning of what makes the cabin so special – other highlights include the hot tub, outdoor grill, and cozy patio.
You'll have homey comforts like a kitchen, campfire with firewood, air conditioning, and a TV. It's a short drive to Fredericksburg, but the rural location will set the tone perfectly for a remote escape to detach from the rush of daily life!
There are many more Airbnbs in Texas to check out for more treehouse and cabin experiences!
Check out these other great resources
We have loads more information to help you plan your trip.
FAQ about Cabins and Treehouses in Texas
Here's what people usually ask us when they look for vacation homes in Texas.
Don't Forget Your Texas Travel Insurance
ALWAYS sort out your backpacker insurance before your trip. There's plenty to choose from in that department, but a good place to start is Safety Wing.
They offer month-to-month payments, no lock-in contracts, and require absolutely no itineraries: that's the exact kind of insurance long-term travellers and digital nomads need.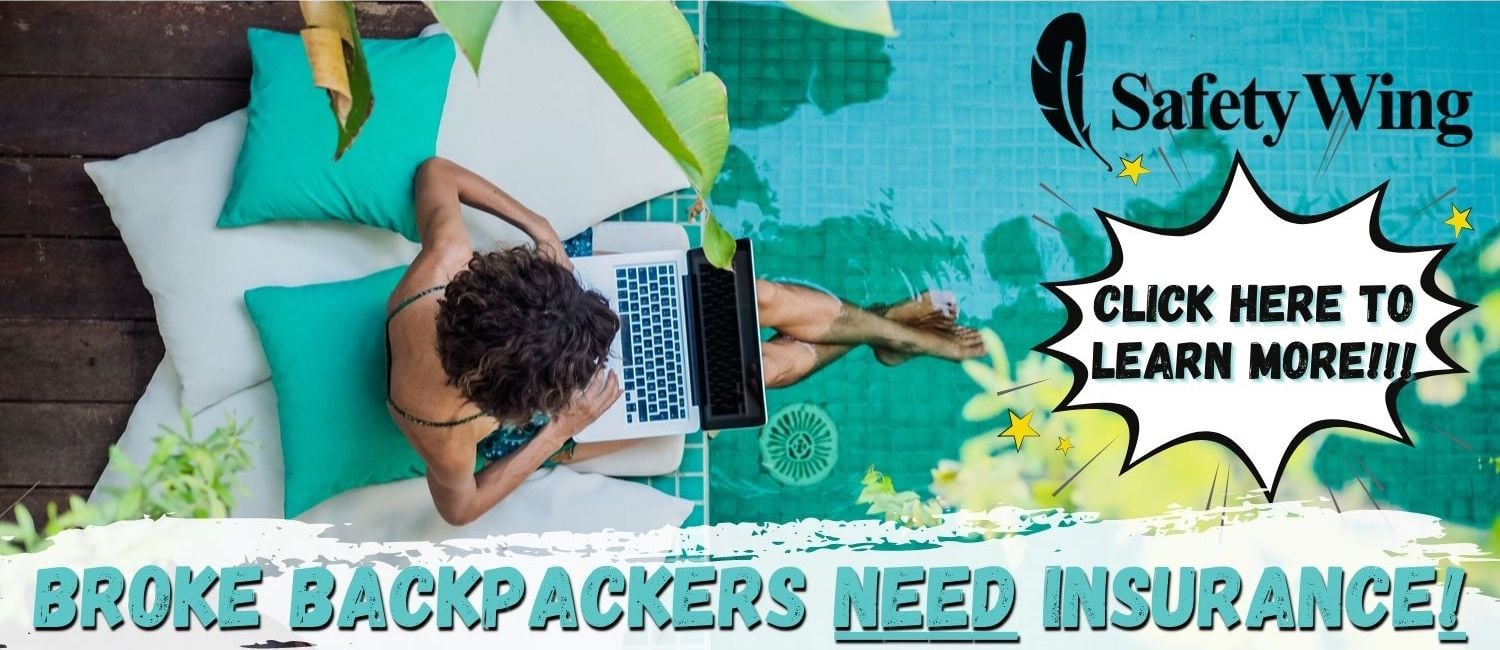 SafetyWing is cheap, easy, and admin-free: just sign up lickety-split so you can get back to it!
Click the button below to learn more about SafetyWing's setup or read our insider review for the full tasty scoop.
Final Thoughts about the Best Cabins and Treehouses in Texas
Whether you're escaping a cold northern winter or planning a fun family summer road trip, Texas is an excellent and adventure-filled vacation destination at any time of year! And for any traveler, finding unique accommodation in Texas is the best way to have an authentic southern experience.
Since planning a trip can be a daunting task, hopefully, this list of the best cabins and treehouses in Texas has already given you some ideas about where to stay. It's always a good idea to reserve a spot well beforehand since some places can book up far in advance!
---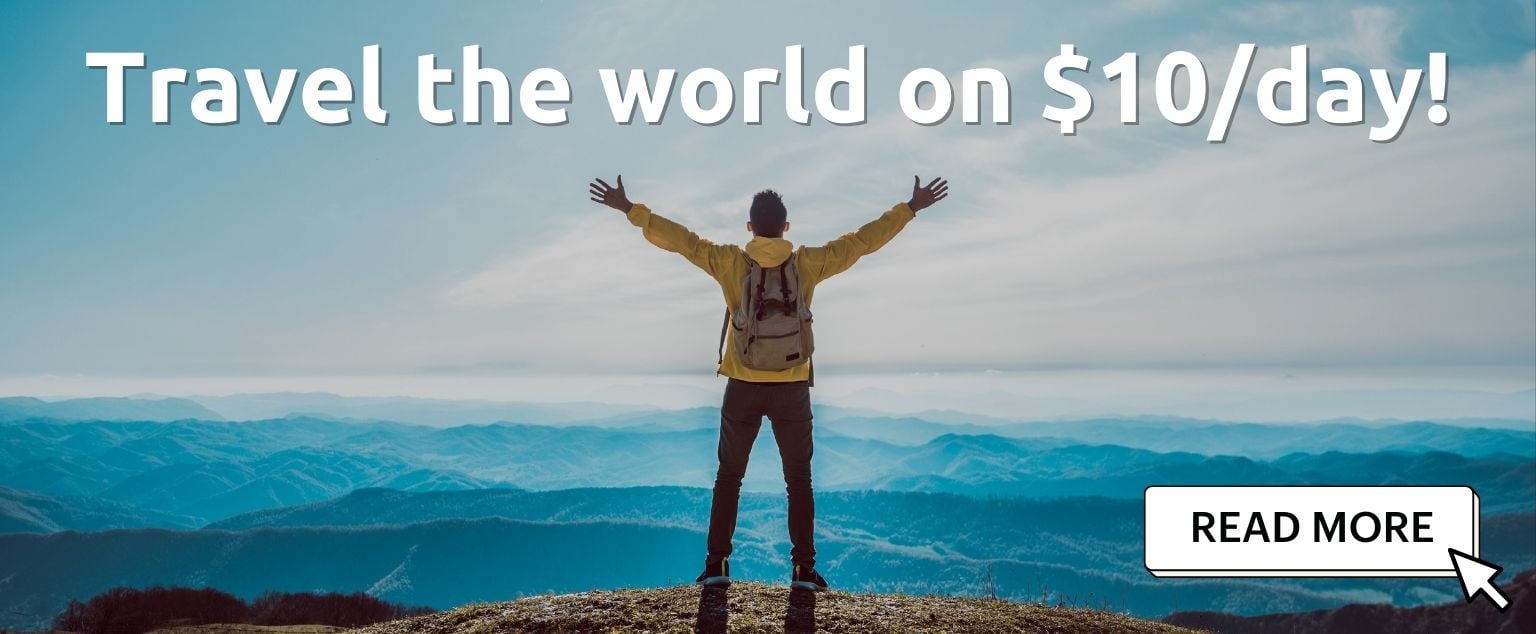 And for transparency's sake, please know that some of the links in our content are affiliate links. That means that if you book your accommodation, buy your gear, or sort your insurance through our link, we earn a small commission (at no extra cost to you). That said, we only link to the gear we trust and never recommend services we don't believe are up to scratch. Again, thank you!