Bonjour, and welcome to Nice!
One of the shining gems of the French Riviera, Nice, France, is high on the list for all travelers and a premier destination in France.
Alas, there are only a few hostels and budget hotels in Nice, which makes it rather difficult to plan your sweet escape.
But don't worry, we've got you! We've come up this handy guide to the best hostels in Nice, France. Written by travelers, for travelers, this guide will show you the best hostel options in Nice, so you can confidently book a hostel and travel Nice like a boss!
Due to the few hostels and the high backpacker volume, we highly recommend that you book a hostel in Nice well in advance – this will guarantee that you save some money as well as meet like-minded fellow travelers!
So read our guide, find which of the best hostels in Nice is best for you and book it! Then you can worry about what matters most – exploring Nice and it's beautiful beaches and culture!
Let's go!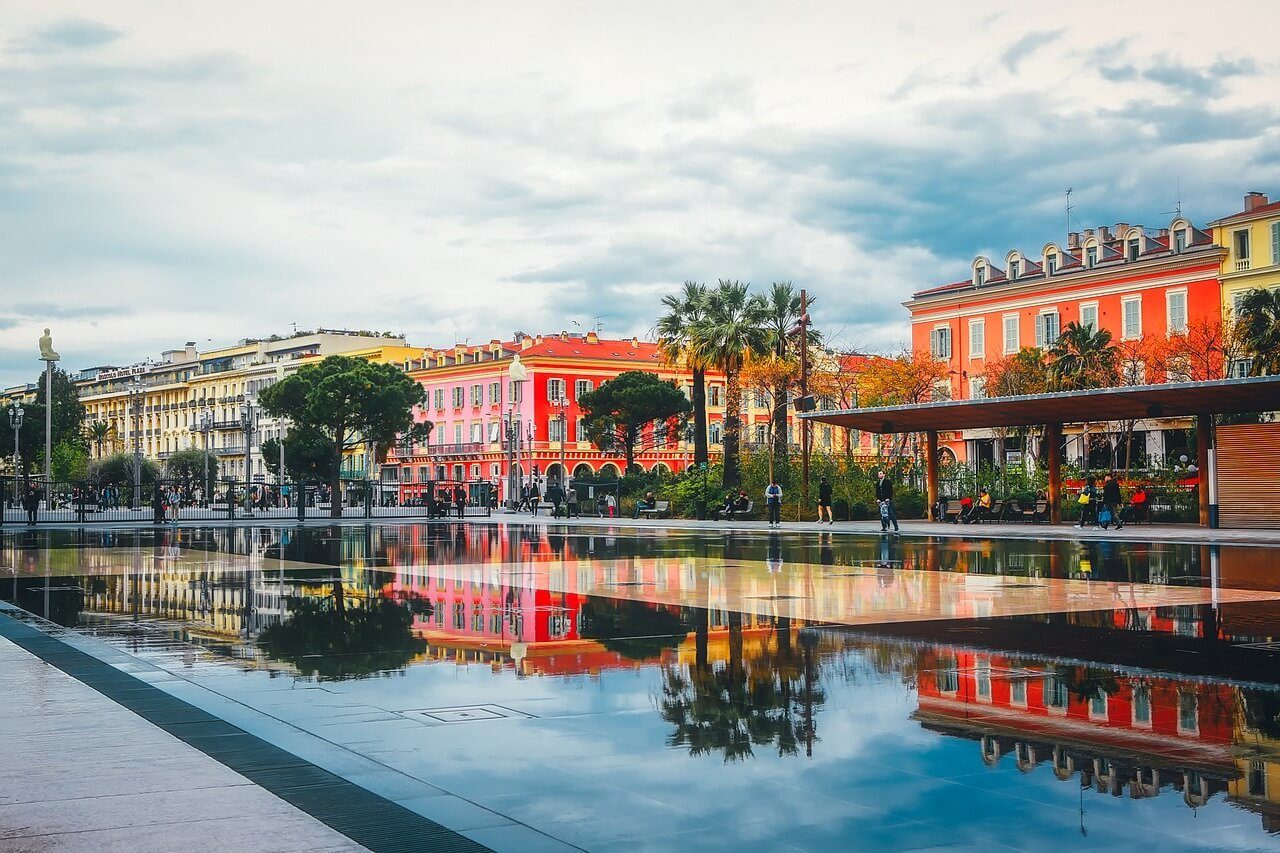 Quick Answer: The Best Hostels in Nice, France

Do You Want to Travel FOREVER??
Pop your email in below to get a FREE copy of 'How to Travel the World on $10 a Day!'.
What to Expect when Staying in a Hostel in Nice, France
Hostels are generally known to be preferred by most budget-conscious travelers, seeing as they are one of the cheapest forms of accommodation on the market. That doesn't just hold true when you're backpacking France, but pretty much every place in the world. However, affordability is not the only good reason for staying at a hostel. The unique vibe and social aspect are what make hostels TRULY special. Head down to the common room, make new friends, share travel stories and tips, or just have a great time with like-minded travelers from all over the world – you won't get that opportunity in any other accommodation.
Now, we're not going to lie, while traveling to Nice, France, is a fantastic prospect, and there are plenty of fantastic hostel options in France, be warned that the hostel scene in Nice is rather disappointing. There are a few really cool options, but we'd have loved to see more! However, the ones that you can choose from do offer some real bang for your buck. Most are located between the city center and the beach, making it the ideal location to explore Nice and the surrounding area.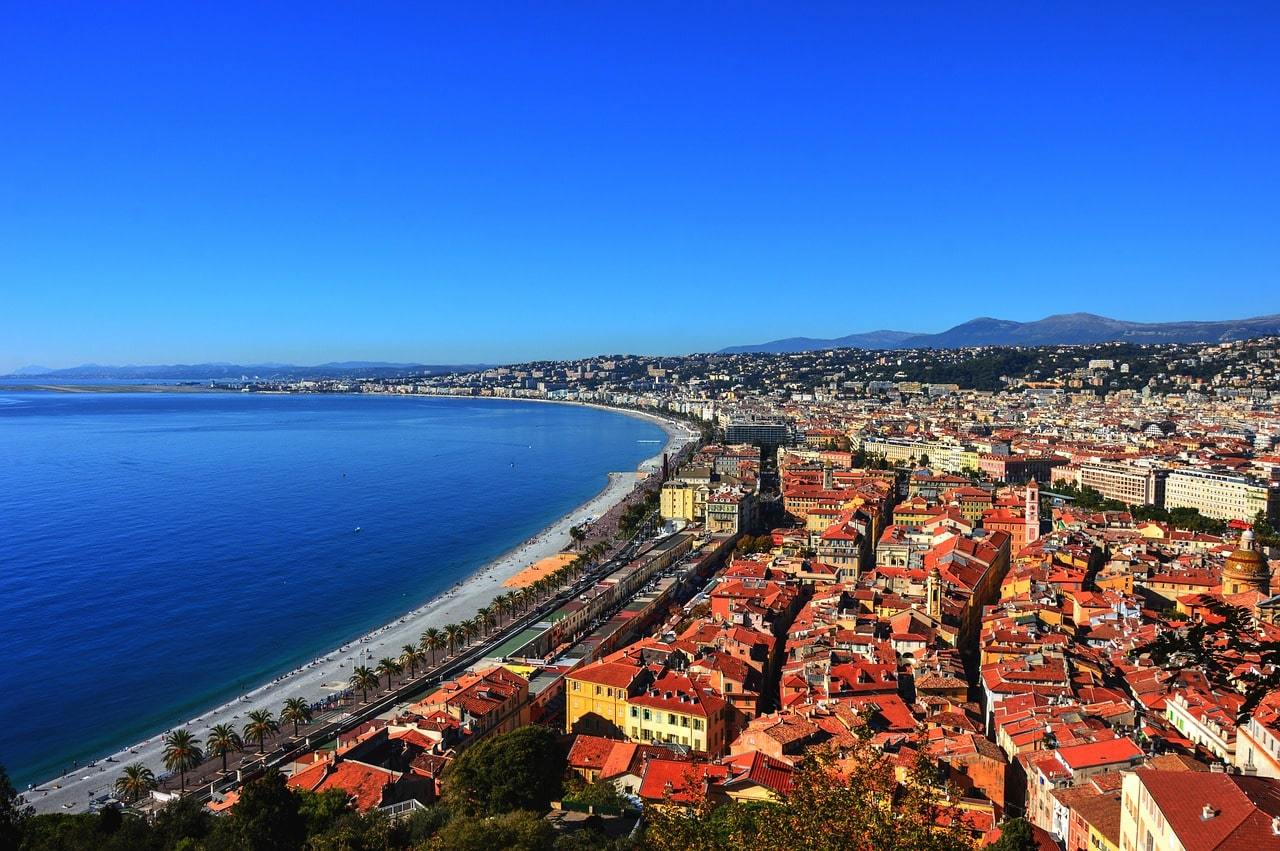 One thing that all hostels in Nice are known for is the kind and helpful staff. If you're in need of travel tips or simply have a question, don't hesitate to reach out to them – they'll be providing you with great tips and helpful local knowledge.
But let's talk more about the important stuff – money and rooms! Nice's hostels normally have three options: dorms, pods, and private rooms (although pods are rare). Some hostels even offer large private rooms for a group of friends. The general rule here is: the bigger the dorm, the lower the price. Obviously, you won't have to pay as much for an 8-bed dorm as you would for a single-bed private bedroom. To give you a rough overview of Nice's prices, we've listed the average numbers below:
Dorm room (mixed or female-only): $41–47 USD/night
Private room: $82–112 USD/night
When looking for hostels, you'll find the best options on HOSTELWORLD. This platform offers you a super-safe and efficient booking process. All hostels are displayed with a rating and previous guest reviews. You can also filter your personal travel needs easily and find the perfect place for you.
Now, Nice isn't the biggest city, but it still pays to do a bit of neighborhood research before you start your travels. To help you out, we've listed our favorite picks for where to stay in Nice below:
Old Town – A dense labyrinth of cobblestone streets, colorful buildings, charming shops, quaint cafes, and historic landmarks.
Jean-Médecin – Home to grand avenues and tree-lined streets, this downtown neighborhood is renowned for its high-end boutique and street shops as well as its world-class museums, top-notch restaurants, and cute cafes.
Le Port – More than just a fun destination for the cool boat crowd, Le Port is a great place for everything, from an afternoon stroll to a night on the town.
Now that you know what to expect from hostels in Nice, let's have a look at the best options …
The 5 Best Hostels in Nice, France
We've done tons of research to bring you the very best hostel options in Nice.
Not only that, we've split them into different categories, making it easy to sort through the hostels and pick the best fit for you and your travel style. No matter what you're looking for – a party hostel, somewhere quiet for digital nomads to get their heads down and focus on work, or the cheapest hostel to save more cash – you'll find them all here. Let's get right into it!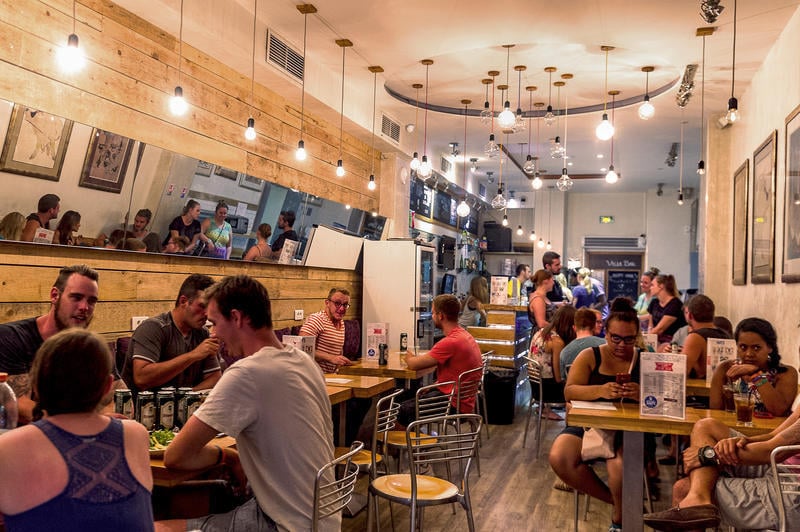 Fitness Centre
Laundry Facilities
Villa Saint Exupery Beach is our winner for the overall best hostel in Nice. It has a pumping bar with happy hours and parties each evening, and there are regular diverse events, including yoga classes and bar crawls on the weekends. The gym is open around the clock and you can sweat it out in the sauna anytime you like too.
Knock things off your Nice itinerary and take a free walking tour of Nice, play ping-pong, grab some tasty food from the cafe, use the free computers and Wi-Fi, and get your laundry done. There are various dorms and private rooms on offer, and this top hostel in Nice is within easy reach of the Old Town and the beach.
Why you'll love it here:
Free sauna
Super-affordable breakfast
Daily activities
Alright, let's have a look at the room details of this epic hostel. For the peeps who love their privacy, the hostel offers some cool private rooms. To be honest, they look pretty much like you'd expect a decent hotel room to look like – you get a double bed and an en-suite bathroom, a window with nice views, and a locker. It's ideal for couples or two travel buddies who want to keep the costs low.
Broke backpackers will absolutely love the comfy dorms. You can opt between a bunk or simple twin beds. Each one comes with its own reading lamp and a power socket so you can keep your electronics charged!
The social area is rather small but totally decent! That's also where you can enjoy a cheap breakfast buffet in the morning with your fellow travelers.
All in all, Villa Saint Exupery Beach is an epic hostel choice in Nice that'll give plenty of bang for your buck while also putting you in the heart of the city, close to all the action.
2. Best Hostel for Solo Travelers in Nice – Antares Hostel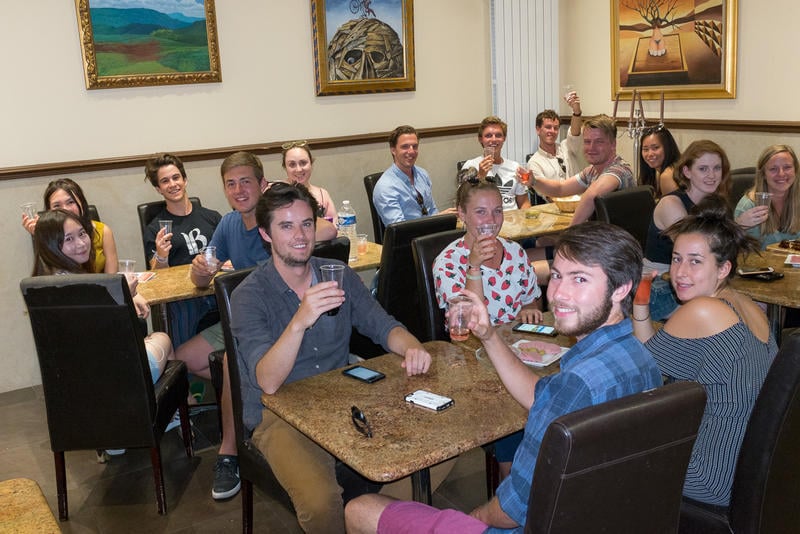 Luggage Storage
Key Card Access
Situated close to the main train station and within walking distance of the beach, Antares Hostel is a great base to explore Nice from. The sociable vibe also makes it our pick for the best hostel for solo travelers in Nice. On offer are mixed and female-only dorms in various sizes as well as private rooms.
Antares hosts regular parties in the summer months and you can meet other travelers in the leafy courtyard, kitchen, and dining area. All guests are given a locker, and the Wi-Fi is free at this recommended hostel in Nice.
Why you'll love it here:
Super-social atmosphere
Epic location
Cute courtyard
You'll be happy to hear that all bedrooms at Antares are equipped with a strong AC, perfect for those hot summer nights. Insider tip: after spending all day in the sun, come back to your hostel, take a shower, and then go for a nap – those are some real deep-sleep naps that'll give your body plenty of time to recover for the next day!
If you need to get some work done on your laptop, there are a few workspaces and even some computers available as well. Thanks to the high-speed Wi-Fi, you'll have no problems connecting with your friends and family back at home or checking in on your social media.
We're not going to lie, it's not the most modern or stylish place, but it really does the job, especially for solo travelers. Located right between all the action and the beach, it's the ideal spot to meet new people but still have some time to yourself to rewind!
3. Best Cheap Hostel in Nice – Hostel Pastoral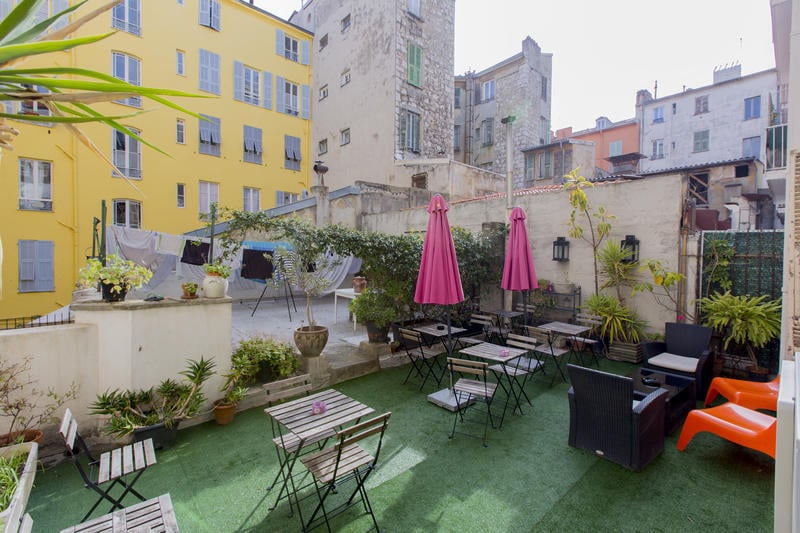 Laundry Facilities
Tour Desk
Located in a convenient location close to the main train station and within walking distance of the beach and Old Town, Hostel Pastoral is the best cheap hostel in Nice.
It's not only the pocket-friendly prices that make Pastoral a top Nice backpackers hostel, though – there's a well-equipped kitchen, modern bathrooms, and a sunny terrace too. With private singles and doubles and mixed dorms, everyone can sleep for cheap and in comfort here.
Why you'll love it here:
Most central location
Lovely outdoor area
A fridge in every room
Hostel Pastoral might not win the prize for the most stylish hostel in Nice, but for the nightly price you really do get a lot of value. If you're into cooking, you'll be happy to hear that you can store all your goodies in your own fridge – each room has one! This comes in very handy if you want to keep your snacks and treats safe from potential snack thieves in the hostel!
The terrace is perfect for some socializing, soaking up the sun or simply enjoying a drink or two after a long day of exploring Nice. Thanks to the strong Wi-Fi, you can post epic Instagram stories all day and keep your friends updated on your travels.
If you're wondering what to do in Nice, simply head to the reception and ask the staff for a few recommendations on what to do and see in the city. They're known to have the best insider information and can show you some real hidden gems!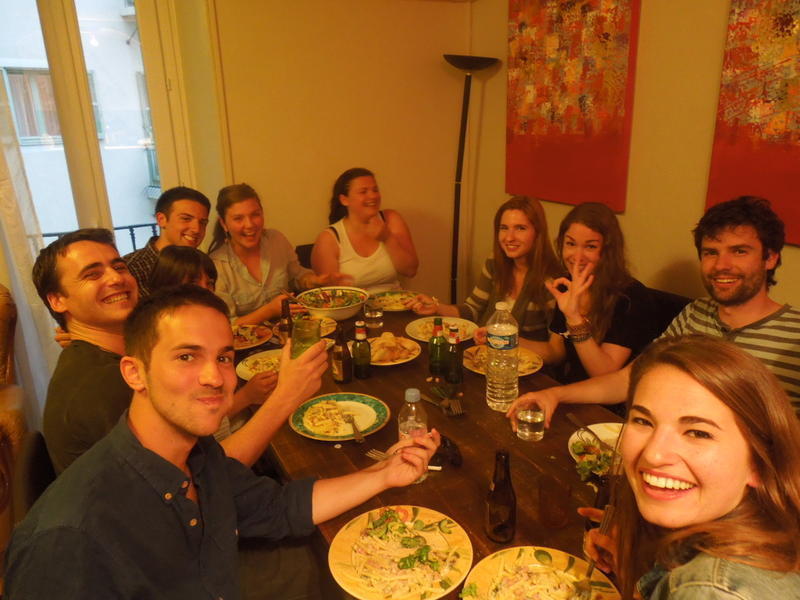 Luggage Storage
Book Exchange
Open House Hostel is the best party hostel in Nice, with enough pub crawls, dinner nights, and beach parties to satisfy the most enthusiastic of partiers! The hostel boasts an excellent location and is close to some of the hottest nightlife in Nice (the renowned Wayne's Bar is only 5 minutes away) as well as the beautiful sandy beaches. You will also be a short 100-meter walk from Massena Square (the historic main city square) and Old Town.
The friendly staff members are always down to direct you to the best places for drinks, fun, and food, and they even join you for a few scoops.
Why you'll love it here:
Most central location
Lovely outdoor area
A fridge in every room
The other plus points of Open House Hostel include free Wi-Fi, lockers, luggage storage, and access to a fully-equipped kitchen. And the icing on the cake? No curfew!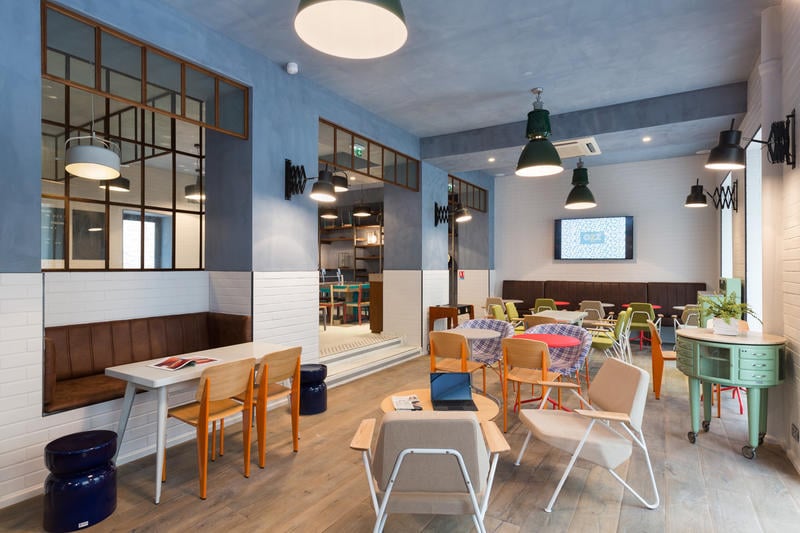 24-Hour Reception
Luggage Storage
With a music theme, arty vibe, happy staff, and terrific facilities, Hostel Ozz & Bar by HappyCulture is one of the coolest hostels in Nice. The fast, free Wi-Fi running throughout the building and the power socket available by your bed allow getting some work done very easily, making Hostel Ozz one of the best hostels in Nice for digital nomads. There are mixed and female-only dorms on offer, and all beds have privacy curtains, a locker, and a light for a comfortable rest.
Private rooms are also available if you and your buddies don't fancy sharing with others. The on-site cafe–bar is a top spot to mingle and you can order breakfast to enjoy on the patio.
Why you'll love it here:
Cute outdoor patio
Towel rental
Vending machine with travel essentials
Each bed comes with linen, and if you book one of the charming private rooms, you'll even get a towel for free. For all other rooms, you can opt to rent a towel at the reception. Lockers are available as well, and if you're in need of a padlock, the staff can hook you up with one too.
To start the day right, make sure you book the cheap breakfast the night before. It's only 5 euros but it'll fill you up and keep you energized during the first hours of the day. If you have a lot of exploring planned, this can be a life (and wallet) saver!
Is This the Best Backpack EVER???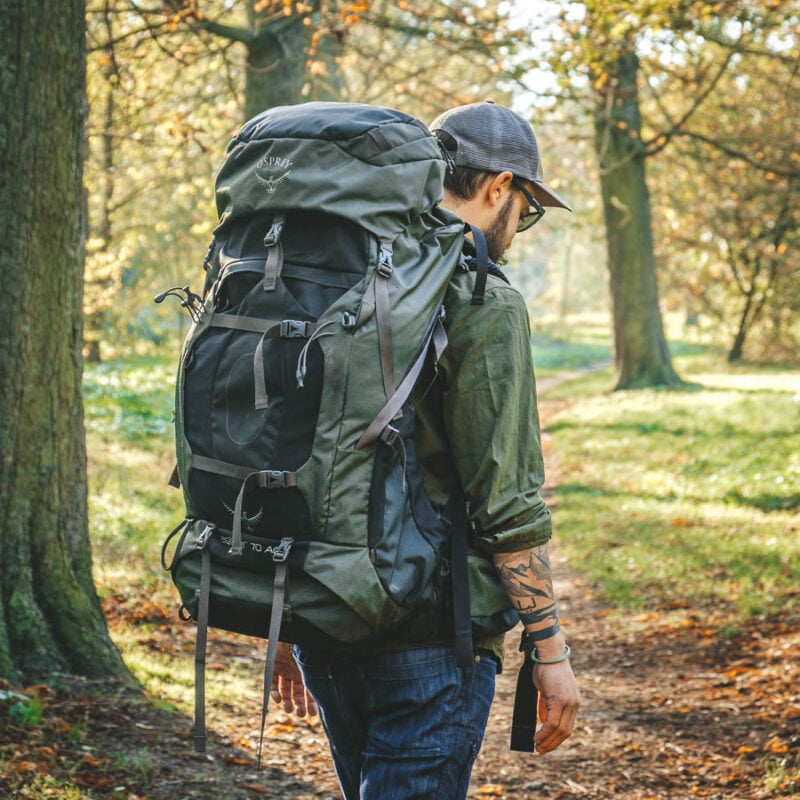 More Epic Hostels in Nice
Haven't found the right hostel for you yet? Don't worry, there are plenty more options waiting for you. To make the search a bit easier, we've listed more epic hostels in Nice below.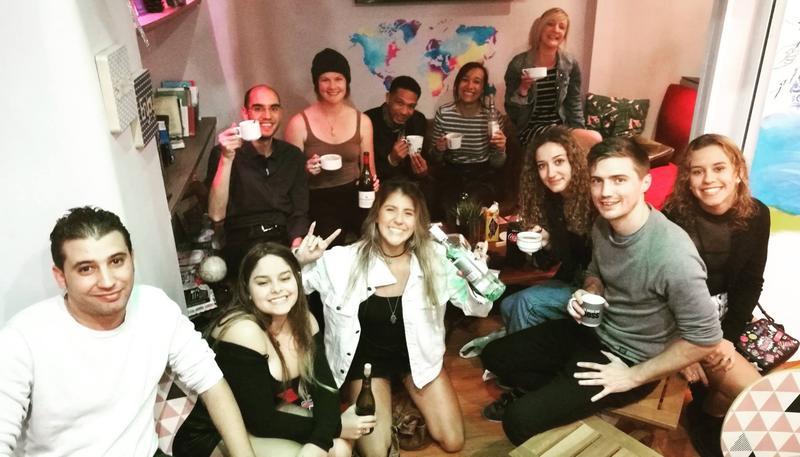 The award-winning Hostel Meyerbeer Beach is located close to Nice's sunny beaches, and the free use of beach mats and towels makes it a hit with all the beach bums. The cozy en-suite double rooms make it our winner when it comes to the best hostel in Nice for couples. Whip up a storm together in the shared kitchen, send hunger packing in the cafe, chill out in the TV room, or grab a guidebook and rent a bike to explore Nice. CCTV and lockers keep things secure, while the housekeeping services make sure your space is clean and tidy.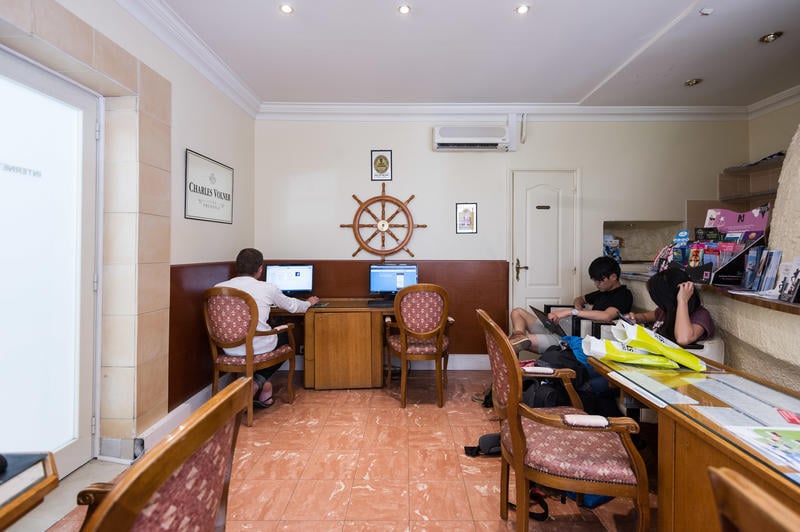 Hostel Baccarat has a calm chill-out room with several free-to-use computers and free Wi-Fi, making it a great hostel for digital nomads in Nice. It can't be all about work, though, which is why you're sure to love relaxing in the sunny courtyard and cooking your favorite meals in the well-equipped kitchen. Also, how about a game of pool to re-energize? There are dorms and private rooms, a tour desk, lockers, and cable TV.
The weekends in Nice see Hostel Baccarat hosting some epic parties as well as on some other days as well. Grab a few drinks with your friends and get the night going. Just keep in mind that there is a curfew from 3 am to 6 am!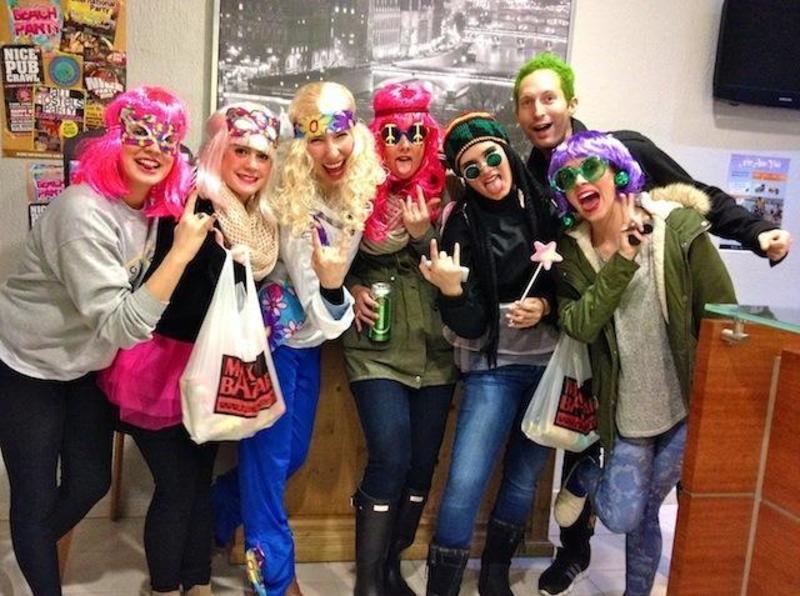 Tour Desk
Laundry Facilities
The peaceful Backpacker's Hostel Chez Patrick is a great youth hostel in Nice for getting in some quality shut-eye ready before you explore the city and hit the beach. The dorms are small, with 4 or 6 beds.
Sand in your clothes? Just toss them in the washing machine. Lockers and key-card entry keep things safe and secure. The Wi-Fi is free at this top hostel in Nice, and you're just a short stroll from the train station and heaps of great restaurants and cafes.

Our GREATEST Travel Secrets…
Pop your email here & get the original Broke Backpacker Bible for FREE.
Best Budget Hotels in Nice
While there may only be a few hostels in Nice, there are also plenty of great Nice hotels to suit every budget. Here are three of the best budget hotels in Nice, France.
1. Best Mid-Range Hotel in Nice – Hotel Paganini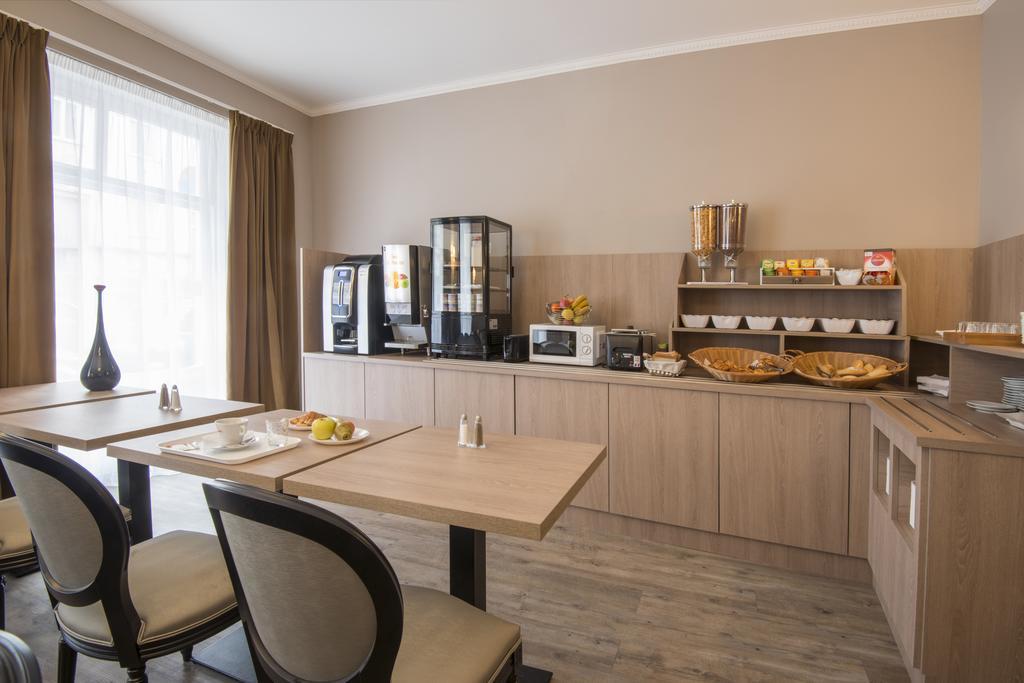 A chic and elegant hotel in the heart of Nice, Hotel Paganini has stylish single, double, twin, triple, and quadruple rooms. It's a great Nice hotel for solo travelers, couples, families, and friends. All rooms come with a private bathroom, complete with a hairdryer and free toiletries, and the rooms also have a desk, a wardrobe, satellite TV, free Wi-Fi, and air conditioning. Breakfast is included in the prices, giving you more bang for your buck.
Nice Riviera Sweet Home has single and double rooms with shared bathrooms. Each room has air conditioning, free Wi-Fi, and cable TV, and the large bay windows are perfect for soaking up the views. You can buy breakfast at the hotel if you like; there are also plenty of places to eat in the nearby area. The train station is just a short walk away, and the hotel is in a great location for discovering the best of Nice. Whether you want to spend your days sightseeing or soaking up the sun on the beach, it's all close at hand.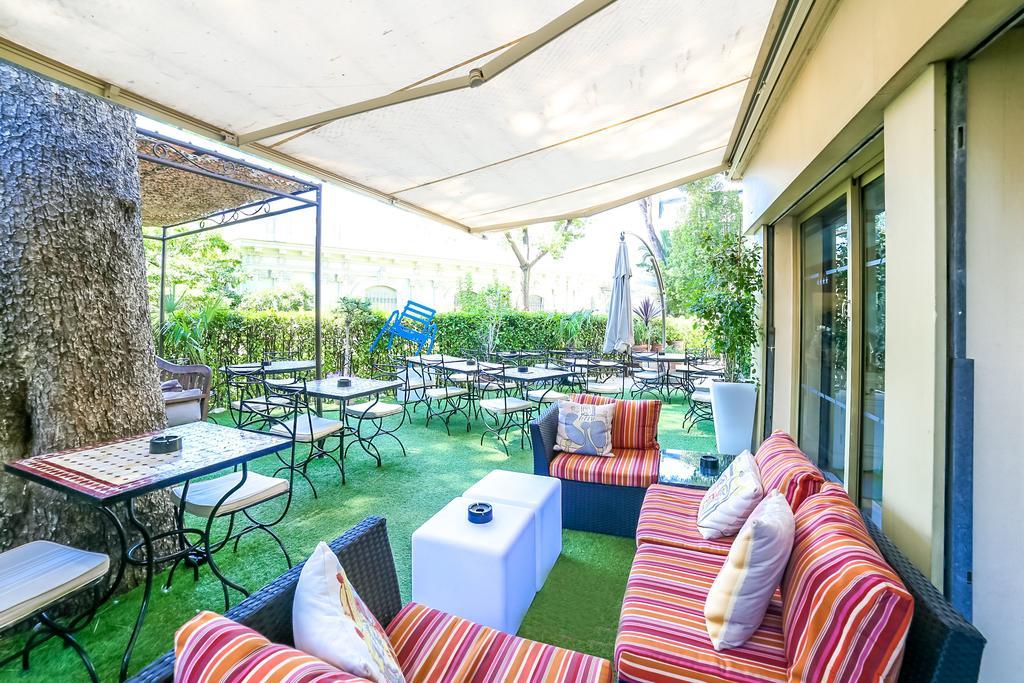 Hôtel Le Petit Palais is a great Nice hotel if you're looking to splurge and enjoy somewhere a bit fancy. Perhaps you're thinking of a romantic getaway or a little pampering and TLC? The outdoor swimming pool, large and leafy garden, sunbathing terrace, and on-site bar are sure to impress. Room service is available, and all of the stylish rooms are en-suite with free Wi-Fi, satellite TV, air conditioning, a minibar, ample storage space, and beautiful decor and furnishings.
FAQ about Hostels in Nice
Here are some questions backpackers ask about hostels in Nice.
Travel Safety Tips for Nice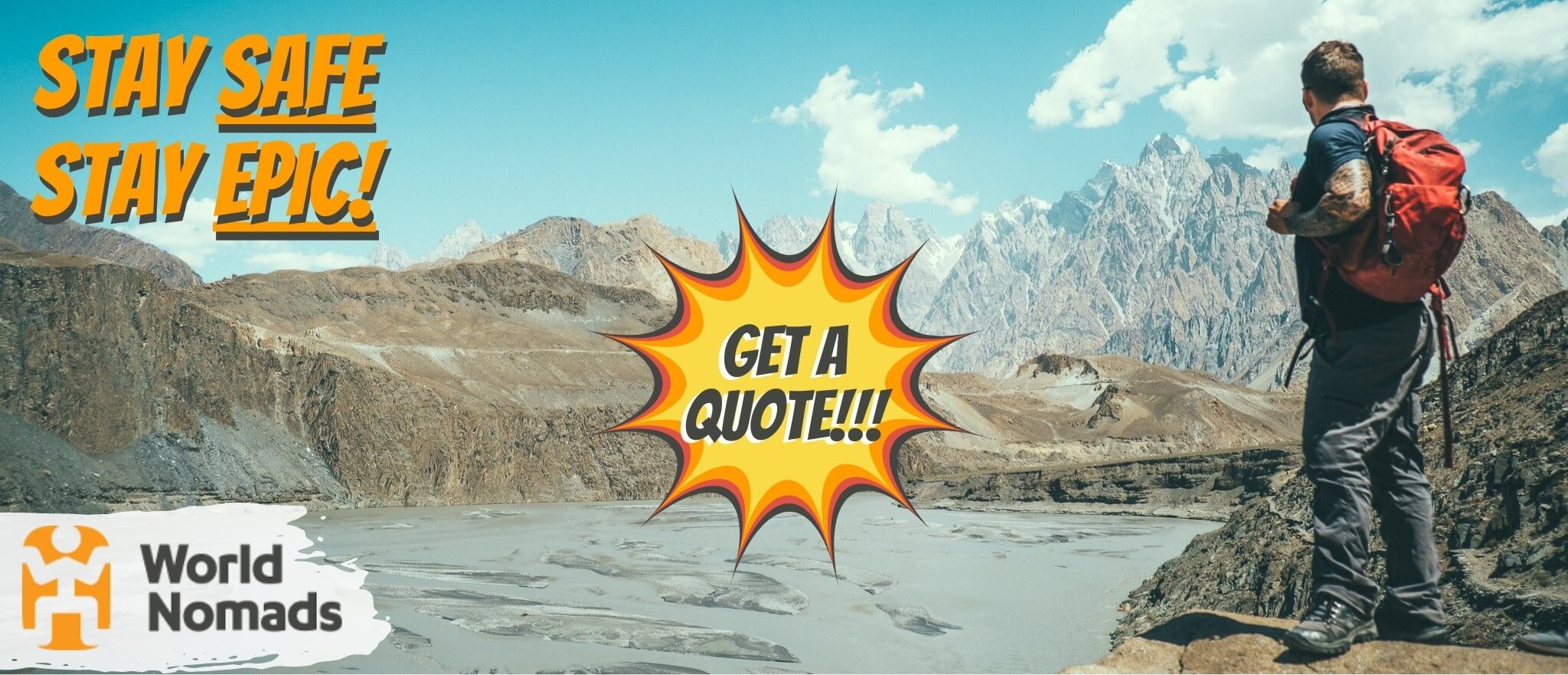 World Nomads' mission is to support and encourage travellers to explore their boundaries. They offer simple & flexible travel insurance, and safety advice to help you travel confidently.
They've been doing it since 2002 – protecting, connecting, and inspiring independent travellers just like you.
Get a quote below or read our in-depth review!
World Nomads provides travel insurance for travelers in over 100 countries. As an affiliate, we receive a fee when you get a quote from World Nomads using this link. We do not represent World Nomads. This is information only and not a recommendation to buy travel insurance.
More Epic Hostels in France and Europe
Hopefully, by now, you've found the perfect hostel for your upcoming trip to Nice.
Planning an epic trip all across France or even Europe itself? Don't worry – we've got you covered! For more cool hostel guides around Europe, check out:
Final Thoughts on the Best Hostels In Nice, France
Nice, France, is a dream destination for many people, and this guide aims to help you make it there in an affordable manner!
By utilizing this guide, you'll know exactly which hostel or budget hotel in Nice, France, is best for your travel style, meaning you can book review the options and quickly be on your way to this beautiful city on the French Riviera.
If you are still having a hard time picking among all the amazing hostels in Nice we've shown you, just go with Villa Saint Exupery Beach – our pick for the top hostel in Nice. You just can't go wrong here!
Well, I hope our epic guide to the best hostels in Nice has helped you choose the perfect hostel for your French adventure! If you think we've missed anything or have any further thoughts, hit us up in the comments!
Au revoir, and see you in Nice!
Updated May 2023
---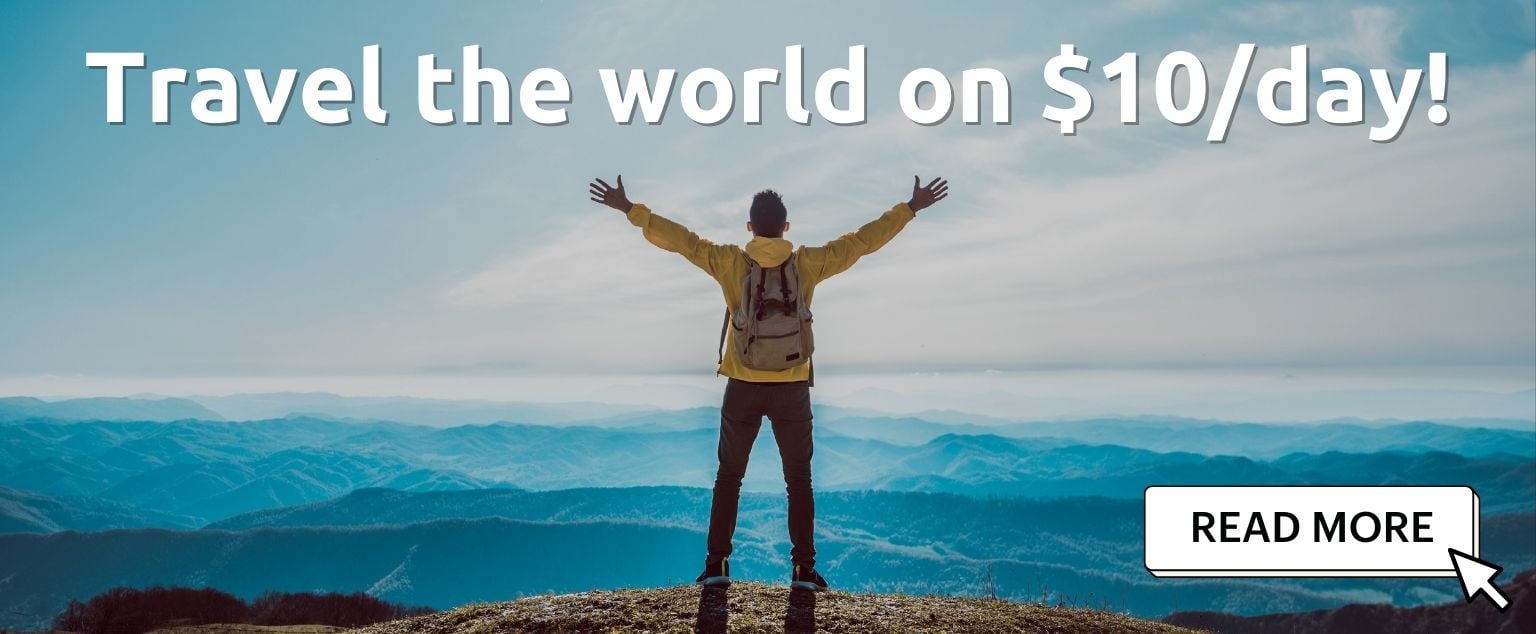 And for transparency's sake, please know that some of the links in our content are affiliate links. That means that if you book your accommodation, buy your gear, or sort your insurance through our link, we earn a small commission (at no extra cost to you). That said, we only link to the gear we trust and never recommend services we don't believe are up to scratch. Again, thank you!