It's not quite spring, it's not yet summer: it's May. Almost like a season in itself, May makes for a pretty amazing time of year to take a trip. Across the world, there's a variety of top destinations to consider, from far-flung islands to European cities, all of which come alive throughout the month.
For some parts of the world, it's autumn, and the beginning of the transition to winter. But one thing is for sure, no matter where you go, the temperatures are surprisingly warm.
Add to the spring-slash-fall credentials a smattering of cultural events, and more religious festivals than you even knew existed, and May turns out to be a great time to travel!
The only problem is figuring out where you want to go – and that's where our list of the top best places to visit in May comes in handy. Take a look!
Best Places to Visit in May
So you're thinking of going somewhere cool in May? Cast your eyes over these top destinations below and see just why they're so awesome this time of year.
The Bahamas in May
The Bahamas is a chilled out and relaxing beach vacay destination year round. No matter when you decide to visit, this string of lush, idyllic islands in the Atlantic Ocean, you'll have an awesome time. But come May, you'll get a great balance of what the islands have to offer.
The average temperature this time of year is 26°C, with highs sometimes reaching around 30°C. Basically, the islands are yet to reach their peak heat, and there are plenty of hours of sunshine to soak up.
May is warmer than the previous months, but has yet to enter the heavy deluges of the rainy season (i.e. not so good for beach days). The Bahamas are one of the best places to visit in May if you're searching for a slice of sun, sea and sand.
But that doesn't mean that May is totally dry: downpours can still occur. It's probably because of this balance of weather that it's a great shoulder season. It's pre-summer vacation, post-spring break, so you'll be able to find some pretty good deals at resorts.
Where to stay in The Bahamas? Well, there's 700 islands to choose from; in May the northern islands are slightly cooler (and wetter) than those in the south and east.
This chic and stylish hotel comes with all the Bahamian accoutrements you could ever desire: pool, gym, restaurant, beach. Trip sorted.

Unlock Our GREATEST Travel Secrets!
Sign up for our newsletter and get the best travel tips delivered right to your inbox.
Bali in May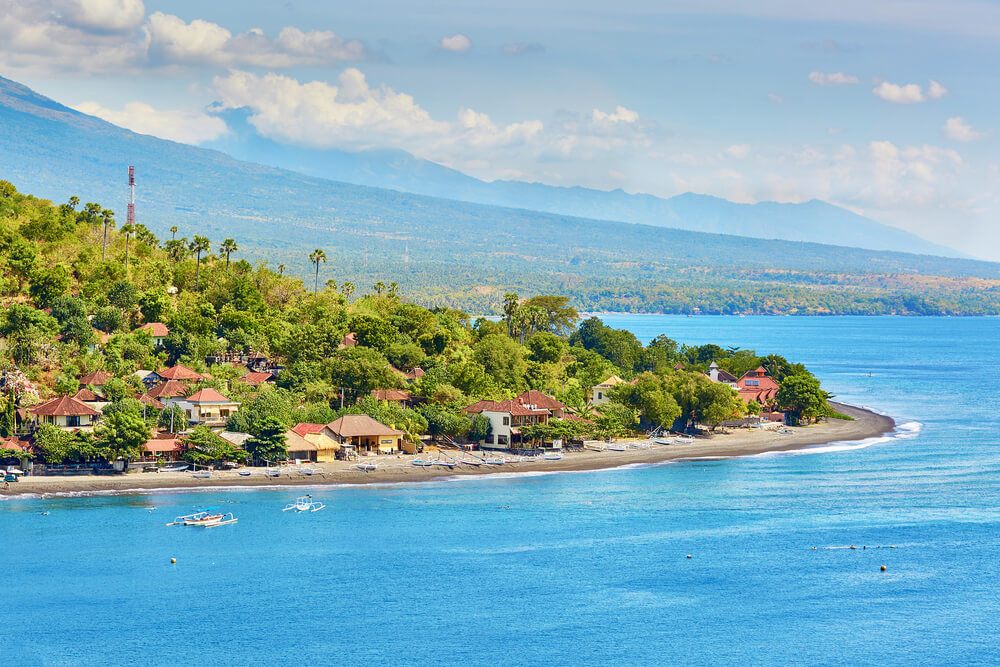 Bali in May is well and truly shoulder season. Even though the tropical climate of this Indonesian island means that it's warm throughout the year, May is a time of transition. It marks the start of Bali's dry season.
Good news for beach bums and Bali backpackers: you can expect beautiful sunny days and dry-ish weather. There will be a few scattered showers across the month, but nothing that will ruin your vacation.
Average temperatures this time of year range from 26°C to 29°C, with areas like Ubud and Kintamani being, its usual, little bit cooler. It's pretty much this temperature all year round!
Why is Bali one of the best places to travel in May? Well, apart from being the awesome island it is, and the drier weather, it's also a more relaxed time to visit. May falls before peak vacation season of summer, so you can get some decent deals on transport and accommodation.
Not only that, but nature lovers will enjoy what's in store in May. Calm, clear waters means underwater adventures are prime this time of year. Hiking in the lush hills after rainy season is also awesome.
Make the most of the weather by staying at a hotel with beautiful gardens, a great location and an outdoor pool to match. It's also a stone's throw from a chilled beach.
Sri Lanka in May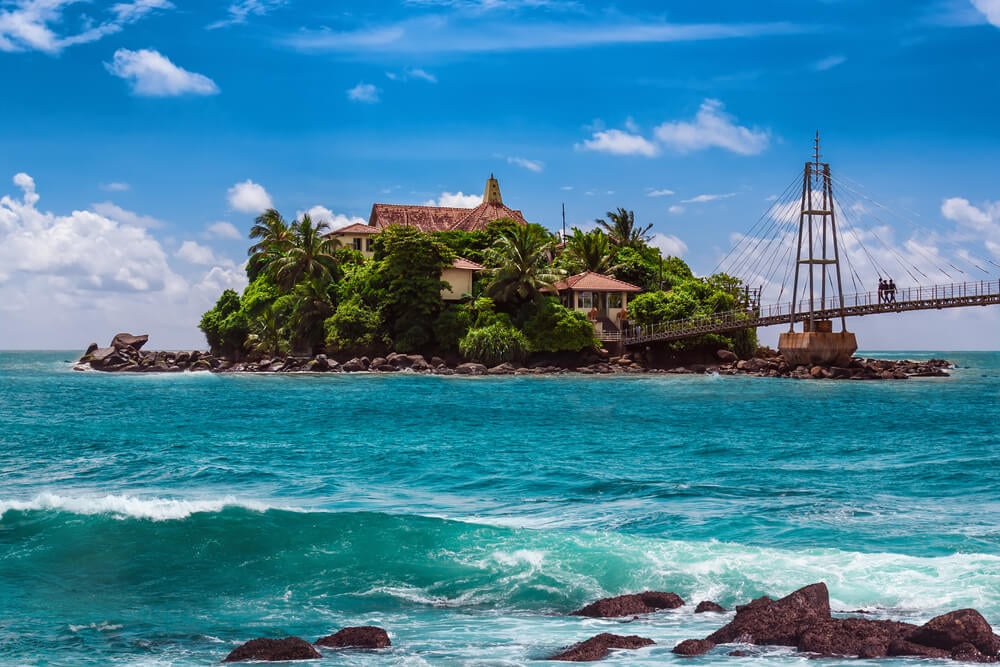 If you're thinking about taking a trip to Sri Lanka in May, it's a good idea to plan your trip carefully. This is around the time of year that the Yala monsoon starts, drenching parts of the island (mainly the southwest) with heavy, prolonged rains.
Many of the big coastal resorts in that region are affected: for example, guests won't be allowed to swim in the sea because of the winds, rain and currents.
Despite that, Sri Lanka is still one of the best places to visit in May, and that's thanks to the slightly better weather that is enjoyed by the island nation's so-called Cultural Triangle. Head to the upland destination of Kandy, which sees temperatures around the low 20s and minimal rainfall – ideal for exploring the tea plantations.
Being the Buddha's birthday (Vesak Poya in Sri Lanka) you can expect big parades, decorations and free food on the streets around Kandy, and other cities such as Jaffna; Colombo gets particularly busy. May is also the end of the Adam's Peak pilgrimage season, if you feel like joining the faithful on a hike.
Where to Stay in Sri Lanka – Swp eco lodge
If a visit to Kandy sounds cool, come here. Located close to the train station, this lodge is friendly and welcoming, and has bike hire so you can explore the local area.
Inca Trail in May
Traversing the Inca Trail is an incredible bucket list opportunity, so you'll want to get the weather right for any trip. May sees the start of prime weather for taking on the ascent up to Machu Picchu – but it's not cut and dry.
The start of May is still shoulder season. As the month wears on – and the weather gets better – high season begins and tourist numbers rise.
The increased visitors coincides with better conditions all round on the trails. We're talking vastly improved from the previous month: it's drier underfoot, there's less rain and plenty of sunny weather throughout the day. It's not hard to see why the Inca Trail is one of the best places to travel in May.
Temperatures in May swing between a minimum of 11°C and a maximum of 25°C. Note that it can get pretty chilly at night, so you'll need to ensure you bring a good quality sleeping bag and thick layers to wear. It's the southern hemisphere, so Peru is gradually transitioning to winter this time of year.
The rise in dry weather also makes it a great month to enjoy other sacred Inca sites around the region. This includes Pisac, Moray, and Ollantaytambo. There's plenty of festivities this time of year, making these areas fun, as well as interesting, places to visit.
This comfy, clean hotel is located in an ideal location for starting your hike to Machu Picchu. The staff are super nice, serve up a mean breakfast, and will help out with your travel plans.
Austria in May
Austria is definitively one of the best places to visit in May. The hills may not literally be alive with music, but they are alive with green, green grass and wildflowers, all backdropped with the never unimpressive jagged peaks of the Alps.
And it's no longer freezing! In Vienna, for example, the average temperature in May is around 15°C – it can even reach up to 20°C on some days. But that doesn't mean the chilly days are gone; temperatures can drop as low as 9°C in the capital.
With the nights getting shorter, there's more daylight for you to explore what the nation has to offer. But you'll have to make sure you bring your umbrella (or waterproofs): May is the third-wettest month of the year. Expect some pretty heavy downpours.
So, if you were thinking of hiking in Austria, it's the perfect time to get out there and soak up the majesty of spring. Head to the mountains and lakes. The Lienz Dolomites offer up hiking opportunities for different levels, and are stunning this time of year.
Overall, May is ahead of summer, but it doesn't have to be shoulder season for you. With a balance of decent weather (apart from the rain) and affordable prices, you'll be glad you came.
This stylish hotel in Vienna dates back to 1913. You'll find it close to top attractions in the city, and transport options for adventures further afield.
Galapagos Islands in May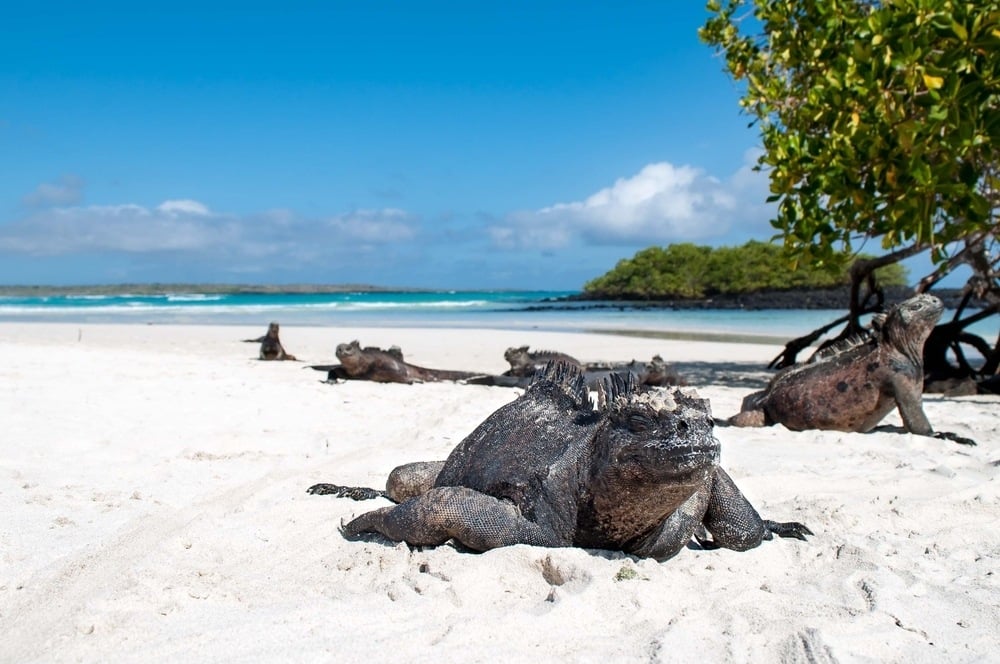 If you're lucky enough to be planning on taking a trip to the Galapagos Islands, you should consider checking them out in May. This is the Ecuadorian islands offers up a combination of good weather and lower tourist numbers.
May marks a transitional point between seasons. The warm rainy season that takes place between December and (part of) May, and the dry season that takes hold for the rest of the year.
The sea temperatures, as well as the air temperatures, are fairly warm: they're both around 25°C. The humidity is pretty high, too, but it's bearable. You're not here for the weather though, right? You're here for the wildlife, of which there is an abundance this time of year!
The seas are rich with plankton in May, which means the food chain is kicking off. It's mating season for seabirds, so you can see courtship displays taking place across the islands. On land, you can also see the eggs of sea turtles and sea iguanas hatching.
It's one of the best places to travel in May for nature lovers, and not just above ground. Water visibility is good this time of year – snorkelling and diving are definitely on the cards. Don't forget your camera!
Stay right by the sea in the Galapagos' largest town, Puerto Ayora, on Santa Cruz island. At this charming hotel you'll have front row seats to wildlife before you even get out of bed.
Is This the Best Travel Pack EVER???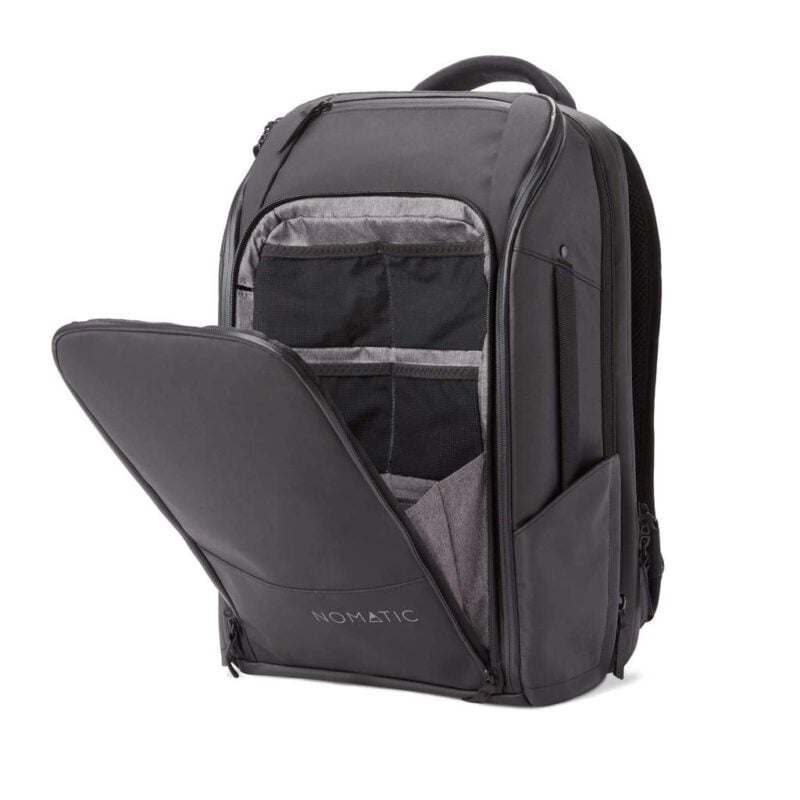 Greece in May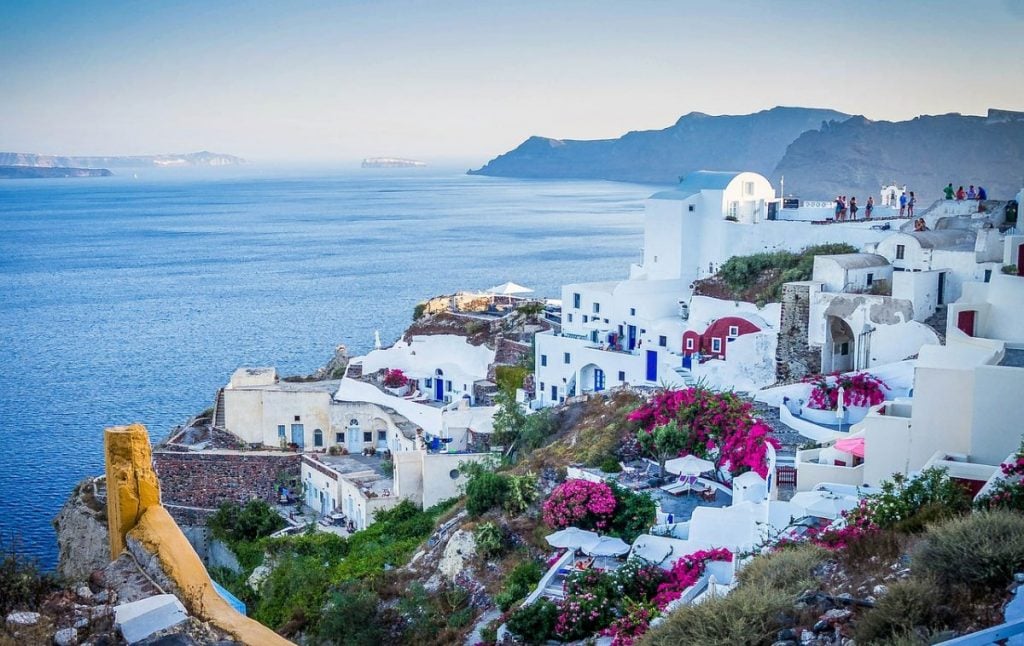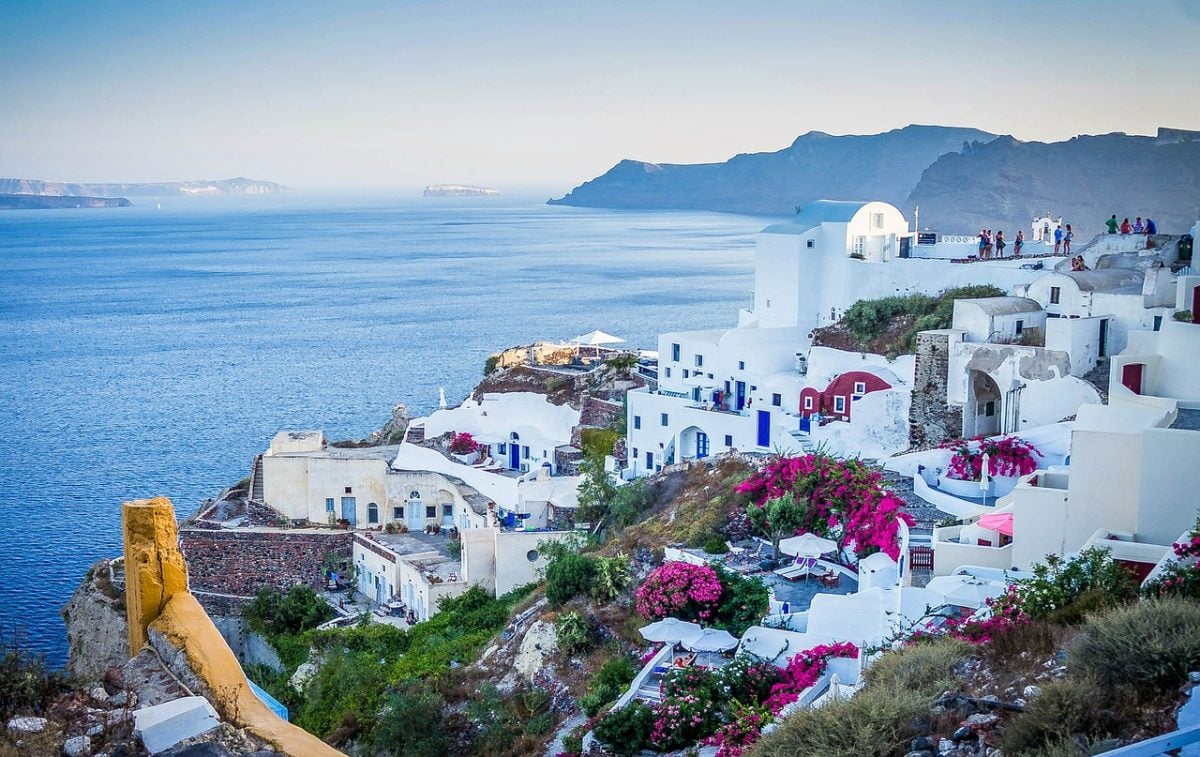 Thinking of soaking up some early summer sunshine? Then Greece in May is the place for you. This month is when the heat of summer starts to kick in, with temperatures rising and clear skies all round.
May serves up some of the best weather that Greece has to offer, easily making it one of the best places to visit in May. The warm temperatures are here to stay, but thankfully the lack of tourists means that prices for accommodation and flights are still low.
Athens sees highs of 25°C, but nights can still drop as low as 14°C. You'll still need layers. Crete is milder, but still has averages of around 20°C; Santorini is a little warmer, at around 22°C.
The pleasant temperatures make sightseeing a good option without being too sweaty, particularly in Athens – and the main sights won't be crowded, either. This is also an awesome time of year to visit one of the many, many Greek islands.
Popular locations such as Santorini or Mykonos, which have yet to become packed with hedonistic tourists of summer, will be yours for the taking. Hiking and biking conditions both on the mainland, or islands such as Crete, are ideal in May.
Don't know where to stay in Santorini? This charmer of a hotel – with its Cycladean chic, outdoor pool, views of the ocean and the surrounding mountains – ticks all the boxes.
South Korea in May
South Korea serves up a spectacular destination whenever you go, but May is a magnificent month to time your trip. Average temperatures in the country are warm, but have yet to hit the sticky heights of summer.
Cherry blossoms can be viewed across much of the peninsula throughout the month, so if you want to see the hillsides and historic stretches of towns painted pink, it's one of the best places to visit in May.
That's all without even mentioning South Korea's so-called national sport: hiking. All ages hit the trails, and you couldn't find a better month. It's dry, sunny, mild, and the wind is significantly low.
There's a handful of national holidays that fall in May: Children's Day, Labour Day, and Buddha's birthday. Expect accommodation to be booked up, usually around mid-May. Make sure to check when these changeable holidays fall, as locals use the time to take trips around the country, too.
Where to Stay in South Korea – Lavalse Hotel
Busan is South Korea's second city, and we recommend staying up high to make the most of the city views. You'll be able to do that from a swish, modern room at Lavalse Hotel.
Barcelona in May
May is a decent time to visit the capital of Catalonia for some cultural escapades. A lot of that has to do with the weather. You can expect warm and pleasant days throughout the month, as it's never too hot in May. It's high time to explore the city.
Temperatures average around 20°C in May in Barcelona, but can dip to as low as 12°C at night. Its location on the Mediterranean coast means that there's plenty of opportunity to hit the beach, but the sea temperature is only around 18°C – not exactly what we'd call beach weather.
However, the lack of rain this time of year is a welcome addition to a backpacking trip to Barcelona; there are only around four days of rain (on average) scattered throughout the month.
Barcelona is one of the best places to visit in May as the city begins to come alive for the summer. The start of the season is informally kicked off by the internationally renowned Primavera Sound Music Festival.
May is also the month that Barcelona holds the Spanish Grand Prix. – something it's been doing since 1913, so that's one for the petrol-heads! If you don't fancy attending, book around it: accommodation can be hard to come by and the city gets busier.
A hip hangout with all the city chic you'd expect. Don't miss the rooftop bar and plunge pool – perfect for winding up a day of exploring the city.
Laguna Beach in May
If you're hitting up this southern Californian destination in May, you're in luck. Falling between the busy summer season and the quite busy spring break, Laguna Beach is one of the best places to travel in May. And it's not just the crowds – the weather is awesome, too.
The average daytime temperatures hover around a pretty nice 23°C, with the sea at the same temperature. Beach days are totally on the cards, thanks to the amount of sunshine on offer and minimal rain.
With the lack of crowds, you'll have tons of opportunity to enjoy Laguna Beach's top spots in peace and quiet. In fact, many of the dreamy beaches will be yours to enjoy by yourself (well, almost).
May is also a great time of year for hitting up nature in Laguna Beach. Specifically, you should check out the Laguna Coast Wilderness Park. Lush after the rains, hiking – or biking – here is prime pickings in May.
Not only that, but you'll also get to see what everyday local life is like. Without the hordes of summer visitors, you can take a seat in down-to-earth eateries or hit up a farmer's market and lap it all up.
Where to Stay in Laguna Beach – Laguna Riviera
Overlooking the Californian beachfront and the endless Pacific Ocean, this affordable resort comes with dining options, a saltwater pool and landscaped gardens to chill out in.
Final Thoughts on the Best Places to Visit in May
Whether you're living it up in Seoul, drinking soju and trying out your best Korean, or if you're basking in the sun on a Greek island, it's safe to say that May is one of the best months to travel. It's all about a budget break, or a chance to experience a dose of early summer temperatures.
It's well after spring vacation for many countries, and it's way before the summer holidays start, too. This shoulder season means you can see some of the world's most intriguing sights and cities without having to contend with big crowds and peak prices.
Where will you go? Let us know in the comments below, and tell us if you have a go-to May destination of your own!
Don't forget to sort your travel insurance! We've put together a roundup of Travel Insurance for backpackers – check it out here, or if you're low on time, get a quote from World Nomads, our favorite travel insurance provider.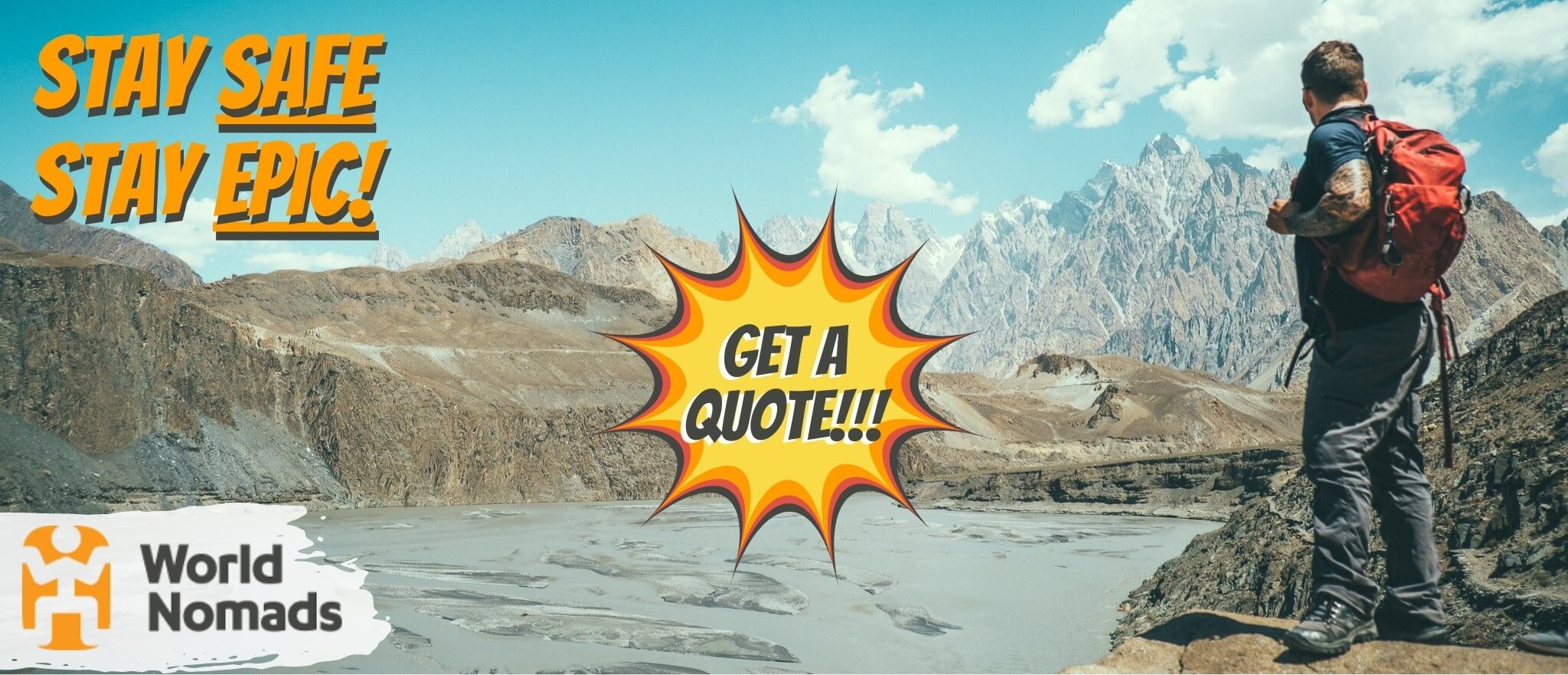 World Nomads' mission is to support and encourage travellers to explore their boundaries. They offer simple & flexible travel insurance, and safety advice to help you travel confidently.
They've been doing it since 2002 – protecting, connecting, and inspiring independent travellers just like you.
Get a quote below or read our in-depth review!
World Nomads provides travel insurance for travelers in over 100 countries. As an affiliate, we receive a fee when you get a quote from World Nomads using this link. We do not represent World Nomads. This is information only and not a recommendation to buy travel insurance.
---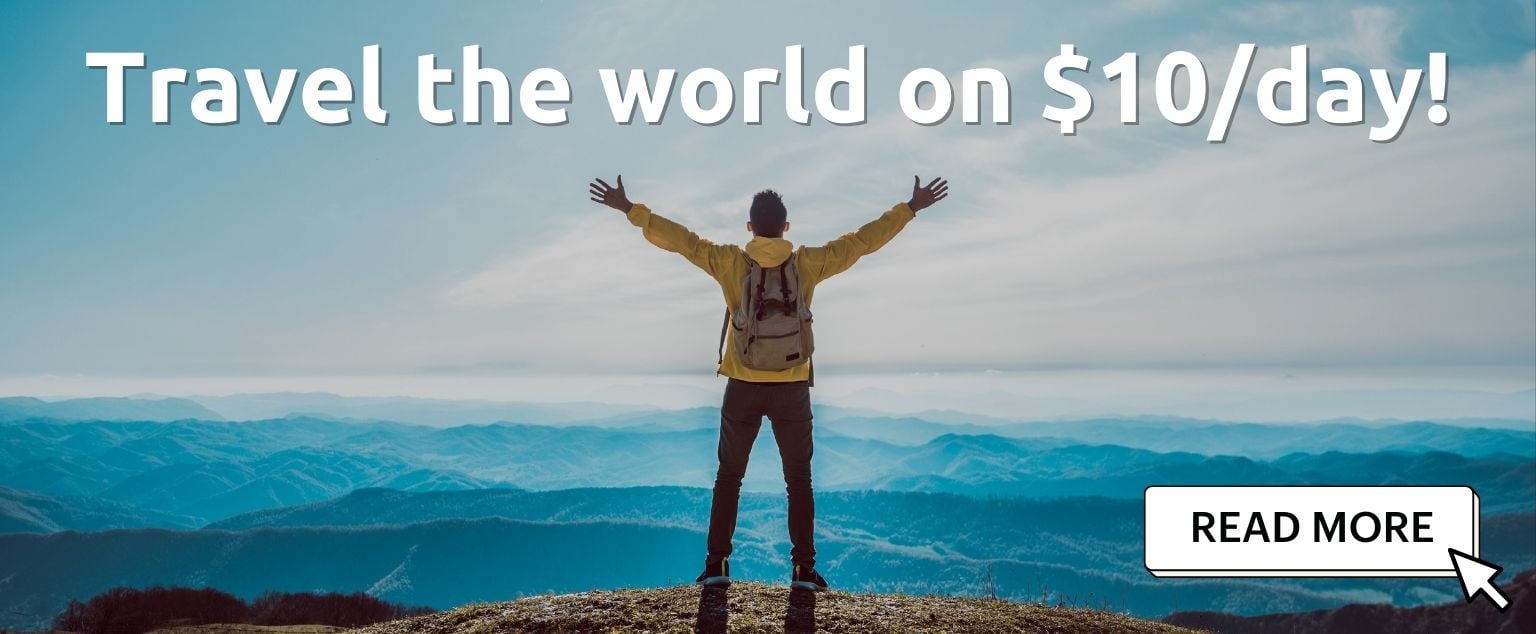 And for transparency's sake, please know that some of the links in our content are affiliate links. That means that if you book your accommodation, buy your gear, or sort your insurance through our link, we earn a small commission (at no extra cost to you). That said, we only link to the gear we trust and never recommend services we don't believe are up to scratch. Again, thank you!