Rock climbers have a tendency to be very passionate about climbing things. Big rocks, little rocks, rocks that hang, rocks that spire, polymer coloured rocks… So you think getting them a rock climbing gift would be easy, right?
Nope!
It's overwhelming; there's are tonnes of rock climbing gear out there, and not all of it is great. The last thing you want to do is get your rock climber a gift they won't actually use. With climbing gear, equipment and accessories available from a huge variety of stores, and it's got all different names too!
What's a trad? Oh, 'trad' isn't a noun? Dammit!
It can be intimidating when trying to find the perfect climbing gift. Some might even say it's overwhelming to find present for a rock climber.
So to help you out, we've put together this ultimate list of gifts for rock climbers!
This guide of gift ideas for rock climbers will help you easily find a gift for someone how loves to monkey up stuff and then, hopefully, back down again. With 26 awesome ideas, you'll be able to easily find something cool (and that they'll actually like)
Here's a definitive list of some our top rock climbing gift ideas for the climber in your life…
These great gifts for rock climbers are so funky they'll groove you right into a socially acceptable exchange of presents!
Every climber needs a camera right they can easily haul up a rock wall right?
The performance of action cameras has increased significantly, whilst the overall price has come down – making them more affordable. GoPro is the leading action cam brand for a reason: the image quality and stabilization technology of their cameras are unmatched.
For most climbers, having a GoPro is the dream. This is a pretty fail-safe gift for the climber in your life as it will help them capture those moments on the wall in stunning detail. Plus they are not very big or cumbersome – which if you have ever gone climbing before, you can understand is important.
If GoPro cameras are still too steep for your budget, then check out our bargain guide to the best GoPro Alternatives.
Want to save the world and stay hydrated? Single-use plastic bottles are a huge threat to the oceans and planet – Be a part of the solution and invest in a filter water bottle.
The Grayl Geopress water bottle is the ONLY all-in-one filter water bottle setup a climber will need. Never again will they need to buy water! Just fill up on the approach, filter it, and they're good for a day's vertical adventuring. Your climber will love this gift but if you're not sold, here's our review of the Grayl Geopress.
Don't know which gift to settle on or are you on a really specific budget? Let the other person choose!
REI has a huge selection of gear to choose from and speaking form experience, getting an REI gift card as a gift is never disappointing. The gift card idea is a no-brainer really – there is no doubt that this gift will be a success – because who doesn't like money in the form of rad gear?
Looking for the perfect gifts for rock climbers in your life? A chalk bag is a must-have item for any climber, and the huge range of styles, colours, and fabrics available at affordable prices make them one of the go-to great climber gifts. Plus, look at how colourful it is; no one will ever lose them!
Evolv hand-craft their chalk bags with a range of fun patterns that will make any climber's chalk bag stand out from the crowd. The company provides all technical features attended to ensuring these chalk bags combine style and quality, so this gift will make your friend very happy!
If you're buying your friend a chalk bag, they're going to need some climbing chalk to go in it! Friction Labs chalk is some of the best quality chalk you can get, providing better performance and drier hands for less chalk – ideal for sending long routes on sunny days!
Chalk is hands-down one of the most useful climbing gifts ideas and an important piece of climber equipment. Although it doesn't seem like much, they'll definitely be grateful to add this to their stash.
Seriously, you can't go wrong gifting this to a climber. A climber is never going to complain about having too much chalk. It's like a fish complaining that there's to much water.
When you go out climbing, one needs a solid backpack to haul the gear. The backpack size needed by each climber will vary depending on their kit set up, but generally speaking a 35-45 liter backpack will suffice for your average day out. 99% of the time you will be going climbing with someone else anyway, thus you can distribute the gear between two 35-45 liter backpacks no problem.
If the climber in your life has an average-sized gear rack, rope, helmet, chalk bag, etc – then the Osprey Stratos 36 (also comes in 38/48 liters) offers enough space to pack gear, water, and snacks for a day out.
I have found this pack to sit comfortably on my back while climbing, allowing me to move freely with minimum restrictions on the mountain. But climbing with a pack isn't always necessary, and this is equally a great option for a comfortable approach pack to get you and your gear where you need to go.
If the climber in question is known for having a ton of gear, you can up the liter capacity a bit and go for the Osprey Atmos 50.
Speaking of being benighted! There's nothing worse than being out at a crag without a light when the sun goes down.
A device like this collapsible solar lantern is one of the most ideal gifts for rock climbers because it provides a convenient and eco-friendly light source to help them get down from the crag safely in the dark. Or just a light to read with while they stay there overnight.
The Mpowerd Luci Base Light is reasonably priced and flattens down, so it's small enough to fit in any daypack – perfect for long days out in the wilderness and cool rock climbing gear for just about anyone! Plus you can use it to charge your devices whilst out on the crag. The Broke Backpacker team has been using this lantern for a few years now and we all love it.
I never travel without a head torch. Whether you are drunkenly rolling around your tent, descending into the depths of the earth or simply walking home in the dark, every backpacker should have a torch and this makes a great gift for travellers.
Petzl makes some of the best head torches in the business; the Petzl Actik is my favourite as it has a red light setting meaning you can use it without insects being attracted to your forehead.
One of the greatest gifts for backpackers who love adventure. Plus it is rechargeable which means buying polluting batteries is a thing of the past.
Maybe the person you are shopping for is not a climber…yet. If so, hooking them up with the Black Diamond Momentum Harness package is a great way to get them started. This is also a great gift for the partner of a climber who has expressed interest in climbing, but actually does not own any gear.
For $100 bucks, this kit comes with a harness, belay device w/ locking carabiner, plus chalk and a chalk bag. All and all this is a pretty sweet deal.
While you can't buy somebody their very own climbing gym (can you?) you can buy them access to Roam! Roam is a relatively new media and educational platform specializing in adventure content. They recently launched a series of master classes around topics like "adventure photography and storytelling" and "solo travel" and yes, even rock climbing.
The founding members of Roam include some of the world's leading adventures, athletes, and photographers, and with a Roam subscription, you get the chance to learn from them firsthand.
This gift is perfect for any level of climber – there is always something interesting to learn on the Roam platform.
Now, this could be a present for a rock climber, but I'm just going to go right ahead and say that it's actually one of the best gifts for boulderers. Why?
Well, you're bouldering with your squad somewhere all day and while other people are testing their might, what are you doing? Discussing the problem? Spotting them? Stretches?
Na, mate. Chillin' in the hammock.
Hammocks are sexy, easy to carry, fun to sleep or just pike out in, and offer you a ton of options for where to spend the night. There are a lot of hammock options out there but if you don't want to spend so much, I recommend getting a parachute hammock; they are super light, strong and durable.
This Sea to Summit hammock is also super comfortable to hang around in, with the ripstop nylon allowing enough breathability to make sure you're comfortable on warmer days at the crag.
I've been using my Leatherman Skeletool CX for nearly a decade now and it's still the first thing I pack for every adventure.
A decent multitool can solve pretty much any problem you may stumble across out in the wilds. There's no knowing what can happen… Any climber or adventurer will appreciate this awesome gift.
So it's a mug with a carabiner… obviously, it can hook onto a backpack or belt loop on an approach or climb. Hell, 200 feet up a wall, your special climbing someone could pour themselves a warm cup of tea… or mead!
Even better though, when they're not climbing and just drinking their morning coffee from this climbing hold mug, they'll still be thinking about climbing! Why even have other hobbies! What a perfect gift idea for a rock climber.
Get a grip. Don't palm your failings off on someone else.
Whoah! Took the puns too far. Nevermind
Success in climbing is all in the finger strength, so help the climber in your life get those freakishly sinewy fingers we all crave. This Gripmaster Hand Exerciser activates each finger individually to improve hand, wrist, and forearm strength (and flexibility) making it one of the most useful items to ever gift a rock climber. Better still, the device is small enough to easily fit in a pocket or bag, so can even be taken to the crag or bouldering wall for a pre-climbing finger warm-up!
This is a great gift for sports climbers.
Everyone should carry a towel – even climbers. What if it rains? What if they get sweat in their eyes? Maybe they'll get benighted and need a blanket! A towel is a necessary piece of gear for all climbers, and it just doesn't get better than a microfiber one.
Unlike traditional towels, they dry SUPER FAST, are lightweight and easy to carry, and can be used for other purposes too.
Every climber needs a water bottle – it'll save them money and help reduce their plastic footprint on our amazing planet. If you don't want to go the Grayl Geopress gift route (and you should) then a Hydroflask is a great alternative water bottle option.
These bottles are tough, lightweight and maintain the temperature of your beverage – so you can enjoy a cold water, or a hot coffee, no matter where you are.
What's nice after a long day climbing? (Or bouldering – boulderers need gifts too). Putting on some comfy harem pants.
Slip out of your sweaty climbing pants and into your adventure pajamas with these bohemian elephant pants suitable for raves, yoga, chilling out on the beach, and after climbing. Also, during climbing; they're actually relatively comfy under the harness on the… junk… area. Best of all, they're comfortable on your heartstrings too with a percentage of all sales going towards supporting the endangered Asian Elephant at the Laos conservation centre!
Deck the climber in your life out with some climbing-friendly apparel like this funky Prana top designed specifically for outdoor enthusiasts. It's the perfect gift for climbers.
With all those top-notch climbing products, sometimes it is easy to forget the basics, but let's be honest, who doesn't love a good, classic T-shirt? Prana design their clothing with lightweight fabric ideal for sports from climbing to yoga to yoga-climbing for the truly hardcore, and it will help any climber look fashionable and stay cool while crushing on the rock too!
Rock rings are a great portable training device to help climbers improve their upper body and finger strength. They can be hung from a pull-up bar or any fixed and stable point, allowing them to be transported from home to the gym to anywhere in between!
These Metolius rock rings are available in a range of colours and make one of the greatest gifts for rock climbers on the go – they're small enough to pack inside a gear bag for anyone wanting to get some extra training in before they next get back on the wall!
What's cooler than a map? A scratch map! As your lovely climber explores the far-flung corners of the world smashing old projects and routing new ones, they can scratch off all the places their adventures have taken them.
This dude is a skitz and very few people in the history of mankind will ever deserve such a place in the Skitz World Hall of Fame as him. Alex Honnold recounts some of his most astonishing climbing achievements in his book Alone on the Wall, packed full of stories to inspire and amaze fellow climbers and non-climbers alike!
Honnold's book would make a great addition to any rock climbers library. As someone who has pushed through some of the most dangerous and extreme boundaries of climbing this is a must-read for any outdoors enthusiast. It's a perfect rock climber present for some morning poop reading. Bring it with you when you go on climbing expeditions and learn to think of Alex as your very own rock climbing friend.
One of the best gifts for rock climbers, climbing shoes are a more costly investment but are an essential accessory for every climber. Of course, shoes are like wands in the Harry Potter universe (i.e. this universe). A pair of climbing shoes choose their master.
So you gotta do your research before gifting this to your special rock climber! It's always best to do some research on what type of shoe will be most suitable – are they a boulderer, sports climber, or do they enjoy spending long days on trad routes? Note that the shoes you wear for climbing walls may not be suitable for outdoor climbing so factor that in too.
The style and size of shoes will all differ, so doing a little detective work on their preference and current climbing shoe size before buying is a good idea. The best rock climbing gear collection is not complete without a good pair of shoes after all.
Check out: the ultimate list of the Best Bouldering Shoes.
You can instantly tell a climber apart from a crowd of disgusting normies by examining their hands for rough calluses, cuts, scrapes, and dry hands. That's why handcream makes one of the best gifts for mountain climbers, helping them get their fingers back up to full working order before another day at the crag.
Joshua Tree Climbing Salve was developed by climbers, for climbers over 10 years ago, providing powerful healing for dry and chapped hands without softening those hard-earned calluses! As far as climbing accessories go, this is definitely one of the best rock climbing gifts!
Gifts for rock climbers don't need to be expensive – this climbing salve is very affordable, but will come in very useful! Plus, with their healed fresh hands, your special climbing someone can give you a back massage in return.
Look, at the end of the day – a tent makes a cracking gift for climbers of any shade. Also speaking from experience, climbers tend to spend a lot of money on climbing gear and tend to neglect the basics…like a tent.
This is one of the best budget tents on the market and one that I have personally spent a lot of nights in over the last 6 years.
Learn More: REI Half Dome 2 Review
Another super useful rock climbing gift idea that's often overlooked is a good pair of sunglasses, especially when you find yourself staring straight up while belaying your climbing partner.
The ultimate in adventure sunnies, these sunglasses are pretty much bulletproof and are very affordable. No sheer vertical drop will doom this pair of sunnies (again, within reason). Best of all, you can design your own pair online out of thousands of possible combinations making these ones of the best gifts for rock climbers around! Want more info?
Duh! Super expensive but nothing says "I love you; please don't die," more than travel insurance! It's the ultimate gift idea for the globe-trotting, sky-seeking, wall-scaling adventurer.
World Nomads travel insurance has been designed by travelers for travelers, with coverage for more than 150 activities as well as emergency medical, lost luggage, trip cancellation and more.
Still have some questions? No problem! We've listed and answered the most commonly asked questions below. Here's what people usually want to know:
What will you get your favourite climber? Did this list help you get any good rock climbing gift ideas? Whatever gift you choose, I can guarantee they'll be out and crushing on the wall with it in no time!
There's a whole host of other climbing gear you can buy your climber: ropes, harnesses, carabiners, bolts, blah blah blah. However, much like shoes and wands, a climber generally likes to choose this stuff for themself. So that's why I suggest that as a gift idea for your rock climber, you get them something they'd probably not get themself.
Something like the security belt, or the grip strength trainer, or even the hammock! When in doubt though, just buy climbing chalk. A big bag of climbing chalk with a few joints hidden inside is gonna put a smile on your climbing someone's face for sure.
This list of the best gifts for mountain climbers is designed to help you find that special someone a gift – so what are you waiting for! Get them something awesome! Tell 'em you love them. Tell them that if they start free-soloing, you'll take your gift back.
Thanks for reading!
World Nomads provides travel insurance for travelers in over 100 countries. As an affiliate, we receive a fee when you get a quote from World Nomads using this link. We do not represent World Nomads. This is information only and not a recommendation to buy travel insurance.
---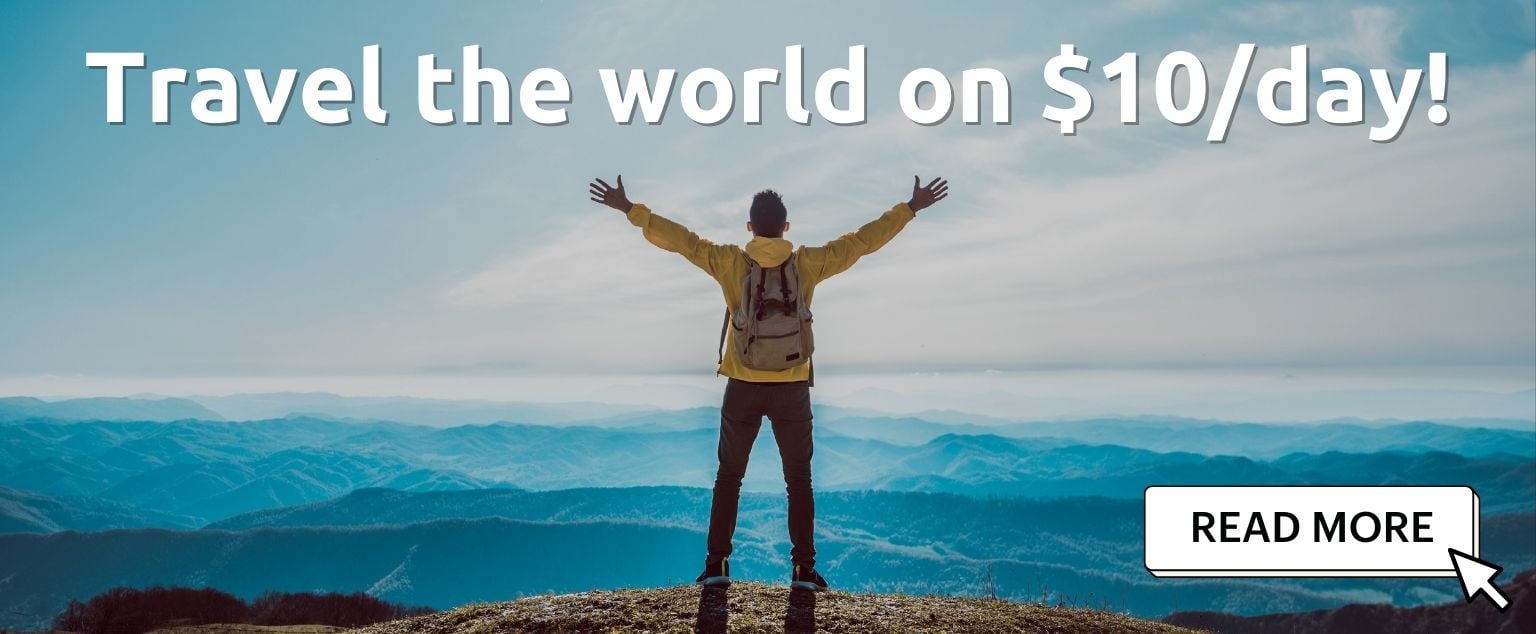 And for transparency's sake, please know that some of the links in our content are affiliate links. That means that if you book your accommodation, buy your gear, or sort your insurance through our link, we earn a small commission (at no extra cost to you). That said, we only link to the gear we trust and never recommend services we don't believe are up to scratch. Again, thank you!