Feeling the call of the wild? What better way to answer that call than to take a trip to Montana? Full of stunning wilderness, national forests, snow-capped mountains, prairies and rock formations, Montana is nature's paradise on earth.
And how can we forget the famous Yellowstone and Glacier National Parks? Yep, these are in Montana and add to its superb natural beauty.
Of course, Montana has a special place in the hearts of adventurers. There are loads of fun and exciting outdoor activities one can indulge in. Whether you love hiking, rafting, fishing, mountain biking, hunting, rock climbing, the state of Montana has you covered.
To be truly at one with nature in such a place, staying in a standard hotel room just doesn't cut the biscuit. So, I always recommend staying in a cabin in Montana instead. Cabins allow you to stay closer to nature, have the freedom and flexibility to come and go as you please, as well as provide all the homey comforts you get at home.
So, if this all sounds great to you, read on to see my top recommendations for cabins in Montana so you can book the best of the best for your Montana vacation.
In a Hurry? Here's Where to Stay in Montana for One Night
FIRST TIME IN MONTANA
Homey Studio Cabin
For a quick getaway in Montana where you are close to nature and have some quiet time, pick this country cabin. Enjoy its proximity to beautiful lakes and a national forest where you'll never be away from some adventure time as well. Equipped with modern amenities and breakfast to boot, this cabin is a sure winner in our list.
NEARBY ATTRACTIONS:
Canyon Ferry Lake
Gates of the Mountains
Cathedral of St. Helena
Is this amazing Montana Cabin booked for your dates? We've got your back with our other favorite properties below!

Unlock Our GREATEST Travel Secrets!
Sign up for our newsletter and get the best travel tips delivered right to your inbox.
Staying in a Cabin in Montana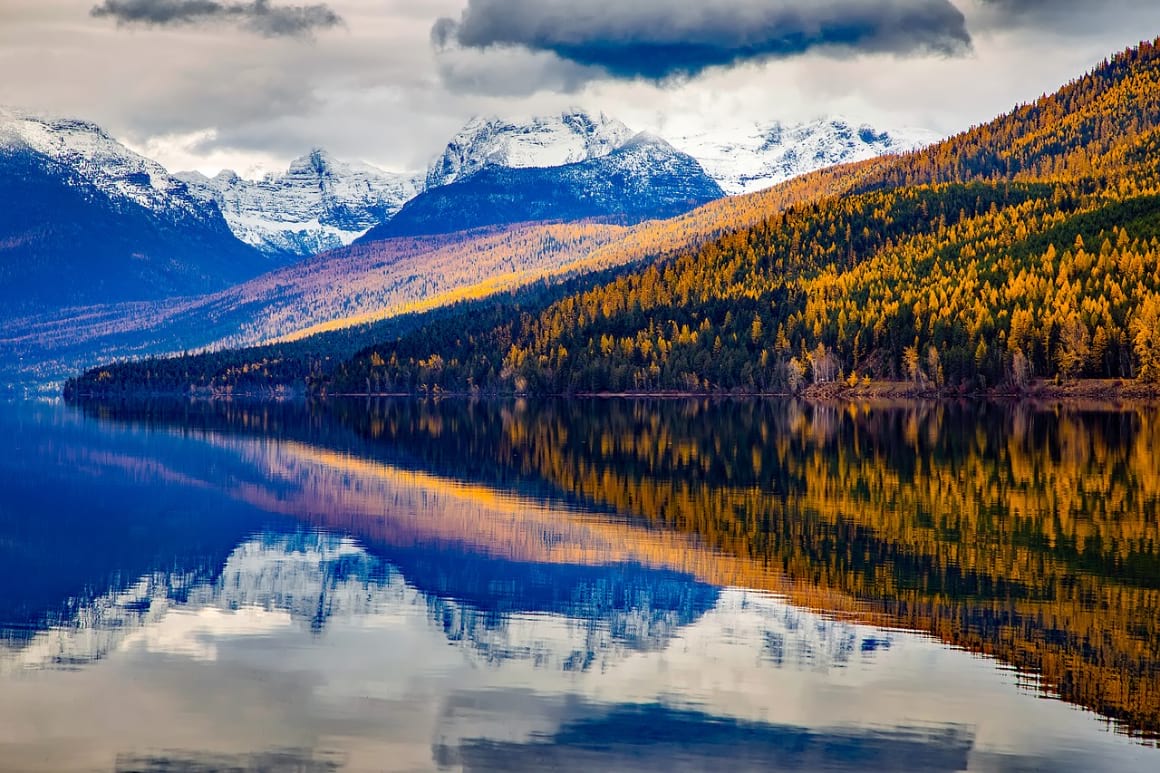 Montana is the fourth largest state in the United States and has the country's most beautiful national parks, yet it is sparsely populated. The low population and stunning landscapes, with serene lakes, roaring rivers, and majestic mountains, all make it an amazing destination to spend your vacations in.
Staying in a cabin is the most awesome way to experience all the beautiful nature that Montana has to offer. The tranquil setting amongst the wilderness, with stunning scenery and epic landscapes around you, all make your trip worthwhile.
Cabins are mostly in secluded areas but close to plenty of outdoor recreation. And whether you're travelling solo, with your partner, family, or friends, there's a nice cosy cabin to suit any number of people. You just have to pick a cool location and check out if it's big or small enough for your party!
While travelling around Montana it's always a good idea to go by car – whether it's your own or a rental. In fact, Montana road trips are some of the best ways to see all the stunning national parks! Most cabins are set on off-beaten paths and dirt roads or rugged landscape, so 4WDs or sturdy vehicles are best to move around. Also, keep in mind that cabins in these settings most often don't have WiFi or cellular service. The whole idea is to go off-grid for a time, so I don't really mind it, but you do need to be prepared.
What to Look for in a Cabin
When picking out a cabin, its location and size are the most important factors to consider. There are plenty of options around the state for a quiet getaway or a fun family vacation. Most places to stay in Montana are in rural areas, so don't expect any big city glitz and glamour.
The amenities provided by the cabin are also important. Most cabins provide modern amenities, such as a fully equipped kitchen, spacious rooms, hot showers and TVs. Although most are off-grid, which means that if you want to remain connected with the outside world, you need to check if Wi-Fi is provided and how good it is. You'll also need to check guest reviews for their opinion on cell service as well.
Some cabins near lakes will offer kayaks, boats, or water activities, but this is not always a given. Outdoor seating areas are really common, and if you're lucky, you might even have a BBQ or fire pit. If you are visiting in the winter, make sure that heating is provided. Some may even come with a cozy fireplace, which is a bonus!
As I mentioned earlier, you'll need a car to get around Montana, so it's a good idea to check that the road to the cabin is accessible in non-4×4 vehicles and that there is parking available. Because of the remote location, you might also need to check if a backup generator is provided. If you're booking through Airbnb, you can contact the host before booking to check this.
Whichever amenities you choose, rest assured that cabins will give the utmost privacy and serenity for your vacation. The ideal place to start your search for the perfect cabin is Airbnb or Booking.com, where you can have a great range of places to choose from that suit your preferences. But it takes time and energy, so to save you time, I've listed some great options for you below.
OVERALL BEST VALUE CABIN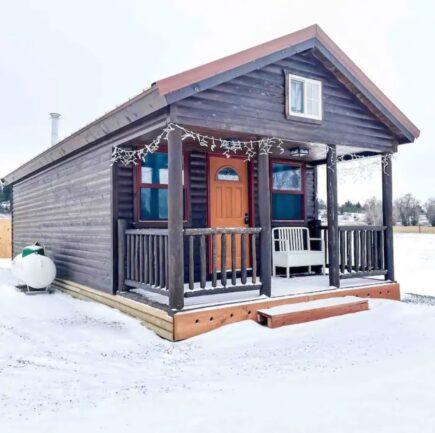 OVERALL BEST VALUE CABIN
Homey Studio Cabin
> $$
> 4 Guests
> Breakfast
> Children-friendly
BEST BUDGET CABIN
BEST BUDGET CABIN
Charming Log Cabin
> $$
> 4 Guests
> Mountain view
> Full kitchen
BEST CABIN FOR SOLO / BACKPACKERS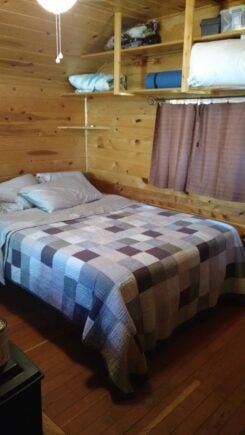 BEST CABIN FOR SOLO / BACKPACKERS
Cosy Tiny Home
> $$
> 2 Guests
> Bicycles provided for use
> Smart TV with Netflix
BEST CABIN FOR COUPLES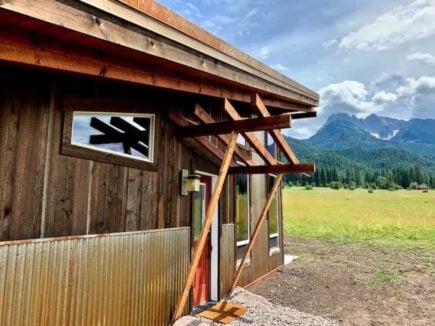 BEST CABIN FOR COUPLES
Quaint Cabin at the Foot of the Mountains
> $$
> 2 Guests
> Mountain & valley view
> Bathtub
BEST CABIN FOR SMALL FAMILY
BEST CABIN FOR SMALL FAMILY
High Country Cabin
> $$
> 4 Guests
> Children-friendly
> Bathtub
BES CABIN FOR A GROUP OF FRIENDS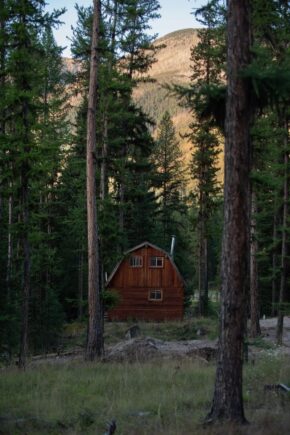 BES CABIN FOR A GROUP OF FRIENDS
Rustic Cabin in the Pines
> $$$
> 6 Guests
> Fire pit
> Off-the-grid
BEST CABIN FOR A BIG FAMILY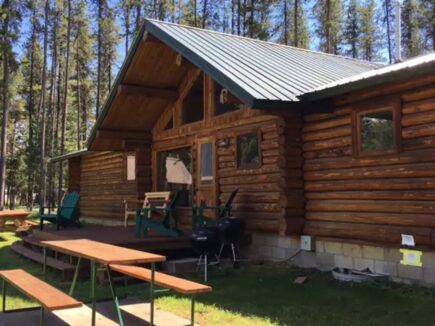 BEST CABIN FOR A BIG FAMILY
Log Cabin With Stunning Mountain Views
> $$
> 8 Guests
> Wi-Fi & TV
> Children-friendly
11 Stunning Cabins in Montana
Now you know what to expect from cabins in Montana, it's time to get ready to stargaze or sip your morning coffee over beautiful mountain views. Have a look at some of the best cabins in Montana below.
Overall Best Value Cabin in Montana – Homey Studio Cabin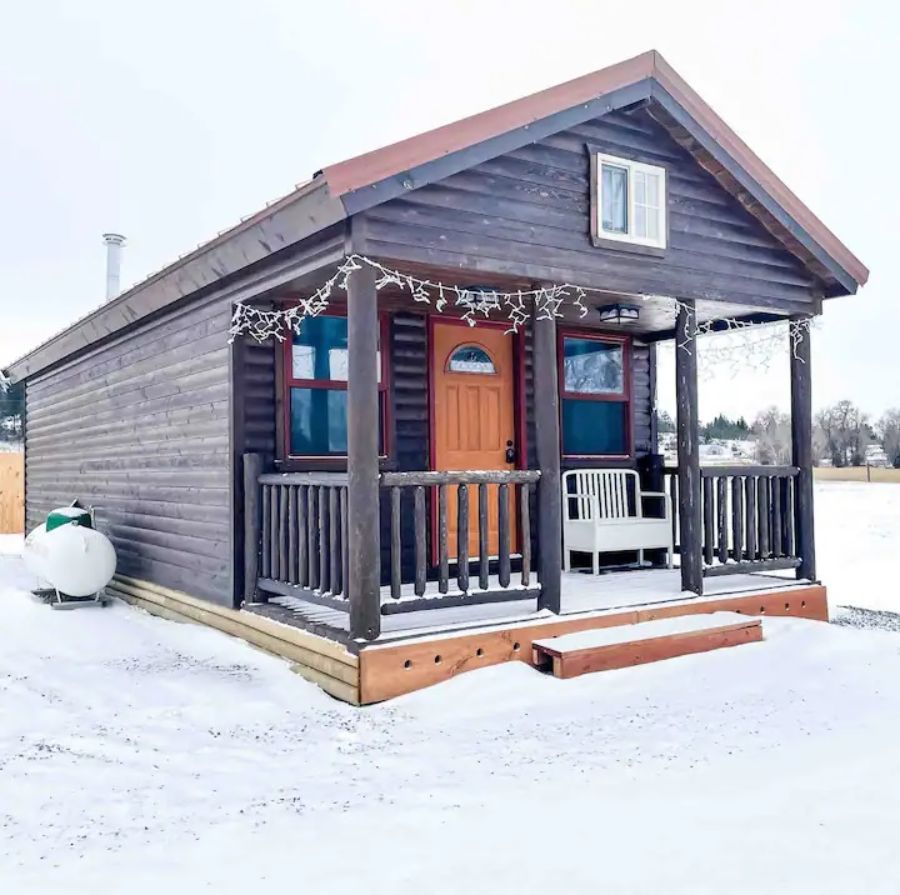 $$
4 Guests
Breakfast
Children-friendly
With country charm and modern convenience, this cabin is perfect if you're looking for some privacy and solitude. Located a short distance from the city of East Helena and in close proximity to two lakes and a national forest, this one is truly a hidden gem. You'll love it here!
Start your day with a nice breakfast of farm-fresh eggs and waffles courtesy of the host. Enjoy coffee on the front porch with a view of the pond. The cabin has a fully-equipped kitchen so you can stay fueled for all your Montana adventures. Two sleeping lofts and a pull-out sofa provide ample space to kick back your legs and rest.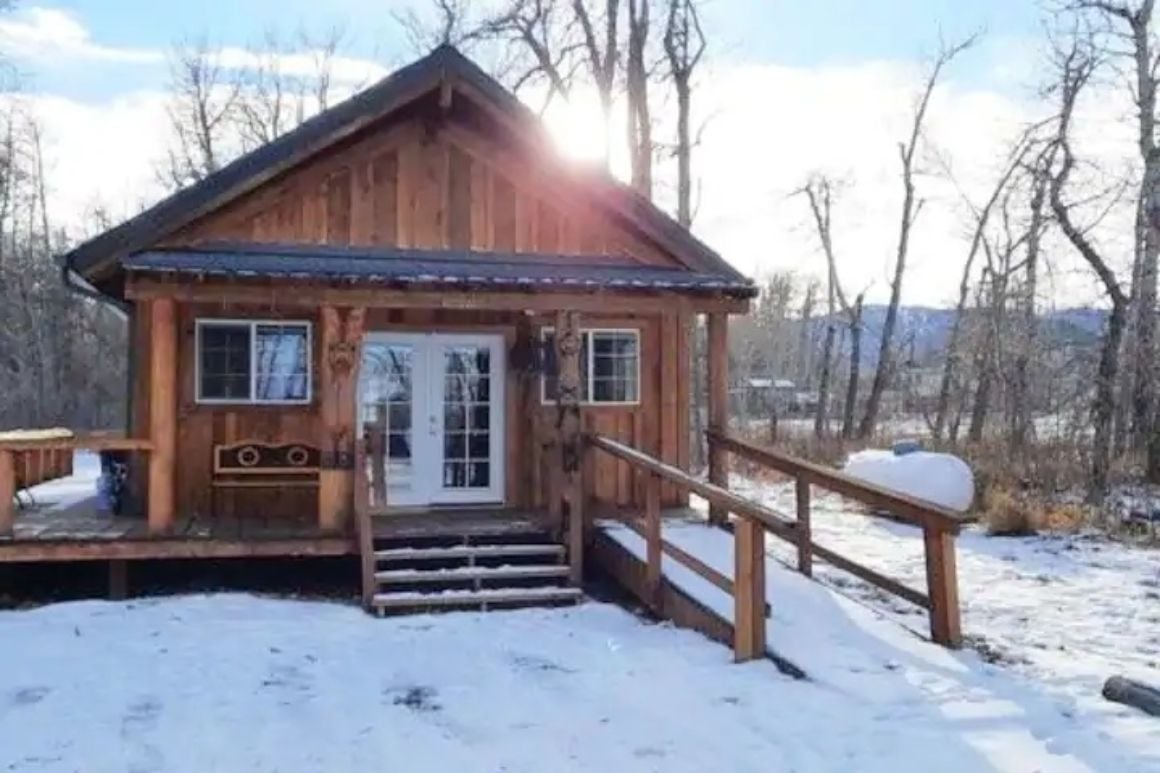 $$
4 Guests
Mountain view
Full kitchen
A rustic cabin with vaulted ceilings, plenty of natural light, great amenities, and a location that can't be beaten: all of this at a very budget-friendly price. What more could one ask for?
This cabin in Red Lodge is our top pick for the best budget cabin in Montana. It is located near Rock Creek, perfect for fly fishing enthusiasts, and close to town and the ski hill. It's also a short drive away from the famous Glacier National Park.
So grab your gear and go up for some skiing or enjoy fishing near the creek. There are also good hiking trails in the area. When you've had a day full of adventures, come back to your warm and cozy cabin to rest and relax on the comfy queen beds. The place has a full kitchen and a backyard and patio with great views of the mountains.
Best Cabin for Backpackers in Montana – Cosy Tiny Home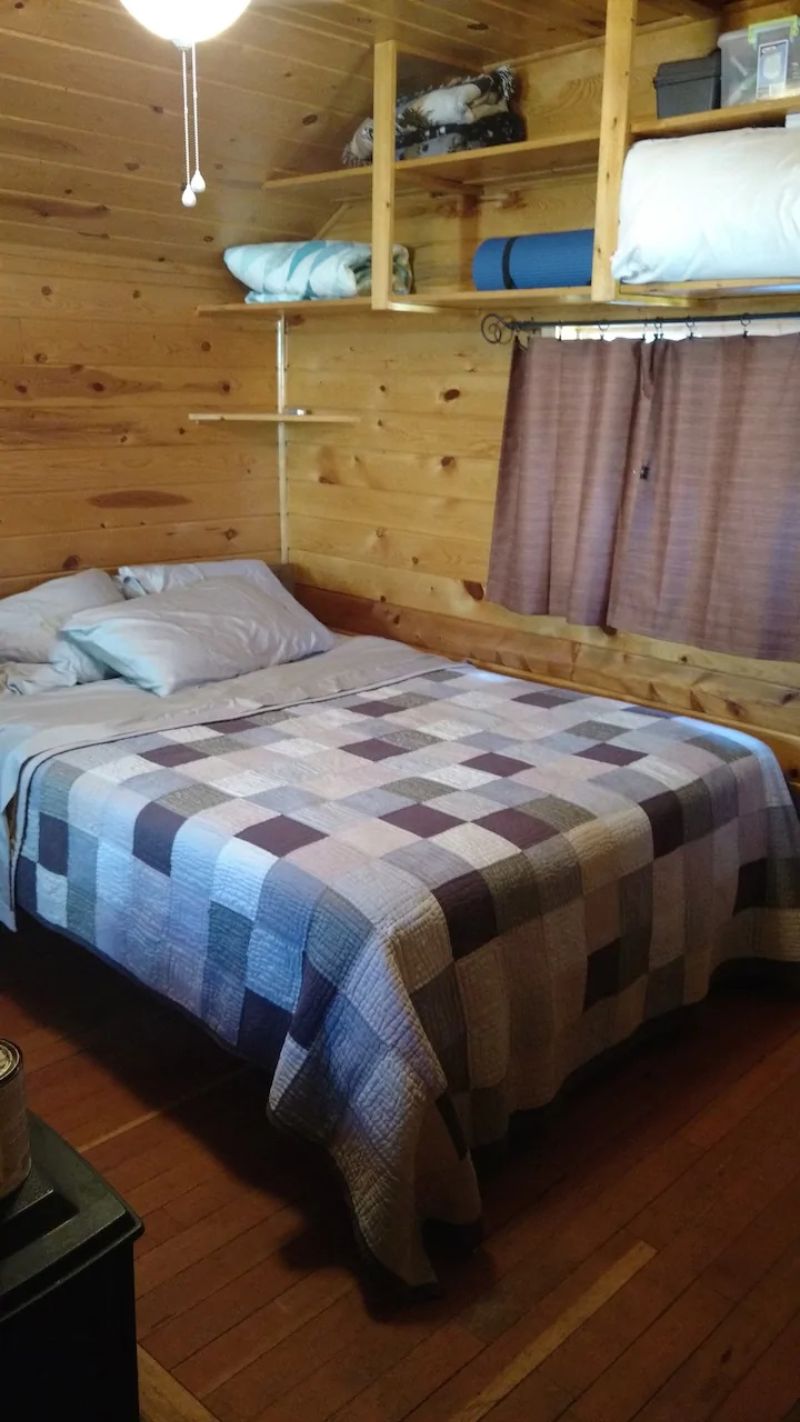 $$
2 Guests
Bicycles provided for use
Smart TV with Netflix
This cute cabin is perfect for solo travelers or backpackers in the USA. It's cosy in the truest sense of the word – just 300 sq. ft. – and would come under a 'tiny home' but is loaded with many great amenities. With downtown Red Lodge close, as well as many hiking, biking, skiing, and other outdoor recreation opportunities, this cabin is also in a great location.
The cabin has a full kitchen with a stove and fridge, so you can cook up your own meals and store them easily. Make a cup of coffee and roast s'mores on the patio outside.
Or grab a bicycle and explore the bike trails in the Red Lodge area. When you're back inside, a nice comfy bed and a fully-stocked functional small bathroom will ensure your stay is comfortable and convenient!
$$
2 Guests
Mountain & valley view
Bathtub
Nestled at the base of the Mission Mountains, this quaint and dreamy cabin is perfect for a couples retreat. If you're looking for a honeymoon cabin, this one's it! With amazing views of the valley and the mountains and some fabulous hiking trails just minutes away, this cabin is one of a kind.
Can you imagine snuggling up with your partner as you watch beautiful sunsets and sunrises right from the patio? From this cabin, you can stay up late and stargaze or soak in the luxurious bathtub.
The cabin's heated floors are a special luxury in winters, making the place super cosy and comfortable. You also have a full kitchen to make your own meals or you can check out some great dining options a few minutes nearby.
Is This the Best Travel Pack EVER???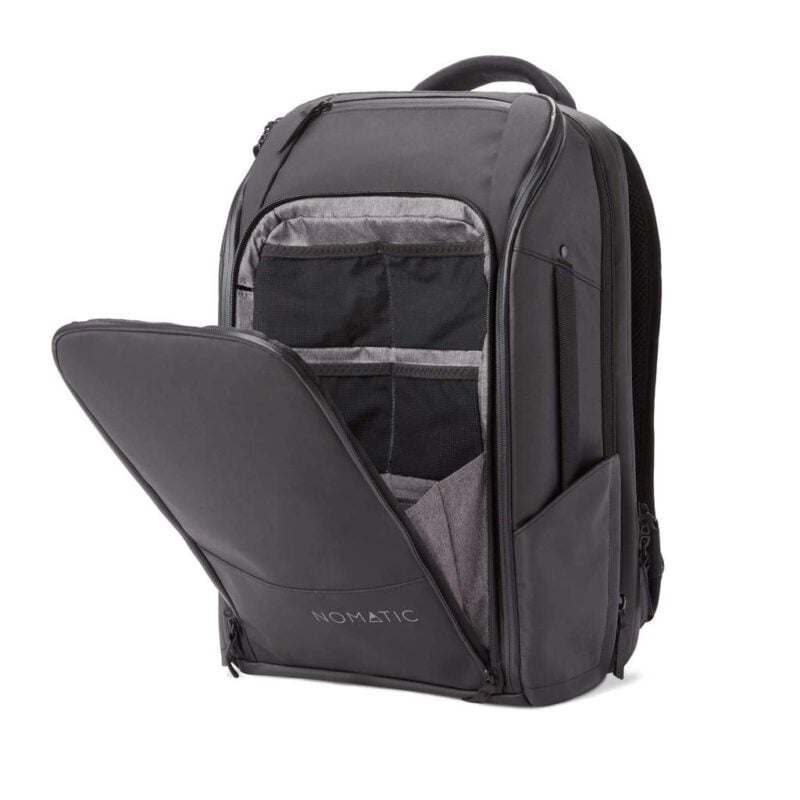 Best Cabin in Montana for a Small Family – High Country Cabin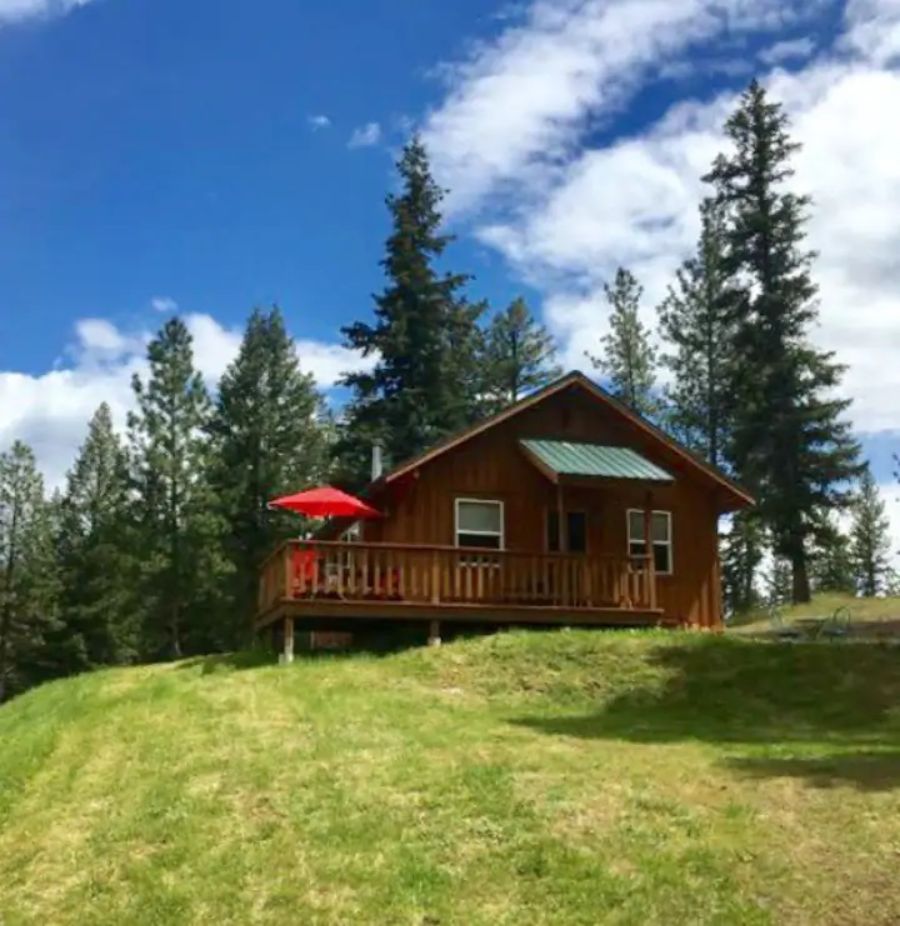 $$
4 Guests
Children-friendly
Bathtub
If you're looking for a quiet yet fun place to spend some time with your family, this cabin in Plains should be your top pick. With plenty of outdoor activities in the area such as hiking, biking, kayaking, hunting, fishing, skiing, and golfing, you'll never get bored!
The cabin overlooks a pond and a creek, so relax with a cup of coffee and a book on the deck. Enjoy some good food in town or cook up a meal at home too, as the cabin has a fully-equipped kitchen.
The place has sleeping spaces for four people, a bath, and a living/dining room. It is off the grid with no Wi-Fi so rest assured you'll have a wonderful time with nature.
$$$
6 Guests
Fire pit
Off-the-grid
Get away from city life and explore the beauty of Montana with your friends. My pick for the best cabin for you and your friends is this rustic cabin in Condon, witha gorgeous setting in the heart of the Swan Valley.
The valley has plenty of trails, mountain lakes, with lots of outdoor activities – ideal for an adventurous getaway. The cabin itself is on a ranch with access to a pond, tennis & basketball courts, and even kayaks.
This cozy cabin and its location have all that you'd expect from an ideal place to unwind, relax and have some fun. It houses a full kitchen, cozy rooms with comfy beds, and lots of outdoor space for dining and BBQ. There's no Wi-Fi or TV so be ready for a fun time off the grid!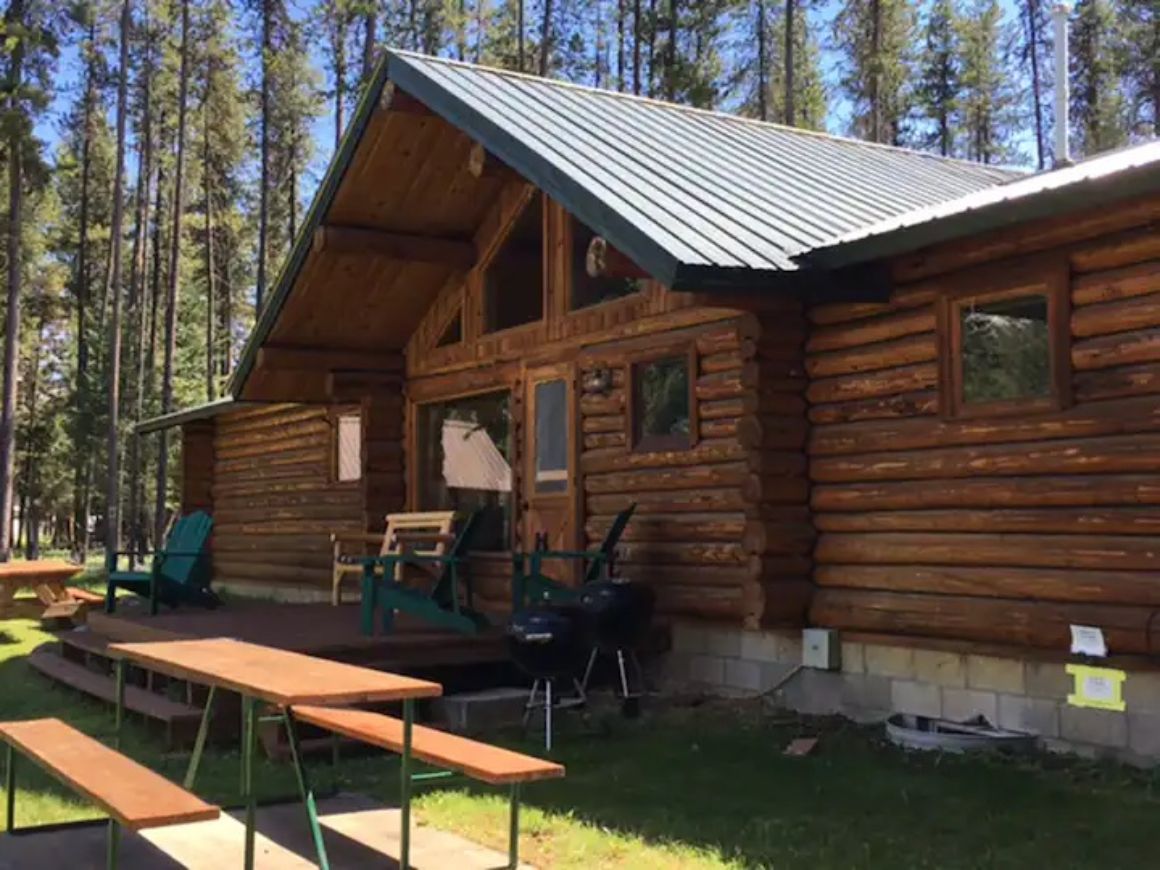 $$
8 Guests
Wi-Fi & TV
Children-friendly
The beautiful Swan Valley and the stunning views of the wilderness are reason enough to choose this cabin in Condon for your next big family vacation in Montana.
Overlooking a beautiful pond, the cabin connects to the Swan River through a private nature trail. Enjoy outdoor activities in the area such as hiking, canoeing or kayaking, fly-fishing, mountain biking, snowmobiling, or skiing. You'll love it!
This rustic log cabin is the perfect retreat in the woods, with all the modern amenities. It has sleeping spaces for up to eight people with comfy beds and a private bathroom. Relax in the cozy living room or gather outside by the fire pit. It is the perfect mood for marshmallows and stargazing!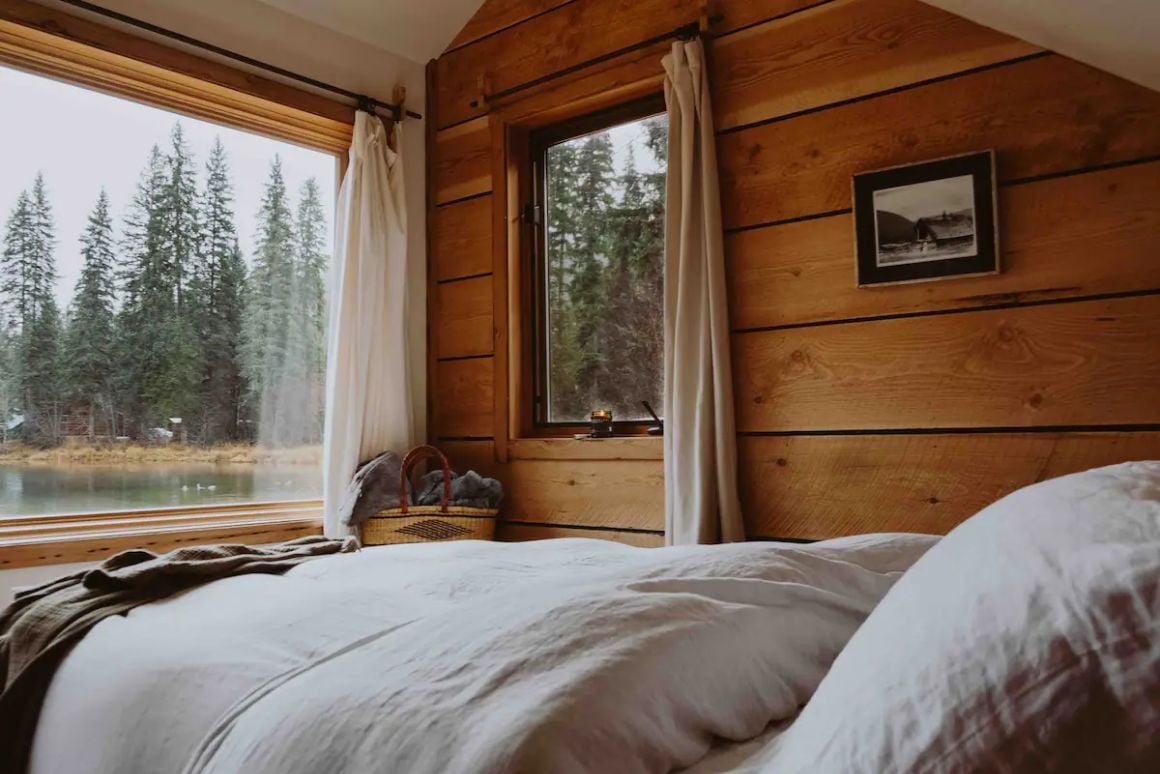 $$
2 Guests
Off-the-grid
Basic kitchenette
Some days you want to unplug yourself from all the screens and just run away to the wilderness. Well, I've got the perfect place for whenever you feel like that. Here at this cabin in Troy you can do things differently and be at one with nature. Drive to this retreat cabin in the Cabinet Mountain Wilderness and unwind!
A quirky blend of rustic charm, off-grid simplicity with modern luxury, this tiny cabin is truly a unique experience.
From this cabin you can soak in nature and relax by a campfire, or roast some s'mores; stargaze from your bed with wonderful views of the area, take a dip in the creek or make a meal on the outdoor stove. You can also go for a run, hike into the mountains or just stroll along the river. The possibilities are endless!
Best Pet-Friendly Cabin in Montana – Remote Log Cabin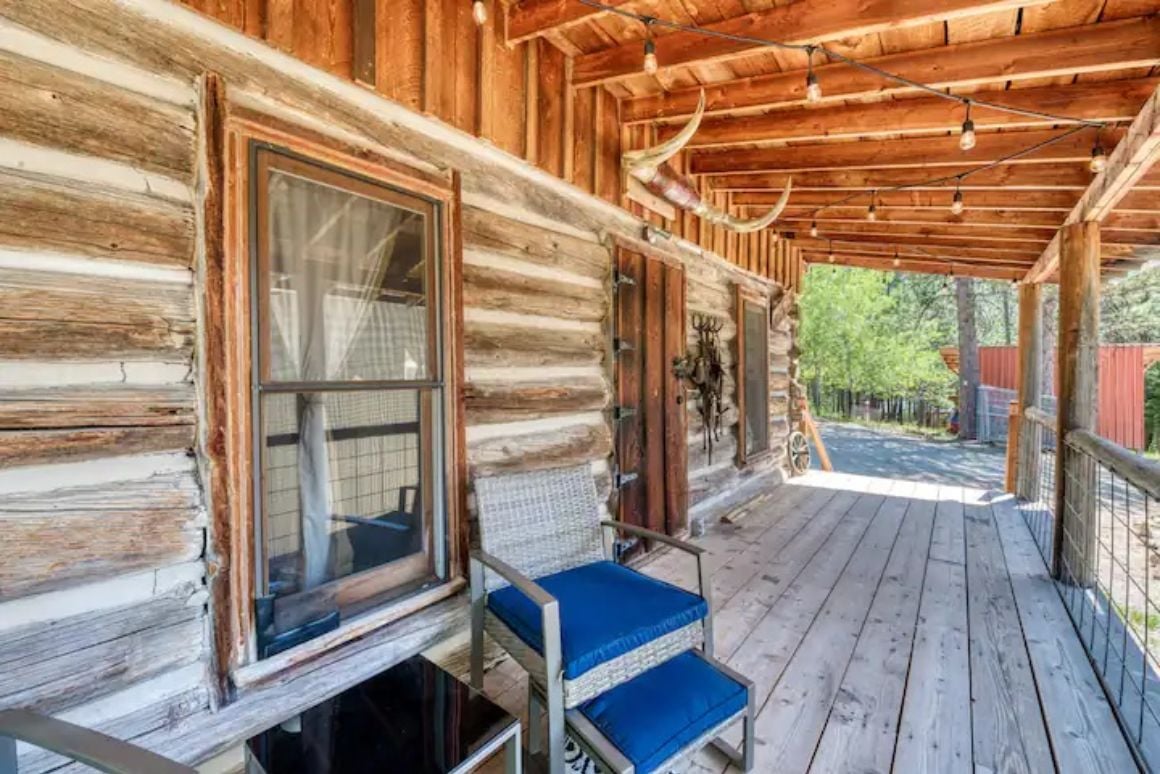 $$
2 Guests
Off-the-grid
Private shower
This rustic log cabin in Darby is adorable and surprisingly well-equipped with many modern amenities. Located on top of a mountain, the cabin is set remotely and with intention too. There's no Wi-Fi, cellular service, or TV, so you can have truly focus on nature. The best thing about this cabin is that it is pet friendly and charges a very nominal fee compared to other rentals.
The inside of the cabin is no less cute and cozy. The wood fireplace is inviting and the bedroom has a super comfy queen bed. The cabin has a private shower and a mini kitchen. From here you can enjoy your morning coffee outside on the deck or stargaze at night.
$$$
6 Guests
Mountain & river views
Full kitchen
If you're looking for a more luxurious cabin stay in Montana, head over to the Hagerman Ranch. With the Yellowstone River nearby and the Crazy Mountains in the backdrop, this cabin is ideally located near Yellowstone National Park. The place is a photographer's dream! Be sure of loads of outdoor activities here, such as fishing, hiking, bird-watching, and more.
The cabin has great amenities for a super comfortable stay. It has a full kitchen so you can make your own meals easily. Rest and relax on comfy beds in the master bedroom or in the loft room.
The cabin also has a full bathroom with essentials and toiletries. You can enjoy your morning coffee and breakfast on the porch watching the sunrise behind the mountains, and later on, relax in the evening with the sunset. You can't miss the views and hues!
Over-The-Top Luxury Cabin in Montana – Alpine Falls Cabin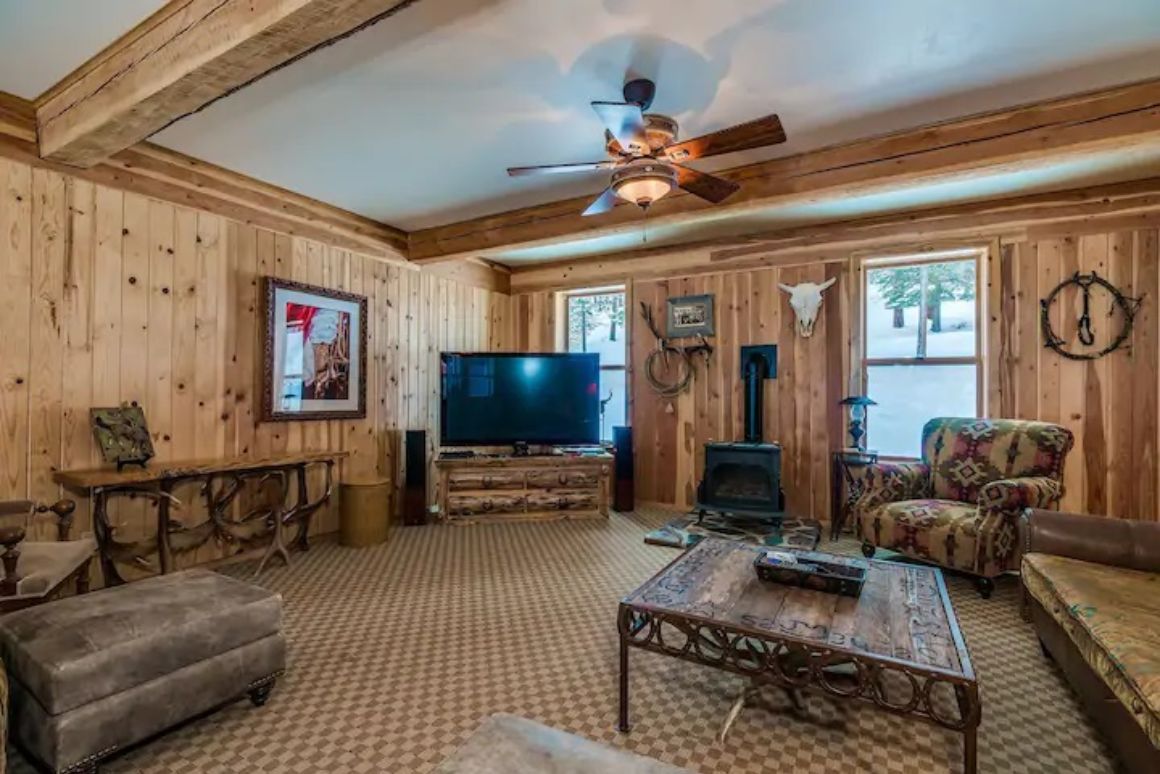 Ah, the over-the-top luxury cabin is the final one on my list! It's up to you; you can go for a special experience at this cabin or just enjoy reading about it (like me!). So leave all your stress behind and spend a relaxing vacation at this cabin with your friends or family.
Located on the Alpine Falls Ranch, close to a river and a national forest, this cabin's location is perfect for outdoor activities. Superbly secluded and private, this luxury cabin is loaded with amenities.
You can enjoy amazing outdoor adventures and come back home for a relaxing stay. The cabin has enough sleeping spaces for 10 people with super comfy beds. There is a gym, an entertainment area, a fire pit, and a covered pitch with breathtaking views of the mountains.
Don't Forget Your Montana Travel Insurance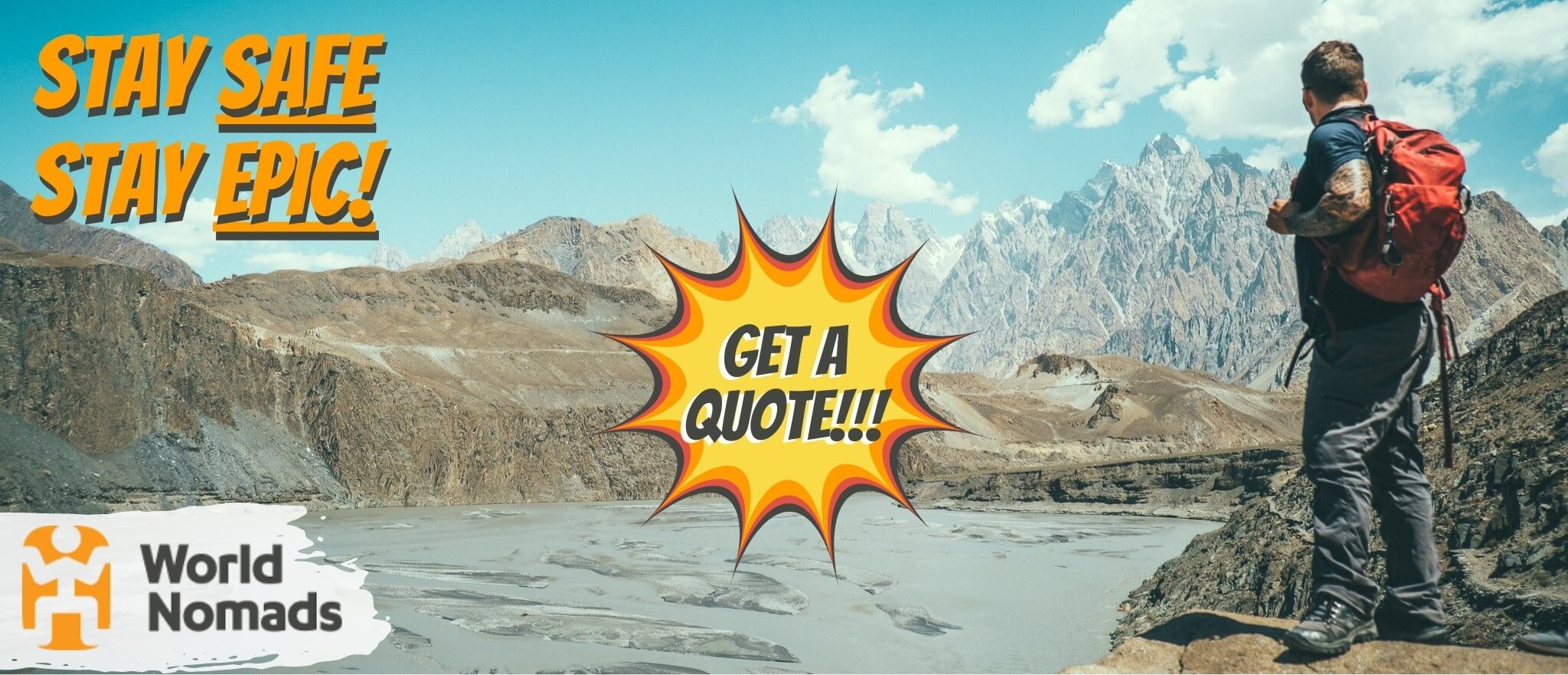 World Nomads' mission is to support and encourage travellers to explore their boundaries. They offer simple & flexible travel insurance, and safety advice to help you travel confidently.
They've been doing it since 2002 – protecting, connecting, and inspiring independent travellers just like you.
Get a quote below or read our in-depth review!
World Nomads provides travel insurance for travelers in over 100 countries. As an affiliate, we receive a fee when you get a quote from World Nomads using this link. We do not represent World Nomads. This is information only and not a recommendation to buy travel insurance.
Final Thoughts on Cabins in Montana
So, are you ready to disconnect from the world and live with nature? I hope you are able to choose your own slice of paradise with one of these cabins in Montana from my list.
Perfectly secluded and private, these cabins provide the ultimate experience of living amongst stunning natural scenery. What's a more refreshing and relaxing getaway than this?
Rustic or rugged, cabins are a fun experience to give your Montana adventures an extra kick. With cabins you get fresh air, great views, and a chance to live with nature, all within the comfort of your own home. Hotel rooms are boring!
While making your trip plans, don't forget to consider travel insurance. Any type of travel, especially international, comes with a bit of risk. As a smart traveler, you should be prepared for any unforeseen incidents, which is why travel insurance is a very good safety net!
---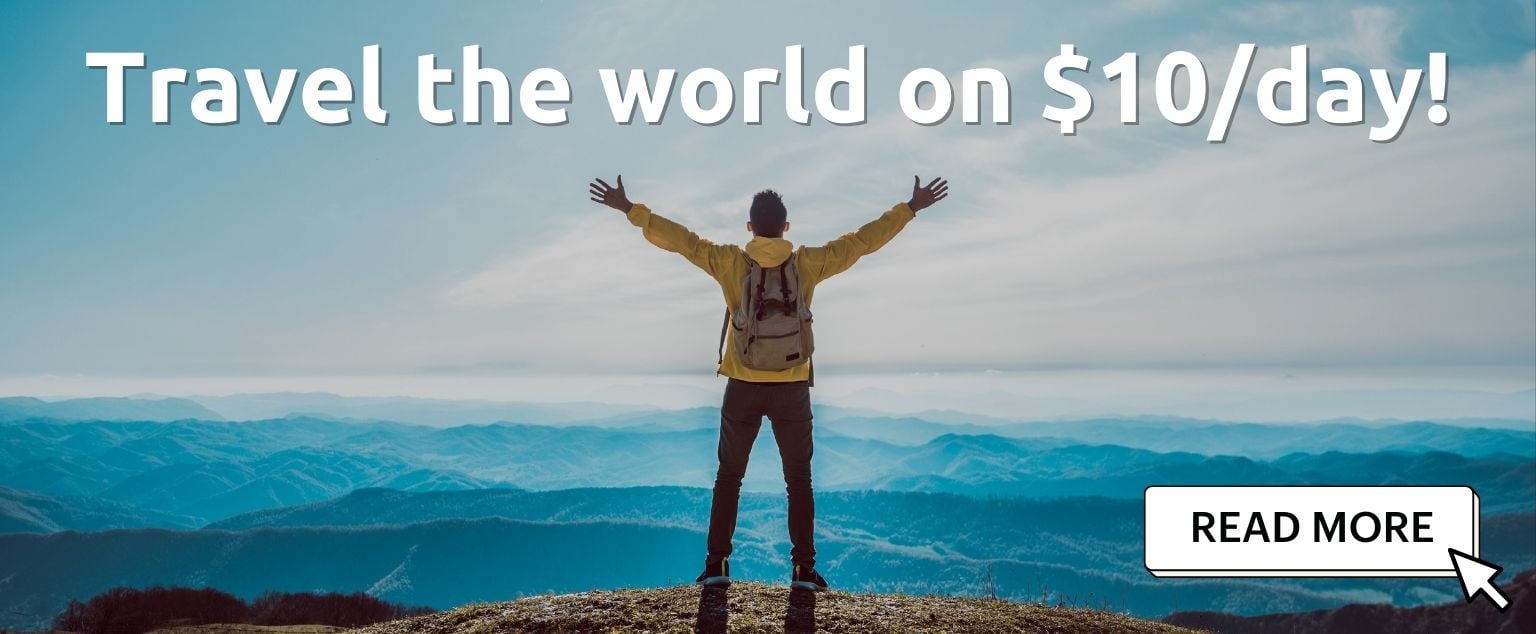 And for transparency's sake, please know that some of the links in our content are affiliate links. That means that if you book your accommodation, buy your gear, or sort your insurance through our link, we earn a small commission (at no extra cost to you). That said, we only link to the gear we trust and never recommend services we don't believe are up to scratch. Again, thank you!