Pakistan is a beautiful country, filled with awesome people and the best mountain ranges on the planet… The Pakistani Himalayas are truly without rival anywhere in the world. I've spent three months traveling Pakistan over the last year and I cannot recommend this incredible country enough…
There is a fair bit of taboo surrounding travel in Pakistan – thanks, media – but really, Pakistan is a very safe country to visit. Recently, I've been bombarded with emails from some badass chicks asking about female travel in Pakistan, travel tips for solo female travellers and the big question…
Is Pakistan safe to travel as a solo female?
While I have solo travelled all over Pakistan, as a man it's a little different, and probably easier to get by. It's awesome that solo female travel is taking off in Pakistan and I'm keen to arm you guys with all the intel I can! So, to help me lay out the basics of travel safety in Pakistan for solo travellers, I've asked four awesome women to help me out.
Hopefully, this guide to female travel in Pakistan will encourage the next generation of kick-ass solo female travellers to hit the road and travel to Pakistan.
A huge shout out to Emma, Alex, Nida, and Lizzy; awesome gals with first-hand experiences of female travel in Pakistan…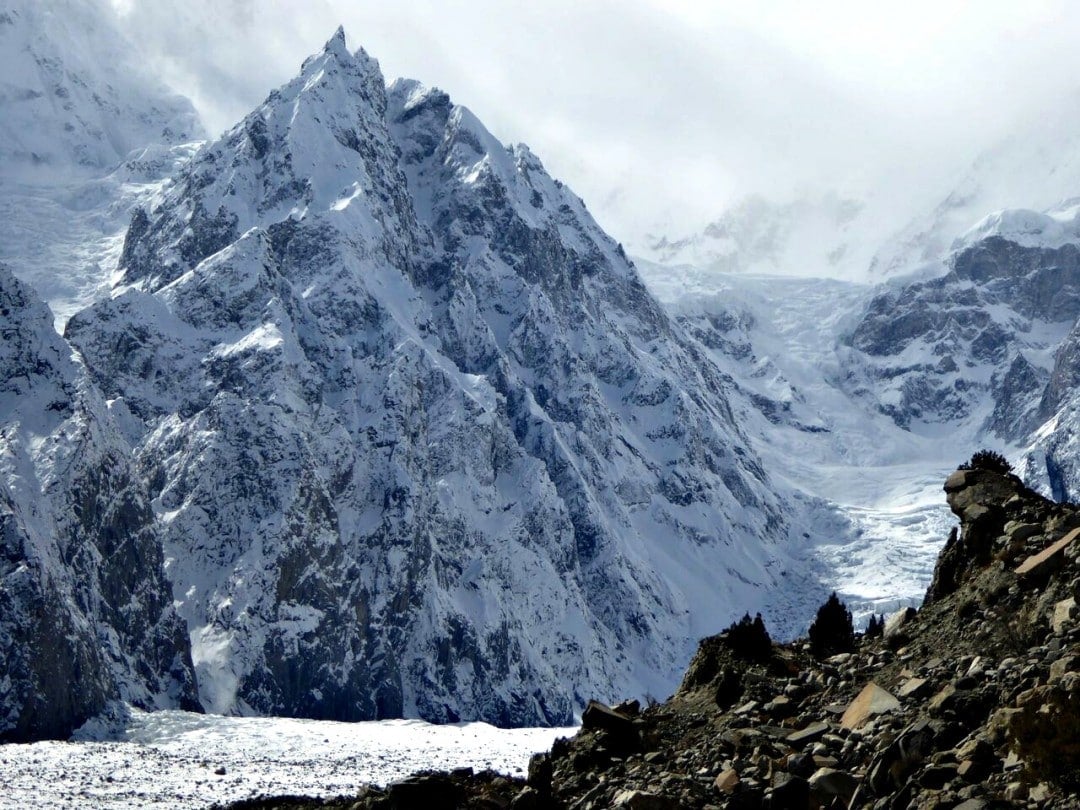 A huge shout out to Emma, Alex, Nida, and Lizzy; awesome gals with first-hand experiences of female travel in Pakistan…
Tell us about yourself, where you are from and how much backpacking experience you had before you went to Pakistan?
Emma: Hey! I'm Emma, 21 years old and currently studying at Uni as a school counsellor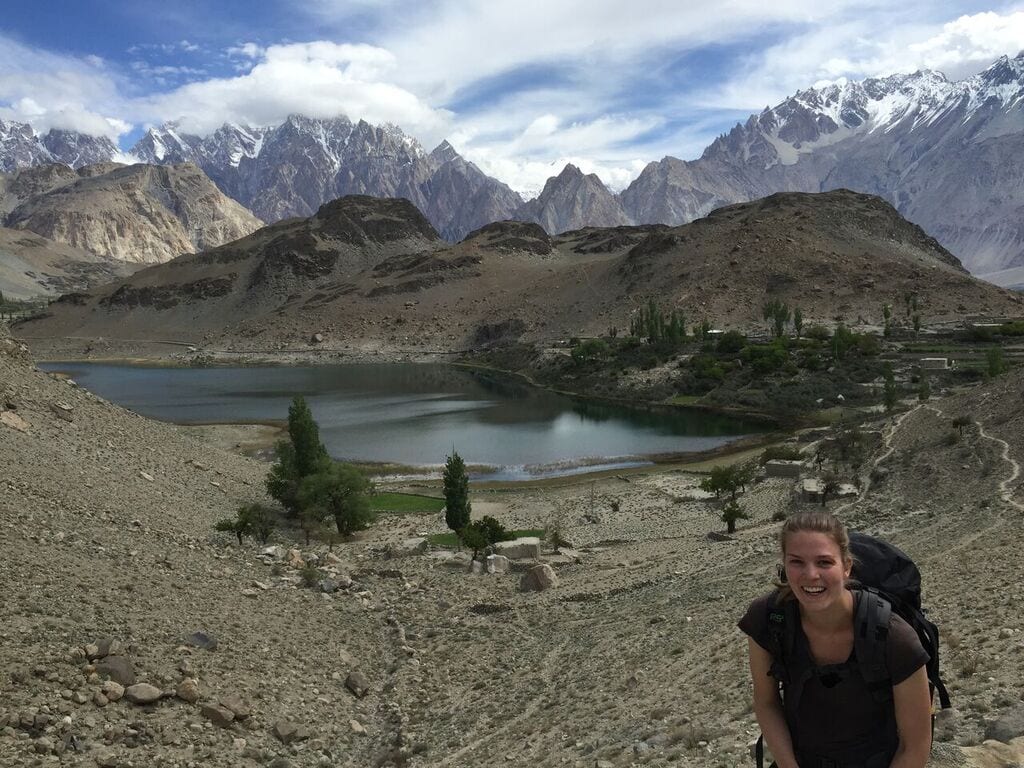 I'm half Swedish/American; born in the USA, lived there for three years before moving to Sweden where I've lived most of my life. I've done quite a lot of traveling before I decided to travel to Pakistan, but I didn't have much backpacking experience at all, especially in a country like Pakistan.
Alex: "Yo! I'm Alex, a 25-year- old girl from the United States.
Prior to my Pakistan adventure, I had about 8 months of longer-term backpacking experience under my belt. Four months in Southeast Asia, four months in the Caucasus and Iran. I'd also traveled to 40+ countries in various ways in addition to backpacking.
Nida: I'm from Karachi and started traveling as a female Pakistani in 2011.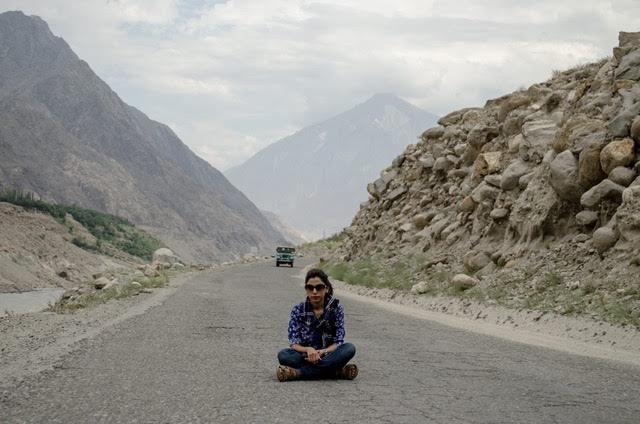 As far as trekking goes, that I've been doing since 2013. It's not strictly backpacking as we always have trekked under the guidance of locals with porters to help carry our luggage. My hiking experience consists of the lakes and mountains of the Himalayas and the Karakorams.
Lizzy: If you check my passport it would say Melbourne, Australia but Lahore and Northern Pakistan is the second home for me.
Before I decided to travel Pakistan I backpacked solo through Australia, New Zealand, UK, Europe, and India. Also on the list, I've traveled through Vietnam, India and France with friends. I felt ready to tackle female travel in Pakistan next."
When did you travel Pakistan and how long did you spend there?
Emma: "I traveled Pakistan for the first time in May 2016 and stayed there for one month at various places."
Alex: "I was travelling Pakistan in June of 2016, and spent six weeks from the south to the north of the country. I only wish I had longer!"
Nida: "The first time I traveled as a female in Pakistan was Summer 2011. Since then, I keep going back but in all honesty, it'd be a miracle if I am able to cover the entire country in this lifetime."
Lizzy: "I've traveled to Pakistan three times, for just over 2 weeks each time. If I didn't have commitments and my young kids waiting for me at home I'd stay longer."
"I'm not like the others", said this guidebook — and we have to agree.
484 pages with cities, towns, parks,
and ALL the out-of-the-way places you will WANT to know.
If you truly want to discover Pakistan, download this PDF.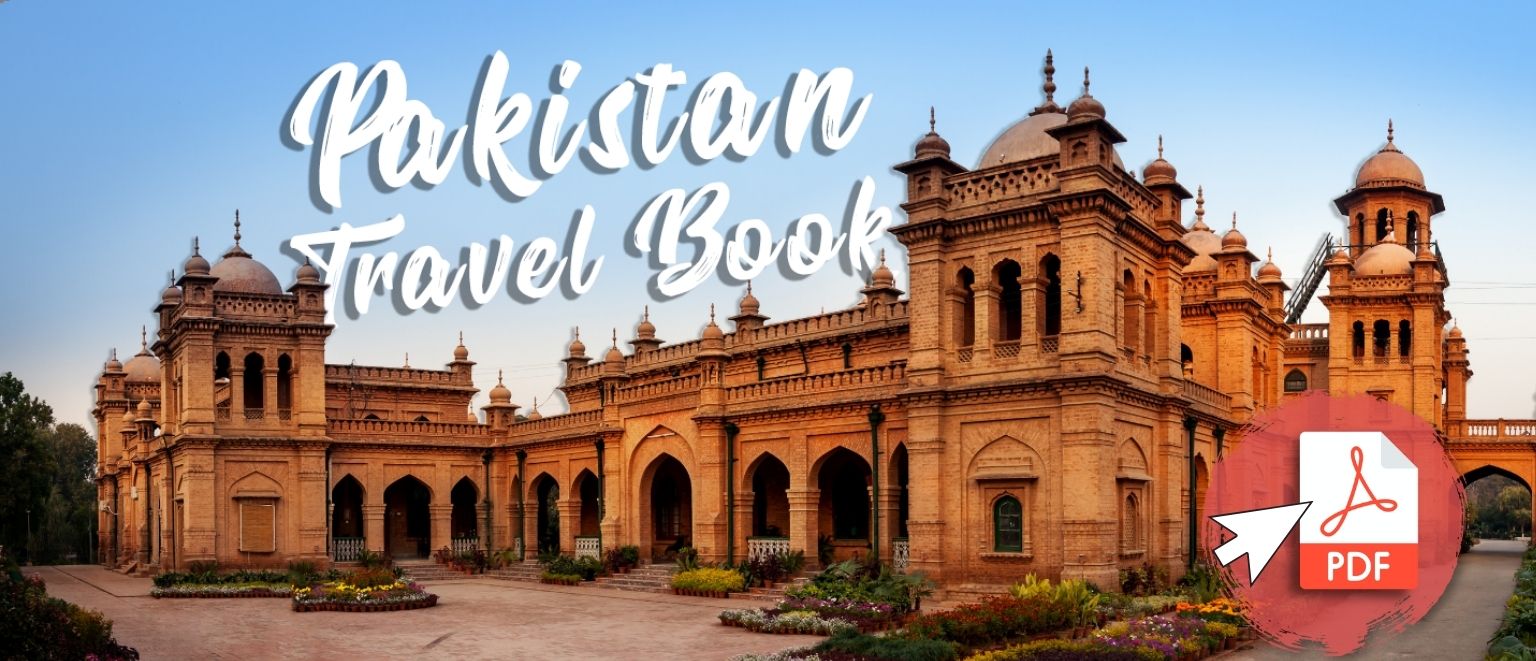 What were your initial thoughts in Pakistan? Did you struggle with any culture shock?
Emma: "For me, being raised in a Christian cultured country, traveling Pakistan was definitely a culture shock for me at first. The streets and society in a whole are dominated by men so female travel in Pakistan results in some uncomfortable moments. Add to the fact I have blonde hair and blue eyes, sometimes traveling Pakistan as a female was hard. If I'm honest I really doubted my decision to tag along with my male friend after my first night in Pakistan. But as the days went on my opinion changed massively!"
Alex: "I was nervous at first—the adventure basically began in Karachi, which has a bad rep for theft and assaults. It's a place that can at first seem a bit intimidating – Especially for female travellers. However, what I found was different. Karachi wasn't nearly as bad as people made it out to be, thanks to some recent developments with local security measures. There were massive piles of trash everywhere, and the summer heat was… uncomfortable, to say the least. But, ultimately, I've seen worse traffic in Bangkok, just as much trash in Delhi, and oppressive heat-meets- clusterfuck in Yangon."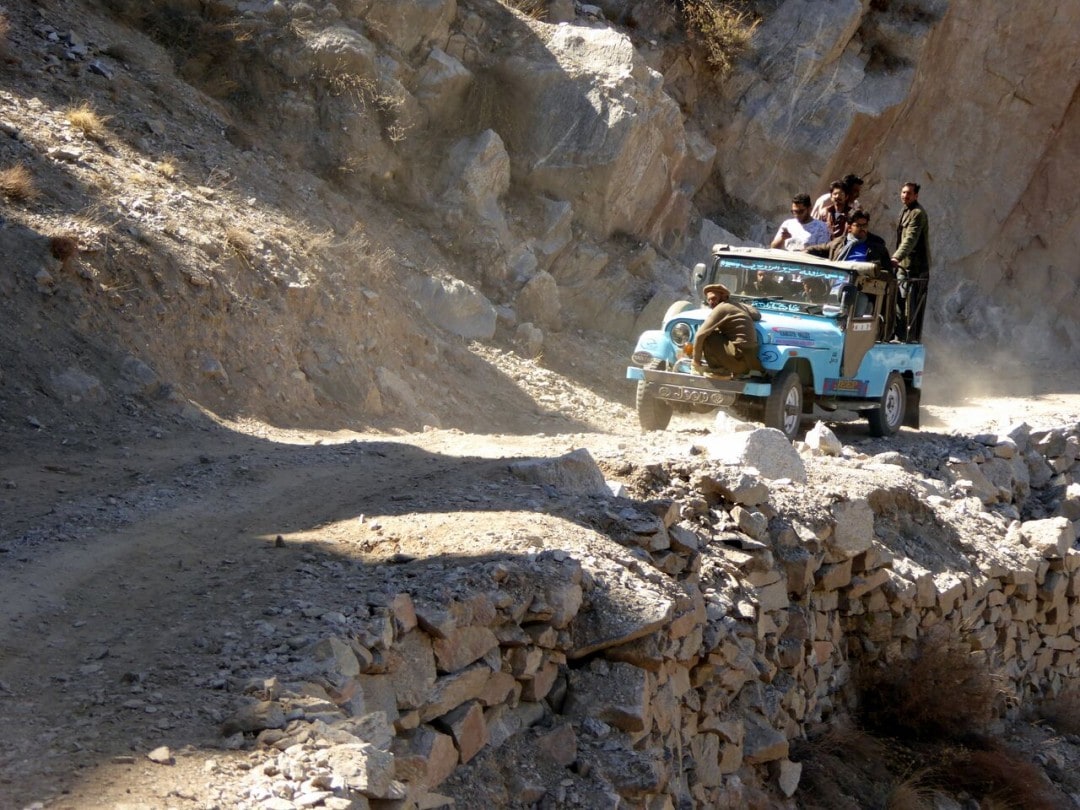 Nida: "I was born and brought up in Pakistan so I can't say the culture and many experiences shocked me. But I can see how those travelling to Pakistan from the western world would get a shock. As long as you respect the customs, dress and behaviours; female travel in Pakistan is not so scary!"
Lizzy: "Initially Pakistan surprised me. I found it calming, but I had just come from backpacking around India! Arriving in Pakistan I took to the mountains which, from what I read before arriving; was a very conservative and patriarchal place. I still find it odd that women are rarely out chilling on the street but men are. It's a very different lifestyle to what I'm used to. Throughout my travel in Pakistan, I felt very welcomed and supported as a female traveller in Pakistan. The call to prayer ringing out over the town, the mountains that go on forever and the best cherries I've ever eaten all made it incredible!"
Did you feel travel in Pakistan is safe for women? Any areas to be avoided?
Emma: "Honestly, yes. Whenever anyone asks me if Pakistan is safe to visit as a woman, I say yes. I never felt unsafe in Pakistan. The people are so respectful, going out of their way to make sure you're ok and having a good time. Female travel in Pakistan does mean adjusting to their point of views and accept their religion. For example, I wore a salwar kameez, the traditional outfit, majority of the trip. Also just how the younger people act compared to how I would act with my friends at home. Because Pakistan is a conservative country the level of interacting with the opposite sex was very different to what I'm used to."
Alex: "Depends on your definition of safe. For me, as long as I'm not at risk of being kidnapped and raped/killed, I'm chilling. So yes, Pakistan is safe to visit as a woman. If someone's going to kidnap you, it's to stuff you full of food and chai! I won't complain about that! However, I was groped and grabbed at plenty of times in Pakistan. If you can't handle stuff like that, Pakistan is going to be a challenge. To avoid being uncomfortable, be wary of extra conservative areas, such as the regions along the Afghan border. Northern Pakistan is the most welcoming to female travellers in Pakistan —the people there are very level-headed and much more used to women walking around and doing things on their own."
Nida: "Pakistan is where I was born and bread! Luckily I haven't had many experiences that I'd call unpleasant. Female travel in Pakistan is generally safe. I have traveled to the north for a trekking trip while a huge military operation was on against the terrorists and although the media was telling the world we were likely to get caught in the crossfire it was fine. In all honesty, I couldn't help but think how safe the entire mountain region was. The ground realities differ a great deal from what the media tells us. As far as sticking to social norms goes, safeguarding the culture and respecting it bring joy not only to locals but to travellers as well. Respecting their attire, their way of life, their religion, their language, these things matter a great deal to almost everyone in Pakistan."
Lizzy: "Female travel in Pakistan for me, was safe. Men don't leer at you like they do in India, instead most highly respect you and their actions prove it. The worst it got for me was some too-disgusting-to-translate comments thrown my way, but I didn't understand them anyway. As a female traveller in Pakistan, I wouldn't recommend riding through Dasu and Chilas. It is super conservative and there are still some security issues here. Abbatobad to Chilas, wear a scarf to cover yourself at all times in public out of respect for local custom. If you stop here, women eat separately in hidden rooms rather than in view of the street. Also, if you head through parts of the KKH don't shy away from the police escorts. They are often great company and offered out of hospitality rather than the risk of danger."
What is the One Item Every Traveller NEEDS???
There is one item every traveller NEEDS. Some travellers don't even know they need it, but those travellers need it more than anyone.
What is this forgotten essential of the backpacker-life? SPOILERS! Guess you'll just have to click the button to find out. 😉
Find Out What It Is!
Do you have any tips for female travel in Pakistan?
Emma: "As a female traveller you should make the most of the situations where males are forbidden, for example entering the kitchen. While I was allowed to meet all the women in the house my male friend had to kindly stay in the other room. As a female traveller in Pakistan, you should be prepared to be stared at, a lot. It's more out of curiosity than anything else. You can always break the ice by asking if the person wants to take a selfie with you (if you feel okay with it). Dressing appropriately is hugely important when traveling Pakistan. The more conservative you dress, the more comfortable you'll make yourself and others! It also shows respect and so no misunderstanding occurs."
Alex: "Leave your shorts and tank tops at home. Instead, go buy yourself a long-sleeved shalwar kameez (it's only the most comfortable clothing on earth). A headscarf isn't necessary unless entering a mosque, but it never hurts to wear one. Don't be overly friendly at first contact with men you don't know. Don't let men touch you if taking photos with them, and keep a solid distance between yourselves. Never sit in the front of a taxi. Don't walk around alone at night in the big cities. Most of it is common sense that I believe any female travel in Pakistan will already know!"
Nida: "Do your homework well about the region you intend to visit. Learn about the political, religious and social norms of that particular area. Many people are deeply proud of where they come from, so respecting those must be a traveler's biggest priority. As a female travel in Pakistan, it's always better to have contacts with the locals well in advance before actually planning the trip. It's always nice to see a familiar face after all. They may even show you the best places to visit in Pakistan!
Try to learn Urdu, at least the basics to help you during your stay. Always, always carry maps on you. And when I say maps, both online/offline ones as well the paper maps after getting them vetted by a local. As a female traveler I always carry a scarf or a shawl in my backpack. Whether it's a road trip or one of those trekking days, I always ensure to keep one on me at all times."
Lizzy: "Always, always, always carry a scarf to cover yourself up. It won't stop attention but it could stop the unwanted attention. Act respectful, calm and don't be overly flamboyant. It's easy for a conversation to turn into a heated debate and while it's normal in Aussie, it's seen as slander to manliness here. Trust me, it's taken pretty hard."
Where was your favourite place in Pakistan and Why?
Emma: "Kalash Valley. Such a beautiful place with beautiful people. Something totally different from anything in Pakistan or anywhere else in the world!
Towards the end of our trip, we were on our way to the Kalash Valleys, I was pretty tired at this point of travelling from place to place so my mood was not on top…
From Chitral, we were waiting on our taxi that our bodyguard had arranged for us to take us to Kalash valley. We had to wait for a long time for it and by now my mood had gotten from bad to worse. Finally, we took off but the car had a hard time getting up the hills. Barely making it up the small hills we finally arrived at a bridge crossing, easy right? Nope, the bridge was "out of order"! Basically half of the wooden bridge had fallen into the river making it impossible for us to pass.
The alternatives were; go back to Chitral – all this hassle for nothing –  or walk the last 8 kms with our bags. We decided to walk. The heat was intense but in the distance, was ice cold soda shop. Powering to get there we met two men who turned out to be teachers at the school in the same area we were heading! They paid for our drinks, carried my bag and helped us find accommodation! The lesson here, female travel in Pakistan isn't always a breeze but, a bad start to the day turned out to be one of the most memorable! Their kind gestures blew me away finding an equally nice way to say thank you was hard. I guess being a guest in their country is one way to try to pass the good word on."
Alex: "Lahore, since Lahoris are amazing! As is their relationship with food. I was shown around by a Butt on my first day in Lahore. For those not in the know, Butts are a family in Pakistan infamous for eating insane amounts of food! Despite it being Ramadan, my host managed to live up to her reputation. We began in the secrecy of an office, where she ordered sandwiches, several curries, and chapatti. Then we moved to a mosque to have free iftar, the breaking of the day's fast during Ramadan… even though we'd just ate! Then she took us to one of Lahore's food streets for dinner and a second food street for massive lassis and dessert. Holy crap, I've never been so full in my entire life. Female travel in Pakistan is awesome!"
Nida: "It really is hard to pick one place. Traveling Pakistan was incredible but the Rupal valley of mighty Nanga Parbat which overlooked the tallest mountain face on the planet is incredible! The people in this western Himalayan valley are generous and tremendously hospitable. We stayed for 4 days in this vast valley and each day brought us to tears of gratefulness for these amazing locals especially our guide and porters. Every morning, we would be given hot water to wash our face and hands. I got one of my shoes broken during day 2 of my trek, but to my surprise our guide Jamshed got it fixed for me without any charge!
Another pick I would make will be Haramosh Valley right in the Karakoram's Rakaposhi and Haramosh massif. The place has not seen many travelers, the people of the valley are amazingly kind and bighearted! We trekked to one of the most gorgeous lakes in the depth of the valley called Kutwal. Almost everyone had vacated the valley. It was crazy cold and despite having the best tents and sleeping bags, it was hard to beat the harsh winds. Our porters were incredible. Without asking him he opened the door of his small locked hut and invited us in. Seeing this generosity extended towards us was hard to explain and forget. Not only did they let us stay there but they cooked for us too. Asking for nothing in return! I wish I could go back there again right at this very moment."
Lizzy: "For me the highlight of travelling as a woman in Pakistan was Shigar cold desert. Hands down! I absolutely loved the vast landscape in all directions, surrounded by mountains and so, so quiet. There was a small dust storm mixed with light high snow when I was there which made for a very atmospheric moment. Walking through the sands, admiring the magnificence of the place triggered an awesome connection between Hamza and I. It has elements of Ladakh and tibet. I loved feeling so very small yet a part of this beautiful planet. Passu cones come in a quick second. Purely for the sheer magnitude of the dramatic mountains and glaciers."
What is the One Item Every Traveller NEEDS???
There is one item every traveller NEEDS. Some travellers don't even know they need it, but those travellers need it more than anyone.
What is this forgotten essential of the backpacker-life? SPOILERS! Guess you'll just have to click the button to find out. 😉
Find Out What It Is!
Where was your least favourite place in Pakistan and Why?
Emma: "My least favourite place whilst travelling Pakistan was Swat Valley. It's such a shame because it is a beautiful place.
To start with Swat is a very conservative area and when the Taliban took over in 2007 millions of people were forced to flee their homes. The Taliban were executing men for shaving and women for dancing. Until 2009 they controlled the area with an iron fist. Although now it's not controlled by them I could definitely see the aftermath.
After several police checkpoints and waiting at police stations for hours we finally came into the area with help from a contact we had there. Coming into Swat we had to have police escort behind and in front of our car when driving around. The area is extremely secured. So when two westerners wanted to come as tourists and "have a look" it just took too much effort for us to be able to enjoy it. I rarely saw women out on the streets but when I did they were all wearing burkas and in escort with either their husband or some other male family member. Even though I was wearing my salwar kameez I felt I was exposing too much skin. We were not able to see and do what we wanted unfortunately.
To make myself clear it was not like this in the rest of the country. This was extreme. It is improving slowly and I'm sure one day I'll have a better story to tell about Swat."
Alex: "Bahawalpur was for sure the most frustrating. The most expensive hotel in the city is the only one that accepts foreigners. To make things worse, all of the sights I tried to visit were occupied by the military, so I couldn't see anything in the city anyway. When asked what it would take to visit some of the palaces, the guard told me I needed permission from Army High Command. Thanks, army dude—I'm pretty sure the High Commander has better things to do than signing my field trip permission slip."
Nida: "Ermmmmm, I don't have one actually. We have had a bad experience near a village in Besham on KKH but that had mainly to do with our bad time management. I can speak the local lingo obviously, which helps but as a female traveller in Pakistan, I haven't had any problems.
Lizzy: "Rawalpindi bus station. I was there after being on a bus continuously for 22 hours, had neck trauma from the bumpy bus and just as we loaded all our stuff on the bike our wallet was stolen from a pocket and all money gone. It's a hive of thieves and pickpockets. Keep your wits about you."
Would you recommend Pakistan to other solo female traveler and Why?
Emma: "I have been recommending travel in Pakistan to all of my friends! It is not a place for the soft hearted but definitely an eye opening and educating trip. Travelling to Pakistan will make all of your negative opinions from social media disappear. You will meet so many great people and see some of the most beautiful landscape you have and will ever see. There will be moments you will feel like you have never been more alive and there will be moments you will doubt your decision of coming here. All the positive experiences during my month there weighs so much heavier than the negative ones. Being a female traveller in the country was a positive experience all in all. I got to see how other women live and I could feel a strong power from the women I had a chance to meet."
Alex: "I would heartily recommend it to other experienced female travelers, or to women traveling with men. Most Pakistanis are incredibly warm and just want to show you some legitimately legendary hospitality. Plus, it's not fair if only dudes get to experience how awesome Pakistan is!"
Nida: "Oh, yes, definitely. Why? Need I say more about how awesome the place is?"
Lizzy: "Yes! It's a truly beautiful place, steeped in fascinating history, perfect for explorers! Just because you're a solo female traveler doesn't mean you should miss out traveling Pakistan. Solo female travel in Pakistan is definitely not easy but not impossible either. Most areas you'll find genuine local support or other travellers!"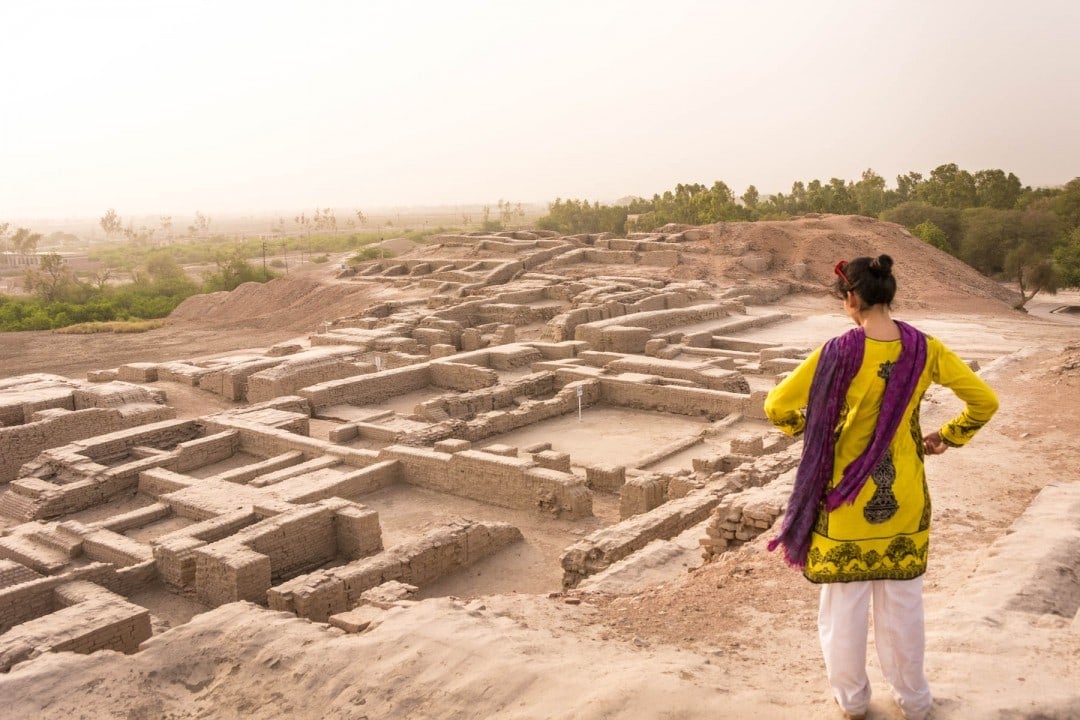 Save $$$ • Save the Planet • Save Your Stomach!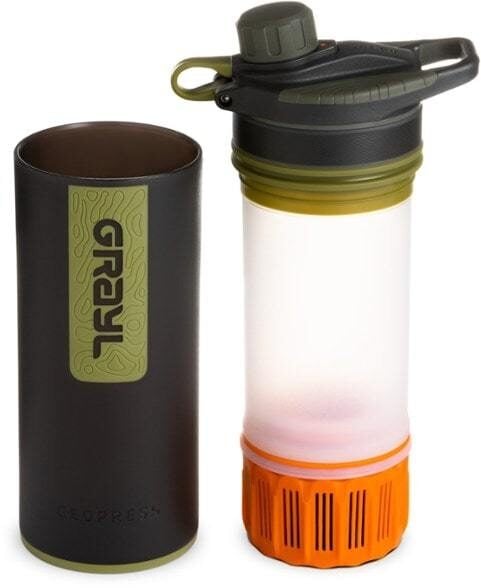 Drink water from ANYWHERE. The Grayl Geopress is the market's leading filtered water bottle protecting your tum from all the waterborne nasties. PLUS, you save money and the environment!
Single-use plastic bottles are a MASSIVE threat to marine life. Be a part of the solution and travel with a filter water bottle.
We've tested the Geopress rigorously from the icy heights of Pakistan to the tropical jungles of Cuba, and the results are in: it WORKS. Buy a Geopress: it's the last water bottle you'll ever buy.
Buy a Geopress!
Read the Review
Do you think female travel in Pakistan is safe as a solo woman?
Emma: "I would say travelling in Pakistan as a woman is a bold move. An experienced female backpacker in other Muslim countries has better qualifications than a female traveller with minimum backpacking experience. I would not have been able to travel solo in Pakistan, not because it is unsafe, more that it takes a lot of admin and time to travel from place to place. Personally, I did not have the experience to be able to handle that by myself. If you do go solo I would suggest joining the Facebook group Karakoram club. It helped my friend and me a lot! Also, try to find another backpacker in Pakistan to do some travelling together with, so you can help each other out, and to share all your memories with."
Alex: "If you're going solo into the country, make sure you're aware of what to expect—though rewarding, Pakistan can be quite challenging, partly because of a select few men who can be positively primaeval in their actions. Heathens. For female travel in Pakistan, I'd suggest finding other travelers to buddy up with via the Backpacking Pakistan Facebook group, or tracking down local girls in the Karakoram Club Facebook group and asking them for help or seeing if they can host you."
Nida: "I personally think female travel in Pakistan is not easy but definitely not unsafe. I travel with a group of close friends but I have other friends who have traveled solo to the north. You just have to be well prepared and ready to face anything that comes your way with an open mind and heart and all will be well."
Lizzy: "Overall, yes it's safe. But keep your caution radar up and always have a plan or two! Keep emergency contacts handy, local contacts are even better! Taxi's are easy to find and I would recommend hopping in a cab instead of walking the random back streets in the dark. Keep to the major cultural sites and markets if wandering alone in the towns. Once in the mountains in the north, as long as you respect the local customs you'll be fine!"
Would you go back to Pakistan?
Emma: "Sometime in my life, I will go back, for sure! It was such an amazing experience that I want more people to try out."
Alex: "Well, duh. I'd be there right now if Indian bureaucracy hadn't gotten in my way…"
Nida: "Yes! I mean, I am based in Karachi after all… Hit me up if you head my way!"
Lizzy: "Ha! Absolutely, I'm going for my fourth time in two weeks!"
So there you have it amigos! Thanks to Nida, Lizzy, Emma and Alex for offering up wicked advice for the biggest concerns and questions for the ladies heading to Pakistan. As you can see from their answers, Pakistan is a beautiful country waiting to be explored by all, not just us dudes!
If you have any more questions on female travel in Pakistan, feel free to drop them in the comments below. Or if you're looking for more info on Pakistan; check out the ultimate backpacking Guide to Pakistan. Hopefully, I'll see you there!
---
Thanks for reading – that was fun! 😀
We bring you epic FREE content!
Find out how YOU can help support us.
We're a big site with a big team and this job isn't always easy. But we do it because we love it – we love providing epic and free content. We love the knowledge that our content keeps you adventuring. We don't ask for money, but if you'd like to find out how you can help the site in more organic ways, click the button below.
Thank you for your support 🙂
---
Bye for now, but not forever!
If you want MORE top-tier Broke Backpacker content like this, then sign up for our weekly newsletter below to get the latest and greatest!
And for transparency's sake, please know that some of the links in our content are affiliate links. That means that if you book your accommodation, buy your gear, or sort your insurance through our link, we earn a small commission (at no extra cost to you). That said, we only link to the gear we trust and never recommend services we don't believe are up to scratch. Again, thank you!