This is a full review of the Peak Design travel backpack 45 L.
There is no doubt that the Peak Design travel backpack is an innovative pack but is it the right pack for you?
You may be wondering what sets the Peak Design travel backpack apart from the rest of the pack? (No pun intended.) Or perhaps you want an honest run down of this bag's best features and potential improvements.
Well, that's what this full Peak Design travel backpack review will attempt to answer.
If you're into backpacks, photography, and travel, then you've probably heard of Peak Design's flagship backpack, known as the Everyday Backpack.
At 20L-30L, the everyday backpack was intended for day-to-day use: errands, photography, and commute included. (Hmm, I wonder why they called it the everyday backpack?)
Peak Design's backpacks are best known for their innovative design, and customizable modules and organizational shelves. The everyday backpack is still one of the most unique bags I've come across!
It's safe to say that when I heard Peak Design was releasing a larger travel backpack, I was stoked! Out-of-the-box, I knew this travel backpack was special just by its sleek and seamless appearance, and durability to match.
Ready to dive into our Peak Design Travel Backpack review, let's goooo!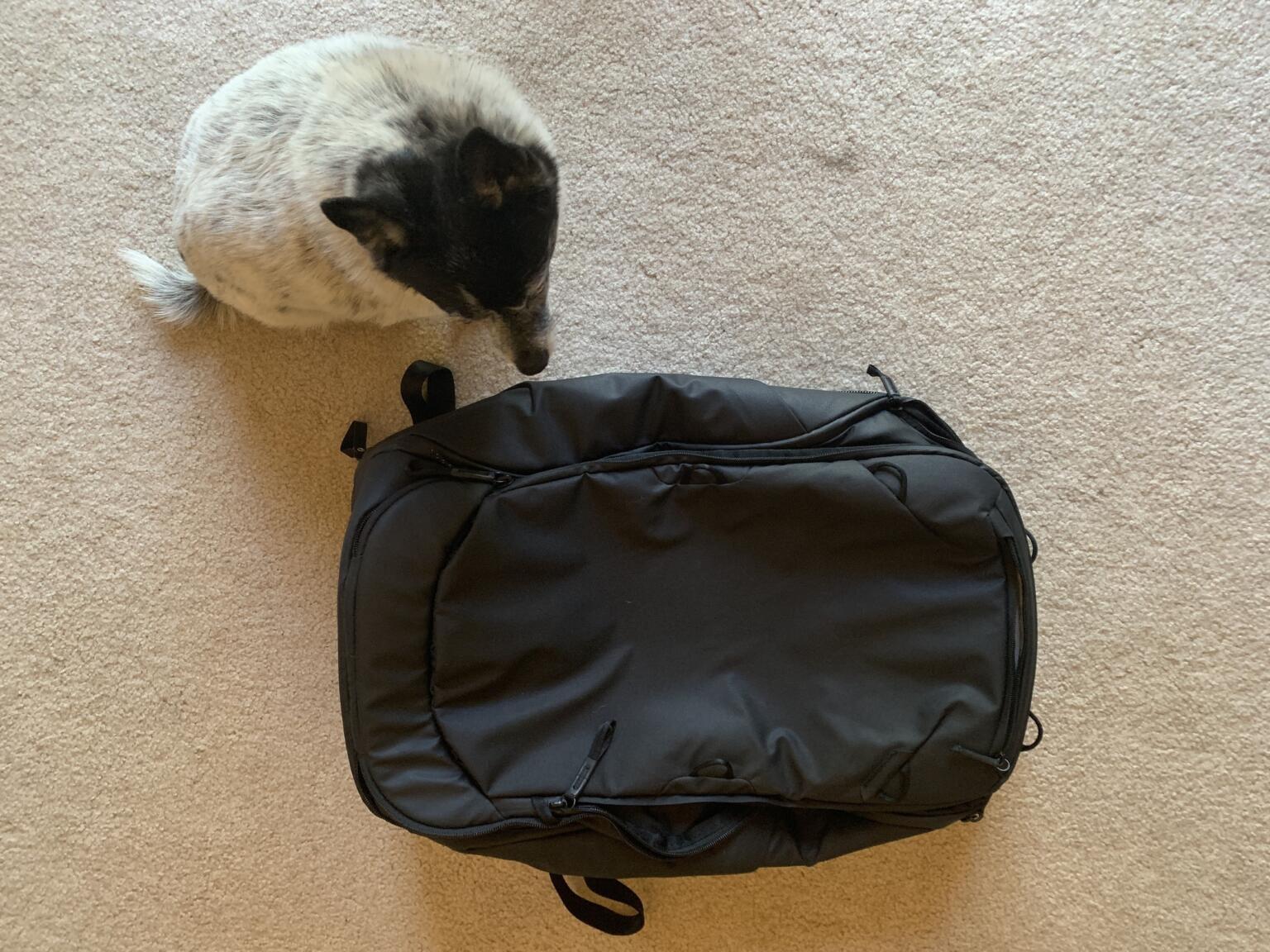 Upon first use, I was impressed by its many access points and organizational pockets. And after using this pack several times I can ensure that it checks off all of the important ticks: size, organization, durability, and that X factor. You know, what makes this pack unique from all of the rest.
What's Peak design's X factor? You'll have to keep reading to find out.
In this full and honest review, I'll dish out all the details from my travel experiences with the Peak Design Travel Backpack and help you figure out if it is worth your purchase.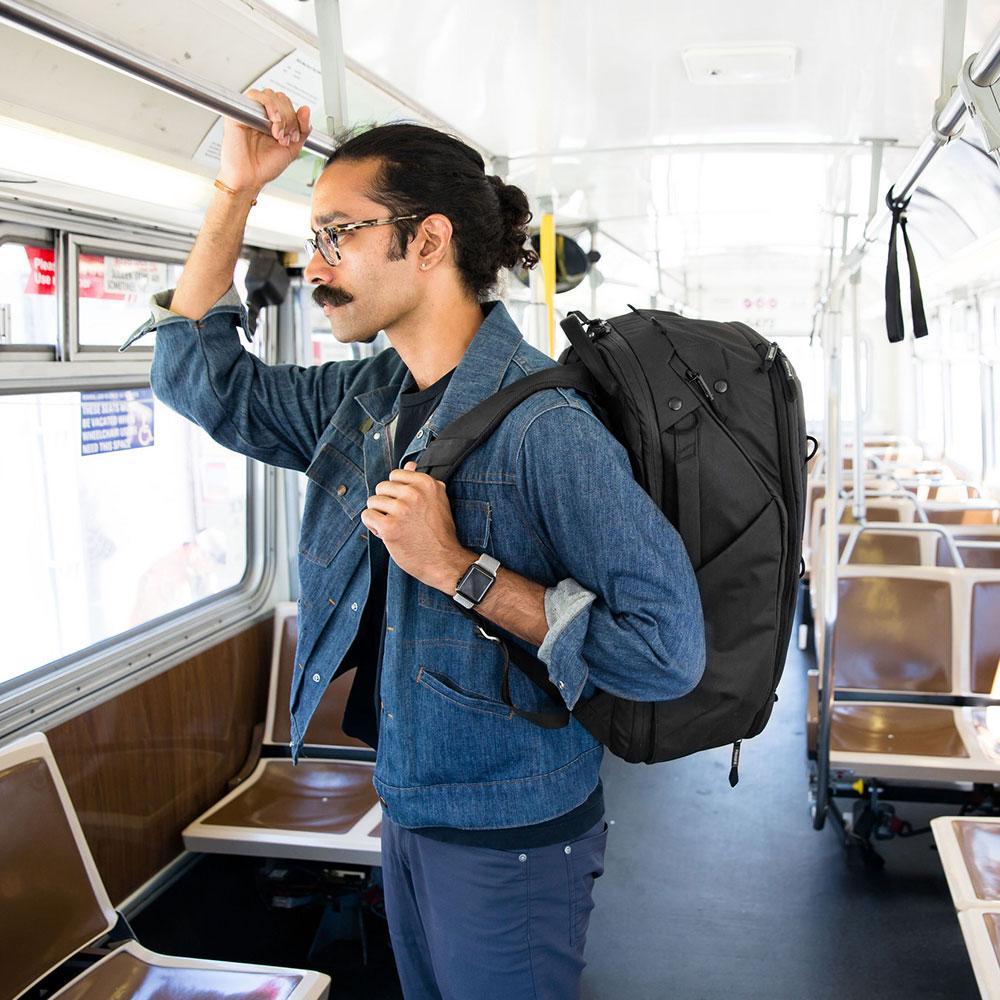 The Peak Design 45 liter Travel Backpack is for you if you…
need a well-designed and innovative travel backpack.
mostly travel to cities.
pack light and do not need to pack for cold weather.
need a travel backpack for weekend-long and weeklong trips.
are a Digital Nomad.
value customizable organization.
want a travel backpack that doubles as a photography backpack.
Overall the Peak Design 45l Travel Backpack is great for anyone who likes its design, efficiency, and organization. It's easily one of the best minimalist bags on the market. Is the Peak Design travel backpack perfect? Of course not. But it's a damn good backpack for most travelers.
I think this bag is big enough for a multi-week trip IF you are not carrying very much photography/electronic gear. A lot of full-time travelers can make a 45 l backpack work for extended trips, while others will need more space.
Now let's take a look at who the Peak Design 45l backpack is NOT for…
Ladies & Gents, It's Time to Step Your GEAR Game Up. 😉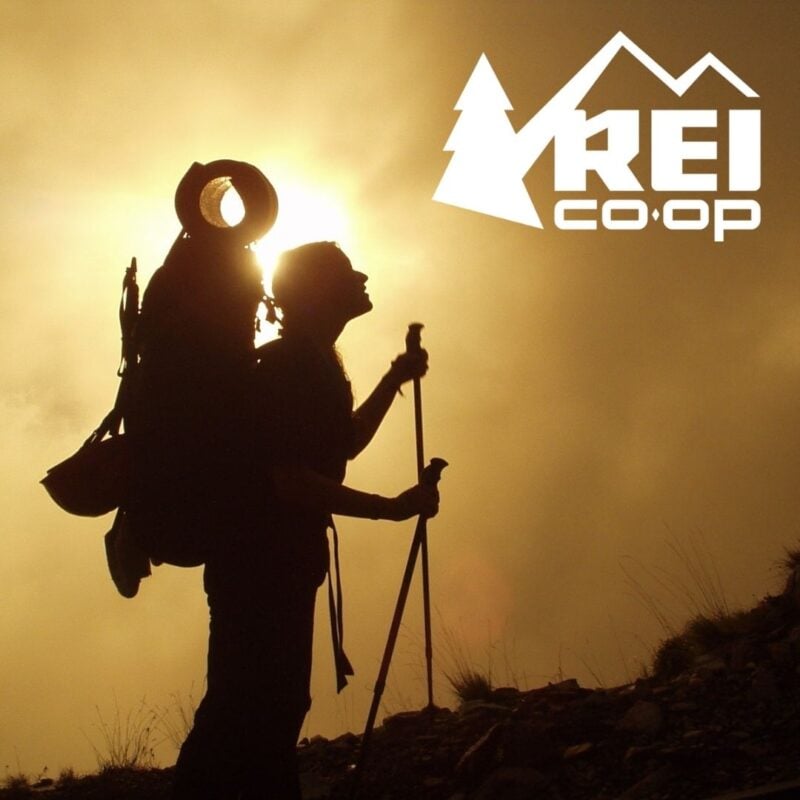 REI is one of America's biggest and most-loved outdoor gear retailers.
Now, for just $30, get a lifetime membership that entitles you to 10% OFF on most items, access to their trade-in scheme and discount rentals.
Join REI Today!
Quick Answers – The Peak Design Travel Backpack is NOT for you if you…
need a hiking backpack.
primarily want a day pack. (The Peak Design 45l bag is a bit too big for your average day pack.)
travel heavy. This is a 45L bag at maximum.
prefer the classic backpack look. This is an ultra-modern design.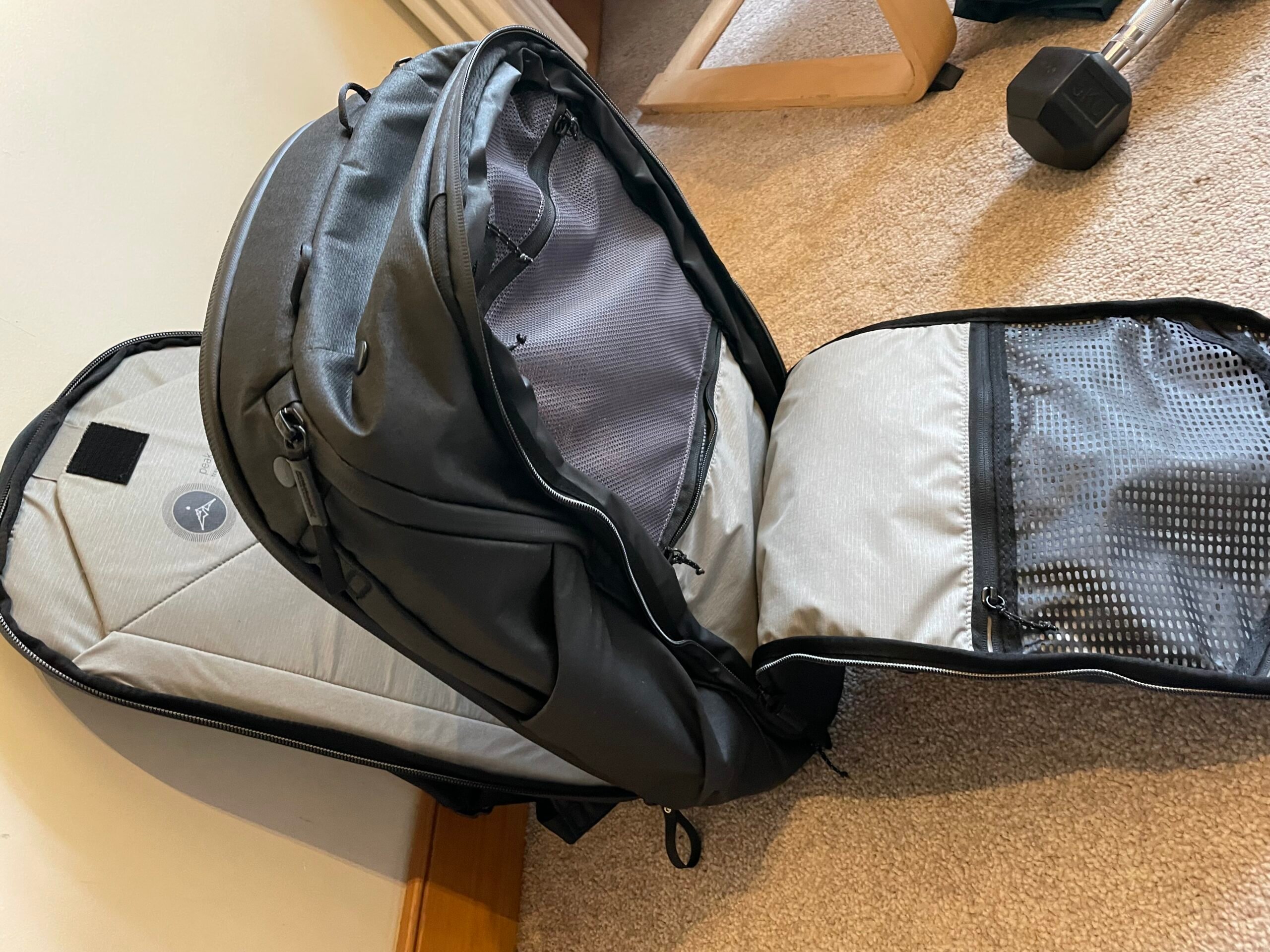 If you are considering this backpack, then you are most likely drawn to its sleek, modern design and next-level organization. You may also love the fact that Peak Design makes travel photography bags and gear.
The Peak Design travel backpack does a bit of everything. Use it for big trips, weekend trips, commutes, as a day bag, or as a camera bag when you need to. A 45-litre travel backpack is a pretty versatile size!
That said, I should emphasize that this backpack is first and foremost a travel backpack. While you can buy camera dividers and cubes separately that will integrate with this bag, this wouldn't be my first pick for a camera bag as a 45l bag is tad bulky in my opinion.
That's not to say this doesn't make for a decent camera bag, but this bag best used for travel versus casual day to day use.
I bring this up because this backpack has been criticized for its similarity to the Wandrd Camera bag. Though I think the Wandrd Bag has similar features, like the dual side access, you would be better off comparing Peak Design's Everyday Backpack to other camera backpacks.
Summary: Peak Design 45 L is a travel backpack. And a great one at that. Use it as a day pack when you need to, but don't buy this pack specifically for day to day photography and commute. If that's what you are after, look at their Everyday Backpack instead.
Now, let's get into the specs, best features, and potential improvements.
Quick Answer: Peak Design Backpack Specs
Price: $300
Capacity: 45 Liters Max
Laptop storage: a 17-inch laptop + iPad
Weight: 4.55 lb (2.1 kg)
Dimensions: 9 in x 22 in x 13 in (22.9 x 55.9 x 33 cm)
Peak Design's Backstory
Before I review Peak Design's newest backpack, I'll give you some background on the company itself.
Peak Design is best known for its thoughtfully designed camera backpacks, but they didn't start as a backpack company.
The CEO and founder, Peter Dering, was inspired to create travel products that help you carry your camera gear efficiently and securely.
After going on a 4 month trip around the world, he designed their first product, Capture, a metal clip that helps you carry your camera in an accessible and convenient place (i.e. your backpack, belt, or bag).
Capture is a great invention, as it can get pretty annoying taking your camera in and out of your bag when you're on the move!
From there, Peak Design made their mark with their everyday backpack (20-30 liters): a pack that adapts to your day-to-day life, whether that is travel, commute, or photography.
The pack that I am reviewing is their newest edition, a 45-liter travel backpack designed for extended trips around the world!
As I said before, Peak Design is known for producing camera products and photography bags, but the 45-liter backpack is NOT primarily a camera bag. It's a TRAVEL BAG.
I like that it CAN be a camera bag; it's the epitome of the modern "one bag travel" movement. In other words, this backpack was designed to be used in multiple situations, from daily use to extended vacations.
Peak Design Bag Size
This is the single most important feature of the Travel Bag. In this case, size does matter. What's great about this bag is it can be sized from 30 liters to 45 L, so you are always carry on compliant.
35 Liters is its normal size, but it can expand 10 liters OR you can use the compression snaps reduce bag to 30L, making it a day bag (though quite a large one at that).
Having said that, traveling the world with a 45L bag is not for everyone.
If you aren't sure if you want to pack light or pack heavy, read the 'Great Backpacker Debate' in our breakdown of the top travel backpacks. It'll give you everything you need to know about whether traveling ultralight or traveling with more stuff is better for you and your style.
Is the Peak Design a Carryon? (Spoiler alert – YES )
In the eternal argument of 40L vs 60L bags is one important discussion, mostly because it's the difference between the ease of carry-on and dealing with checked luggage and fees! If you travel a lot, then you can end up wasting A LOT of time at luggage reclaim areas.
Traveling with a carry-on bag can be a game-changer. Not only will you have the peace of mind of knowing where your valuables are at all times, but traveling can also be a lot cheaper! (Checked bags add up quickly!)
This backpack meets international max carry-on standards in the default 35L configuration. Stick to these dimensions and you shouldn't have trouble getting onto even the most strict budget airlines.
If you need more room, then the dual expansion zips give 10L extra volume for 45L max storage.
So if you are looking for one of the best carry on bags – you may have just hit the jackpot.
The best present of all… is CONVENIENCE!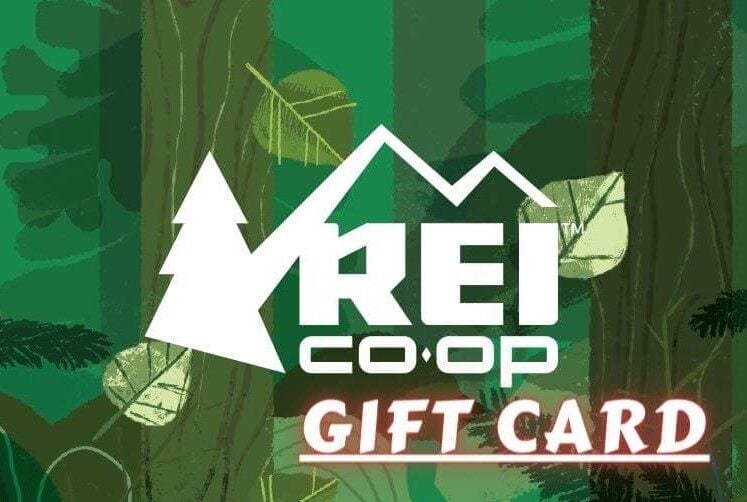 Now, you could spend a fat chunk of $$$ on the WRONG present for someone. Wrong size hiking boots, wrong fit backpack, wrong shape sleeping bag… As any adventurer will tell you, gear is a personal choice.
So give the adventurer in your life the gift of convenience: buy them an REI Co-op gift card! REI is The Broke Backpacker's retailer of choice for ALL things outdoors, and an REI gift card is the perfect present you can buy from them. And then you won't have to keep the receipt. 😉
Buy on REI!
Peak Design 45 Liter Travel Backpack – Best Features
The Travel Backpack carries over some of the conveniences of the Everyday bag, including easy dual side access. This means you can access the main compartment while it is still attached to you by flipping it around to the front of your body.
There is also a laptop/tablet sleeve, intuitive carrying handles, and organizational pockets.
What sets this travel backpack apart from the everyday bag is its size. You can use this bag for your entire travel trip, versus JUST as a day bag.
Material and Aesthetic
The majority of this backpack is made from 400D nylon canvas with built-in water resistance. You can rest easy knowing that your stuff is going to stay dry if you get caught in a rainstorm.
The bottom of the back is designed with 900D nylon canvas to help protect your valuables from additional abrasions and drops. It's worth mentioning that this also allows the pack to stand up on its own, a great feature when you're out and about!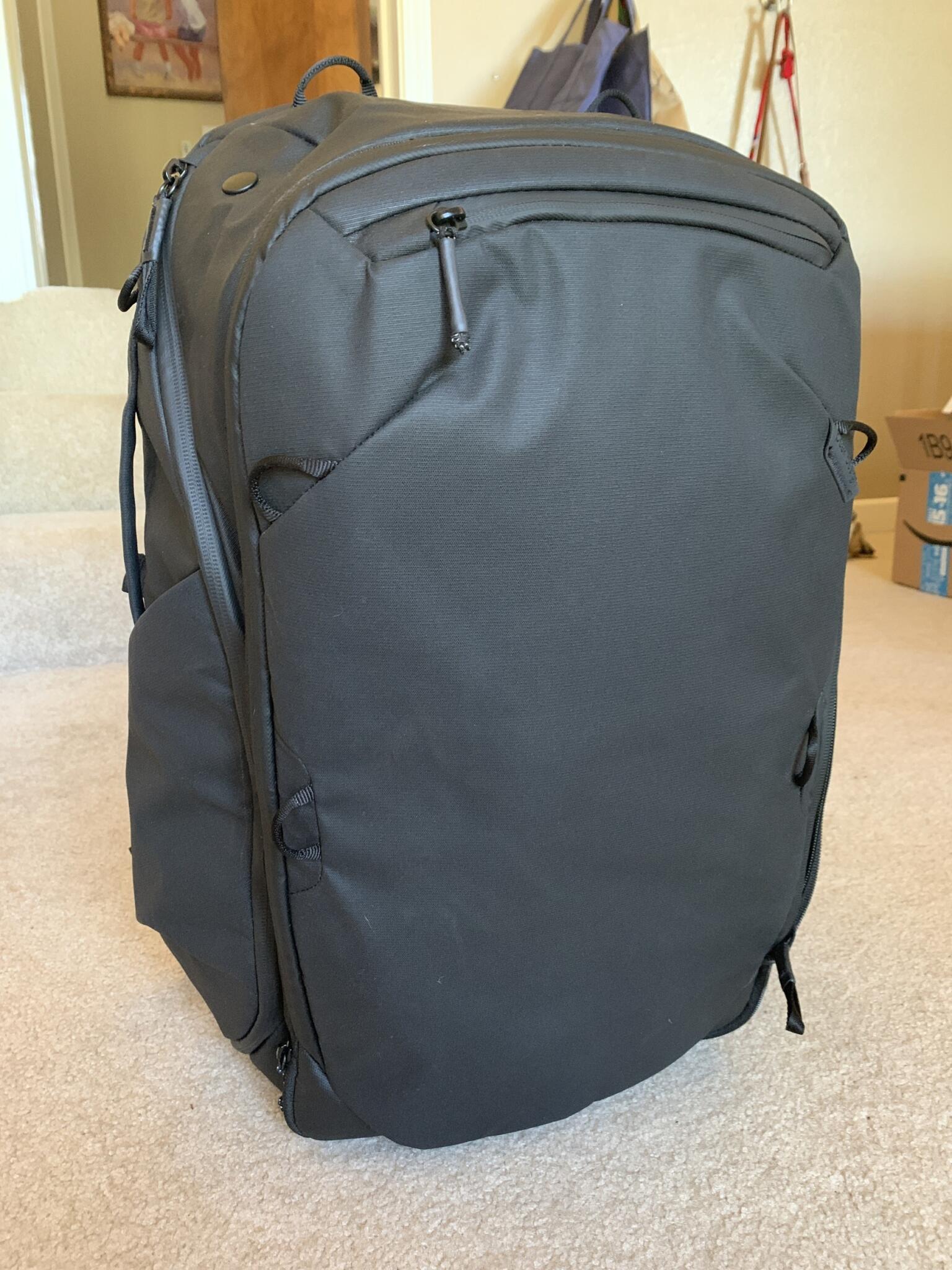 There is a DWR coated polyurethane liner—which will add some more weatherproofing—aluminum hardware, and a bunch of Zoom zippers.
As far as the overall aesthetics, the bag itself is sleek and minimal even though there are a ton of pockets and features, which I cover later in this Peak Design review.
The Peak Design Travel Backpack comes in two different colors—black on black, and sage. I own the black backpack, but like the look of the sage one as well.
The overall look isn't for everyone. I think this backpack has the same sleek, modern, and eye-catching vibe as a new duffel bag or the Tortuga or AER travel backpacks.
On the other hand, it's not my preferred look as a day bag or commuter pack. It feels too bulky for my frame. If I just wanted an everyday bag, I would choose Peak Design's Everyday Backpack. I am still a fan of the classic backpack look when it comes to getting around the city.
That said, this 45-litre backpack was designed for one bag travel; no more backpacking with a pack on your back and your front.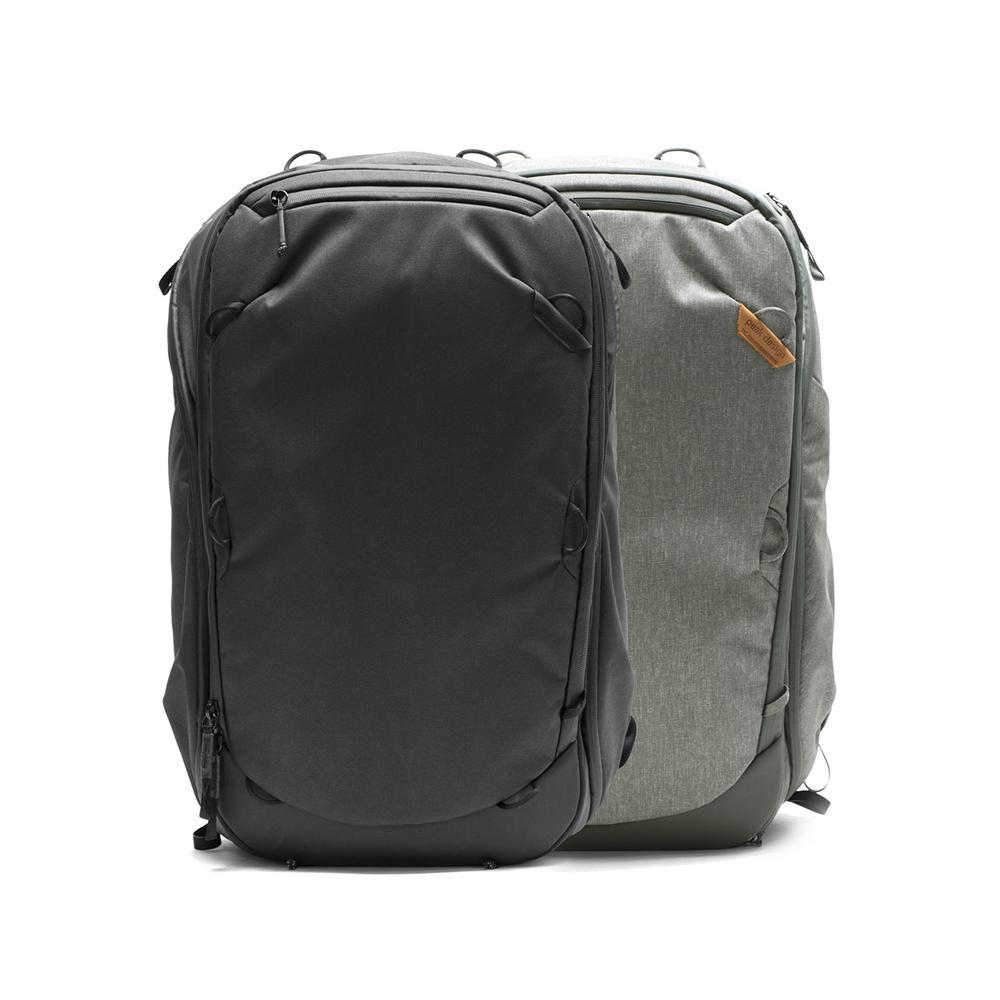 Durability and Security
As mentioned above, this 45-liter backpack is made from durable, high-quality material. There are a couple of hidden pockets to keep your valuables safe. All the zippers on this bag are lockable with O-rings too!
Organizational Features and Accessibility
This is where Peak Design's backpacks shine. They make their packs with ultimate customizability, so you can organize and access your things in whichever way works best for you!
Accessibility is one of the most important features to look for in a travel backpack. (No more digging for a pair of socks from a top-loading backpack.)
The Peak Design travel backpack's main compartment can be accessed from the back, front, and both sides, though its main access point is a full zipper from the back.
The back access keeps the straps clean from the main compartment and allows you to access the bulk of your things like a suitcase.
In this case, I think the back access is a good design and a better option than accessing the main compartment from the top.
That being said, I would NOT choose a back access backpack for hiking, and this is only further confirmation that this is NOT a hiking backpack. You'll never find back access on a hiking backpack because it compromises any type of suspension system.
This is also why I am hesitant to choose a back panel pack for a camera bag. When you're carrying heavy camera gear, you want a comfortably fitting backpack.
Anyway, I do love how the rear of this Peak Design travel bag opens up completely for instant access to the entire bag. Plus, because this bag opens from the back versus a full zipper in the middle, you have access to the entire space while packing.
You also have access to the main compartment via TWO side panels. I'm not a huge fan of having dual side access in the 45 L travel backpack. While I do love this feature in the Peak Design everyday backpack, I think it is overkill for a bag that's 45 liters that already has back and front access.
Still, the dual side panels are awesome if you are using the integrative camera cubes with this pack.
The main compartment is ALSO accessible from the front section via a full-length zipper, as pictured below. This is a pretty awesome feature, as sometimes you need to access the main compartment but can't use the back panel.
Other times, you may want to remove this section altogether and use the bag in more of a duffel bag format.
There are so many external handles on this pack. And I love it! The top handle is well padded and the two side handles are great when you are grabbing your bag from your car or an oversized bin.
Lastly, there's one on the bottom PLUS on the back panel for when you fold and put away the straps. You can grab this backpack no matter how it has been stored.
Main Compartment Features and Pockets
The main compartment is accessible via a full open zipper, like a suitcase. This compartment works great with Peak Design's dedicated travel accessories and packing cubes, which I'll cover later. You don't need to use their system though and it works great as-is.
On the sides of this compartment, there are some elastic loops to fully integrate their camera cube system, so you definitely CAN use this backpack as a camera bag.
You also have two zipper pockets that get you access to the front section (though you can't see these pockets from the picture above because they are underneath my clothes). One pocket is mesh and the other more discrete.
Laptop/Tablet Slot
Laptop sleeves are essential, and we wouldn't recommend a travel bag without one.
Note: Check out our article on the best travel business backpacks!
As much as we love them, old school travel bags like Osprey and REI can't give your tech-specs the same love.
Peak Design's laptop compartment is located on the back panel and can be accessed by unzipping the main compartment by just a few inches. You can also unzip the backpack entirely and send the computer through security. See my photo above!
There's ample space for pretty much any size laptop and a smaller pocket for an iPad, Kindle, or journal.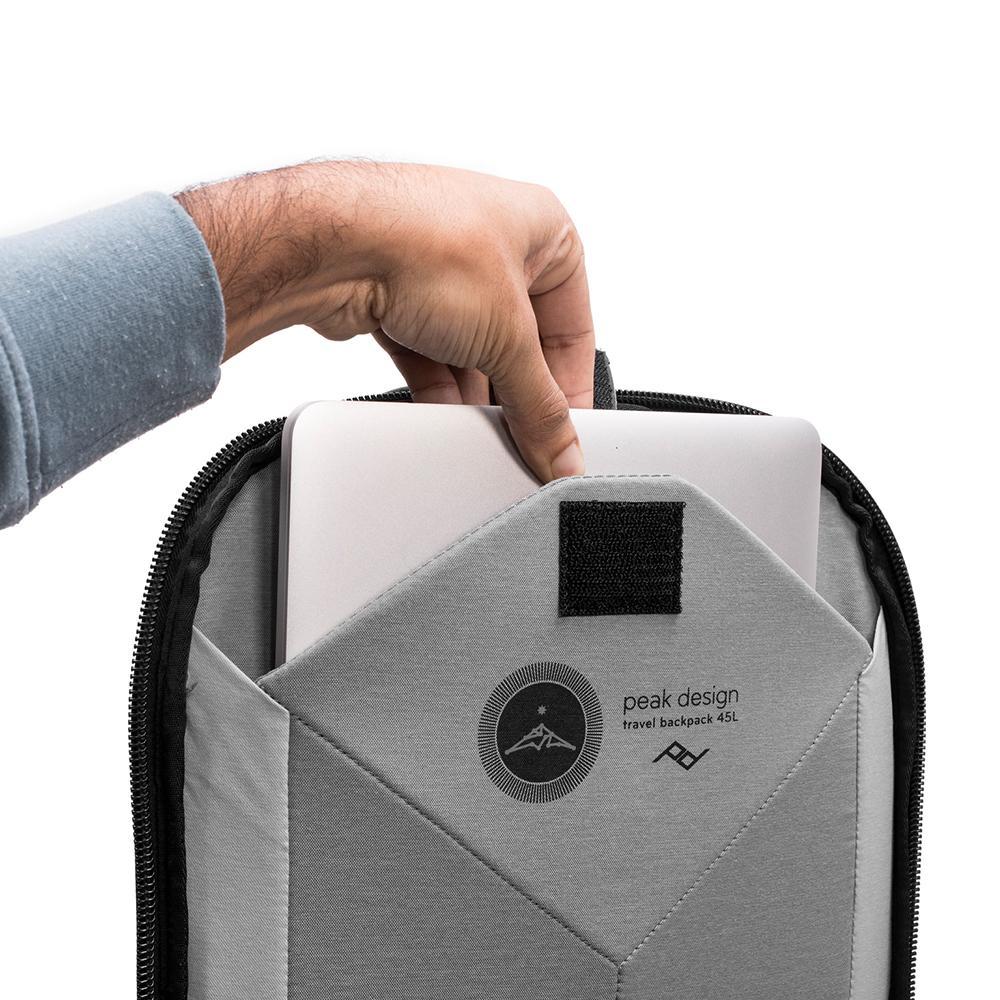 Pockets and Organization Continued
This backpack has some of the most intuitive pockets I've used. There are a good amount of external and internal pockets as well as a few hidden ones to keep your things organized.
Moving to the exterior pockets, the top quick stash is perfect for small snacks, your keys, phone, and even your passport and documents, though valuables are best stored away in the hidden side pocket! This top pocket has a fabric lining, so your sunnies or valuables won't scratch.
Dual external carry straps stow away in a magnetic external pouch. These work great for extra clothes like a jacket, or even your tripod and tuck away when not in use.
Moving to the inside of the pack, the main front area zips all the way open to easily access your things. This section is huge with four good-sized sections to organize your things as well as enough room to store an extra jacket, book, etc.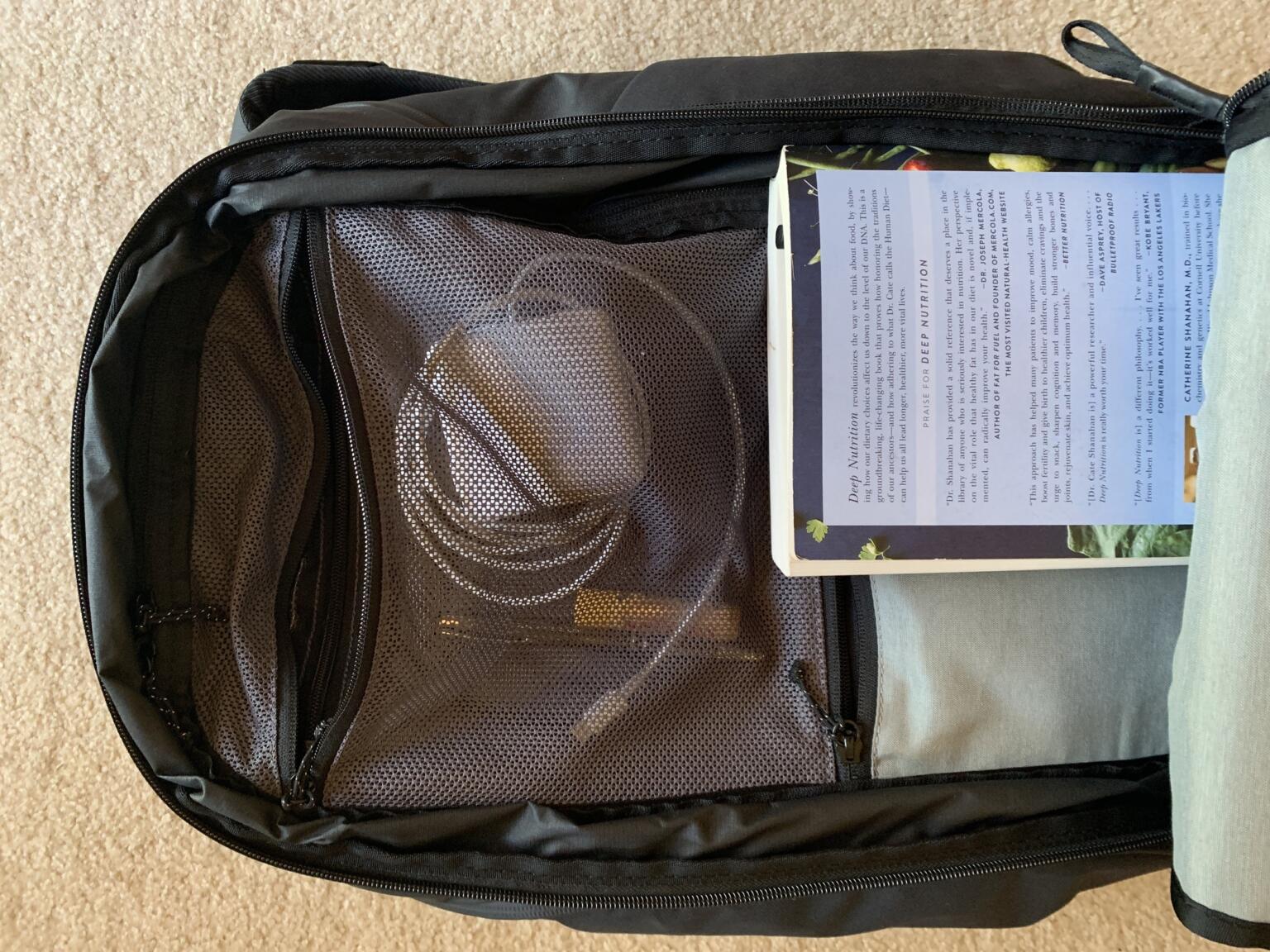 Because of this section, it's one of the best-organized travel backpacks I've used. I feel like I'm packing for my first day of school again! (You guys remember that feeling, right?)
The two top pockets (that face each other) are mesh and the bottom two are nylon. Use the top zipper pockets for anything you would need to grab quickly and your everyday essentials.
I use these pockets to organize my wires and chargers, head torch, small electronics, pens, etc.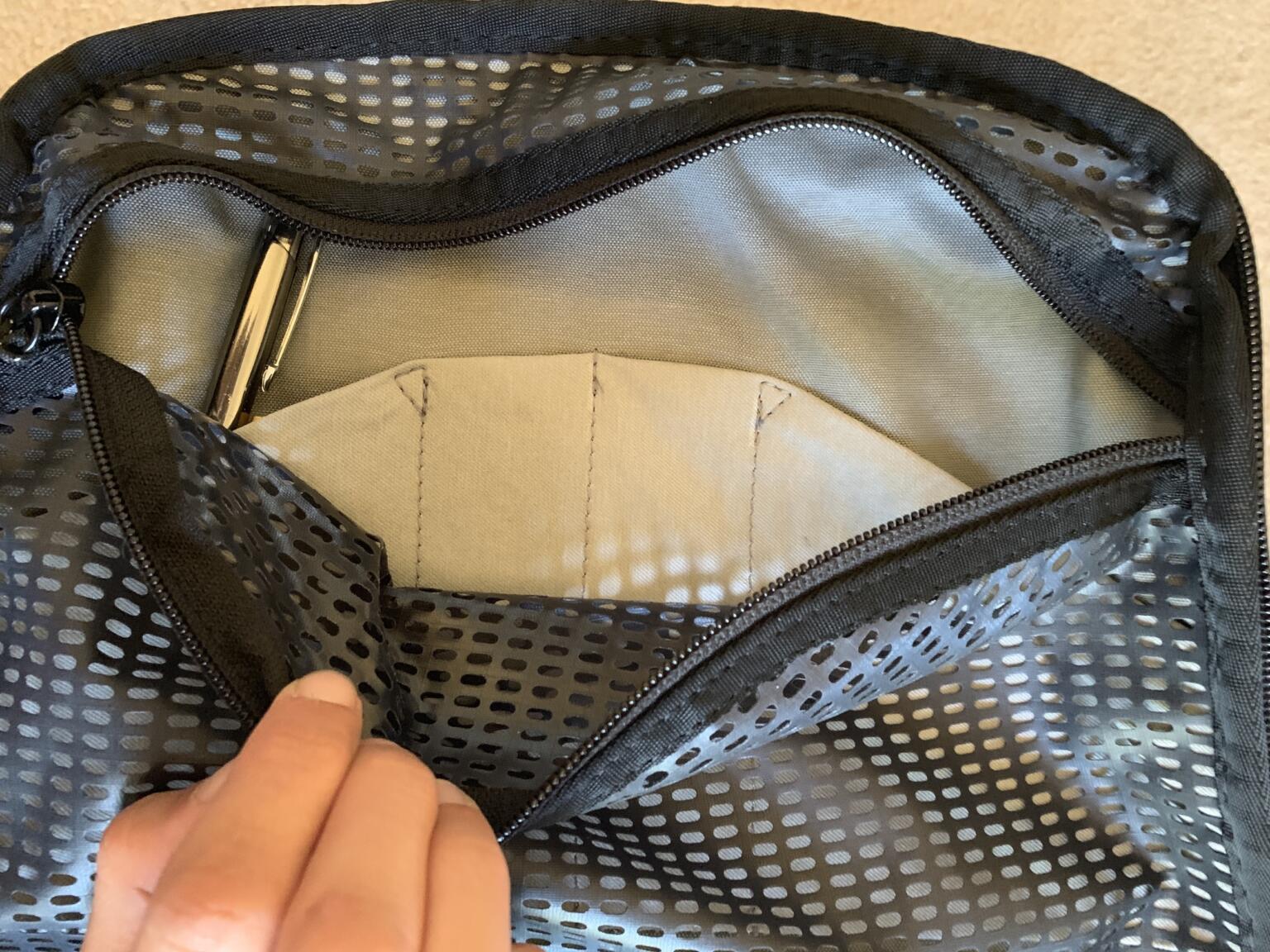 If you don't want to use all four of the pockets, that's fine—they lay flat, so it won't make a difference in the overall space of the bag.
The side pictured above is ALSO accessible from the main compartment! You can access your main compartment from the front or even "remove" the separator altogether so that bag is more like a duffel bag.
If you would rather access your backpack from the front than the back, then it's a great feature! This level of customizability is what sets Peak Design's travel backpack apart from the competition.
Side Pockets
I am a big fan of the expandable side pockets. I have used a couple of bags that can't fit my 40 oz hydro flask, which is always a huge bummer. I'm pretty confident that this bag will handle any sized bottle, including a wine bottle. Just saying.
Plus, the side pockets are made from durable nylon, not mesh (which is often the first material to give out on backpacks). A final note on the side pockets: there is also a stealthy zippered pocket within the water bottle sleeve. It's so stealthy I didn't know it existed at first. I'm assuming thieves won't either!
I think the straps are extremely comfortable! I am also a big fan of the easy-to-stow waist straps for when you are en route or storing your backpack away.
(Side note on the straps: There is a stretchy, mesh-like pocket on the left-hand side of the hip belt for small items.)
The rotating shoulder straps and waist straps are one of Peak Design's signatures. Because the shoulder straps easily rotate, it's easy to swing the pack around and access the sides while you're still wearing it.
The rotation also makes it easy to tuck and stow the straps behind the panel when not in use. I have a few backpacks with detachable straps, but they're so annoying to remove that I never do. I LOVE how easy it is to tuck away Peak Design's entire harness system in just a couple of seconds.
The harness system tucks away via the magnetic stowage behind the pack. Once everything is hidden, there's a handle in the middle of the back panel that can be used to carry the bag in duffel mode. The handle also works as a pass-through system for roller luggage!
One final very cool feature about the back panel is that you can fold the edges of the panel inward at their creases so that the panel takes up less surface area (for better ventilation) AND provides more padding for comfort.
It's little details like these that make Peak Design such an incredible company.
Is There Room for Improvement?
Honestly, there isn't much to complain about. I really do love the design of this backpack.
I'd say the biggest drawback is its price. The backpack costs $300 which is pretty steep. Add in a couple of the accessories and the price can quickly jump up to $400.
I'm also not sure how I feel about having two side access panels and I think one side panel would be enough.
Peak Design Travel Bag Accessories
There are quite a few Peak Design travel accessories you can purchase to accompany your bag. I haven't used Peak Design's camera cubes or tech pouch (which looks similar to the wash pouch), so I won't be reviewing those.
I do own their wash pouch and packing cubes and genuinely recommend them. I love the Peak Design packing cubes and I would not hesitate to buy them. They are much better quality than my other cubes, plus they're compressible and instantly dividable.
I've always thought packing cubes should have a separate slit for dirty clothes… Well, Peak Design did that with their internal divider! Each compartment is also able to expand and contract based on its contents. They really do think of everything.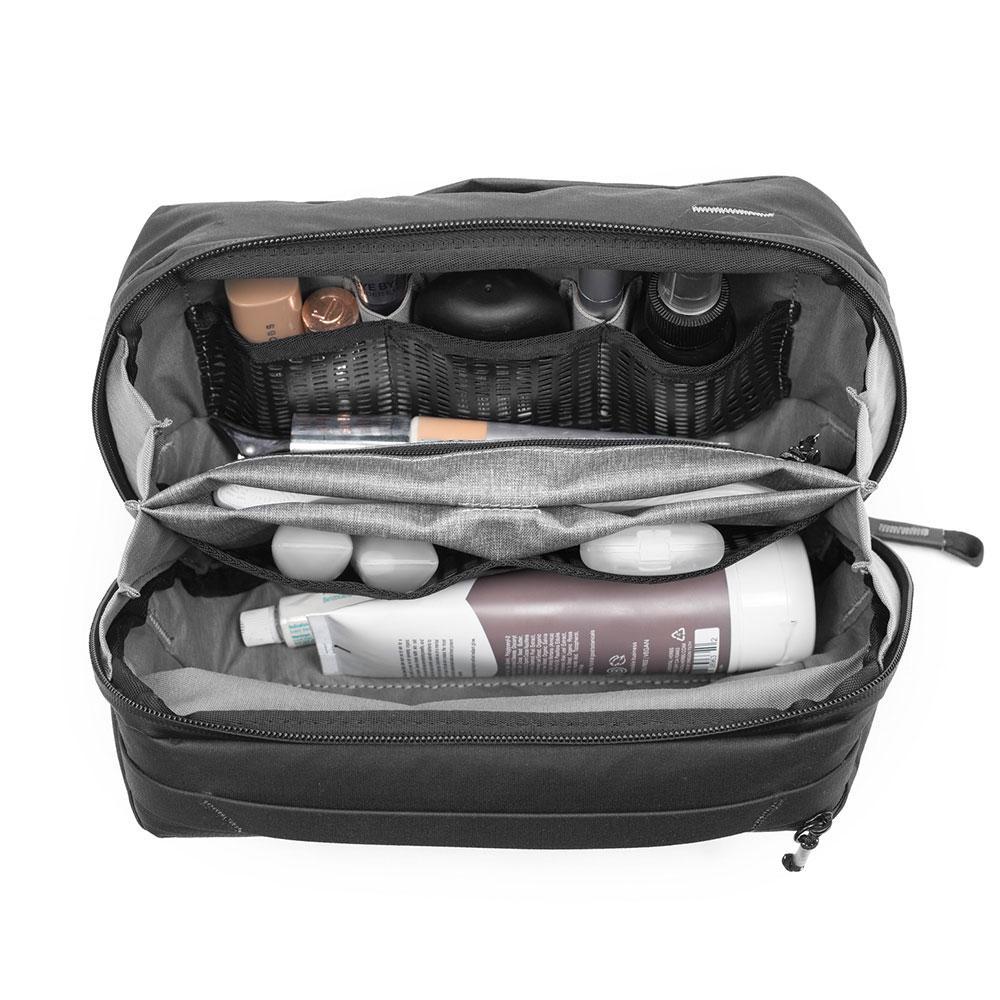 Their wash kit is an essential toiletry bag. Again, if you don't already have a toiletry kit then don't hesitate to buy this one! I love that it sits upright on the counter AND hangs via a stowable hook.
It separates down the middle via a magnetically-sealed toothbrush pocket to separate, say, make-up from bath toiletries. There is a network of mesh pockets on each side of the bag too. You'll find an external razor pocket.

Our GREATEST Travel Secrets…
Pop your email here & get the original Broke Backpacker Bible for FREE.
Final Thoughts on the Peak Design 45 Liter Travel Backpack
The Peak Design Travel Backpack 45 L is a well-executed travel bag from a company with an excellent track record of designing innovative and customizable backpacks.
After using this bag on multiple trips including a weekend trip into the city, a multi-day car camping trip, and an extended trip via air travel, I can honestly say that this backpack can easily handle one bag travel and digital nomad life with ease, and it's one of my favorite travel backpacks to date.
What do you think? Did our review answer all of your questions? If you have any more, let us know in the comments below!
What is our final score for the Peak Design Travel Backpack 45 L? We give it a rating of 4.5 out 5 stars!

---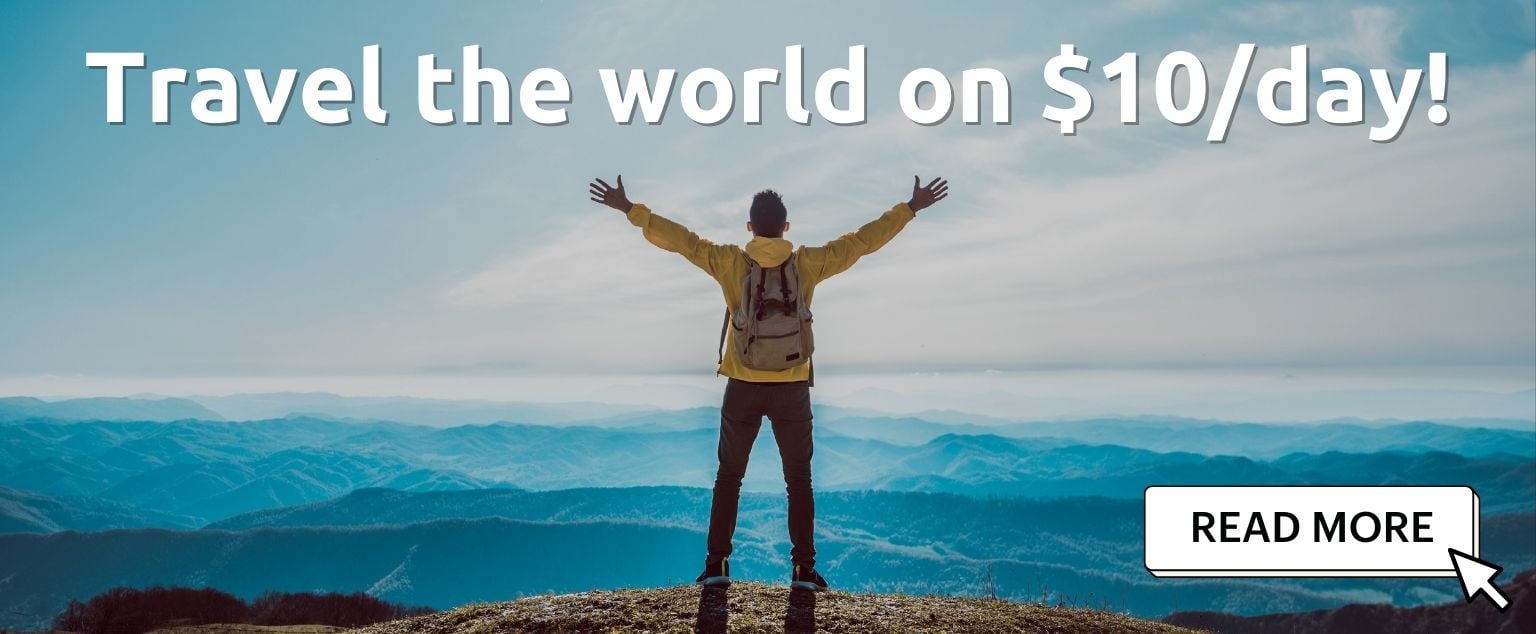 And for transparency's sake, please know that some of the links in our content are affiliate links. That means that if you book your accommodation, buy your gear, or sort your insurance through our link, we earn a small commission (at no extra cost to you). That said, we only link to the gear we trust and never recommend services we don't believe are up to scratch. Again, thank you!