With its myriad of backwaters, verdant greenery and sun-soaked beaches, Alleppey is a mecca for all types of traveler.
But, being such a tourist magnet, deciding exactly where to stay in Alleppey can be challenging. Navigating budget backpackers and plush eco-resorts is no easy feat.
That's why we've sent our expert travel writers in to suss out the best areas to stay in Alleppey. Whether you're on flashpacking or backpacking, flying solo or have the whole tribe in tow, our Alleppey neighborhood guide takes the heat off finding your perfect digs.
We've checked out all the best places to stay in Alleppey. On top of that, we've rounded up the top accommodation in town.
Let's get started with the best areas to stay in Alleppey.
Many backpackers to India find their way down to Alleppey in beautiful, lush Kerala. These are the best places to stay in Alleppey.
Surrounded by an oasis of greenery, this authentic Keralan homestay is clean, peaceful and furnished with an artistic touch. There is a bathroom for guests, but no kitchen facilities.
Fortunately, you have plenty of delicious Keralan eateries to discover! Breakfast is included which you can enjoy on your serene balcony.
This majestic, colonial building has been transformed into one of the coolest places to stay in Alleppey. Bunk up in one of their dorms or splash out on a private room.
There are lots of communal areas to kick back in whilst you soak up the arty ambience of this sociable hostel.
Splash out on floating Alleppey accommodation for at least one night, and stay on one of the houseboats that take you on a cruise along the backwaters. The Sreekrishna Houseboat is the most affordable option we've found, which provides high levels of comfort with ensuite cabins and all meals inclusive.
FIRST TIME IN ALLEPPEY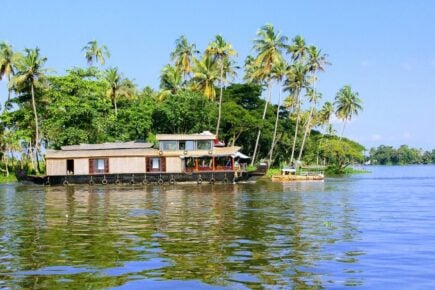 FIRST TIME IN ALLEPPEY
Punnamada Backwaters
The backwaters of Alleppey are the main reason for travelers to come to this region, and whatever your budget, we heartily recommend getting out on the water.
ON A BUDGET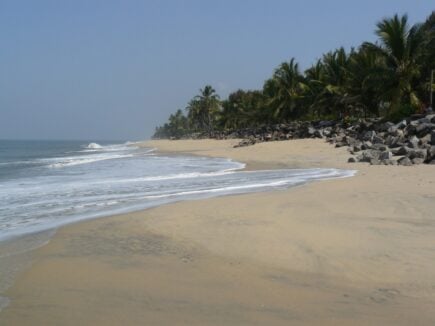 ON A BUDGET
Alappuzha Beach
Even in such a tourist hotspot, there are plenty of budget accommodation options to be had in Alleppey. But for the cheapest digs, Alappuzha Beach is our pick for where to stay in Alleppey on a budget.
FOR FAMILIES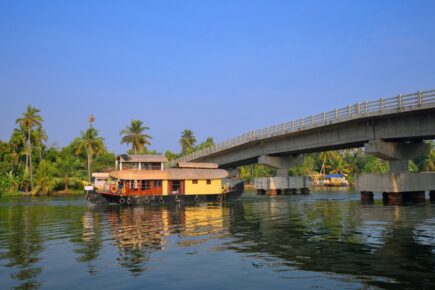 FOR FAMILIES
Kainakary
Kainakary is a village that lies to the east of Alleppey city center and is blessed with serene nature. A realm of water, it is a network of waterways, lakes and ponds.
Often dubbed the 'Venice of the East' travelers flock to Alleppey to experience its winding waterways. But there are heaps more thing to see and explore in Alleppey! Lush rice paddies. Christian churches rubbing shoulders with Hindu temples. Intoxicating Karalan flavors. Golden beaches that will make your jaw drop.
Alleppey (often known by its younger name, Alappuzha) is located in the southwestern Indian state of Kerala. Kerala is flanked by a tropical coastline lapped at by the Arabian Sea. Alleppey sure knows how to reap all the benefits!
The city is broken down into a series of tiny neighborhoods. For the purpose of this guide, we've focused on the best neighborhoods in Alleppey for first-time visitors, families and budget travelers.
If you're looking where to stay for your first time in Alleppey, our pick is the Punnamada Backwaters. From here you can explore the city center easily as well as hit the waterways.
If you're traveling on a budget and love the beach, you're in luck. Alappuzha Beach is the best neighborhood in Alleppey to stay in for thrifty backpackers!
If you need to know where to stay in Alleppey with kids, check out our Kainakary neighborhood guide. It's packed with nature to get their hearts pounding!
Is This the PERFECT Travel Pack???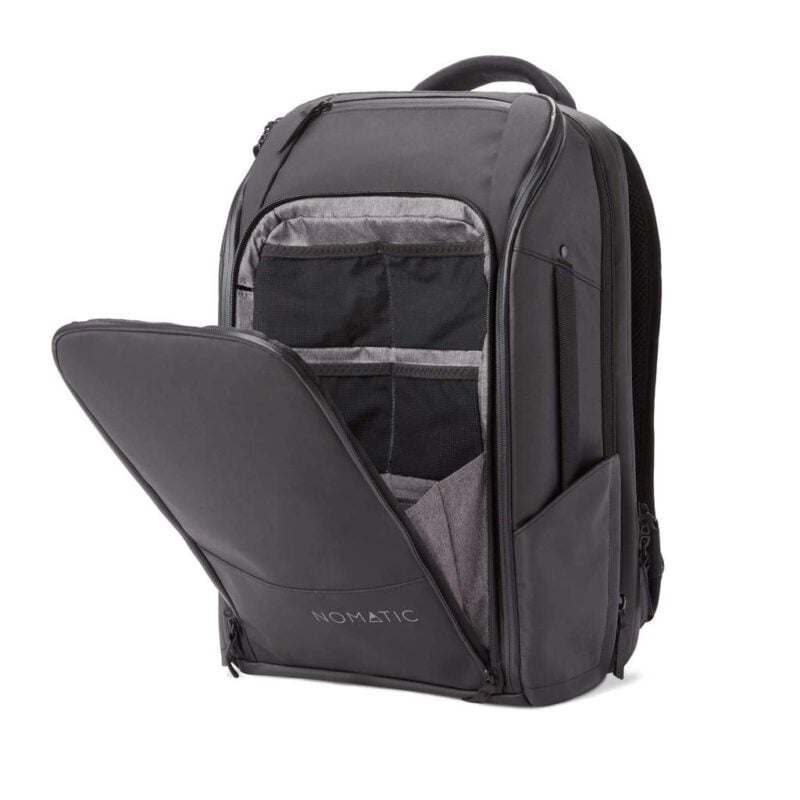 Alleppey's 3 Best Neighborhoods to Stay in
Let's take a look at the 3 best neighborhoods to stay in Alleppey. They're each a little different, depending on the type of experience you're after.
The backwaters of Alleppey are the main reason for travelers to come to this region, and whatever your budget, we heartily recommend getting out on the water. If it's your first time in the city or you are looking for where to stay for one night in Alleppey, Punnamada puts the backwaters right on your doorstep.
The Punnamada Backwaters are located in the northeastern pocket of the city. This area is dense with a variety of accommodation options of varying price as well as houseboats. There are a number of temples and churches to admire in the neighborhood. And, of course, troves of eateries where you can get your hands on authentic Keralan cuisine.
An alternative to a houseboat, this Punnamada Backwaters accommodation is a 'floating' cabin built over two canoes. Two balconies give you plenty of chance to appreciate the surrounding greenery. Interiors are spacious, with a private bathroom. Breakfast is included, and other meals can be provided on request. Innovative, and totally unique!
A few metres away from the famous Punnamada backwaters, this awesome hostel in Alleppey Backwaters comes with a garden, mini library, working space for digital nomads and unique creative space for hosting special events. They run yoga classes and can help you plan your boat trips! Dorms and private room are available.
Best Hotel in the Punnamada Backwaters – Lake Garden Resorts
Comfortable, simply and in an excellent location, this 3-star hotel is a strategic spot to call home during your stay in Alleppey. Rates are reasonable, so you can put your hard earned pennies towards making the most of the local area. Rooms have air con and a pool to cool down in.
Things to See and Do in Punnamada Backwaters
During June, watch practice sessions for the snake boat races which take place in August. Or, watch the grand finale in August itself!
Book yourself a backwaters cruise, of course! Use a reputable operator such as Alleppey Backwaters, Kerala Backwaters or Jalasree Backwater Cruise. Check the most recent reviews before you choose
If you're on a budget join take a shared ferry service along the backwaters
Dedicate a few hours to a traditional Ayurveda massage
Visit the Kidangamparambu Sreebhuvaneswary and Mullackal Devi temples – two of Alleppey's most fascinating
Find the graceful statue of a mermaid at the side of the Vada Canal
Even in such a tourist hotspot, there are plenty of budget accommodation options to be had in Alleppey. But for the cheapest digs, Alappuzha Beach is our pick for where to stay in Alleppey on a budget.
The beach itself is lined with backpackers and low-cost homestays and guesthouses. Many of which are a few yards from the sand!
Now, about that sand… Alappuzha Beach is one of the most beautiful beaches in Kerala. This long strip stretches down the coast and provides sensational views far across the Arabian Sea.
You can use your time participating in water-based activities or simply lap up the sunshine and beach vibes. Make sure you plan a day trip over to the backwaters!
50 meters from the beach, this family homestay features a variety of rooms catering to solo travelers, couples and families. There is a spacious verandah where you can kick back and enjoy the sea view and a small gym for those who want to keep fit whilst on the road.
Best Affordable Hotel in Alappuzha Beach – Zostel Alleppey
Part of India's most trusted backpacker hostel chain, you're in safe hands with the beachside Zostel Alleppey. Chill on a rooftop hammock and mingle with other travelers or surf the free Wi-Fi. Budget, air-conditioned dorms are available, making this our favorite hostel in Alappuzha Beach.
Get the full castaway experience with your own beach cottage in our top hotel in Alappuzha Beach. Facilities are simple and prices will appease even the most budget-conscious backpacker. The beach is right there on your doorstep so you can jump in the sea before sipping your morning lassi.
Things to See and Do in Alappuzha Beach
Hit the beach! If you feel adventurous, you can parasail, surf or hire a kayak
Visit the quaint, red and white striped lighthouse
Stay in budget accommodation, but check into one of the larger resorts for a few hours if you fancy a pool day
If you've got kids with you, take them to the sandy amusement park Amaze World
Fill your tummy with the catch of the day at the Zakariya Bazar Fish & Meat Market
Browse antiques and precious gemstones at the Revi Karuna Karan Memorial Museum
Take a sunrise yoga class on the beach with Shine Yoga. Namaste!
Wander down the historic beach pier for an unforgettable sunset
Visit the nearby temples – ask your Alappuzha Beach accommodation for a map
Kainakary is a village that lies to the east of Alleppey city center and is blessed with serene nature. A realm of water, it is a network of waterways, lakes and ponds. As a result, this means there are no vehicles besides boats to be found here.
Come to Kainakary to switch off, connect with nature and absorb a rural way of living. Besides tourism, agriculture is a major source of economy for the locals. So you can see bountiful areas of paddy fields tended to by farmers.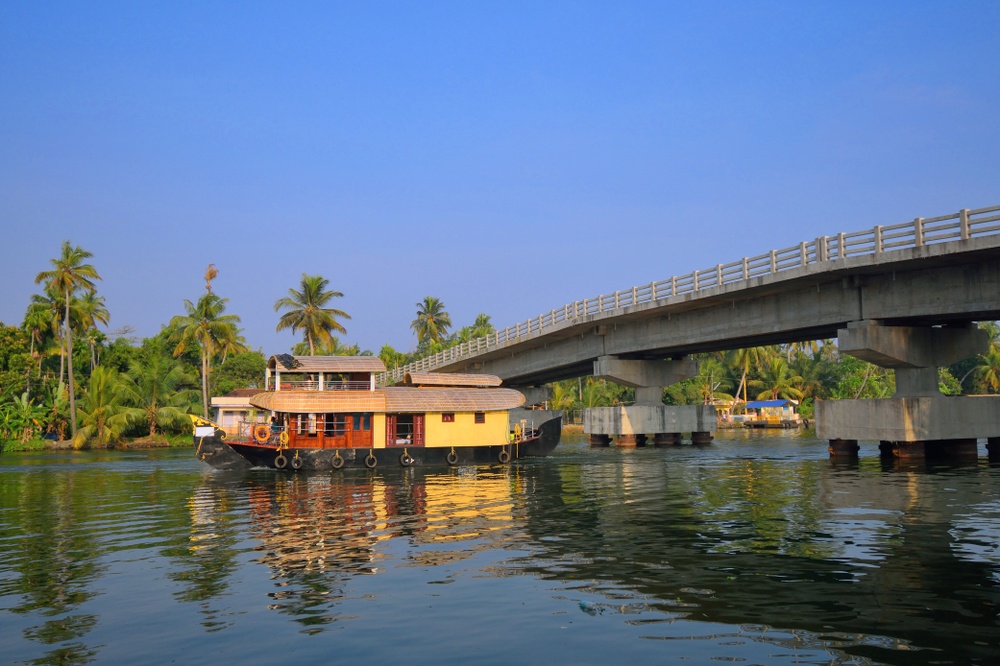 Given its calmness and fresh, clean air, Kainakary is our top recommendation for where to stay in Alleppey with kids. This is also one of the best areas to stay in Alleppey if you love nature.
There are a number of eco-lodges and homestays to rest your weary traveler's head. Besides those, you can also find luxury resorts that are affordable by western standards.
This expansive home has plenty of space to fit the whole family! There's a wide verandah to soak up the views from and the live-in hosts will be happy to organise local activities and outings.
Breakfast is provided and the father and son duo will cook additional meals fresh from the market.
With plenty of family rooms available, this unique accommodation is a great pick for where to stay on a budget as a family. Rooms come with private bathrooms and there's ample outdoor space where you can use the free wi-fi to plan the rest of your trip.
Breakfast is included.
Located on the banks of Vembanad Lake, this luxury hotel in Kainakary comes with upscale private cottages with Keralan decor. There's a swimming pool, spa, games room and restaurant onsite.
It's certainly one of the coolest places to stay in Alleppey for families or couples who just fancy treating themselves!
Things to See and Do in Kainakary
As with the Punnamada Backwaters, the best thing to do in Kainakary is to get out on the water
Rent a kayak, join a boat cruise – do either, or do both if you can!
Hire a bike or hike the local land trails
Spend lazy afternoons in your homestay of choice gorging on delicious local cuisine
Try your hand at fishing – enlist a local guide to help you
Potter around the local residential areas
Connect with this pastoral culture
Final Thoughts on Where to Stay in Alleppey
If you're looking to submerge yourself in the culture of water, there's nowhere quite like Alleppey. This is a place where you can slow down after the energy of other Indian cities. We love 'em, but sometimes you just need a spot to recharge.
In terms of which is the best neighborhood to stay in Alleppey, we've picked our three favorites. Overall, we recommend the Punnamada Backwaters.
Especially if you're looking where to stay your first time in Alleppey. This puts you within easy reach of the backwaters and both the city center and beach and within easy access.
We'd encourage any guest to spend at least one night on a houseboat such as Sreekrishna Houseboat C/o Sreekrishna ayurveda Panchakarma Centre. It's a once in a lifetime experience after all!
We love that Alleppey has plenty of cheap digs for backpackers and budget travelers. The Artpackers.Life is our favorite hostel in Alleppey for location, affordability and ambience.
And don't forget to take out Travel Insurance for your trip! I have been using World Nomads for some time now and made a few claims over the years. They're easy to use, professional and relatively affordable. They may also let you buy or extend a policy once you've started your trip and are already abroad which is super handy.
Getting an estimate from World Nomads is simple – just click the button or image below, fill out the necessary info, and you're on your way!

Do you own an awesome hostel, hotel or apartment? Want to be featured in our list? Email [email protected] to find out how.
---
Find out how YOU can support the site.
We work hard to put out the best backpacker resources on the web for free! It's all about helping out our tribe of awesome backpacker readers (that's you!). Please visit the link to find out how you can help keep the site going 🙂
For the sake of transparency, some of the links in our content are affiliate links. This means that if you book your accommodation, buy a piece of gear, or sort your insurance through our link, we earn a small commission at no extra cost to you. We only link to stuff that members of the Broke Backpacker team has actually used and never endorse products or services that are not up to scratch. Thanks for your support!