The words wine and France are synonymous with one other. When you hear a passive-aggressive "oui, oui", your mind immediately goes to, "white wine, please." Oh, that can't just be me, surely?
France is by far one of the most famous wine-producing countries in the world and has been producing world-class wines for over 2,000 years. They are one of the world's largest wine producers and produce a whopping seven to eight billion bottles per year! The quality of French wine is second-to-none and regions like Bordeaux and Burgundy produce some of the top wines in the world.
People travel to France from all over the world every year to experience the joie de vivre that is French wine. Coupled with amazing landscapes, cuisine, and weather, France winery tours are an absolute must when visiting the country.
There's nothing like a bit of wine travel to boost the spirits and lucky for you, I've sorted through some of the TOP winery tours in France. They are conducted by highly experienced locals who know the region backwards and will guide you through some top-quality vino.
Let's get popping!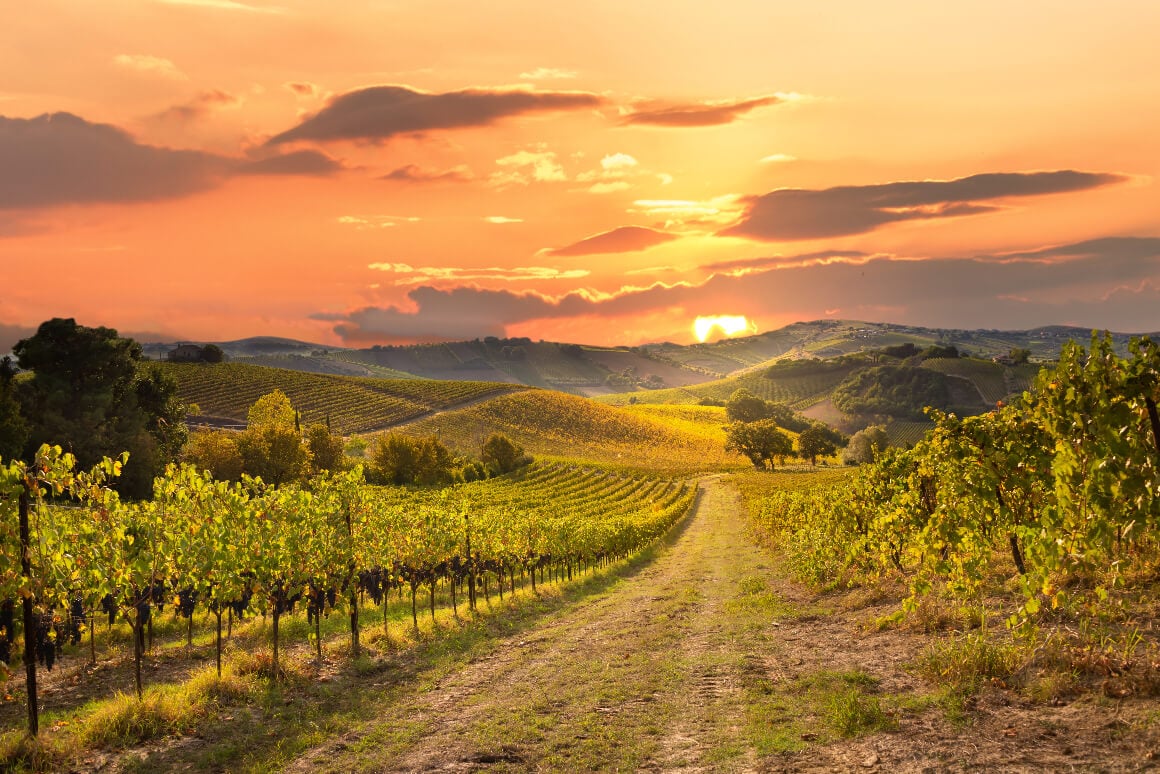 What is a Vineyard Tour?
So, what exactly is a vineyard tour? You've probably heard the term before and have some idea of what it entails.
In a nutshell, a vineyard tour takes wine enthusiasts visiting France into the heart of the wine regions to visit individual estates or Chateaus. You will find yourself immersed in the history of the estate, learning about the production processes, farming techniques, and of course, tasting amazing wines.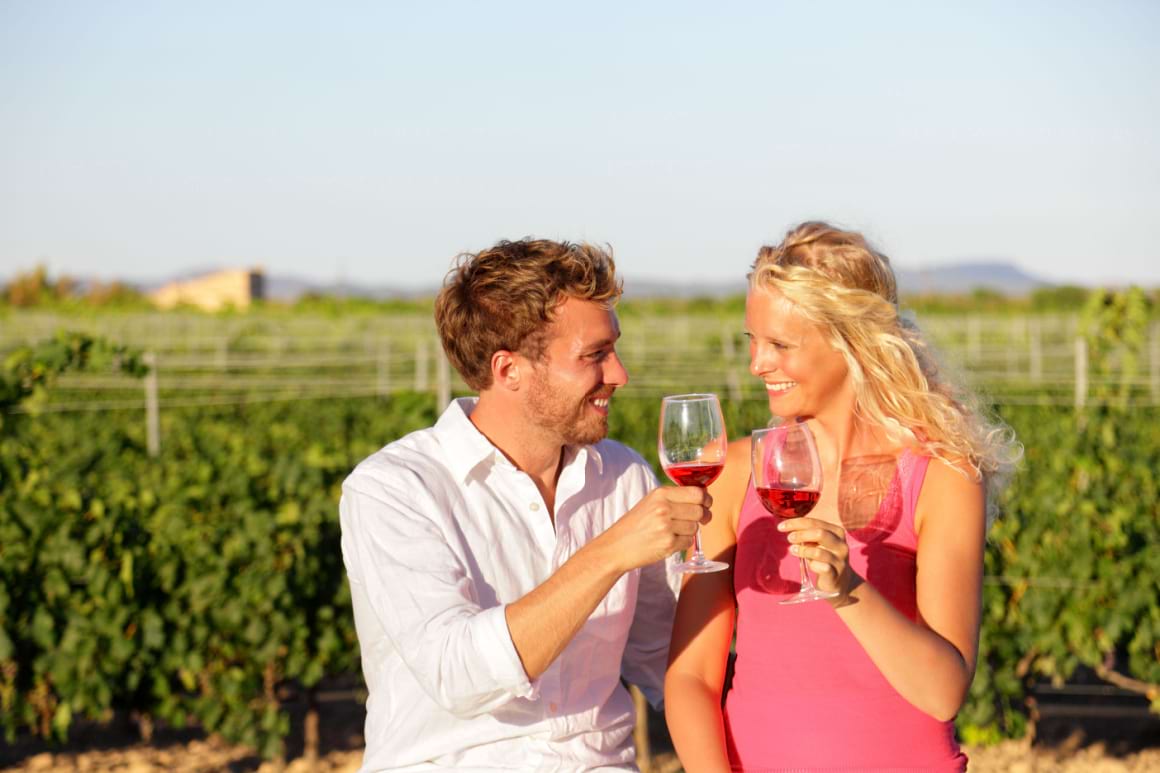 Also known as a winery tour, these outings have proven to be very mutually beneficial arrangements. Owners have access to another income stream, while wine enthusiasts get to hear the story and drink wine. It really is a win-win situation.
Before I get onto my top picks for vineyard tours in France, it's important to understand a bit more about the various wine regions in the country. Let's take a look at them below!

Our GREATEST Travel Secrets…
Pop your email here & get the original Broke Backpacker Bible for FREE.
Wine Regions of France
When it comes to wine regions in France, it's like the land of milk and honey – they are beyond blessed to have many regions spread across the country. With such a variety of landscapes, ranging from the coastlines on both the east and the west, to mountainous regions like the Alps and the Pyrenees, there is such terroir diversity in the country.
With this diversity in terroir, each region has its own specialities and varietals that are best suited to be grown there. Wherever you stay in France, you can be assured of one thing – that there will be an amazing vineyard with delectable wines close by.
A quick important note before we carry on, because it features a lot, is the use term AOC, or Appellation d'Origine Contrôlée. This is used to certify the geographical origins of wines, as well as cheeses and other agricultural products.
Right, let's dive into the regions for the best winery tours in France!
Bordeaux
First and foremost, is none other than Bordeaux, one of the most famous wine regions in the world. Located on the west coast of France, slightly inland from the sea, the wine region of Bordeaux spans both banks of the Girond Estuary. With a highest point of a mere 45 meters above sea level, Bordeaux is pretty flat! Rainfall occurs throughout the year given the close proximity to the Atlantic Ocean, although the climate is described as "maritime warm".
Soil types in the region are predominantly clay and gravel – generally found on either side of the river. The left bank is predominantly gravel, while the right bank is predominantly clay, each favoring the planting of different varietals. You'll find mainly Cabernet Sauvignon planted in the warmer gravel soils, while Merlot favors the cooler, moisture-retaining clay soils. Other varietals permitted to be grown in the region include Cabernet Franc, Malbec, Petit Verdot, and Carménère for red wines, and Sauvignon Blanc, Semillon, and Muscadelle for white wines.
There are also a number of appellations in Bordeaux, with some of the most notable places to stay being Margaux, Pauillac, Saint Emilion, Sauternes, and Pomerol. Chateau Latour, Chateau Lafite Rothschild, Chateau Margaux, Chateau Haut Brion, and Château Mouton Rothschild are all regarded as some of the most prestigious wines in the world, all holding premier cru status.
Champagne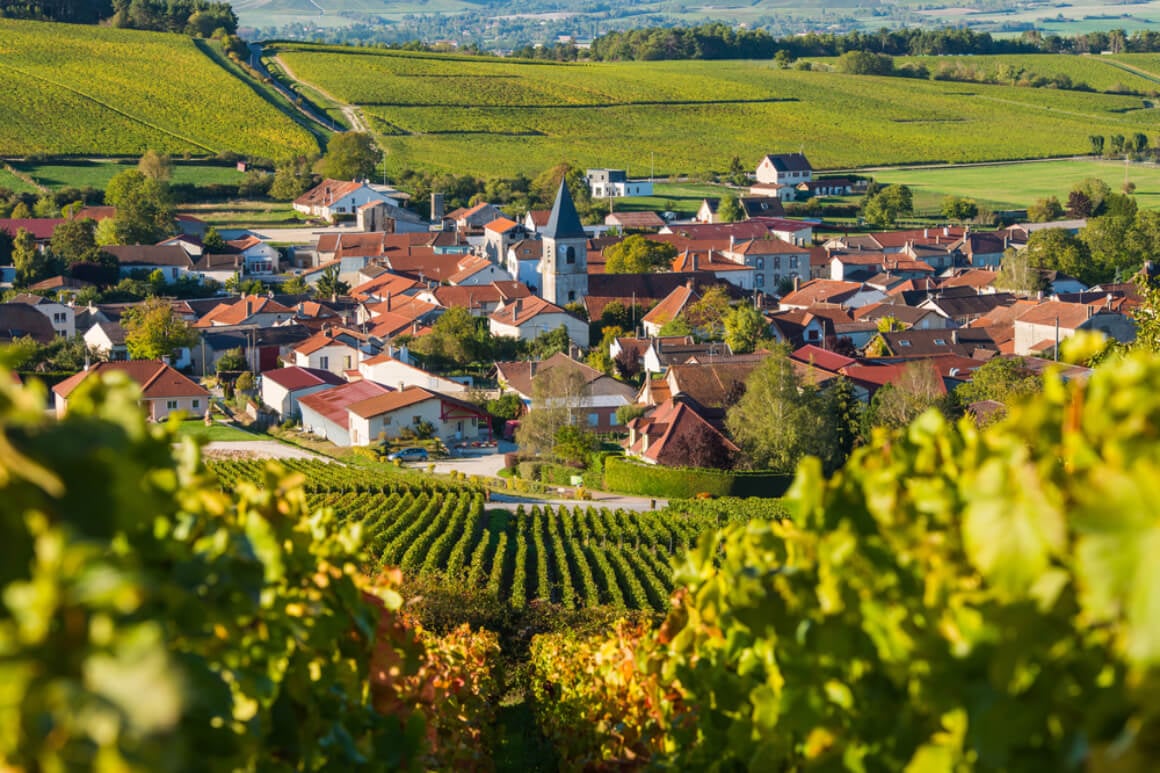 Champagne, found in northern France, is built on some of the largest limestone deposits in the world. The region is often referred to as having vine-covered hillsides, with vineyards being planted mainly on slopes. This has been discovered to favor the production of Champagne along with the limestone-rich soils – the finished products benefiting from beautiful minerality.
Another unique aspect of Champagne is its dual climatic influence meaning that it is exposed to both continental and oceanic influences. The vineyards are exposed to plenty of sunlight in summer, with just the right amount of rainfall throughout the year, and well-drained soils. There are three principal grapes planted in the region – Chardonnay, Pinot Noir, and Pinot Meunier.
There are four main sub-regions within Champagne – Montagne de Reims, Marne Valley, Côte des Blancs, and Côte des Bar. The most notable producers from the region include Moet & Chandon, Tattinger, Ruinart, Dom Perignon, Krug, Gosset, and Bollinger.
Paris
Paris is not one of France's wine regions per se, but it is closely located to four of the other most well-known regions for day trips from Paris, namely Burgundy, Loire, Alsace, and Champagne. Bordeaux is a little further off but still attainable for a weekend trip.
Being the capital of France, a wine-loving nation, there are many wine-related tastings and tours that are either in the city or leave from the city. I'll go into further details in the section that follows, where we look at the best winery tours in France.
Provence
Provence, found in the southeastern corner of France, borders Italy, the Alps, and of course, the Mediterranean Sea. It is a region that is known for sunshine, glamour, and delicious rosé wines. It has a rather unique and diverse landscape for travelling in Europe, from the warm Mediterranean sea all the way up to high, snow-capped peaks in the Alps. There are large limestone deposits further inland, which contribute fantastic minerality to the wines. The closer to the sea you get, these limestone deposits shift to more schist-based soils.
Generally speaking, the climate in Provence is hot and dry, with low rainfall levels which means that grapes tend to ripen quite quickly. There is also a strong, north-westerly wind known as the Mistral that blows through the region mainly in the winter.
The regions for French wine tours are subdivided into three main AOCs – Côte de Provence, Coteaux d'Aix-en-Provence, and Coteaux Varois en Provence. Provence is most famously known for its crispy, onion-skin colored roses, made from varietals like Syrah, Grenache, Mourvèdre, Carignan, Cinsault, and Cabernet Sauvignon. Red wines are also made from the same selection of varietals, either as blends or 100% components. White wines in the region are generally made from Semillon, Rolle, Clairette, and Ugni Blanc. Although whites and reds are produced, rosé is the most commonly produced wine and accounts for about 75% of the total production.
Rhône Valley
The Rhône Valley, also found in south-eastern France, stretches from Lyon to the Camargue area close to the Mediterranean Sea – a stretch of about 150 miles. There are two parts to the region – the northern and southern Rhône, separated by a 25-mile gap between the towns of Valance and Montelimar.
The Northern Rhône experiences a more continental climate, and together with the granite-rich soils and more mountainous terrain, has a focus on quality. Syrah is almost exclusively grown in the Northern Rhône as the predominant red, while Viognier, Marsanne, and Roussanne are used for the production of white wines.
The southern Rhône has a more Mediterranean climate, with hot, dry summers and little rainfall. The Mistral wind together with rockier and sandier soils, leads to the south producing larger quantities and a greater list of varietals. The south also uses Syrah as a blending component together with Grenache and Mourvèdre to produce the classic GSM red blend (Grenache, Syrah, Mourvèdre). White varietals that are used in the south include Viognier, Grenache Blanc, Marsanne, Roussanne, Viognier, and Picpoul.
The notable AOCs within the Rhône Valley include the most famous Côte-Rôtie and Hermitage, in the north, along with Cornas, Saint-Péray, Saint-Joseph, and Crozes-Hermitage. In the south, the most famous AOC by far is none other than Châteauneuf-du-Pape, along with Côtes du Rhône Villages.
Loire Valley
The Loire Valley stretches from the west coast of France and into the central region of the country, along the Loire River – a staggering 634 miles long! It is the third largest wine region in France, behind Bordeaux and Burgundy, and is a major producer of everyday wines.
The Loire Valley is known for a few things – firstly, the Sauvignon Blanc regions of Sancerre and Pouilly-Fumé are found in the central parts of the country. Secondly, it is known for its Chenin Blanc and Cabernet Franc regions of Saumur, Anjou, and Vouvray towards the west coast. Lastly, the region of Muscadet near the city of Nantes. Gamay and Melon de Bourgogne are also produced in small quantities in the region.
The sheer size of the Loire Valley means that there are a variety of geographical changes as you head from the central regions, eventually reaching the Atlantic coastline. The vineyards closer to the ocean are largely grown on flat slopes with well-drained, rocky soils made up of granite and schist. The further inland you go, so too does the maritime climate fade somewhat but the terrain remains rather flat. There are a whole host of different soil types, from dark schist and limestone to flinty clay, gravel, and sand.
Notable AOCs in the Loire Valley include Saumur, Pays Nantais, Anjou, Touraine, Sancerre, Pouilly-Fume, and Côtes du Forez. The difference in soil, climate, and varietals means that there is a rather large variety of wines and styles produced in the Loire Valley, and it is often overshadowed by the obvious Bordeaux to the south.
Burgundy
Found in the eastern-central area of France, Burgundy (aka Bourgogne) is one of the smallest wine regions for winery tours in France, but one that is highly influential in the wine world. Some of the world's most expensive wines are produced in Burgundy, like Domaine de la Romanée-Conti or DRC as it's commonly referred to. I loved staying in the very French Airbnbs around here.
Now, out of all the wine regions in France, Burgundy is probably the easiest to remember in terms of grape varietals grown. The primary focus in Burgundy is on Chardonnay (Bourgogne Blanc) and Pinot Noir (Bourgogne Rouge). You can also expect to find varietals of Sauvignon Blanc, Gamay, Aligoté, and Pinot Gris in much smaller quantities.
The landscape in Burgundy is characterized by gentle, rolling hills between 150m and 600m elevation, and wide river valleys. There are some higher peaks that hit the 900m mark such as in the Morvan, but generally speaking, it's not a mountainous region. The climate in Burgundy is very much continental, with cold winters and hot summers.
The weather is somewhat unpredictable and it is common for the region to experience hail, rail, and frost during harvest time – not ideal! Soils are generally comprised of that sought-after limestone which imparts beautiful minerality that are a signature of Burgundian wines. Some of the most notable AOCs in the region include Chassagne-Montrachet, La Tâche, Chambertin, Meursault, Pommard, and Chablis.
Alsace
Last but not least is Alsace, found in the northeastern corner of France. Now, Alsace has a rather interesting history as it has bounced between German and French rule in recent centuries. It now forms part of France and has done so since 1919 after the conclusion of World War I.
The region produces both white and red wines as well as sparkling wines known as Crémant. However, white wines make up the majority of wine produced in the area at a staggering 90% of production. The most common white varietals you'll find on wine tours in the region include Riesling, Gewurztraminer, Pinot Gris, Muscat Blanc à Petits Grains, Muscat Rose à Petits Grains, and Muscat Ottonel. Sylvaner is also grown in the region along with smaller quantities of Pinot Blanc, Auxerrois, and Chasselas. The smaller quantities of red that is grown is predominantly Pinot Noir which was traditionally lighter in body and more rustic than those from Burgundy.
Alsace sits firmly between the Rhine River and the mountains of Vosges, with the vineyards predominantly on the lower hillside slopes of the Vosges. The vineyards are grown on a variety of soil types given the change in topography. On the flatter areas, there are mainly clay-based soils with a lot of limestone and marlstone, while the more mountainous areas feature granite, sandstone, and volcanic rock.
There are three AOCs that can be found in Alsace, making it one of the simpler French wine regions to understand. They are Alsace, Alsace Grand Cru, and Crémant d'Alsace.
Is This the Best Backpack EVER???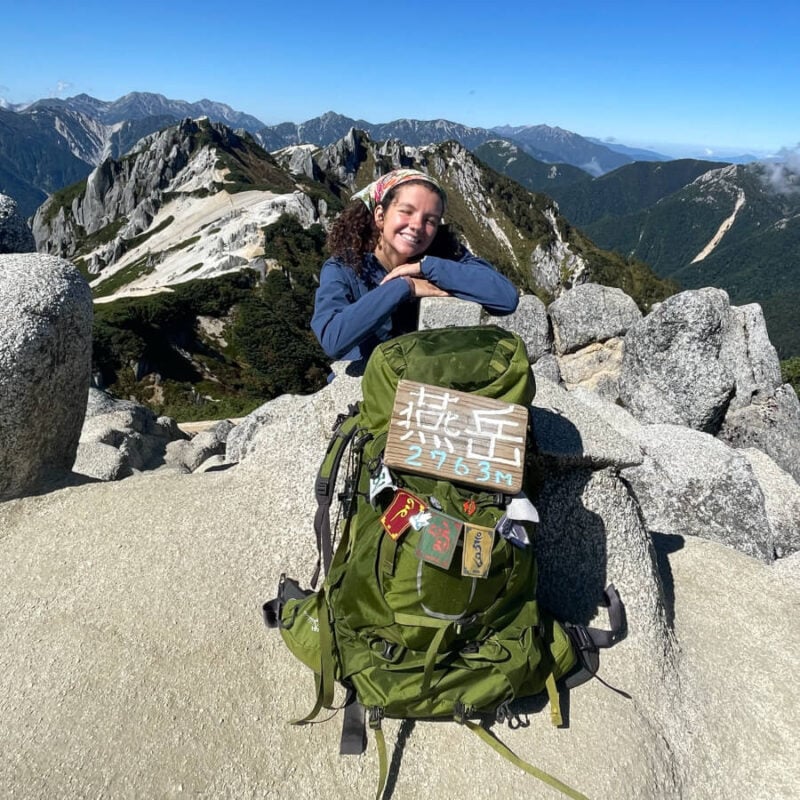 The Best France Winery Tours
Right, now comes the fun part – the best France winery tours. Wine tourism in France is a massive industry and it's easy to see why. There is such a vast offering in terms of vineyards and vineyard tours to choose from. I've hand-picked a few of my favorites that will be sure to get your inner wine nerd going!
Let's check them out:
Bordeaux
9 hours
$186 per person
Now, what's better than exploring a Bordeaux AOC during your tour? Exploring TWO AOCs in one day, that's what! During this epic Bordeaux wine tour, you'll get to explore both Saint Emilion and Margaux in the same day!
This tour leaves from Bordeaux and takes you to the historical town of Saint Emilion which you will walk around and discover. You will then head to a Chateau and taste through three wines, followed by a picnic with local cheeses and charcuterie as well as a further three wines. You will then head over to Margaux where you'll get to visit the world-famous Chateau Margaux to snap some pics, followed by a tasting at another Grand Cru producer for your weekend in Bordeaux. It is here that the tour will conclude, after which you will be taken back into the city.
Paris
10 – 11 hours
$328 per person
This tour begins in none other than Paris, the city of love. You will be driven to Champagne, all the while enjoying croissants and hearing the wonderful story of this sparkling delight. The first stop is at one of the prestigious champagne houses in Epernay or Reims, which will differ daily depending on availability. But expect any one of the big names such as Mumm, Veuve Clicquot, Mercier, Moët & Chandon, Pommery, or Lanson.
A tasting in the middle of a vineyard is next, followed by a delicious lunch with, you guessed it, more Champagne! A digestive tour in the vineyards where you will learn all about the Champagne cultivars. The tour concludes with a visit to a family-run French winery which is rather different from the large Champagne houses. More bubbles follow, after which you will be driven back to continue your trip in Paris, as merry as can be!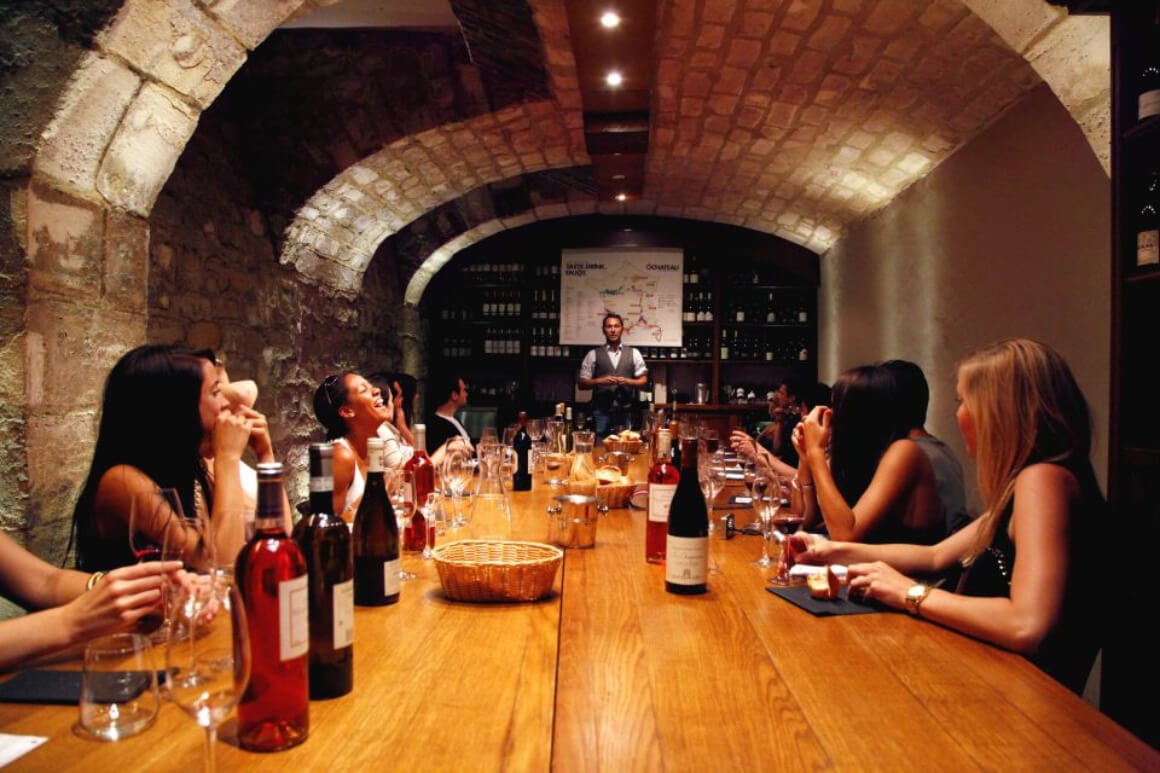 Paris
2 hours
$76 per person
Sticking with the Paris theme, next up is something a little different. Instead of a vineyard visit, you will remain in the city and be guided through French wines by a trained sommelier. During the class, you will learn about the various wine regions in France and get to taste the wines from them. You will learn about what makes them special, the terroir that encompasses the wine, and the appellation in which it is grown.
You will also learn how to read a wine label – trust me, it's not as easy as you think! This is one of the most fun, unique places to visit in Paris that is aimed at all knowledge levels. During the 2-hour class, you will get to taste one Champagne and five other French wines to entice your palette and also includes a basket of bread to snack on.
Aix-en-Provence
3.5 hours
$82 per person
Leaving from Aix-en-Provence, just north of Marseille, this tour is an interesting discovery of three unique styles of wine from Provence. You will taste full-bodied reds, whites of distinction, and of course, elegant rosés.
You will taste wines from two wineries located in the Côtes de Provence Sainte Victoire AOC, found to the east of Aix-en-Provence. This is a great half-day tour for those who want to discover the wines of the region but would still like to have their afternoon free. The tour doesn't include meals so you have the freedom to pick a great little bistro afterwards for a bite to eat.
Aix en Provence's neighborhoods are also the best choice if you're in need of a refreshing break. Don't miss it!
Avignon
4 hours
$93 per person
What better way to discover the Rhône Valley than at one of the most famous AOCs there is, Châteauneuf du Pape. This tour will take you for a morning tour of the region as you are driven through lush landscapes nestled between the Alps and the Rhône River.
Once you have reached Châteauneuf du Pape, you will be taken to two separate wineries where you will get to taste a selection of white, red, and rosé wines. You will also learn about the production processes of these world-famous wines as well as the terroir in which they are grown.
Tours
8 hours
$153 per person
This winery tour in France begins in the town, Tours, and starts off in the Bourgueil region with a wine-tasting session. Not only is the Bourgueil region famous for its wines but for its castles too. You will then be taken to the town of Chinon, a town surrounded by vineyards. Here, you will have a small break and get to explore the town a bit on your own. It's also the perfect time to grab a snack like the famous pork rillettes which are a local specialty.
The tour then continues with a wine tasting in Chinon, where you will get to taste some of the famous red wines in the region. You will also get to view some of the Cabernet Franc vineyards, which are used for the production of fine red wines.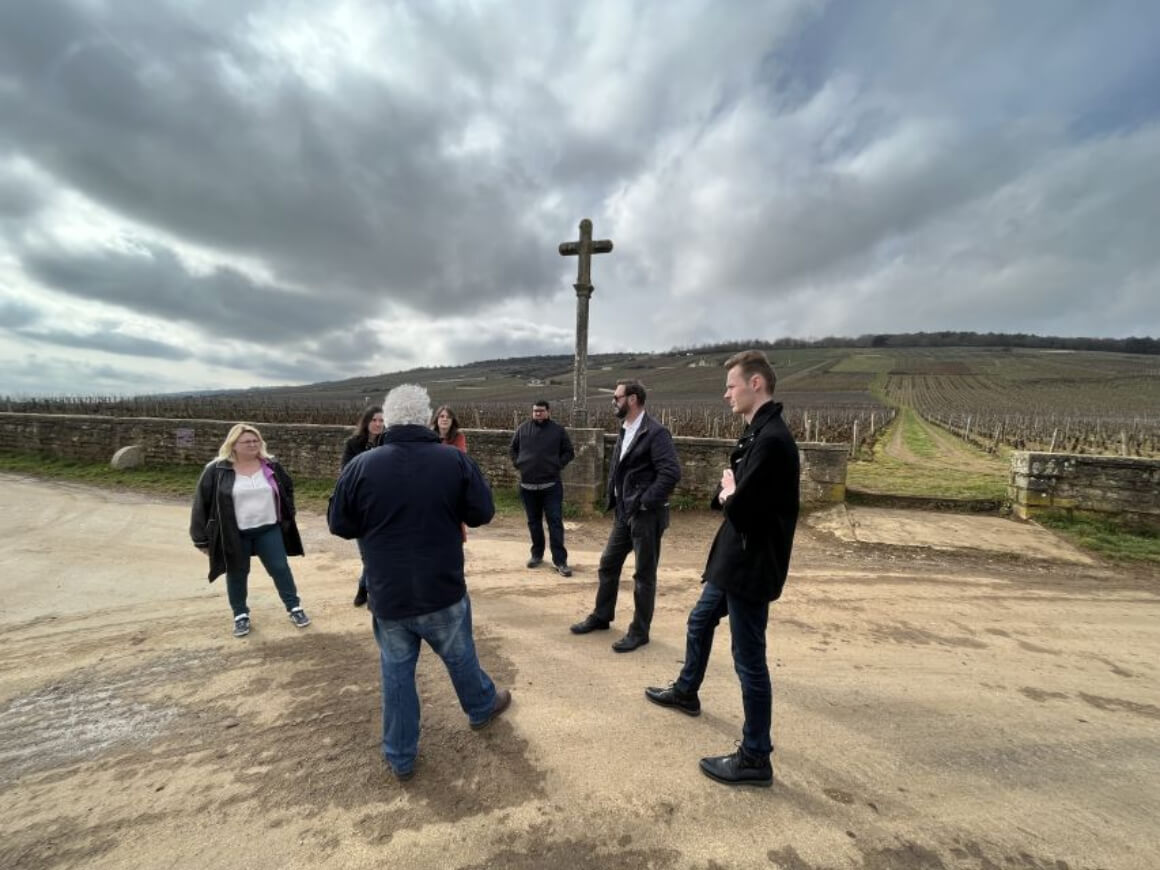 Beaune
8 hours
$246 per person
Right, now we're on to the big guns with this Burgundy wine tour, starting in the town of Beaune. From here, you will head to a local domain winery in the area where you will taste a range of wines and learn about the various AOCs in the region. There will then be some free time for you to grab some lunch (at your own expense) and explore the town a bit.
After lunch, you will head to your second tasting at a local domain in Nuits-Saint-Georges via the Route des Grands Crus. You will have the chance to snap some pics at the world-renowned Romanée-Conti. There is also a guided tour at Clos Vougeot which was founded in 1098 by monks. Talk about historical vineyards!
Strasbourg
4 hours
$107 per person
Concluding our list of best winery tours in France takes us to the Alsace region in the city of Strasbourg. You will depart the city and make your way along the Alsace wine route to the town of Obernai. Here, your day with a coffee from your gorgeous Airbnb in Strasbourg then head to the tour for a tasting at one of the local wineries.
You will continue along the wine route and then stop off at a second venue in a classic Alsace "caveau" for a tasting. During the tour, you will learn about the seven different Alsace wines and the growing conditions that allow these aromatic white wines to flourish.
ALWAYS sort out your backpacker insurance before your trip. There's plenty to choose from in that department, but a good place to start is Safety Wing.
They offer month-to-month payments, no lock-in contracts, and require absolutely no itineraries: that's the exact kind of insurance long-term travellers and digital nomads need.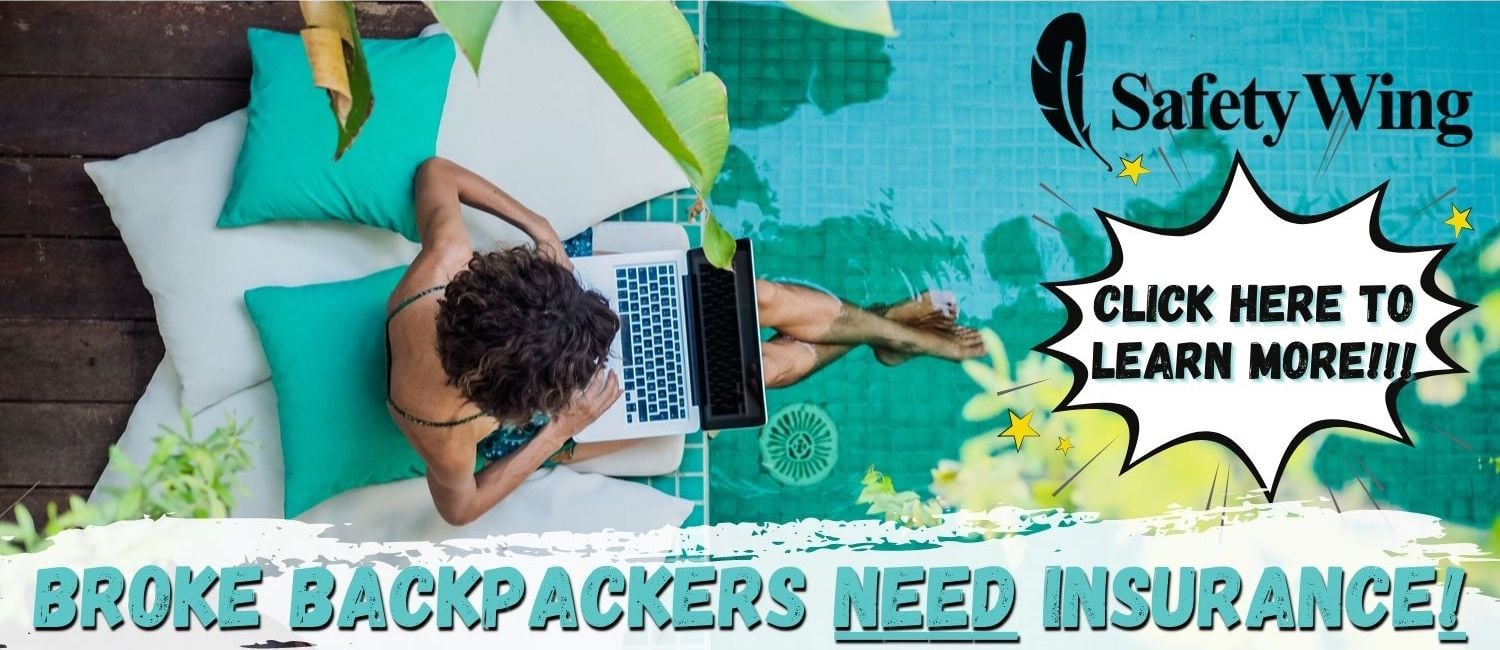 SafetyWing is cheap, easy, and admin-free: just sign up lickety-split so you can get back to it!
Click the button below to learn more about SafetyWing's setup or read our insider review for the full tasty scoop.
Final Thoughts on France Wine Tours
Right, that now brings us to the end of the best France winery tours. I hope that the information I have put forth to you will help you in some way, shape, or form and that you've learned something from reading this article. The beautiful thing about wine is that there's always something new to be learned and something new to taste.
The journey that is involved in producing wines is fascinating and by embarking on these amazing vineyard tours, you will get to experience the uniqueness of every region, chateau, and appellation. So, book that ticket and secure your place on one of these winery tours in France. There's a whole lot of wine out there that isn't going to drink itself!
Sante!
---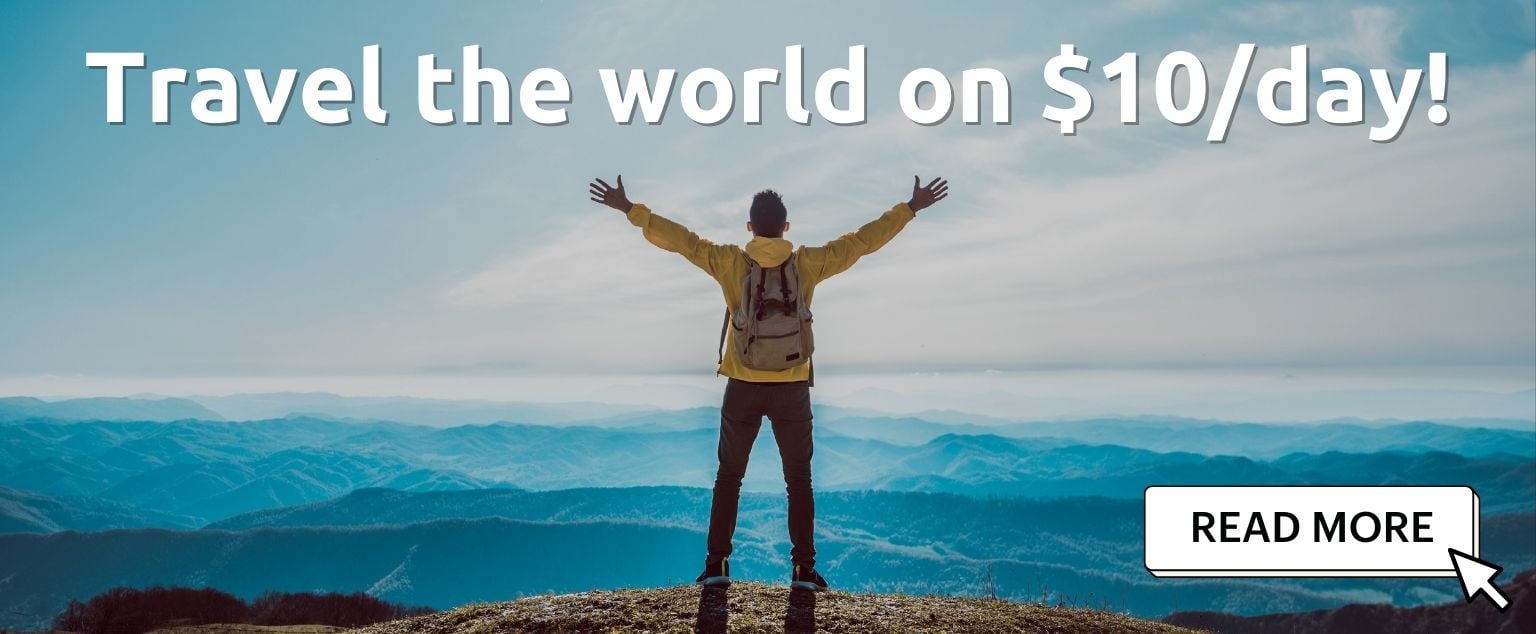 And for transparency's sake, please know that some of the links in our content are affiliate links. That means that if you book your accommodation, buy your gear, or sort your insurance through our link, we earn a small commission (at no extra cost to you). That said, we only link to the gear we trust and never recommend services we don't believe are up to scratch. Again, thank you!