Ericeira is often referred to as the European Mecca of surfing. With a coastline blessed with world-class waves, this town attracts surfers from all corners of the globe. Personally, I much preferred watching the pros to the numerous times I got dumped, but hey when in Rome right?
Whether you want to try your hand on the board or simply soak up the sun, this quaint fishing village is the perfect destination for my beach babes.
Getting dumped (by waves, not people) is an exhausting business, so you need to make sure you have the best accommodation to help you make the most of this beautiful town.
Luckily, there are some epic hostels in Ericeira that provide the perfect mix of social and chilled vibes, allowing you to throw away your clock and forget reality as you take up your full-time job as beach bum.
There are SO many reasons to book one of our favourite hostels in Ericeira, want to know why?
Quick Answer: The 5 Best Hostels in Ericeira

Do You Want to Travel FOREVER??
Pop your email in below to get a FREE copy of 'How to Travel the World on $10 a Day!'.
What to Expect from Hostels in Ericeira
After the COVID lockdown, people have flocked to destinations like Ericeira. Whilst it's not the most popular destination amongst those backpacking Portugal, it is gaining traction. Prices have ramped up as the tourism industry slowly recovers, making hostels the perfect choice for those needing to save some euros.
Hostels are not just beds and bathrooms – what makes them unique to other accommodations is the sense of community they provide their guests.
Some of the benefits of choosing a hostel in Ericeira are:
Communal areas and shared kitchens
Information and classes on surfing
Very economical accommodation
Various organised activities like group tours, barbecues, and cultural events
If you fall into one of the following categories, I highly recommend considering some of the amazing hostels we've selected to suit a wide range of traveller needs:
Solo backpackers
Digital nomads
Couples on a budget
Party people
Long-term travellers
Hostels have come a long way since my first experience. Bed bugs are a thing of the past and the bathrooms are no longer microsystems for weird and wonderful new bacteria.
Of course, terrible hostels still exist, but they are easy to avoid thanks to booking platforms such as Hostelworld, which have a comprehensive and unbiased review system. These websites also help you to compare prices and facilities, helping you get the most bang for your buck.
Each hostel has its own unique experience to offer, so it's important to research which Ericeira hostel is perfect for you. For example, my digital nomads will probably not get much work done in a party hostel, and my solo travellers will probably not meet people as easily in a quiet hostel with minimal common areas.
Trying to separate the good from the great hostels can be a tricky job, and that is when the Broke Backpacker is here to help!
Within this article, I've collated all my favourite places to stay in Ericeira, giving you all the information you need to find the perfect hostel!
Note: With so many pristine beaches on offer, hostels in Ericeira are quite spread out along the coastline. I recommend ensuring the location of the hostel is best for you.
Best Hostels in Ericeira
At the Broke Backpacker, we know every traveller is different – so I've made sure my list has something to suit everyone's budget, social battery limit, and comfort level. So let's kick it off with a hidden gem…
Best Overall Hostel in Ericeira – The 70s Hostel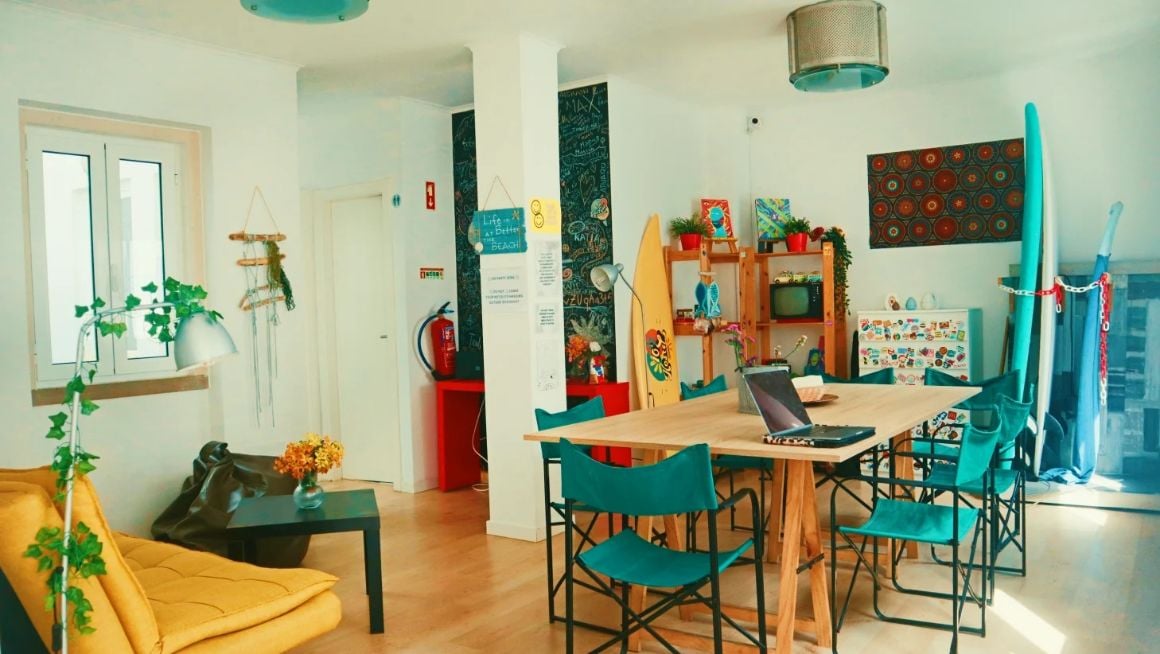 Community vibes
Maria (the host) is just a pure legend
Peace out in one of the best hostels in Portugal, let alone Ericeira. Despite the risk of appearing kitsch, the 70s Hostel is perfectly set out to make you feel like you have time-travelled back to a time when surf, peace signs, and the Rolling Stones reign supreme. And now that the mullet has made its fashion comeback, it is even easier to believe you have walked straight into a 19070s Ericeira postcard.
The layout of the hostel makes it incredibly easy to meet other travellers, perfectly balancing some party vibes with a more relaxed atmosphere. Whether you want to hit the town or get your beauty sleep, the 70s Hostel is the perfect choice. If you're at a loss for what to do, Maria will help you get your life in order as one of the most helpful people I've ever met.
Why you'll love this hostel:
Cafe to get your daily coffee hit
Kitchen
Curtains on the beds
The aesthetic of this hostel will make you feel like you're in a hotel rather than a budget hostel. Keeping with the 70s theme, the bathrooms are decorated with a playful tile assortment, with squeaky clean facilities that would make any Virgo satisfied.
The kitchen enables you to cook your own meals, saving money and time from constantly eating out. One of the features of this hostel which completely sold me was the curtains on the beds, giving you the privacy of a private room while paying the budget price of a 6-bed dorm.
The communal area of the 70s Hostel is welcoming and there are food and drink options that allow you to get your caffeine dose before hitting the waves. See everything through rose-coloured glasses at the 70s Hostel and find out why everyone online raves about this gem of a property.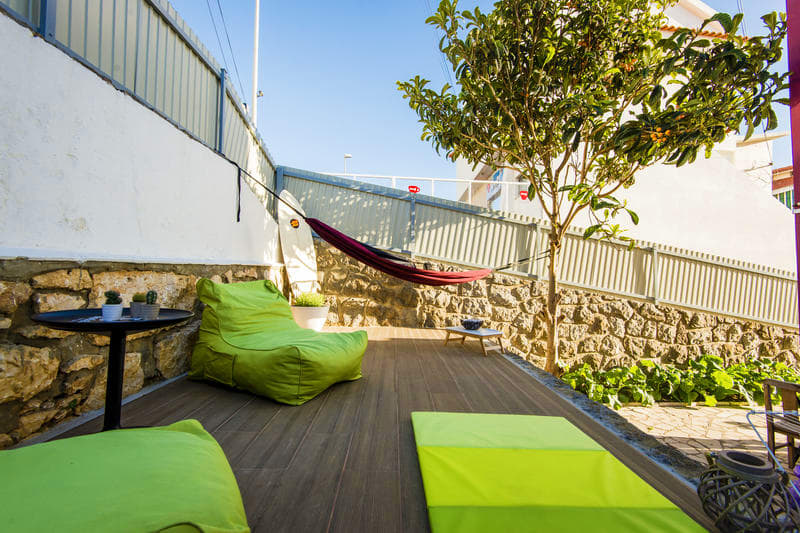 Numerous communal areas
Awesome value for money
Accommodating 22 guests, this house-turned-hostel feels more like a home than a hostel. The property is both intimate but with plenty of space so that you don't feel like you are living on top of each other! For my introverts, there are nooks to hide away with your book or podcast, while my extroverts have plenty of communal spaces to mix and mingle.
On top of being the most affordable hostel in Ericeira, Hostel & Surfcamp 55 is superbly rated on Hostelworld, giving it credibility as one of the most popular hostels in town. In particular, the staff are absolutely wonderful, helping you with whatever you need.
Whether you're a couple or travelling solo, it is hard not to be lured into the welcoming ambience created by the staff and layout of the hostel. After a big day on the waves, there is nothing better than grabbing a seat on the couch and swapping surfing tips with your new friends.
Why you'll love this hostel:
Long beds (for my tall travellers)
Ocean views
Surfing lessons & equipment available on site
All the rooms in Hostel & Surfcamp 55 are uniquely decorated, making you feel like you're sleeping in an art gallery rather than a hostel. The rooms are brightly lit, and the beds are long. While not so much an issue for myself being so vertically challenged, I am yet to meet a 6ft travel partner who has not complained at least once about not fitting onto their hostel bed.
Another great advantage of the rooms is the beautiful ocean views you get from the comfort of your bed.
Likewise, the hammock is always my go-to for a relaxing afternoon of doing absolutely nothing. I'm a particular fan that it is in the shade, as the Portuguese sun (much like the Barbie movie's marketing team) can be quite hard to avoid.
For those needing to stretch their legs, rent a bike from reception or book yourself in for a surf lesson. The surf lessons are convenient and the instructors are friendly, giving you the confidence you need to stand up on the board – even if just for a millisecond.
For those wanting some privacy, the private rooms are budget-friendly compared to most other hotels and hostels in Ericeira, allowing you to not break the bank.
Overall Hostel & Surfcamp 55 is a great option for those visiting Ericeira for the first time, providing you with a home away from home – just with better weather and beaches!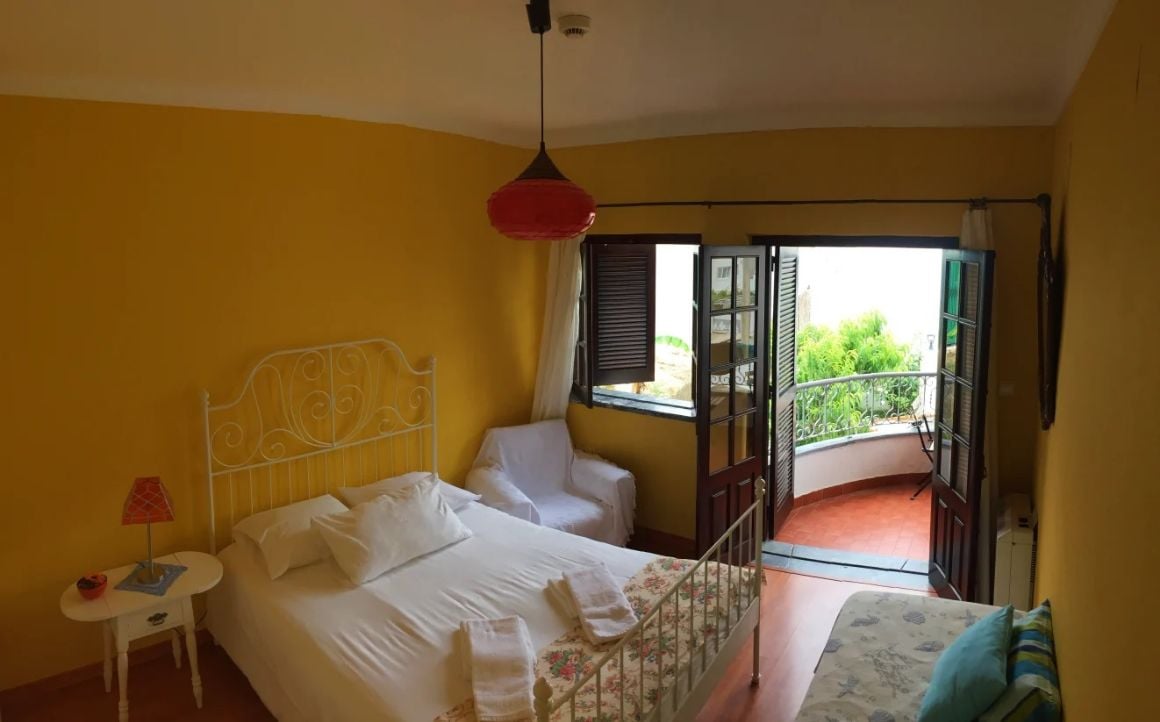 These two hostels are just down the road from each other, offering different rooms but the same great service. Being some of the cheapest hostels in Ericeira, you will definitely get your money's worth here. Ericeira Chill Hill is like a multi-day family BBQ, where everyone knows everyone, music plays in the background, and the smell of sunscreen is permanently in the air.
You'll get your cardio in having to walk up the hill to get there, but the views from the hostel are worth it! The private rooms feel more like a cosy grandmother's house than a hostel and are also very budget-friendly – often ending up more economical with several people than the dorm rooms.
Make the most of the wise words of wisdom from the travel desk to help you figure out your itinerary and save yourself a walk down to the beach by booking a surf lesson at reception.
Why you'll love this hostel:
The huge pool
Clean bathroom facilities
Breakfast available
Relax by the pool or enjoy the tranquillity around you in one of the hammocks or couches. You know they're going to look after you well because they have heaps of plants…if you can keep a demanding house plant alive, tourists should be a walk in the park.
A particular favourite of mine is that Ericeira Chill Hill Hostel provides towels, giving you a couple more days' leeway to put off doing the laundry – hallelujah! There is also a cafe and breakfast is available, meaning one less meal for you to have to worry about.
The rooms have comfortable beds, and clean bathroom facilities – something that is always important when trying to fight the influx of sand which tries to accompany you home from the beach. Most of the rooms at Ericeira Chill Hill Hostel have a balcony and face the water, allowing you to get plenty of fresh air – a very important factor when sharing a room with 7 other people!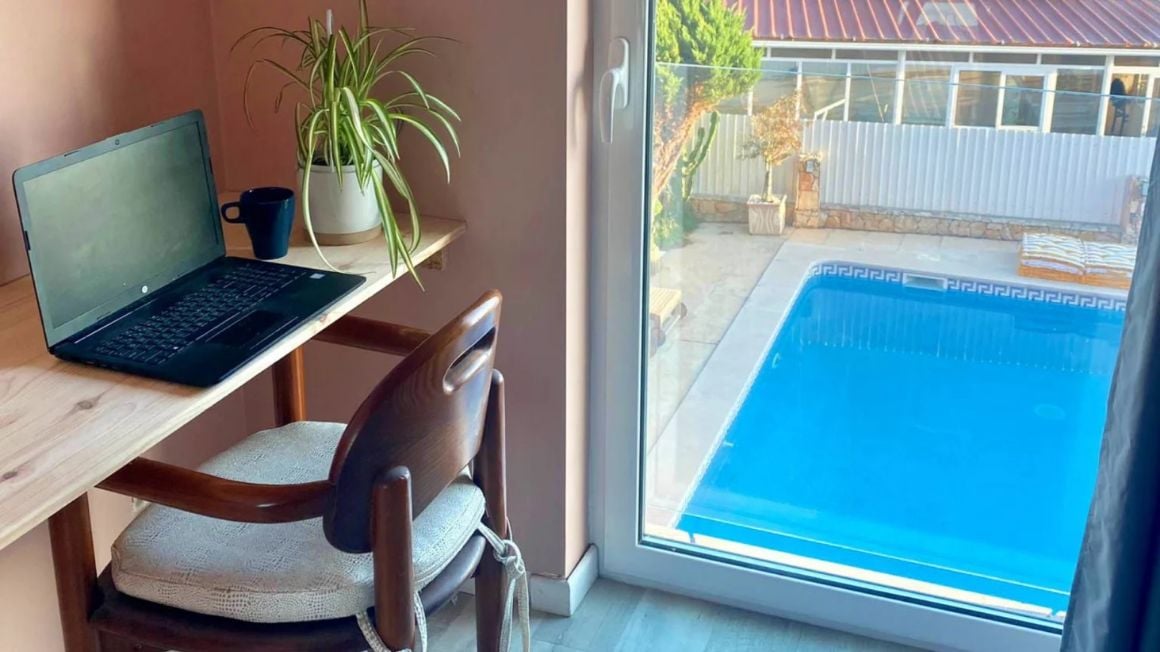 Beautiful aesthetic
Comfortable beds
This hostel was designed to replicate the fishing village it calls home. The property is decorated in cool pastel colours which reflect the light and provide a calming ambience. The hostel is the ideal place for those wanting a quiet retreat, with modern facilities that make you feel like you're at a retreat rather than a hostel.
Out of all our hostels in Ericeira, this one has one of the best pools – its size and space alluring all guests to its edge as an escape from the heat.
Ericeira Destination is particularly devoted to ensuring guests have the chance to connect with locals and they encourage you to be actively involved in discovering the hidden gems Ericeira has to offer. Make the most of their local knowledge and take the time to figure out the Ericeiran way of life.
Why you'll love this hostel:
The traditional pizza oven
Boardgames and communal areas
Cafe on site
One of my favourite things about Ericeira Destination is that it gives you independence. The hostel is quiet at night time, meaning my nannas can get their beauty sleep, while others can chill in the communal areas. Although I always intend on joining team nana, I somehow forever end up getting convinced into the late-night DnM sesh.
There is also a fully equipped kitchen and even a pizza oven so you can cook your own meals when eating out gets too expensive. It also means you can try to incorporate some vegetables into your regime. Because let's be honest, while a diet of ice cream and piri piri chicken is great for the first couple of days after a few weeks a home-cooked meal is usually needed.
Have a wholesome night of board games with your newfound friends, or take the leisurely walk down to the Praia do Banco do Cavalinho viewpoint.
Ericeira Destination is situated a little further out from the main town, allowing you to enjoy a more rural experience. Of course, there is a beach close by, and Uber is quite cheap meaning you can easily zip into the main town if needed!
$$
Surf camp/hostel hybrid
Awesome outdoor communal space
Ideal location
Surfers Den Ericeira is one of the many awesome surf hostels in Portugal. In my opinion, it's the best one in Ericeira; here's why.
Surfers Den Ericeira is an epic hostel for those wanting to hit the waves (which are incidentally just a 5-minute walk away). Whether you're a pro or a novice, the Surfers Den can help you improve your style, confidence, and cool factor.
This Ericeira hostel is a great option for solo travellers wanting to find fellow surfing and beach enthusiasts, with fantastic communal areas to hang ten (how I am doing with all this surfing lingo?). Seriously, ensure you make the most of the knowledge your fellow surfers can give you because there is a whole different language out there when you're on the waves. I would never have learned what goofy foot, dawn patrol, or the green room was without the help of my fellow backpackers.
Surfers Den Ericeira is a social hostel with a WhatsApp group to help travellers connect and plan activities – all you have to do is rock up!
Why you'll love this hostel:
Great workspace for my digital nomads
Surf classes and hire available
Super nice pool area
It is common for people to book a week or more at Surfers Den Ericeira, a testament to how easy it is to stay there. Everyone knows everyone and there are all the basic facilities you need. One thing I love about Surfers Den Ericeira is that it has curtains on the beds, giving you a bit of well-needed privacy in a room of 8 people!
The pool area and outdoor terrace area are great places to hang out, particularly in the late afternoon. As you start to get hungry, great restaurants, bars, and a supermarket are all within easy walking distance of the hostel.
If you need to do some work in between surf sessions, there are some cosy quiet spots you can set up in with your cup of coffee. When you're ready for a break, a 5-20-minute walk will get you within reach of multiple beaches in Ericeira, giving you plenty of options to choose from!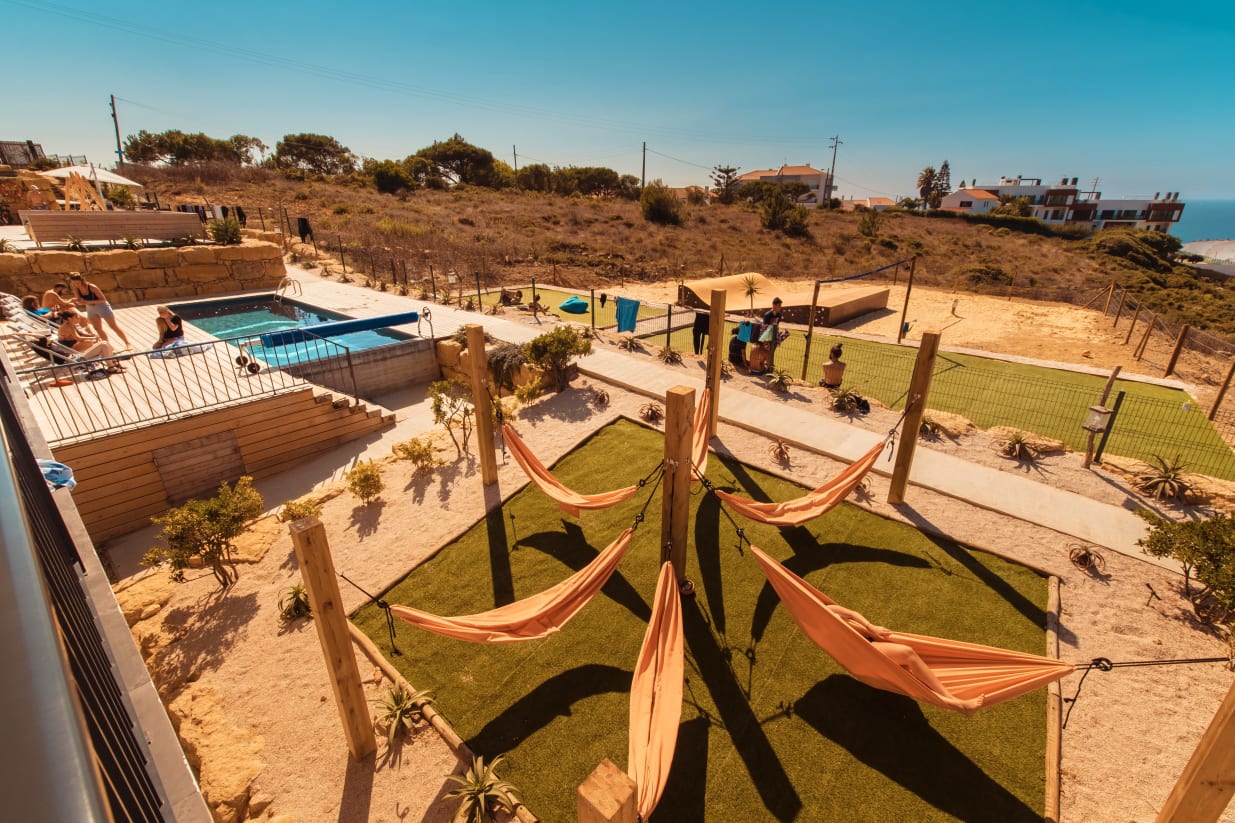 $$
Has literally everything
Perfect for groups and party vibes
Grand new building = clean
Where to begin with the WOT Surf Hostel? This new hostel is its own beach paradise, sitting at the top of Rua das Lombas with incredible ocean views.
The property is so big that it means you can find the vibe that suits you. Want to meet others? Join in on the volleyball game, want to avoid people? Cocoon yourself in one of the hammocks.
Like many hostels in Ericeira, WOT puts a lot of effort into making a social environment where people can meet and relax. There is a bar to enjoy a drink after a long day of sun baking, as well as activities such as beer pong and foosball before you hit the bars. For those needing a quieter night in, zone out with the video and board games available.
Whether you're a solo traveller, a large group, or even a family, this is a great option.
Why you'll love this hostel:
Variety of rooms available
Yoga sessions
Pet friendly
Okay, so I realise that most of my backpacker readers are probably not travelling Europe with their pets. But I added it as a pro because who doesn't want to stay in a hostel with dogs running around??
This hostel has plenty of things to keep you busy, with yoga sessions, a swimming pool, and a volleyball court. There is even a skate ramp. While I personally wouldn't want to test out my travel insurance on a skateboard, it is super fun to watch the other Tony Hawk impersonators.
The rooms are clean and roomy and have ensuites so you're not queueing up for ages in your towel for a shower! This is also one of the best hostels for large groups as you have the option of booking a fully equipped apartment, allowing you to enjoy the benefits of the hostel as well as having your own private space.
There is a communal kitchen for those whose budget can't quite swing the apartment and a BBQ area to enjoy a fry-up in the balmy Portuguese evenings.
The helpful staff can assist you with whatever questions you have, and there are a number of biking riding, surfing, and trekking outings available for those who want to get their step count up. Out of all our hostels in Ericeira, this will certainly keep you the busiest!
Is This the Best Backpack EVER???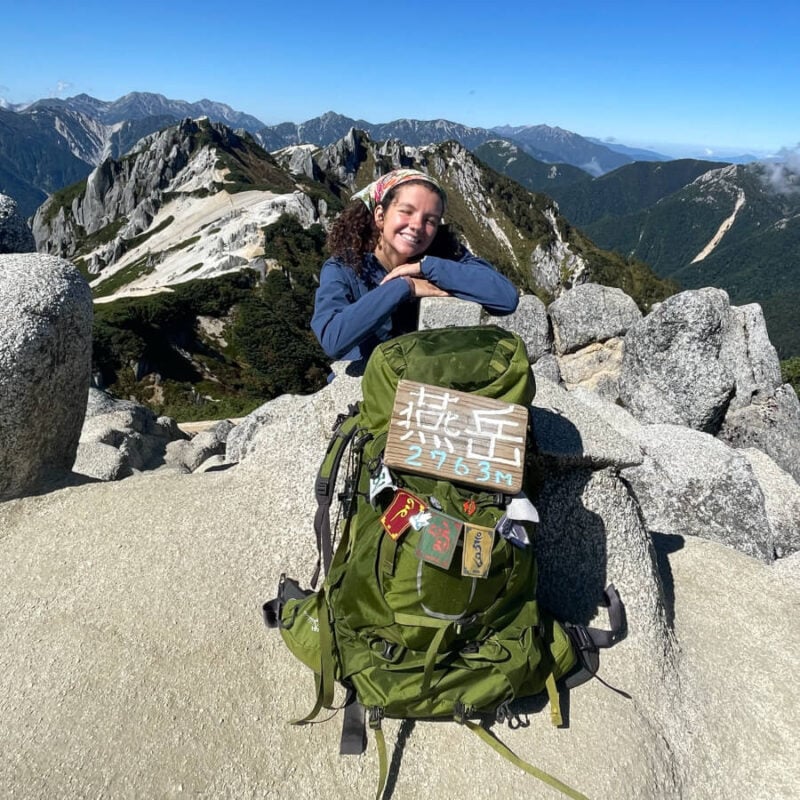 Other Awesome Hostels in Ericeira
Campfires at night
Pool and garden escape
Olive 3 Hostel looks like the inside of my grandmother's house. With an open fireplace, large dining table, and wooden ceiling beams, you will feel instantly at home in this beautiful 1950s building.
The property used to be owned by an important Longshoreman and his wife, with relics from the era scattered throughout the hostel. Save some euros by cooking together with your hostel friends in the kitchen, or treat yourself to a massage after a hard day on the waves.
A delicious breakfast is also offered daily, and a pool in the garden allows you to wash away all your worries. Olive 3 is one of the best for private rooms in Ericeira, with huge spacious accommodations that feel more like a B&B than a hostel. For those wanting to get to know the local culture, this is a great option with the perfect personal touch.
Great co-working space
Indoor jungle or plants
Selena Hostel is a hostel in Ericeira known for its long-term stays and being a favourite for digital nomads looking to get away from the party places. Chill amongst the forest of indoor plants as you finish your travel blog in peace. Or do a me and put everything off in favour of reading your book by the pool – who needs life admin anyway?
There is a restaurant and bar onsite for when you are feeling too lazy to leave the hostel, and the rooms have key card entry meaning your valuables are safe and secure. The dorms have curtains on the beds to keep the light out, and there is a balcony from the room for you to enjoy the cool sea breeze.
Health and well-being focused
Central location
The Salty Pelican is a relatively new hostel in Ericeira and still finding its feet. However, it is bright, shiny, and boasts a range of facilities including a pool, bar, restaurant, and a breakfast buffet.
Work on your balance in the indoor yoga shala before hitting the waves, located just a 500m walk from the hostel. After you're all limbered up, taste locally sourced wines from the bar, which you can enjoy as you watch the famous Portuguese sunsets from the sea view balcony. You can even enjoy a reading window that is under the water of the pool – making for a very good insta opportunity.
When booking your room, you can choose different packages for your stay, including surf and yoga or yoga and massage deals. Whatever you choose, you're going to leave the Salty Pelican feeling like a brand new person. If you've got the budget, this hostel could be ideal.
Ericeira Hostels FAQs
Travel Safety Tips for Ericeira
My number one travel safety tip – get some good travel insurance! It's 2023 – you will probably need it.
ALWAYS sort out your backpacker insurance before your trip. There's plenty to choose from in that department, but a good place to start is Safety Wing.
They offer month-to-month payments, no lock-in contracts, and require absolutely no itineraries: that's the exact kind of insurance long-term travellers and digital nomads need.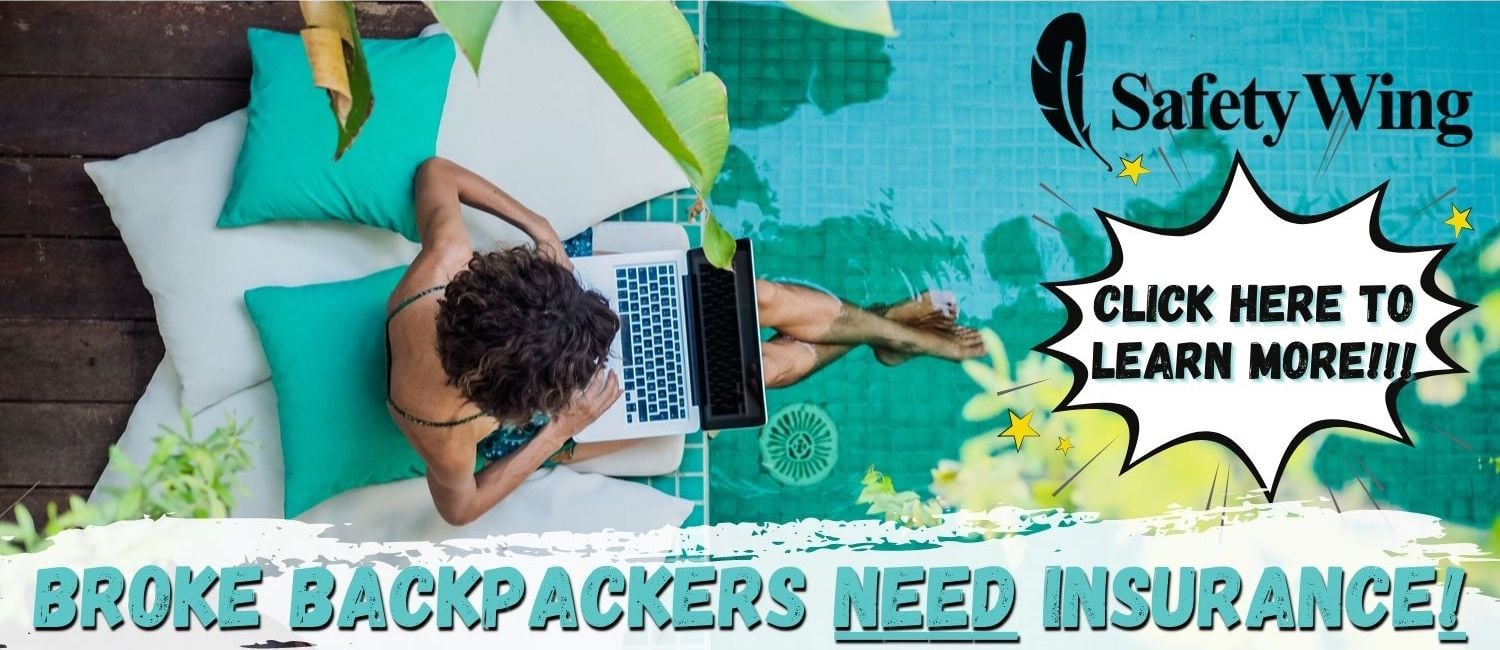 SafetyWing is cheap, easy, and admin-free: just sign up lickety-split so you can get back to it!
Click the button below to learn more about SafetyWing's setup or read our insider review for the full tasty scoop.
Final Thoughts on the Best Hostels in Ericeira
The point of travelling is to connect with the locals, learn new perspectives, and make friends at home jealous with amazing photos. Over the years, I have found that I always have a more genuine encounter with the local culture and expanded my horizons when staying in hostels rather than hotels.
It is so easy to be stuck in the tourist bubble, especially in places in Ericeira where many people speak English. Locally run accommodations like Hostel & Surfcamp 55 on the other hand are the perfect mixing pot of different cultures, languages, and people – all with the same goal to explore Ericeira's amazing hidden gems. Whether you want to share a few beers by the pool or chat with the locals at the reception, our list of hostels has the perfect blend of tranquillity, privacy, and company to suit your travel style.
Don't be that tourist that looks for the closest Starbucks. Embed yourself in a community of travellers and bond over your terrible surfing techniques together. It's therapeutic, trust me.
---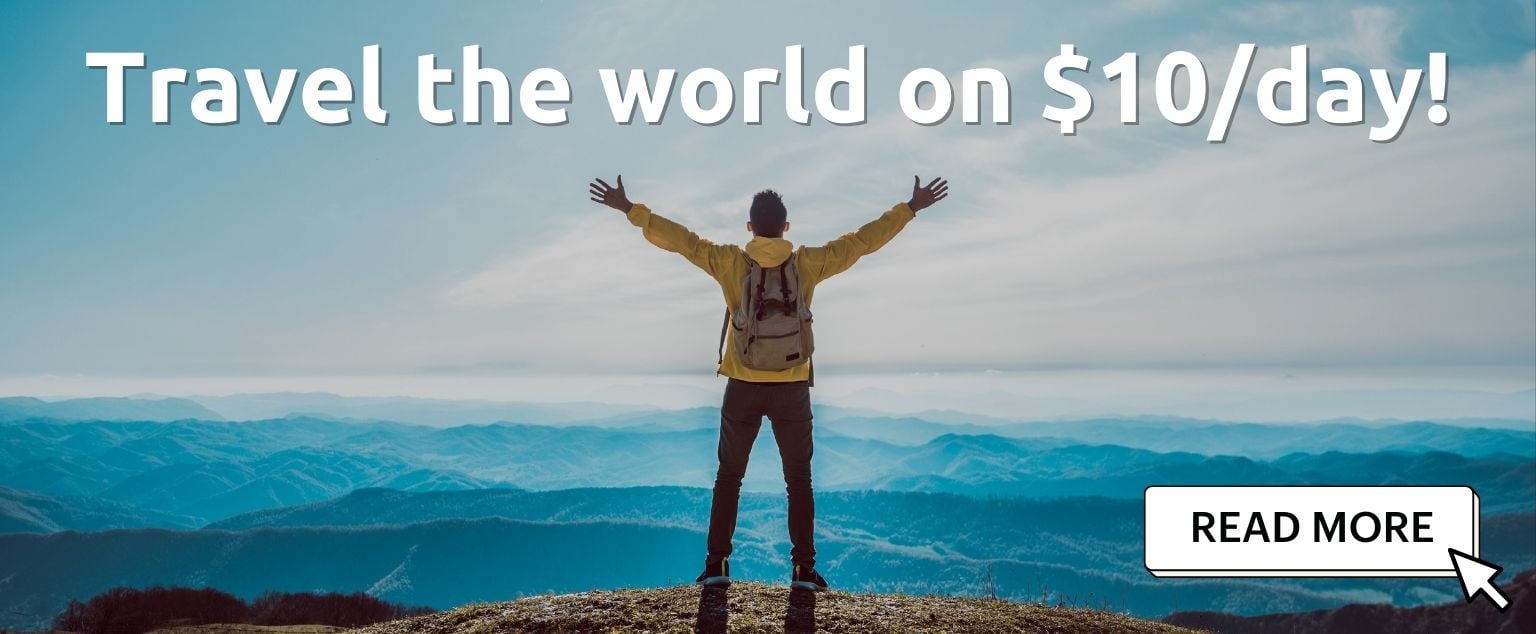 And for transparency's sake, please know that some of the links in our content are affiliate links. That means that if you book your accommodation, buy your gear, or sort your insurance through our link, we earn a small commission (at no extra cost to you). That said, we only link to the gear we trust and never recommend services we don't believe are up to scratch. Again, thank you!