Toronto is Canada's largest city – a hotbed of culture, entertainment, sports and shopping. The city comes to life in the spring and summer, as the warm days feel even warmer when the sun hits Lake Ontario.
During the summer months you will find festival after festival, and show after show. Restaurant and bar patios come to life, and the city's social scene leaps to a whole new level.
In the winter, daylight hours decrease, but cozy cocktail bars serve up hot cups of bourbon, and Toronto's natural ice skating rinks are born again.
Toronto VRBO has something for all budgets in every corner of the city. Cheap condo downtown? Tick. Family home in a quiet neighborhood? Tick. Epic short term rentals? Tick.
Rentals in Toronto are a great way to see the city, have privacy, a relaxing place to spend the night, and be in some of the city's most vibrant areas.
Carry on reading to see our top 20 vacation rentals in Toronto that will known your socks off.
Quick Answer: These are the Top 4 VRBOs in Toronto
Overall Best Value VRBO in Toronto
Overall Best Value VRBO in Toronto
Apartment Among the Trees
> $$
> 2 guests
> Downtown Toronto
Best Budget VRBO in Toronto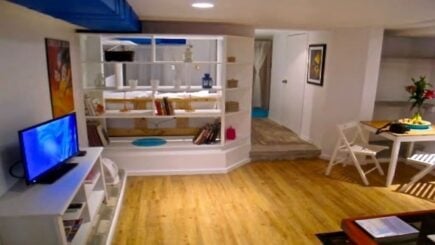 Best Budget VRBO in Toronto
Beach Studio
> $
> 2 guests
> Close to Lake Ontario
> Beach neighborhood
Best VRBO for Couples in Toronto
Best VRBO for Couples in Toronto
Luxury Condo
> $$
> 2 guests
> Skyline views
> Toronto waterfront
Best VRBO for Families in Toronto
Best VRBO for Families in Toronto
Beautiful Red-Brick Home
> $$
> 6 guests
> Rooftop
> Public transport

Unlock Our GREATEST Travel Secrets!
Sign up for our newsletter and get the best travel tips delivered right to your inbox.
What to Expect from VRBOs in Toronto
There are a few epic expectations you can have for your stay in a Toronto VRBO.
Expect plenty of modern accommodation – comfy, clean bedrooms and full kitchens. All of this will be a welcome change if you've been used to hotels or hostels.
You will have plenty of places to stay in the bustling downtown district or on the fringes, surrounded by delightful local restaurants and vibrant nightlife.
You will always be close to public transport that will dart you all over the city.
But don't forget, folks, Toronto's bar scene, restaurants, and entertainment aren't just packed into downtown, They are spread throughout the wider city! You really can't go wrong.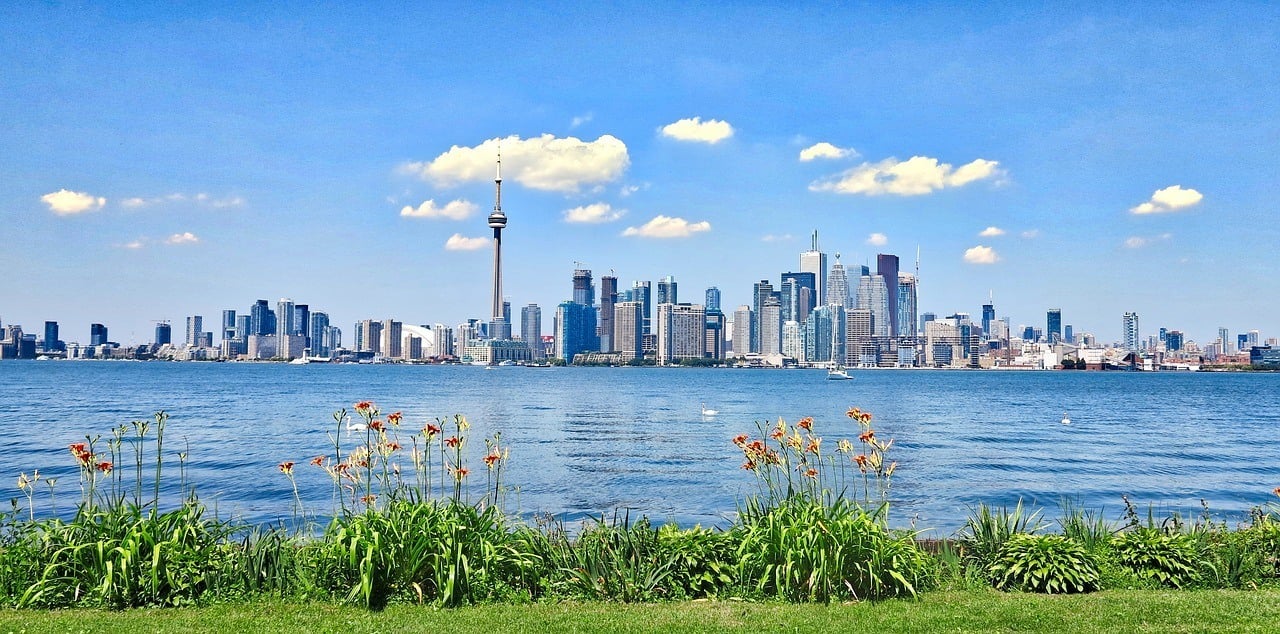 Condos
For those wanting a taste of the high-rise life, and to be close to the city's harborfront, a condo is the way to go.
Toronto is spread east to west along the shores of Lake Ontario. It is where you will find some of VRBO's best condos for a luxurious stay, or even for those on a budget!
Let yourself take a little break from hostel life in dorm rooms and get yourself a private space with a proper kitchen, without having to stay too far from the heart of the action.
Beach Houses
Those traveling in groups, or planning a family vacation to Toronto, beach houses on the shores of Lake Ontario are a perfect fit. The homes are larger, with multiple bedrooms and sometimes even bunkrooms for the kids.
Swimming pools in Toronto aren't terribly common, either because of the winter weather or because the majority of homes have small backyards. Your best bet for an outdoor pool will be at one of these bigger beach houses.
Mostly located in the Beaches, a neighborhood at the east end of Toronto, you will have access to the city's best beaches, large parks, and playgrounds for the young ones.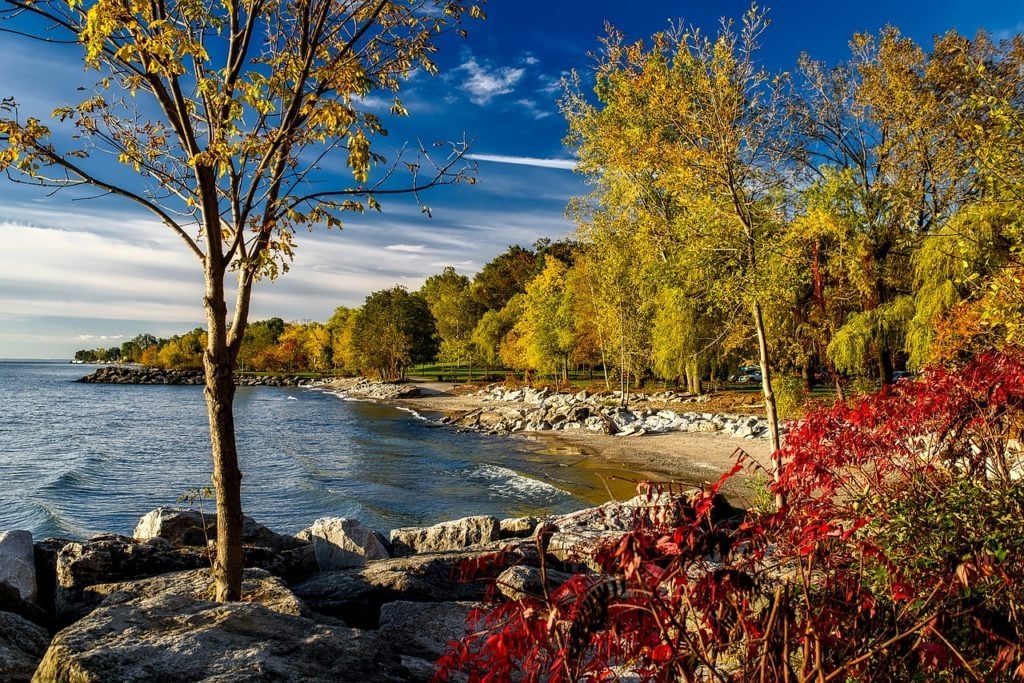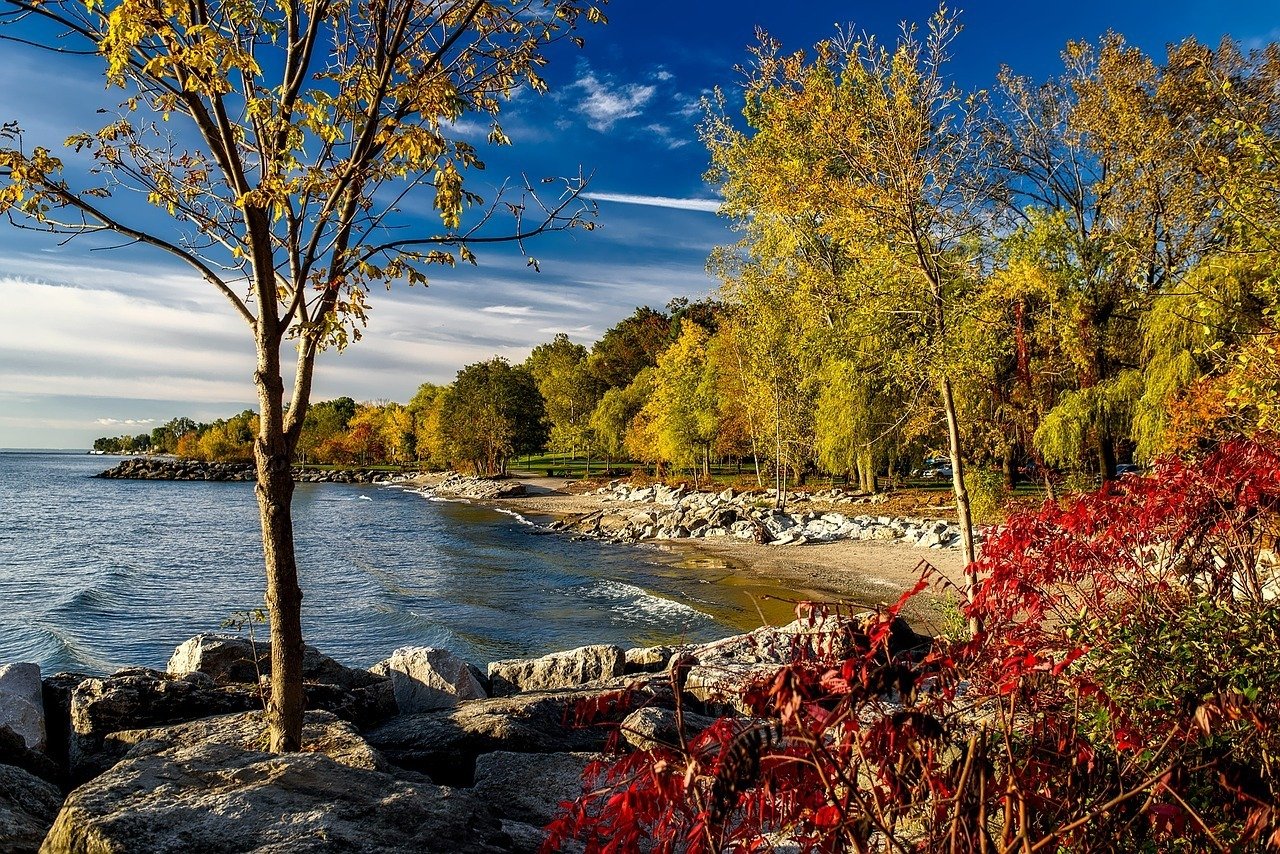 Apartments
Apartments are found in abundance in the city of Toronto. Surrounding downtown are some of the most exciting neighborhoods in Greater Toronto. Here, you will find a variety of small apartment buildings, but mostly renovated townhouses.
Find yourself away from the 24/7 bright lights of the big smoke, live where the locals live, and eat what the locals eat. You can discover a different world, that you wouldn't have the chance to explore by following the traveling crowd.
Be surrounded by big old pubs as people yell at the Leafs game on TV, take your partner to a cozy cocktail bar, or try some of Toronto's diverse restaurant scene that represents so much of the world. There is so much to see and do, all just walking distance from your apartment.
Why Stay in an VRBO
There are many reasons to stay in a VRBO property rather than a boring chain hotel room, particularly in a big city like Toronto. Here are just a few:
Local Experience: By staying in Toronto's residential spots, you will be getting a more authentic experience. Knock back some Molson's, watch Hockey Night at the pub and live like the locals do.
Privacy: Tired of having everyone in your space? Check into a downtown condo. You'll have your own kitchen, and much nicer views than you'd ever get in a hostel!
Affordability: Toronto has some great-value condos and apartments, often for cheaper than your regular old hotel. Plus, instead of your crew all renting their own beds, pool the cash and grab yourself an entire home.
Safety: Have your own place, own closet, own keys. Ahh, gotta love the simple things in life! Get some more tips from our is Toronto safe? guide.
Staying Long-Term: More than ever, hosts are loving longer-term stays. VRBO makes it easy to find those that offer discounts for weekly and monthly stays.
The 20 Top VRBOs in Toronto
OK, you've made it this far, now it's time for us to give up the goods. Here are our top 20 VRBOs in Toronto.
2 guests
Simple, modern style
High up on the third floor this well-located apartment in downtown Toronto is a beauty. Within walking distance of many key attractions, including just a 10 minute walk to the popular Dundas Square, it is slap bang in the middle of the action.
From this spot, you are close to the Eaton Centre, the epicenter for shopping in the city.
A few blocks north of the apartment is Bloor-Yonge Station, where major underground rail lines connect. This will give you greater access to the west end and Old Toronto.
Clean and comfortable, this cozy apartment is a great base for exploring the rest of the city. Kick back in front of the fireplace, and plan tomorrow's itinerary.
3 Places to Visit:
Casa Loma
Evergreen Brickworks
St Lawrence Market
Best Budget VRBO in Toronto | Beach Studio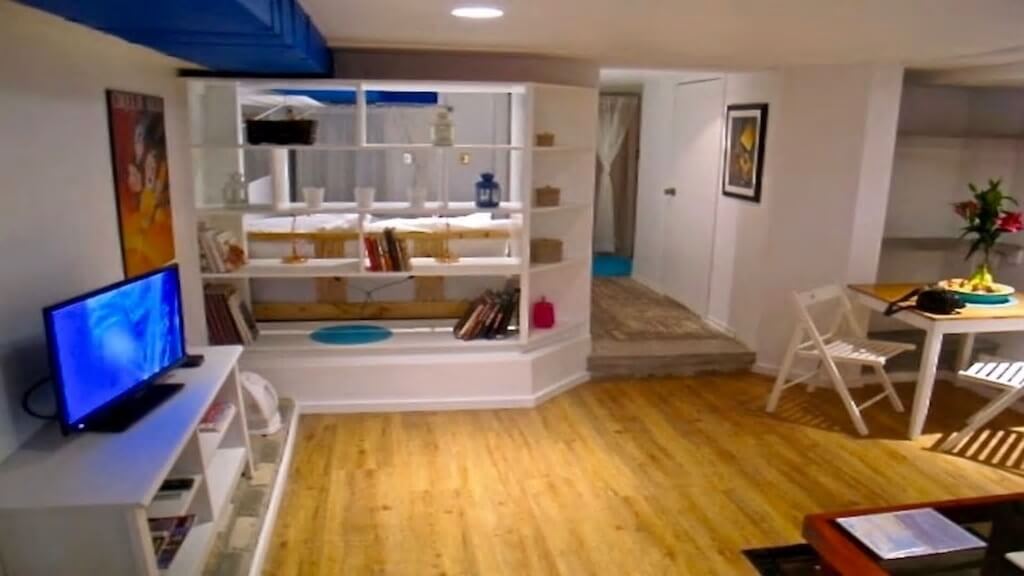 2 guests
Beach neighborhood
Located in one of the city's most well-rounded neighborhoods, this studio VRBO in Toronto is a great budget stay.
A simple yet cozy spot that gives great bang for your buck, the roomy living space will be a welcome change for those who are used to jumping between hostels.
After enjoying a coffee on the back patio, go for a wander through the delightful shops and restaurants that line the east end of Queen's Street. The home is just a quick walk from Lake Ontario, parks, and sandy beaches.
Queen Street runs the length of the city and has a street car that stops by regularly. Jump on this for a direct shot at downtown Toronto. It is a perfect spot to spend a weekend in Toronto.
Perfect VRBO for Solo Travelers | Central Studio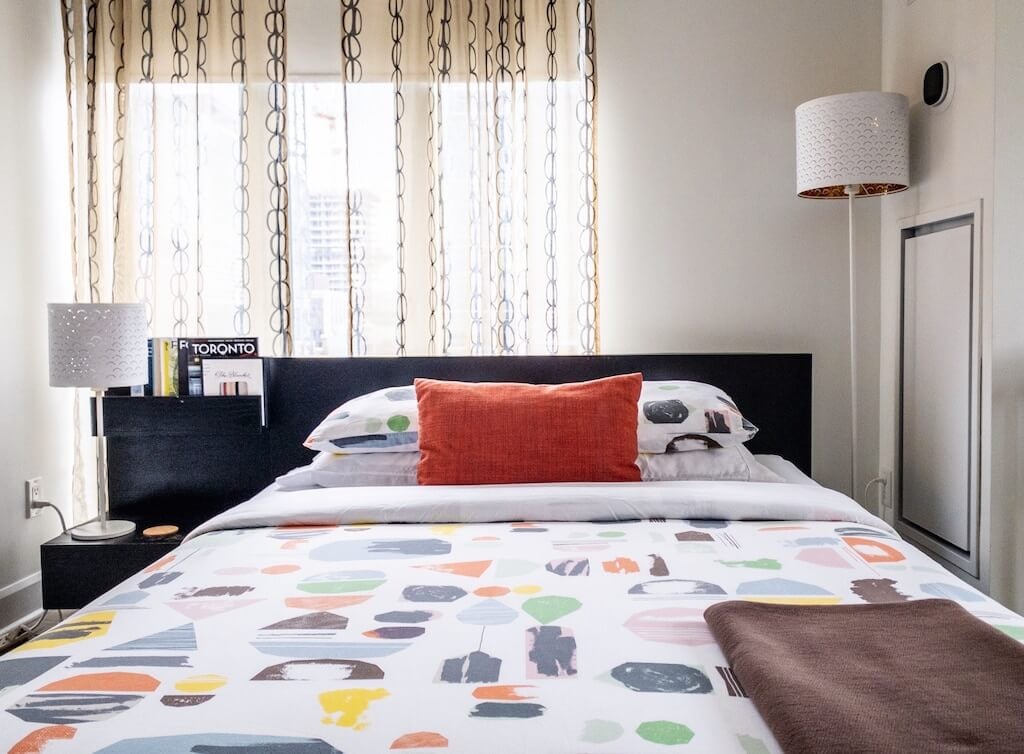 For solo travelers, sometimes you need a central retreat to kick back and chill. At this Toronto vacation rental, you will be a few stories up in the heart of the city.
There is local public transport just steps from the front lobby, and it is within walking distance of baseball and ice-hockey stadiums.
When you want to get out and meet people, head along Dundas St. West for happening bars and cheap eats. Alternatively, go north to Church and Wellesley for fantastic nightlife that runs into the early hours.
Close by to Jack Layton Ferry Terminal, you can easily jump over the bay and explore Centre Island.
Is This the Best Travel Pack EVER???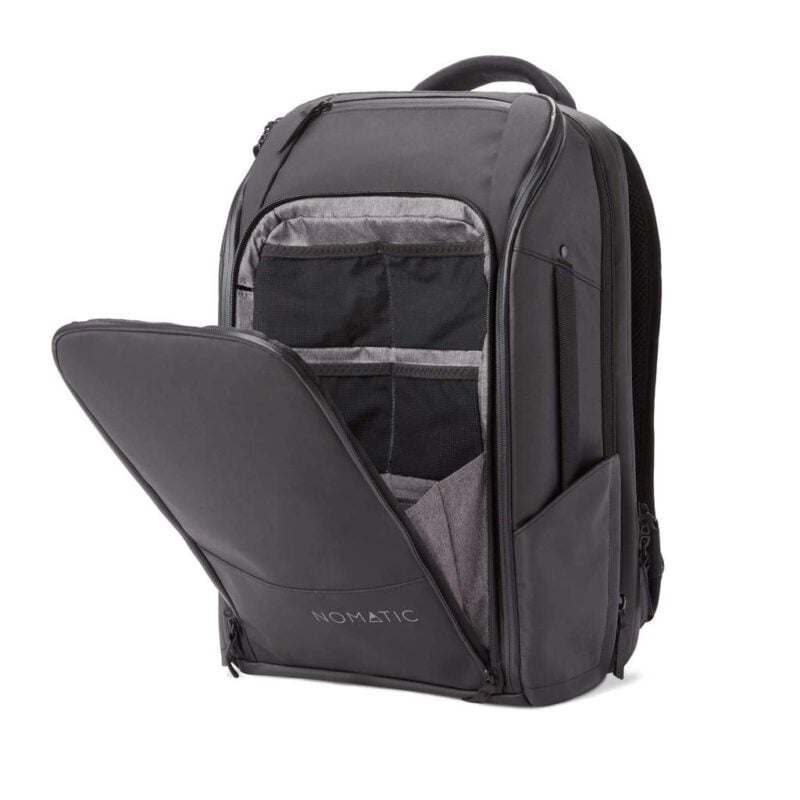 Most Romantic VRBO for Couples | Luxury Condo
2 guests
Toronto waterfront
Couples looking for a romantic escape to the city, will find it hard to pass up this cute condo. Located right on the Toronto Waterfront, it is just an elevator ride to be walking along the water. You can have a beer looking out as the sailboats make use of the summer winds.
The condo is an inviting private space with great skyline views, and even a little deck to enjoy a glass of wine.
There are so many things to do in Toronto close by, you don't need to worry about what to do. Minutes away from catching a Blue Jays game, or tour the iconic Steam Whistle Brewery, your days will be filled with fun activities.
6 guests
Public transport nearby
Toronto has some great vacation rental options for larger groups and families. This three-bedroom home with warm brick wall interiors is just about the best of them.
With plenty of space for the whole family, there are individual rooms and king beds that can be split into singles.
Each evening you can take dinner up to the rooftop, and enjoy the colorful sky – that is, if you aren't there during a classic Canadian winter.
Most importantly, you will love how close it is to transport. Leave the car at home and be within walking distance of major train lines and street cars to take you downtown.
And if that wasn't enough, the home is nearby to Trinity Bellwoods Park, and local restaurants.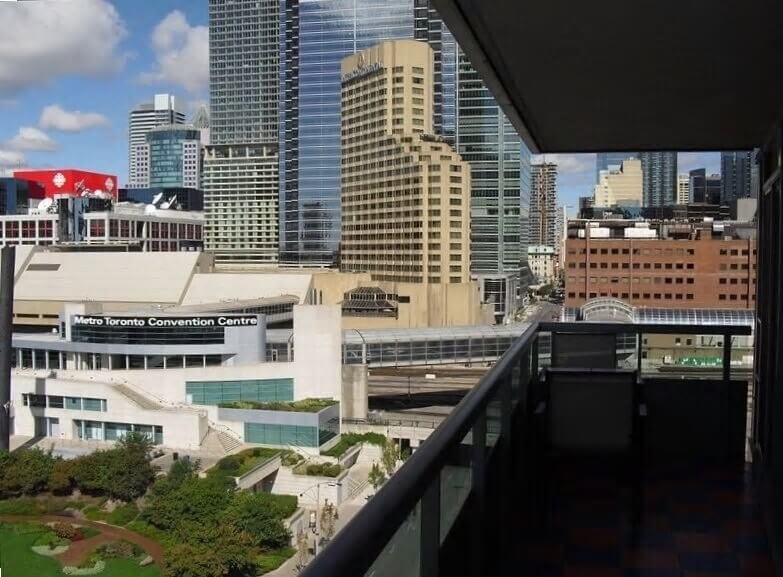 This VRBO in Toronto is located right in the heart of the downtown district.
Boasting fantastic views of the CN Tower and Roundhouse Park, you couldn't be more central if you tried. On sunny days walk down to the park and check out the railway museum, or take a tour of the impressive Steam Whistle Brewery.
At night, kick back in the living room and feel the atmosphere of the city flow through the windows. You can swim laps in the pool, or hit the gym and get yourself ready for a day exploring the city.
Take the street car north along Spadina Avenue to reach interesting markets, and the delicious restaurants on the city's west side.
Check out all the best places to visit in Toronto with a cozy home to return to.
Best Apartment on VRBO in Toronto | Cozy Chalet
The best VRBOs in Toronto are often apartments. In fact, on the edge of Toronto's downtown area, apartments are super popular.
This apartment, minutes east of downtown Toronto, is a cozy base for a big adventure. The townhouse has been converted and now comes with plenty of space for a small family. Built with kids in mind, the apartment has a bunkroom and Disney+.
While other listings have you right downtown, there is something special about where this apartment is located. In the Garden District and next to Cabbagetown, you are on the edge of the skyline yet surrounded by local restaurants, and born and raised Torontonians.
$$
Modern and luxurious home
This ultra-chic and modern townhouse has all the comforts you need for a magnificent, and all just a short walk from the beach! Ideal for a weekend with friends, there are 2 spacious and bright bedrooms, 2 bathrooms and a separate office room – for those who need to get some work done.
Across 4 floors, the vacation rental has plenty of space to relax and enjoy time with your loved ones in style. Lounge on the sunny terrace, prepare tasty homemade meals, and have a peaceful Toronto vacation.
After a day on the sandy shores, you will have your own private home to return to for a restful night.
Best VRBO in Liberty Village | Artsy Townhouse
$$
2 Guests
Great Location
Patio
Liberty Village provides guests with the perfect balance between Toronto nightlife and a quieter apartment community. A relatively new section in Toronto's west end, this space has multiple large pubs and high-end establishments along with supermarkets, parks, and entertainment. It is almost its own self-sustaining part of the city.
This lovely VRBO will have you a short walk from one of Toronto's most vibrant areas. For lovers of Canadian football and the MLS, you are nearby to CMO Stadium, which is why Liberty Village packs out before and after games.
When you are ready to venture further afield, jump on the street car at King St. and head into the city.
For a luxurious getaway close to the city you must check out this Toronto VRBO. With a large saltwater pool and Jacuzzi surrounded by a beautiful green garden, this is your summer escape.
The expansive patio area will be perfect for hanging with friends and enjoying the warm weather. At night the patio, pool, and jacuzzi all light up for fun evening entertaining.
Pull down the outdoor projector screen, and tune in to some live sports, or a comedy movie under the stars.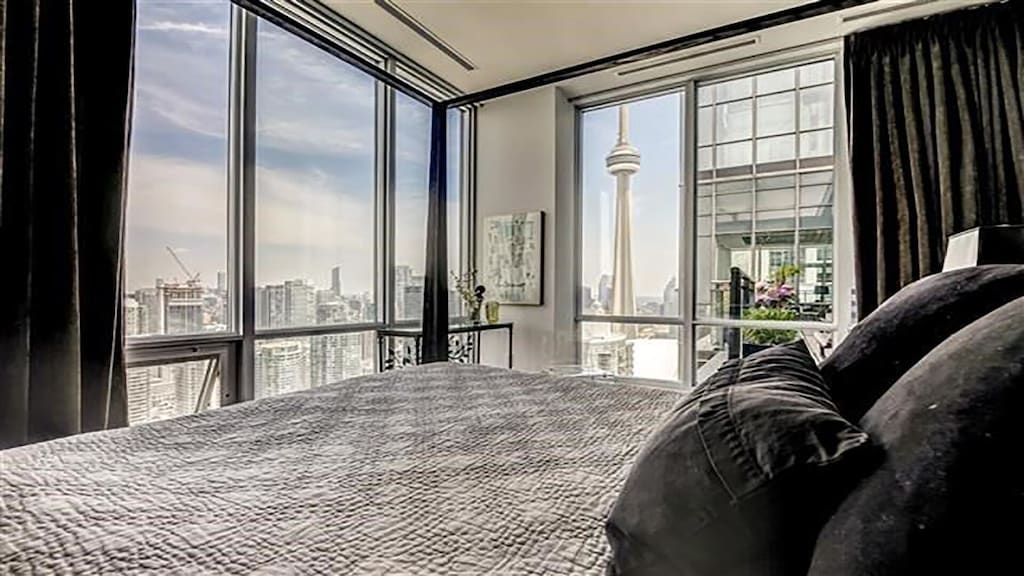 6 guests
Downtown location
For those willing to splash a little cash, here we have the front runner for best VRBO in Toronto with a view. You can look out every night to the sparking CN Tower, the focal point of the Toronto skyline.
The wall-to-ceiling windows make you feel as if you're walking among clouds, looking down on the city below. Enjoy the luxurious bathrooms and a living space designed for a king and queen.
When you're done gawking at the endless views, head downstairs and find yourself within a stone's throw of the city's most happening restaurants, bars, and entertainment.
When you get lost, simply look for the CN Tower, home will be right next to it.
Take some tips from our suggested Toronto itinerary to make sure you don't miss a thing in the city!
Perfect VRBO for Digital Nomads | CN Tower Suite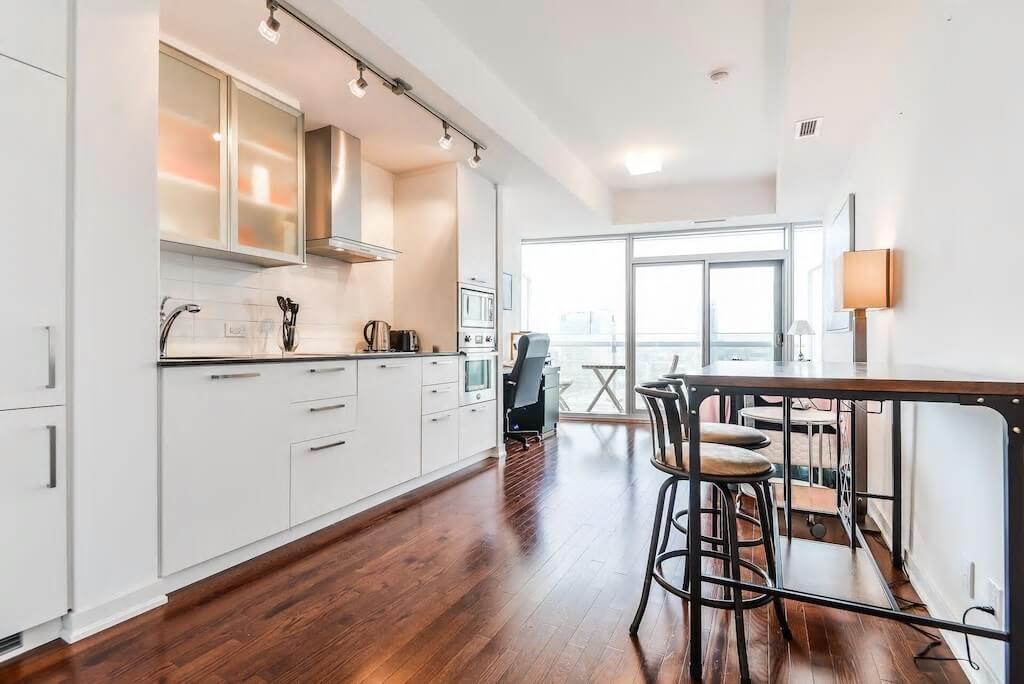 2 guests
Business district
For any remote workers and digital nomads heading over, this Toronto vacation rental is for you.
The clean, white interior creates a no distraction environment for a day of emails and calls – the desk will come in handy so you can crush your daily tasks and get exploring.
Featuring a plush king-sized bed, you can get a good night's rest before another day of work and wandering the city streets.
To stay in tip-top working shape, check out the gym, outdoor pool, and patio while taking up the chance to de-stress over a game of billiard.
Once you are ready to adventure, the apartment is just minutes from Union Station and Spadina Avenue for trains and street cars.
Best VRBO in Riverside/Leslieville | Casa Leslieville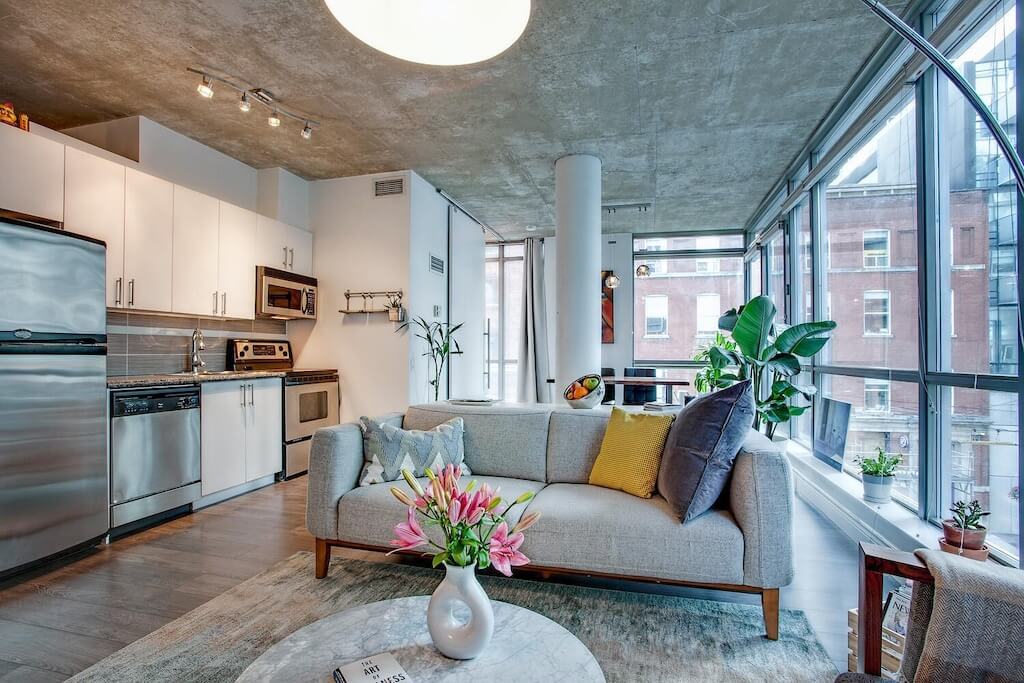 Great Views
Accessible Location
When it comes to great local areas outside of downtown Toronto, it doesn't get much better than Riverside and Leslieville.
Right on Queen St East you will find this great VRBO in Toronto – a private apartment that has all the amenities you need to feel at home.
The real bonus, is the amazing location next to great restaurants and bars. Leslieville is one of the most colorful parts of Toronto with great street art, cozy cafes, and chic eateries.
Riverside is the last port of call before getting into the city and has some of the best bars in the city. Have the street car pass right in front of your door for easy access to the centre of Toronto, where you can check out all the best things to do!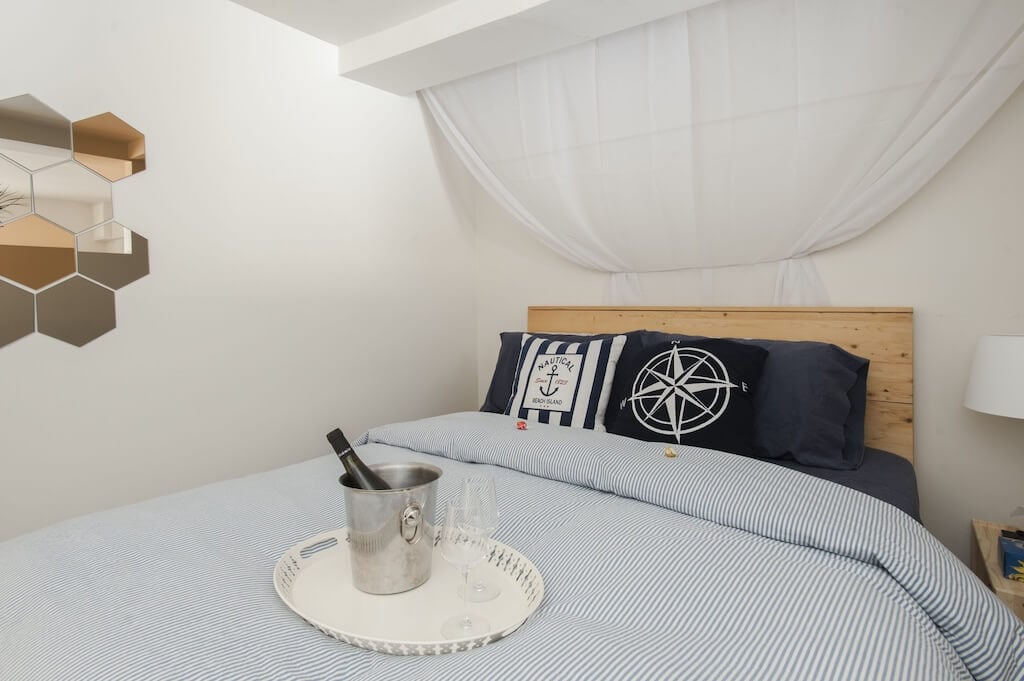 This private apartment is detached from a larger house, and is the best vacation rental for short-term stays.
Located near Christie Pits, it is a short walk away from one of the best parks in the city. In the summer, crowds flock to the lawns and take in the regular outdoor cinema nights. Meanwhile in the winter, locals grab their toboggans and slide down the hill.
Be surrounded by the world-class restaurants that dot Bloor Street West, while being close to the subway that'll take you downtown.
This comfy apartment has discounts for stays of one month or more, which comes in handy as you fall in love with the West End.
Great VRBO for LGBTQ+ Travelers | Stylish Split
$$
Near Church and Wellesley
2 guests
Strong LGBTQ+ community
Toronto is itself an incredibly inclusive and progressive city. However, the Village district in Toronto, centered upon the corner of Church and Wellesley, is easily the strongest 'gayborhood' in Toronto and one of the best in Canada.
Whether you are traveling alone, with your partner, or with a group of friends, this VRBO will place you in Toronto's most vibrant community.
The home itself has a retro and modern style with lots of comfortable furnishings. It is a perfect setting for a weekend in Toronto.
When it's time to hit the town, walk along Church street for the best gay bars in the city and a nightlife that doesn't quit.
Most Beautiful VRBO in Toronto | Crescent House
6 guests
Lush neighborhood
When it comes to sheer beauty, this home shot itself to the top of the list.
Each of the three storeys is filled to the brim with luxurious amenities and a luxe style that will have you feeling chic and glamorous. The home is surrounded by leafy trees and ravines that define Rosedale, a gorgeous area in northern Toronto.
Just a short walk from the Rosedale subway station, the other direction will lead you to the spacious Don Valley Park and the incomparable Evergreen Brickworks. That's if you ever want to leave this incredible home. You can chill on the second floor deck, or gather in the entertainment room complete with Wii and Xbox.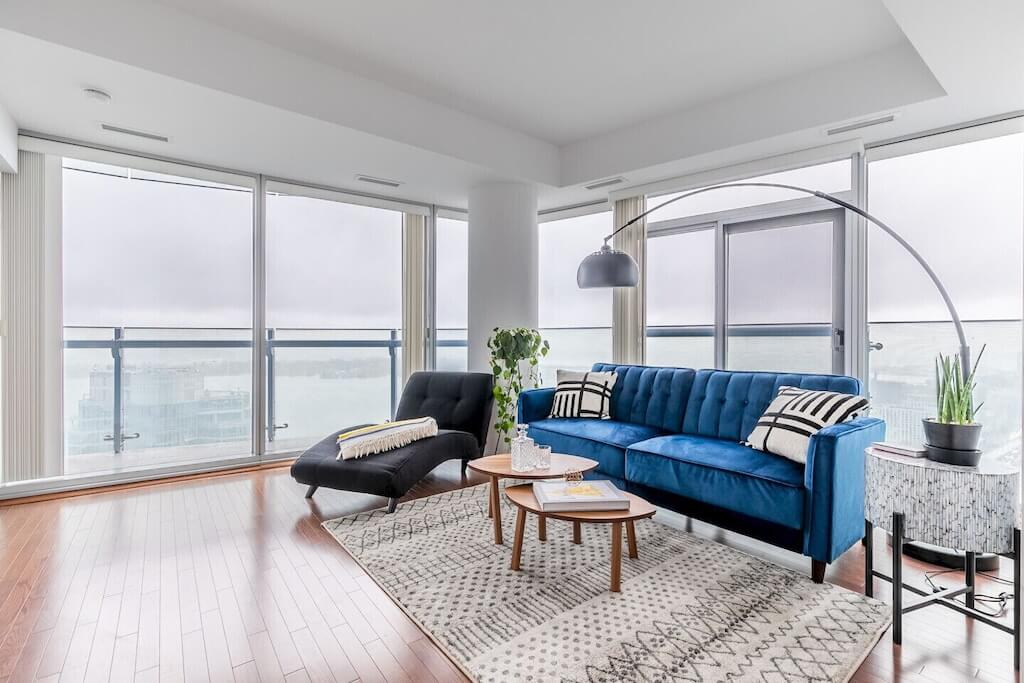 Gather your friends, ready your cameras, and prepare to look like big ballers. This corner apartment has all the trappings of luxury for not much money at all.
You can capture pictures of the unobstructed lakeviews, and sit in front of the CN Tower as it sparkles at night.
When you are ready to head out on the town, check out the Harbourfront bars. Later, stroll a few blocks north to the Entertainment District. Take in a live show or bounce between the pumping bars that line Adelaide, King, and Queen St.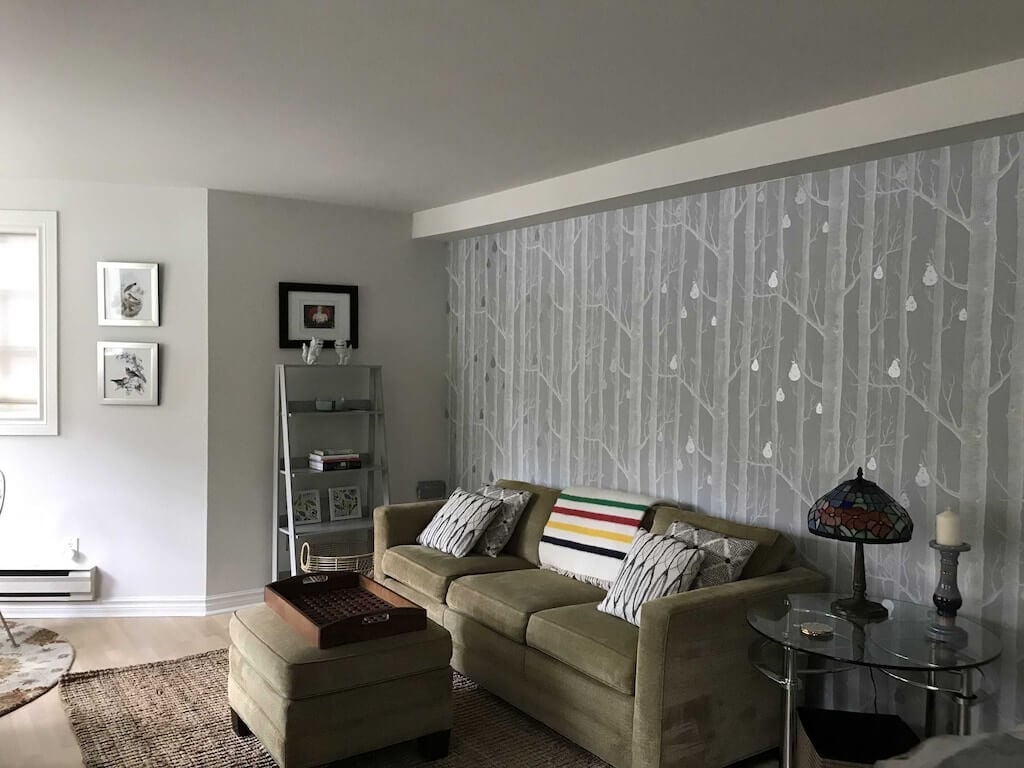 2 guests
Public transport nearby
In wonderful Cabbagetown, this vacation rental is in one of Toronto's coolest neighborhoods. This residential area is full of classic homes, sprawling public parks, and cute local restaurants.
Most importantly, it is a short walk from one of Toronto's busiest streetcar routes giving you easy access to downtown.
However, if you are up for it, Yorkville and the Village are all within walking distance. Heck, if it's a nice day you'll make it all the way to Yonge-Dundas Square.
After a lovely day exploring, chill in the private yard, and take in the sights and sounds of Cabbagetown.
2 guests
Public transport nearby
This bright and spacious one-bedroom apartment is smack bang in the middle of Koreatown.
Technically Seaton Village, Koreatown has taken over, and has been the go to spot for mouthwatering treats for many years. Located in the West End of downtown, you will stumble upon a vibrant social scene. Here, students and younger folks gather in great numbers. Which is why you will find some of the city's cheapest pubs and eateries.
In the opposite direction, you are right on the cusp of downtown and just a 20 minute walk away from many major attractions.
As for the apartment, enjoy the roomy living area and a private space away from the exciting madness of Koreatown.
Best VRBO Party House in Toronto | Downtown Loft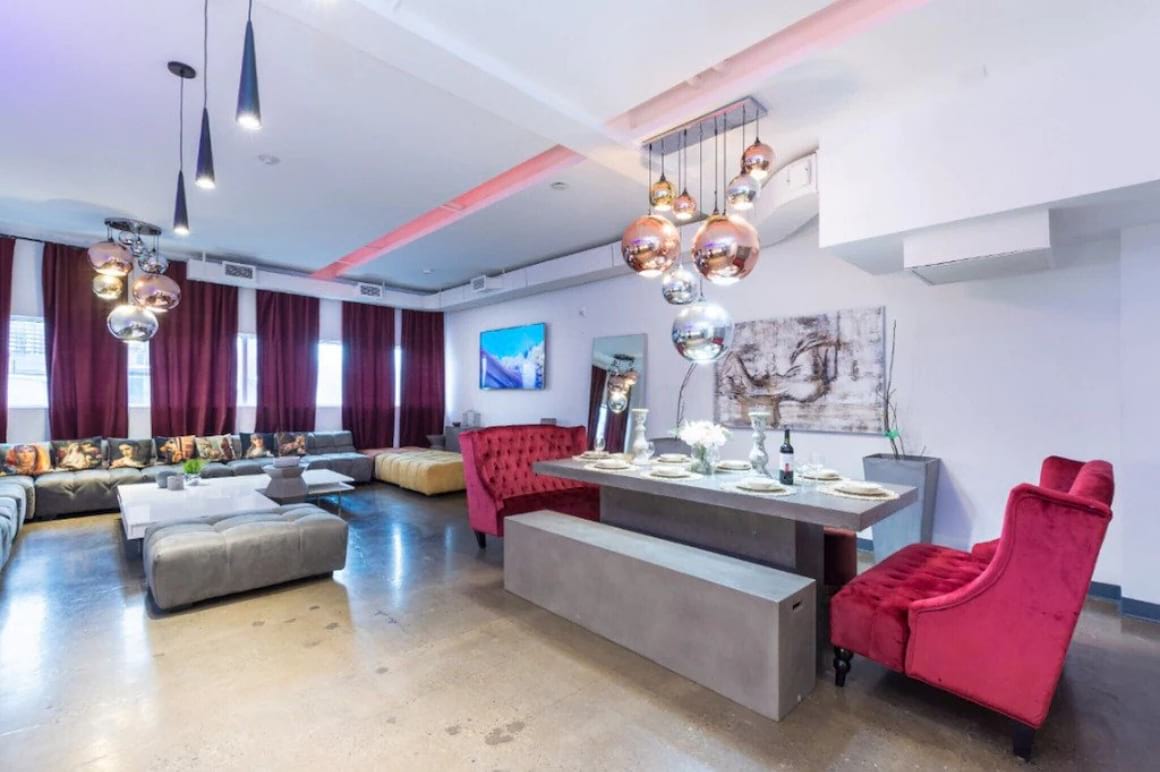 Gather ye, gather ye for the best VRBO in Toronto for throwing a banging party.
Located in funky Chinatown, this new industrial-style loft has plenty of room for your next bash. While being well situated, close by to some of Toronto's best nightlife.
When you're ready to get the groovin' started, make the most of the remote controlled LED lighting and the open space for entertaining guests.
Under the vaulted and exposed ceilings, kick back on designer couches, with the music floating through the air. Once the pre-game is done, walk outside and be just a few steps from happening bars and clubs.
Don't Forget Your Toronto Travel Insurance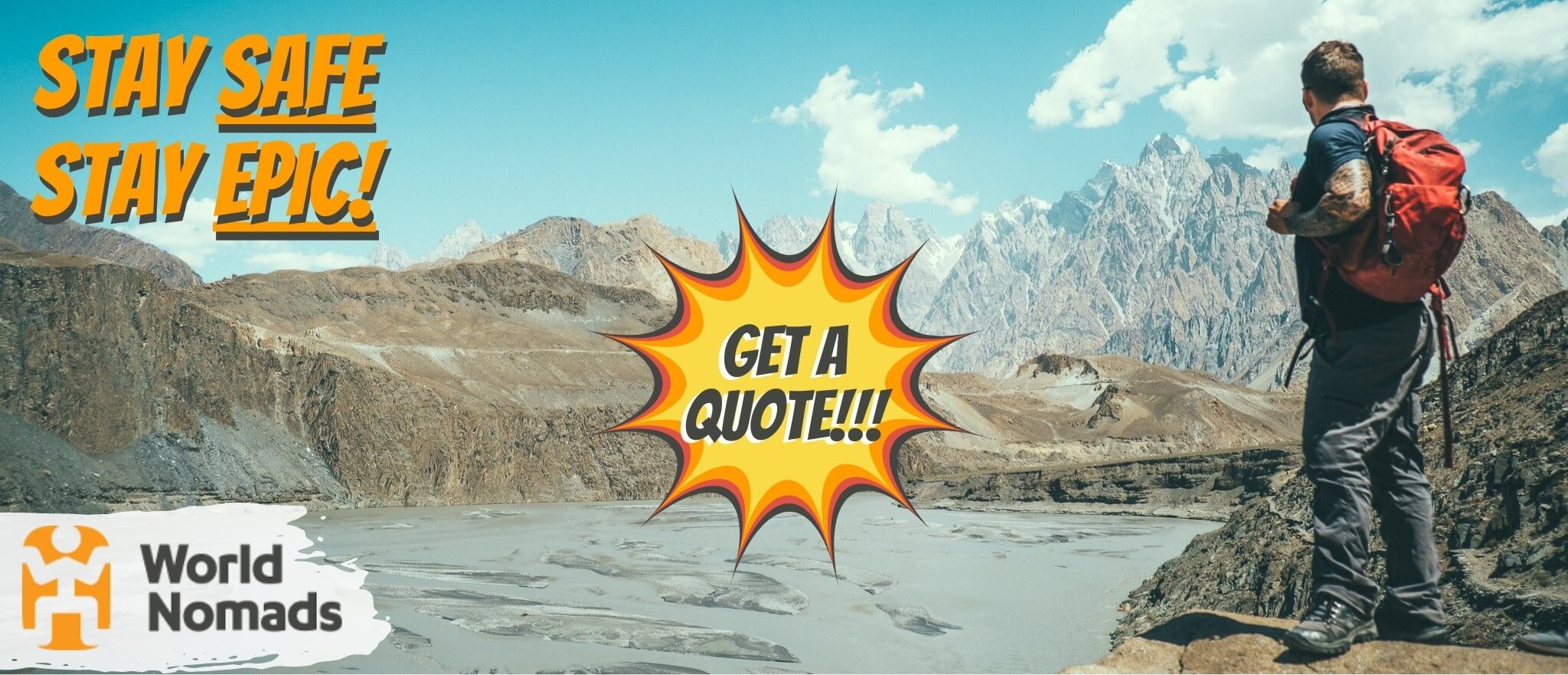 World Nomads' mission is to support and encourage travellers to explore their boundaries. They offer simple & flexible travel insurance, and safety advice to help you travel confidently.
They've been doing it since 2002 – protecting, connecting, and inspiring independent travellers just like you.
Get a quote below or read our in-depth review!
World Nomads provides travel insurance for travelers in over 100 countries. As an affiliate, we receive a fee when you get a quote from World Nomads using this link. We do not represent World Nomads. This is information only and not a recommendation to buy travel insurance.
Final Thoughts on Toronto VRBOs
As you can see, VRBOs in Toronto are an excellent way to experience this great city. For travelers on all budgets, you will find modern and comfortable accommodation.
More importantly, you will be right where you need to be – just steps from excellent restaurants, spacious parks, stadiums of the city.
Rather than being tucked away in sections of the city where nobody lives, be within the vibrant Toronto neighborhoods instead. Chat with your hosts and grab even more insider tips and tricks.
Selecting one of the best VRBOs in Toronto will elevate your trip to a whole other level.
---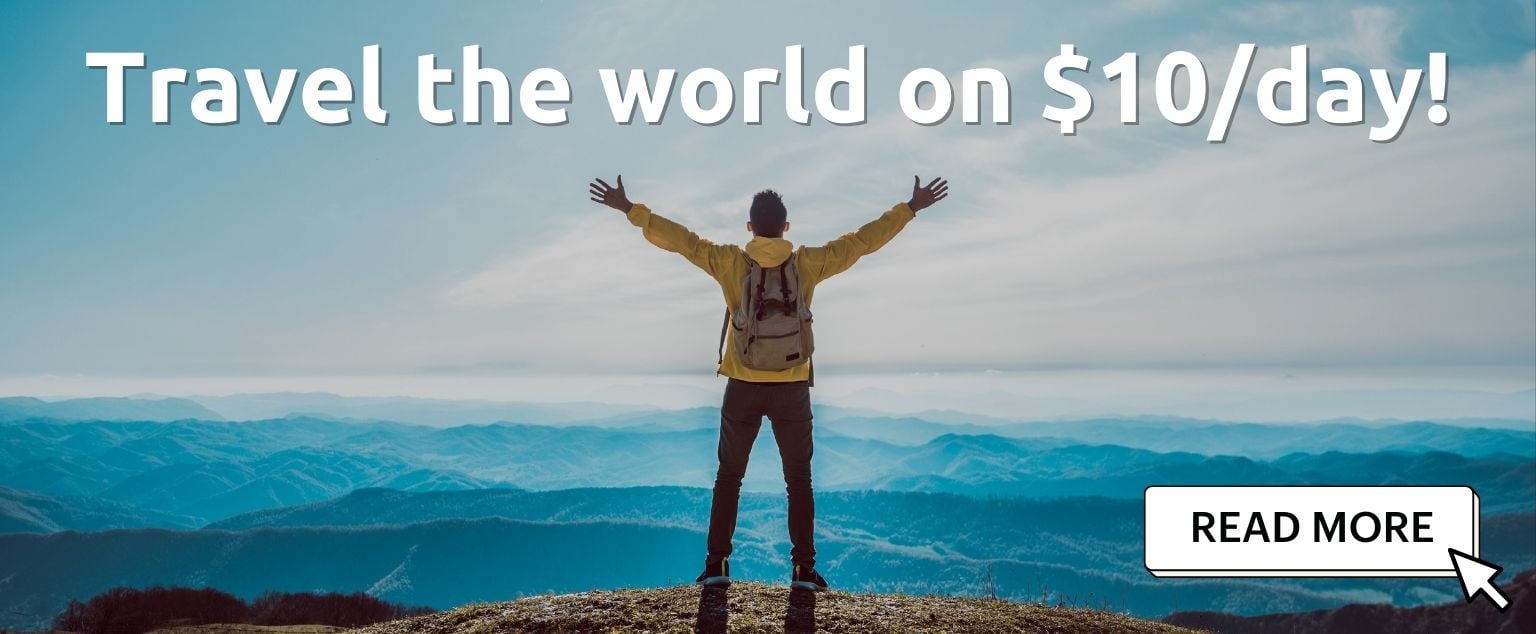 And for transparency's sake, please know that some of the links in our content are affiliate links. That means that if you book your accommodation, buy your gear, or sort your insurance through our link, we earn a small commission (at no extra cost to you). That said, we only link to the gear we trust and never recommend services we don't believe are up to scratch. Again, thank you!