Whether you are hiking, trekking or off on a longer expedition, a good night's sleep can make all the difference before a new day. Without a good night's rest that refreshes your mind and body, you may be tired, irritable and have a less than an awesome day. When you're on the road, energy is everything. Enter sleeping pads, your one guaranteed comfort quotient in the great outdoors.
As someone who has roughed it camping out in freezing temperatures and tropical jungles, I can honestly tell you – I would rather have a sleeping pad than a tent. The cold and the mosquitoes I can handle, sleeping on the bare ground with a root in your back? That's a whole other story.
Quick Answer: The Best Sleeping Pads
If you're new to exploring and camping outdoors, you might be worried about how cozy your sleeping bag is. It's important to remember here that a sleeping bag with a mattress can create a level of warmth, insulation, and comfort that simply wouldn't be possible with a sleeping bag alone. 
The good news is, it's the year 2017 and the options for great camping sleeping pads are a dime a dozen. In fact, there are so many options that you may need some help narrowing down the best sleeping pads for you to use. I've used quite a few different sleeping pads over the years, here are some of the best sleeping pads on the market right now…
Sleeping Pads: What Factors Should You Consider?
Looking at all the options for sleeping pads on the interwebs can be a bit mind-boggling. Every adventure you go on is different. Some may be long, so you need a sturdy and durable sleeping pad. Some may be short, and cold – so you need to focus on warmth. At the end of the day, you're also going to be tired. So a pad that inflates quickly may come in handy. As a primer, here are some of the factors I look at when I feel the need to buy a new sleeping pad.
Sleeping Pad Dimensions
After a long day outdoors, there's almost nothing as comforting as feeling 'snug as a bug in a rug.' You need to understand how well you'd fit into a sleeping pad based on its' dimensions compared to your own dimensions. These factors vary depending on the person. For the tiny and compact, you'll need to see if there are smaller lengths and widths available. If you're tall, make sure your entire body will fit to prevent awkward situations where you struggle to find the right balance over your sleeping pad in your bag. Do a little research and find the best backpacking sleeping pad for you.
Inflating Your Sleeping Pad
The two main possibilities when it comes to inflating your sleeping pads are automatic and manual. The best self-inflating air mattress uses an air valve to suck in air and expand to create a comfortable airbed. Sleeping pads that inflate manually usually use an air pump or need to be blown into to expand. I recommend carrying a mini pump or a buying a pad with an integrated pump to make it easier.
Sleeping Pad Durability 
This is an essential factor, especially if you are setting off on a long trip. Sleeping pads are what keep you warm and insulated no matter where you are. In a cold spot, you can't afford to compromise on durability for price. On a long hike, make sure to pick up something that you know will last and is made of quality materials, with the appropriate R-value – which is how sleeping pad manufacturers measure the insulating capabilities of a mattress.
Sleeping Pad Price
The factor is what all your research hinges on. It's definitely a bummer to narrow down amazing sleeping pads and then realize that they are totally out of your budget. (Can you really put a price on a good nights sleep, though?) Make sure you have a price range in mind and a buffer range that you are willing to extend your budget to as soon as you start your research.
Why Sleeping Pads Are Important
Sleeping pads are an essential part of the camping experience today. You must invest in camping sleeping pads if you're an avid camper. Here are some of the reasons you should always pack a sleeping pad for an adventure… 
They give you warmth and keep you away from the cold at night.
They help you get a great night of sleep.
They calm and relax your muscles after an intense day on the trails
and most important of all, they are portable and handy.
The Best Sleeping Pads Comparison Table

Sleeping Pad .
Price Range
What Kind of Trip?
Benefits
ThermaRest NeoAir XTherm

$$$

Find out more
Backpacking and Camping in Extreme Cold Temperatures
Reliable, insulated and warm with an R-value of 5.7
Klymit Inertia X Frame

$$


Find out more
Light Backpacking, Camping Outdoors, Short trip
Lightweight sleeping pad, frame with strategically placed, comfort inducing 'holes.'
Thermarest Ridgerest Solar

$


Find out more
Short, Ultra Low Budget Backpacking Trip
Closed-cell foam mattress with Heat-reflecting surfaces for different temperatures.
Klymit Insulated Static V

$$


Find out more
Long Backpacking Trip
The most comfortable thermarest mattress in the prolite range, compact. The thermarest prolite 4 specs are enviable.
Teton Sports Comfort Lite

$$$


Find out more
Road Trip, Sleeping in a car
Weighing just over 2 pounds, this is a thick, easy to inflate mattress (no pump needed) with a high comfort factor.
The Best Backpacking Sleeping Pads of 2017

Dimensions

When Packed: Large 9.5 x 4.5 x 4.3 inches and Regular 8.5 x 4 x 4 inches
When Unfurled: Large 77 x 25 x 2.5 inches and Regular 72 x 20 x 2.5 inches
Weight
Large 1 lb. 5 oz. and Regular 1 pound
The Thermarest Neo Air series is ultra light and the best air mattress in terms of comfort. You can use it in more than just one weather condition, though it is great for colder weather.  The pad inflates faster than traditional valves thanks to the SpeedValve technology developed by the folks at Therm-a-rest. SpeedValve also lowers the deflation time, making it ideal for a quick pack up at the campsite. The air pad is perfect for backpacking and comes with a repair kit and a stuff sack. This is without a doubt, the best Thermarest mattress, the most comfortable Thermarest in this price range and is the one I travel with myself.

Pros
Easy to pack up and deflate
Provides uncompromising warmth and insulation.
Cons

Tends to be a little noisy, may disturb a tent-mate.
Heavier than most sleeping pads in this range.
Dimensions

When Packed: 3 x 6 inches
When Unfurled: 72 x 18 x 1.5 Inches
Weight
9.7 Ounces
When it comes to getting bang for your buck, Kylmit make the best value sleeping pads. Kylmit sleeping pads come in a whole range of weird and wonderful shapes and sizes on account of them pioneering new, porous, designs which at first look uncomfortable but are actually super chill to sleep on. Klymit sleeping pads are the most compact sleeping pads on the market with some models folding down to the size of a soda can – if you are an ultralight backpacker or hiker, you definitely want a Kylmit sleeping pad for your next adventure. The Klymit Inertia X Lite  is one of the lightest full size pad on the market and has won a ton of camping awards but personally I prefer the X Frame, it comes with a lifetime guarantee and is the lightest, most compact full-length sleeping pad ever developed, weighing just 9.1 oz with a pack size that is smaller than a soda can. The body-mapped design provides support at key pressure points and despite its somewhat odd appearance it really is very comfortable. The pad has been designed to remove excess material that you don't actually need and that's how and why it can pack down so small.
Pros
Three to five breaths to fully inflate
Lifetime guarantee plus stuff sack, dry air pump and patch kit included
Cons

Comfortable to sleep on but not as insulating as full-body sleeping pads without the holes!

Dimensions
Length: 77 inches /  296 centimeters Top Width: 22 inches / 56 centimeters Bottom Width: 2.5 inches / 6 centimeters
Weight
15 ounces / .43 kg
The Thermarest NeoAir Xtherm was designed with winter backpacking in mind. It's lightweight, easily packable, and warm like a tropical island. Like its sister sleeping pad, the NeoAir Xlite, the NeoAir Xtherm ditches the mainstream, rectangular build for a contoured build. This makes it overall more weight-effective, without compromising comfort.
The Xtherm does a terrific job of retaining heat. Pretty much all of the mainstream gear testers have showered the Xtherm with rewards for the duration of it's life. Overall, reviewers have given the Xtherm a 4.7 star rating.
Pros: The Xtherm has the highest R-value to weight ratio in the world. This means that you cannot find a sleeping pad that is as warm as and weighs as little as the Xtherm.
Cons: Like the Xlite, the Xtherm is pretty noisy when you move around. But the Xlite has also been known to soften with time. And I imagine the Xtherm will follow in those footsteps. And you'll get a little lightheaded when you blow this sleeping pad up.
Dimensions
Length: 72 inches / 184 cm and Width: 21.5 inches /55 cm. Comes in 2 other sizes, Large and Small.
Weight
13.9 oz/395g
The Sea to Summit Ultra Lite mat is a competitively priced sleeping pad that combines comfort and portability. This lightweight sleeping pad reduces the weight you're carrying, making hikes lighter and faster. Sea to Summit's unique 'TPU' lamination process draws inspiration from the medical and aeronautical industries to create a tight mattress that never faces delamination issues. An anti-microbial coating also prevents any issues that warm or moist air may cause. Make sure to get the manufacturer warranty if you buy this one!
Pros
Easy inflation, deflation and fine-tuning of air pressure
Anti-microbial treatment prevents issues from moist air
Cons
With a lower R-value (measure of insulation) of 0.7, the sleeping pad may not provide adequate warmth in colder areas.
Dimples prone to collecting dirt.
Dimensions

When Packed: Pretty bulky, not great if you don't have much space.
When Unfurled: 77 x 25 x 1.5 inches
Weight
2.7 lbs
The Thermarest Ridge Rest Solar Sleeping Pad deserves an honourable mention thanks to it's innovate new technology that reflects heat back to the user. This is a crazy good value sleeping pad and although it isn't as comfortable as traditional inflating sleeping pads, it's my top pick for none inflatable sleeping pads, it will keep you crazy warm even if you are sleeping on snow. It's one of the lightest none-inflatable mats around but it doesn't fold up quite as small as I would like, that's probably the only disadvantage of this sleeping pad.
Pros
Affordable and good value.
Much better insulation than most backpacking sleeping pads in this price range.
Cons

In extreme conditions, will not perform as well as an inflatable sleeping pad.
Bulkier than most inflating sleeping pads for hiking.
Dimensions
Length: 185 cm / 72 inches and Width: 52cm / 20 inches
Weight
580 g / 20 oz.
The Mammut light combines the lightness of an air pad with the warmth and comfort of a foam-based pad. This European mattress is one of your go-to sleeping pads for camping out in cold, alpine environments (it's literally called mammoth, guys!) You'll also find that this pad is less slippery than most because of an additional slip resistant fabric layer.

Pros
The unique shape and additional width in the centre increase comfort.
A hand pump helps you inflate the bag faster.
Cons
Maybe a bit warm for less-than-alpine environs
Iso mats are not completely compressible.
8 x 4 x 4 inches
Weight
1.9 pounds
The Exped is light, easy to inflate and deflate and made of strong, durable fabric. One of the sleeping pads that is priced differently according to the size, the Exped comes in three sizes starting at 'Medium.' On trials, we found the shape perfect for fitting more than one sleeping pad and mat in a tent and retaining a spacious yet snug feel. This mattress literally gave me the most comfortable sleep I've had outdoors in years – and it wasn't just because I was dead tired from climbing a mountain all day! A great lightweight air bed!

Pros
Warm, insulated, and durable over long treks
Tapered profile makes it lighter
Cons
Tends to deflate over the course of the night if not inflated precisely.
May tend to get a bit noisy when you move in your sleep.


Dimensions
Regular: Length: 183 cm / 72 in and Width: 51 cm / 20 in
Sizes range from XS and S to Regular and Large
Weight
Regular: 1 lbs 2 oz or 0.54 kg
This ultralight Thermarest mattress is, as far as self-inflating sleeping pads go, the smallest sleeping pad. Unrivalled in terms of convenience, the Pro Lite comes in a range of four sizes. (XS, S, Regular, Large.) If you're looking for a lightweight air bed, the die cut foam of the Pro Lite makes it easy to pack and carry from camp to camp. It is the best self-inflating air mattress around. It is one of the best air mattresses in this range and is a great lightweight air bed. Aren't the Thermarest Prolite 4 specs great??
Pros
Ultralight and compact when packed.
Best self-inflating air mattress, requires minimal inflating effort.
Cons
May not be thick enough to provide solid back support, especially to someone with chronic back problems.
Dimensions

When Packed: 26 x 6 x 6 inches
When Unfurled: 76 x 25 x 2.5 inches
Weight
2 lb 12 oz
I tried out this sleeping pad earlier this year whilst driving across India and I was fairly impressed. For the price, it offers good value but it's not my number one pick on account of the bulkiness and weight. It comes with a stuff sack which is handy and is self inflating, like some of the higher end Thermarest sleeping pads. For the price, it ain't bad, but it isn't my number one choice for a sleeping pad to take backpacking.
Pros
Self inflating, does not require a pump or even your breath, unlike many sleeping pads
Stuff sack included
Cons

Not as light as other options available
More than twice as bulky as the Thermarest Neolite when packed
Dimensions

Length: 198 cm / 77 inches Width: 63 cm / 24 inches Height: 5.5 cm / 2.1 inches
Weight
845 Grams
This is a great inflatable camping mattress, as a blend of an air mattress and an insulation pad, the Norrsken guarantees you won't need a double sleeping pad to get the level of comfort and warmth you need. It is also great for tall folks, much longer than the average sleeping pads you find today. 
Pros
The inflation valve is easy to use and the 2 point closure makes it more secure.
The bright lemon colour makes it easy to spot if you leave your tent at night.
Cons
Heavier than most sleeping pads in the range
May seem a bit thin if you're used to thicker mattresses
Dimensions
3.2 x 6.2 x 9.9 inches
Weight
1 pound / 453 grams
The Big Agnes Double Z is a power packed mean machine in the world of sleeping pads. Not only is it super comfortable (why wouldn't it be at 4″ of thickness?) it is also warming and insulating with an R-value of 4.7. The most awesome thing about this air mattress is the 'internal stabiliser' that makes sure your weight is distributed evenly while you snooze.
Pros
Thicker than most self-inflating sleeping pads at 4″ 
Patch kit is included in the event of a tear or damage to the pad.
Cons
May not be wide enough for certain body types
Tends to gradually lose air overnight
Dimensions
72 x 20 x 3 inches
Weight
1 lb 5.5 oz / 610 g

The Nemo Vector is a great option if you are looking to save on space and cut down some weight. The pad comes with an integrated foot pump that can also act as a pillow, so you can spare your breath and leave your pump behind at home. The extra valves make it faster to deflate and compress, and it packs up real compact – into the size of a water bottle! 
Pros

Integrated foot pump makes inflation easier – I'd pick a foot pump over manually blowing into a sleeping pad any day
Thermal mirroring film reflects radiant heat
Cons
Maybe a little narrow for the average American body type. 
Not ideal for extremely freezing temperatures
---
So what is the best sleeping pad to take backpacking?
After all my intense comparison, experimentation, and perusal, I've come to the conclusion that I can't pick just one sleeping pad to rule them all. In terms of absolute comfort, durability and ease of use – there's no doubt that the Thermarest Neo Air Xlite SV (Max) performs brilliantly. It is one of the best sleeping pads and air mattress around. The thermarest weight is optimal to carry as well. If you've got the budget, don't think twice before going the Thermarest backpacker lite way before your next trip.
But wait, Thermarest doesn't get to take all the glory.  The underdog here is a sleeping pad that changed the game. With an innovative frame that is surprisingly comfortable, lightweight and positioned at an extremely reasonable price of $70, ladies and gentleman: The Klymit Inertia X Frame.
What makes the Klymit Inertia X Frame awesome are three main factors. First, this is so comfortable compared to other camping sleeping pads that you hardly realise you're sleeping on just a frame. Second, the X Frame when collapsed is lighter than most sleeping pads. Third, the cost factor is perfect when you weigh the benefits. Also, the X Frame may just make the perfect pool float! If you want to be more comfortable carry this sleeping bag with mattress.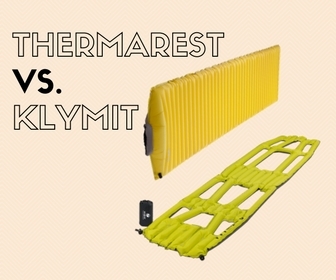 So to recap; the best sleeping pad out there is the Thermarest Neo Air Xlite SV, closely followed by the The Klymit Inertia X Frame which is a great price compared to most other inflatable sleeping pads…
If you are on a real budget then heck; take a foam sleeping pad instead. Just do NOT get the cheapest one you can find; it'll fall apart within a few weeks. The KRY outdoor camping mat is a good bet!
Now that the results are in, I hope you find it easier to choose the best sleeping pads perfect for your size, comfort needs and preferences.  The next time you're heading off into the wilderness or looking for the perfect gift for backpackers, pick up a sleeping pad – I guarantee you'll find yourself redefining what it means to be a 'happy camper' on your adventure!
---
Need More Inspiration?


Yay for transparency! The links in this post are affiliate links. This means that if you buy anything, I'll earn a small commission at no extra cost to you. I only link to stuff I've actually used and never endorse crap. Your support helps me keep the site going. 
Like this post? PIN ME!!