St Thomas is the most populated of the US Virgin Islands – and home to the territory's capital. As it is officially part of the United States, you can visit the territory for a staycation this year. This makes it an excellent destination for experiencing the sun, sand, and sea of the Caribbean.
Whilst it's more laid-back than its neighbour Puerto Rico, it is also a little bit less popular with visitors from the mainland. This can make finding information about St Thomas online difficult – so if you want peace of mind, you'll have to research the different neighbourhoods before you arrive.
That's where we come in! Combining our personal experience with hints and tips from local experts, we've figured out the five best places to stay on St Thomas. Whether you want vibrant nightlife, awesome scuba diving, laid-back culture, or bountiful beaches, we've got you covered.
So let's dive right in!
If you're in a rush to find accommodation, just go with the three below. These are your absolute favourite places in St Thomas! For those who want to stay in a specific neighbourhood, keep on scrolling and you'll find exactly what you're looking for!
We've also searched high and low to find the right accommodation options for both luxury and budget travellers. Whether you're looking for a bay resort with private beach access, a hot tub, a fitness centre and tennis courts. Or, maybe you just want somewhere on a budget that's close to a beautiful beach. Well, we've got you covered.
Stylish Hideaway on St Thomas – Villa Nautilus
Airbnb Plus properties are hand-picked for their stylish interiors and next-level guest service. Sandwiched between Sapphire Beach and Red Hook, Villa Nautilus is well placed for those who want both stunning beaches and vibrant city attractions. The interiors blend Caribbean style with modern design. Our favourite feature of this property is the luxurious whirlpool bath in the spa bathroom and the awesome swimming pool and beach access.
Waterfront Paradise on St Thomas – The Beach House
Nestled on the quiet side of the island, this luxurious villa has its own private beach. You'll get to enjoy unspoiled views of the Caribbean Sea and yachts from the comfort of your deck chair on the private patio. There are also two small kayaks, so you can go explore the bay for yourself. It comes with a whopping eight bedrooms, making it perfect for larger families and groups. There's even a swimming pool!
On a budget? No worries, Flamboyan on the Bay Resort & Villas is the perfect choice for families looking for something a little more affordable. Their suites can sleep anywhere from two to eight guests, so it's suitable for families of all sizes. The quaint pool terrace comes with gorgeous views of the hills as well as a hot tub. Magens Bay is within walking distance of this beach resort, so if you're looking for one of the best hotels on the island, you've found it!
St Thomas is quite a small island, but shouldn't be missed if you're travelling to the USA. The different neighbourhoods across the island offer a diverse array of attractions, so there's something for every traveller. Transport between most regions is fairly frequent, though there are some limitations when heading to the East End.
For the purpose of this guide, we've divided Charlotte Amalie into different neighbourhoods.
Downtown Charlotte Amalie is likely the first place you will visit when you arrive. For first time guests, there is a wealth of attractions on offer. It's also a popular shopping destination, especially for jewellery.
Heading slightly west, Frenchtown has an entirely different atmosphere. The nightlife here is among the more upmarket options on the island, and the restaurants offer classy vibes and decadent cuisine. For this reason, it makes a great destination for couples looking for a romantic getaway.
Charlotte Amalie West is the neighbourhood located right next to the airport. The university is also nearby, so you will find plenty of budget-friendly restaurants and bars in the neighbourhood. St Thomas, like most of the Caribbean, can get quite expensive – but those looking to save a pretty penny can find some hidden gems in the west of the city.
Outside of St Thomas, you will find a limited selection of destinations. Up on the north of the island, Magens Bay is one of the most sought after resorts. It can get quite pricey, but the pristine beaches here are calmer. This makes it a fantastic option for families visiting the US Virgin Islands.
Last but not least, Red Hook is located in the far east of the island. Also known as the East End, this is where you will find some of the best nightlife in the territory. Transport from Charlotte Amalie stops in the evenings, so if you want to experience the nightlife and restaurants here you are better off sticking to accommodation within walking distance.
Still undecided? No worries, we've got more information about each neighbourhood below – including our top accommodation and activity picks in each!
#1 Downtown Charlotte Amalie – Best Place to Stay on St Thomas for your First Time
As the arrival point for all cruise ships to the island, Downtown Charlotte Amalie is a hive of activity. The neighbourhood is known for its many jewellery stores, making it a paradise for shopping addicts. If you're a first time visitor, Downtown Charlotte Amalie is the perfect place to get your bearings before exploring the island further.
It's right in the centre of the island, so it's also well connected to basically everywhere else on St Thomas. You'll find a massive selection of tour companies in Downtown Charlotte Amalie letting you take in the various sights and sounds of the island. Prefer to go self-guided? Taxis rarely cost more than a dollar from Downtown to any other point on the island.
The stunning views don't end in Downtown Charlotte Amalie! This four-bedroom villa has a pool terrace and private patio with panoramic views across the Caribbean Sea. It's nestled in the mountains in a gated estate, giving you some peace and quiet from the vibrant downtown core. We love the large barbecue area out on the terrace – perfect for rustling up a family dinner.
Scenic Hideaway in Downtown – High View
Nestled in the mountains above Downtown, this charming villa comes with sweeping panoramas of St Thomas. The sought after neighbourhood it is located in is known for its popular casual dining restaurants and boutiques. The property itself benefits from traditional furnishings and a huge swimming pool with views of the sea. Four of the five bedrooms also come with en-suite bathrooms. This place blows the best hotels on the island out of the water!
This vibrant resort has everything you could possibly need! All of the rooms come with private patios and sea views – the perfect setting for a laid-back breakfast or a glass of wine in the evening. There is a huge swimming pool on-site, as well as a children's play park, tennis courts and a fitness centre. It's also only a short drive from Morning Star Beach – perfect for those who want to kick back and relax or maybe do a bit of scuba diving! If you're looking for an epic beach resort then you can't go wrong here.
Things to See and Do in Downtown
St Thomas is famed across the Caribbean for its shopping options – head into the heart of Downtown to discover why and pick up some goodies for yourself
Climb up the 99 Steps – they can be somewhat challenging, but the view from the top of Blackbeard's Castle makes the journey worth it
The St Thomas Historical Trust Museum is a fascinating attraction on the odd occasion you're on the island during a rainy day
Island Tours VI is just one of the many fantastic tour companies in the area – we especially love their boat tours along the coast
The Greenhouse Restaurant and Bar offer a unique fusion of Caribbean and American cuisine with stunning views of the sea
#2 Charlotte Amalie West – Where to Stay on St Thomas on a Budget
Charlotte Amalie West is the area surrounding the airport. Despite the convenient location, the accommodation in the area is among some of the most affordable on the island. Being one of the best Caribbean islands to visit, St Thomas can become excruciatingly expensive, but the hotels and villas in Charlotte Amalie West often have some fantastic offers.
The neighbourhood is also home to the University of the Virgin Islands! This means that many of the restaurants and bars in Charlotte Amalie West are more affordable than those in the heart of the town. If you still want to hit the beach? There are two to choose from in this part of the city – and both with smaller crowds.
This is a bit of an upgrade for those on a budget – but still way more affordable than other apartments and villas on the island. You'll have your own private pool with a scenic Caribbean backdrop. The house itself is rustic, with traditional interiors and exposed stone architecture. It's also walking distance from the airport – perfect for a short stay on the island.
Much rather stay on the beach? We totally understand – it's the main attraction on the island! Emerald Beach Resort is a three-star hotel located right on the coast. Guests have their own private expanse of beach – and at a price that won't break the bank. We also love the hot tub, fitness centre, beach bar and tennis courts available on-site. If you're looking for a luxury hotel and beach resort on a budget then look no further.
Affordable Guest House in CA West – Tillett Hostel and Guesthouse
It might be the only hostel on the island, but that doesn't mean they scrimp on great guest service. For backpackers heading to St Thomas, Tillett Hostel and Guesthouse is the perfect accommodation. The Tillett Gardens complex is a community of local business owners aiming to create a self-sufficient community. You will find some great restaurants on-site, and the shuttle bus to the beach is cheap.
Things to See and Do in CA West
Lindberg Beach is overlooked on many itineraries, but this just means you get to enjoy more of it to yourself
Brewers Bay Beach gets a little busier thanks to the student population, but also has some budget-friendly restaurants along the street
Interested in a spot of golf? Herman E Moore Golf Course is one of the most popular on the island, with gorgeous views over the airport and sea
Head down to Crown Bay Marina – there are a few companies in the area offering boat hire at favourable prices
Whilst you're there, pop into Tickles Dockside Pub – their beers are among the cheapest on the island, and you'll also get to enjoy charming views of the marina
#3 Magens Bay – Best Area on St Thomas for Families
On the north side of the island, Magens Bay is the most famous beach in St Thomas. Despite this fame, it still maintains a calm atmosphere compared to the capital. For this reason, we reckon it is a great choice for families with some of the best hotels for kids located here. If that's not your scene then you'll also find a luxury hotel here if that's what you're looking for.
It might have a calm atmosphere, but that doesn't mean there isn't plenty to do. The beach itself is just the beginning, there are some excellent hikes nearby. The restaurants in the area are a little more understated than those in the capital, giving you a calm and peaceful atmosphere by the sea.
Luxurious Villa in Magens Bay – One Perfect Day
This one is definitely worth splurging on if you want a luxurious stay. Airbnb Luxe properties are the most exclusive range of properties available on the website, with a whole host of additional services on offer. This nine-bedroom villa comes with airport transfers, a private chef, and childcare included for those that need it. Perfect if you want a night away from the kids!
Beachside Holiday Home in Magens Bay – The Beach House
It doesn't get any more luxurious than this! With eight bedrooms, it's one for larger families – making it a surprisingly affordable option if you have a big group coming along. The porch area comes with numerous dining areas, giving you plenty of space to admire the sunset over a glass of wine or two. We also love the small private beach that's available to guests, it makes a great alternative to a luxury hotel.
On a budget? No worries, Flamboyan on the Bay Resort & Villas is the perfect choice for families looking for something a little more affordable. Their suites can sleep anywhere from two to eight guests, so it's one of the best hotels for families of all sizes. The quaint pool terrace comes with gorgeous views of the hills. Magens Bay Beach is within walking distance.
Things to See and Do in Magens Bay
Magens Bay Beach is an attraction in its own right – considered by many to be the most beautiful beach on the island, you could spend hours here just basking in the sun
Peterborg is the name of the peninsula to the north of Magens Bay – there are some great hikes in this area, especially heading towards Picara Point
Need something to get the kids excited? Tree Limin' Extreme Zipline is an epic adventure park about two minutes outside of Magens Bay
After your day at the adventure park, head to Udder Delite to grab freshly made ice cream – it's a great accompaniment to the sea views at Magens Bay Beach
#4 Frenchtown – Romantic Destination on St Thomas for Couples
Nestled between Downtown and Charlotte Amalie West, Frenchtown is in many ways the best of both worlds. It is a little bit quieter than the city centre but still comes with abundant tourism facilities. This neighbourhood is known for its upscale restaurants and laid-back bars, making it our top pick for couples.
As the name suggests, Frenchtown is a great place to learn about the French colonial history of St Thomas. This fascinating period in local history is still well preserved in the architecture, creating a romantic backdrop for capturing those all-important photographs.
Rustic Studio in Frenchtown – Chateau Belle
This one is a little more basic – but is a great choice for couples visiting on a budget. The studio is right in the heart of Frenchtown, so you're only a hop, skip, and a jump away from delectable restaurants and laid-back bars. Despite the low price, you still get your own private balcony with gorgeous views over central Frenchtown.
This awesome hotel comes with a swimming pool and free breakfast. The luxurious bars and restaurants of Frenchtown are only a short walk away – and you can also enjoy stunning sunset views across the bay from your front door. There is a small communal terrace where you can mingle with other guests, plus a garden for some peace and quiet and a casino if you want a bit more action!
Mesmerising Views in Frenchtown – Historic Harbor
For a bit more of an upgrade, this charming one-bedroom apartment comes with stunning views across the Frenchtown Harbor. You'll get to enjoy dazzling sunsets from the comfort of the outdoor terrace. This historic house was once owned by an infamous general and comes with a fascinating backstory worth reading into. Basics are included so you don't have to worry about hurrying to the shops on your first morning.
Things to See and Do in Frenchtown
Charlotte Amalie Harbour Seaplane Base is located in Frenchtown – you should try this unique form of transport at least once whilst you're here
The French Heritage Museum is the place to visit to learn about the turbulent French colonial period in St Thomas
Oceana Restaurant & Bistro is a gorgeous eatery for date night – they offer a decadent blend of French and Caribbean cuisine with stunning sea views
The Twisted Cork Café has a more casual atmosphere – offering a rotating wine menu and typical comfort food
Self-catering? Head to Moe's Fresh Market Waterfront to rub elbows with locals and grab some fresh ingredients for dinner
#5 Red Hook – Exciting Neighborhood on St Thomas for Nightlife
Nestled on the far east of the island, Red Hook is another major hub for tourists on St Thomas. Whilst we wouldn't call the US Virgin Islands a major nightlife destination, the bars in Red Hook are great for getting you hyped. Taxis to the capital stop at 9 pm, so you'll need to stay here to experience the nightlife.
During the day, Red Hook completely transforms. The restaurants still have a buzzing atmosphere, but the calm beaches are a great place to relax and sunbathe away the hangover. The nearby Sapphire Bay is also somewhere you just have to visit during your stay too.
Peaceful Villa in Red Hook – Villa Nautilus
Located in nearby Sapphire Beach, Villa Nautilus is a calm little hideaway for those that want to stay close to nightlife without compromising on a peaceful night's sleep. The stunning interiors draw on Caribbean style to create a unique vibe that sets this apartment from other modern accommodations on the island. You'll be so relaxed you'll never want to leave!
Calm Condo in Red Hook – Ocean Front
Another great option in Sapphire Beach, this one is a little more affordable. It only has one bedroom, but there's a sofa bed in the lounge – making it an affordable option both for couples and small families. The beach is right on your doorstep and the dining area comes with unparalleled views across Sapphire Bay. There's also a great parasailing company a few steps away.
This gorgeous hotel is among the most luxurious on the island! It comes with an oven, microwave and coffee machine. It also includes a swimming pool with year-round access. It's also just a short walk from Sapphire Beach. This beautiful Caribbean style hut with views of the Atlantic Ocean is just the perfect spot for your vacay.
Things to See and Do in Red Hook
Duffy's Love Shack is easily the most popular nightclub on the island thanks to the good vibes and well-priced drinks
You can hop on board a ferry to the capital for a relaxing alternative to taxis – or even visit Cruz Bay on St John Island
Sapphire Beach is a calm oasis compared to Red Hook – and you can easily reach it on foot in about fifteen minutes
There are a few great restaurants along the harbour – we love Caribbean Saloon Steakhouse for its quirky atmosphere
Here's what people usually ask us about the areas of St Thomas and where to stay.
One last thing before you jet off to paradise! Don't let things turn into a nightmare if anything unexpected should happen and be sure to have the proper travel insurance. That way to can relax with absolutely no worries at all!
World Nomads' mission is to support and encourage travellers to explore their boundaries. They offer simple & flexible travel insurance, and safety advice to help you travel confidently.
They've been doing it since 2002 – protecting, connecting, and inspiring independent travellers just like you.
Get a quote below or read our in-depth review!
World Nomads provides travel insurance for travelers in over 100 countries. As an affiliate, we receive a fee when you get a quote from World Nomads using this link. We do not represent World Nomads. This is information only and not a recommendation to buy travel insurance.
St Thomas is a gorgeous destination nestled in the heart of the Caribbean! Only a stone's throw away from Puerto Rico, it offers much of the same scenery without the busy crowds of Boricua and enjoys some amazing weather. The cultural attractions are pretty low-key, and you'll find some fantastic deals on villas and condos dotted around the island.
If we had to pick one destination that really stands out, it would be Downtown Charlotte Amalie. This neighbourhood is well connected to everywhere else mentioned in this guide and has an endless array of attractions on offer in its own right.
That being said, the best destination for you really depends on what you want to get out of your stay. We hope we have managed to help you narrow down your options for your upcoming trip to St Thomas.
Did we miss anything? Let us know in the comments.
---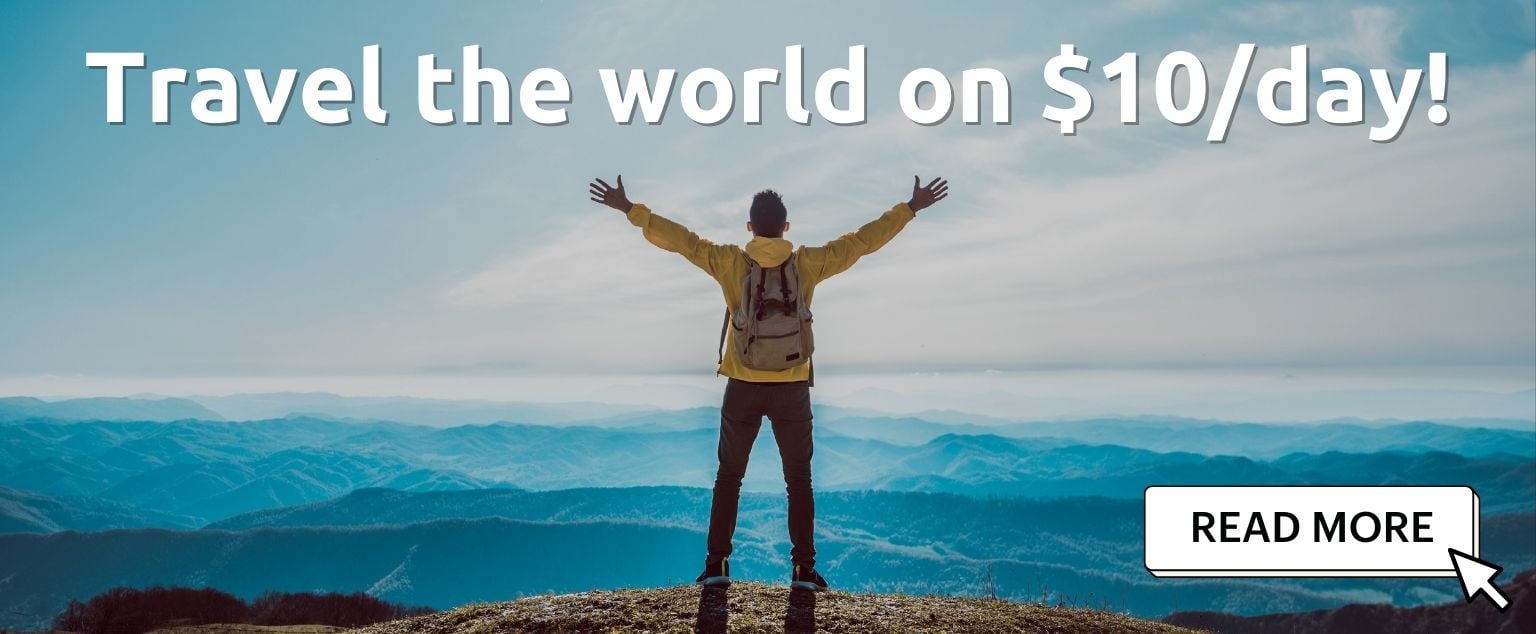 And for transparency's sake, please know that some of the links in our content are affiliate links. That means that if you book your accommodation, buy your gear, or sort your insurance through our link, we earn a small commission (at no extra cost to you). That said, we only link to the gear we trust and never recommend services we don't believe are up to scratch. Again, thank you!