Chicago the Windy City, is famous for its basketball team, jazz and blues, deep pizza's and buzzing nightlife. There is its skyscraper skyline and its crisp location on the shores of Lake Michigan.
However, Chicago is also known for its crime and was the one-time stomping ground of Al Capone. Petty crime is one issue, but some of the city's residential areas are hotspots for gang-related crime which has led to some alarming statistics. You would be forgiven for having some reservations about visiting.
However, we are here to tell you not to worry! We have put together this huge guide to safety in Chicago – full of all the tips and information you'll need to keep yourself safe – so that you can enjoy what this cool American city has to offer.
How Safe is Chicago? (Our take)
Chicago is the third-largest city in the United States and is a popular destination for US travellers. It's a cultural hub of the Midwest region and the biggest city in Illinois. It has a lot of architectural value as well as natural gems to enjoy too. The good news is that Chicago is pretty safe.
Most people will just hang around what is known as The Loop – the area of the city that's choc-a-bloc with public art and museums. The only thing to really worry about here is pickpockets. Pickpocketing can also occur on the public transport system, and robbery has occurred in the city's underground walkway system (the Pedway).
Even if you go exploring outside of this central part of the city, you shouldn't run into too much trouble. You should, however, probably do some research into what neighborhoods are safer than others (but more on that later).
Precautions you would take in any big city apply in Chicago. Mobile phone theft and bag snatching occur. The city has been in the headlines for its relatively high homicide rate although this type of more serious crime happens is concentrated in certain areas and rarely impacts on tourists.
There is, however, a reason why Conde Naste Traveler has voted Chicago "Best Big City in the U.S." two years in a row: it's cool, it's fun, and most visits are trouble-free.
There is no such thing as a perfect safety guide, and this article is no different. The question of "Is Chicago Safe?" will ALWAYS have a different answer depending on the parties involved. But this article is written for savvy travellers from the perspective of savvy travellers.
The information present in this safety guide was accurate at the time of writing, however, the world is a changeable place, now more than ever. Between the pandemic, ever-worsening cultural division, and a click-hungry media, it can be hard to maintain what is truth and what is sensationalism.
Here, you will find safety knowledge and advice for travelling Chicago. It won't be down to the wire cutting edge info on the most current events, but it is layered in the expertise of veteran travellers. If you use our guide, do your own research, and practise common sense, you will have a safe trip to Chicago.
If you see any outdated information in this guide, we would really appreciate it if you could reach out in the comments below. We strive to provide the most relevant travel information on the web and always appreciate input from our readers (nicely, please!). Otherwise, thanks for your ear and stay safe!
It's a wild world out there. But it's pretty damn special too. 🙂
Is Chicago Safe to Visit Right Now?
Chicago is a big city, made up of 77 communities, covering 234 square miles and is generally safe to visit. It definitely has had its fair share of headline-grabbing crime, but in recent years its high murder rate has reportedly dropped.
It is definitely becoming a safer city, with other crimes showing lower numbers as well. The drop in crime goes hand in hand with the dramatic increase of tourists to the city.
Even though there have been highly publicized crime rates, it is a policy of the mayor to promote tourism in Chicago. Tourism is important, generating thousands of jobs for Chicago citizens – plus revenue for the city – and help make it one of the most popular cities for tourists in America.
Many regarded Chicago as one of the most dangerous cities in America.
However, Chicago is a city of two halves: one is the vibrant metropolis with its museums, parks and amazing dining scene; the other is much poorer and affected by crime and gangs.
As a tourist visiting Chicago – now as much as any time you would have visited – it is likely that you won't be going to the Chicago neighborhoods with the highest crime rates.
In short, it is safe to visit Chicago right now.
Safest Places in Chicago
When choosing where you'll be staying in Chicago, a bit of research and caution is essential. You don't want to end up in a sketchy area and ruin your trip. To help you out, we've listed the safest areas to visit in Chicago below.
The Loop
Downtown/The Loop is undoubtedly the most famous neighbourhood in Chicago. Home to the city's business district, this area of Chicago is packed with skyscrapers, lively theatres, and picturesque architectural landmarks. It's also dotted with incredible restaurants where you can sample some of the city's most delicious and iconic foods.
The most popular area always comes with little issues. In this case, it's pickpocketing. But as long as you keen an eye on your belongings and keep your wits about you, ou'll be absolutely fine. More tourists mean higher police presence and less violent crime. So it's a safe place to stay in Chicago, especially if you're visiting for the first time. 
Popular but safe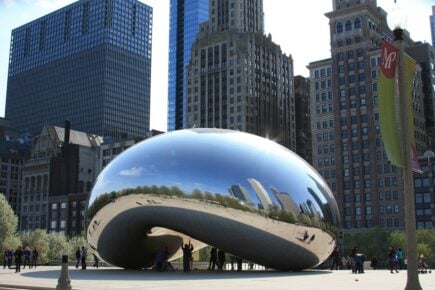 Popular but safe
The Loop/Downtown
The Loop, or Downtown Chicago, is arguably the most popular area. With plenty of attractions and things to see, it's a great place to stay for your first visit. As long as you stay aware of your surroundings, it's a very safe area as well.
Lincoln Park
Chicago's Lincoln Park neighbourhood is where everyone from collegiate freshman and newbie lawyers mixes and mingles with young families and well-established brokers. It's one of the best areas to stay in Chicago and is where you can enjoy a true slice of the local life.
Home to fantastic attractions including the Lincoln Park Zoo and the eponymous park, this northern neighbourhood is our pick for where to stay in Chicago for families. It's one of the greenest districts with more than 1,200 acres of natural space to explore and it boasts a relaxed and tranquil atmosphere.
An expat heaven
An expat heaven
Lincoln Park
In Lincoln Park you can marvel at the beautiful architecture, take a stroll along the water and through lush parks, and indulge in many decadent cupcakes – all while being perfectly safe.
River North
To the west of Streeterville and the Magnificent Mile is River North. Well known for its art galleries, museums and boutique shopping, River North is also the epicentre for nightlife making it one of the best areas to stay in Chicago for those who want to party.
Sprinkled throughout this lively neighbourhood are a great selection of bars, clubs, and pubs. It's where you can dance the night away under the stars, listen to great live music below the streets or rub elbows with Chicago's elite.
But that's not all, River North is also home to an amazing array of restaurants. Offering up everything from traditional American fare to fashionable fusions, your taste buds will be amazed by all the culinary adventures available in River North.
Ideal for party-animals
Ideal for party-animals
River North
River North is known as the party district, the hipster hub and the place to see and be seen. It's a great place for sampling infamous Chicago foods and enjoying exciting nights.
Places to avoid in Chicago
Unfortunately, Chicago does have a high crime rate in some parts of the city. While you will be perfectly safe if you use your common sense and keep your wits about you, there are a few areas that you could avoid. Doing so will definitely boost up your safety by quite a bit. We've listed these areas below: 
West Garfield Park
Washington Park
East Garfield Park
While these places CAN be visited, we'd recommend only doing it in a group and during the day. Definitely stay away at night. In fact, no matter where you are in Chicago, be more careful after dark. If a street looks dodgy – avoid! Don't wander off alone and if possible, grab a taxi or Uber to get from A to B.
Chicago Travel Insurance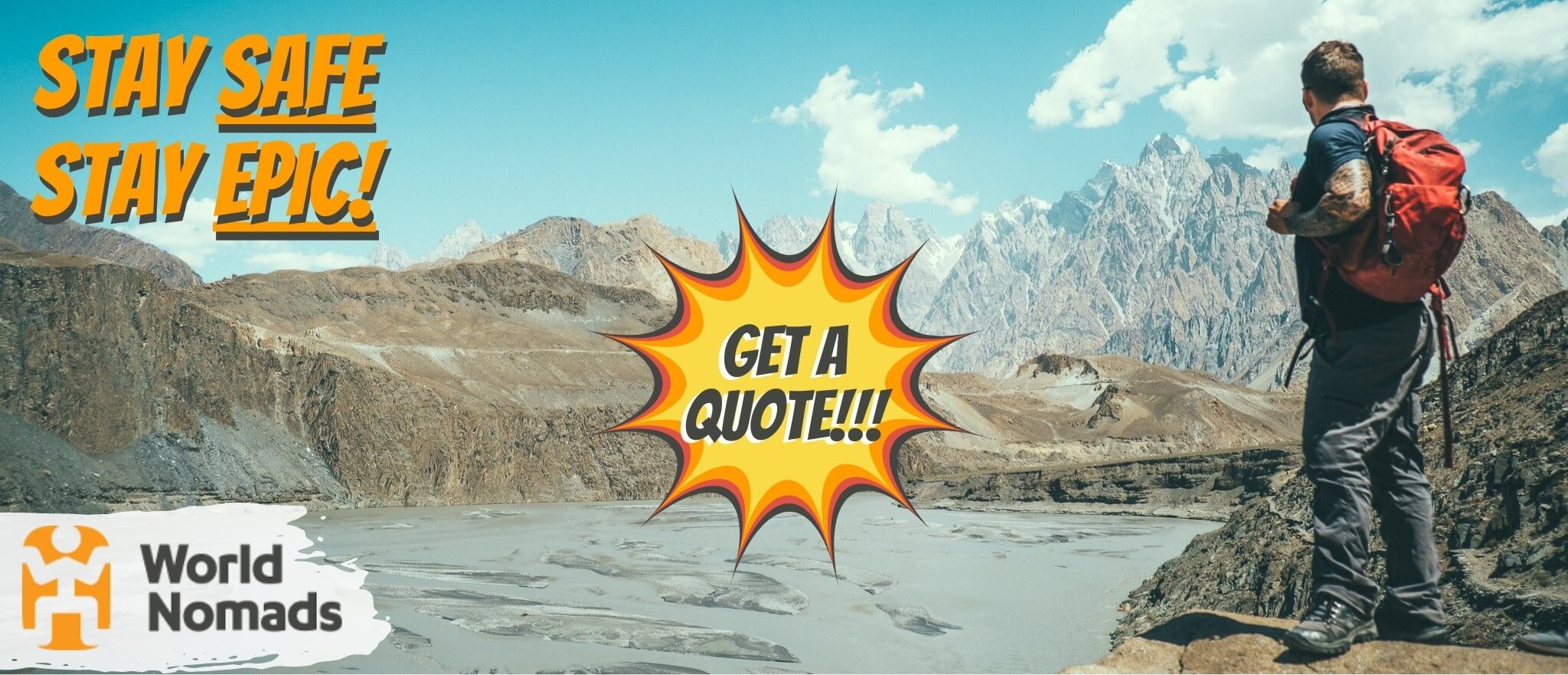 It's good to get lost sometimes, but it's also good not to get too lost. There are people that want you home in one piece.
There's one travel insurance provider The Broke Backpacker trusts for all his wildest shenanigans… World Nomads!
Click the button below to get a quote on your insurance or read our in-depth review of World Nomads' coverage. And then… let the shenanigans begin. 😉
As have said already, Chicago is a pretty safe city. Still, you should know how to keep safe if you're planning on going, so here are a few pointers.
Keep your belongings close to you – There are a high number of thefts that do happen, so it's important to keep anything valuable close to your person and hidden from sight
Don't walk around with expensive electronics and jewellery – Not that it will put you in immediate risk, but the more conspicuous you look, the more you could be targeted
Limit the amount of money you carry around with you – The more you have, the more you could lose. Get your hands on a money belt to hide it.
Pay attention to your surroundings – Thieves operate especially on public transport, the Pedway, around transit hubs and popular tourist sites, so be vigilant in these places
Be careful around ATMs – It's best to use them in malls and in banks, and in daylight hours
Avoid blindly following Google Maps – Finding a hole-in-the-wall eatery in a less central neighbourhood? Following maps may take you on a "shortcut" through potentially sketchy areas, so consider Uber-ing or cycling it
Don't resist if someone tries to mug you – Just hand everything over; your wallet is not worth getting potentially injured
Keep an eye on your luggage – It's not worth the risk to leave it unattended anywhere, even in hotel lobbies.
Take care around the Loop at night – Though safe in the day, it can empty out after business hours when office workers go home and certain areas can feel isolated (notably west of State Street).
Walk with purpose – Try not to look like a lost tourist; looking like you know where you're going, even if you don't, is better than appearing vulnerable and open to touts, scams or street crime
Weed is legal in Chicago, but – Do your research on where you can purchase and where is free to smoke
Stay away from illegal drugs – Weed may be legal, but nothing else is. It is best to not get involved at all
Don't walk around with open alcohol – It's against the law, but Millennium Park and some other places are ok, so take note of what other people are doing around you.
Be aware of Chicago's homeless population – Often a feature around transit hub (Union Station, for example), this shouldn't pose too much of a threat, but it's best to keep on more populated streets.
Prepare for the weather – Chicago gets seriously freezing, with average lows in winter of 17 degrees Fahrenheit (-8.3 degrees Celsius).
There are over 70 different neighbourhoods in Chicago – it's highly unlikely that you are going to find yourself in one of the more risky districts. At the end of the day, Chicago is a big city and, especially if you're not used to big cities in general, it pays to have your wits about you. Common sense, as well as researching safe places to wander around, will go a long way on your trip.
Insider Safety Tips from the Broke Backpacker Team
Travel SAFE and Make a Difference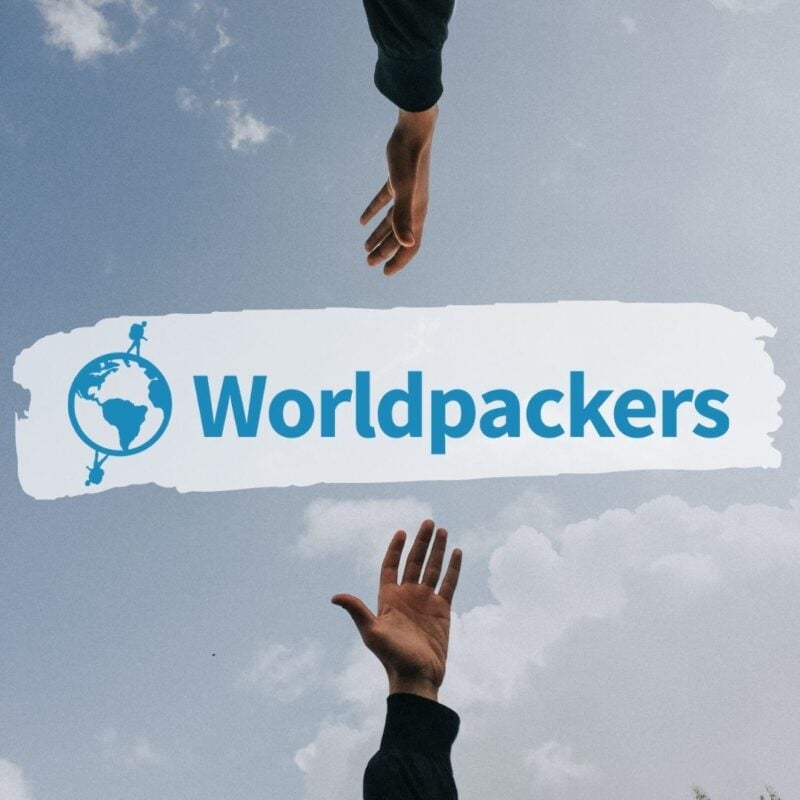 Worldpackers connects travellers with hostels, schools, NGO's and many more for work exchange opportunities. Chat with your host before you arrive to have a soft landing and then experience your destination differently! Local connections make your trip a lot safer – and open up a whole new culture experience.
Worldpackers trips are insured! They'll help you find a new host and cover up to 7 nights in a hostel so you're not left on your own if a host falls through.
Use the discount code BROKEBACKPACKER for a $10 discount. Plus, get 3 free months on your membership during their summer promo!
TRAVEL BETTER NOW
Solo travel anywhere in the world is an amazing prospect: you get to travel around on your own time, and challenge yourself while you do it. On the other hand, we know as well as anybody else that solo travel can also be daunting.
However, even though being alone in a city can get lonely, solo travel in Chicago is cool. To help you solo travel in Chicago like a pro, we have some tips for you.
Research your accommodation before you go. There are a lot of hotels and budget-friendly accommodation to stay in, but just know that Chicago is huge; picking the right area for you is key.
Ask for local insight. The staff at your hotel, the hostel owner, or even a friend who might have some great tips on where it's safe to walk around, where you should be keeping away from, and what recommendations they have on what's good to do in the city as a solo traveller.
Try not to make yourself a target. This means things like not carrying your phone in your hand 24/7, leaving it on a table in a coffee shop, dangling your bag on a chair, which could mean they go missing pretty easily.
It is ok to join a tour! Guided walking tours around the top sights, a food tour or bar crawl – these are all good ways to see the city safely while socialising with other people at the same time.
Do not party too hard. Chicago has great nightlife, especially when it comes to jazz and blues bars, but it doesn't mean you have to get really drunk – or dabble in a lot of weed – you could put yourself at risk of being in a dangerous situation, or simply not find your way back to your accommodation. Being too intoxicated means bad decisions.
Make sure you have different ways to access your money. Leave some emergency cash somewhere in your bag, have two separate bank accounts and two different cards that you can use (don't keep them together), and think about an emergency credit card. Keeping everything in one place is not sensible; imagine your wallet going missing with all your cash and cards in it!
Keep in contact with your friends and family. Not only is it safer for you to not completely cut contact with people back home and go off-grid, but it will also help you if you are feeling homesick and lonely, which could easily happen in a city.
Getting bored won't be a problem problem in Chicago. The trick is to not push yourself too much and burn out trying to do absolutely everything; give yourself days off to chill out and take stock, read a book in a cafe, or whatever. Be kind to yourself and you're likely to have a great time.
Travel with peace of mind. Travel WITH a security belt.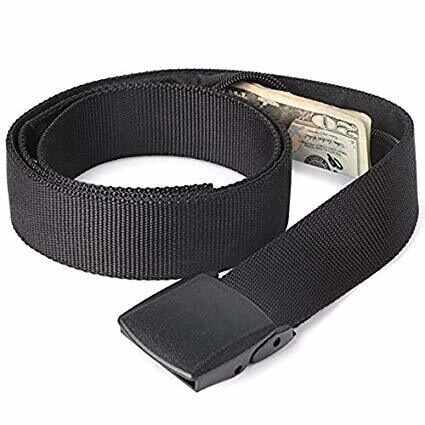 Get your cash stashed with this awesome Pacsafe money belt. It will keep your valuables safe no matter where you go.
It looks exactly like a normal belt except for a SECRET interior pocket perfectly designed to hide a wad of cash or a passport copy. Never get caught with your pants down again! (Unless you want to.)
Hide Yo' Money!
Is Chicago safe for solo female travellers?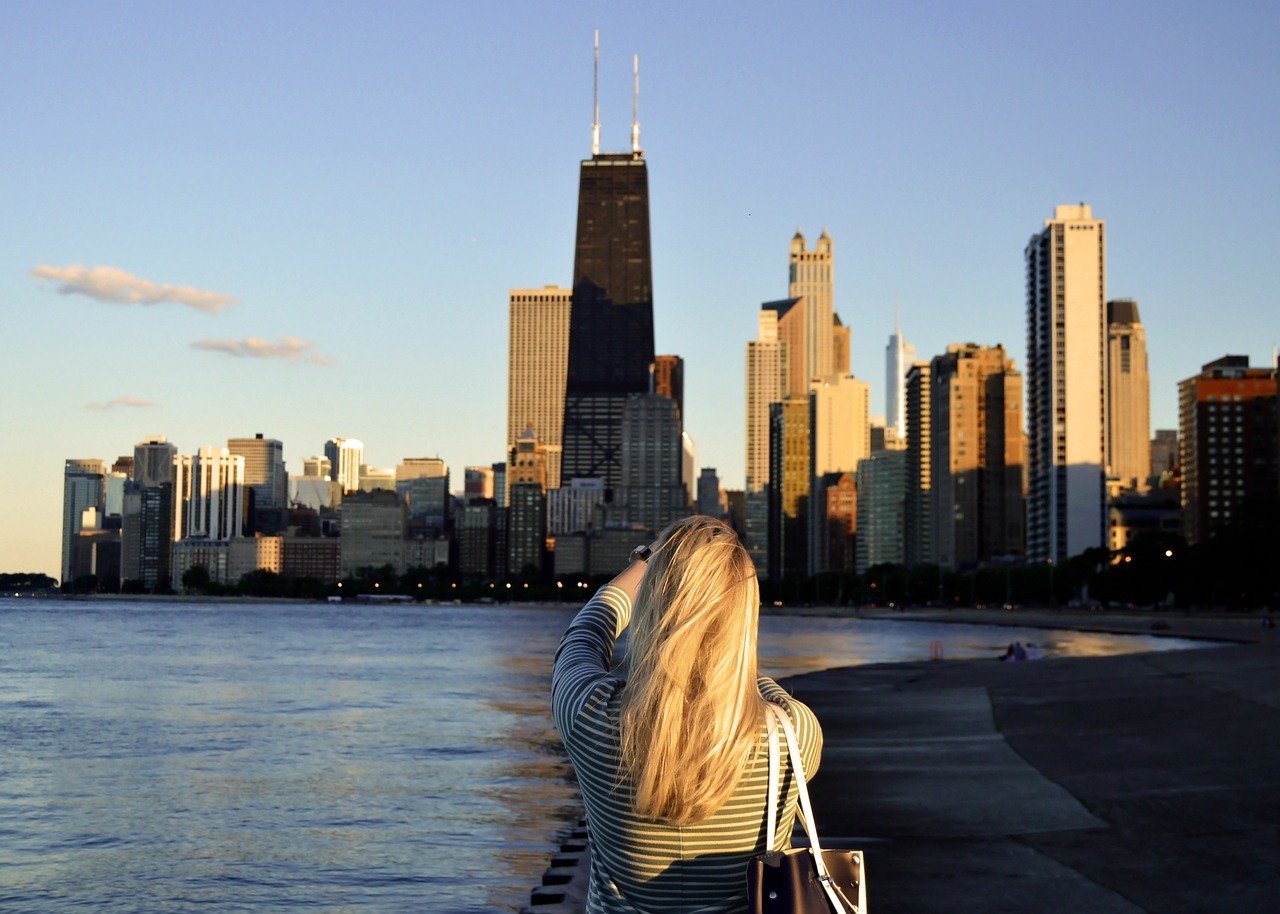 Just as Chicago is a cool, interesting, never boring, and fun city to explore for males travelling alone, the same goes for solo female travellers. If you are all about music venues, if you love art, or if you love exploring a city's food scene – it's all here for you.
Cities are cities though, and like many of them all around the world, spending time in Chicago can pose more of a risk to women by themselves than to men.
That's not to say that Chicago is not safe for solo female travellers, however – it just pays to know a little bit more about the destination, so to start with here are our curated tips for lone women in the Windy City.
Don't get distracted. It is important to be aware of your surroundings at all times, so things like checking your maps regularly, texting while walking, aren't smart; stay alert, even in daylight hours.
It is a good idea to dress to fit in. Depending on what you do in the city, you'll want to dress for the occasion – a night out is different to a walk in the park, for example – but dressing down is probably better than dressing up.
If you want to go out drinking and dancing – by yourself – then make sure you do research on the venue before you go there.
Plan your route home if you are out after dark. Know how to get back: will you be getting a taxi? An Uber? Is it a safe district to walk-through?
Do not be afraid to say no to people if you are in a situation that is making you feel awkward or uncomfortable. Remove yourself from the situation.
Similarly, do not tell a stranger any unnecessary information about yourself. You don't need to tell them the address of where you're staying, your room number, your travel plans, or any other personal information that they may ask about.
Find yourself a group of friends to have fun in the city with. You can find like-minded ladies to meet up with through things like Couchsurfing, or Facebook groups like Girls Love Travel or Host A Sister; even if you don't meet up, online communities like this can help you with advice.
It is imperative that you research your accommodation options thoroughly. Read what other women have said before you about your options, and go with somewhere well-reviewed what suits your travel style.
Let people know your travel plans. From simply telling the staff at your hostel what you plan to do for the day, to sharing your itinerary with a good friend or family member back home, it is safer that people know where you are and what you're up to than not at all.
If you are worried about wandering around Chicago by yourself, then you should consider hiring a guide or joining a tour. It is a good way to see the city safely and learn things about it at the same time.
As a solo female traveller in Chicago, it's good to exercise some street smarts. The city is safe to visit, as the many millions of visitors who have trouble-free time here will attest to, but you should still be paying attention to your surroundings and making good judgement calls.
DON'T DIE OUT THERE! …Please 🙂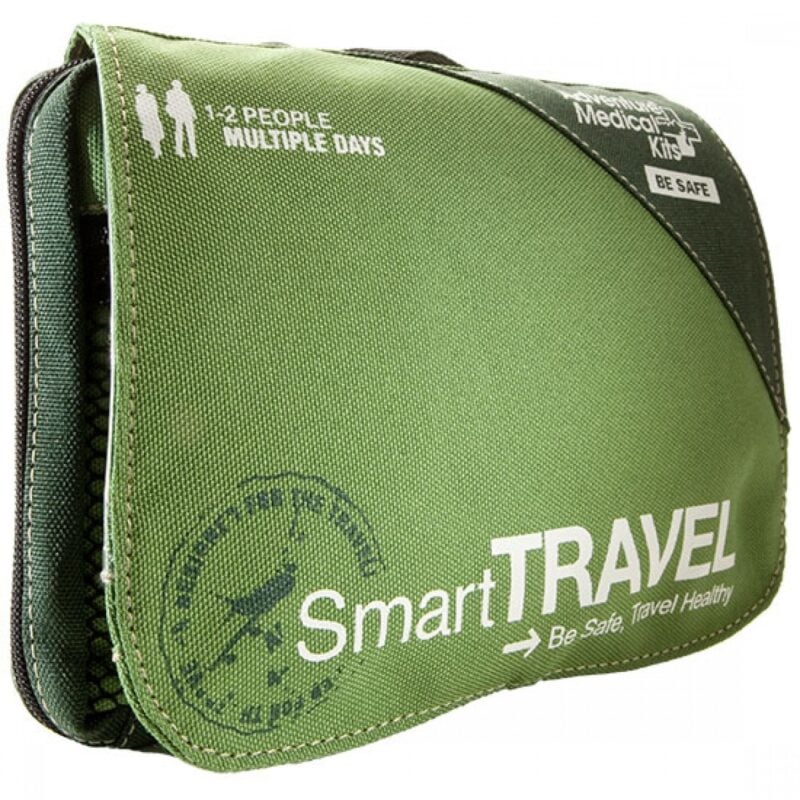 Things go wrong on the road ALL THE TIME. Be prepared for what life throws at you.
Buy an AMK Travel Medical Kit before you head out on your next adventure – don't be daft!
Buy on REI
More on Safety in Chicago  
We've covered the main safety concerns already, but there are a few more things to know. Read on for more detailed information on how to have a safe trip to Chicago.
Is Chicago safe to travel for families?
Chicago is a fantastic city for a family break. There is so much packed into Chi Town that you and your children will surely never get bored and have an awesome time.
As an example of just how kid-friendly this city, Chicago even hosts Kidzapalooza, the child-friendly of music festival Lollapalooza!
However, being a city, Chicago could feel overwhelming, especially if you are not from a big city yourself. Therefore it is helpful to know a few things before you go.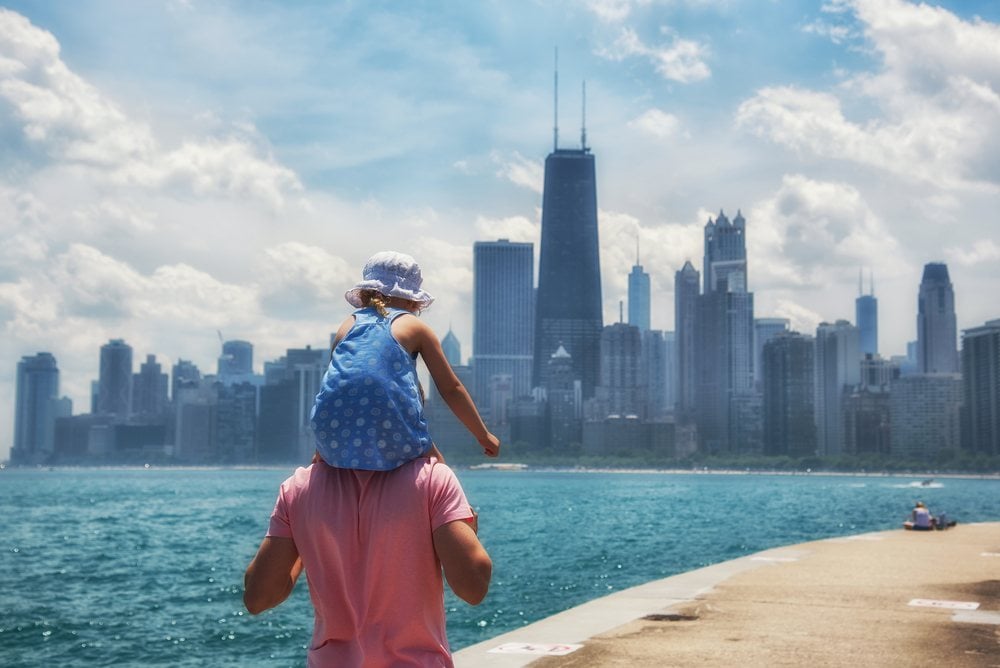 If you are going on a boat trip on Lake Michigan or any one of the Great Lakes, make sure that the boat in question has child-sized life jackets and safety equipment available.
Depending on what season you travel to Chicago in, you will need to pack for the weather. In the winter, from November to March, the weather can bring freezing conditions, so layers and making sure everyone's wrapped up warm is important – as are the potential hazards of getting around a city that's so cold with children in tow.
On the other hand, summer months can mean sunny days with high humidity; you will want to make sure that you prepare for that, too. Sunscreen, sun hats, and plenty of water to keep hydrated are all musts.
Since it is a busy city, it is a good idea to consider giving your children a meet-up point in case you do get separated on a day out. Maybe write down your contact details, and accommodation details, and give this information to your child – especially if they are young.
You should be fine taking Chicago's public transport with children. In fact, children aged 7 and under can ride on the L Train and public buses for free; children will love the L, an elevated train that runs through the city.
There is a lot to see and do for families in Chicago, but you should try and be flexible with what you do; know when to take a break, as it could be overwhelming for you, and think about eating dinner earlier to avoid crowds. Always pack snacks – nobody likes to be hangry!
Is it safe to drive in Chicago?
Chicago is safe to drive in, the fact that it is a big, busy city with a traffic problem to match does not exactly inspire renting a car or self-driving around the city. Driving in Chicago is actually not fun.
That said, there are a number of day trips from Chicago you could embark on – lakeside locales and charming villages to explore outside of the city limits.
Something you should note is that there has been an increase in the number of break-ins of parked vehicles. It is important not to leave anything on display that could tempt thieves into trying their luck, let alone any valuables. Even a map on the seat could draw attention that you are a tourist, and tourist vehicles will be targeted more.
Cameras at intersections snap photos of drivers who exceed the limit or jump a red light; expect fines if this occurs.
Unless you really want to, driving out of town into the countryside during the winter months could be hazardous if you're not experienced; though salted in the city, out of town roads can be difficult to navigate, especially when icy.
In conclusion, driving in Chicago is not overly worth it, but it can be done.
Is Uber safe in Chicago?
Uber is available in Chicago – as are other popular ride-hailing apps, such as Lyft.
Drivers are plentiful and the apps themselves are easy to use. It is advised for people to use things like Lyft or Uber if they are out late in the city and need to get home when they are by themselves. However, there are some safety concerns regarding ride-hailing apps in Chicago.
There have been several instances in Chicago of people being assaulted by fake drivers. Though the apps are particularly useful to use late at night, it is crucial – if you do use decide to use Uber – that you make 100% sure that the car you are getting into is the one for you.
While official Uber is safe in Chicago (and Lyft, too), it is a good tip to make sure that you get into a legitimate car when you do use it – much like licensed and unlicensed taxis.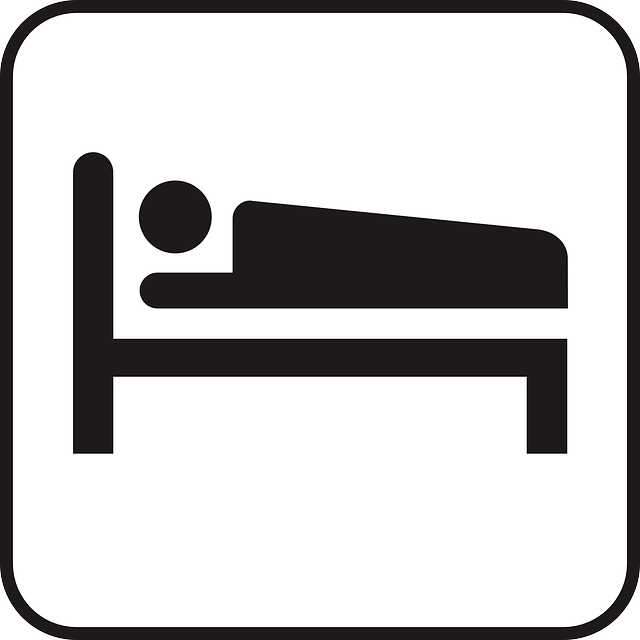 Sleep safe! Choose your hotel, hostel or Airbnb ahead of time so you're not last-minute booking a less-secure place.
Check out our Chicago Airbnb Guide for the most unique rentals in the city and our Chicago Hostel Guide for the best budget options.
Are taxis safe in Chicago?
Put simply, taxis in Chicago are safe and easy to use. You can hail them in the street, call them in advance or even book them online.
You will find many taxis around the Loop; hail taxis by waving your hand out at an approaching cab with a light on, usually near a busy intersection is a good place to catch one.
Licensed cabs have a medallion logo on the hood of the vehicle that indicates it has been licensed by the City of Chicago. Inside the car, the City of Chicago-issued public chauffeur license will be displayed.
Another thing to note is that, since it's the USA, you will be expected to tip – upwards of 10% is fine.
You can usually use a credit card to pay for your fare but not all taxi drivers will be keen to allow you to do so, especially if it's a small amount, so cash is usually preferred. In light of that, especially for short distances, make sure you have small bills on you so you don't make a driver give you loads of change.
Alternatively, you could use a taxi app, which works just like Uber. Many companies offer such an app; it's convenient, since all you do is download it as an app to your phone, and it has Uber-like perks like being able to track your journey.
Is public transportation in Chicago safe?
Being a major city, there is a lot in terms of public transport on offer in Chicago.
There is a wide-ranging network of buses, trains, public bikes and boats that make up its public transportation network, allowing you to travel around top destinations, the suburbs, and outside city limits.
Buses are not quite as quick as the train as it has Chicago's notorious traffic to contend with. But on the plus side, it can take you to destinations that are not served by the train network. There are more than 100 bus routes that weave in and around Chicago; these run from early in the morning until late in the evening.
More information on the Chicago buses and their routes on the Chicago Transit Authority (CTA) website: transitchicago.com.
Whilst riding on the buses in Chicago is safe, it is recommended if you are alone on the bus at night to sit up front near the driver; at any time of day, keep your belongings close to you as pickpocketing can occur.
Then there is the icon that is the L Train. Known simply as the L – short for Elevated Rail – this train network will get you safely and conveniently around the major sights of the city on a 24/7 schedule.
After the L, there is the Metra, which is a commuter service with 12 routes serving Chicago's suburbs; it runs from four terminals located around the Loop.
Though meant for commuters more than anything else, there are some sights that you can reach via using the Metra service; go to metrarail.com for more routes and how to use the service.
Connecting many transit hubs, train stations, malls, and office buildings is the 40 block labyrinth that is the Pedway. This is a wintertime lifesaver as Chicago becomes icy, and sleet falls during the coldest months.
Connecting up the rest of the dots is the city's public bike system: Divvy Bike. Chicago has hundreds of miles of bike lanes, which are safe to traverse and pleasant to do so using the bright blue bikes in the warmer months. Simply sign up to the service and use like many public bike systems around the world.
Finally, there are water taxis. These make for a good alternative, especially in summer, to walking around the city. Those that connect to major tourist sights are Shoreline Water Taxi and Chicago Water Taxi.
In conclusion, public transport in Chicago is safe – just watch your belongings and be aware of who is around you, especially at night.
Bum bags aren't just for Adidas lads and super dads!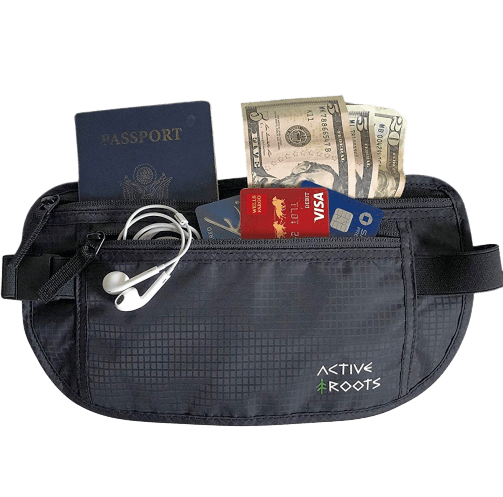 Seriously, once you enter the travel belt life, you never go back. You can NEVER overstate just how useful having all your most important valuables right around your waist is.
A full-sized travel belt stays tucked under your shirt and keeps your valuables – documents, passport cash, headphones, lip balm, illicit goodies 😉 – organised and on-hand for moment's notice.
Hide Yo' Money!
Is the food in Chicago safe?
Not only is the food in Chicago safe, but it is also diverse and delicious! You may be thinking that it is all just Chicago style deep dish pizza, which you can obviously find here, but in fact, there is so much more to Chicago's food scene than mere pizza.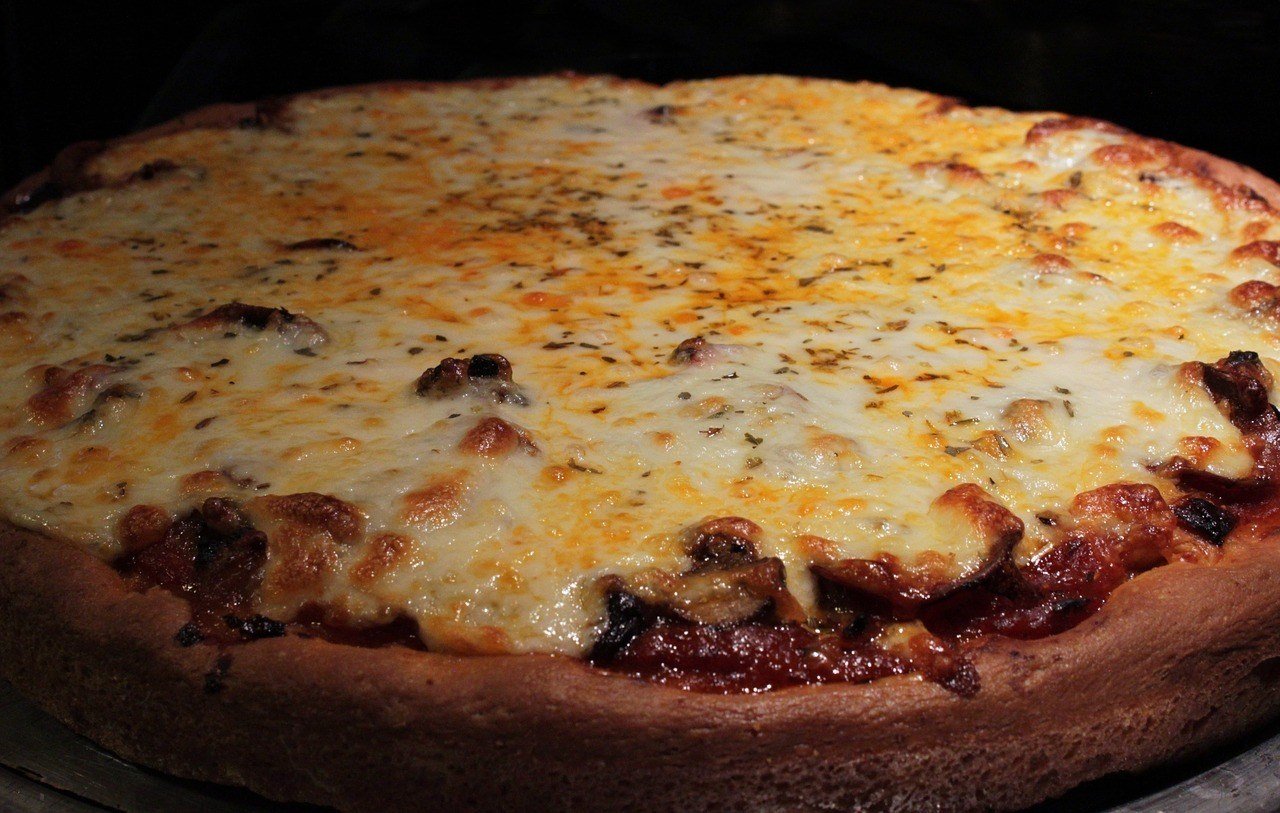 Here are some pointers on how to eat your way around the city like a pro – and without upsetting your stomach in the process.
Don't skip out on street food. Restaurants may seem like the more inviting option, but street food in Chicago – like most places in the world – can be amazing.
On that note, try to stick to things that have to be cooked fresh and hot before your very eyes. Things that look like they have been sitting out all day, accumulating who knows what level of germs and bacteria, are best avoided.
Avoid tourist traps. Chicago pizza will be on offer in many of these.
Go where the locals go. One way to do this is to navigate a block away from a big tourist site and see where is busy – going at lunch-time is a good indicator of who is busy with people on their lunch break, rather than with camera-toting tourists.
Another way to find a gem of an eatery is to look online. There are some very well established places to eat in Chicago, from fine dining to mom-and-pop type restaurants that have been in business for years; research is key if you want to hone in on the city's specialities.
The West Loop/Fulton Market area is a hotspot for local eats. Many top chefs are setting up shop in former warehouses and making the area a haven for foodies. Logan Square is another good spot to explore.
It is always important to wash your hands before you eat. This may seem like a basic tip, but when you have been exploring a city all day, your hands can get grubby with dirt and traffic grime, which is easily transferred to food – especially food that you pick up with said hands.
In terms of food hygiene, it's safe to eat the food in Chicago. Read reviews, as you should anyway, and if a restaurant is getting consistently bad reviews (especially from people who aren't from Chicago) then it is best avoided; otherwise, there's nothing to worry about.
Can you drink the water in Chicago?
The tap water is, of course, safe to drink in Chicago.
You should be drinking it, too, if you want to be saving the environment; there's simply no point buying plastic bottles of water to quench your thirst while you're out and about.
Bring a refillable, reusable water bottle with you – there are water refill stations dotted around town, and your hotel will probably have somewhere you can refill it, too.
Save $$$ • Save the Planet • Save Your Stomach!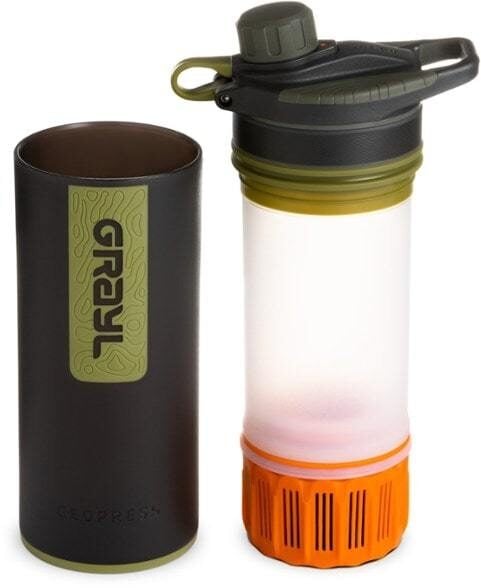 Drink water from ANYWHERE. The Grayl Geopress is the market's leading filtered water bottle protecting your tum from all the waterborne nasties. PLUS, you save money and the environment!
Single-use plastic bottles are a MASSIVE threat to marine life. Be a part of the solution and travel with a filter water bottle.
We've tested the Geopress rigorously from the icy heights of Pakistan to the tropical jungles of Cuba, and the results are in: it WORKS. Buy a Geopress: it's the last water bottle you'll ever buy.
Buy a Geopress!
Read the Review
Is Chicago safe to live?
Having in recent years acquired the nickname "Chiraq" for the violent parts of the city saw, and further back once playing host to gangsters like Al Capone with his molls and fedoras, Chicago has not always made the list of most liveable cities in America.
This reputation of "danger", however, is not necessarily justifiable.
These days Chicago is a safe place to live. Many people do live and work here every day, of course, and whilst there are some neighbourhoods that see relatively high rates of violence and crime, most are absolutely safe.
Most of the time in Chicago, you will be able to walk around without having to worry about your surroundings too much. However, in crowded tourist centres there can be pickpockets and bag snatchers; dealing with these requires common sense.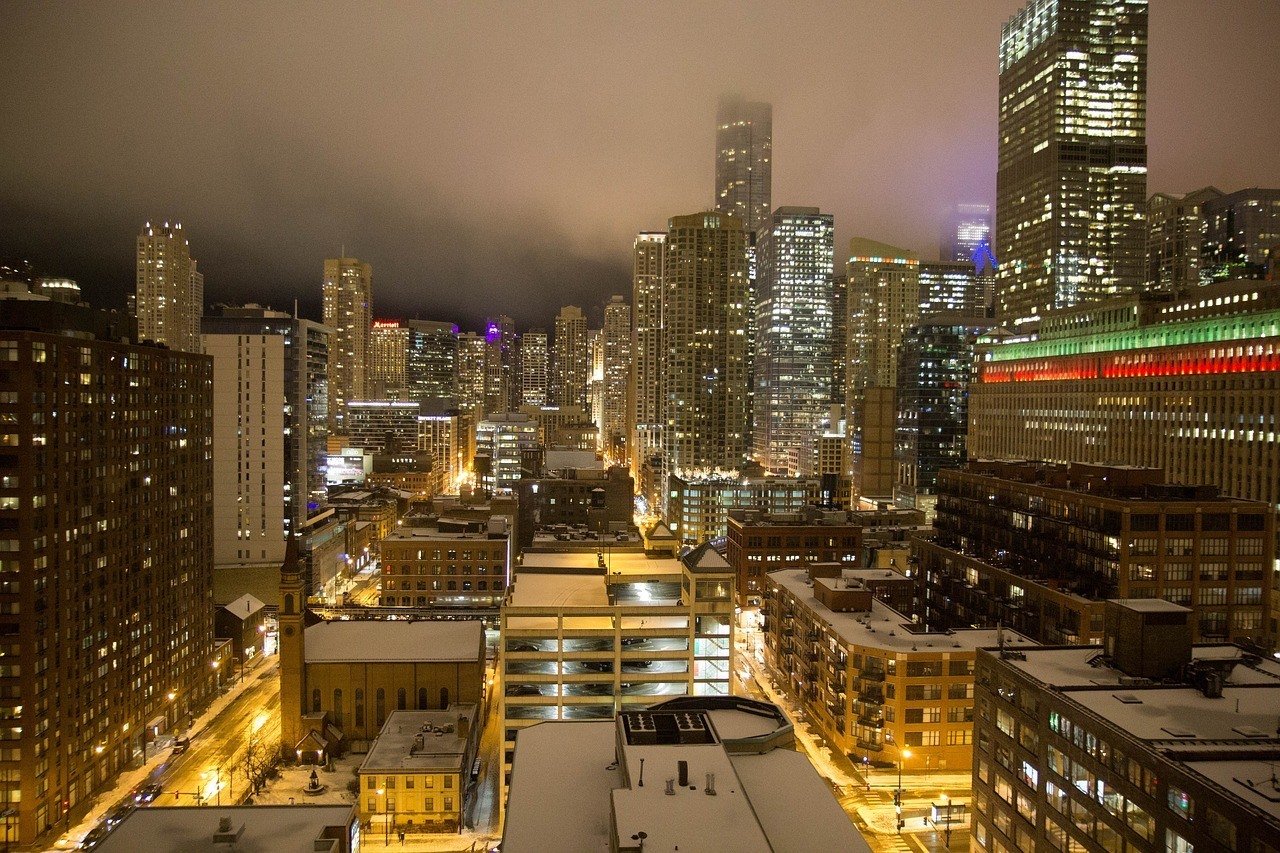 This sort of thing will become second nature to you if you choose to make the move to the USA's third-largest city. The handful of neighbourhoods where crime is relatively high and gangs are active are not advisable to live in, so avoiding them is actually very easy.
People who live in Chicago usually love the area in which they live; neighbourhoods are full of local culture, with many different communities reflecting the immigrant history of the city.
As with all major decisions, research is imperative. Get online and find people who have made the move to Chicago, people who have always lived there, and seek out their opinions and discussions on safe neighbourhoods, as well as the pros and cons of living in the city.
It is safe to live in Chicago, as long as you pick the right area to live. You will be fine – just be prepared to deal with the cold winters!
The Future of the SIM Card is HERE!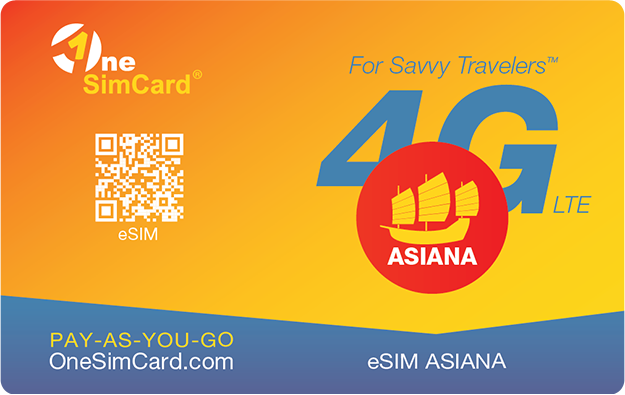 A new country, a new contract, a new piece of plastic – booooring. Instead, buy an eSIM!
An eSIM works just like an app: you buy it, you download it, and BOOM! You're connected. It's just that easy.
Is your phone eSIM ready? Read about how e-Sims work or click below to see one of the top eSIM providers on the market and ditch the plastic.
Buy an eSIM!
Is it safe to rent an Airbnb in Chicago?
Renting an Airbnb in Chicago is a great idea. And it's perfectly safe, as long as you read the reviews. Staying at an Airbnb during your trip will also open up new possibilities and options to experience the country. The local hosts are known to take great care of their guests and give the absolute best recommendations of what to do and what to see. Local knowledge always goes a long way, so be sure to reach out to your hosts if you're unsure about how to fill up your Chicago itinerary!
On top of that, you'll stay safe with the reliable Airbnb booking system. Both hosts and guests can rate each other which creates a very respectful and trustworthy interaction. 
Is Chicago LGBTQ+ friendly? 
Chicago is a great city to visit for LGBTQ+ people. The city prides itself with an open-minded and very accepting vibe. There are plenty of gay bars and other entertainment venues. You can even find a couple of hostels and hotels that specifically advertise being safe for members of the LGBTQ+ community. 
If you're still a bit worried, we'd recommend staying in Rogers Park. Its crime statistic is way above Chicago's average and it's super affordable. Plus you'll be around plenty of like-minded folks.
FAQ about Staying Safe in Chicago
Here are some quick answers to common questions about safety in Chicago.
So, is Chicago Safe?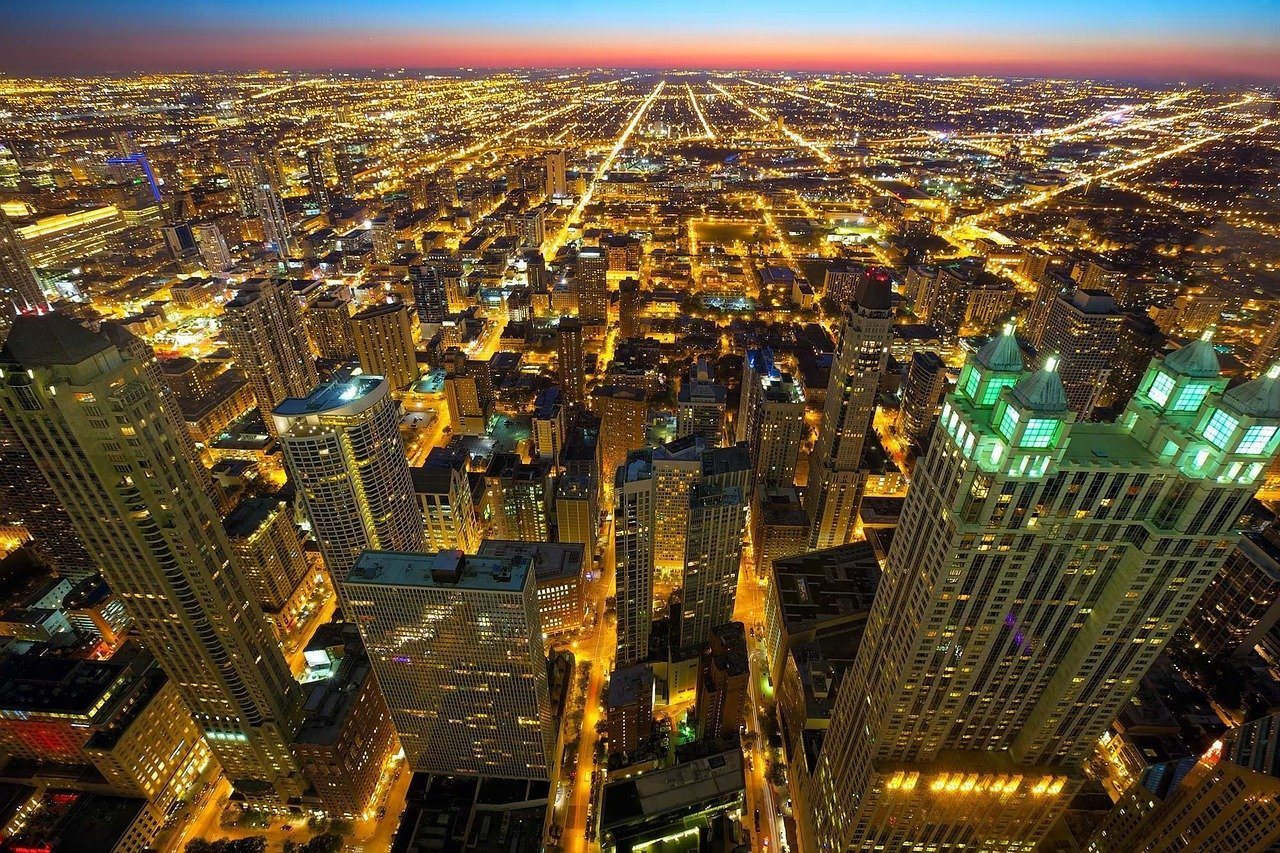 To put it simply: yes, Chicago is safe, as long as you keep your wits about you.
It's is an amazing city: there is so much to see, there is so much to do, there is so much to eat. Fans of cities will love the skyscrapers, the L, the Pedway and the lakeside location. Culture-lovers will love the endless museums; fans of nature will enjoy how easy it is to get to beaches and quiet spots away from the city. There is a reputation for violence in Chicago, but chances are you won't see why firsthand.
Don't Forget your Chicago Travel Insurance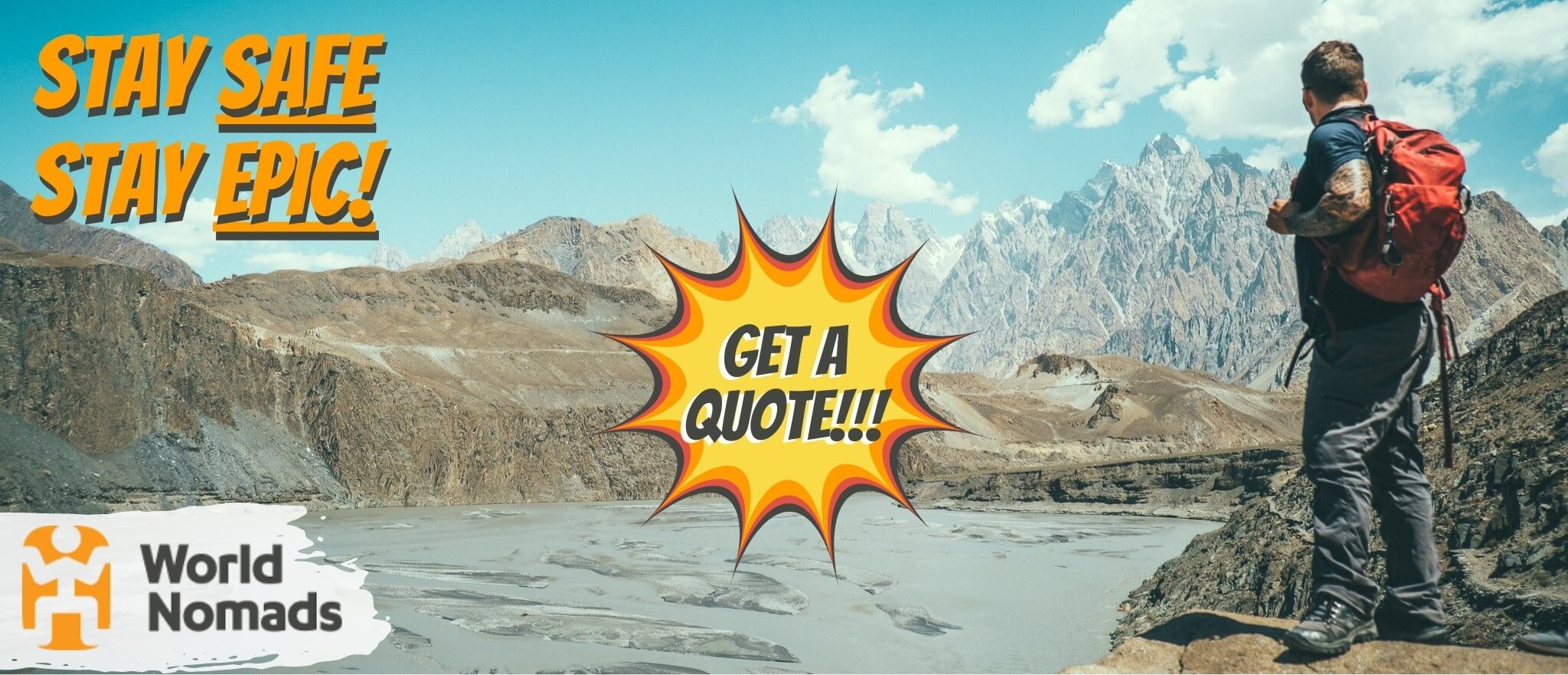 It's good to get lost sometimes, but it's also good not to get too lost. There are people that want you home in one piece.
There's one travel insurance provider The Broke Backpacker trusts for all his wildest shenanigans… World Nomads!
Click the button below to get a quote on your insurance or read our in-depth review of World Nomads' coverage. And then… let the shenanigans begin. 😉
Disclaimer: Safety conditions change all over the world on a daily basis. We do our best to advise but this info may already be out of date. Do your own research. Enjoy your travels!
---
Bye for now, but not forever!
If you want MORE top-tier Broke Backpacker content like this, then sign up for our weekly newsletter below to get the latest and greatest!
And for transparency's sake, please know that some of the links in our content are affiliate links. That means that if you book your accommodation, buy your gear, or sort your insurance through our link, we earn a small commission (at no extra cost to you). That said, we only link to the gear we trust and never recommend services we don't believe are up to scratch. Again, thank you!