Always alive and never boring, London is a city that everybody should visit at least once. Combining gleaming skyscrapers with cobbled streets and time-worn buildings, this city is an exciting mix of old and new.
The English capital is renowned for being one of the most expensive cities in the world. However, that doesn't mean you'll have to empty your pockets to stay there. In fact, visiting on a budget is more than possible, as long as you follow a few simple steps.
Finding affordable accommodation in London is usually the first step. Contrary to what you may think, there are some incredibly modern, clean, and cheap hostels in London.
No more shelling out for over-priced accommodation, or sleeping in sub-par digs. Here's a round-up of some of London's top budget hostels.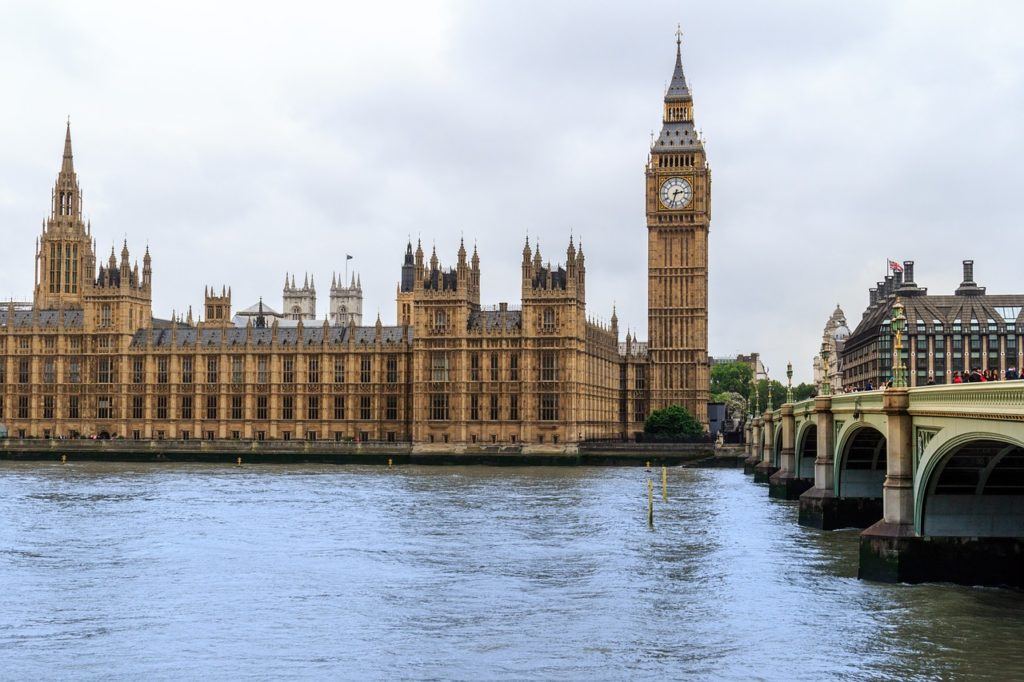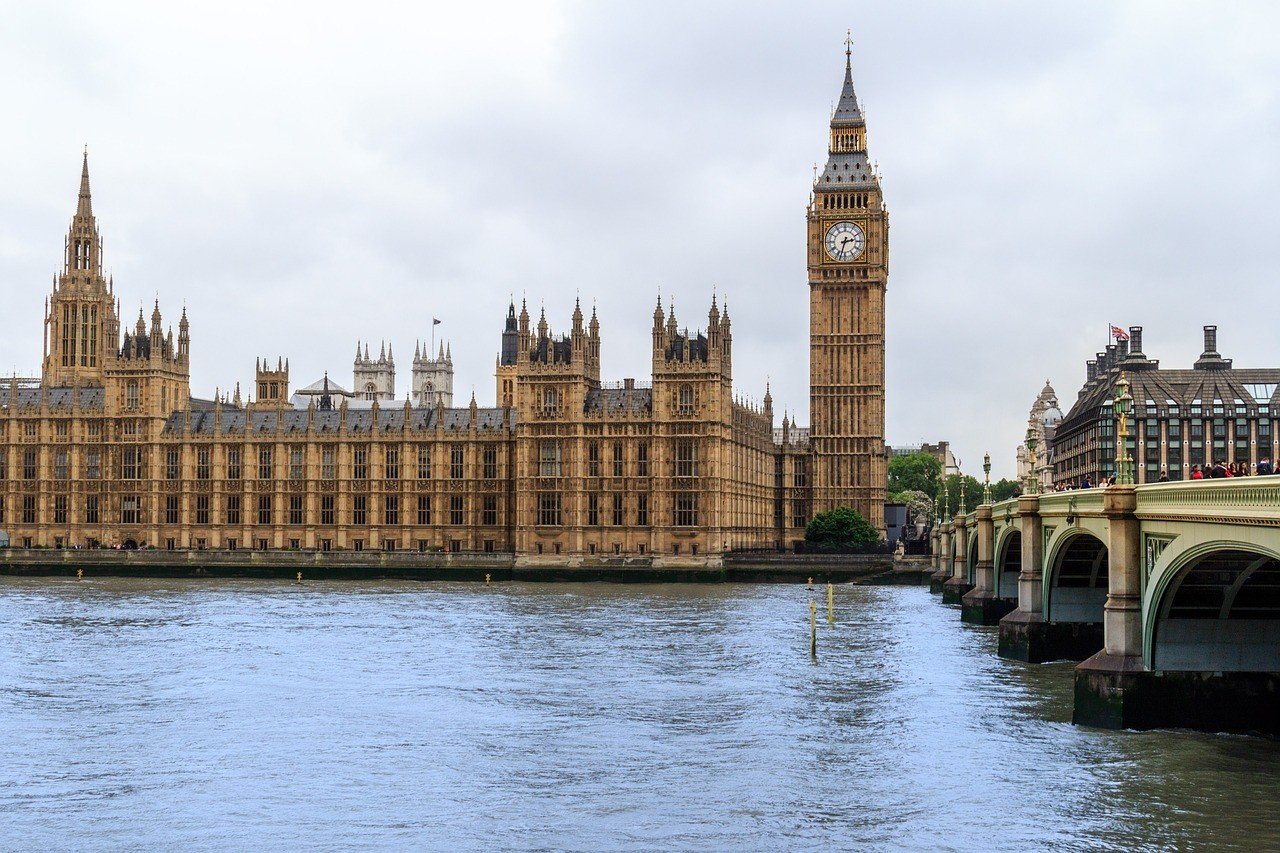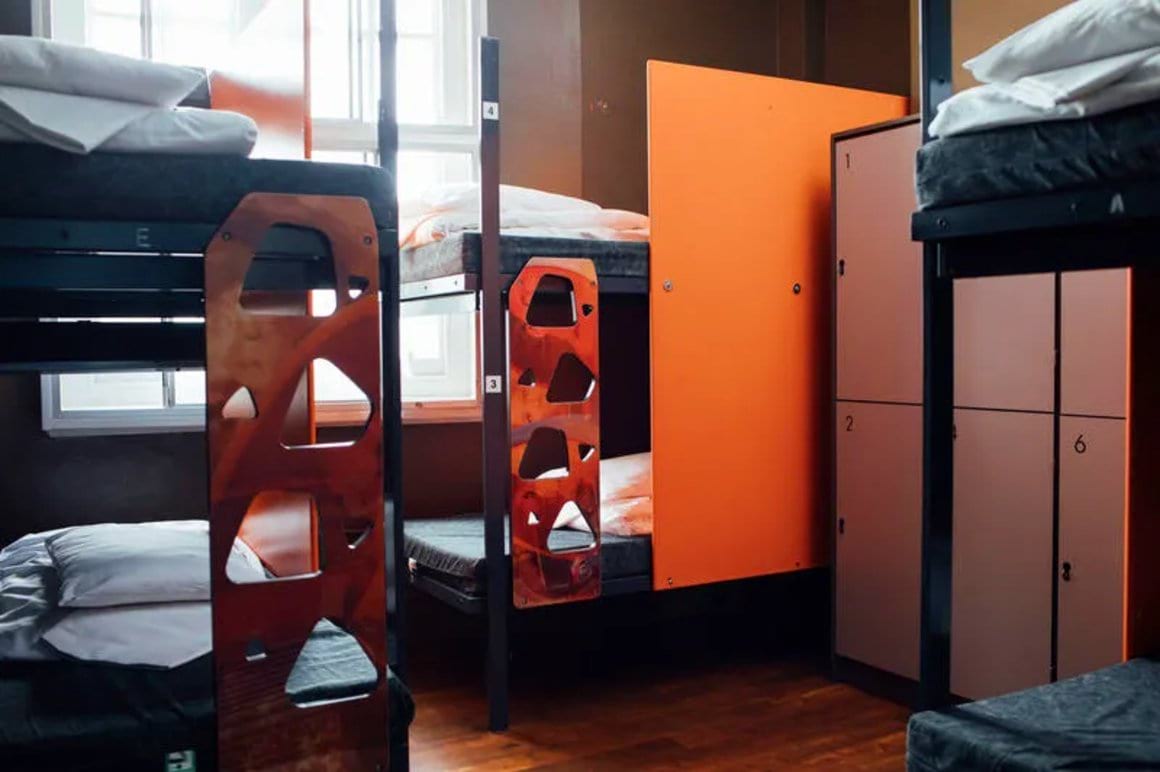 Those of you who are on the hunt for somewhere that is sociable, as well as cheap, should check out Clink 78. This place has long been a favourite among travellers – thanks to the activities on offer and its stylish interiors.
The building is a 200-year-old courthouse where none other than the great Charles Dickens used to work, so you'll also be staying in a piece of history. Inside, the hostel has retained much of the building's original features –think old tiled floors, wood-paneled walls, a stained glass ceiling and even the old court room itself.
Don't worry though – it isn't all old and musty. The hostel has been updated with modern furnishings, cool hangout areas and funky artwork to give it that modern-day London vibe. Socialising with other travelers can be done at the resident Clash Bar. It's down in the basement and plays host to a roster of regular club nights.
Where is Clink78 Hostel?
Staying at this top London hostel puts you right near one of the capital's most convenient transport hubs – Kings Cross Station (home of Platform 9 ¾). This is also where you'll find St Pancras International Station, which is where you can catch the Eurostar all the way to Paris. The famous British Museum, which is within easy walking distance of the hostel itself.
There's a load of options when it comes to booking a bed at Clink78. Dorm offerings include the following:
Private rooms are also available:
Prices per night start from around $19 USD.
Any extras?
Not only is this one of the best budget hostels in London, but there's also a bunch of extras thrown in, too:
Bar with live music
Breakfast buffet (additional fee)
Communal kitchen
Fresh pizza from the ClashBAR
24 hour security
Beds with reading lights and USB ports
Key card entry
Personal lock boxes
And for those of you looking to embrace hostel life, the following events are also on offer:
The ClashBAR is open daily between 6:00 PM and 2:00 AM
Daily free walking tours
A programme of events including DJs and live bands
Overall, Clink78 is a well-loved hostel that has been set up specifically with backpackers in mind. It may not be a boutique hostel, but it does offer dorm beds at low rates. Overall, it's a pretty cool base to call home during your trip to the big smoke.
The BEST Travel Backpack?!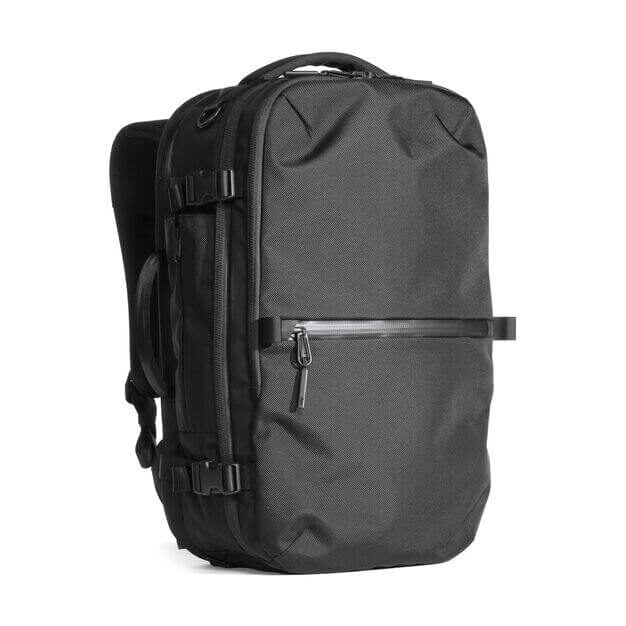 Pssssst! Not picked the perfect travel backpack yet? The Broke Backpacker team has tried out over thirty backpacks this year! Our favourite travel backpack is the Aer Travel Pack 2.
View on AER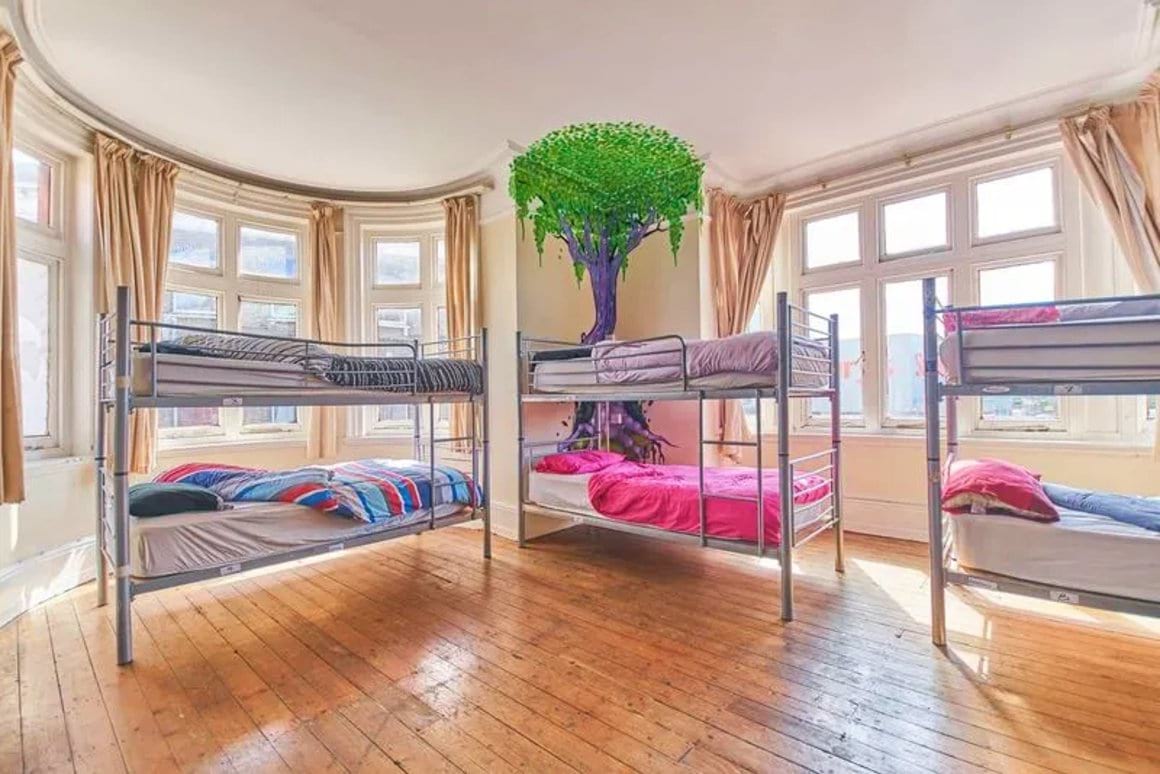 Staying at Hootananny Hostel is definitely a good idea if you're looking to enjoy a few late nights socialising. This self-proclaimed "lively hostel" is set inside an old Edwardian pub dating all the way back to the 1850s. Undoubtedly, this place has some stories to tell!
The hostel comes with its very own bar where hostel guests can enjoy drink discounts while rubbing shoulders with locals. The hostel doubles up as a live music venue, even winning the title of 'Best Live Music Venue in London'.
Away from the bar, the guest rooms and dorms are spacious and are decorated with old wooden floors, high ceilings, and original fireplaces. Shared spaces are clean and simple, and have all of the basics.
Where is Hootananny Hostel?
Situated in the middle of buzzing Brixton, Hootananny Hostel provides a perfect base from which to explore London. There are excellent public transport connections; the nearby bus stops operate 24 hours, and Brixton Underground Station is a short walk away. Brixton itself is brimming with numerous markets, pubs, and places to discover.
There aren't any private rooms on offer at Hootananny, but dorm options are:
Prices per night start from around $21
Any extras?
It's not only the bed that you're paying for – Hootenanny Hostel also has some additional features that might just make you want to stay the night:
Bar with live music
Free breakfast
Communal kitchen
Free Wi-Fi
Tea & Coffee Making Facilities
Lockers
Pool Table
Cable TV
And yes, it may be one of London's top budget hostels, but there are also events to get your teeth into too!
Live music venue
Bar with 20% discount on drinks
Live comedy (free entrance before 10:00 PM)
Hootenanny is one of the coolest hostels in London. Be ready to party though – the live music goes on until 3:00 AM on weekends, and the dorm beds are situated right above the action. However, if that doesn't phase you, then this is one of the best cheap hostels in London thanks to its location and amenities.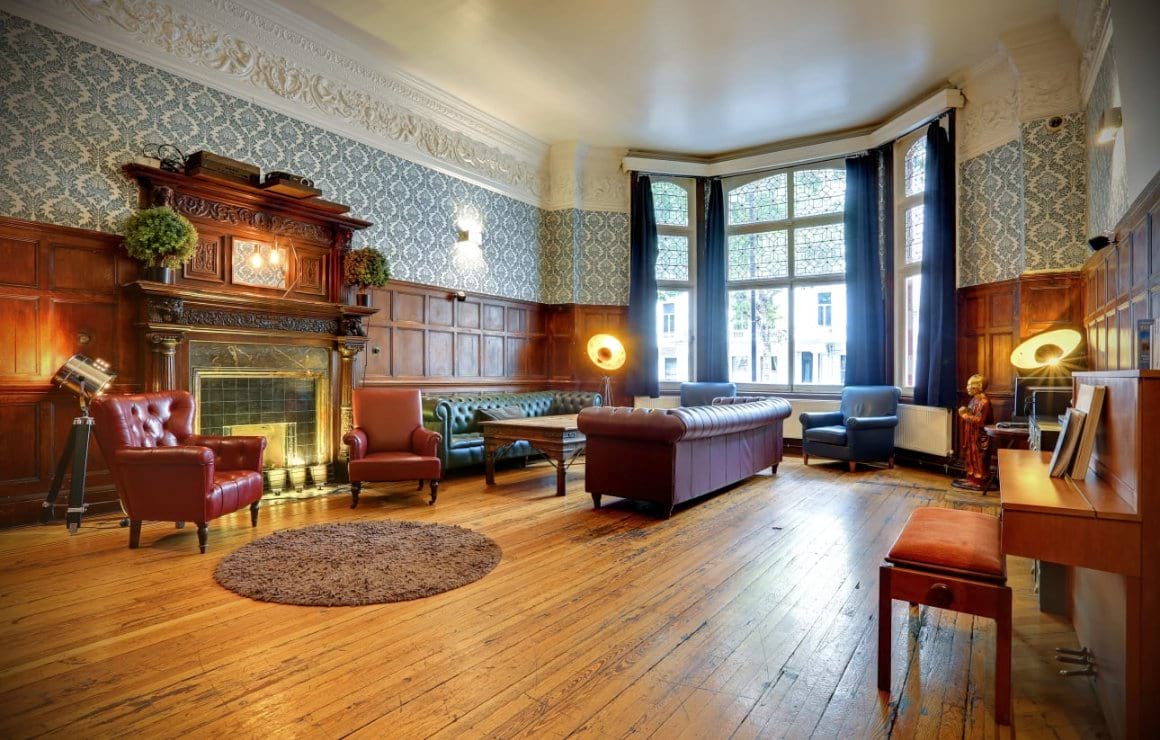 If you like things a little more high-end but still want to watch the pennies, look no further than Astor Hyde Park. This place may look chic, but staying here won't cost you an arm and a leg. You don't even have to take our word for it – they have awards to prove how cool they are.
However, this isn't a place for party-goers nor for families – there's a strict age policy which means you have to be aged between 18-40 to stay here.
The building itself is full of historic charm with a properly elegant guest lounge that will make you feel like you're in an episode of The Crown. Rooms are more modern, with white-washed walls and wooden floors.
Where is Astor Hyde Park?
Astor Hyde Park is situated near a lot of the best places to visit in London. The hostel is right on Hyde Park, where, you can enjoy strolling around or boating on The Serpentine lake. Buckingham Palace is also closeby, as well as the famous Oxford Street and nightlife of Soho. You'll also be surrounded by public transport connections.
If you like the sound of this hostel, check out the room options on offer:
4-9 bed mixed dorm
10-12 bed mixed dorm
Prices per night start from around $28 USD.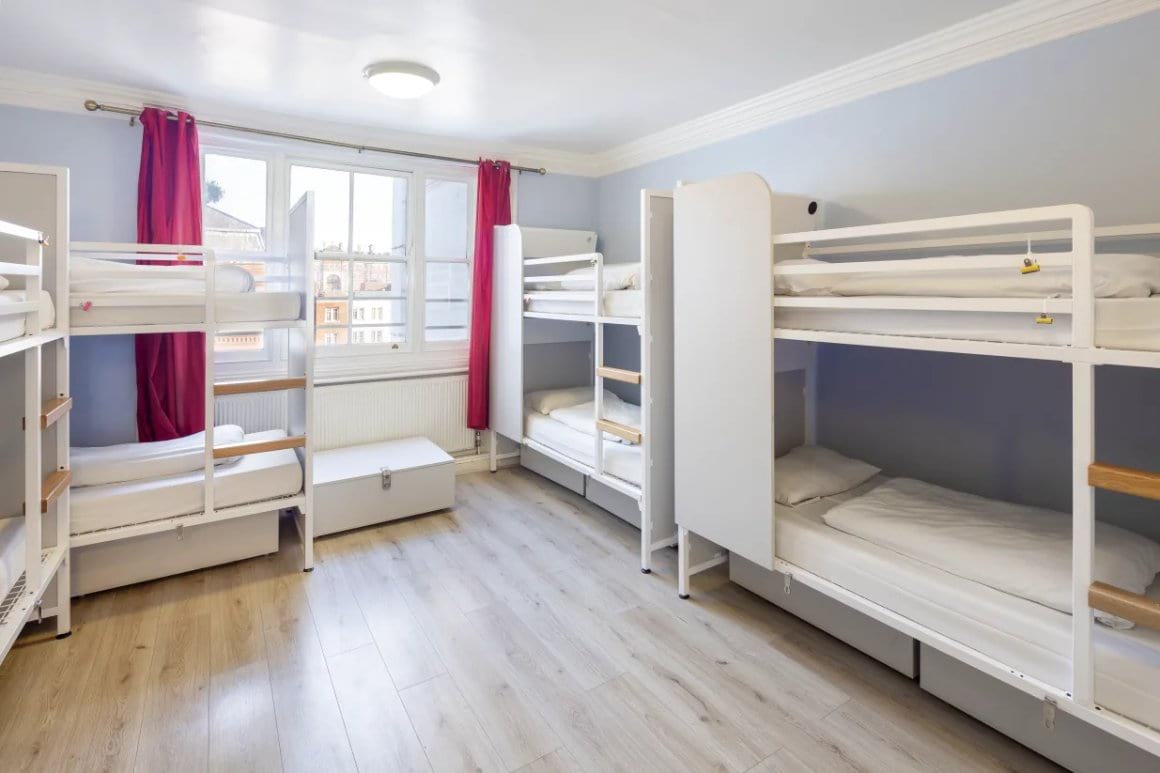 Any extras?
Easily one of the best cheap hostels in London, Astor Hyde Park also comes with these added extras:
Storage lockers (extra cost)
Communal kitchen
Luggage storage
Laundry facilities available 24-hours.
Free printing facilities
Vending machines
ATM
Free Wi-Fi
It might not be the most happening hostel, but for a budget-friendly hostel in London, Astor Hyde Park ticks a lot of boxes. The location of this hostel is pretty hard to beat, and functional interiors make this an awesome place to stay in London.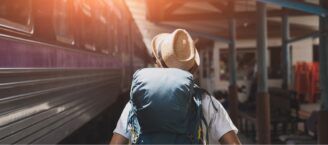 Unlock the The Broke Backpacker's GREATEST Travel Secrets
Sign up for The Broke Backpacker Newsletter to receive weekly tips on how to travel on a budget + a FREE copy of The Backpacker Bible!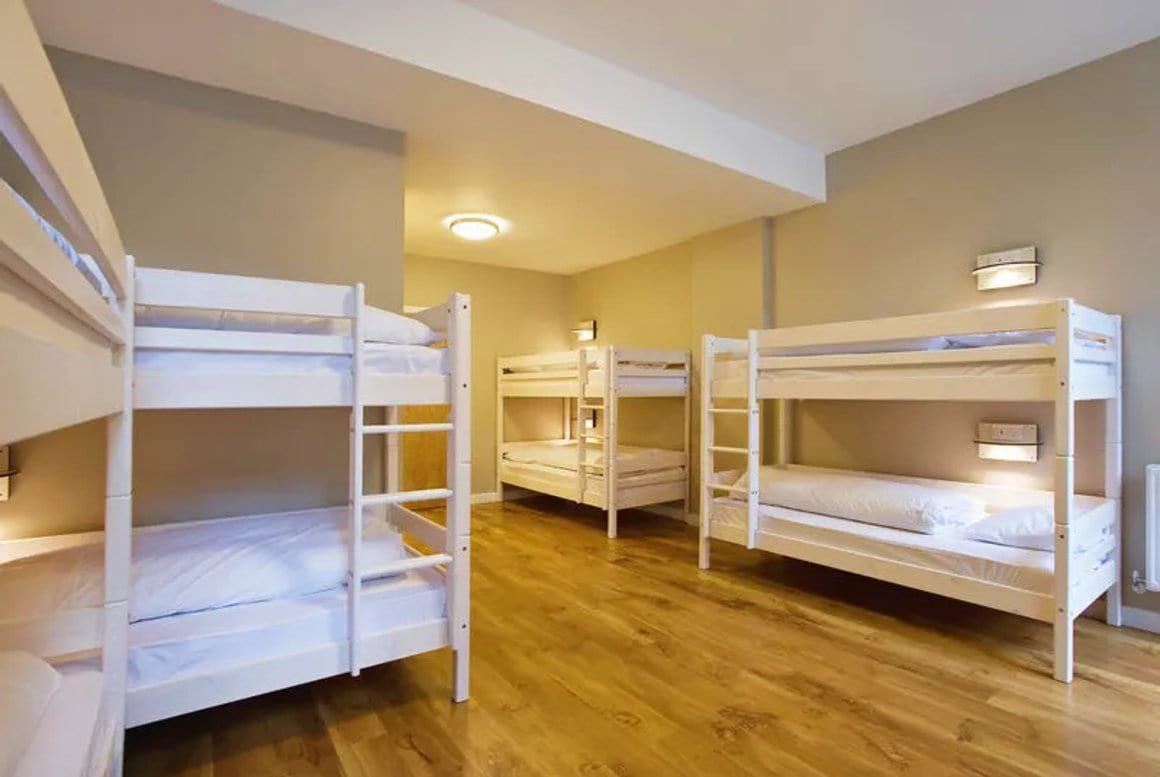 Wombats City Hostel will blow your mind. It's one of the most well-known and popular hostels in London. It's the epitome of a cool, contemporary hang out, and is as stylish as they come.
Part of an award-winning Europe-wide chain of hostels, this London iteration is situated inside a former seamen's hostel. The original architecture has been lovingly updated, meaning the old arching brick cellar is now a funky bar, and rooms are clean and spacious.
There's a ton of places to hang out – from the lobby area to the cosy courtyard. This hostel is so cool, we challenge you to not have an awesome time here.
Where is Wombats City Hostel London?
Finding a good budget hostel in London doesn't mean you have to give up on staying in a cool area. Wombats is located just a few minutes walk from all of the hipster action in the trendy hotspot of Shoreditch. The world-famous Tower Bridge and the Tower of London are practically on your doorstep, as are some of London's best nightlife options.
There's a good choice when it comes to the types of rooms on offer at Wombats. Take a look below to work out which one is right for you:
6-8 bed mixed dorm
Female dorm
And if dorms ain't your thing, there are privates too:
Double room
4+ bed private rooms
Prices per night start from $48.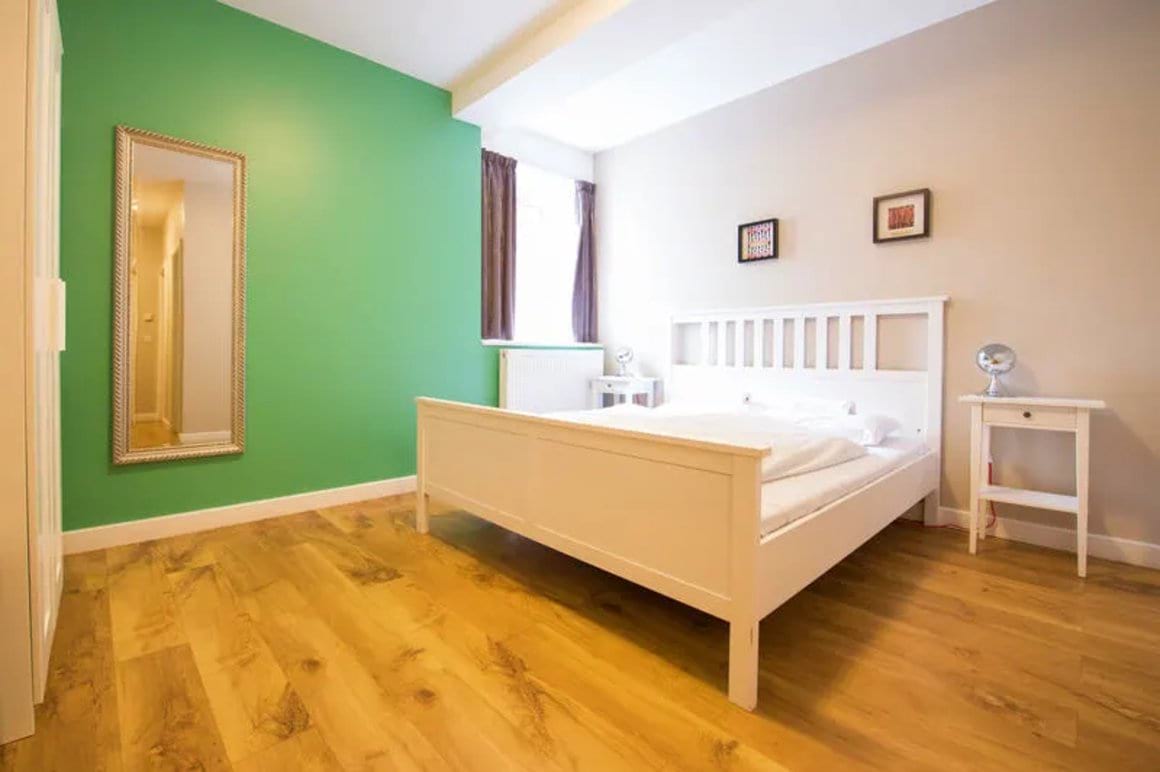 Any extras?
Yep, you guessed it. Wombats is the kind of cool London hostel that doesn't leave you high and dry with just a basic bed for the night. There's also a whole menu of added extras, so you know you're going to get good value for money when you're here. See below:
Hostel bar
Lockers
Key card entry
Fully equipped guest kitchen (plus: free food section; free noodles and rice)
Outdoor terrace
Board games
Pool Table
Foosball
There are also regular events going on at the hostel which really add to that social vibe. Not only does the lively onsite WomBar serve affordable drinks, cocktails, and snacks. London is expensive, so definitely make the most of the happy hours and regular DJ nights on offer.
A great all-round option, Wombats is part of a tried and tested chain of hostels that are out to make their customers happy. This means you can expect a professionally run hostel with staff who will make sure your stay runs smoothly.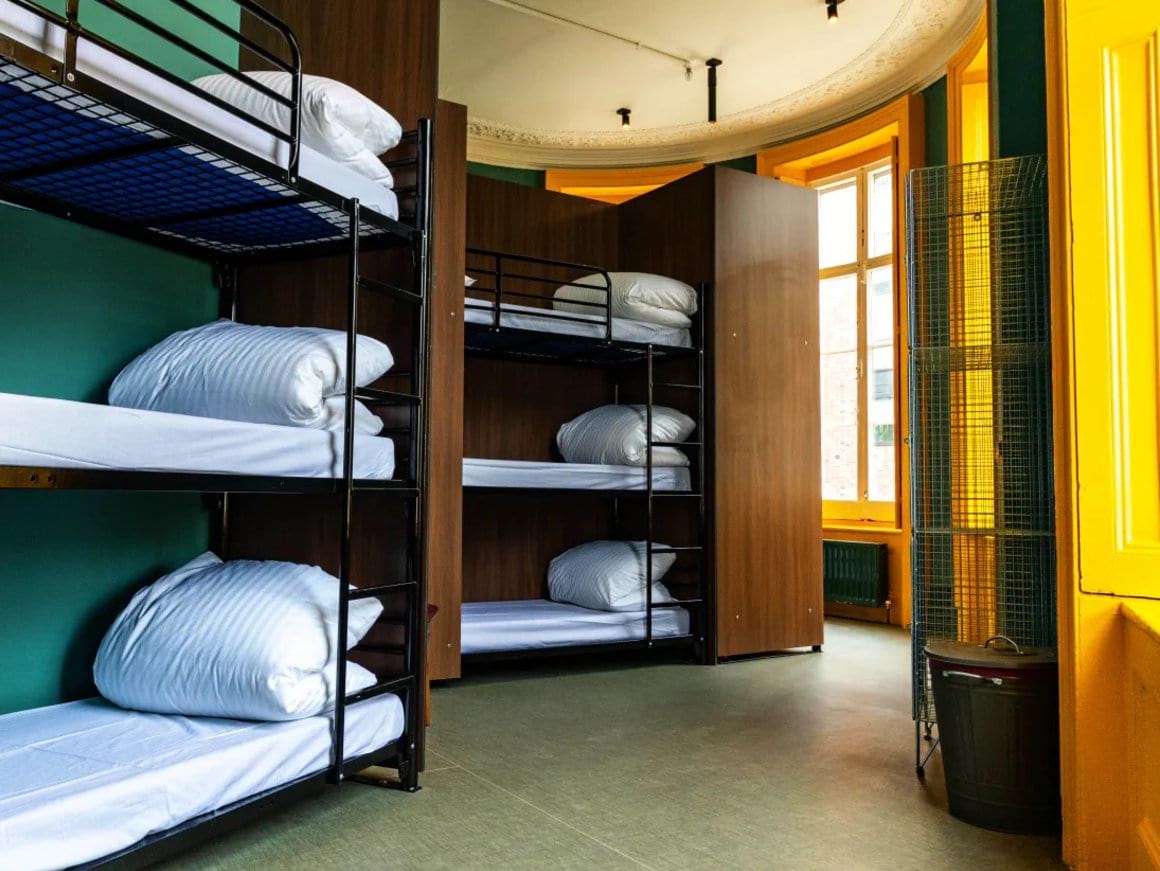 You might not think about staying in a pub in London, but pubs have traditionally been cheap places for people to stay the night. Plus, evenings can be spent down in the suitably charming old bar with the locals.
The White Ferry Pub offers travellers the opportunity to stay in a proper boozer for just a fraction of the price of a hotel or homestay in London. A great way to see the real, everyday side of the city, this hostel is still a real working pub.
Rooms here are surprisingly fashionable, with bright colour pops, high ceilings and old brick fireplaces. The only downside is that the bunks can come in triples, meaning you have to share them with two other people!
Where is The White Ferry Hostel?
This top budget hostel in London is located just a short walk away from Victoria Train and Coach Station. which is ideal if you're planning on travelling around the UK. Not only that, but the central location means that you can even stroll to Buckingham Palace from the pub!
Rooms on offer are:
6+ bed private rooms
Mixed dorm
Female dorm
Prices start from around $32 per person per night.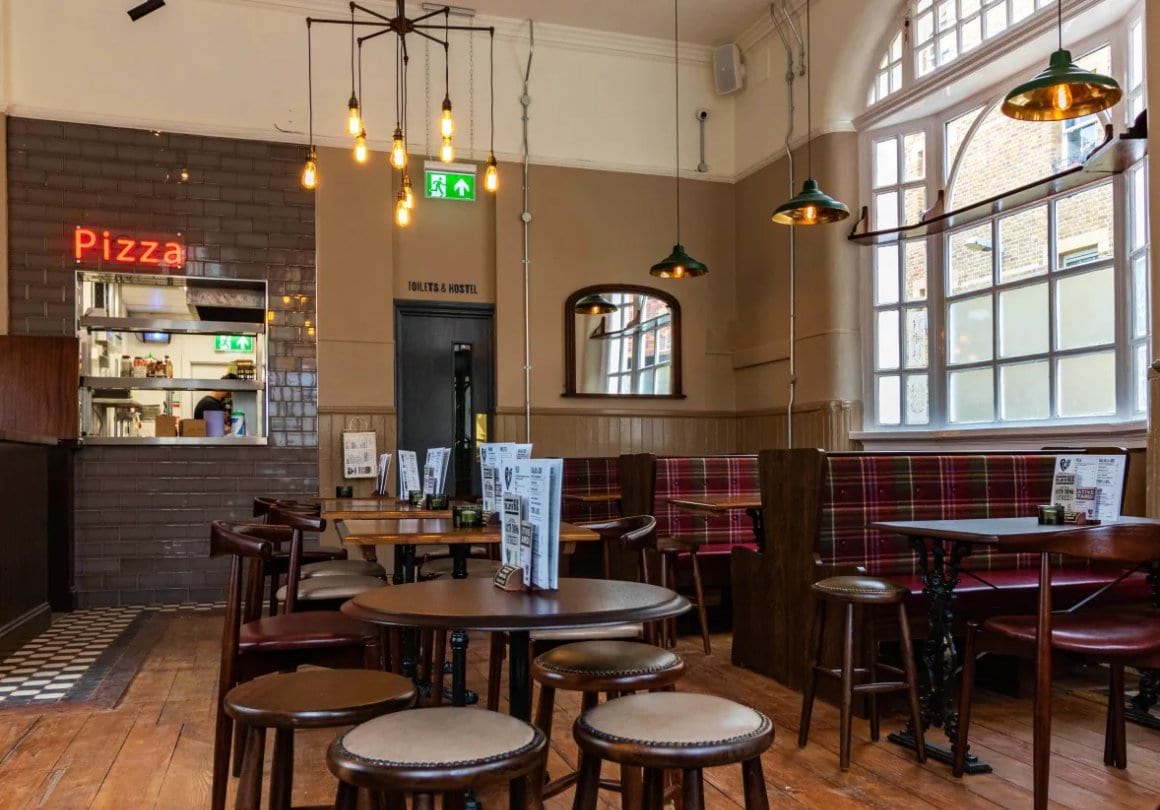 Any extras?
This budget London hostel doesn't come with loads of social areas (except for the pub itself), but there are a few added extras:
Access to pub
Restaurant
24-hour security
Security lockers
Outdoor terrace
Free Wi-Fi
Board games
24-hour reception
Overall, this is a great hostel for those who want to see some real, authentic London life. More about mingling with a G&T in hand whilst making friends with real Londoners rather than fellow travelers, it might not be for everyone. But with low prices and so many of London's attractions closeby, it's definitely a great option.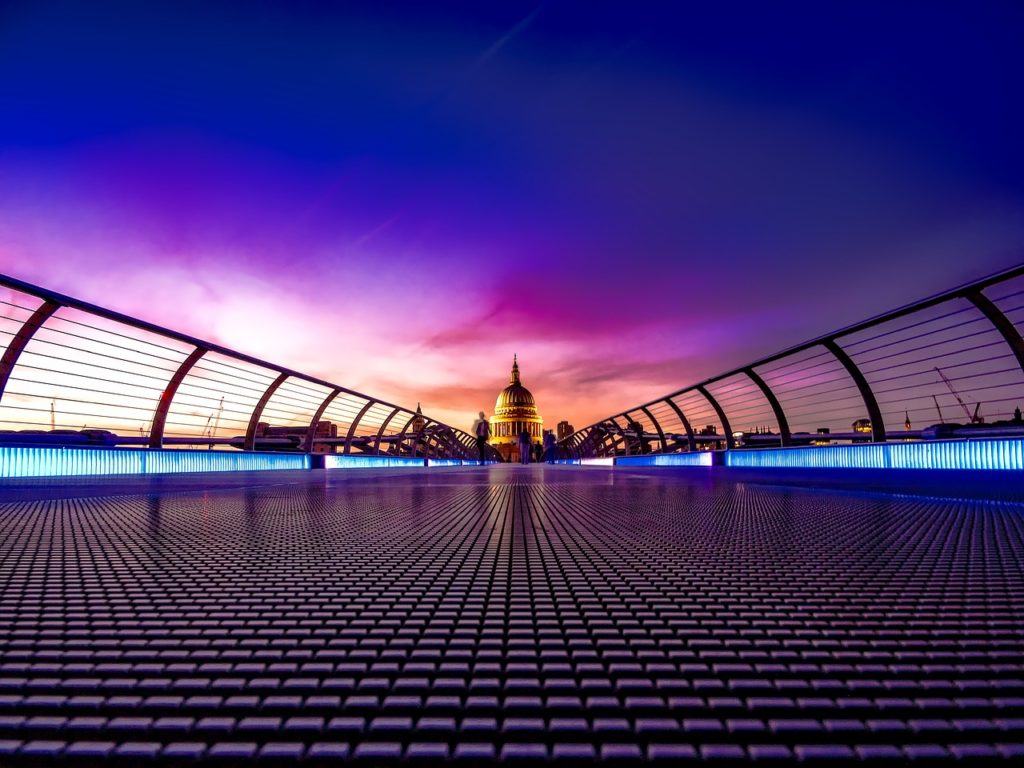 Cheap Hostels in London FAQ
How cheap are hostels in London?
For such an expensive city, many hostels in London are pretty affordable. This is probably because there's a huge choice of accommodation options across the capital, so prices are competitive. Average prices are between $30-$50 USD per night for a bed in a hostel, but there are places that you can stay in for much cheaper.
If you're strictly sticking to a tight budget on your trip, some of the cheapest hostels in London that can be found further out of the city center. Bear in mind, however, that you may end up paying more on transport costs to travel into town.
Are hostels in London safe?
Hostels in London are totally safe. In fact, most hostels will come with key card access so only guests can enter. Security staff will usually be on duty 24 hours a day so there is nothing to worry about – just make sure you keep your valuables safely secured in a locker. Standard stuff.
London is a fairly safe city all around. Just like any other urban area, the best advice for staying safe in London is to make sure you keep your valuables close to you and not to flash the cash. Pick-pocketing can happen in touristy areas, or on public transport.
Are there any more cheap hostels in London?
There are tons of budget hostels in London, so many that we couldn't fit them all onto our list.
Some honorable mentions are SoHostel (from $45 per night), a brightly decorated hostel in lively Soho. Here you can be in the buzzing heart of London's West End, for a fraction of the price of the nearby five-star hotels.
There are also numerous PubLove hostels dotted across London – one of these is The Green Man (from $31 a night) in Paddington. Located inside an old pub with heaps of charm, budget beds can be grabbed here for relatively cheap.
For female travelers, St Christopher's Oasis-Female Only (from $41 per night) provides a safe haven among other like-minded females close to The Shard and Borough Market.
Final Thoughts on Cheap Hostels in London
Whether you're staying in London for a weekend or longer, there are so many budget-friendly and stylish hostels on offer. From stylishly restored old buildings to historic pubs and modern hangouts, there's something for everyone in the capital city.
If you're traveling on a budget, we hope this guide has helped you figure out where to stay in London. Let us know which one you end up choosing – we'd love to hear all about your trip!