On an ordinary day, many moons ago, I woke up and felt a little….off. My best friend lived in Paraguay. Most of my ex-boyfriends were foreign, and I was living in North America without my familial roots. I needed out and I needed it pronto.
But then I decided to teach English abroad without a degree. Was it risky? Yes!
Did I leave everything behind after doing a TEFL certificate online? Yes!!
And I didn't even have a degree (I must admit, I do have a degree now, but I didn't then).
There is peril involved, but it's not grave peril. If you do your research well, YOU too can teach English overseas without a degree.
I cannot stress the research part enough, though. As exciting as it may sound, you DO need to know what you are doing. Your students will be relying on you to deliver charisma-filled lessons bursting with adverbs and adjectives.
You'll need to find a credible TEFL certificate program and continue learning once you finish. You'll also need to be a touch more discerning in the countries you select to teach english in sans degree to leave behind the tattered remains of your shambling existence. (Or, y'know, to just go travelling.)
But to meet that exact means, I've created this guide to show you exactly how teaching English abroad without a degree is possible.
Do I Need a Degree to Teach English Abroad?
Let's get right into the nitty-gritty here. Do you need a degree to teach English overseas: no. No you don't.
Now there are some caveats, but there are also caveats to toothpaste.
You COULD just go private. Look for classified ads and voila! You're a bonafide English teacher (slash tutor).
Learn the trade, be an ace teacher (i.e. not Leonardo DiCaprio from Catch Me If You Can), word of mouth is a terrific thing, and suddenly you're rolling in students. And then you'll say, "I'm not going to take on all these students because I know my workload and limit and I need to provide the best service possible to my individual paying students because, technically, I'm unqualified" Those will be your exact words because you're a responsible traveller.
BUT! This is not an article about how to become an unqualified English tutor. This is an article about how to teach abroad with NO degree. That usually means a classroom (and public speaking skills). And sometimes miniature gremlin-humans also commonly known as children.
And the bottom line (caveats aside) is: can you do all of that without a degree? Yes.
But there is another qualification you may want to consider first…

Unlock Our GREATEST Travel Secrets!
Sign up for our newsletter and get the best travel tips delivered right to your inbox.
So… What Qualifications Do I Need to Teach English Abroad?
You get a TEFL Certificate! TEFL stands for Teaching English as a Foreign Language… and as the unqualified swine you are, it'll save your ass when you first step into a classroom and get the teaching adventure ball rolling. You'll also have gained confidence in the mechanics of how the English language works (remembering that it's a bit of a shitshow) so you'll be well-versed in teaching it.
A 120-hour TEFL course is the benchmark of all TEFL certifications. You can go up from there if you feel so inspired, as every company offering TEFL's has a range of courses to supplement your knowledge. But with 120 hours of solid cramming, you'll be good to go. Consider it your springboard into bigger and better things as you gain experience, beef up your credentials, and just generally level up!
And What's the Best Way to Get a TEFL Certificate?
The best, most convenient way is online, and oh boy, there are LOADS of programs to choose from. If you're Australian, you'll say heaps! If you're fun, you'll say oodles. It's all English!! You'll learn that when you get a TEFL. 😉
The Broke Backpacker recommends MyTEFL as they offer a wide variety of courses at cheap prices and the whole service is speedy. You can do courses online or in-person, OR if your feet are extra itchy, you can apply for a MyTEFL internship in either Thailand, Argentina, or Africa to get that hands-on experience. That's dope!
They're also giving Broke Backpacker readers a 50% discount on TEFL courses which is kinda like the bonus cherry on top of the whole delicious sundae. A cheap course just got cheaper. Just click the link below or enter the code PACK50 when purchasing a course.
There are heaps more services around if you want to go scouting, but with MyTEFL, you could be qualified up and ready to hit the road teaching overseas in no time! (Or in Africa doing hands-on training, like, tomorrow.)
A Couple More Notes on Getting TEFL Certified
You may be thinking, can you teach English online or abroad without TEFL? Honestly, not really, and most institutions will require this as a minimum.
You can take the private route, and you'll earn more money online that way with paying the middleman, but at the end of the day, it's best just to cop the cost and get TEFL certified if you're serious about teaching English for a job or career. It means higher pay, more work opportunities (both on and offline), and better training too.
It may also be helpful to read up on the experiences of qualified TEFL teachers and their adventures being awesome humans overseas.
And Now for Those Caveats: The Cons of Teaching English Abroad Without a Degree
Teaching English abroad without a degree can be done, but I must stress the downsides. In all honesty, having a degree DOES have its advantages. Here's a list that is not meant to disappoint or discourage; just to inform you:
A degree opens up opportunities in more countries – Teaching English in Japan may appeal to you, but you can't without a degree. China and South Korea are also on the no-go list. It isn't impossible, but it ain't easy either. Plus, your competition will be fierce.
Higher starting salary – Making money as an English teacher varies greatly depending on where you go, but without that pesky degree, starting salaries for teaching abroad are generally lower. You'll most likely not be able to save much, but you will be able to live an adventure-filled life.
You're less vulnerable to unreliable employers – Learning how to spot these is another skill entirely. Dodgy companies will be more likely to hire someone degreeless and if you're just starting out, uninformed. I fell prey to one of these myself and slaved away with very little resources. Don't do this to yourself – always watch out for buttmunches.
VISA regulations for work – Often times, an employer will have this as a requirement for a job contract and there's no way around this one. The regz usually require a degz.
More credibility to your name – Unfortunately, this is how the world works. A degree opens doors that would otherwise be closed. Is there a way around this? In some places, yes!
Which is why you will keep reading…
Best Places to Teach English Without a Degree
Destination inspiration, baby! While you can get a good job teaching English without a degree in many countries, these are some of my personal faves and the easiest to get into.
Small Pack Problems? 😉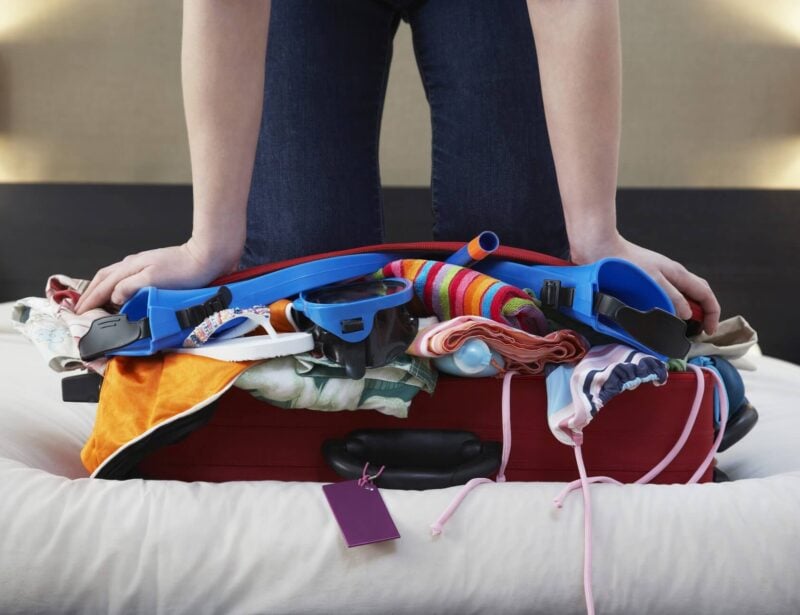 Wanna know how to pack like a pro? Well for a start you need the right gear….
These are packing cubes for the globetrotters and compression sacks for the real adventurers – these babies are a traveller's best kept secret. They organise yo' packing and minimise volume too so you can pack MORE.
Or, y'know… you can stick to just chucking it all in your backpack…
Get Yours Here
Read Our Review
Teaching English Abroad (With or) Without a Degree – Expert Advice
Whether you're sans degree or degree-supercharged, some universal advice applies to ALL English teachers planning to go abroad. Let's have a look…
Some Tips for Teaching English Overseas
Every English teacher abroad can benefit from these!
"Pick" Your Salaries – A salary for one who teaches abroad may not always be the greatest. You might be able to save, I don't know you (hey, sexy) or your spending habits, but… I didn't. What I did do was live very comfortably and go on plenty of escapades into the wild unknowns, which is where the addictive nature of teaching English overseas comes from. It's all an adventure…
Keep Learning – A teacher's journey of learning is never over! Always keep brushing up, cramming on techniques and the finer details, and let your students teach you too. It's a reciprocal relationship.
Go Loco… I Mean, Local – Learn the basic mechanics of your students' native language — and do so with patience. You could even do this before leaving your motherland! It will be weird not to understand those around you at first, but this effort will enable you to understand why they're making certain grammatical errors according to how their own language is structured. And that will make you a better teacher.
Read Your Contracts – Especially the fine print. OVER AND OVER. Travelling and working abroad is a gamble. You may end up in the ass-end of Australia and realise that, although you planned on teaching for 6 months, the small sentence at the end of paragraph 5 said you're only guaranteed a solid 3 to be renewed, depending on how many students the school has recruited at the time. Don't be a fool!
Trust The Process – Be prepared for friends and family back home not to understand much of what you're going through while you're abroad and when you return. You will change as a person. And with change comes a shift in how you relate. I've always found coming home to be worse than culture shock because home suddenly doesn't feel so familiar. It's all part of the process — let it be.
A Word from a Wise, Old, Weathered English Teacher
With great power comes great responsibility. To be fortunate enough in life to even consider jumping ship to teach English abroad without a degree requires a Spidey sense level of intuition alongside a level of gratitude and respect to your host country equalling Rose's love for Jack on The Titanic (intense, yet fleeting, like your future job contracts will be).
Becoming an imbecile English teacher who gallivants around partying – sloshing, znorting, and snoozing – without giving a flying fuck about phrasal verbs after their TEFL course ain't cool. I know this won't be you, though. If you encounter one or several of these miscreants, remember the tenets of The Broke Backpacker's good humanning and don't join in. Alternatively, you could kick them in the shins.
Plus, seeing the smiling faces of your studious young learners is definitely rewarding. So is receiving an email that one of your hardest-working students has become a bilingual journalist. The world does have happy endings, and you can make them come true. That's WHY we teach English abroad – degree or no degree.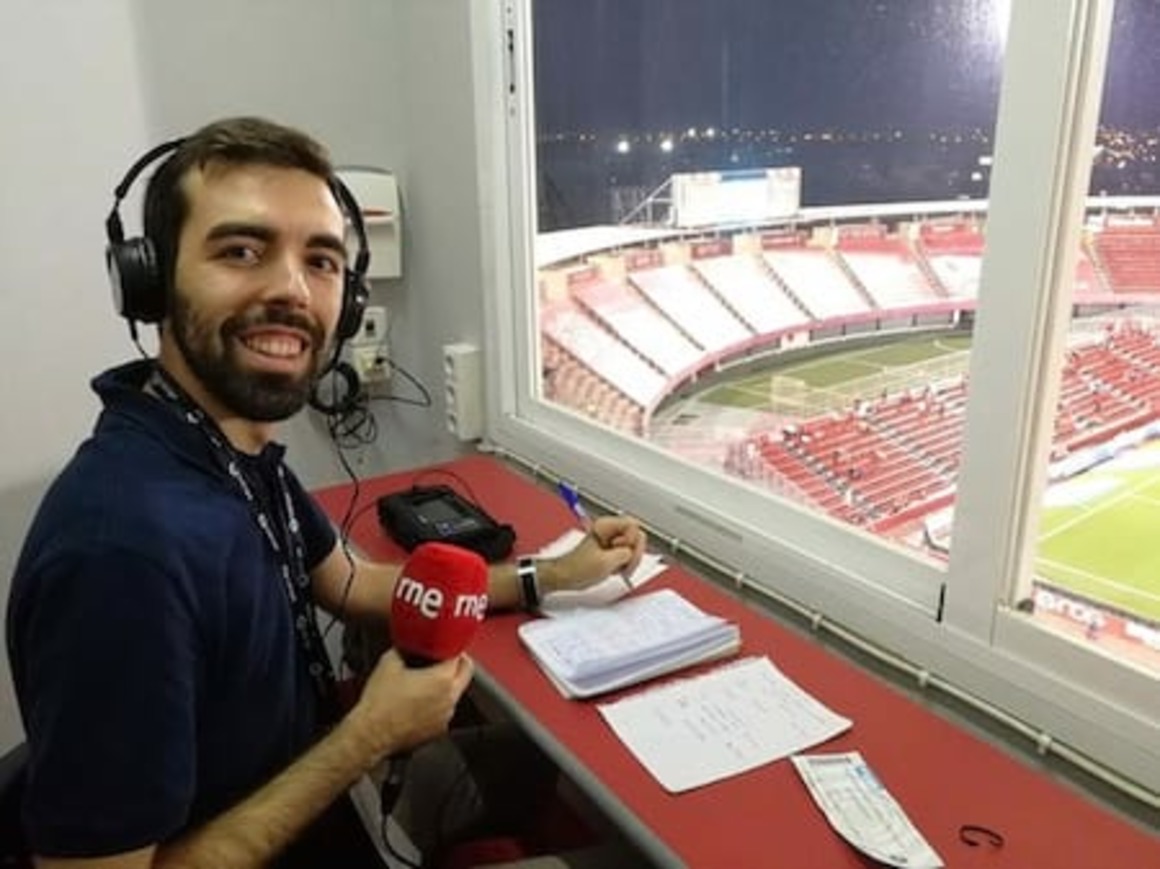 What Gear Do I Need to Teach English?
An overseas English teacher's packing list and a digital nomad's packing list look very similar. There's not a lot you need specifically for the game, HOWEVER, there are a few essentials to make your life wayyy easier.
One thing you'll definitely need is a laptop suitable for travelling – think small and light, ideal for trains and tuk-tuk rides.
As an English Teacher, you'll need a notepad obviously. While you can find these anywhere, I recommend the Nomatic Planner because it's aces in aiding my sieve-brain with its mix of calendars and blank pages for jotting down teaching ideas on the fly.
Oh, and nab yourself a Grayl Geopress Filtered Bottle too! Teachers talk and talking makes your mouth parchy. Then what do you do? You drink some water.
Except you're teaching English in Mexico, and the water is not designed for your delicate Westerner constitution. Suddenly – boom – three days of solitary isolation on the toilet bowl is your new classroom. Tl;dr: buy a filtered water bottle.
Have no fear though – I've summed up my gear recommendations for budding English teachers down below!
You Need a Laptop!
You Need a Laptop!
13-Inch Macbook Pro
Digital nomads LOVE Macs. Some use Windows, but most use Macs, And they use small ones too, because… well… nomad-life.
And Something to Plan Yo' Life!
And Something to Plan Yo' Life!
Nomatic Planner
Goal planners, calendars, brainstorming pages, and a sleek and stylish design mark this badboy. Sure, it's not cheap, but if you're a bonafide type-A, you can't get more premium than this.
Something to Write With…
Something to Write With…
Everyman Pen
And speaking of the best of the best, if you like handwriting your notes old-school, this is the BEST-OF-THE-BEST pen for the job. It's pricey, but it's Will Hatton's – The OG Broke Backpacker's – go-to every time.
Drink Anywhere, Anytime!
Drink Anywhere, Anytime!
Grayl Geopress Filtered Water Bottle
And since you'll be teaching ABROAD and WITHOUT a degree, it's smart to take a filtered water bottle. Giardia's a bitch, plastic we should ditch, and The Broke Backpacker ALWAYS recommends the Grayl to protect your tummy sitch.
Last but not least, a swanky digital nomad backpack is the perfect companion to your daily classes and hold all your goodies. And for that, the Broke Backpacker ALWAYS recommends the Nomatic Backpack.
Is This the Best Backpack EVER???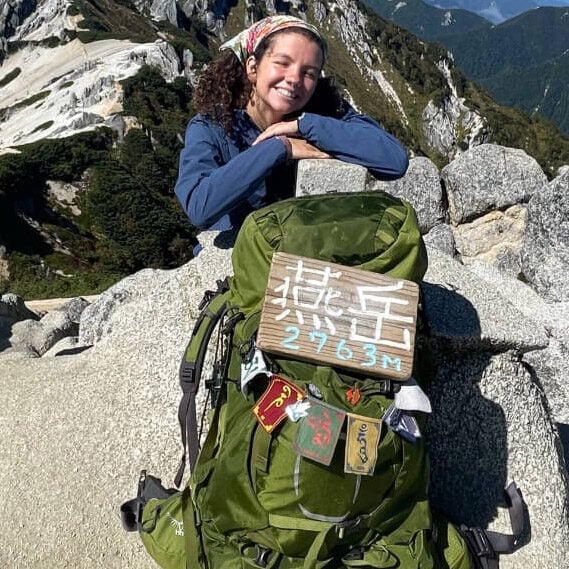 Cover Yo' Asses Before You Break Yo' Glasses
If you do want to bungee jump in Cusco while you're teaching English overseas, keep in mind that the rope may snap. A tuk-tuk might crash, a Giardia might find ya, or even a rogue pigeon may bomb your unsuspecting self. My point is that even intellectual high-brow English teachers get involved in stupid accidents, so consider purchasing travel insurance.
Honestly, for teachers abroad, digital nomads, and just travellers that don't meet the model of 'set an itinerary and stick to it', SafetyWing is easily my top recommendation.
Month to month payments, no lock-in contracts, and no itineraries required: that's the exact kind of insurance digital nomads and long-term traveller types need. Cover yo' pretty little self while you live the DREAM!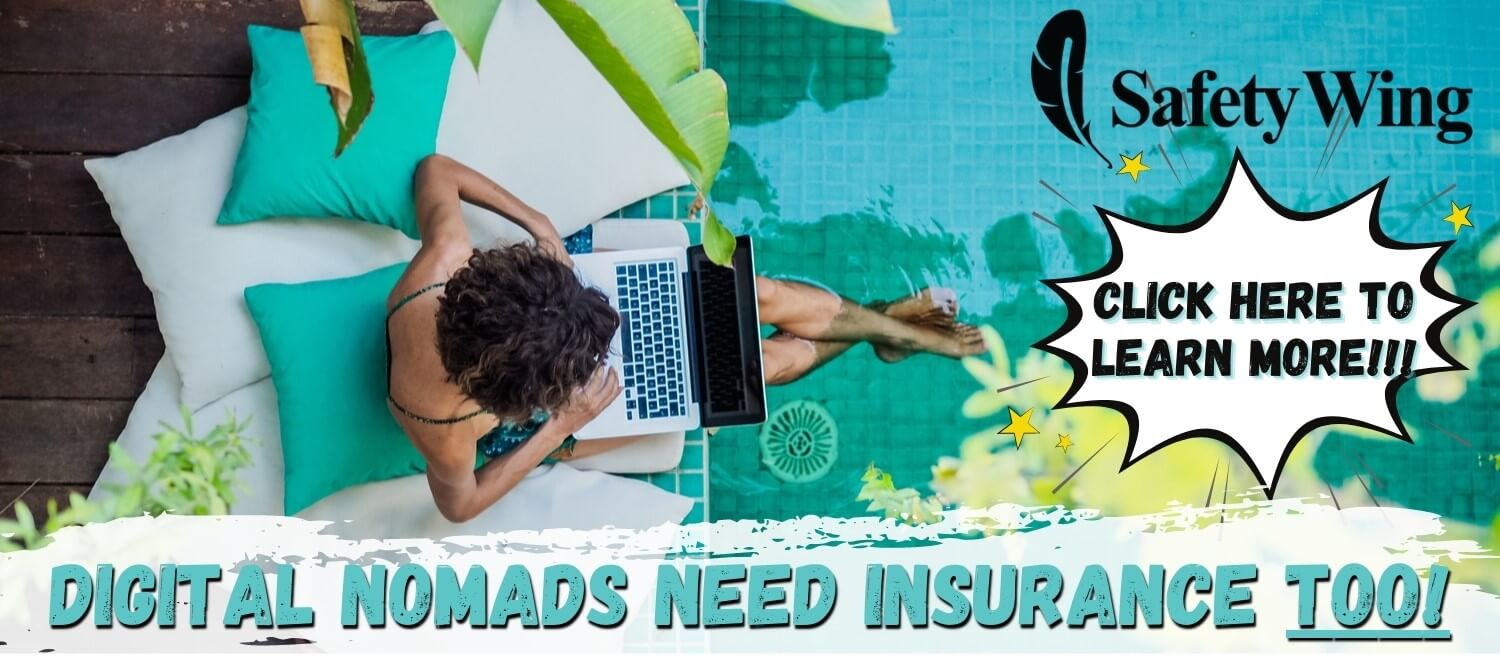 SafetyWing is cheap, easy, and admin-free: just sign up lickety-split so you can get back to work! Click the button below to learn more about SafetyWing's setup or read our insider review for the full tasty scoop.
Degrees Are for Nerds – Go Be Rad!
Do you remember the timeless proverb: maybe she's born with it, maybe it's Maybelline? Well, it wasn't Maybelline, and I wasn't born with it. I studied that shit. So degree or no degree, teaching English overseas without a degree turns you into a nerd anyway.
It was also, as this age-old Aphorism goes, like riding a bike. You'll get the hang of it! You'll be great!
Plus, the odds are that you'll be around others in a similar position to bounce ideas off because they've got adventure balls too. Even the veteran English teachers are often a quirky bunch of swashbucklers ready to give the newbies a helping hand.
So go on, get that MyTEFL Certificate! You've got the basics about how to teach English abroad without a degree now. Lacking a degree can hinder you only if you let it. We know you'll ingeniously fill in your job applications because it's about far more than having a BA; it's about proving you are the right teacher for the job.
I will say it one more time though: DO YOUR RESEARCH! Figure out where you'd like to go (but choose countries you know don't require a degree to teach English abroad), find out the visa requirements, and BOOM – it's job search time.
In fact, if you do these things, you'll shine bright like a diamond! By all means, teach your students the lyrics to Rihanna, but only if it supports a learning objective…
Let us know how it goes – from your epic new balcony with mountain views… or from the beach with a cocktail in hand… you decide, because you (yes, YOU) can teach English abroad without a degree.
---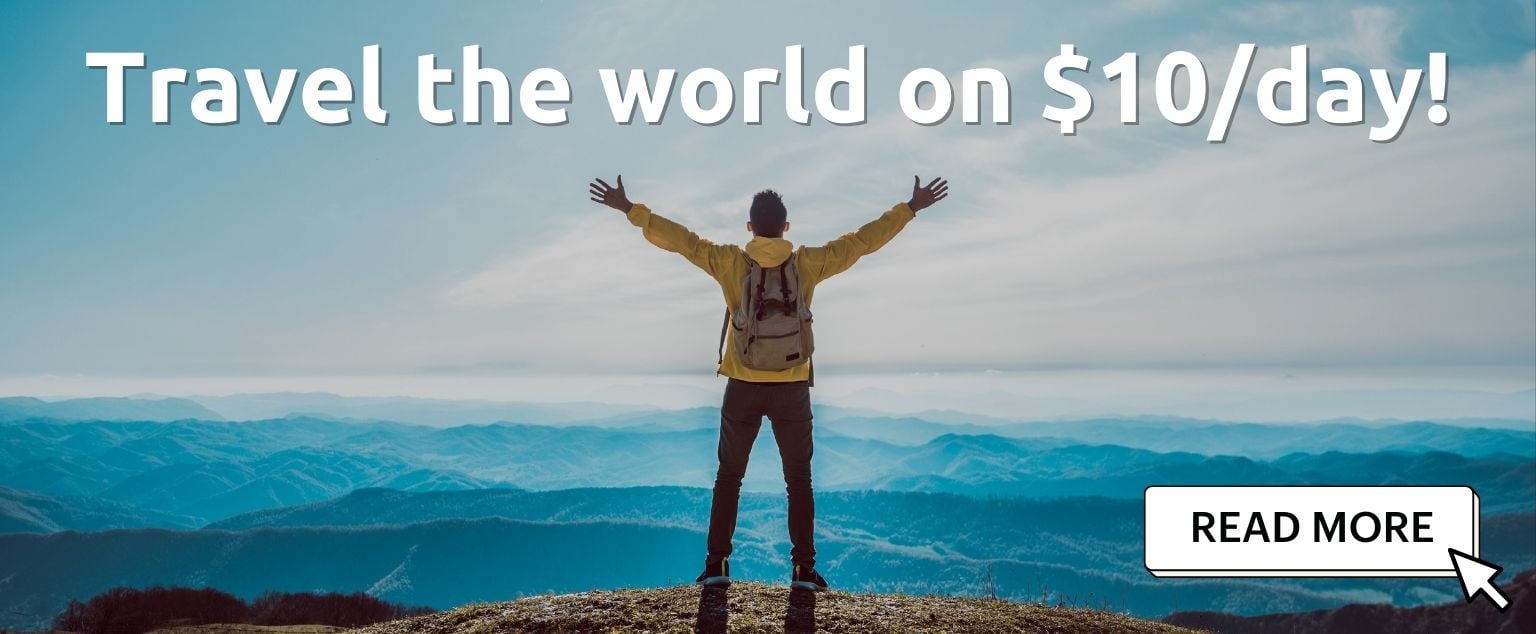 And for transparency's sake, please know that some of the links in our content are affiliate links. That means that if you book your accommodation, buy your gear, or sort your insurance through our link, we earn a small commission (at no extra cost to you). That said, we only link to the gear we trust and never recommend services we don't believe are up to scratch. Again, thank you!