Are you stuck in a rut? Do you have the dreaded itchy feet and you just don't quite know where to go? Has your life sort of just flopped and you're still stuck on the same treadmill that you were 2 dipstick exes, 3 deadend jobs, and a partridge in a pear tree ago?
Then it's time for a little destination inspiration, baby! Cue the dramatic fanfare and streamers! Let me give you a big old hug before we get on to the best destinations this world has to offer!
It's hard to forget the island life and the glimmering beaches. Or the sweet smell of questionable somethings overflowing from garbage cans… Travelling is a flurry of sensory experiences, and us travellers are starving for some hardcore adventures.
Call it nostalgia, but I'm ready to remember that one time I had an unfortunate accident involving loose stool on a bus as it careened down a mountain in Myanmar. I'm ready to plan some new adventures – that hopefully don't involve unfortunate accidents – but instead, involve delicious dumplings and pumping surf.
Now, if you're struggling to understand where to go backpacking next, and how the heck will you start planning for it, I can only tell you that you've landed just on the right spot.
We will boost our serotonin by remembering the best destinations we've been to and get STOKED to unleash ourselves onto some new places very soon. 
And along the way, we may even find that elusive perfect taco…
There is definitely magic involved when you snort a line of something sparkly, throw a dart at the world map, pack your bags, and leave. But I think your destination inspiration is made easier with just a dash of forethought.
You will have a more rewarding travel experience if you know why you want to be travelling.
If you do need to blow off some steam lighting up your neurons with the fun stuff, then pick your travel destination and itinerary accordingly. I'm thinking South America, six weeks.
Do you want some truly off-the-beaten-path adventure? Then put away the sparkly stuff and head into the mountains of Kyrzgstan.
Have you picked up the philosophical phone looking for the perfect taco? Mexico answered with a low and slow trip through its vast and various states. You might find something more profound along the way…
Whatever the case, once you know why you want to hit the road, it's time to get inspired by all the wondrous places this globe has to offer.
It's time to pack your bags and open yourself to that juicy personal growth that only travel can unlock. It's time to embrace the growth at the edge of your comfort zone.
Introducing the best hostel EVER!
Hell yeah, you heard right! There are many great places in Indonesia, but none of them can live up to Tribal Bali.
A unique coworking hostel for those that want to travel the world while working from their laptops. Make use of the massive open-air coworking spaces and sip on delicious coffee. If you need a quick screen break, just take a refreshing dip in the infinity pool or grab a drink at the bar.
Need more work inspiration? Staying at a digital nomad-friendly hostel is a really smart way to get more done whilst still enjoying the social life of travelling… Mingle, share ideas, brainstorm, make connections and find your tribe at Tribal Bali!
Going backpacking and going backpacking in Southeast Asia are almost synonymous. There is a lifetime of adventures to be had in this corner of the globe. It all starts with the first steps off the plane and the sensory overload that follows.
The sweltering humidity.
The batshit crazy traffic.
The eye watering, sweat inducing, DELICIOUS foods.
The ice-cold beers!
The diversity of cultures, landscapes, and experiences all tucked into this corner of the globe make it a top destination for backpackers. It's also cheap! When you want to throw caution to the wind and challenge what you thought life was about, this is the best place to start doing it.
At first, the chaos makes no sense. But somewhere between buying your first motorbike and tripping balls in the jungle-covered mountains, things will start coming together. This is what travel is all about!
Best Country in SEA for Backcountry Hiking – The Phillippines!
Backpacking the Phillippines is going to be amazing, no matter what you do. The food is bloody delightful, the locals are above and beyond friendly, and it is cheap. It has a special combination of party places on a tourist trail and some hidden gems well off the beaten path. Plus, the diving is EPIC!
Luscious greenery layered onto volcanoes jutting out along the Ring of Fire = jungle paradise! Be sure to pack proper hiking gear – you don't realise how easy it is to get a fungal infection on your foot until it's too late. Trust me, I learned the hard way.
If you look at just one photo of the islands here, you're sure to be inspired to come! But this is the dream destination for those looking to go hiking in Southeast Asia.
Best Country in SEA for Blowing Up Your Tastebuds – Vietnam!
The Vietnamese know how to cook something mouthwatering out of thin air. And I will begrudgingly pay the French a compliment – they know how to cook some damn fine food. So, if you can imagine: salivating snacks a la Vietnam with just a hint of French influence. Yes, the food is the best reason to backpack Vietnam!
I remember sitting in a sliver of an alleyway deep within the bowels of the old imperial capital of Hue. I was sweating my sweet tushy off and thought the best way to combat sweat is with sweat, so I proceeded to order the most memorable meal I had in Southeast Asia. Bun Bo Hue.
The Vietnamese delights played a little dance on my tongue. The bitter, spicy, sour – the fire, metal, and water – flooded my sweaty little face with pure pleasure.
There's the classic Banh Mi and there are fetal duck eggs. There's turtle soup and beef in every way you can imagine. For as many different versions of history, for as many different types of landscapes that Vietnam has to offer, for every way I could keep waxing poetic about this glorious nation – there are flavours in this cuisine.
The Country in SEA That WILL Break Your Heart – Myanmar.
Oof. I thought that I was the only one to come to Myanmar and see an unmarked graveyard. Nope, not even close. This country will bring you to your knees.
I also thought I was the only one to shit my pants on a bus ride here as karmic retribution for the way that I handled my reaction to this country. Well, ok, the jury is out on this one. Hit me up if you too publically pooped your pants after behaving like an dickweed while processing the tragedy of Myanmar.
BUT! You absolutely need to add backpacking Myanmar to your list of destinations to come to! For every moment of grief, there are one hundred and one smiles from the friendliest people on Earth. Minglabar! This country is also beautiful, and there are some epic hikes awaiting – especially in the north of the country.
And the food. Oh, man. Cheap and goddamn delicious! Also, the art of slow travel can be perfected here. Take the train between cities and you'll understand the meaning of are we there yet.
You should be inspired to travel to Myanmar. It is an offbeat travel destination that has the best and the worst of the world on display. It is up to you how to process that and grow as a person. You may poop yourself on the bus, but you may also become a better person because of it.
Best Country in SEA To Explore on a Motorbike – Laos!
Laos is a sliver of a landlocked country that features the epic Mekong River, incredible mountains, and a motorbike repair shop on every corner. This makes backpacking Laos the perfect country to explore by bike.
Laos offers both adventure and relative ease for a new motorbiker. There are some easy highways to cruise along that go through super interesting cities. There is French colonial architecture, delicious street eats, and funky backpacker hostels galore.
But there is another side of Laos to explore when you go down a few dirt roads on your motorbike. These are the lands of hill tribes. Up north along the border, there is some tension with China that shouldn't threaten your safety – but will make you think. Always, there is the jungle. The jungle is the heartbeat of this South-East Asian nation.
And remember, all roads lead to the Mekong one way or another!
The Best Country in SEA to Party – Thailand!
Is there anything wrong with snorting the sparkly stuff? Don't ask me! I'm not your moral compass! I'm just telling it how it is. And how it is? Thailand is a good time with or without mind-altering substances.
Pickpocketing monkeys!
Epic temples.
Chilled out jungle lodges.
Full Moon Parties.
Pretty freaking epic!
All I'm saying is when someone says they know someone in Bangkok, and you use your mostly real press pass as an excuse to follow them, you may fall into a fun little rabbit hole. Drugs on the road can teach you as much as hiking and climbing mountain peaks.
Also, if you want to go down the shroom-y path, you'll probably end up in Pai eating a certain kind of pizza with a certain kind of mushroom on it. The mountains will probably start to dance. You may or may not have some realisations.
Be careful of this rabbit hole. You gotta be able to come out of it. The good stuff is only the good stuff when taken in moderation. But hey, I'm not your moral compass! I'm just telling you to look after yourself – and that yes, backpacking Thailand can be a good place to do some funny stuff.
Volunteering While in Southeast Asia (and beyond)
The world needs more good folks looking to give back. If you've got a skill – be it painting, teaching, mending stuff – then there is a volunteer program you can connect with.
Volunteering is a rewarding way to get involved with a community beyond what you would if you simply travelled there as a tourist. It gives you an appreciation of the country you're in – plus, you get some good karma by giving some hard work. There is a lot to be said for slowing down your travels and giving back.
There have been issues in the past with volunteering agencies gobbling up fees and not investing in the community. That's why at The Broke Backpacker, we're a fan of Worldpackers. You can find a worthwhile program and know that your time and effort are directly benefiting a local community! There are honest reviews alongside the volunteer project's details, so you know exactly what you're getting into before you land.
Plus, broke backpacker readers get a juicy discount when they sign up!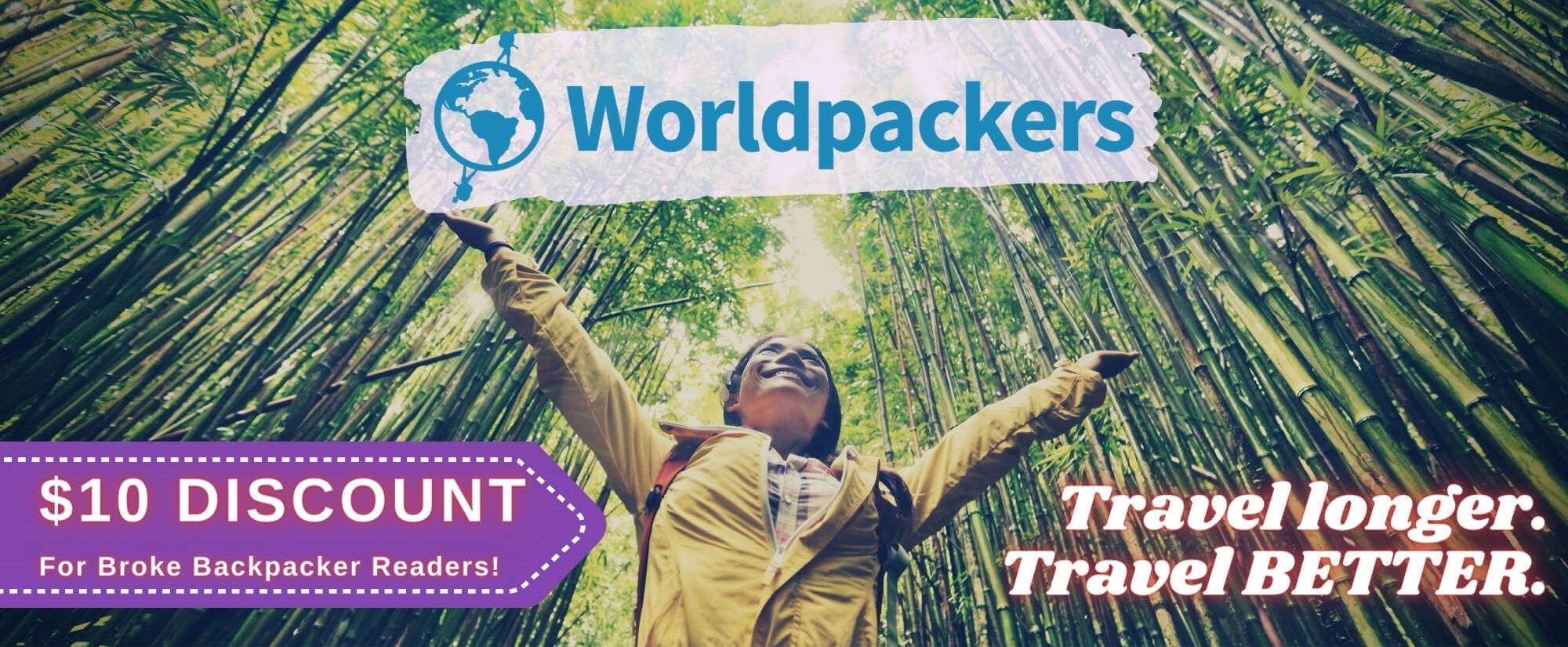 Worldpackers: connecting travellers with meaningful travel experiences.
Let's start this section with a quick tangent. I promise it's quick. And important.
Why is it called 'The Middle East'? The middle of which east?
Well, originally the orientation point was The Great and Murderously Complex British Empire. All the countries to the 'East' were the wilds from which to harvest resources (and new items for the museum). In the Middle of this East are places now known as Israel, Turkey, Egypt, Saudi Arabia, and Iran.
But some of these countries also fall under more modern categories like South Asia (Iran) or Eastern(ish) Europe (Turkey). Well, Turkey could be in the EU proper if the EU wasn't a Christian-only club.
Geographical divisions of continents and cultures can be kind of arbitrary but for the sake of brevity, structure, and pleasing the Google Overlords it's got to be done.
My point of the tangent is to justify the hugely diverse cultures, landscapes, and experiences I've put in this category. Some truly juicy travel experiences lie on this great continent.
These are the places you need to travel to push your limits physically and to bend your ideas of the world. This is the graveyard of old prejudices.
So get a pen and start daydreaming! These South Asian, Middle Eastern, Eastern Asian countries will reveal just how random borders and their reputations can be. And also, how delicious the street food and how damn dreamy the mountains within those borders can be.
This is backpacking Asia at Large. The whole glorious lot of it. You can't help but be inspired to travel off the beaten path here.
Shiva's Holy South Asian Trinity – Sri Lanka, Nepal, India.
This is the doobie rolling, scruffy haired, om chanting hippie's paradise. It also has some of the world's greatest mountains.
Sri Lanka is like South Asia LITE. There's plenty of sick surf, green smoothies, yoga retreats and backpacker infrastructure to keep your first South Asian visit going smoothly. But there's that classic madness amongst it all as well. There are lessons to be had in haggling, in having plenty of people stare at your white skin, in mad dichotomies of beautiful beaches covered in trash.
Nepal steps up the South Asian experience. Kathmandu traffic and telephone poles are a complex, albeit poetic, mess. Diving headfirst into a shared taxi and wondering how it is that thirty-two people fit into a ten-person van is not maybe the most relaxing experience. But the Himilayas and the chai and the chillum balance it all out.
And just when you think you've got the head wobbling, perpetually late bus schedules, street begging response edict, and chai drinking down pat – you go to India.
The gurus and the burning bodies of Varanasi.
The looting of a recently crashed car.
The random acts of kindness from street vendors.
The hashish! 😉
India will test your patience and faith in humanity. But through it all, there's an irresistible charm that will suck you in again and again. South Asia is where backpackers first come to go beyond the hedonistic parties. Seek and ye shall find, young back-padawan.
Shiva's More Wayward and Hardcore Cousin – Pakistan!
Once you have been initiated into the South Asian ways by backpacking Shiva's Holy Trinity, it's time to test yourself. It's a different kettle of fish, fire, mountains, and culture here… it's time for Pakistan!
The people know that their country has been marked with a big fat DO NOT GO sign by the Western media. However, there are so many people in Pakistan who will go above and beyond in welcoming you to their country. It can be hard to buy them a dinner to thank them in return – but try still!
The wilds of the city traffic, the epic architecture, the deliciously greasy naan bread, the glorious chai. Pakistan is a beautiful and underappreciated gem to go backpacking in. But you really need to come here for the mountains.
With five peaks over 8000 metres and over 100 that are greater than 7000 metres, PLUS more glaciers than anywhere else in the world outside the polar regions – this is a mountaineer+s paradise.
Sunsets over snow-capped peaks are made that much better by hashish. By happy coincidence, Pakistan is also home to some of the world's best. Move over Nepal, the mountains and the doobies of Pakistan are calling!
The Country With the Best Hitchhiking in Asia at Large – IRAN!
Iran is not the first destination that comes to mind for a hitchhiking trip. But Iran is not only a primo destination in Asia, it is also a country that is made better by exploring it by thumb and kind strangers.
If you had to pick a country to hitchhike, it would be the country of turning the radio up until the windows shake. It would be the country of sharing food no matter who it's with. It would be a country of unrivalled beauty. Yeah, it would be Iran!
It is another country that does not have a glowing reputation abroad and yet is filled with the friendliest and funniest people you'll ever meet. There are some epic ski slopes close to Tehran, as well as incredible architecture. The food is off the hook AND the Couchsurfing scene alive and well.
All of this is made better by packing a good tent, a permanent marker, and your wits. This is an epic country to go hitchhiking. Putting aside the fear that everyone is out to get you will open up a whole new world of true, badass travelling.
Best Country in Asia at Large for a Tastebud Explosion – Japan!
If you are committed to your foodie passions, then you need to come to Japan. The food of Japan has been parodied, revered, and attempted by many outside of Japan. Sushi has become ubiquitous along almost every coastline in the world – and often finds itself a popular snack far away from the sea too.
But to truly embrace the best food in Asia, you have to come to the source. You have to walk through the famous fish markets. You've got to eat at every Ramen noodle corner store you can physically stomach. You have to earn that sake and roasted green peas by conquering the peak hour train system.
You have to backpack Japan.
A dream trip I've kept in my back pocket for a later post-pandemic world involves finding the perfect miso soup in Japan. I will of course have to compare many miso soups to each other, but also to other iconic and less well-known dishes. How will my elusively Best Miso compare to fugo or shabu shabu or indeed sushi?
Only Japan has the answers I seek.
Country on the Asian Continent Most Likely to Break Your Heart – Israel.
You can go backpacking in Israel and leave wondering what the fuss was all about. You swam in the Red Sea, went clubbing in Tel Aviv, visited a kibbutz. Yeah, it was cool. A great time!
But I think that most people that visit Israel will feel. There is unbridled joy in this country. There is a hazy and mystical force that surrounds holy places. It might be God, it might be the masses that flock to pray to him. It might be the traffic.
And the hummus. Oh baby, the hummus! Divine!
For those that start to listen, for those that start to seek (and even those caught up as a bystander), they will start to feel an ache. This country is complex. It demands a lot of your attention. You must question your own morality in every conversation.
From horrifying origins, this country was forged in the flames of the worst of 20th-century history. And never has history felt more alive than travelling through Palestine. There is nothing to prepare you for the overwhelming feelings that come with backpacking Israel. Which is, of course, all the more reason to go. But you have been warned. Feelings are incoming.
At first, I wanted to call this section Boring Europe, then I wanted to call it Colonial Europe. But both of those seemed a little on the nose and quite unfair, because backpacking in Europe is to explore so much more than the consequences of history.
It can be a bit more expensive than other parts of the world – but there's nothing like a high cost of living to unleash your inner dumpster diving, hitchhiking, free camping feral!
So I fell back on the arbitrary geographical division technique and called this Europe. Maybe other people would call it North-Western Europe, but I can have a long and passionately fruitless debate with them later.
For now, I can simply show off its best and brightest. These are well-known destinations, but that doesn't mean they won't blow your mind. There's reading about the Eiffel Tower and seeing the Eiffel Tower. Two very different things, amigos!
Plus, this part of the world is full of some world-class hiking destinations and a surprisingly tender history. My dear ferals, don't disregard backpacking Europe. I promise it has a lot to teach you. And the rest of you dreaming, scheming backpackers, these destinations should be added to your inspiration lists – now!
The Best Country for Backcountry Hiking in Europe – Norway!
You simply cannot pass up the picturesque fjords, the seaside villages, the epic and winding hikes at every turn. Norway leaves an icy cold kiss on every traveller's heart who makes it here. Norway is simply THE place to come if you need to escape to the backcountry for a while.
Now, 400 million years ago Norway was in the tropics. This left an abundance of organic materials that are now mined as hydrocarbons (oil and gas) offshore. As you're hitting the backcountry of beautiful Norway, you get to have a nice conversation with the land that has seen the world. It has walked a path from the equator to the arctic. You don't have to be a hippie to be impressed by that.
Or you may want to unwind after some epic hiking. In that case, you may find yourself enjoying the cafe and bar scene of Oslo! Never a dull moment for the hiker in Norway. And when you're done living it up in Norway, why not explore the rest of Scandanavia?
The Best Country in Europe to Dabble in Drogen – Germany and Amsterdam!
From the countries that brought you the Dutch East India Company (the first predatory capitalists) and the Nazis, you now have two epic places to snort the sparkly stuff.
Ok, I let my cynic run a little free there. But backpacking in Germany and the Netherlands provide some fun opportunities to try some fun substances. The relatively liberal attitudes toward drugs runs in contrast with previous epochs in these countries' histories.
Alright, disclaimer aside. Let's talk Amsterdam! 😉 Probably the most famous city in Europe for dabbling in the finest varieties of cannabis in all its glorious forms. Backpacking Europe is really not complete without stumbling through the canals (and, dayuuum, those are impressive canals, I should really be appreciating these more) trying to work out why the stars seem extra close to Earth tonight.
And Berlin. Well, they basically invented the hedonistic playbook. Party drug A in the bathroom of a club just before closing time followed by a warm hug of party drug B at the house party later? Only in Berlin.
There is so much more to explore in both these cities – and both these countries – but if you need to blow off some steam you can't go past Germany or The Netherlands.
The Best Beaches in Europe – Portugal and Spain!
My biggest gripe with Europe? It's too damn cold, and there are no damn beaches! Except, as usual, I need to eat a little humble pie. Of course, there are beaches! And no, it might not get warm enough for this crocodile-loving Australian, but the sun does shine in Europe.
In my imagination, Spain and Portugal are two wine-loving aunties. They are sophisticated, unmarried art lovers. They show up at family get-togethers with their hot takes on Picasso and their love of tapas. They look down their nose at the cold, European brethren – and you DON'T take siestas?
The coastlines of both these great nations are full of stunning beaches – and olives, and wine. Name a better combo for a holiday destination? Or indeed a grown-up gap year?
From cobblestones to fresh fish and delectable wine; from all-night parties to lazy beach days – Spain and Portugal are your next stop for a holiday that includes the best of everything.
The Country in Europe That May Surprise You With FEELINGS (and Guiness) – Ireland.
European history is experiencing a period of unprecedented peace. For the most part, it has been one long Game of Thrones style series of war and sex. The current peaceful climate can make us forget this long and brutal past.
Ah, but Ireland. Backpacking Ireland will have you recalling that all has not been rosy on this continent.
It is a country of extreme beauty.
The windswept coastlines.
The peats, the rolling hills.
The castles!
It's straight out of a novel. The Irish are famously funny – and a thriving comedy scene here is a testament to that! Plus, the pubs. You can't come to Ireland without a good old Irish pub session.
You have to wonder what made everyone here absolutely hilarious with a (sometimes deserving) reputation for alcoholism. Mmm.
It was only last century that a terrorist was more likely to be Irish than Islamic. Having a Catholic president of the United States was a very big deal. The tragedy of a disappearing language, of an invading English Crown, of dispossessed people. Ireland may yet break your heart.
Come for the Guinness, stay for the stories. Ireland is a beautiful country that will grab you by the scruff of the neck and make you pay attention.
Part of me wanted to call this section Fun Europe; part of me wanted to call it the mostly ex-communist Europe. Again, it just didn't quite hit the mark. So I played it safe (sigh), geography won.
Welcome to backpacking Eastern Europe.
These are the destinations that tickle the fancies of the ferals, the backcountry hikers, and the vodka lovers alike. Sometimes backpacking here will feel smooth as butter, easy peasy lemon squeezy.
At other times, the history here will have you on your knees praying with strangers to a God no one quite sure exists anymore. What stands today is a jaw-dropping and beautiful collection of countries that make you want to hike to their peaks, and take in their seriously stunning sunsets.
Pack your hiking boots and get out your planning pants. It's time to get inspired to hike, drink, and reflect in Eastern Europe.
The Best Country in Eastern Europe For Your First Visit – Turkey
If only the Ottomans had used Orthodox Christianity instead of Islam as their state religion, then Turkey might have been in the European Union and the other European section.
Ok, I'm done being snarky, I promise. Now, the good stuff. Backpacking Turkey is sure to be a highlight of travelling Eastern Europe. The stunning architecture is a testament to the cultural and religious diversity that has managed to co-exist (relatively) peacefully for hundreds of years. Istanbul is one of the most picturesque cities in the world!
Also, there are some truly stunning outdoor adventures to be had here. And I'd be remiss to not mention the mouth-watering delights of the foodie scene here. You can also enjoy a cheeky beer (or twenty) as Turkey is a secular state quite tolerant of exceptions to their Islamic culture.
Plus, it's an epic country to road trip across!
As I hinted before, there are a lot of complexities here and the powers that be in Turkey can be as asshole-ish as the next. But the history is less in your face here, you have to seek it out to be affected by it. And, you shouldn't let a couple of dumb dumbs in suits who run the country stop you from travelling there.
Best Destination in Eastern Europe to Party Hard (and maybe have your heart broken) – THE BALKANS.
Backpacking Croatia carries with it the idea that hedonism will be indulged in. And the rave scene in Serbia is criminally underrated! You can expect a trip to the Balkans to involve a fair amount of time getting toasted.
Of course, there will be beauty. Yes, in the fairytale-looking buildings and made-up sounding names (Ljubljana comes to mind), but also in the people. The Balkan locals are not known for being especially smiley, but they are known for being damn gorgeous. (Is it just me or is the no smiling thing also what makes them MORE attractive?)
Anyway. Beauty and parties aside, backpacking the Balkans carries with it a haunting history. The term 'ethnic cleansing' was coined during the war that followed the break up of Yugoslavia. So in between sampling the delicacies on offer here, there's going to be difficult moments of reflection.
Two good reasons to go travelling: try new things and learn something about the world. Well, you're guaranteed to do both in the Balkans. And if it's not the history that breaks your heart, then it'll be the smouldering locals.
The Best Country in Eastern Europe to Drink – Georgia!
It's not that everyone in Georgia is drunk all the time. It's just that a toast is in order when guests are around, or when something is being celebrated. If you travel through the country, you will often be a guest and/or being celebrated. So expect to drink! 😉
Luckily, Georgian wine is famed for being dangerously tasty, and there are a lot of local spirits on offer too. You could spend a good couple of weeks drinking your way through a very beautiful country.
The best cure for a hangover is hair of the dog + fresh air. So when the grappa is haunting you the next morning, you can hit the trails of Georgia. And oh man, this is some seriously amazing hiking!
Watch out you digital nomads with a penchant for vodka (isn't that all of us?). The cost of living in Georgia is very attractive and it's tempting to pick up sticks and make it your base for a while!
Ah, the Americas. An epic swipe of continental paintbrush that extends from the Arctic to the Antarctic. These destinations perhaps need no inspiration drive. They are goddamn dreamy enough!
But, they remain some of my favourite regions on the planet. So, armed with my arbitrary geographical cutting knife, I sliced them into Northern America and South America.
The upper half of the Americas here is everything above the Darrien Gap. The sexy lands south of the Darrien Gap will be covered in the South America section.
The lovers of good food are blessed here. Backpacking Central America is full of some fantastic culinary delights. And it's cheap enough to allow you to truly indulge! Hiking and a damn fine fiesta come to mind when I think about. the Americas. Luckily a good quality of both are on offer here.
Everything in moderation – including moderation.
It is time to blow up your senses.
Reconfigure your worldview.
Learn Spanish and,
Find the elusive best taco.
It's time to get inspired by the Northern Americas!
Best Destination in the Northern Americas to Find the Best Taco – MEXICO!
You knew this was coming! 😉 Such a simple request I had. Such a wild adventure ensued.
My quest for the perfect taco took me deep into parts of Mexico I wouldn't have considered travelling to otherwise. It was more than being an indulgent foodie. It was a philosophical reckoning!
Ok, bit dramatic there Indi, but hey. The thing about the perfect taco is that it will push you into the epic countryside of Mexico. It will lead you through the winding alleys of the bustling and beautiful Mexico City. It will have you hitchhiking with your pet chicken (I was going through something, don't ask) to the next taqueria.
You will quickly learn Spanish in order to communicate your quest. It will have you engaging with the nuances in different state cultures. It will have you reckoning with the consequences of the War on Drugs. I made some incredible friends and had some perspective-altering conversations all because of my simple quest.
Travelling is about going beyond your comfort zone in search of a life different from your own. It's about seeking out the spontaneous and unexpected. I can assure you, the pursuit of the perfect taco helped me do exactly this!
Backpacking Mexico is about so much more than cocaine and Cancun. It is about a thriving and diverse country full of the best damn food on this side of the equator!
Come for the tacos, stay for the people. Viva la Mexico!
The Best Destination in the Northern Americas for The Great Outdoors and The Great Oddballs – USA
USA, USA, USA!
I don't think there is a better known and yet less understood country on this planet. The big, bold, and beautiful US of A.
A man riding a jetski in nothing but his speedos emblazoned with the word FREEDOM while the national anthem plays in the background? Just another morning in Florida.
Anything goes in this great nation. The best and worst of humanity are on full display. But outside of the extremely kooky characters you are likely to meet, are some of the world's greatest national parks.
The outdoor adventure scene is phenomenal in the USA. You can climb, kayak, sail, paraglide, run to the woods and never return. Backpacking the USA will have you ticking off every kind of terrain and outdoor activity.
It's another country made for road tripping. Chuck in a hunting or fishing trip, a mountain summit, and a bonfire and call yourself a Yankee. Yee-ha! There is a lot on offer here.
There is also a strange and kafkaesque vibe to so much of the country. You do not need to trip to have a trip here.
God Bless the United damn States of 'Murica.
Best in the Northern Americas to Blaze It – Canada!
O Canada, you delightful (and occasionally overshadowed) country of adventure.
O Canada, O Canada how I love your legal weed and snowfields. Honestly though, backpacking Canada is a no brainer. There are epic spreads of glorious mountains and wilderness to retreat to. There are well-connected cities with thriving nightlife scenes. And there's legal weeeeeeeeeed!
I think the Americas were made for road tripping and Canada is no different. You can drive from the Arctic to Montreal. You can ski, climb, drink in local pubs – and roll a fat doobie for the way!
It's also one of the safest countries to go travelling in. So for your first foray into the world of backpacking, Canada can be a superb option. You've got your epic hiking, your road-tripping, your hostel culture, and that feeling of safety.
Plus, it is relatively easy for a host of passports to get a working holiday visa here. I mean, fuck yeah Canada!
The Best Destination in Northern America to Get Off the beaten Path – HONDURAS!
Honduras has a very special place in my heart. It is definitely not a destination that a lot of backpackers go to. Even the backpackers that do come here really only swing by Utila.
I'm all for a hedonistic splurge! And Utila is a special kind of sticky spot that sucks backpackers in to stay for indefinite periods. But travelling to Honduras goes well beyond Utila.
For a backpacker, it is relatively safe to travel. But you need to keep your wits about you. Knowing some Spanish really helps here! The pirates, the drug runners, the crazy traffic aside, Honduras is full of cool adventures.
You can surf some of the most unspoiled surf breaks in the world.
There are Mayan ruins in the jungle.
Markets are BURSTING with colour.
There are some damn fine tacos here too!
The locals are super curious about you, and so if you do speak a little Spanish, you can end up with some cherished friends for life. (Miss you Hector!)
Te amo Honduras – I miss you and your coffee dearly.
And now, we shall go below the waist of the American continents. We shall head south into some seriously sexy jungles. To the peaks of tantalising mountains. To the depths of drug tourism. We shall walk between the tourist trail, and the path less travelled. Both have their merits, you see.
Welcome, dear compadre, to backpacking South America.
These destinations have long inspired the intrepid backpacker. There is a well-defined path for those who are new to the travel world. There are comforts of the Northern Americas scattered throughout the continent. But! For those that are ready, this continent is here to push you.
The consequences of globalism, corruption, tourism and all those other difficult -isms are on display here. Never will you be more inspired to be a responsible traveller when you see a bodega in the remote Andes selling coca-cola while its garbage can overflows.
South America is a land of contrasts. It will stick with you as one hell of a trip. As if you need more inspiration to go – let's dive into some of the best destinations to travel to in South America!
The Best Mountains in South America – Argentina!
South America is full of big personalities and competitiveness about everything. So maybe don't tell the rest of the countries that I said Argentina's got the best mountains.
But, hiking in Patagonia is on almost every outdoor enthusiast's bucket list. Argentina provides a supreme jumping-off point to explore this region at the bottom of the world. Patagonia the outdoor brand was named after the region in Argentina. It really is unlike anywhere else in the world! You feel like you've made it to the bottom of the world once you've climbed the Perito Moreno Glacier.
Plus, when you've worn out your hiking boots, there's salsa and all-night parties to contend with.
To fuel the all-night extravaganzas and the hiking, pack your appetite for beef. The best steaks in the world (according to the Argentinians anyway) are on offer here!
The Best Dancing (and drogas) in South America – Colombia!
As I said, the best of lists will ruffle feathers amongst competitive Latinos but I've got to make a call. The best place to go dancing – under the influence or otherwise – is a hotly contested title. I'm saying Colombia purely because a very attractive Colombian girl taught me to dance salsa once. This one is for you, Gabriela.
The cities of Colombia are famous for their all-night parties. Prepare to go a little deaf and wonder if you were born with two left feet. How does everyone know how to dance so damn sexy here? But the jungles and the beaches of Colombia balance these wild nights with a peaceful, otherworldly vibe.
You can kick back in the sun or stretch your hiking legs if the dancing doesn't do you in. And I might be dancing around the elephant in the room here, but the drugs live up to the legend (not that I would know anything about that 😉 ).
As much as I would love to leave you with that tantalising image, I'm gonna drop the 'it's a complex country' spiel on you again. Because it is. The narcos did a good job of carving this country up in the past, and that lingers. So sure, do your drugs but remember that nothing comes free of a karmic price tag.
The Best Destination in South America to Flirt With The Tourist Trail – PERU!
Oh Peru, you beauty. Peru is one of the most iconic South American destinations in large part thanks to Machu Pichu! But there is so much more to Peru. It is one of the greatest backpacking destinations that allow you to dip in and out of the tourist trail.
Sure, you can hang out in hip hostels in Cusco and walk the Inca trail with a few new hostel friends. In itself, there is nothing wrong with that! Peru also has some incredible and untouched beaches, a beautiful chunk of the Andes, and even desert and jungle in between!
There are offbeat travel adventures to be had well off the beaten path. Peru has something for everyone, from world-class hikes to life-changing ayahuasca retreats. You can strap on your exploring shoes and go deep into the wild – and you can come back to an ice-cold beer and funky hostel!
I come from the Land Down Under. No, that's not just a quote from one of the greatest songs of all time. That is a fact about me, Indigo, the author. Although I should say, I come from one of the Lands Down Under.
Below the equator, a funny sort of line is drawn around a group of island nations. Let's call this area Oceania. It's fitting, as most of this area is the ocean. But amongst this ocean are some of the most iconic backpacking destinations – and some of the least heard of.
It is often thought of as an easy place to travel, and an easy place to work if you can get a visa. Yeah, nah let's go to Australia and farken work on a farm and drink our way down the East Coast. Sounds bloody great, mate. It's every backpacker's dream! And then there's New Zealand with all its hobbit-y, otherworldly beauty.
But there is a lot more than meets the eye in these beautiful destinations. Yes, there are some sick-ass parties held in the Aussie bush. A doof, if you will. Because the music goes doof-doof. Yeah, I know, Australians are well-known for their ingenious take on the English language.
But there's also a heavy history across Oceania that will humble you. There are expensive drugs, and well-paying work opportunities too. So in just a handful of countries, a lifetime of experiences await you.
And for those looking to break free of the well-travelled path – all you have to do is sail a little way into the Pacific. A challenge of other, epic proportions awaits you. Along with the challenge, though, comes some great rewards. Paradise on Earth exists – it's a remote atoll in the Cook Islands.
Once again, as if you need more inspiration to get out here and get backpacking! Here are the best destinations to travel to in Oceania.
The Best Country in Oceania to Hitchhike (and survive the apocalypse) – New Zealand!
Aotearoa, New Zealand. If there is a country that I'm willing to bet will come out of the apocalypse just fine, it's New Zealand.
Backpacking New Zealand is up there with the best experiences in the world. You've got some classy mountains, some choice diving, and some friendly locals. The country is quite small and compact, so you end up knowing half the population and their dog by the time you leave the country!
If you stick out your thumb while seeking the great and tasty mountains, you're in for a good time. Kiwis are open to hitchhiking and a good conversation with a funny-looking stranger. You never know when someone will invite you for a hunting trip, or a bush doof! And when you do arrive in the mountains – you may weep (in a very manly way). They're bloody beautiful.
For many passports, New Zealand also provides some good work opportunities. Nothing gains a Kiwi's respect more than an honest worker putting in a hard day's work!
Top Destination in Oceania for ALL ROUND Best Experience – AUSTRALIA!
Look mate, I'm going to be honest with you. The locals can be crippingly sarcastic. The government is mostly satirical at this point. There's a long way to go between nowhere and nowhere. And she's stinking hot.
Oh Australia, I adore you so much! Yeah, I've got a special spot in my heart for the motherland. But backpackers know it and love it as one of the greatest nations on Earth (suck it, USA). You can find good-paying work here, the best beaches in the world, and a slow pace of life.
Surfing, hiking, sailing. Climbing, riding, rafting. You want the outdoors? Oh, Australia will give you the outdoors, mate! You want an epic road trip that fundamentally changes you as a person? Buckle up mate, we've got that too!
Australia is a stunning country, and amongst the spiders and the emus, there are some very shiny, hip cities too! Melbourne is pretty famous for taking its lattes pretty seriously. Also, you are never far from someone to go to the pub with, and the sun is (mostly) always shining.
But deep within this pearler of a country, is some tragic history. There is a lot of complexity and injustice that is swept under the red dirt here but should you start to search, Australia might yet break your heart.
You don't leave the Land Down Under the same person that you arrived as. And that's probably for the best! 😉
Best Destination in Oceania for Off the Beaten Path Travel – The Cook Islands
There is plenty in Australia and New Zealand that will take the backpacker well off the beaten path. But should the 'crowds' or either country feel too much, it's time to sail away… 😉
Somewhere close to the equator, are a handful of islands scattered over thousands of kilometres of ocean. The Cook Islands are about as far away from the rest of the world as you can get. They are dreamy. Postcard-perfect. They might be just what the backpacker needs to avoid travel burnout.
The diving is unreal. The surfing is freaking sick. The food is good. The people are friendly. These islands are often visited while sailing across the Pacific while living as a boat bum, but I think they deserve to be up there as a bloody good backpacking destination too. AND! They aren't as expensive as you might think.
Standing at almost three times the size of Europe is a continent that backpackers tend to only nibble at the edges of. It's too dangerous, too hard, too big, too much. Whatever the reason and however much validity it may have, there is a whole continent of overlooked and off the beaten path travel to take in.
Yes, I'm giving you MAJOR INSPIRATION to go backpacking in Africa!
From Serengeti exploration, to lazy beach days, to food so good you may cry – there's some seriously good stuff in Africa. There is also the madness of traffic that will put Southeast Asia to shame!
Then, of course, there are the consequences of Colonial Europe. There is some soul-wrenching history you need to look squarely in the eye if you want to say you've truly seen Africa. Backpacking these destinations will be unlike anything else you do while travelling. This is where you come to push your limits.
I think some of these destinations will also surprise you, because Africa is vast and extremely diverse. Some places will be far and away easier to travel to than you expected. Some will be safer than you anticipated an "African" country to be. It's time to get inspired to do some true exploring.
Best Destination in Africa for Mouth-Watering Delights – Morocco
Backpacking this North African country can feel like a world away from Europe – despite being only a cheap flight away.
Where the desert meets the sea and where the call to prayer is heard even over the sound of traffic – This is Morocco!
Backpacking Morocco can be a good foray into travelling Africa. While it's a challenging step up from travelling Western Europe, it doesn't have the same logistical challenges of visiting other African countries. It's also relatively safe.
You can ride camels through the Sahara one week, and hit up some beautiful surf the next. Colourful sarongs and leather bags can be bought on every corner. It's a loud and glorious place!
When it all gets a bit much, it's time to retreat for some mint tea. The food here will have you recreating blood-red sauces and eggplant tangines for years to come.
Saffron
Olives
The smell of freshly fried fish
TANGINE!
Couscous!
Oh man, you just can't get better. And it doesn't hurt that it's cheap!
The Best First-Time Destination in Africa – South Africa
South Africa is another backpacking destination in Africa that is seen as more accessible than the rest of the continent.
It's full of outdoor adventures – and it is cheap! You can learn to surf here for just $6 a lesson! There is a Mediterranean climate along the long and dramatic coastline that will have you swimming, cliff climbing, and generally in awe.
It is fairly easy to rent a car, and there is enough tourist infrastructure here to have backpackers feeling comfortable.
But for those ready to push themselves a bit, South Africa has a lot to offer. There are huge variations in the states. You can go from the built-up Cape Town all the way out to the quiet desert of the North Cape. There are eleven official languages and dozens more of significance.
This reflects the hugely diverse population of South Africa. There are more than just white folks with a reputation for racism out here. Infamously, South Africa has had its share of tension but as a foreigner, this shouldn't pose a threat to you. This doesn't mean you won't be made to feel uncomfortable though.
Even though this is a more accessible country than others in Africa, it still demands a lot from you as a traveller. You should be ready to go with an open mind – and a thirst for adventure.
The Best Off the Beaten Path Destination in Africa – Tanzania!
Dude, Tanzania is where it starts to feel like ah, so this is Africa. Dar es Salaam is equal parts unbridled growth and utter chaos. It's that glorious feeling of how is this working? The markets are bursting at the seams with cheap, delicious, colourful food, and music. Always music!
The trekking of Kilimanjaro and the epic savannah and Serengeti tours in Tanzania's National Parks all begin in Arusha. The markets are what really bring Arusha to life. There is that quintessential chaos meets charm that will have you falling head over heels with the town and Mount Meru.
And when you find yourself nose to nose with an elephant? You'd be crazy not to feel awestruck. It goes without saying, be sure to check your tour company. You don't want to go into the murky waters of unethical animal tourism.
Like any country, it pays to have your wits about you in Tanzania, but you are not in immediate danger as a backpacker. When the madness of the cities and the wilderness of the savannahs starts to take its toll, you can always head to Zanzibar.
The blue waters of the Pacific Isles have a strong contender for Most Beautiful in the World. Zanzibar is untouched bliss – with a little of Tanzania's classic chaotic charm.
The Australia of Africa – Mauritius
Sarcastic, casual, blunt, and unquestionably hospitable (while equally taking the piss out of you) – yup, that fits! And that's Mauritius.
Both the most harmonious and most economically stable country in Africa, Mauritius takes Island Time and Indian Time and filters them down to its own special concoction of complete disregard of never ever giving a shit. And the result?
A tiny and remote island of barely more than a million people, Mauritius is blessed by azure-blue waters, distinct isolated peaks, and a style of cuisine that mish-mashes Indian, French, Chinese, and East African into one perfectly blended artery-clogging wonder of saturated fats.
There are a lot of epic reasons to go backpacking in Mauritius. And number one on that list is the people! Sure, weed might be insanely illegal and expensive, but that won't stop a local stoner shoving a fat doobie into your hands all the same (probably with a shot of epic rum to compliment).
There's hardly a backpacking scene in Mauritius – there isn't even a word for it. They just call our kind the touriste mizer: poor tourist. But you know what? That's just perfect.
Go to Mauritius, learn a few words in the local Creole, and take the piss out of the French and British (their historical benevolent overlords). You'll make some friends for life in no time. And who knows? You might just opt to stay a while.
After all… it's a tax haven.
Not that it's about being the best, and yes ultimately this is a subjective list, but here's the top five places you NEED to put on your bucket list!
There are two types of travellers: those that overpack and those that under pack. You want to aim to be that happy medium and remember the essentials while remaining minimalist. This list should get you off to a good start!
Along with the usual safety on the road tips, I want to add a couple of words of caution. When you're hyped up on inspiration and can't wait to go GUNG HO on the world, you can forget to slow down and get your ducks in a row. There is merit in being a little prepared for the worst. I like to think I'm immortal. And that even if I'm not, I will have been such a FORCE on the world, then at least my SPIRIT is immortal.
Maybe it's getting older, maybe it's having a few too many close calls, but I've come around to playing it a bit safe these days. I haven't tempered by wild side entirely, just insured its impulsive butt. The last thing I want my mum thinking she has to do is foot the medical bill for something dumb-dumb (me) did.
Sex, Drugs, and Rock 'n' Roll
A fair few of these destinations mentioned their suitability to a bitta drug taking. Let's not pretend that you won't find drugs, be offered drugs, or try drugs while backpacking. There is certainly a safer way to take drugs – but ultimately, they're a wild card.
Right back in the beginning of this article, I said to know why you're travelling. Because there is a time and a place for a bit of a blowout – that's why I suggested some of the destinations I did. But if you are unclear in your purpose, drugs can get messy (or messier anyway). Even the daily doobie can lead you into a backpacker trap.
Also, every single story I know of someone getting into serious trouble on the road began with seeking or using the sparkly stuff. The economies around some drugs – like cocaine – are full of less than ethical supply chains. We could argue about whether this is more the result of the War on Drugs policy, rather than the actual drug itself, but ultimately there's suffering associated with your blow.
Anyway, enough moralising! Do your drugs, drink your water, and take care of your homies!
The same goes for sexy times. Backpacking affords some rather wonderous opportunities for some very good sex. It also can be the cause of some woes. Whether you are in woe, or you behave like a dickmucher and cause woe, sex on the road is kindling for a good story.
Smush some cuties, or wait til marriage for your smushing, through it all just aim to be a good wee human.
Cover Your Ass With Insurance!
Before you go gallivanting off into the sunset, it's worth having a think about what happens if the worst happens…
ALWAYS sort out your backpacker insurance before your trip. There's plenty to choose from in that department, but a good place to start is Safety Wing.
They offer month-to-month payments, no lock-in contracts, and require absolutely no itineraries: that's the exact kind of insurance long-term travellers and digital nomads need.
SafetyWing is cheap, easy, and admin-free: just sign up lickety-split so you can get back to it!
Click the button below to learn more about SafetyWing's setup or read our insider review for the full tasty scoop.
Goddamn, that was a whirlwind. There's a big, wide world out there just waiting to be explored. Sometimes we just need to take it back to the itty bitty good stuff – there are plenty of inspiring places to go in this world!
It all starts with WHY you are hitting the road and WHEN you want to be home. Some destinations are meant to be relaxed in, or honeymooned in, or partied up in! And some places require patience, learning, and a big wide-open heart.
The best destinations in the world (in this humble dirtbag's opinion) are a delicious combo snack of all that good stuff. You start with a deceptively simple quest. Find that perfect taco. And before you know it, you are careening down the Mexican highway – chicken in tow – coming down after too much mezcal. There are tacos on the beach, in the back alleys of shady cities, in the homes of new friends.
The world is full of stories – and destinations – that are jam-packed with wilderness and exploration. Travelling to them is sure to shake your creative rut and answer some burning questions you have about yourself. Now that you are armed with some destination inspiration, it's time to surrender to the road and her lessons.
Go on, get to travelling!
---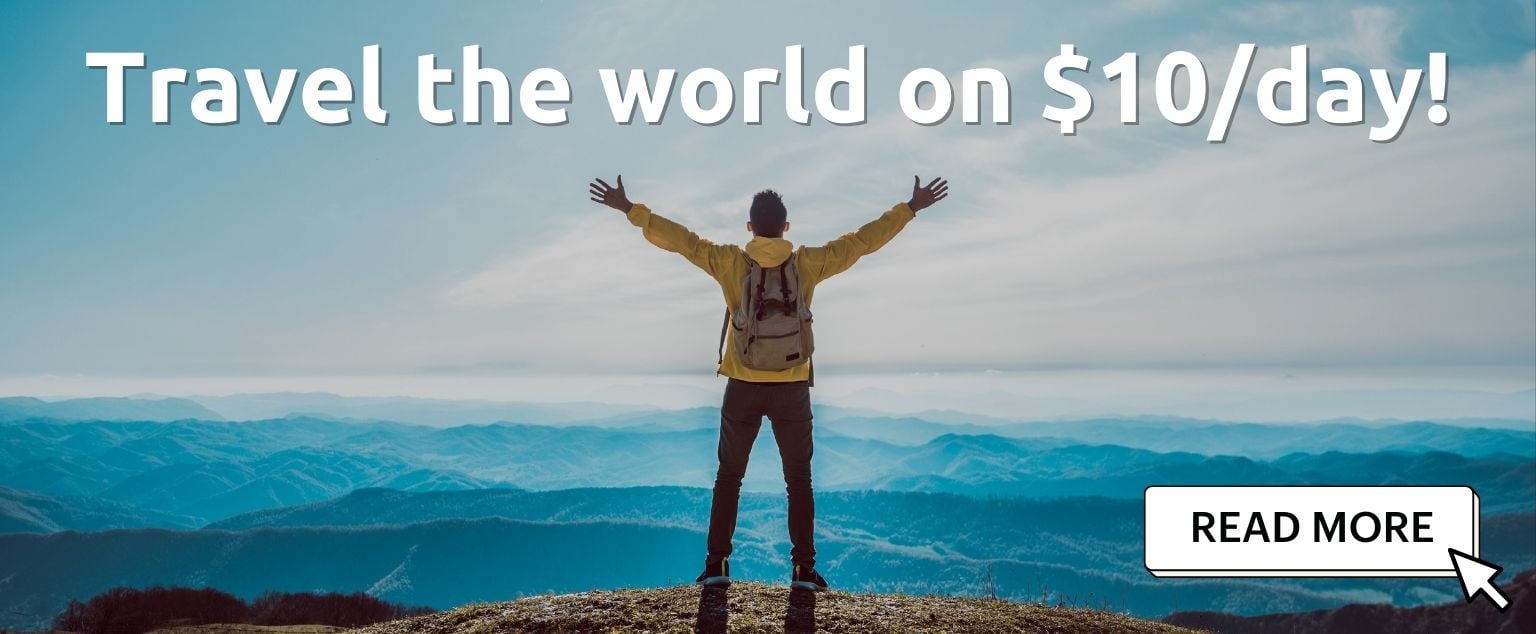 And for transparency's sake, please know that some of the links in our content are affiliate links. That means that if you book your accommodation, buy your gear, or sort your insurance through our link, we earn a small commission (at no extra cost to you). That said, we only link to the gear we trust and never recommend services we don't believe are up to scratch. Again, thank you!